Will schools open in the fall? The answer concerns all – parents, students, and teachers. While the American Academy of Pediatrics recommends having students physically present in school, virologists think that this is not a good idea. Peter Hotez, a pediatrician and molecular virologist, says that reopening school this fall is guaranteed to fail. Let's explain why.
Firstly, it is nearly impossible to keep social distancing when there are 30 students in the class. Secondly, even virologists say that they know relatively little about the virus and children. They don't know how frequently children get infected, or what percentage of children are symptomatic.
Thus, having an alternative to traditional teaching methods, such as remote teaching tools, at hand has never been more critical than now.
Back in March, when the coronavirus outbreak hit the U.S. and other countries, schools and educational institutions moved classes online nearly overnight. Such a rapid switch showed how poorly prepared most educational institutions had been when it came to remote learning.
As a result, the forced adoption of new teaching methods caused stress for students and teachers, poor academic achievements, and falling behind the curriculum.
However, distant learning technologies are not actually bad. When selected, adopted, and applied in the right way, remote learning tools can provide the same experience as traditional classrooms and make subjects even more enjoyable.
In this article, we will figure out the types of tools for remote teaching and best distance learning tools available on the market.
But first, let's find out more about distance learning and how it differs from online learning.
Personalized Help from Experts in Python, R, and other Languages.
Find Out More
What is distance learning software?
Distance learning software is a set of tools that allow teachers to give lessons, assign tasks, and grade students without the need to communicate with them in person.
In this way, distance learning tools bridge the gap in communication between students, teachers, and even parents, while making the learning process more interactive, transparent, and meaningful.
What's the difference between online learning and distance learning?
Both distance learning and online learning sound very similar and are applied similarly for teaching students. But they are different. Thus, to select the right learning software, you need to be aware of these differences.
Online learning means students and teachers can be together in the classroom while working on lessons and assessments received from videos or presentations. However, during distance learning, teachers and students are located in different places. The teacher assigns tasks and checks them digitally.
Online learning involves in-person teachers to student communication during classes.
During the distance learning process, teachers do not communicate with students in-person. Still, the teacher can communicate with students through messages, video calls, and discussion boards.
The main goal of online learning is to enrich learning experiences during classes by using technologies.
With distance learning, teachers assign tasks using the Internet, and different communication cools. Thus, this is not a variation of one's teaching tools.
Remote teaching tools and their types
The software for distance learning is a generic term. It only describes the way students receive knowledge. Let's define these types by dividing these tools by purpose, functionality, and end-users.
Video streaming platforms. Video streaming services allow you to give lectures while students watch them in real-time.
Assignment apps. To ensure that students understood the lecture, you can create assignments or quizzes using assignment apps.
Visual classrooms. If the assignment involves a group project, you will use a virtual classroom for distributing assignments, grading, and sending feedback to students.
Feedback tools. In the case of a student's academic performance being weak, you can use a messaging app to communicate with parents, attach recent works, and suggest room for improvements in the student's grades.
Learning Management Systems (LMS). For storing information about students, their grades, and other related information, you will use Learning Management Systems.
We have listed only the essential tools for remote teaching so that you can understand their primary purposes. However, there are hybrid remote teaching tools and even solutions that include all-in-one functionality.
Now, let's take a look at the most helpful distance learning software and select the one most suited to your educational institution.
5 Best tools for remote teaching
What sphere of distance learning do you want to improve? Are you looking for a tool for streaming videos? Assignment software? Or all-in-one solutions? The list below includes the best distance learning software that will make the teaching process more useful for teachers, and interesting for students.
Panopto
Panopto is a video content management platform that has a special package for distance learning. Using this software, you can capture training videos and lectures, live stream lessons, and publish your videos to a secure portal.
For its user-friendly interface, Panopto has become popular among high-education institutions. Currently, Panopto is the platform of choice for Stanford and Oxford.
The platform offers a free trial; then, the platform calculates custom pricing.
Let's look at its features in more detail.
Interactive video player. You can run a live lesson while sharing your on-screen content and streaming other media files. The platform synchronizes all video sources in a single interface, so students can switch between video feeds, zoom in for a preferred stream for a full-screen view, and make time-stamped notes. Students can access your live broadcasts via web browsers, mobile devices, and tablets.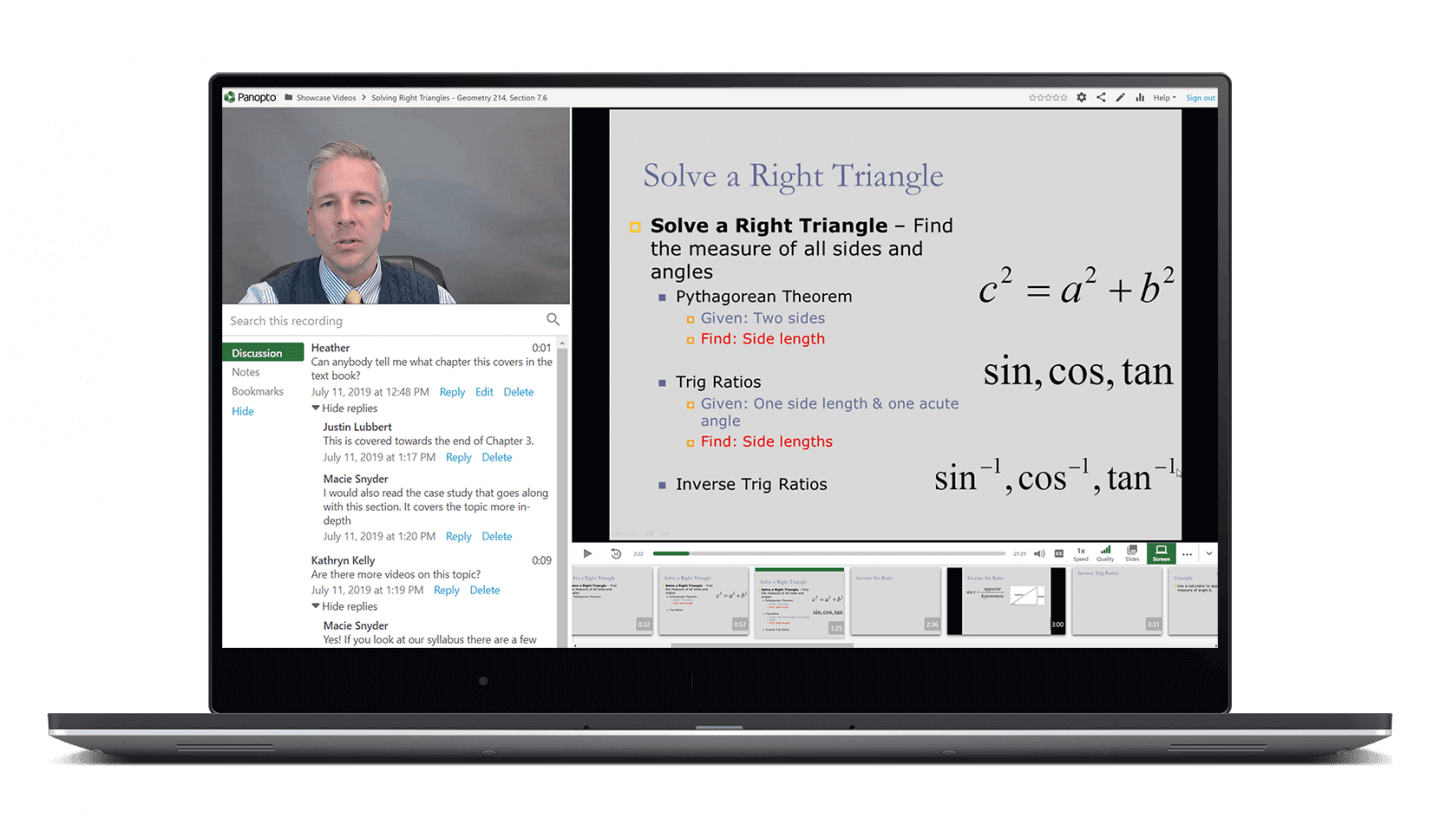 [Source]
Integrations. Panopto supports integrations with the most popular LMSs like Canvas, Blackboard, Moodle, D2L, and Sakai via APIs. Thus, you can extend your learning management system's possibilities and make your teaching material accessible for all students at any time.
In-video quizzing. To increase engagement with students during lessons, you can use in-video quizzing. In this way, you can test comprehension, reinforce key concepts, and improve knowledge retention. You can access students' answers from the admin panel, grade them, review the correct answer, and even add your explanations for correct answers.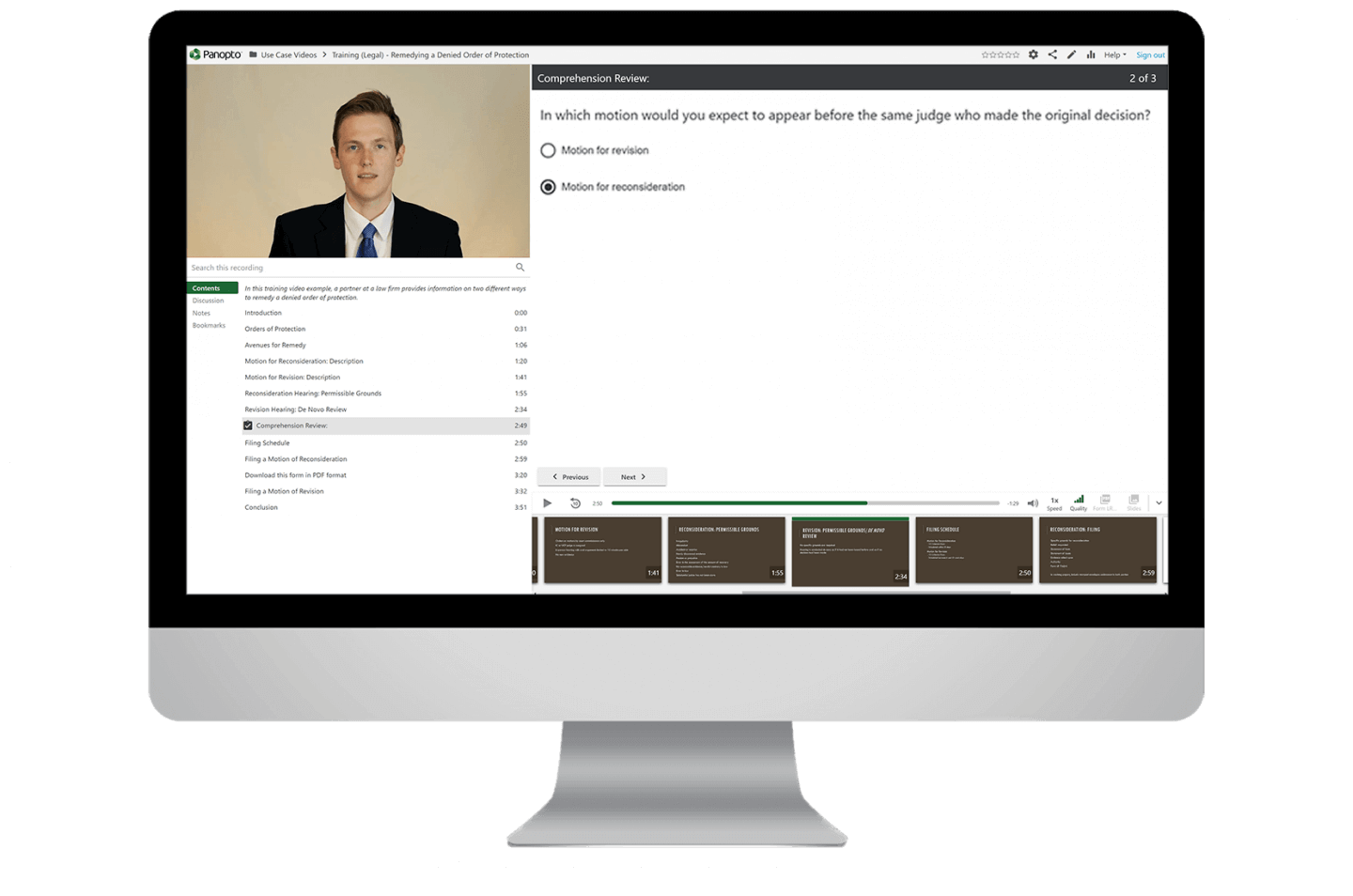 [Source]
Analytics. You can monitor how many students attend your live lectures and how many don't.
Bloomz
Bloomz is a mobile application for teacher and parent communication. This app helps to discuss problems and solve them in a more streamlined way.
The application is free for both parents and teachers.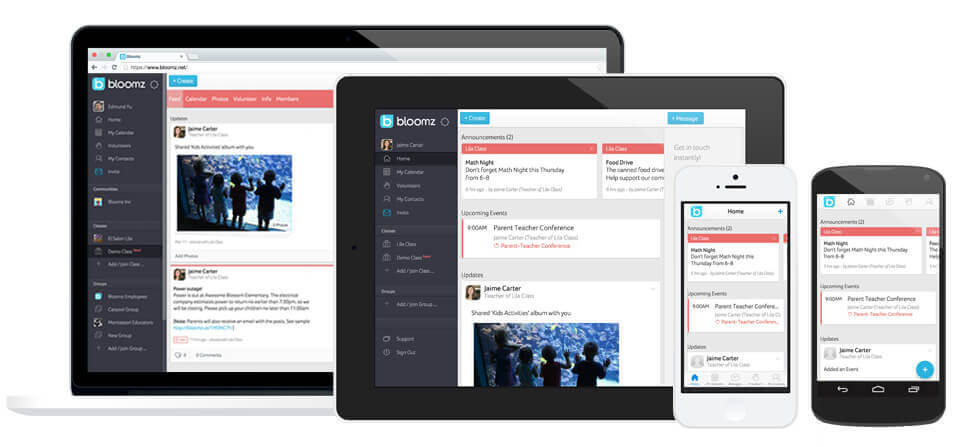 [Source]
Photo and video sharing. You can send out media materials to keep parents in the loop about what students are doing, how they're performing, and how parents can be more involved
Calendar integration. You can schedule school events in the app to ensure parents don't miss it
User monitoring. You can access the web-based admin panel and control the way parents communicate, and what type of information goes out to families.
Student portfolio and behavior management. Enables you to manage and monitor student behavior and award students who act well with points. The number of points makes the flower on the student's profile grow bigger.
It also includes a paid tier for schools. For $4.99 per month, you will receive a feed for every classroom, group, and school-wide chat rooms and other features that turn your school into a highly-supportive community.
Edmodo
Edmondo is one of the best distance learning tools. It works as a social network for teachers, students, and parents, available for web, Android, and iOS.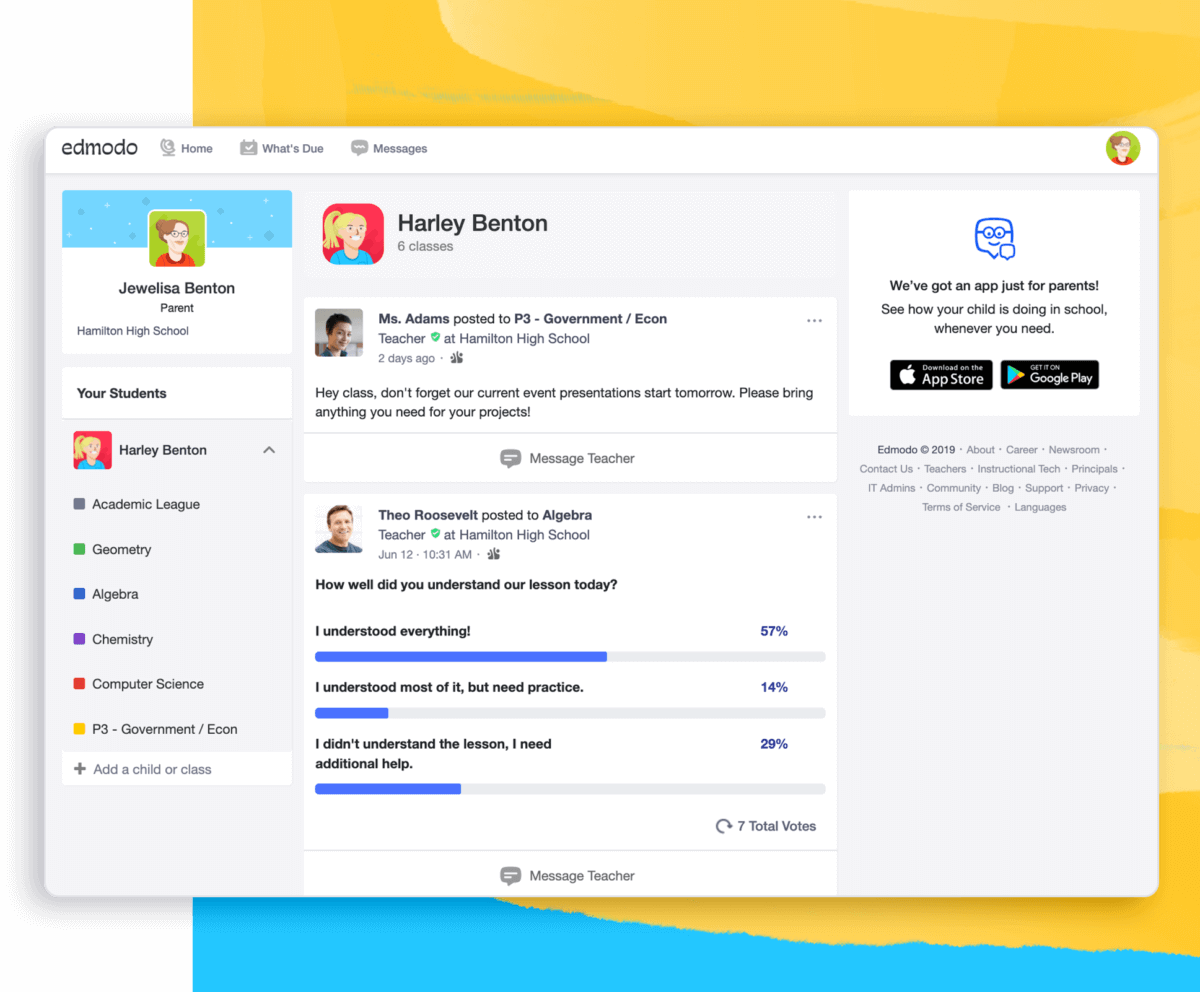 [Source]
Digital classroom. As a teacher, you can create digital classes, invite students, share digital assignments, and create quizzes.
Class folders. For organizing the student's profile, the app has organized class folders and a built-in Planner.
Real-time grated update. Once you review quizzes and digital assignments and grade students, the app sends a notification about new grades to the parent's app.
Integrations. The app supports Google Docs and Office 365 integrations.
Messaging. Both parents and students can write personal messages to teachers to follow class updates and monitor school activities.
The platform has a free trial, free plan, and premium tier with a $2,500 annual fee.
Google Classroom
Google Classroom is a free distance learning software that includes everything you need for K-12 and higher education. You can use this web application as a private classroom for assessment, grading, group projects, and collaboration with students.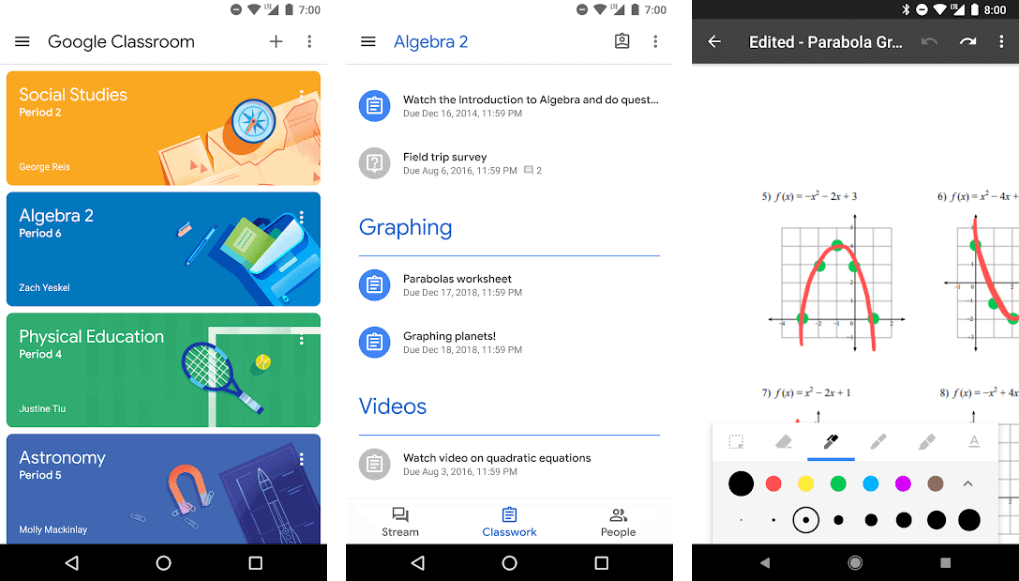 [Google Classroom screens]
Tools. You receive access to built-in Google tools, such as Gmail, Google Slides, and Google Docs, to share learning material with your students.
Built-in Calendar. To ensure that students will complete their assignments on time, set due dates in Google Calendar.
Media content. You can add media content to your assignments so your students can receive more in-depth knowledge of the topic. Google Classroom supports adding video, PDFs, Google Docs, or Google Forms survey
Grading. After students finish their assignments, you can view, edit, and share their grades via the Grades page.
This tool is free for teachers and students, but to use the app, you must register your school for the Google for Education platform first.
Canvas LMS
Canvas is an open-source learning management platform. It provides a learning environment for students of all grade levels, from K12 to higher education. The platform's primary goal is to automate administrative tasks so that teachers can focus on the teaching process.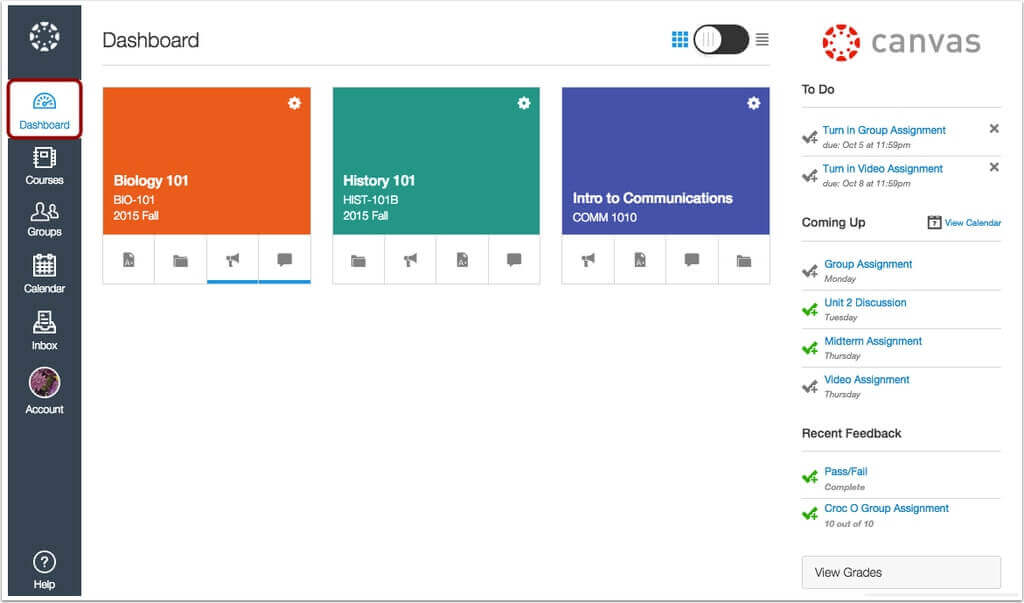 [Canvas interface, source]
Video studio. To make learning more active, this interactive distance learning software offers dynamic videos. It means that during your classes, students can share, comment, and give feedback within the video timelines, thus becoming more engaged with the subject.
Quizzes. The platform offers several ways you can quiz your students. You can question learners, not only before or after the lesson but even along the video timeline. In this way, you can give students immediate feedback on how well they did. Then, the platform automatically saves quiz results to Canvas Gradebook.
Analytics. You can access the platform's analytics which shows how well students watch your videos. You can access the overall class data, and by clicking on a student, you can see individual viewing info.
Assessment data. In case you need instant access to assessment data, Canvas offers an integration named MasteryConnect Assessment for creating and launching standards-aligned formative assessments. It also allows creating benchmarks to set proficiency targets and measure students' knowledge growth, map curriculum, and assess resources.
We suggest this tool as a virtual classroom if you are already using SIS as a system of record and looking for an online environment for a more streamlined teaching experience.
Related reading:
Case Study: Video Streaming App Proof of Concept
Download Your Free eLearning Software Development Guide
Download Now
Conclusion
The best thing you can do during a crisis is to reconsider the way you live. The same applies to the education process. You finally have a chance to innovate the way you teach, your materials, and teaching methods.
We believe that adopting new circumstances is halfway to success because new and extraordinary does not always have to mean something terrible.
Thanks to distance education tools, teachers can continue the educational process and make it more useful and engaging. Besides this, such software brings transparency to parents about their child's progress and grades.
We hope that you have found the perfect distance learning solution for your school or university. In case you need help with integrations and distance learning software development, you can count on us.
What our clients say