Blog
What is a Business Analyst's Role in Project Development?
What is a Business Analyst's Role in Project Development?
Imagine you have a fascinating business idea. In developing an IT product, an idea is not enough. You will need a specialist, who will define high-level business goals and outline initial requirements for the project's implementation.
Does this sound too difficult? Keep calm. That is a job for a business analyst, an integral member of any IT team.
From this article, you will learn what, in IT, a business analyst is, how they are involved in the development process, and what tools they use.
Read on.
Why is a business analyst essential for IT efficiency?
Business analysts, or BAs, work closely with stakeholders and the development team, turning business ideas into IT solutions. But what does a business analyst do in IT development?
Let's check.
Without BAs, the development team would spend more time and effort to understand client requirements. Such challenging communication often results in wasted energy and failed projects.
Moreover, the development team does not have the necessary skills to transform a business idea into high-end solutions that meet customer expectations and business needs.
Thus, every development team needs business analysts to define the stakeholders' needs and help to deliver an accurate, logical, and practical product, without missing deadlines.
But how do business analysts do it? You will find the answer in the next paragraph.
Who is a business analyst?
The main goal of business analysts is to effectively communicate the clients' requirements to the development team and ensure that the project meets the business' goals.
For a business analyst position, the following skills are essential:
Technical knowledge. Technical expertise is essential to understand the project's technical specifics and limitations and to communicate with developers and QA engineers effectively.
Problem-solving and analytical skills. Extensive analytical skills are essential to interpret customer business needs into functional specifications. The BA role and responsibilities require problem-solving and decision-making skills to any issue that arises between customers and developers.
Communication skills. A business analyst should know how to gather information from a person and communicate it to another in an understandable manner. Being engaged in communication with people from different organizations, business analysts should interact with them effectively and make sure that their concerns reach each other.
Now that you know business analyst definition and skills, let us move further and find out how business analysts participate in the development process.
Business analyst role in an IT project
During the software development process, business analysts take part in the following phases:
Requirements Gathering
During this initial stage of every development process, a business analyst gathers Functional Requirements (FRs) and Non-functional Requirements (NFRs) for a project.
Functional Requirements include functions or features of the future project.
Non-functional Requirements specify criteria that can be used to judge a system operation. Such requirements are contrasted with functional requirements that define specific behavior or functions.
To gather requirements, our business analysts use the following techniques:
1) Interviews. The business analyst asks clients specific questions to identify their requirements for the project. Such an interview is aimed at identifying the main business issues to be solved.
2) Questionnaires. The business analysts provide stakeholders with electronic or paper-based surveys to define the project requirements. This technique works great when a business analyst needs to gather requirements from many people, located remotely.
3) Prototyping. We use this approach to visualize the requirements for the project. With product prototypes, it is more convenient to discuss all the necessary features with the client.
4) Document Analysis. Using this technique, the business analyst gathers the documentation to define the project requirements. They analyze internal client documentation, concerning business restrictions or the documentation of existing products, with similar business objectives.
5) Brainstorming. We apply this technique to gather ideas on the product functionality from both stakeholders and our development team.
Now, let us move to the next phase.
Preparing the Project Specification Documents
In this stage, the business analyst analyzes, reviews, and refines project requirements to form the project technical specification that should include:
A summary statement. This section consists of the outline of the project requirements.
Project objectives. The business analyst should perform the project objectives in a SMART format, which means that the project goals must be specific, measurable, attainable, realistic, and time-bound.
Needs statement. In this section, the business analyst outlines why a business needs this project and how the project solves business issues.
Project scope. This document includes all the information about the project scope, outlining product functionality.
Functional requirements. In this section, the business analyst outlines all the technical requirements toward the project using diagrams, charts, and timelines.
Assumptions. Here, the BA outlines anticipated events that might occur during the project development stage.
Cost. In this section, the business analyst gives a detailed list of all the costs involved in the project development.
Based on project specifications, the team identifies the project's scope and builds its roadmap.
Explaining Requirements to Developers
When stakeholders approve the project specification, the team divide the project into smaller tasks and assign these to the development team.
During the development stage, developers might need to specify some information concerning product functionality, architecture, and inner logic with stakeholders.
The business analyst gathers all questions from developers and communicates with the stakeholders. Then, the business analyst may add new project requirements to the specification.
The business analyst communicates with both the developers and stakeholders in such a manner until the project ends.
Conducting User Acceptance Tests
In some cases, business analysts participate in user acceptance testing, which is the last phase of software development. During this stage, actual software users test the software to ensure that the product can handle tasks in real-world scenarios.
After this phase, the business analyst determines whether the product is ready for the launch, or if it requires additional maintenance.
Now, let's move further and find out what tools business analysts use.
Business analysts' toolset
The business analyst needs an advanced toolset to visualize complex customer requirements, add diagrams to specification documents, and check the progress of the development team.
The App Solutions business analysts use the following toolkit:
Prototyping tools
Such tools are handy to create the project design and layout prototypes.
Marvel. This browser-based tool simplifies the prototyping process. Marvel supports JPG, GIF, and PSD image uploading. Besides, this tool has direct ingratiation with Dropbox, Sketch, Google drive, etc.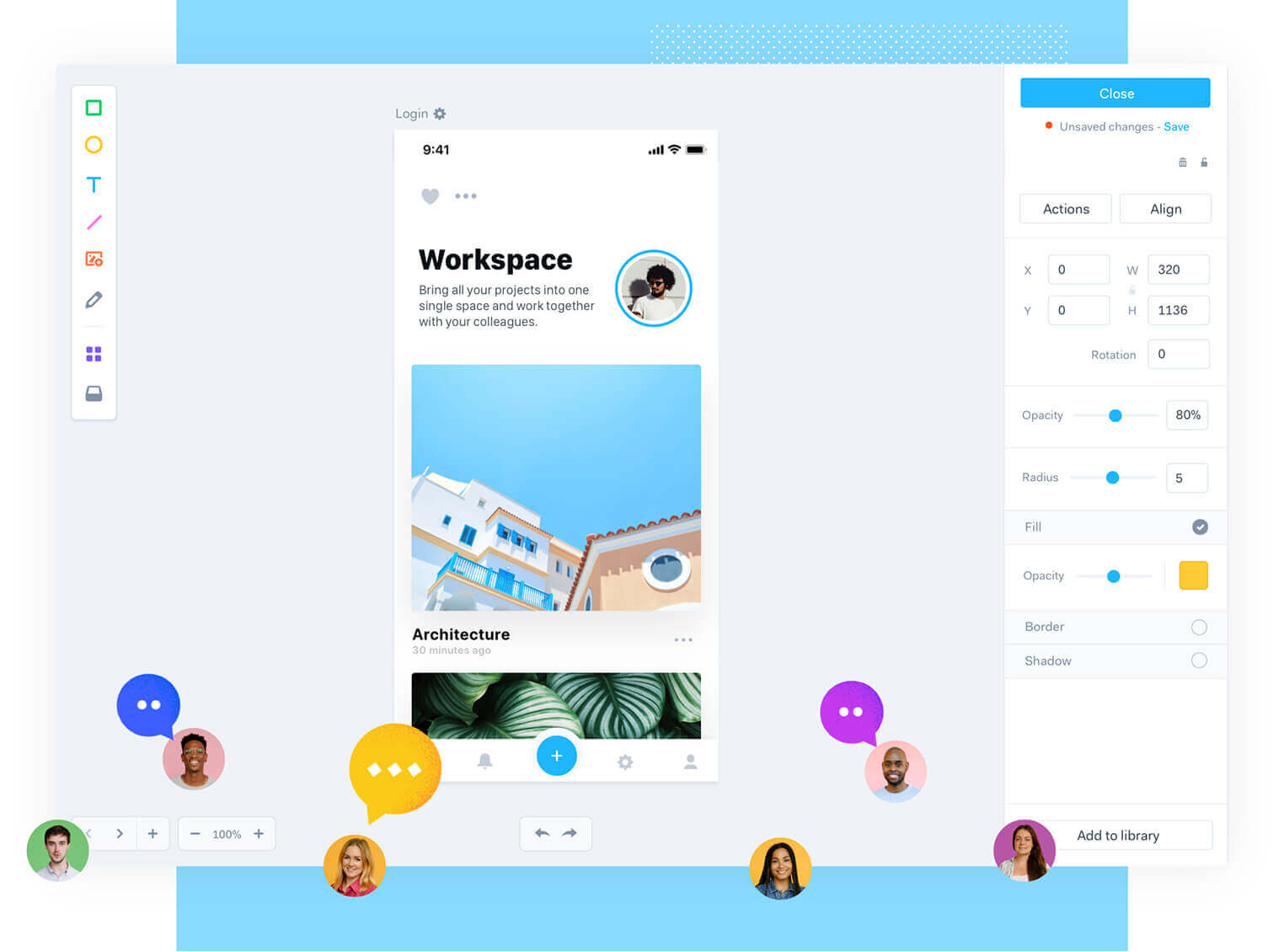 Image source: Marvelapp
Proto.io. We use this to create mobile applications or websites prototypes of in the browser. Proto.io supports manual drag-and-drop file uploading as well as direct upload from Dropbox.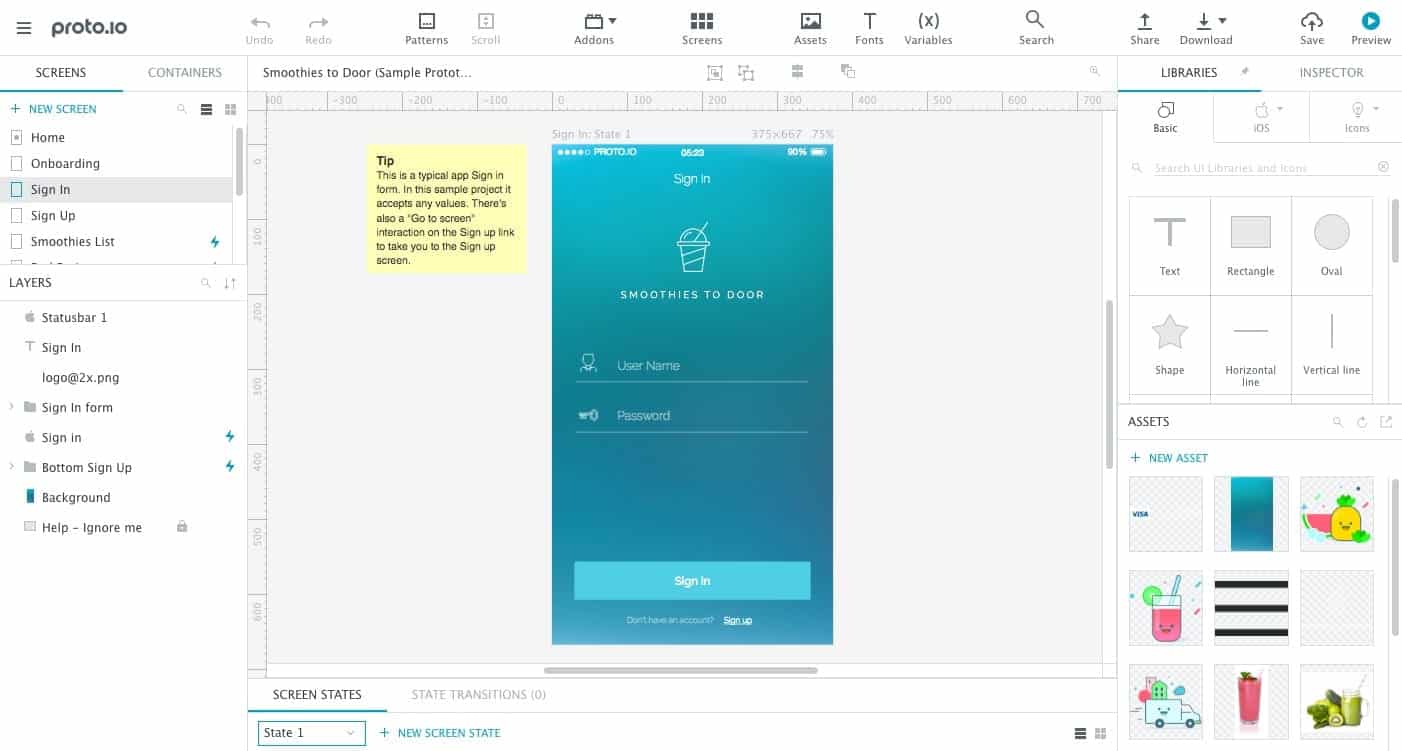 Image source: Proto.io
Invision. We find InVision convenient since users can leave feedback directly on the prototype.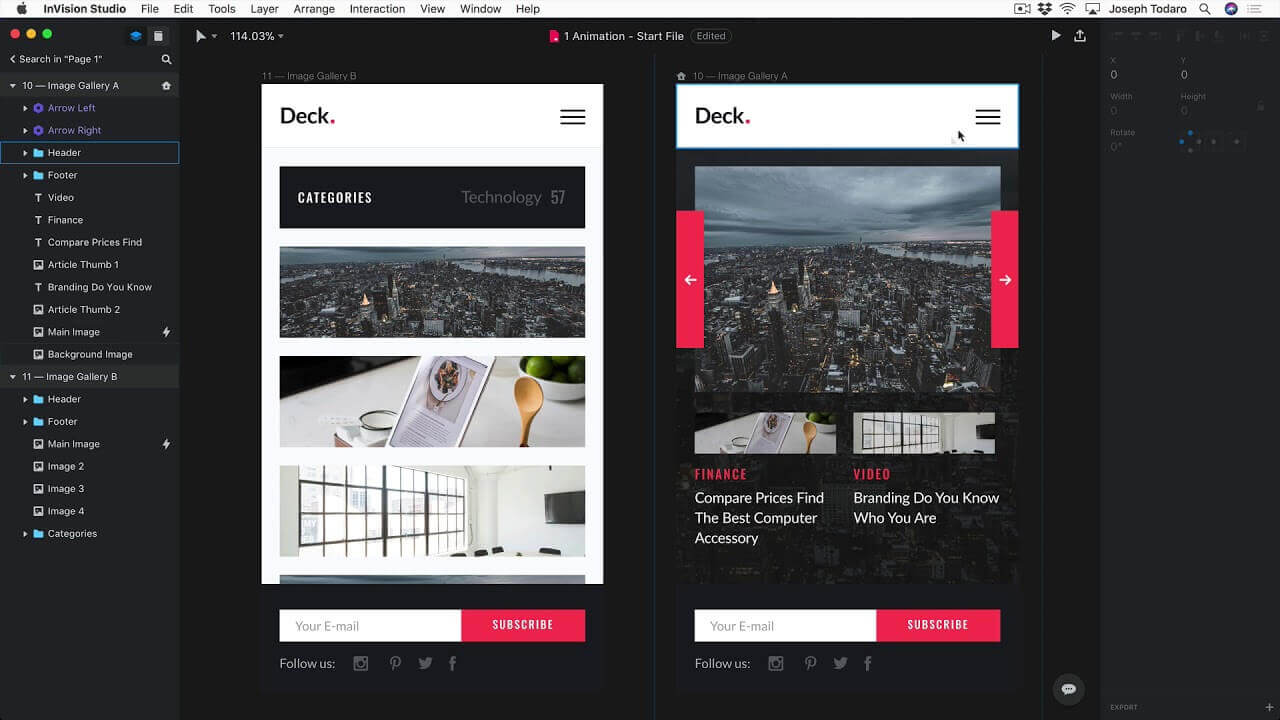 Image source: Invisionapp
Task managers
To manage the tasks effectively, our team uses the following tools:
Jira. Our business analysts team uses Jira if they need to coordinate between complex projects and customize the project workflow.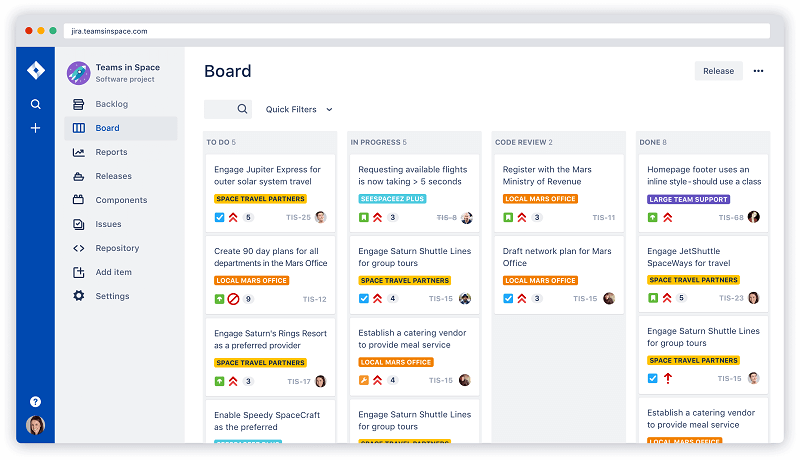 Image source: Atlassian
Trello. If the team deals with simple projects, they use Trello. It is also a great choice when a project manager or business analyst needs a simple structure to keep the project organized.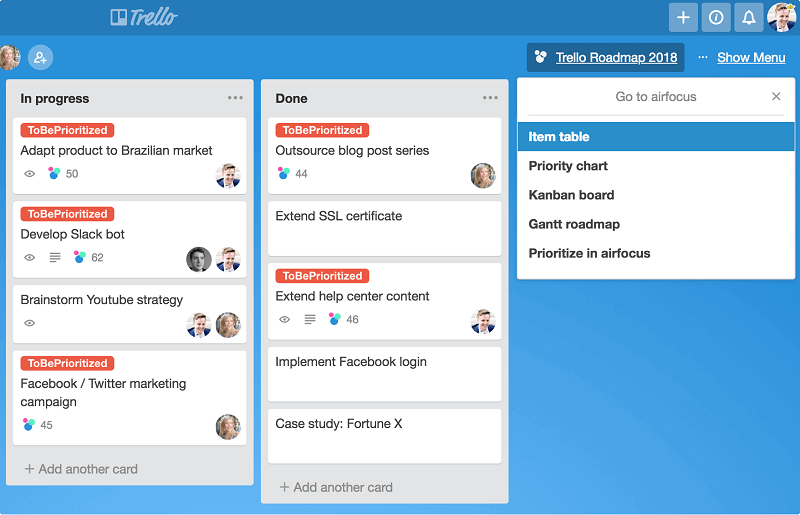 Image source: Trello
Hygger is an up-and-coming project management tool, which blends features of Jira and Trello into the leaner and more streamlined tool. With less baggage to handle, Hygger provides straight-to-the-point task management tools to keep everyone on the same page and achieve goals without breaking a sweat.
Asana. This tool, for small teams, allows business analysts to see how their tasks impart overall business goals.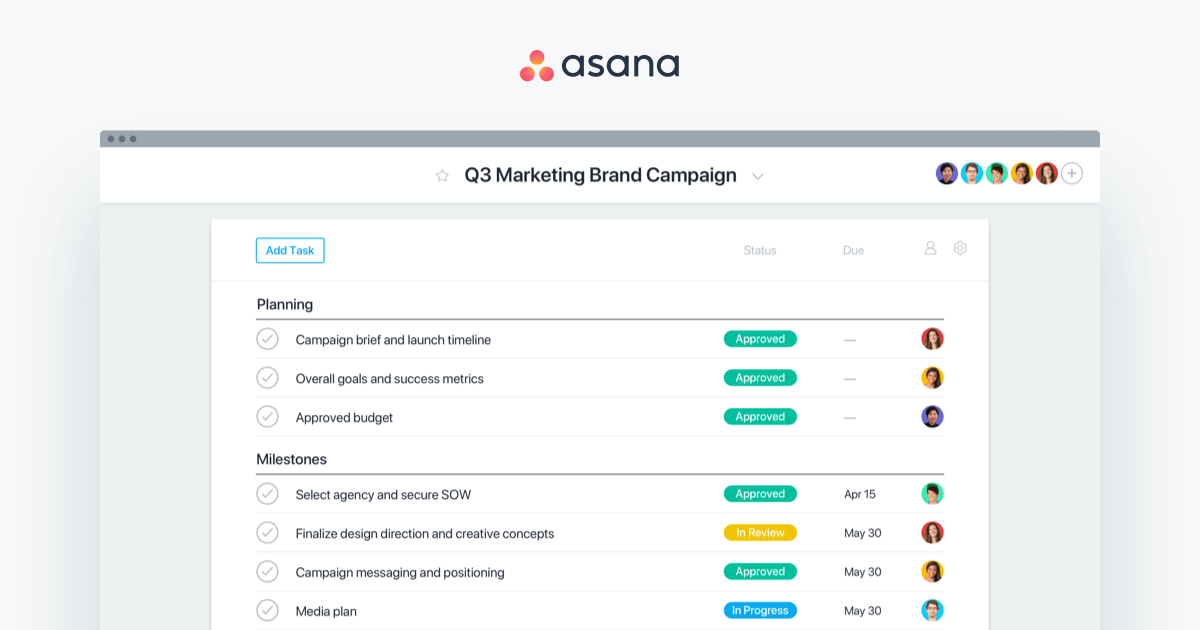 Image source: Asana
Business analyst tools for diagrams
To add diagrams to the project specifications, we use:
Draw.io. Using this tool, we create a flow chart or diagram to visualize the project infrastructure clearly.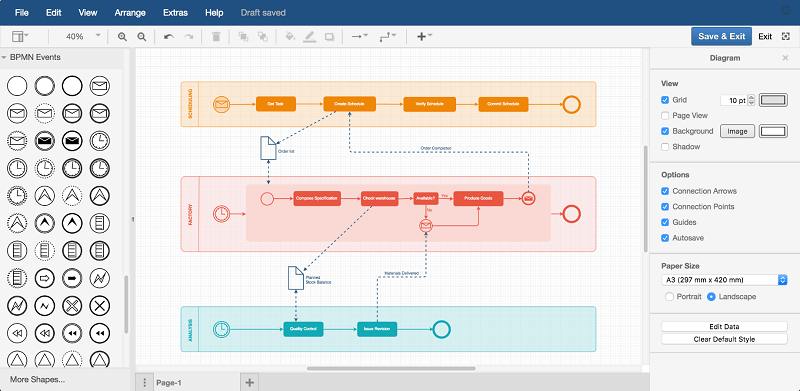 Image source:Draw.io
Business analysis outsourcing
Being engaged in every stage of the development process, business analysts are an essential part of the development team. While some companies work only with existing in-house specialists, BA outsourcing might bring advantages to companies of any size. Let's check.
Small and medium companies. In most cases, small companies do not have enough budget to hire in-house business analytic. By outsourcing the business analysis services, the company receives an experienced professional, while saving money.
Large companies. If a new client comes to a big IT company, all in-house business analysts might be too busy with their projects. In this case, outsourcing a business analyst solves this issue. So there is no need to waste time on hiring a new in-house specialist.
In this way, both small and big companies receive the benefits of business analyst outsourcing.
We also have an article about Business Intelligence Analyst. Find out the difference between BA and BI.
Conclusion
Business analysts are an essential part of any development team.
Still, it is crucial to understand when you are ready to hire a business analyst.
We recommend testing business ideas in practice before investing in project development. Check potential competitors, conduct an interview with end-users, make a prototype, or even promote the to-be-developed product and receive feedback from potential customers. And when you receive the result, contact the developers.
Conducting such tests is a more budget-saving option than hiring a BA and investing in a product nobody wants to use.