If you have never launched an e-commerce website before, here's a guide to take you through this sometimes complicated process.
When scrolling through a site, you forget about the fact that people had to work hard on the content and product listing. Moreover, they had to contact manufacturers to be allowed to demonstrate goods on the Internet, long before the actual cataloging process started. So, let's take a look at the steps leading to efficient ecommerce stores.
FYI: Want to find out your web development cost? Try our web calculator.
Choose a Product or Service
Most likely, if you're thinking about creating an e-commerce website, you know what you are planning to offer. Whether it is something you make personally, such as handmade jewelry, or you wish to move your existing business onto the Web, every shop starts with items.
The product or service has to be viable. The best way to build an ecommerce site is to consider if there is a niche for you, or if your product is exclusive enough to impress future buyers. Will your products or services be able to do well against competitors? These are the questions you have to answer.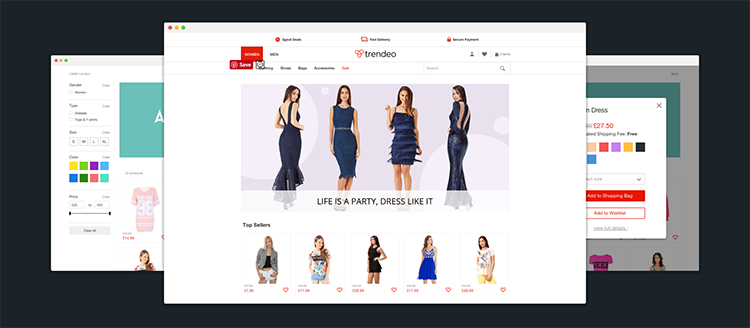 The APP Solutions team has worked on various ecommerce projects from marketplaces to clothes retail stores.
Do The Paperwork Before You Do Anything Else
Before creating an ecommerce website, we strongly advise you to register your business. Local attorney's help will not be for free (probably), but this step is not something to be ignored. If you've determined to work legitimately, you need the paperwork done as early as you can.
Make a Decision Regarding Prices
Since you're going to sell products or services online, you need to decide on your product's pricing. It may seem simpler than it is. If the price is too low, you'll lose money, which is not your aim. If the prices are too high, buyers will be looking for other Internet stores to make a purchase.
So, before making an ecommerce website, you should calculate your expenses, including:
the price of raw material to manufacture your items
web hosting
delivery
taxes
the percent your payment gateway of choice will request
advertising expenses
Finally, don't forget to scroll through your competitors' sites. In such a way, you will understand how much money you need to add on top to gain profit.
Come up with a Domain Name
You're going to love this part. If you don't have a conventional store yet, then you will require a name for your brand. First of all, you should avoid names that are already taken by other sites. If you don't know how to create an ecommerce website name, simply brainstorm words or entire phrases that may be associated with your goods.
Install an SSL Certificate
A basic ecommerce website needs an SSL certificate. It will protect your customers' personal data. To make your Internet site trustworthy, you should use an SSL certificate to encrypt all the private data buyers provide to guarantee the safety of their credit card numbers.

Think about a Payment Gateway to Build an Ecommerce Website
Ecommerce websites require some way to get the payment for their products or services, in particular, credit card payments. For this reason, to develop an ecommerce website, you have to use a merchant account.
There's an opportunity to choose from well-known organizations, such as PayPal or Stripe, or firms tailored to small businesses, for instance, BluePay and PaySimple.
For those who want to work with mobile payments, the Authorize.Net payment gateway is the right place to start.
Web Hosting as a Way to Build an Ecommerce Site
If you have a small retail startup, building an ecommerce website from scratch step by step is not necessary these days. You can simply join an existing army of sellers on Amazon or eBay. Or you can use specialized platforms that help businessmen build an ecommerce website even if they possess no technical skills.
Different hosting platforms and software make it simple for new companies on the Web to list goods, set prices and employ a shopping cart. They make purchasing effortless for both sellers and buyers.
There are two major ways for building an ecommerce store: ready-made hosted website platform or self-hosted website with practically limitless customization available. The decision is yours - more flexibility or less trouble.
Your decision will depend on the degree of customization, sales volume, and other factors. To save time and money, businessmen usually choose one of well-known ecommerce platforms, such as Shopify, BigCommerce, Wix, Weebly and Squarespace Commerce.
Granted, if you have plans for your small startup to become big and be able to handle lots of visitors without crashing, contacting professional developers might be a better way to do it from the start, while there are still not a lot of items in your store.
Analyze Delivery Options While Building Ecommerce Store
In case if you're selling some physical goods, you need to analyze delivery options. Many online shops pass the full cost of shipping on to customers. However, shipping costs psychologically influence buyers, with more than 40% claiming that they have abandoned a purchase because of high delivery costs. So, if you want to attract clients, consider providing one of these options:
Free house delivery
Free delivery with slightly higher costs to cover shipping rates
Free delivery for large packages
Enjoy Your Site
Don't forget that apart from the list of goods or services, your new site should have some additional features:
"About Us" page introducing your items
"Contact Us" page that will allow customers to reach you
A blog where you issue company news, and useful pieces of advice
Important: try your site out before listing items. In this way, you will confirm legitimacy when contacting business partners. Moreover, the people working on the promotion of your site will see that you have a reliable Internet business. As for the promotion options, you may opt for social media, content marketing, and professional marketing firms.
Conventional offline stores are nice, but the World Wide Web provides people with access to a better assortment of items. Even more than that! Now, the entire world has access to your items. Even if you are not technically savvy, you can enjoy your Internet business!
So, now you know how to develop an ecommerce website. At the same time, if your business requires something more complex, the APP Solutions developers are professionals when it comes to complex e-commerce projects development.
Need an ecommerce store developed?