Blog
Enterprise Mobile Application Development
Enterprise Mobile Application Development
Believe it or not the industry of enterprise mobile application development has a promising future, one that could lead to a billion-dollar market. At one time cloud applications were all the rage, but now mobile apps are increasing in popularity and are set to enter into a $100 billion market. Today, mobile enterprise is following closely in the footsteps of its predecessor, cloud application enterprise.
The ease of this movement can be attributed to the incredible accessibility and affordability of mobile technologies. What's more, mobile technologies are seemingly more user friendly than cloud technologies, thereby making the mobile applications an incredibly viable enterprise. Nevertheless, mobile applications have hidden benefits that many are unaware of: The fact that the apps will make the mobile app technology pervasively accessible for businesses, particularly those in distant locations and underserved business sectors.
Read also: TOP 9 REASONS WHY YOUR BUSINESS NEEDS ITS OWN MOBILE APP
Mobile technologies penetration around the world
While there are over three billion people who work in some job position around the world, a mere 20 percent of all the people get access to the mobile technologies needed to help make their job easier and to make their performance more efficient. This means about 2.5 million individuals aren't getting access to the advanced, simple technologies they could use to make their job performance more effective.
For instance, a look at the construction industry reveals less than 1 percent of all of construction revenue, which is $8 trillion per year, is used on Internet technologies. Or look at the industry of manufacturing, with some 40 million workers, being the fourth largest industry in all the world, uses a mere 2 percent of its revenue for the purposes of Internet technologies.
Many workers without technology at their disposal reside in developing countries. Out of the 2.5 billion people who do not have access to mobile or Internet technologies:
50 percent of those individuals reside in the Asia Pacific
10 percent are in the Middle East and Africa
another 10 percent are in Latin America
However, the latter figures may soon change as mobile technologies is a force to be reckoned with and is poised for actually capitalizing on this gap in the market.
The opportunity of enterprise mobile app development
The opportunity of enterprise mobile app development is tremendous. Let's consider some facts to determine the potential impact mobile technologies will have on the industry. Imagine the following scenario. The 2.5 billion people without access to various technologies, do not work at a desk. Imagine monetizing each person at about $40 annually, which is a thread of what desk workers spend on technology, and you're looking at a $100 billion potential market, all of which could be consumed by mobile applications and devices because of their affordability and accessibility.
This kind of sizeable opportunity is huge and something that has not been seen in the past as far as technological enterprises are concerned. This means that an industry that might be able to take full advantage of smartphones and their current features can make use of an enterprise mobile solution for business.
Construction businesses could make use of mobile apps and cameras to make customer quotes or the devices can be used for making communications between workers on site and headquarters faster and more efficient. Those who work in the field of transportation and delivery could make use of mobile tools like phone billing, signature collection, and maps with driving directions.
What's more, with the biggest opportunity in India presently being the healthcare market, the mobile healthcare apps are bound to prove profitable as well. As of this moment, there are 500 startups that have started up a fund that will be used as an investment in mobile health in Africa, China, and India.
Enterprise application development cost
It takes highly specialized resource and expertise to make an enterprise app that covers all business needs. But the rewards for getting it right can be enormously lucrative.
Answering the question, "What is the cost to develop an enterprise app?", there is no determined price. To build an app for enterprise is more complex as it could seem.
An accurate cost estimate depends on the number of factors.
Hereby we gathered the app development cost drivers:
The number of platforms and devices that will be supported
The number of enterprise systems the app will interact with
The number and kind of features implemented in app
The size of app development team: basic or extended
The cost of labor
When it comes to hiring enterprise application development company you should take into account the following.
Assembling the right team players is extremely challenging in itself, so you have to explore the market carefully. You need individuals who are highly skilled and focused on a particular area of expertise.
Have a look at the chart below to get understanding about development prices in different regions.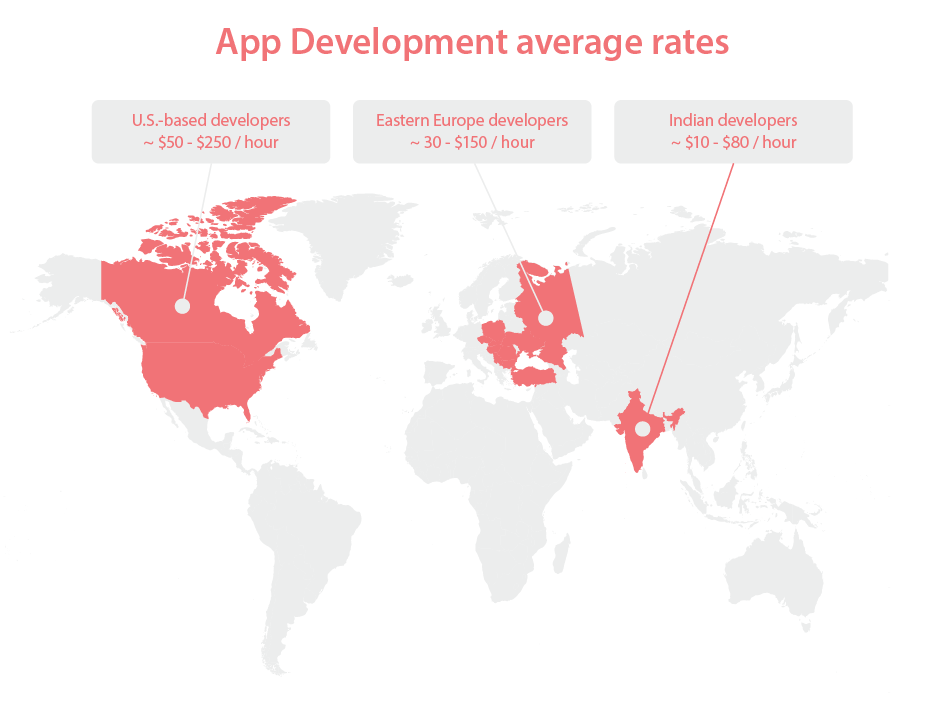 If you are looking for low prices and high quality turn your attention to developers from Eastern Europe and from Ukraine in particular.
How to start?
So what is necessary in order to take full advantage of this exciting opportunity and to establish a mobile enterprise that can address the growing needs of the mobile market? Here's a few things to consider:
Capitalize on the Original
If you want to truly capitalize on the mobile enterprise opportunity, focus on that which is original, unique, and different in the existing market. Mix the unique with the best, most coveted features, and you'll have a winning mobile solution perfect for addressing the needs of the mobile market.
Consider using the best features of the smartphone like voice navigation and control, GPS, cameras, and sensors as an advantageous tool. Consider an app like Expensify that relies on the use of the camera in a device to take images of expense-related receipts.
Lean on Those Who've Gone Before You
Look at the best of the best in terms of mobile platforms. Consider how Salesforce and Box might help you out as you start to scale your mobile enterprise. Also, you might want to mirror the behaviors and practices of different companies that have reached an international market and use the example to figure out ways to expand your own enterprise. Partnering up with another business to offer innovative mobile solutions is another method you can undertake: One that can prove considerably successful.
World Wide Orientation
When it comes to mobile enterprise a lot of developers are keeping their attentions local. However, if you consider addressing international needs, it can be to your benefit. Mobile space is definitely a wide-open range when it comes to mobile enterprise and the opportunity can land you a serious edge above the competition.
When planning your enterprise from the start, don't forget to consider how you'll eventually expand into the international market as well. Bear in mind when you are planning your enterprise that some 70 percent of all the great opportunities are going to be beyond current developed mobile markets. Of course, make sure you make your product localized as well.
Ready Yourself
Technology is bringing about an evolution in mobile enterprise, and those wise enough to ride the wave will assuredly benefit from the boom in the market. The pace the mobile market is currently growing at is clearly evidence of its potential in years to come. A smart developer will definitely jump on the opportunity presented.