You've got a great idea for an app, and you're ready to move on to the development stage. You're curious as to how much does it cost to develop an app? This article will give you some insight into what to expect when it's finally time to develop your app.
If you ask a developer how much does it cost to build an app, you might be disappointed when they say they aren't able to answer. There's a good reason for that. The app development process is a very intense one, especially if your app is complex and has a lot of features.
While some simple apps could take $20,000 - $40,000 to develop, others might start at $100,000 or more. On the other hand, mobile app development cost could be about $5,000 or under, but don't expect the same amount of special treatment in this case.
Where Do I Start?
You want to start by examining every aspect of the app you're looking to create. If you're going to reach out to a developer, you should already have a very clear idea of what the app will do, how it will work, how it will look and for whom it'll be. Is your app going to be available on iOS and Android? Or just iOS?
Will your app feature a shopping cart or a place to login? If you have all of these answers already in place, you can save yourself some time and app development cost when you reach out to the developer.
Again, there are a lot of factors that go into pricing your app's development. All of the little details are carefully considered because, though they may seem small, they must be carefully and seamlessly implemented into your app. For the most part, it isn't as simple as clicking here and there and being done with it.
READ ALSO: App crowdfunding
In general, here is the app development cycle is as follows: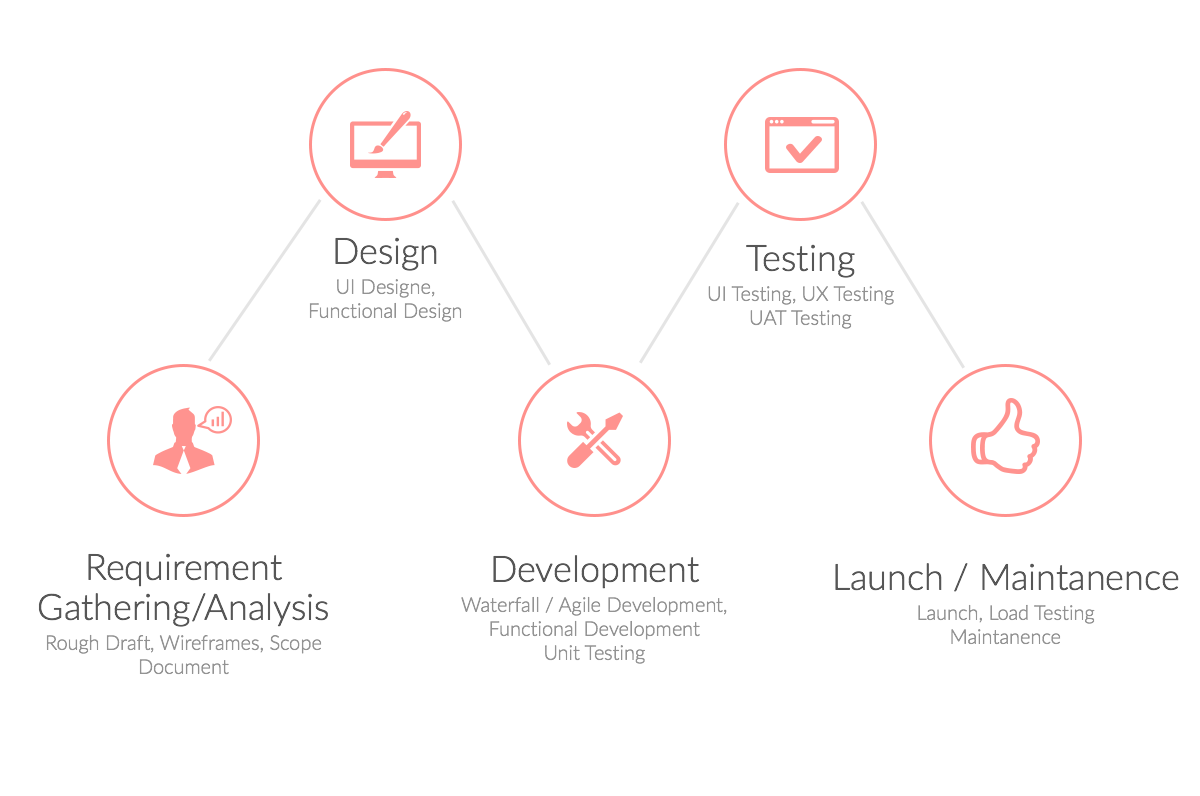 There are services online that offer "app development" programs but these mostly just build on top of an existing framework. That means that, though it may be inexpensive, you're not going to have as many options when it comes to customizing your app.
One of the best reasons to work with a professional developer is that you can take the time to meet with them (virtually or otherwise) and explain what exactly you are looking for.
Since they will be working closely with you throughout the development process, you know your app is much more likely to turn out exactly as you imagined it would. This way, your app will be both high quality and unique, cornerstones for drawing attention to your business.
This Is an Investment, But Is It A Worthwhile One?
Think about the impact that your app could have if it brought in just a few interested leads per week. If you can, try and estimate how many customers it would take for you to make the money back that you spent on your app.
Here are some metrics that will help you to settle KPI`s and make actionable solutions:
Cost per Install;
Customer Acquisition Cost;
Average Revenue per User (ARPU);
Retention Rate;
Return on Investment (ROI).
If you expect a high ROI (return on investment) meaning you are about to develop apps that make you money, maybe it's worth spending a little more than you initially thought to make sure your app stands out. Or maybe it's worth the money and time it takes to make your app compatible with a broad range of platforms. Of course, feel free to ask your developers to chime in on this. Some development firms have marketing departments that can help you out.
But maybe you're still not sure why the process is so costly. We've already gone through the questions and planning phase, so let's get into the actual development, shall we?
What Follows the Planning Stage?
The first thing the developer wants to create is an app prototype. It's a basic, functional and unpolished version of what the final app will look like. The idea behind the prototype is to be able to give you an idea of what the app will look like when finished and how it will work. This stage takes some time but is well worth it, and it usually starts with conceptualizing and drawing what the display will look like.
If there's anything that you want to address now, you can do so before you run through the course of your development budget. This is also an important time to make sure that everything is working correctly so far and that the app will be executable and accessible to those who will be using it.
You can even use this prototype as a test among a sample of your target audience and then get their feedback. By making the most of this prototype stage, you can be sure to get good value for your investment and save some cost of app development.
Revise, Revise, Revise the Prototype
Once the prototype has been thoroughly examined, and feedback has been received, the changes can now be implemented into the design. This process can go through a couple of stages. Every app developer wants to make sure that the result is precisely what their customer is looking for. So, don't be afraid to communicate with your developer to tweak the app's design, even if it takes a few rounds to get it right. You're investing your time and money, so make sure you're happy with the result.
Development – Keep It Clean and Crash-Free
When you're happy with it, the developer fills in the rest of the blanks so that your app functions smoothly on the inside. They carefully program the app with coding that is reliable and clean. They integrate the services that you requested, whether you wanted a social media login page or an online shopping cart or user profiles.
Throughout the process, they continually test your app to make sure that there are no bugs that might hinder your app's performance or cause it to crash. This is another time-consuming process but, just like the others, well worth it. It would be a shame to invest all that time and money into an app that winds up crashing right after your launch.
Design Polished to Perfection
The development team works hand-in-hand with the design team to bring your app together. The design team is the one that sets up how the app will appear to its user. They prepare what kind of font you will see, what color scheme, the shape of the buttons in the app, the size of the search bar and so on. A perfect design would be based on trends in application development.
The prototype may have a been a black and white blocky version of your app but, after the design team goes to work on it based on your instructions, they can transform it into a neat, colorful and engaging interface.
During (and following) the development and design phases, there are usually a few revisions to be made to make sure that these two components blend seamlessly. Again, you don't want any bugs in your completed app, so it's a good thing that they continuously run tests and correct any inconsistencies.
Between the amount of work put into this project and the number of hours worked, you can begin to see why the cost of mobile app development can be so high.
App Complete - Now Get It Out There
Now that the app is a finished product, and you're happy with the result, it sure is a great feeling to see your app fully functional. It's just wonderful to think that your idea has popped into reality for all the world to see. You're ready for all the world to see it, aren't you?
Releasing your app into a sea of other apps is like pouring a glass of water into a lake. You want to make sure your app gets noticed, and so, you're going to want to market it any way you know how. Some developers might help you with this phase (usually, these are firms with marketing departments).
By reaching out to all of your network and your target audience, you can raise app awareness so that everybody knows about it. And then you hold your special release.
Naturally, you'll want to stay on top of your app to make sure it continues to run properly by paying attention to crash reports and any feedback you hear from your customers. Congrats on the new app!
So...Price?
Once again, it's quite difficult to put a number on something where so many factors significantly affect the amount of work that will be required for an app. Setting aside $50,000 for your budget should get you a moderately complex app, as long as you make sure that you are getting exactly what you want every step of the way.
The cost to create an app for less than $5,000 will get you a very basic app that will more than likely wind up looking like every other app out there. If you have the opportunity to spend more, you're more likely to have an app that is exactly like the one you're picturing in your head right now.
You'll be making an investment in uniqueness and quality, two things that will make your app stand out. If your app stands out, your business stands out. And then? Well, who knows? You might even make more than what you spent to develop it.
Are there any other options?
We do believe that good ideas are worth trying, even if there is no budget for the five-star custom app development right now. Keeping this in mind, we have decided to create ready-made solutions for various industries.
Here is the point. 30+ iOS and Android app developers have created functional modules for pre-built applications. All you need is to pick app features you need and customize the design.
Note, that there is a huge difference between our ready-made solutions and DIY app configurators that you can find on the web. The typical situation for DIY builders is an inconsistency between app components and a platform which causes system breakdowns. You also don`t have enough options to customize design and UI/UX.
In our case, all modules were built from scratch using the latest technologies. So if you put all the pieces together, you will get an excellent performance of the app. Also, we provide you with our UI/UX designer so that he could customize the design and bring the brand identity to your app.
Basically, there are two different areas of development: community apps and industry apps.
Community apps
This app solution was designed for any community like church, college, neighborhood, non-profit organization or company. The full price starts from $1499 per year without any recurring payments.
Here is the list of main features you can get:

Request a demo to find out more.
Industry apps
The logic is the same. We have ready-made solutions for such industries as:
Taxi/Carpool
Dating
Messenger
Geolocation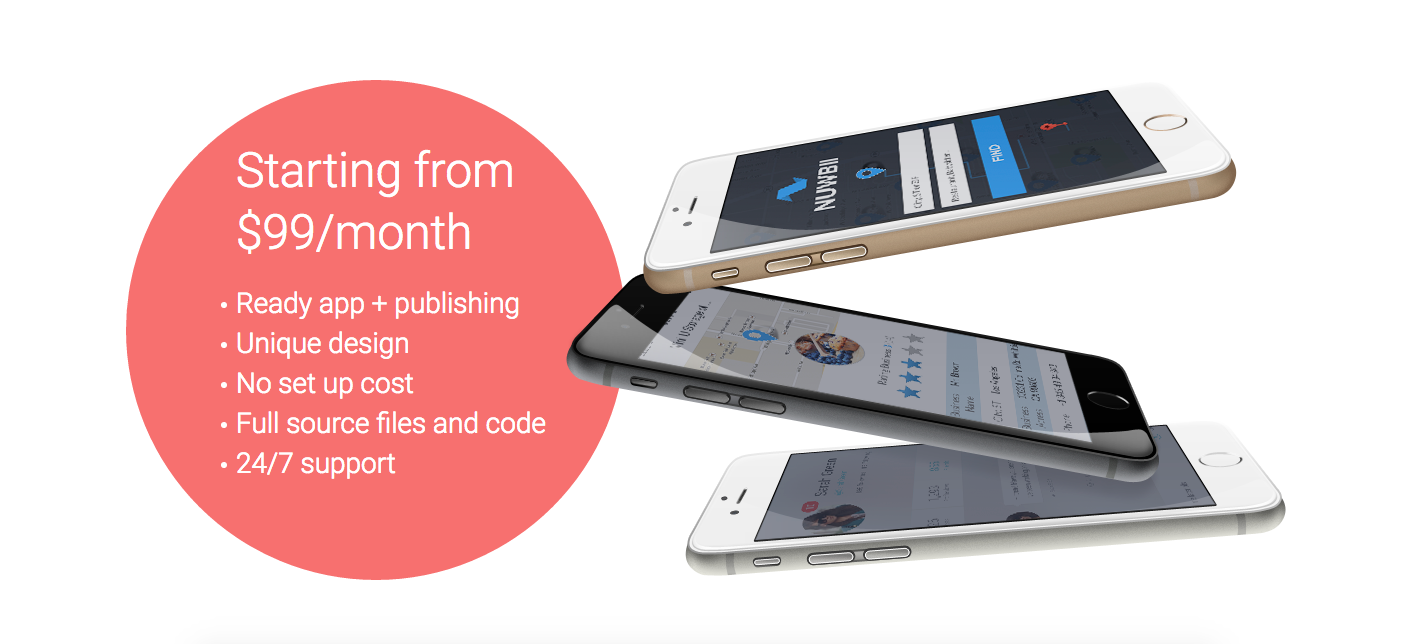 For more information, please, contact our manager.