Blog
DO YOU NEED A MOBILE ECOMMERCE APP FOR YOUR STORE?
DO YOU NEED A MOBILE ECOMMERCE APP FOR YOUR STORE?
Nowadays, it is customary to talk about eCommerce mobile applications as a matter of course for any business. Sympathizers talk about a long-known fact: the number of mobile Internet users is growing every year. Usually, this is where the arguments end. Let's see if your business really needs a mobile app and how it will help you make money.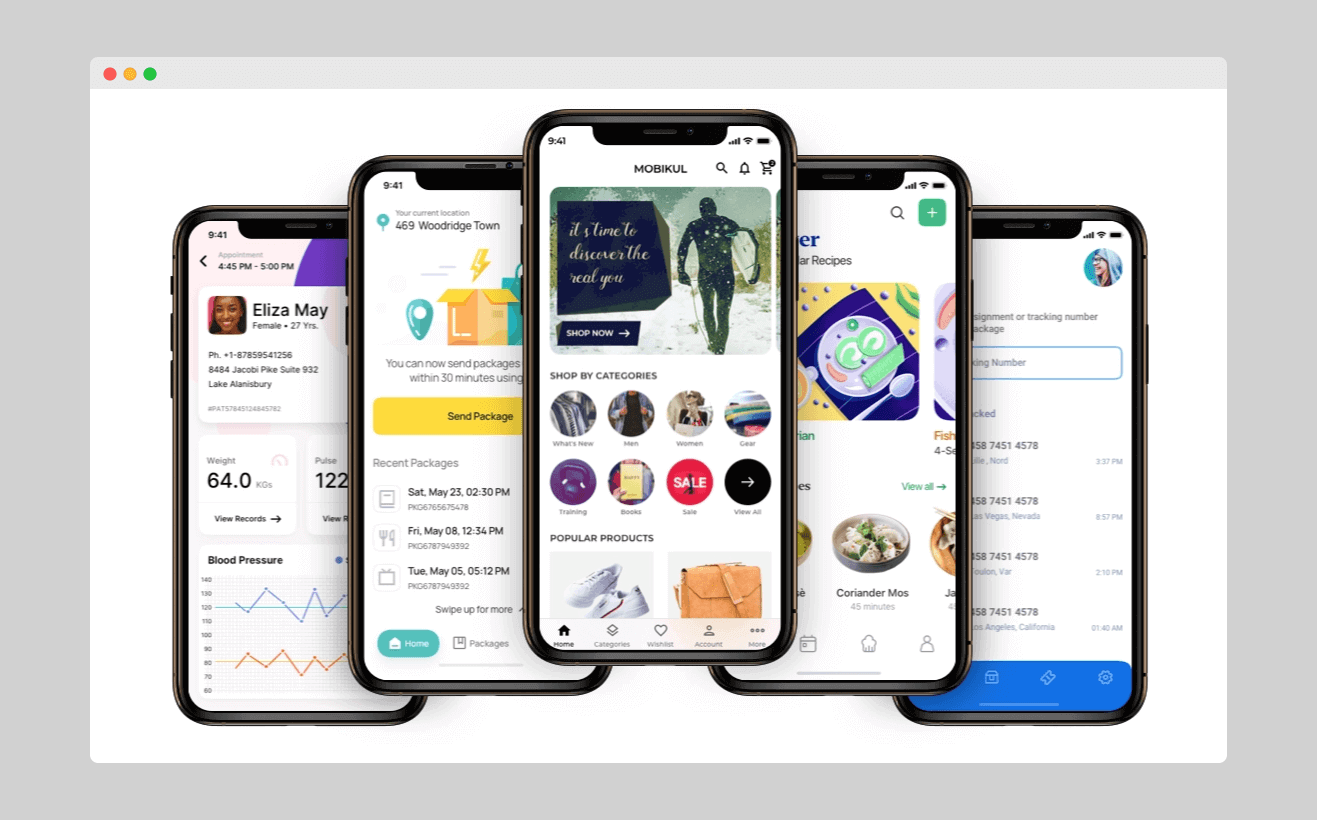 How COVID impacted the behavior of buyers
Talking about the need for an eCommerce mobile app for your business in the current realities, it is impossible not to consider the coronavirus. After all, this event most of all influenced the mood of buyers in recent years.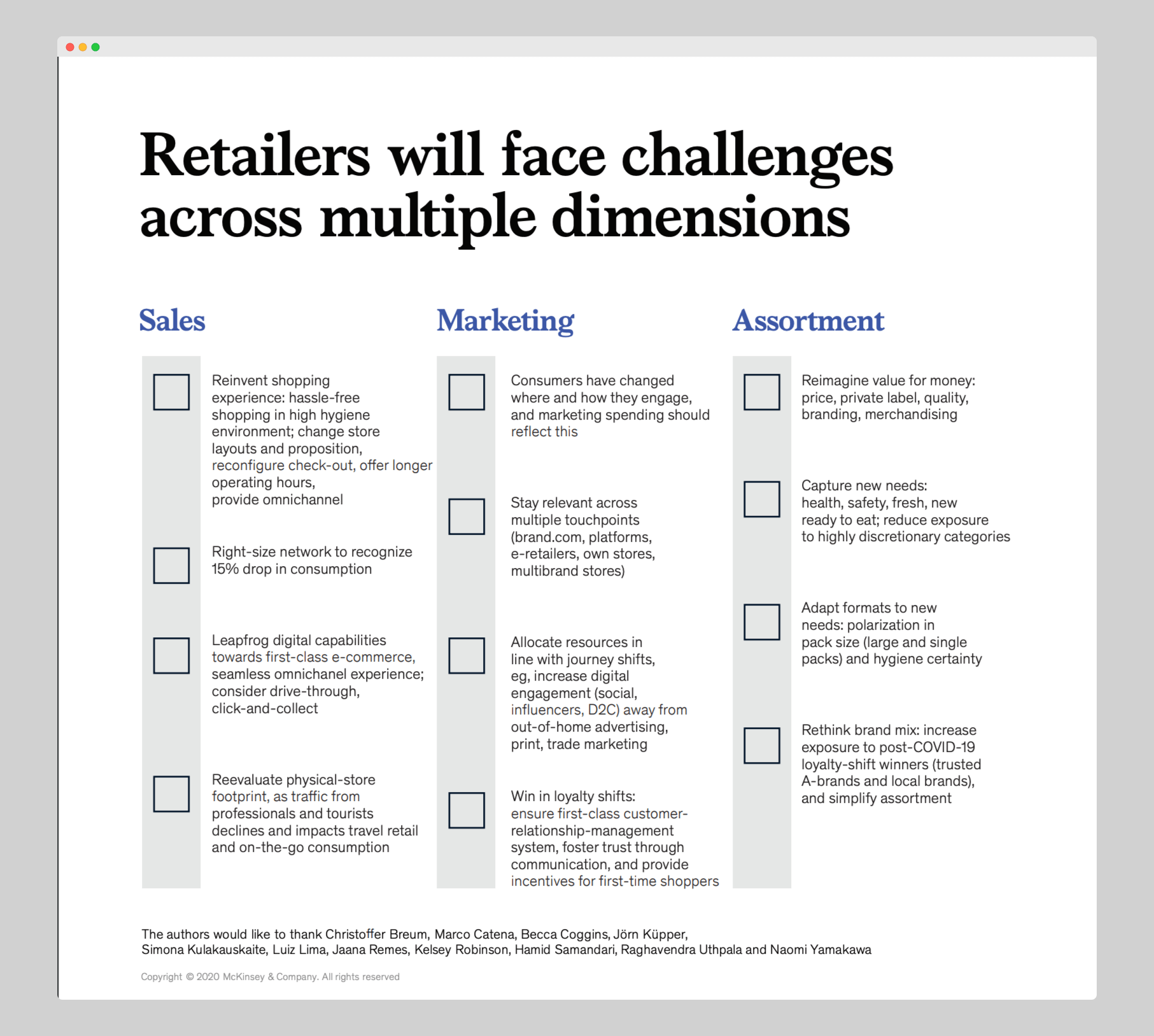 It would seem that you are sitting at home and have nothing to do. Many in such circumstances would buy unnecessary things uncontrollably, at least out of boredom. But research shows that while online orders have grown substantially, these have tended to be essential products. Food, medicine and personal hygiene items (we all remember how customers in various parts of the world hunted for pasta and toilet paper).
According to the Numerator research conducted in the United States, in 2021, 79% of respondents began to visit public spaces such as bars and restaurants less or completely abandoned this habit. Cooking at home has become a more common ritual in American life.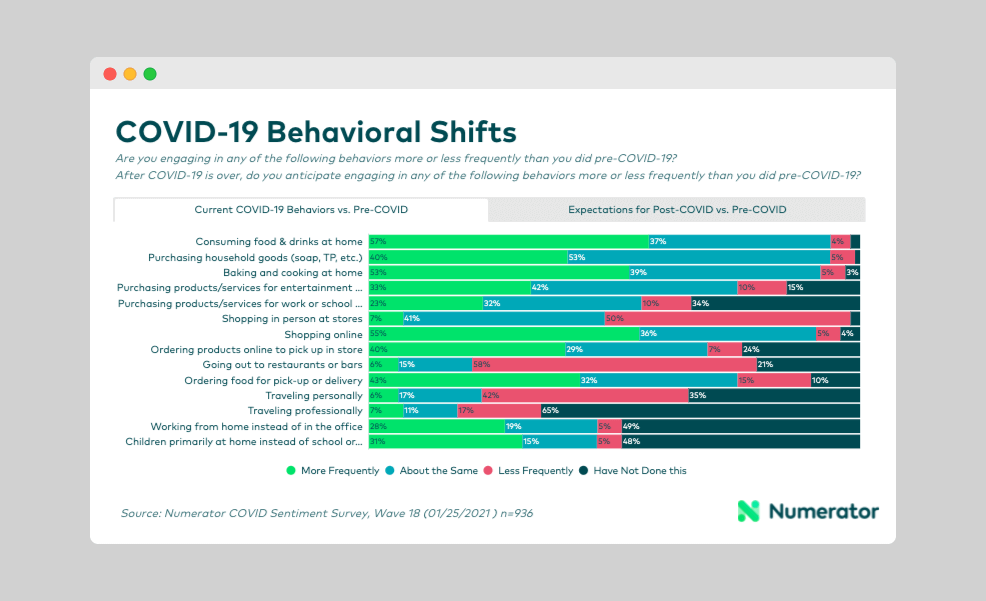 At the same time, during the coronavirus period, the number of online purchases increased by 55%. Opinions "yes" and "no" were slightly more noticeable (28% and 22%) on whether the respondents would return to the habit of going to offline stores after the end of the epidemic.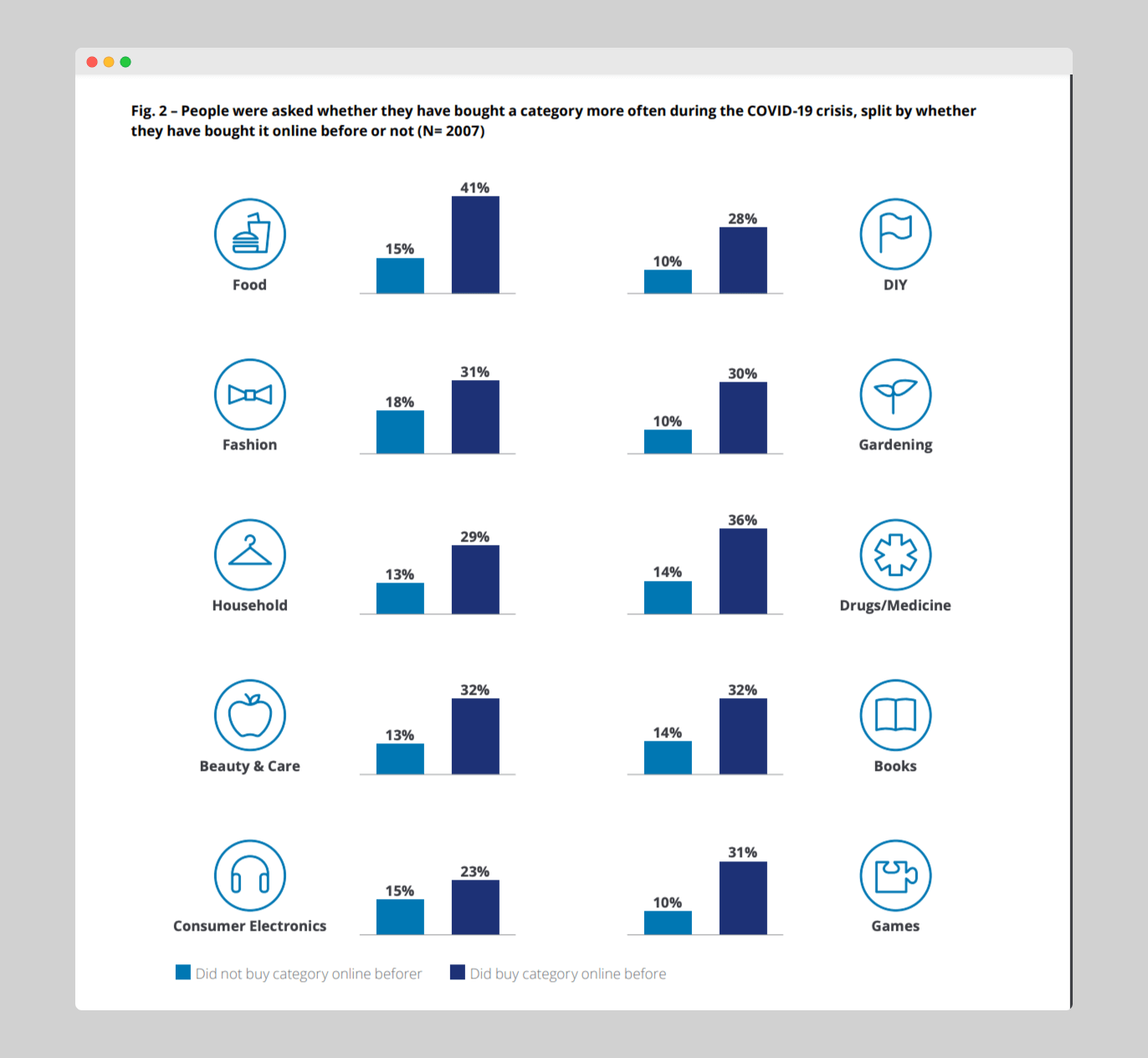 According to surveys by the British auditing company Deloitte, of all product categories, online food purchases have grown the most. Moreover, they promised to remain as such after the COVID.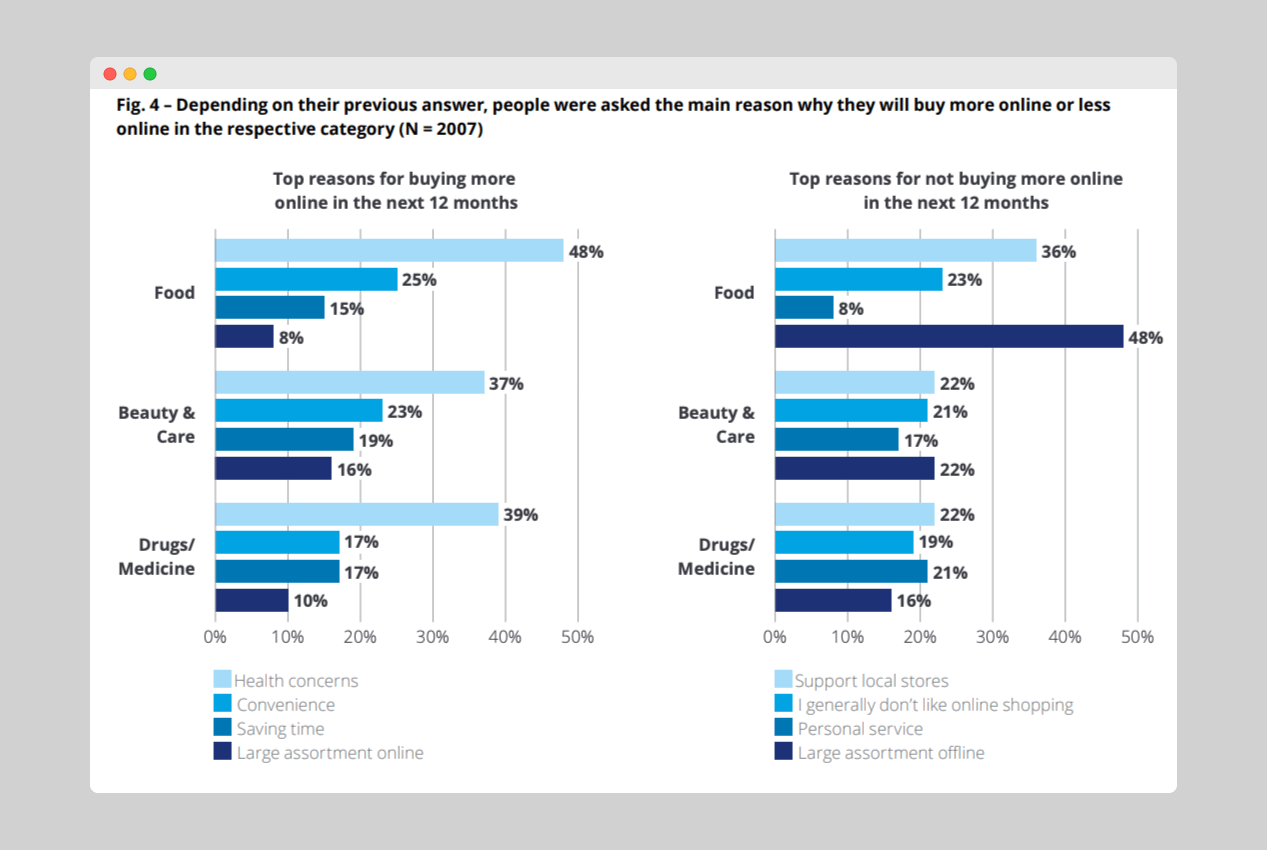 Overall, purchases have become more thoughtful. On the other hand, sitting at home, consumers have lost some brand loyalty and are ready to try something new. It could be an excellent chance for startups. Shopping has become more local, from stores in their region, partly due to the desire to support local small businesses.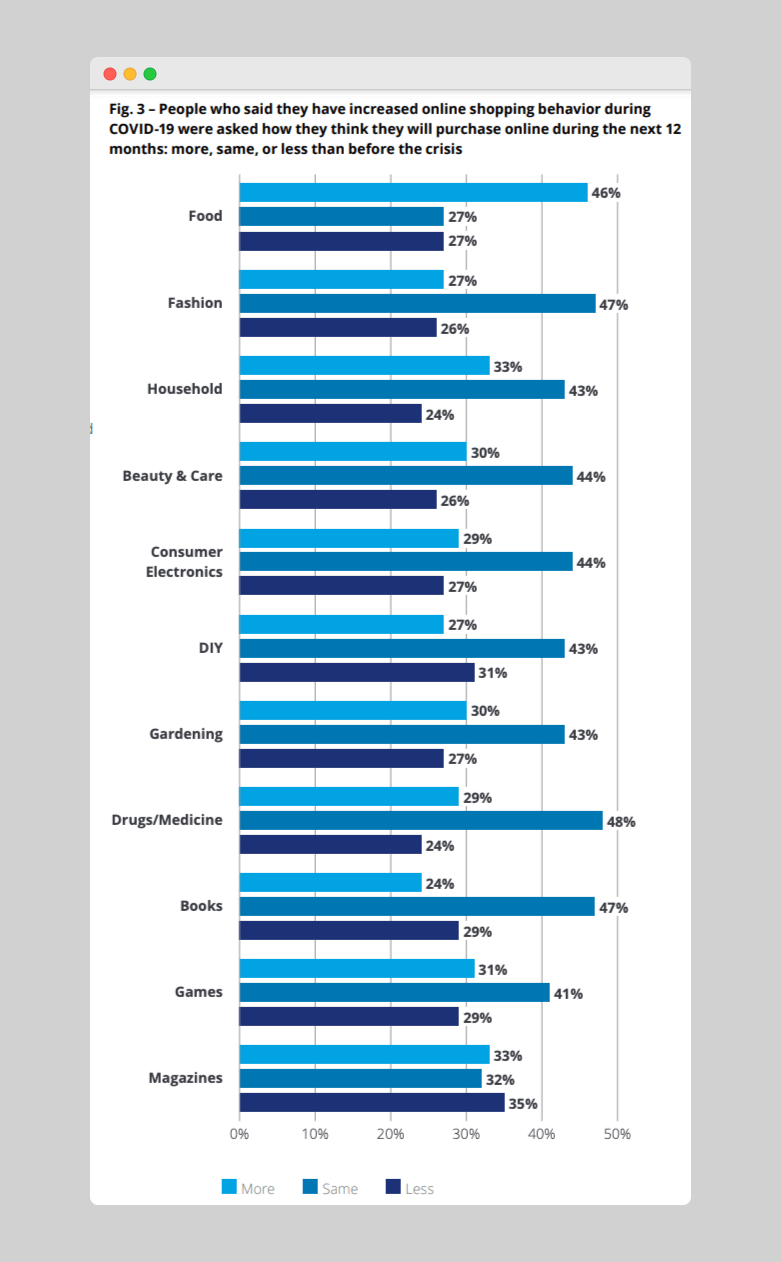 Ecommerce website vs. mobile shopping application
To understand which of these two solutions will be more acceptable for your business (possibly even both), let's look at them through the lens of numbers.
For example, RetailMeNot conducted an interesting study that showed that the number of people who use the mobile Internet is by no means equal to the number of people who use eCommerce apps. So, although 57% of users download, they use the eCommerce mobile app of a particular store once a month, if not less often. And only one-tenth of respondents open an eCommerce app once a day or more often.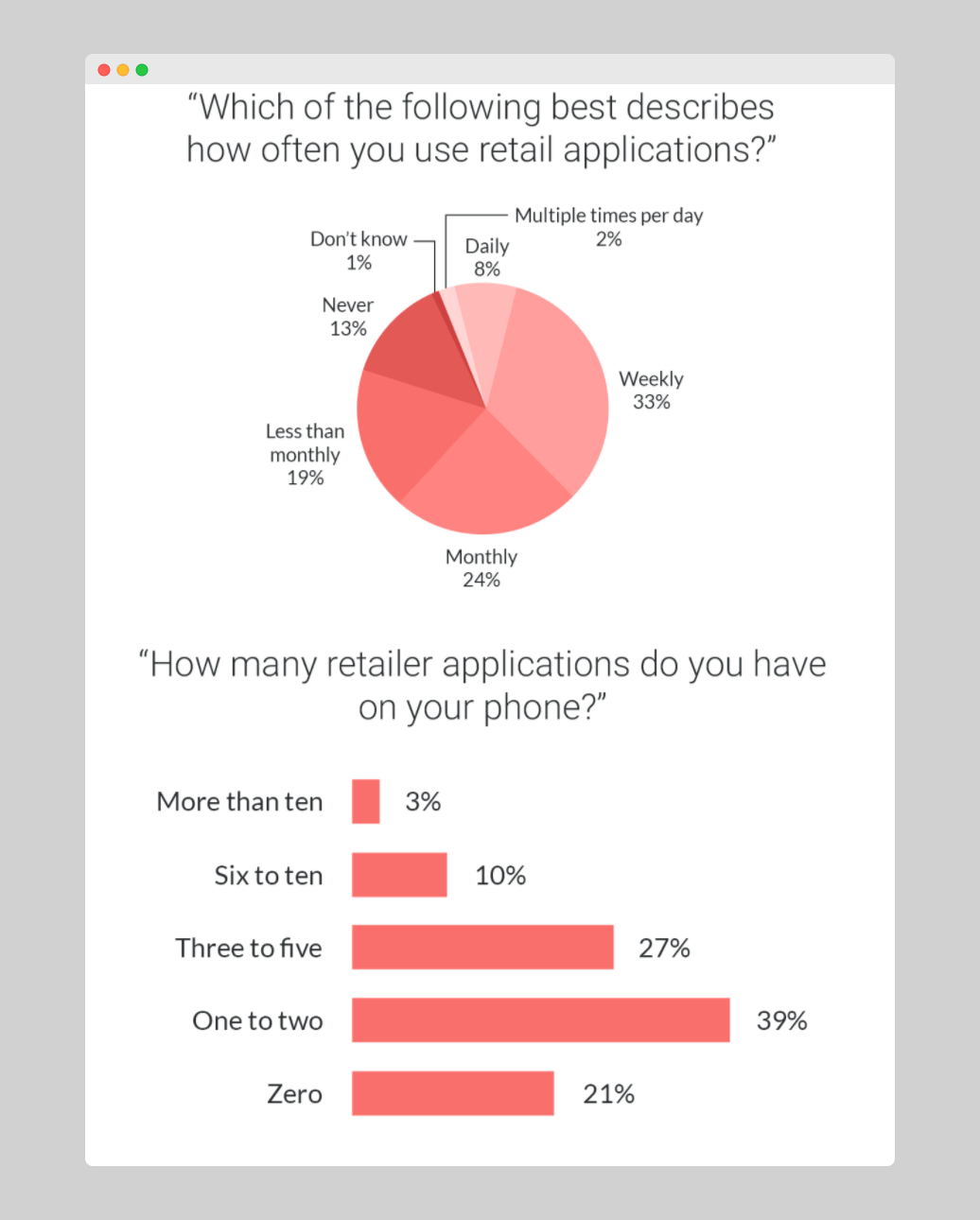 According to the same data, the average smartphone user downloads no more than two retail apps, and 21% say they don't have any shopping apps at all. The mobile version of the site is enough for them. However, this is true to a greater extent for making purchases and studying reviews. If you want to provide loyalty programs, then the app is a winning strategy. 19% of users visit eCommerce apps for this purpose, and only 12% visit the website.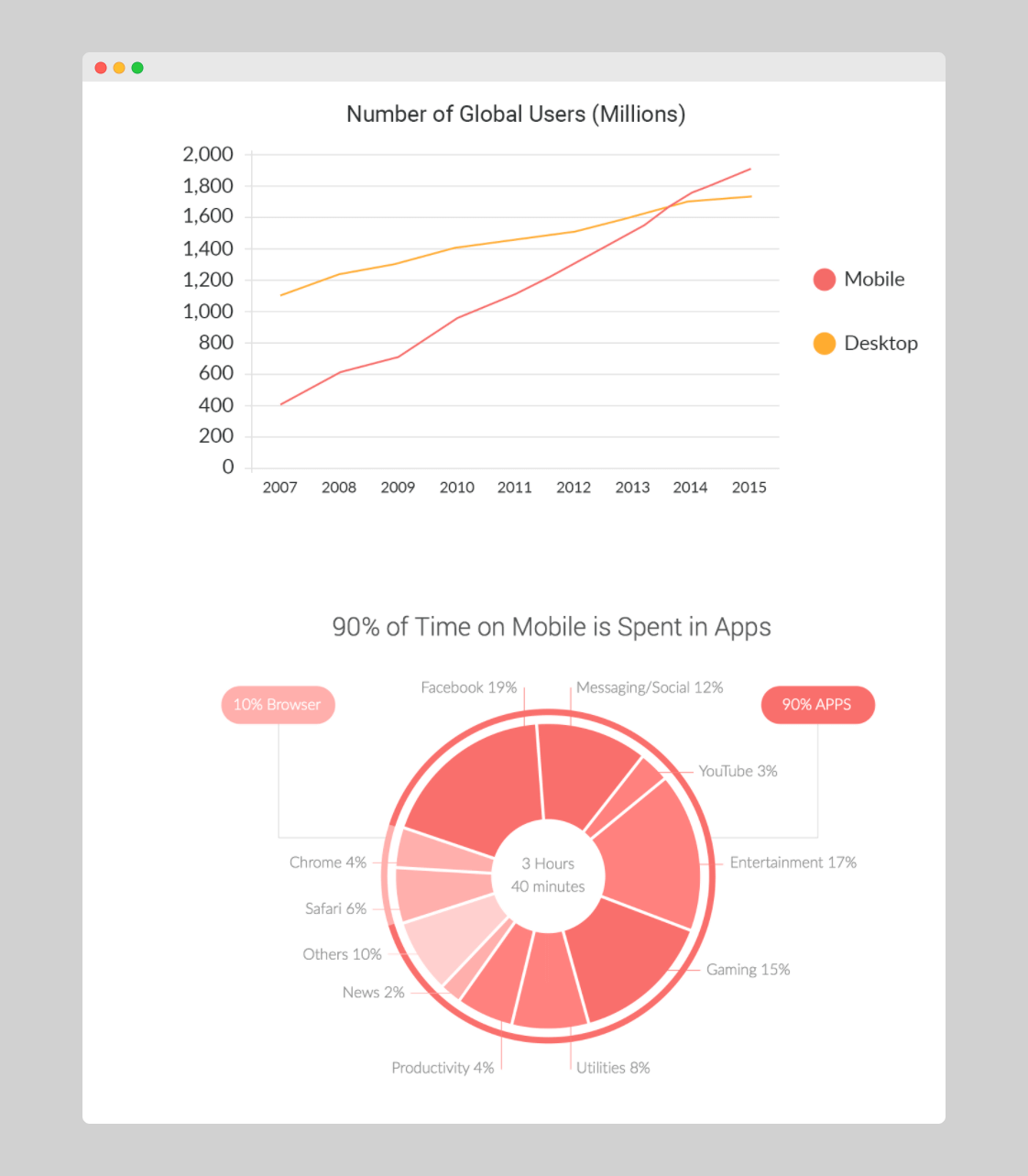 According to Statista, music app users have become the most engaged. In 2019, this audience generated an average of 2.79 sessions per day. In comparison, users of the eCommerce app had 1.77 sessions per day.
On average, the time between downloading and uninstalling an eCommerce app is a little less than five days. At this rate, motivated users who decided to play sports at home lost their enthusiasm after just nine days.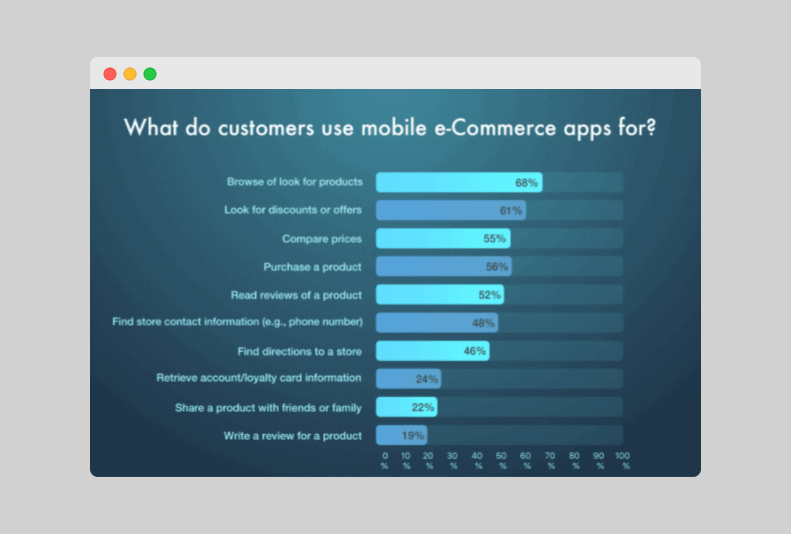 It seems like responsive pages are better than mobile apps? Not a bit of it! When shopping, many users feel more secure if they register and make financial transactions through the app. Also among the reasons are convenience, speed, the ability to save the data, find the best deal available and get personalized offers.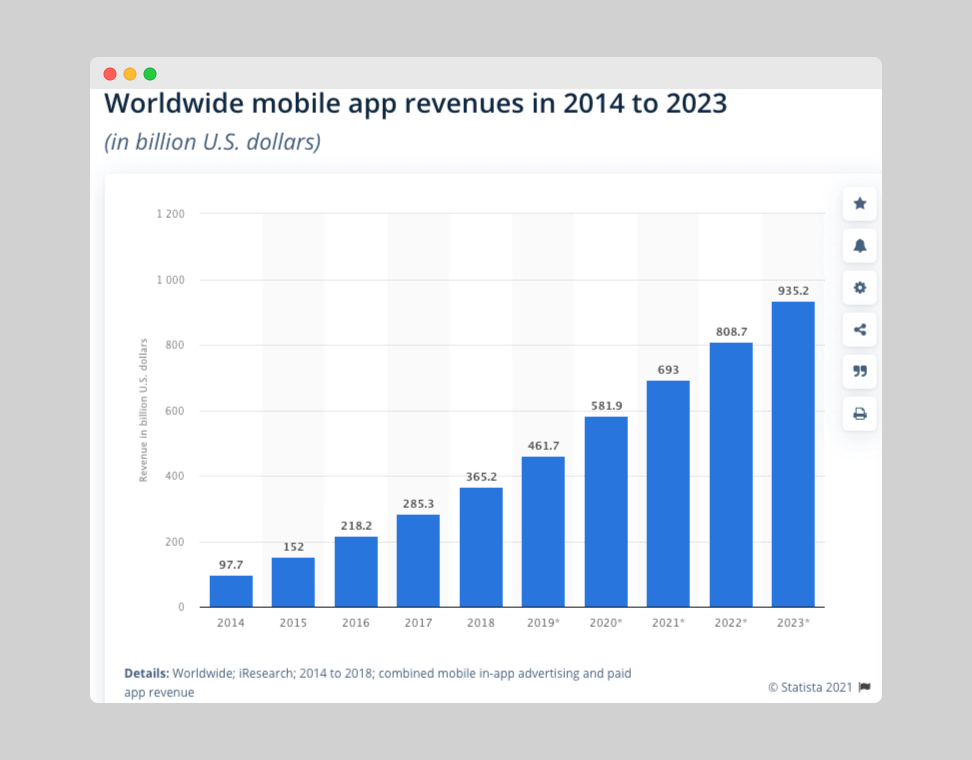 Building a responsive website may seem like a good solution, but it can't display content as conveniently as native apps. Nevertheless, it looks promising for successful business strategies.
Benefits mobile app for eCommerce brings to brands
In 2020, their profit increased more than two times compared to the same in 2016 (from 218 to 582 million). And by 2023, growth is expected to be 935 million. And while most of these apps are gaming, the top non-gaming app publishers by revenue include TikTok, YouTube, Tinder.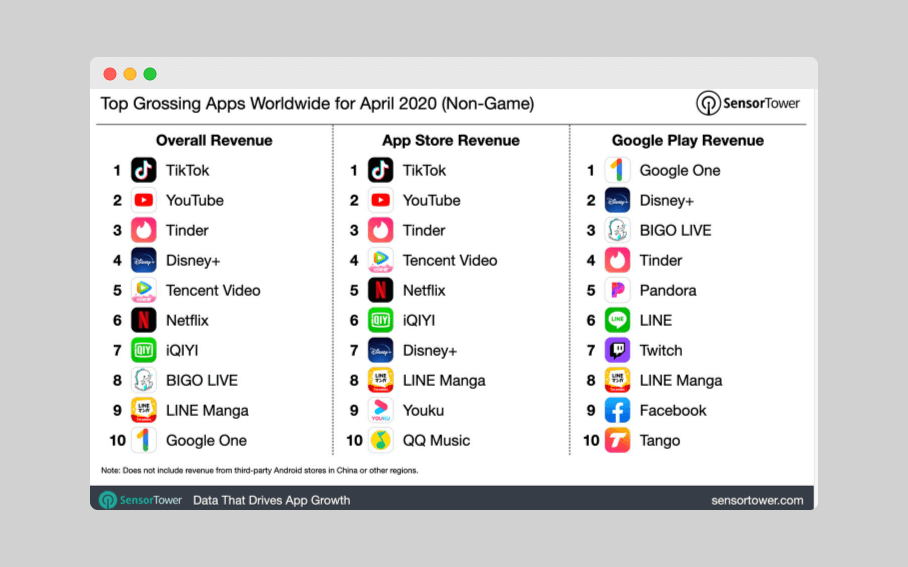 Among the advantages:
Increasing conversion and sales (one-click touch, the concentration of useful information, push notifications, all this increases your chances of getting customers through the eCommerce app, the main thing is to stimulate the user to download it)
Personalizing shopping history (inform the user about current discounts, notify him of the availability of the goods he wanted – customers appreciate this concern)
One more direct communication channel (another tool for collecting analytics and personalized selection of goods and services)
Gathering and analyzing data (having correctly collected the necessary statistics, you will know from the start of the business what exactly to offer your target audience)
Using the benefits of integration (the so-called contactless marketing concept – when you are invited to go to the store if you are nearby)
Adding faster and safer payments (many buyers will go to competitors, even if there is a higher price if there are no diversified, convenient, and secure payment methods)
Synergizing with the device hardware (voice search in the catalog, search for the nearest points of sale via GPS, QR codes, and other features that cannot work in the mobile version of the site)
Saving opportunities (for example, you may not even start an offline store, if everything is fine with online sales, it is enough to have a warehouse)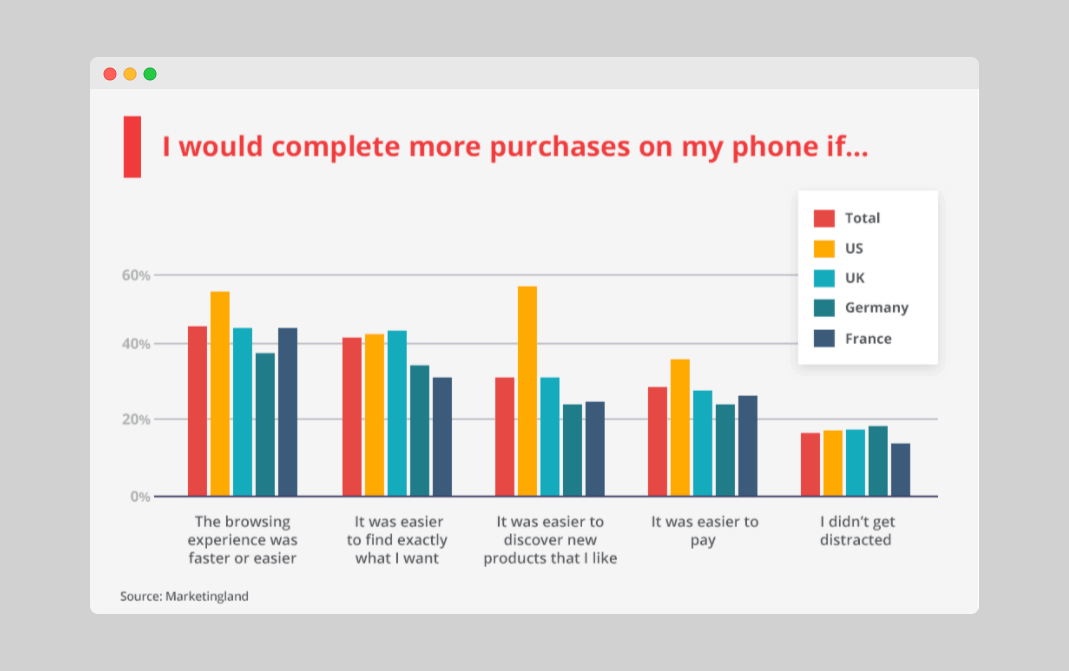 According to Google's survey conducted in 2016, 58% of eCommerce mobile apps users were utilizing them to compare prices, search for special offers, read product reviews and eventually buy online. And 66% of users make at least one purchase a week via mobile apps.
Why do you need an eCommerce mobile application for your business?
Ensure the comfort of your customers
Even if a potential buyer has never used your eCommerce app, the very presence of such suggests that you are preaching a severe approach to business. After all, you are giving your customers choices that your competitors might not. Especially if you made sure that the eCommerce app was in the APP Store and the Google Play Market.
It creates trust in the subconscious. Moreover, it means that you will not close "tomorrow" since you have taken care of such a costly method of communication and the sale of goods and services. In addition, eCommerce apps are usually used by the most active part of Internet users, so it makes sense to try out new business tactics on this audience.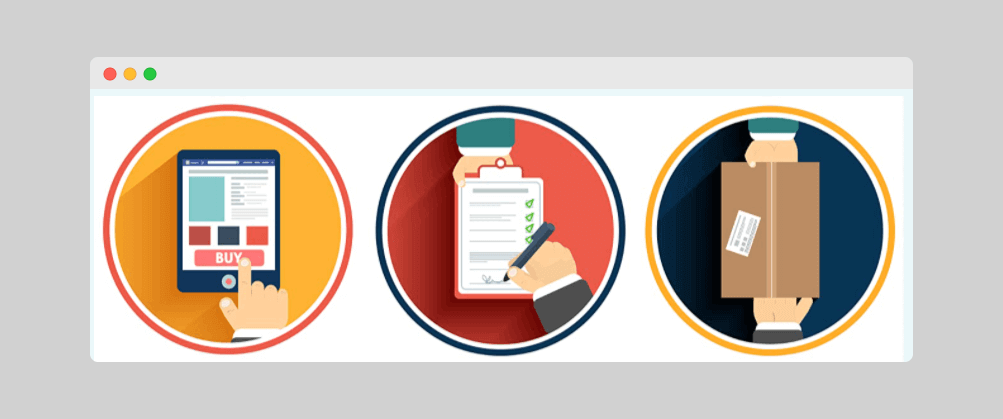 Studies show that today people tend to seek support through instant messengers and other written communication channels, except for email. It is not for nothing that many people are happy to press the button – "do not call me back," unnecessary communication on the phone even with acquaintances burdens modern people. This is why in-app chat is so important. However, when it is not there, or this channel is too slow or ineffective, this may become a reason to uninstall the eCommerce mobile app, and even excellent usability will not save you.
Embedding an intelligent, easy-to-use help center into your eCommerce app can be a smart way to help your customers find answers to their queries as quickly as possible. As a result, customer service personnel are asked fewer questions. With increasing customer service requirements, a mobile app can significantly reduce the workload on your employees. By the way, the data from your eCommerce app can help you track potential problems or issues before the customer encounters them.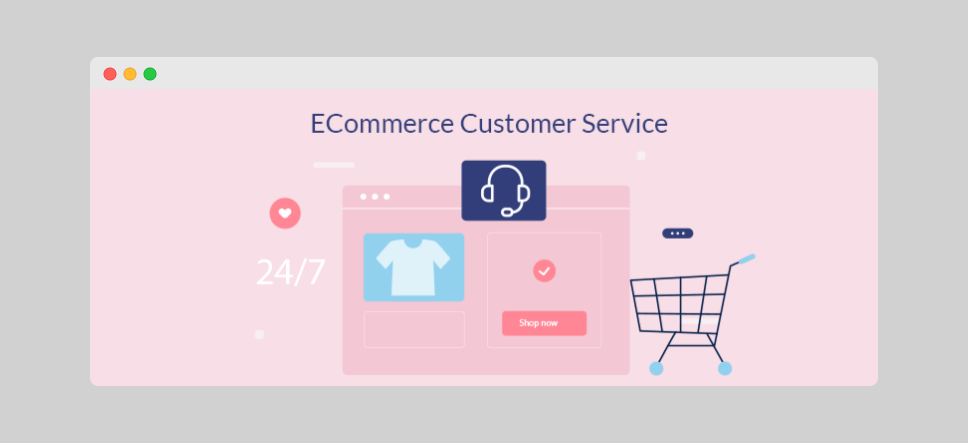 There is no limit to perfection, so ask your clients to help you on this challenging but mutually beneficial path!
Strengthen your brand
A mobile eCommerce app is a good tool for strengthening and increasing awareness. It is another reason to root your logo and corporate colors in the minds of users. For this, the UI/UX designer and copywriter should work well, making the eCommerce app as simple as possible so that no one gets confused and can satisfy any of their requests in a couple of clicks.
Continuously improve customer engagement and interaction with your brand. Segmentation of users and development of personal interaction with each segment helps a lot in this.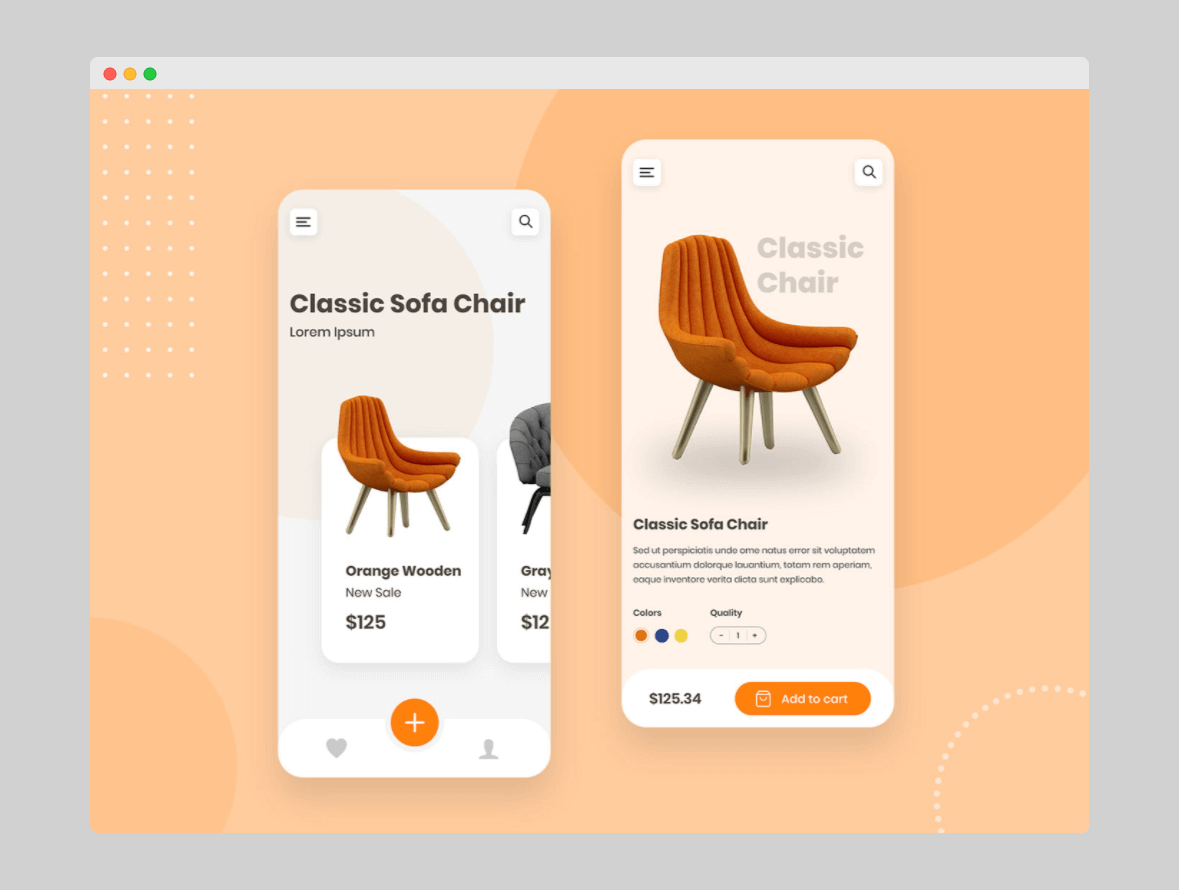 Build brand loyalty
Clients must not only be attracted but also retained. And for this, you can use the power of the mobile app to its fullest. To do this, you need to meet the needs of customers constantly. Try a loyalty program for these purposes, but don't be too mind-bending. It should be a well thought out yet impeccably simple scheme:
Offer an instant reward – a discount on the first purchase, a discount for a referred friend, or a real cashback.
Advice and consult on the product's characteristics, what exactly is suitable for a specific user based on behavioral factors.
Encourage social media sharing. Let customers share their experience of using the app and product with their friends. This is your "free" advertisement. In addition to publishing buttons, you can also increase user engagement by integrating the app with social media feeds. Most development companies offer this as an optional feature.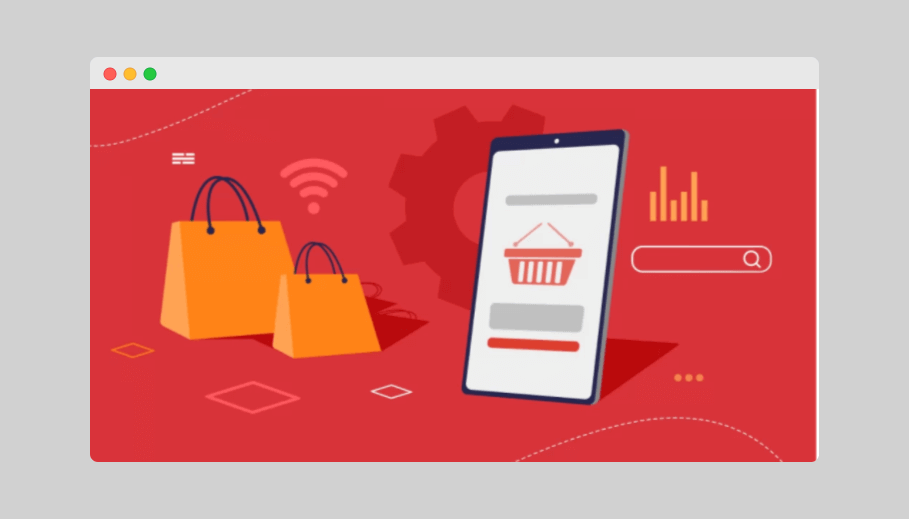 Key features of a mobile shopping app
If you want your eCommerce app to stand out in the market, you must entrust its development to professionals. Also, decide in advance what kind of features you would like to see in it.
Despite the difference in stacks, the general outline for a roadmap is always the same. Here is an approximate list of your project team:
Project Manager
UX/UI Designer
iOS Developer
Android Developer
Backend Developer
QA Tester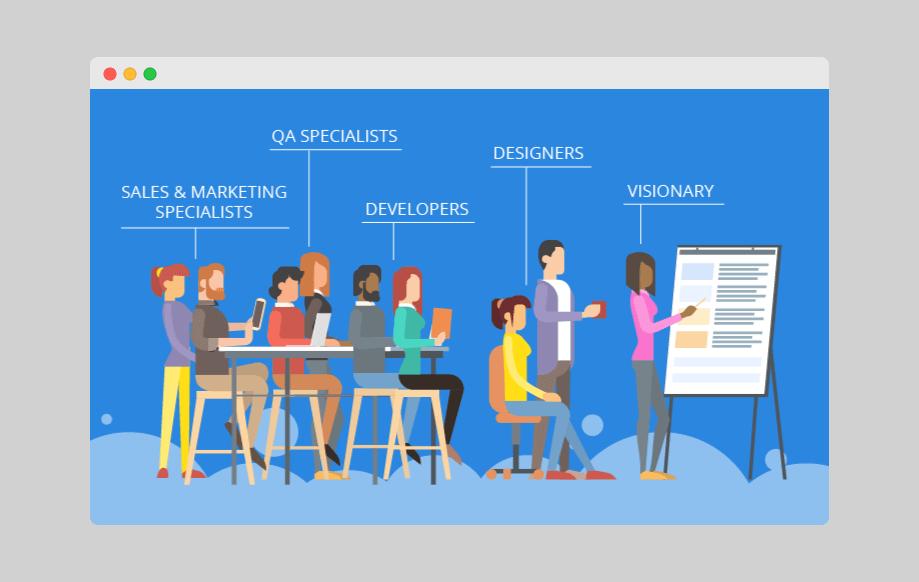 There are must-have options set that no eCommerce mobile app can do without. The design, corporate colors, and usability are the Alpha and Omega of any eCommerce app. In addition, there should be: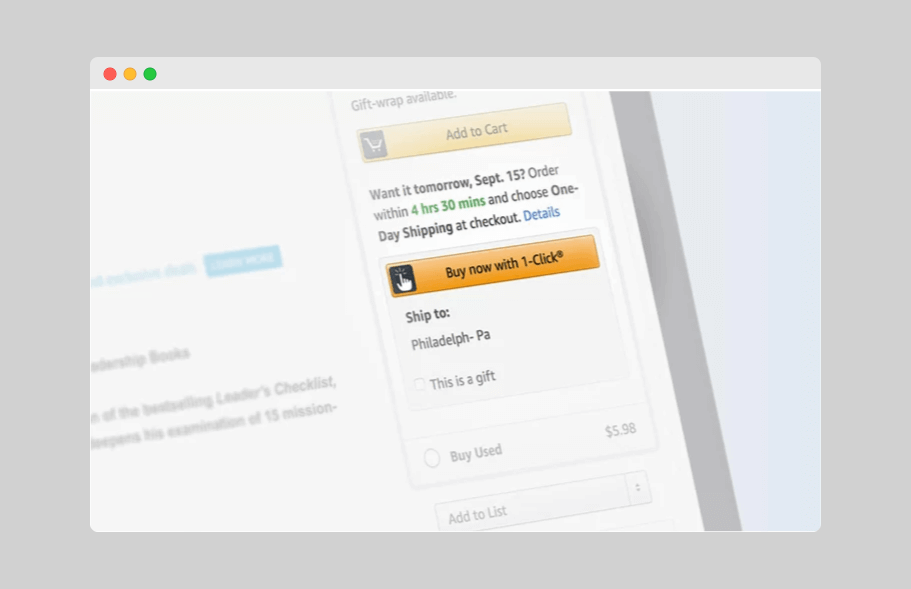 Ease of navigation (the sooner the users understand how to register and make a purchase, the sooner they will make this purchase, flawlessly, if it is in one click)
Security (as mentioned above, in the eCommerce app, users are looking for a safe field that compares favorably with the mobile version of the website)
Push notifications (essential one-way communication in the form of important announcements of promotions, special offers)
Analytics (by researching behavioral factors, you can offer your customers the most relevant products or services, customers tend to shop in places where they support an individual approach to the online customer)
Chatbots (an additional source of gathering information, for example, 54% of customers state that it is more convenient for them to communicate with the seller via messenger than on the phone or by email)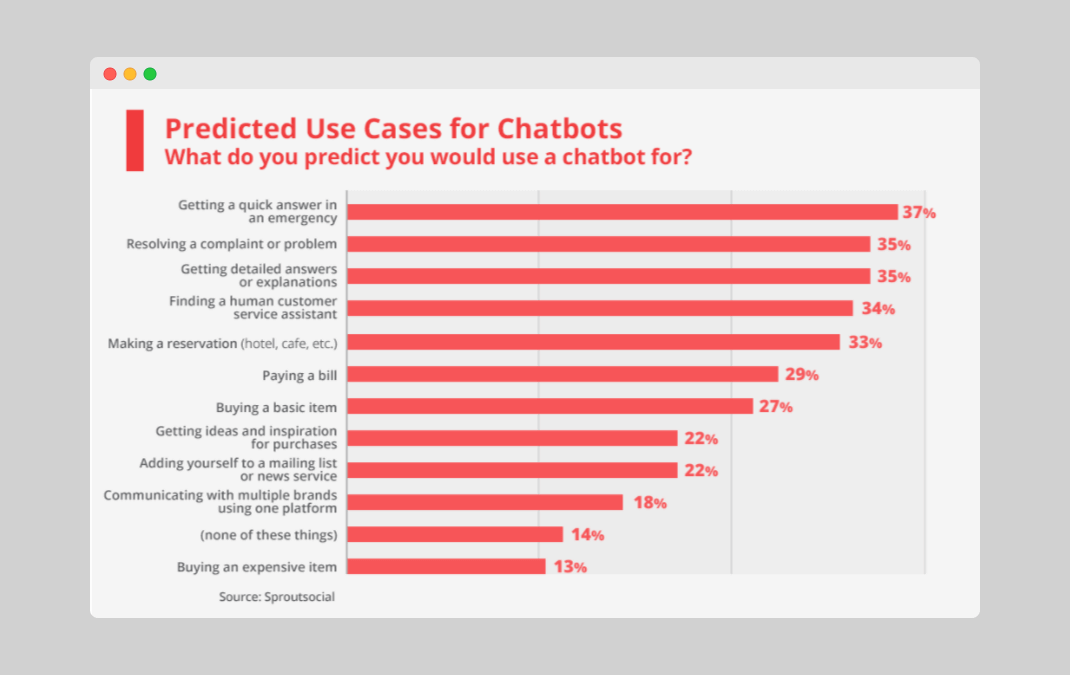 On the part of the user, the eCommerce app must contain:
Authorization. Give your client a choice of registering via email, phone number, or social media. One-click registration is very stimulating to decide on an instant purchase.
User profile. Make the profile options as informative as possible so that the user can fulfill them creatively. But at the same time, do not force the client to obligatory fill in ALL fields.
Feed. Diversify the filters as much as possible, enter a voice search, offer the most relevant products; if suddenly the user is not satisfied with the desired one, enter the menu "also bought together".
Payment system. One of the most challenging questions on the technical side of the project. However, if you take it seriously, buyers will be delighted – the variety of payment systems and their smooth operation are highly appreciated by users and strengthens loyalty.
Online support. Diverse communication channels with the client are extremely important as it is another way to show that you care. Moreover, you can not wait for customers to have problems with your product/service, but be the first to contact them for advice on what can be improved in your work. Using the advantages of AI, you can start a bot for the FAQ; to solve complex nonlinear problems, it is better to involve a live employee.
Rate and review. Many users do not buy anything at all without first reading the comments about the quality of the goods. It is mainly fair for expensive items. Help your clients, do not force them to look for information elsewhere. Also, don't delete negative reviews about the product. An overly blissful picture can spoil the impression of more than one unsatisfactory comment. To encourage buyers to leave the reviews, offer a discount for a certain number of comments left.
Social sharing. Why not earn new customers from old ones – make the app attractive enough to make them want to share. It doesn't matter if it's a taxi ride or a new bag.
Wish list. Another feature that encourages shoppers to come back to the app. If the clients don't have money for a product or service right now, let them have the opportunity to return to the desired item in one click.
Order tracking. Super helpful property that gives the client a sense of control over the actions. Uncertainty at the psychological level always causes anxiety. Suppose the customer sees the status of the delivery of the goods or the performance of the service (for example, how far the courier is with the food from the restaurant). In that case, this will have a beneficial effect on his location to your eCommerce app.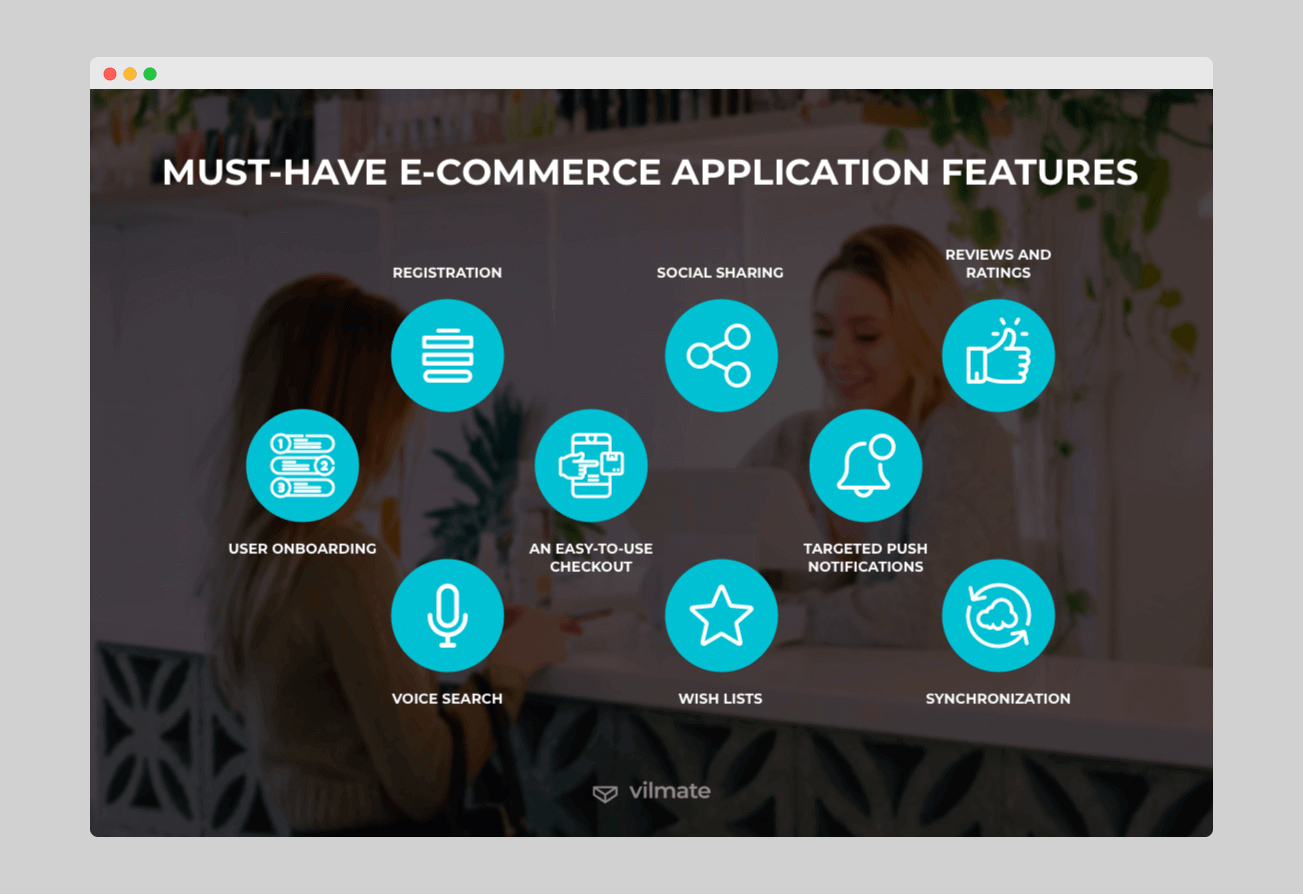 From the admin side, the web panel should have:
Catalog of goods. Here you need to think over the most logical, intuitive cataloging structure. After developing the finished application, you can hire a content manager who will fill in the product illustrations and descriptions.
Analytics. Tracking behavioral factors will give you an idea of ​​the strengths and weaknesses of the eCommerce app so that with the MVP release, you can work on further improvement.
Protected data storage. We live in a time when it is impossible not to share our data with third-party programs, websites, and applications. Take care to prevent leakage. After losing the users' trust, it will be almost impossible to regain it.
Management of orders. Monitoring and control of the order from its creation to the final execution. You watch how the user places an order and then follow a certain procedure that leads to the receipt of the order by the client.
User management. Track the status of the user. The admin makes sure that clients do not receive more rights than they should.
Invoice. A report that contains the time and other details of the transaction between you and the customer. It is an analog of a check, which is punched at the checkout in a store. Not all users require it, but if you want to make an impression of a serious company in the eyes of your customers, this option will help you with the calculation of profit/loss as well.
Things to consider in a mobile app development
Security
We have already mentioned several times that one of the primary reasons for using an eCommerce app in front of a mobile website is the security of payments, as well as the convenience of transactions. However, it is also very important to keep the personal data of clients safe. Do not spare a significant part of the total development budget for this.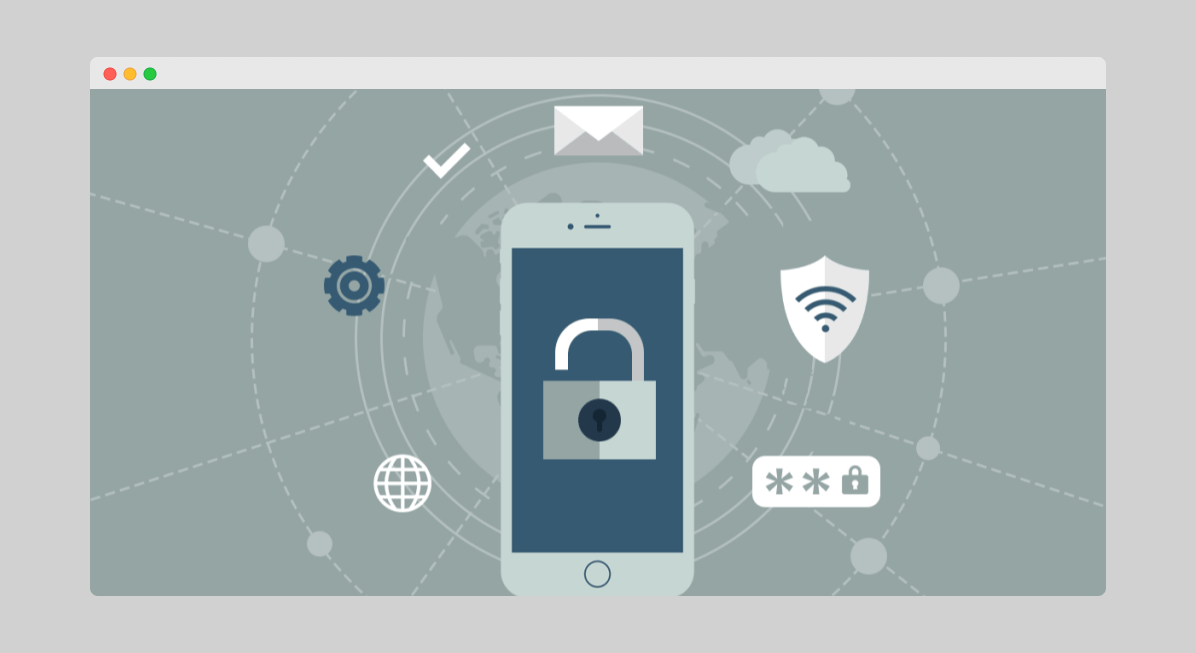 Stability
Once you've developed a profit center version of your eCommerce app, never stop improving. No app has ever been created perfectly from the first time it went into production. To convince people to download an app, you have to offer them a quality product that won't screw up the first time you open it. Of course, there will be mistakes, and that's okay. But, you have to admit, when a bug pops up during a large transaction, your client is unlikely to be delighted with it.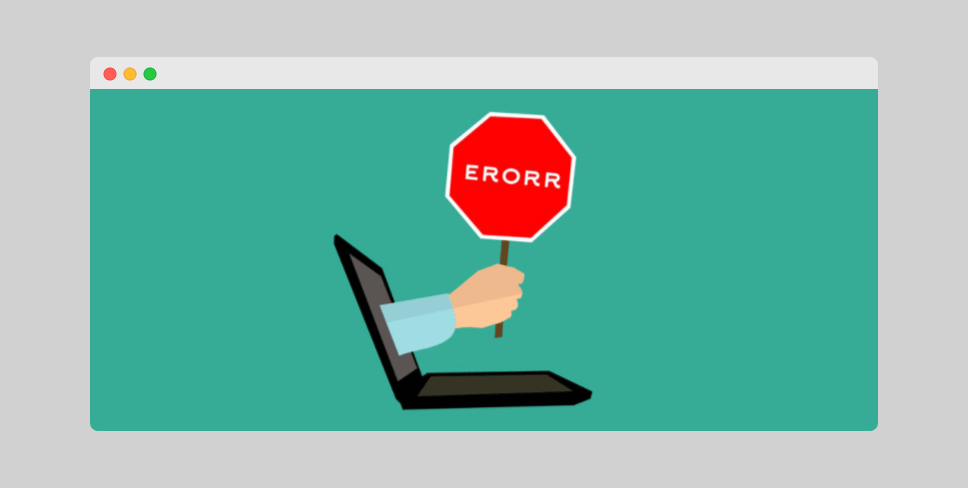 Scalability
Even if you are a pessimist and are not inclined to believe that your eCommerce app will conquer the top downloads in the first month, it is still worth considering the gap for the future, the growing number of users. These can be undulating jumps.
For example, if your store sells sup boards and surfboards via a mobile app, you should expect an influx with the arrival of warm weather. Therefore, the application should be configured so that the average request processing time decreases proportionally with the increase in popularity and the servers' load.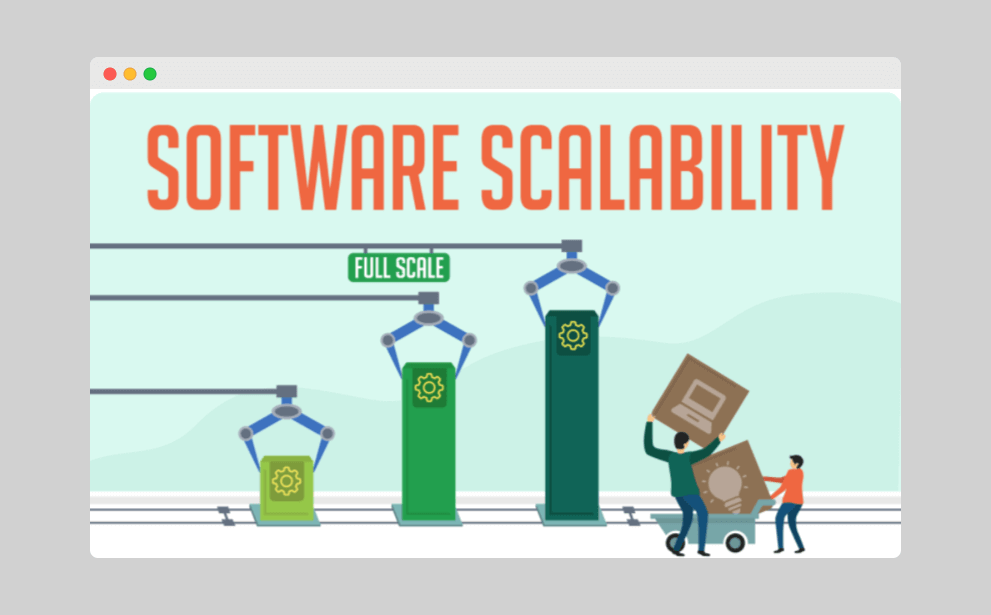 Custom mobile app development
Once your company has grown to a decent size and a certain profit threshold, you can no longer rely on SaaS. It's time to think about your own software, which you fully control and which will not fail at the most crucial moment. It does not necessarily mean that the company is hiring its development team. Instead, the same principles apply when hiring consultants to customize the platform, that is, something like a project order.
As part of this one-time promotion, the team develops a personalized solution that is ideally suited to your business strategy. In addition, developing your own software will be cheaper than working with several SaaS companies in the long term.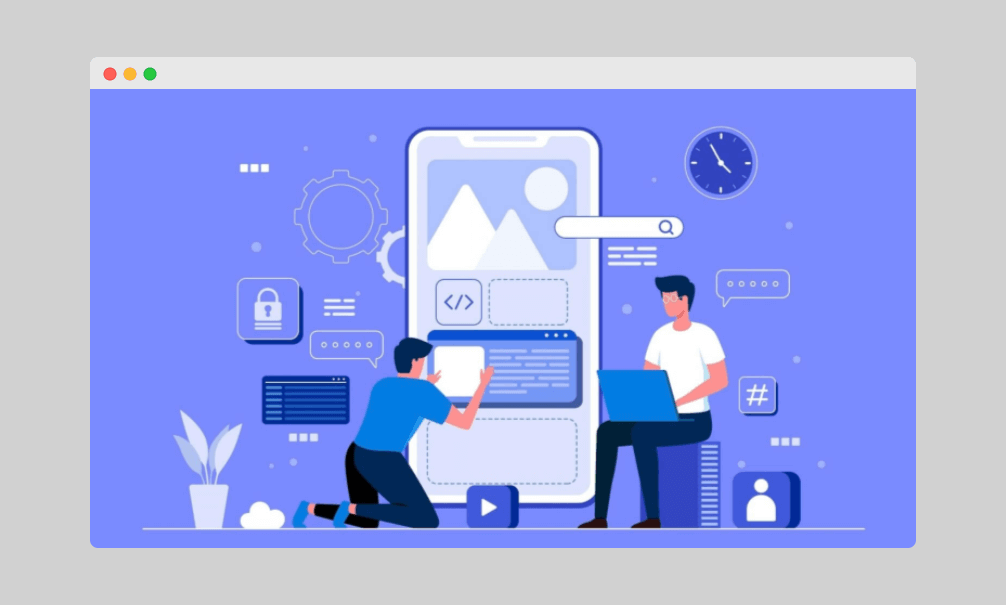 How much does a mobile app development cost with The APP Solutions
Mobile app development is a subtle service of an individual nature. How much does it cost? It all depends on your wishes and what you are ready to go for, what you can offer from your part and what services you are looking for on the side, how many people will work on the project, and how many person-hours it will take.
We strongly recommend starting with the MVP version. So the eCommerce app will be released faster, and errors and various additions can already be corrected and tweaked "live" since The APP Solutions services are not limited only to development but also include post-production support.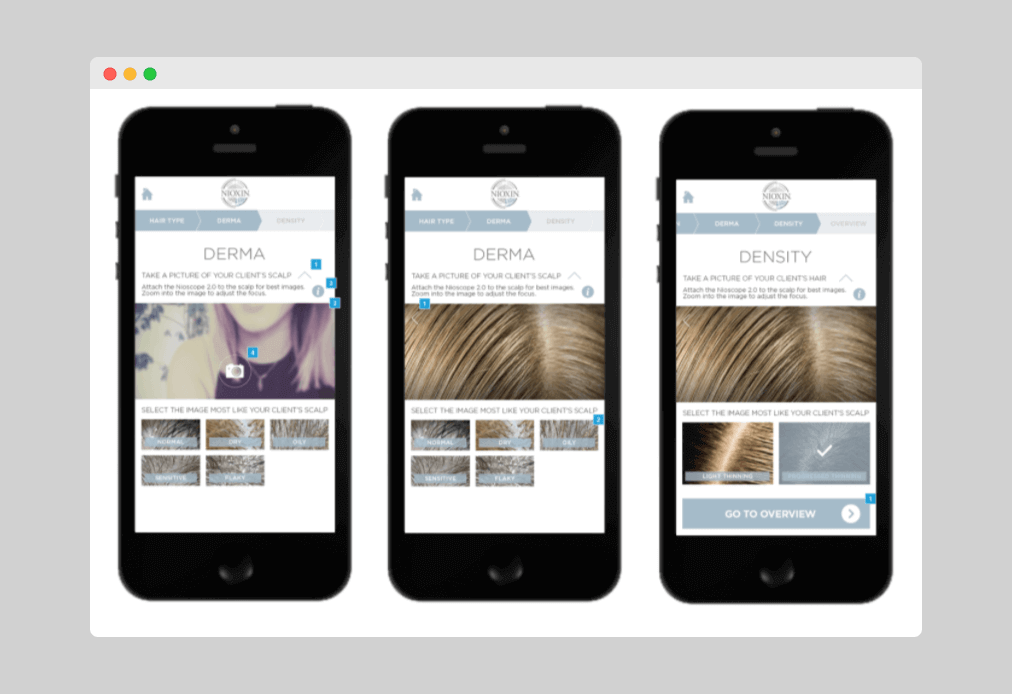 [The APP Solutions layout for a mobile applications project]
Depending on the complexity and budget allocation, the development of a profit center can take from three to six months. A well-designed and consistent roadmap on both sides will help avoid hidden costs, unnecessary repetitions, and unnecessary waste of time.
We also recommend that you abandon cross-platform eCommerce apps and engage in separate development for Android and iOS. Each of these platforms has its own feeds, and if you try to please both in one fell swoop, there is a risk of flying both there and there. As a result, everyone will remain dissatisfied. And we are interested in a positive outcome, right?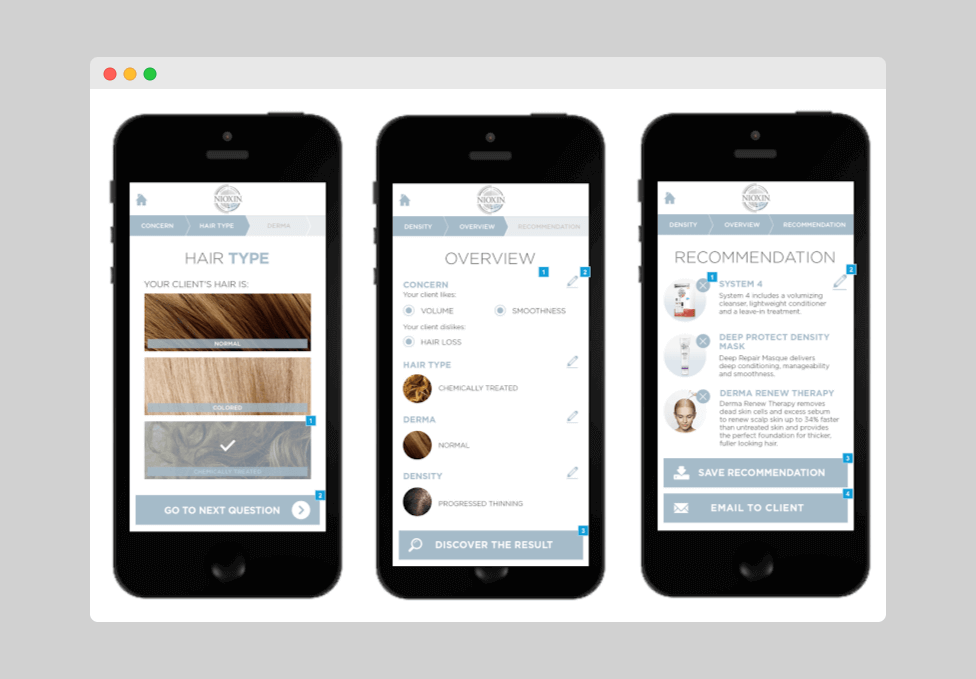 [The APP Solutions layout for a mobile applications project]
Conclusion
During Covid and permanent self-isolation, you need to take advantage of the situation when people move almost their entire lives online. Online lifestyle was generally the only choice for people living alone during times of the most severe restrictions. Don't give people a chance to be in the privacy of their minds.
The APP Solutions is a mobile app development company aware of the tech stack for a mobile shopping app and has successfully released mobile shopping eCommerce apps for different industries. Check out our portfolio project details for mobile apps Shopeam and Trendeo. And do not hesitate to cooperate with us!