Web & Mobile Development Outsourcing Risks and How to Avoid Them in Your Business
Mobile application development is the most frequent type of software development outsourcing process. According to Computer Economics Research, more than 40% of companies that use outsourcing services are to increase the amount of outsourcing workload. Wherein most of the clients are satisfied with their outsourcing contractors. Whitelane Research proves this fact with an 89% positive response.
KPMG research confirms that app development outsourcing is one of the best practices if the client is focused on reducing costs without loss of quality. Moreover, the reasons are:
For 26% of customers the main reason is cost savings;
21% stand for quality improvements;
For 19% skill access is critical;
11% of outsourcing app development clients explain their choice with financial flexibility opportunities.
Speaking of cost-saving, the average iOS or Android app developer`s cost depends on the origin. The chart below shows the rates of developers in different regions: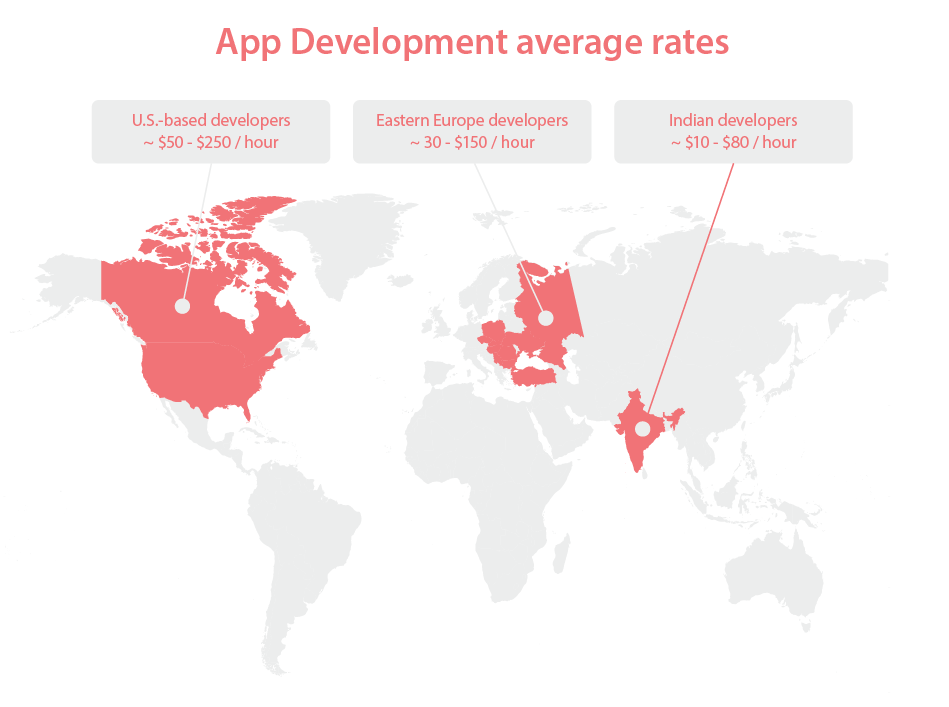 However, money-saving is not the only reason to outsource app development. Sometimes you can get much more than just a good price. I am speaking about the extremely client-oriented and sophisticated service when you can get even more than you have asked for.

Indeed, there are also some risks, which we will discuss further. However, with the right team and experienced project manager, these risks can turn into additional advantages. This article here is to help you be aware of hidden obstacles and teach you to benefit from outsourcing.

So, you have got a killer app idea, you have chosen the type of funding, now it is high time to start your outsourcing app development process.

READ ALSO: How to outsource app development
However, your choice must be considered and deliberate. Just like any other type of service, software development outsourcing has some risks, which can be ignored, prevented, overcome, or even turned into additional opportunities.

I want to outline five such scenarios and give you some tips on how to deal with them.
Risk #1. Time zone differences
The Internet has turned our world into one global marketplace and made the outsourcing process possible itself. There are still hurdles to overcome, though. Imagine the situation, that you have an urgent question, but all your team is currently offline. So the issue can be solved only on the next day. Such delays can influence project deadlines dramatically.

It is possible to overcome and benefit from this threat by using the "follow the sun" working model. The team takes the client's tasks when it is a night on the customer's side and returns the result the next day when it is morning. It helps to speed up the process and reduce response time.

At The App Solutions, we use the Agile development process as the most rapid method of the software development process. Since Agile divides the process into sprints, the whole workflow is more planned and flexible at the same time. Also, we bring the high transparency of the development process by connecting the client to the tracking system. We also maintain constant communication with all stakeholders.
Risk #2. Poor technical documentation
The importance of technical documentation is hard to overestimate. Basically, this crucial stage determinates the further course of the project and helps to avoid threats and extra spending.

For your outsourcing team, technical documentation becomes a roadmap for the project. The more detailed and thoughtful it is, the more result will be close to your expectations as a client. Make sure that technical documentation is written in your language and don`t hesitate to ask clarifying questions. At our company, we pay much attention to this stage and bring to it not only the technical writer but also a business analyst.

To sum up, technical documentation is a document set that defines all the requirements of your mobile app idea. Such specification is used when a contract is signed and used to fulfill it.
There is no general formula. The structure can vary in any company and even between projects at the same company. However, here is the general formula:
Introduction
Overall description
Specific Requirements
Supporting information
Concerns and Assumptions
Risk #3. Insufficient business analysis
Few more words about the necessity of having a professional business analyst. BA should be involved in the project at the earliest steps. Also, the sooner, the better. He will help to save time and other resources on further development stages as he foresees threats, risks, and potential conflicts between planned functionality and the business interests of the client.

Indeed, the business analyst "owns the requirements process." Actually, there are so much more responsibilities beyond gathering requirements:
At the early stage of the project, BA may be the person, that scopes the entire project together and maintains the communication among all stakeholders.
BA helps to interpret the client's business requirements into a decent task for developers. He also translates the future development works to the language that the client can understand and make adjustments if needed.
Together with other stakeholders of the project business analyst conducts test and validation of the project.
At The App Solutions, we provide clients both with deep analysis and with free consultation for all potential customers. To order one, please, contact our managers.
Risk #4. Not protecting your idea or code source
Even if your app idea is not innovative or unique, you should still protect it. Don`t assume that all outsourcing mobile app development companies do it by default. Some countries do not have such laws at all.

When signing an NDA agreement, you can think about splitting up the source code into independent sections, limit access to a database, and control the sharing of confidential information. Of course, this is not a universal solution. Every situation requires a different approach. As a US-based company, we adhere to the laws for intellectual property protection at all development stages.
Risk #5. Outsourcing to Countries or Companies That Are Behind on Trends
If the team of your outsourcing mobile app development company has outdated methods and is behind on trends, you can see it first of all in design and user interface/user experience (UI/UX). You need to choose a team that understands technological trends, uses best practices and tools, and understands the culture of your region.
Our company has a competitive advantage over other app development companies. As a partner of investment company Digital Future, we have access to the latest trend studies, cutting-edge technologies, and fresh startup ideas.
FYI: Want to find out your web development cost? Click here.
There is also one important detail you need to know. Some companies offer their clients technologies that they know better instead of ones that are cheaper for these projects or fit better. We have a different opinion on this matter and always try to provide our clients with solutions, which will bring the best results and help to save resources.

Speaking about trends, it might be interesting to take a quick look at the latest trends.
Data analysis
Back in 2012 the daily amount of data that was generated on all devices reached 2.5 billion GB. According to the Cisco analytics report, by 2020 this number will reach more than 30 Exabytes per day.
IoT
Internet of Things is one of the most popular fields of mobile app development. To illustrate this trend, I can say that year the IoT revenue is expected to reach $1.5 billion only in the US. (Check out our latest IoT project)
Cloud computing
It comes without a doubt that 2015 was the year of Cloud-based solutions among enterprises and we expect the domination of this trend in 2016 and further.
Takeaway
Once you have found a reliable outsourcing app development company, you will benefit first of all from the cost-saving. I mean both the price for the team itself and accompanying expenses for the office. Also keep in mind that while outsourcing you do not pay for office distractions, only for actual hours spent on your project.

Another important feature is that you get a chance to bring brilliant experts to your project without having long-term commitments.

Outsourcing your mobile app development does not bear more risks than any other type of mobile app development. You just need to keep in mind those entire particular nuances in mind while collaborating with your team.