By outsourcing mobile app development, you can shorten the time to market, decrease project costs, and improve the quality of your product. For this reason, around 52.5% of all IT companies have outsourced software development at least once. In this article, we will give you a handy guide on how to choose a mobile app development outsourcing company. We also explain the typical working and paying models in outsourcing so you can select the best one.
Do you need to outsource application development?
In our experience, companies which need outsourcing application development fall into one of the following categories:
Start-ups without their own development team as well as experience in product management
Mid-size companies without necessary specialists
Mid-size or large companies that want to reduce development costs
Deloitte research shows that outsourcing mobile app development brings the following benefits:
Reduced development costs up to 60%
Increased service quality of 31%
Improved productivity and competitiveness up to 100%
Solved capacity issues of irregular overload of 47%
If you want to receive such benefits, you need to know more about how to find, select, and hire an outsourcing team.
6 Steps to hiring outsourcing app development team
Below we share steps you need to take to find perfect specialists among outsourcing app development companies existing today.
Step 1. Know your requirements
You need to have a detailed definition of your mobile app or a project you want at the outcome.
Step 2. Find An App Development Team
You need to select the type of outsourcing mobile application development team. Types include onshore, nearshore, and offshore.
Step 3. Check portfolio and communicate with previous clients
Before sending emails to all app development companies, or filling in contact forms on their websites, you need to go through their portfolios.
Step 4. Select service model
To hire outsourcing app developers you need to choose among project-based, dedicated teams, or outstaff working models.
Step 5. Choose a payment model
For a dedicated team or a project-based working model, you can choose among fixed price or time and material paying models.
How to create the project requirements
You need to have a detailed definition of your mobile app or a project you want at the outcome. Until you have this on hand, there's no sense in communicating with outsourcing developers. If you still have not decided what kind of app you want, then you should spend time researching similar applications and write down what you want your app to do:
Do you want your app to have social media integration?
What are the login features?
Are there in-app purchases?
Do you want a free (lite) version and a premium version of the app?
Do you want to outsource Android or iOS app development?
Do you want it to be native or cross-platform (keep in mind the cost of mobile app development will vary)?
Once you have the answers to all these questions, and you're clear on how your app will perform, you can move on to looking for a team to complete your project.
Choosing your development team
You need to select the type of outsourcing mobile application development team. Types include onshore, nearshore, and offshore. Why is this important? Because the location of your developers will impact communication during project fulfillment. Now, let us take a look at three types of outsourcing companies:
Onshore. Your outsourcing mobile development company is located in your home country
Nearshore. You hire a team from the nearest country on the same continent
Offshore. Outsourcing team from other countries or from different continents
If your priorities are communication and meeting in real-time – choose onshore or nearshore. If you want to reduce the cost of your project, consider offshore outsourcing. Why? Because the hourly rate of developers varies from country to country.
For instance, US-based development companies have the highest hourly rate - from $100-300 per hour.
Less expensive is the development from Western Europe with an $80-200 hourly rate.
The most cost-saving IT developers are in Eastern Europe charging from $30-150 per hour.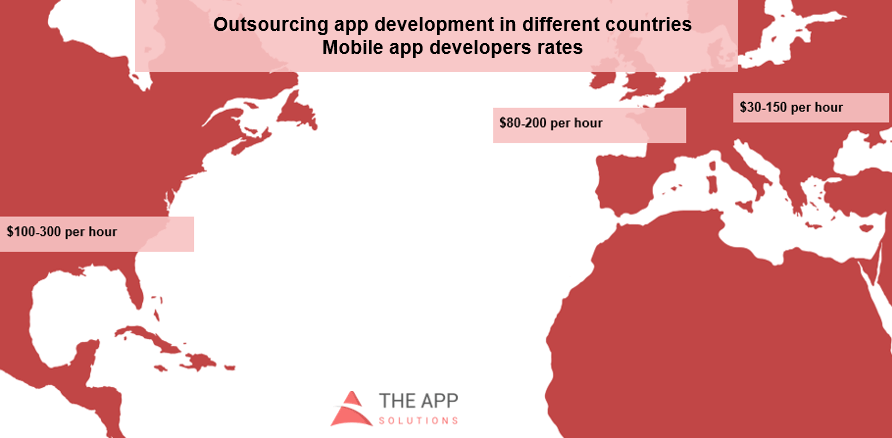 [Outsource app development cost varies around the world]
But, where can you find mobile app developers to outsource? Check out the most popular options:
B2B directories. Such websites list application development outsourcing companies, grouped by location, rating, and expertise. Clutch, the most popular B2B platform for finding app developers, includes advanced search, categories, classification, and even reviews of the team's previous clients.

[TheAPPSolutions profile on Clutch]
Freelance websites. If you need to outsource one specialist with a particular skill set, freelance sites might come in handy. One example is Upwork, where you can hire a freelancer or outsourcing team for a fixed-price or hourly rate. However, working with freelancers might be risky. It is hard to validate the experience of a developer and find out whether the developer is not reliable.
Dev blogs. Development teams, like us, are running tech blogs with tips and case studies showing their experience in app development. If the company's expertise meets your project idea, you can contact such a company without hesitation.
Design networks. Many app development companies are full-cycle and create both the code and design. For this reason, design communities such as Behance or Dribble also work great for finding a team to outsource.
Now, let's imagine you have chosen the type of outsourcing, the team's location, and created the list of developers to hire. What to do next? You need to check the team's experience to find out whether they can complete your project or not. How? Read on to find out.
Find out about the team expertize
Before sending emails to all app development companies, or filling in contact forms on their websites, you need to go through their portfolios. You should focus on the following:
Projects. Does the team have attractive projects in their portfolio?
Tech stack. Does the team have experience with the technologies required for your project?
Industry. Has the team developed project for a similar industry to yours?
Clients. What do previous clients say about the team?
Partners. Is the team partnering with tech companies like Google or other famous brands?
After conducting in-depth research and answering these questions, you will narrow down the list of app development candidates. Now, you can get in touch with three or five of the most appropriate teams and pass to the next stage.
Select the best service model
To hire outsourcing app developers you need to choose among the following working models:
Project-Based. Once outsourcing a dedicated team, you have a pre-defined goal for the team to reach within defined timeframes. By goals, we mean a set of specified requirements your app must meet. In this way, you, as a client, are responsible for the result, not the means, technologies, and tools used for the project. Project-based application outsource includes:
A fixed-sized team
A fixed period
A fixed budget
The task of developing the best possible product based on the backlog
This business model is popular among start-ups without their own development team or experience in project management.
Dedicated Team. In this business model, the outsourcing company is responsible for building the team and taking care of personal management and process quality. In this way, you receive a full-cycle development team, also including PMs and BAs working on a project pipeline or providing complete service. In a dedicated team, the provider is responsible for:
Tasks assignment
Team leaders
Project management
Tasks schedule
Project status
However, you still make the product or project management decisions and levels may vary:
You can control the project roadmap individually
Or pass the project decisions to the provider and manage the project at a higher level
This business model works great for midsize teams that need to implement a part of a project like Cloud storage integration or complex functionality, like developing IA Chabot.
Outstaff or Extended team. This model includes assigning tasks to outsourced developers, as well as providing them with a place to work. In this working model you would also be responsible for:
Controlling the working process,
Managing the project
Controlling vacations
Regulating working time
Promoting inside the team
Paying salaries
Creating motivation
And so on. The Outstaff is a perfect outsource app building model for mid-sized and big companies who need to hire a particular specialist for particular tasks while staying within the project's budget. Outstaff is also a perfect model when a Customer has PM and, for example, CTO or someone who can provide audit and control developers by giving them tasks, priorities, and leading them from a technical management side.
This model seems to have a lot of extra responsibilities on the Customer's side. But, Outstaff is the cheapest, and very often mid-size companies to large enterprises, and sometimes even startups have their own technical leaders and chiefs. Sometimes co-founders may also have such kind of expertise and experience.
Choose the most suitable payment model
Once you outsource app developers under the Outstaff model, you pay them a monthly salary like regular staff members. As for dedicated team or a project-based working model, you can choose among the following options:
Fixed price. Such a working model works only in the combination of the following criteria:
A relatively small project
A limited budget
The scope of work is clear
The amount of time needed is easy to estimate
This paying model suits new-born start-ups which need to develop an MVP. Still, due to the human factor, it is tough to evaluate the project scope initially. For this reason, most of the dev companies prefer working on the next model.
Time and Material. This payment model, also known as Pay as You Go, is prevalent among companies that use Agile methodology. First, you and the team will agree upon the hourly rate of each developer, and then, you pay based on the actual time spent on the development. Companies use Time and Material when:
It is hard to determine the scope of work in advance
The client needs to change the requirements during the process of work without modification of the agreement.
Having become very popular among outsourcing mobile application development companies, the Time and Material model has proven to be valid for projects of any size.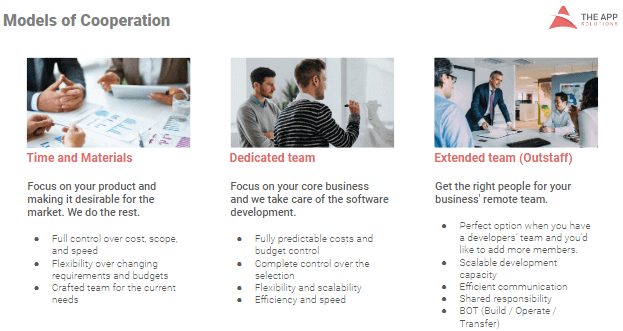 [TheAPPSolution models of cooperation]
Launch the project
Next, the discovery or inception phase begins. Here, your main goal is to agree with the team on the project's objectives. This stage includes the following activities:
Define project scope. At a high level, you need to define what the app will and will not do. Additionally, you need to establish boundaries within which your outsourcing team will operate. You can visualize your app in the form of high-level features, use cases, sketches or wireframes.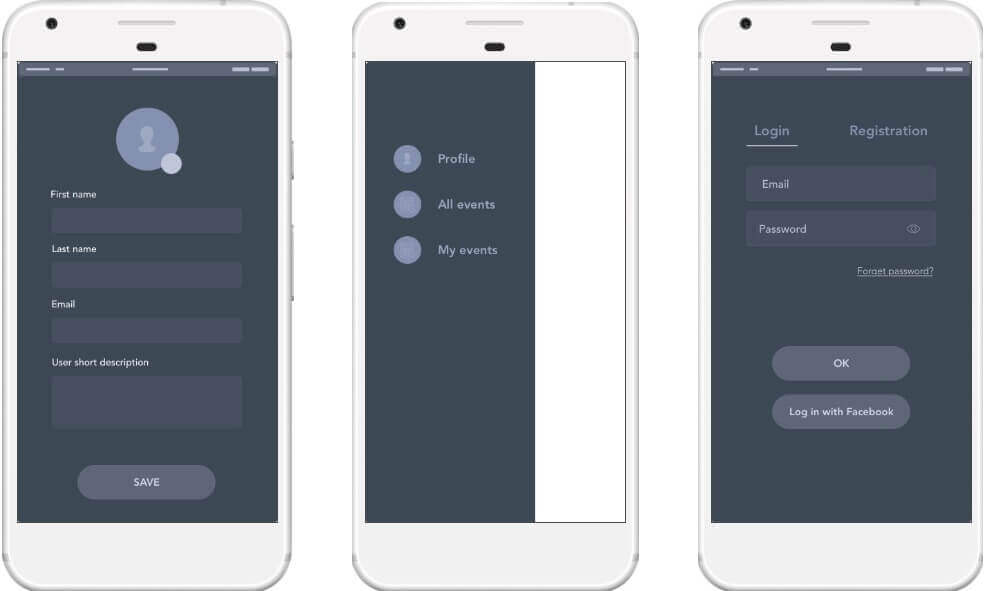 [TheAPPSolution wireframe example]
Estimate cost and schedule. The team estimates the project's costs and schedule. Once you agree on general estimates, the team will use this document for iterations later.
Determine project feasibility. Now you and your team consider the project from operational, technical, and business points. Determining project feasibility is an essential activity because the team should be able to build, deploy, and run your product. As well as this, the project should make economic sense for your business.
Create Lifecycle Objectives. To exit the Inception phase, and start the development process, your team should understand whether the scope of the effort is sufficient for the team to complete. If they do, your project moves to the development stage.
Final word
Outsourcing app development reduces costs, increases team productivity, and allows delivering the project within schedule. This type of collaboration suits all kinds of businesses – start-ups, mid, and large-sized companies. Still, to receive all benefits from outsourcing app development, you need to select the team you are going to work with carefully. Thus, check their portfolio, tech stack, and reviews from previous clients. Then, select the engagement and payment model which is the most appropriate for you and enter the discovery phase.
Related articles:
HOW TO ESTIMATE BASIC EXPENSES FOR ANDROID OR IOS APP DEVELOPMENT
HOW TO USE MACHINE LEARNING IN MOBILE APP?
CROWDFUNDING FOR YOUR APP DEVELOPMENT
SHOULD YOU HIRE APP DEVELOPERS NEAR ME OR OUTSOURCE OVERSEAS?