If you are interested in developing a mobile app, you might want to give consideration to outsourcing app development. There are myriad advantages you gain, from time-saving to freeing up some time for pre-launch and marketing efforts. Therefore, getting your app development outsourced just makes sense.
You'll also find that outsourcing mobile app development, you can also act as the project manager, overseeing all aspects of the process from a distance. And your dedicated or extended team will do everything under your guidance.
By making a monetary commitment with a freelance mobile app developer you will retain a greater level of motivation to ensure project completion. Here are some tips and tricks on how to find a good app developer.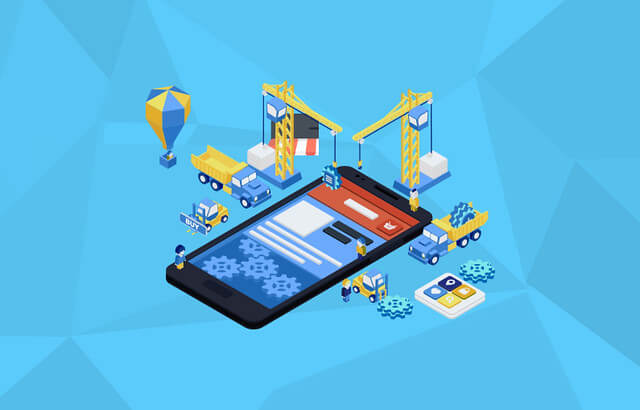 Step 1. Know What You Want from the App
Before you decide that outsourcing mobile app development is what you're looking for, you need to have a detailed definition of your mobile application you want on the outcome. Before you have it on hand there's no sense in communication with any freelance developer. Nothing to discuss yet.
You should spend time researching similar applications, and write down what you want your app to do:
Do you want your app to have social media integration?
What are the login features?
Are there in-app purchases?
Do you want a free (lite) version and a premium version of the app?
Do you want the app to be compatible with Google/Android or both?
Do you want it to be native or cross-platform (mind that the cost of mobile app development will vary)?
READ ALSO: App Developers Choice: "Near Me" or Outsource?
Once you have the answers to all of the latter questions, and you're clear on how your app will perform, you can move onto looking for a coder to complete your project.
Step 2. Find an App Developer
Apparently, knowing the type of app you want will define what you'll hunt for in a developer. Now you can look for a developer who is skilled in creating the kind of apps you desire. For instance, if you want an app compatible with an iOS system, you'll surely need a developer with a background in creating iOS compatible mobile applications, or if you want to develop a game, you will look for the top in mobile game developers community.
There are different ways of how to find a developer for an app, but the simplest way is to place your ad on a freelancer board like Freelancer.com or Upwork.com (formerly oDesk.com) where qualified professionals from around the world will bid for your job.
You can set a price for the project and put up a description of the project together with qualifications you are looking for in a developer. If you go with UpWork, you can look at developer profiles and invite specific applicants to bid for your project.
Whatever you do, make sure you are fully explicit about what you want from the developer. Tell them everything about the platform, features to build, and what you expect regarding their skills.
Even better, to make sure you aren't getting a generic copy and paste responses to your bid and to ensure the bidder has read your entire post and is clear on what you need, somewhere toward the end of the post put a line asking the bidder to do something uncommon when responding.
For example, you can ask for a particular action in the post like "put the words 'AWESOME APP' in the first line of your post to show you've read the job requirements, and you understand what the job entails." You'll be surprised how quickly something this simple can weed out the non-proactive candidates.
Whatever board you use, make sure you read up on the history of the developers enquiring your project. If the profile is insufficient or you need more information, by all means, contact the prospective developer and ask questions.
When working through UpWork and Freelancer.org, you'll be getting bids within a few hours of posting. Don't jump the gun and hire the first developer that applies. Give your post a few days to a week to accumulate prospective bidders to broaden your search for a qualified app developer.

Step 3. Talk with the Bidder before Hiring

To outsource Android development or the iOS one, you better get to know the developer before the hire. Use an instant messaging program to discuss the task with a candidate in real time instead of email correspondence. Skype is one of the most popular ways to communicate with mobile app developers interested in working your job. However, you can also use Google Hangouts, Viber, Facebook, Snapchat, and other popular messaging platforms to conduct developer interviews as well as for project updates and instructions.
The real benefit you get from using messaging platforms is that you aren't waiting around for return emails to your every question. Messaging platforms are real-time options for having a conversation and getting your questions answered instantly.
Video conferencing is another good option you can use, and this feature is available through a number messaging platforms. Through video conferences, you can get to know the developer and pick up on non-obvious but important nuances not available with text conversation.
Step 4. Interview the Bidder
There are certain things you should look for in a developer, but one of the most valuable skills is a clear communication. You need a developer who's easy to understand and understands you easily too.
It's a good idea to ask the experts about their experience in outsource iPhone app development (Android or hybrid as well). If they have testimonials from prior clients or a portfolio, it'll be very useful to examine those too. You also want a developer who behaves in a responsive manner: if you set up an interview via Skype and the person doesn't hook up with you on time, it may be a warning sign that the developer has trouble maintaining commitments.
Step 5. Negotiate the Bid
When you set your price for a developer who then applies for your job, the bidder may request higher rate than what you've put for in the initial contract. Don't dismiss a higher bid just because it wasn't what you put up for the task. The developer may actually have a good reason for the higher bid. Bear in mind that boards like UpWork let you post your work opportunities for free, but the developer picks up the tab on the other end of that to bid on work.
Once the bidder accepts the job offer (after you choose him or her), he/she needs to pay a fee to the board on a particular percentage of job taken.
Mainly, you need to be open to negotiations, and if a higher price is still reasonable and the developer has all the qualifications you're looking for, you might want to up the ante a little bit and take this higher bid. Be willing to pay the other party what they are worth and you'll both have a comfortable time working together.
Use TheAppSolutions outsource development rates to understand the market:
Outsource app development cost​

Specialist
Hourly Rate (USD)
UI/UX Designer
$25+/hour
Frontend Developer
$35+/hour
Backend (PHP) Developer
$30+/hour
Android Developer
$35+/hour
iOS Developer
$37+/hour
QA Engineer
$20+/hour
Project Manager / Business Analyst
$25+/hour
DevOps Engineer
$30+/hour
Step 6. Establish Important Milestones
Once you choose the bidder for your outsourcing developing needs, it's a good idea to discuss project milestones. Milestones will be points in the project where specific tasks need to be completed. The milestones can serve as goal posts, so you know where the project stands and so you don't get nervous if your developer goes quiet for a few days while working on your project.
At a minimum, if you do not set milestones, then establish a connect calendar, so the developer guarantees to get in touch with you on specific dates throughout the project to give you a full update on the project's status. If you use UpWork, the site lets you set milestones, and release payments in increments as each of the milestones is completed.
By sticking to a pay as you go system, the money remains motivation for the app developer, and the check-ins and project approval points will give you peace of mind.
An experienced developer might take the time to ask you for a project timeline breakdown, or he/she may not. It's really up to you to push the idea of milestones and maintaining project schedule requirements. Just remember if you set your expectations, in the beginning, the developer will exactly know what you want and when you want it.
The milestones or timelines allow you to assess the development builds over the course of time. It also allows you to approve every step of the process. After all, this app is being created for you, so your approval is necessary, and even vital, for the developer as a kind of project feedback. It gives you a chance to test the modules, features, and following the beta stage of development.
You might also like: Pros and Cons of the Custom App Development
Takeaway
Yes, freelancing your mobile app development is quite a challenging task. It is possible to find a reputable developer to work with if you're willing to be diligent with your search. Don't rush into anything just because you are eager to get your project completed. Take the time to evaluate best matching candidates until you find the perfect developer to complete the job.
Related articles:
HOW TO ESTIMATE BASIC EXPENSES FOR ANDROID OR IOS APP DEVELOPMENT
HOW TO USE MACHINE LEARNING IN MOBILE APP?