The cost of developing an app is covered with mystery. No mobile app development team will give you an actual mobile app development costs estimate without knowing the main factors of your mobile app, such as app business logic, features, development team location and composition, and so on.
If you have an idea about your app functionality, you can find the costs to develop app features below. Moreover, in this article, you will find tips on app MVP features prioritization and development costs depending on their complexity.
But firstly, let's find out the main steps to estimate your mobile app costs.
How to estimate the average cost of creating an app in five steps
Step 1. Ask a mobile app development team for a quote
To receive a precise mobile app cost estimate, get in touch with the mobile app development team.
Step 2. Select the number of mobile platforms
To provide you with a mobile app cost estimation, developers need to know whether you want to build an app for iOS, Android, or both platforms.
Step 3. Create the list with app functionality
To reflect your business idea, mobile developers and business analysts will create a list of your mobile app's necessary features.
Step 4. Prioritize mobile app features to implement in MVP
Ask mobile developers to prioritize only those core features from the main list to validate your business idea.
Step 5. Ask the development team to estimate your main app features
Ask mobile app developers to evaluate the list with must-have features they will implement first and get precise mobile app development estimated cost.
To estimate the cost to build an app, use our project cost calculator.
You can also hire our managed team that includes dedicated project managers, business analysts, quality assurance engineers, designers, and developers.
Mobile app cost estimation: core features
As you understand, the more features you want to implement to your mobile apps, the more time the dev team needs to create them.
Below we have gathered the table with mobile app essential features, tech stack, and estimated number of hours to give you a clear picture of how much time and money you will need.
User login
Most mobile apps provide users with registration via email or phone number to identify the user. But the most more comfortable way to access an app automatically creates a user profile and collects all public data about a person is a sign-in through social media accounts, such as Facebook, Twitter, and Instagram.
Tech stack
Number of hours
4+ hours for UI/UX design
8+ hours to develop the app back-end using NodeJS
8+ hours for feature integration per each platform (iOS, Android)
Push notification
Mobile apps use push notifications to inform users about the real-time updates in the app, such as changes in order status, new content, new messages received, etc.
Tech stack
Firebase Cloud Messaging (FCM) for Android mobile apps
Apple Push Notification Service (APNS) for iOS
Number of hours
On average, the team will spend 24+ hours integrating this function to iOS apps and the same amount of hours to add it to Android apps.
Navigation bar
To allow the user to flow through your app features and content, you will need a navigation bar. This feature also defines how the user switches from one screen to another, return to the main menu, closes an app, takes actions, etc. Thus, your app must include swiping and scrolling features, icons, buttons, arrows, and other UI architecture.
Tech stack
Human Interface Guidelines
Number of hours
24+ hours for the app back-end
16+ hours for Android or iOS development.
Media content sharing
If you develop a social media app like Tik-Tok or messaging app like WhatsApp, you need to allow users to share media files, such as images, short videos, or audio files. You may also need to empower your app with editing capabilities, including adding emoticons, filters, effects, or even animated masks. You may also need to empower your app with editing capabilities, including adding emoticons and filters.
Tech stack
Android NDK Native APIs for Android apps
Core Audio Kit for audio exchange, PhotoKit for photo editing, and AVKit for media playback on iOS devices
Number of hours
8+ hours for the design
16+ hours for the front-end
40+ hours for the back-end
40+ to develop this function on each mobile platform
Geolocation
This mobile app feature might be handy for geolocation or navigation apps and food delivery mobile applications, taxi, dating, or even travel apps.
Tech stack
Number of hours
8+ hours for the design
8+ hours for back-end
8+ hours for Android and the same among of hours for iOS apps
In-app messaging
If you consider developing an online retail marketplace, social media, real estate, or accommodation booking app, you need a built-in messaging platform.
Tech stack
Facebook API
Telegram API
Number of hours
40+ hours to develop the messaging platform back-end
20+ hours to integrate messaging feature to Android or iOS app.
Database
Integrate a database to your mobile e-commerce app to show the number of items available, travel, or real estate app to inform users about available offers. Database integration is essential for building database-powered applications, data synchronization, and offline mobile app capabilities. In this way, you will reduce the app size, query processing time, and memory usage.
Number of hours
10+ hours for back-end
8 hours+ per Android or iOS platform
Besides this, do not forget to estimate the following mobile apps development costs:
Back-end architecture: 20+ hours
Environment Setup: 24+ hours
Design: 160+ hours
QA: 120+ hours
Bug Fix: 60+ hours
Project Management: 100+ hours
Project Documentation: 30+ hours
How much does an app cost?
In a nutshell, the development cost of building a simple app starts somewhere between $40-60K. You can reduce this cost drastically by prioritizing features to implement to your mobile app's Minimum Viable Product. How to do that? Let's find out.
Now, let's find out how much will the app development cost vary due to app complexity.
Cost to develop a mobile app: simple, medium, complex
To show you how mobile app features and the development cost vary on the app complexity, we split mobile apps into the following categories and added the estimated time in hours.
Simple
No API integration
No back-end
Basic UI components
Simple features (email subscription, social login, calendar, etc.)
400+ hours
Moderate
Custom UI/UX features
Build-in payment gateway
API integration
Back-end server
500-800+ hours
Complex
Multi-language support
3rd-party integrations
Custom animations
Complicated back-end
Custom UI/UX design
Real-time features via database integration
800-1500+ hours
Apart from the app complexity, the hourly developer rate significantly impacts the cost of developing a mobile app. The cost of one hour of mobile app developer work varies across the globe:
North America (the US and Canada) is the most expensive region since the Android / iOS developers charge from $20 to $250 per hour
Australian mobile app developers have a slightly lower cost per hour: $35-150
Eastern European mobile app developers charge something between $20 -$110 per hour
Developers in Eastern Europe are satisfied to receive from $30 to $140 per hour
How to prioritize MVP features for your app in three steps
Step 1. Identify your product vision
To achieve that, you need to define:
The primary purpose of your mobile app, i.e., ways it improves the user's lives.
Target user profiles with a detailed description, including age, location, job, pains, etc.
Long-term success metrics. That might be high conversions for e-commerce apps, the number of active users for social media apps, the number of premium subscribers for music streaming apps, etc.
Step 2. Prioritize the MVP features
Now, you need to answer the following questions:
What are the mobile app users' needs?
What value does your mobile app deliver?
What features do not add value to your product?
Do you have any portal for feedback?
Find the most effective ways of MVP features prioritization below.
MoSCoW method that stands for – Must have, Should have, Could have, Won't have. To receive a clear idea of your core app functionality, segregate your app's features into those four categories. To understand these categories clearly, take a look at the image below.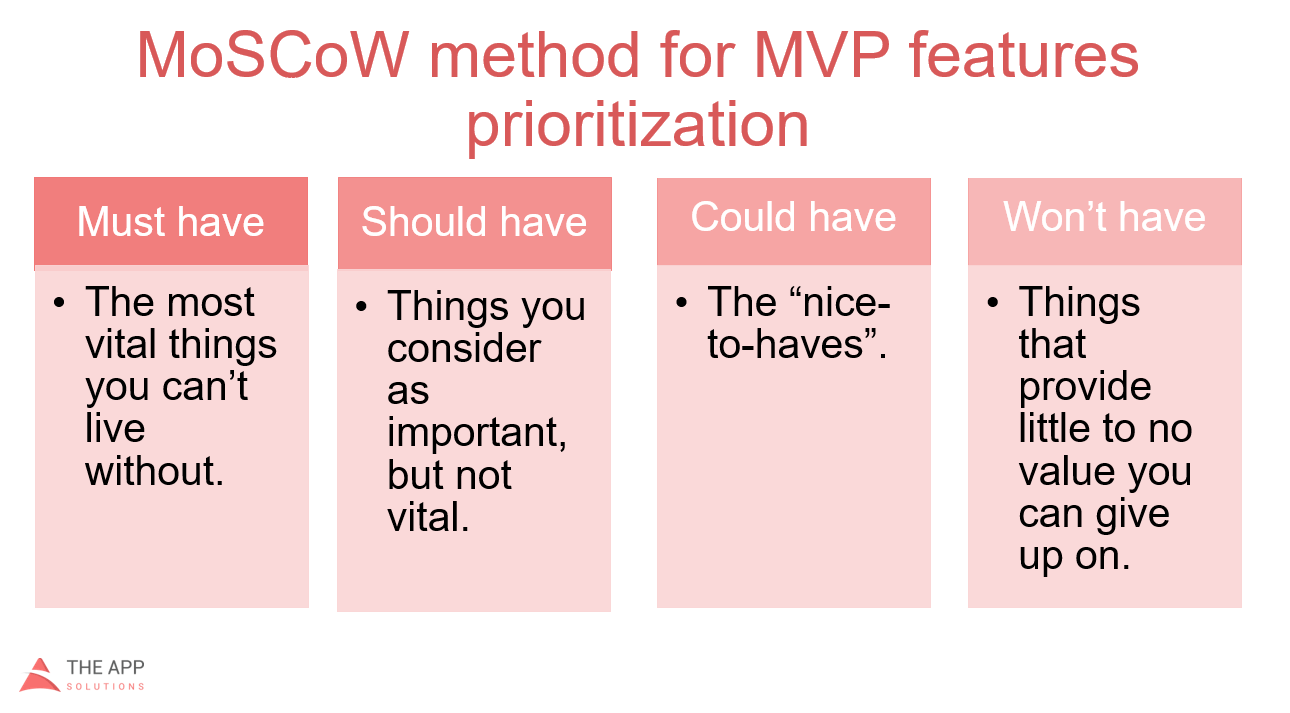 Kano method is popular to show various stages of mobile app development using a graphical representation. In this way, you can create a qualitative analysis for your app features by dividing them into the following categories - one-dimensional quality, must-be quality, indifferent quality, attractive quality, and reverse quality.
With this method, you will see how mobile app feature attributes change over time. The image below includes changes that occur due to customer satisfaction, performance level recorded, and other metrics.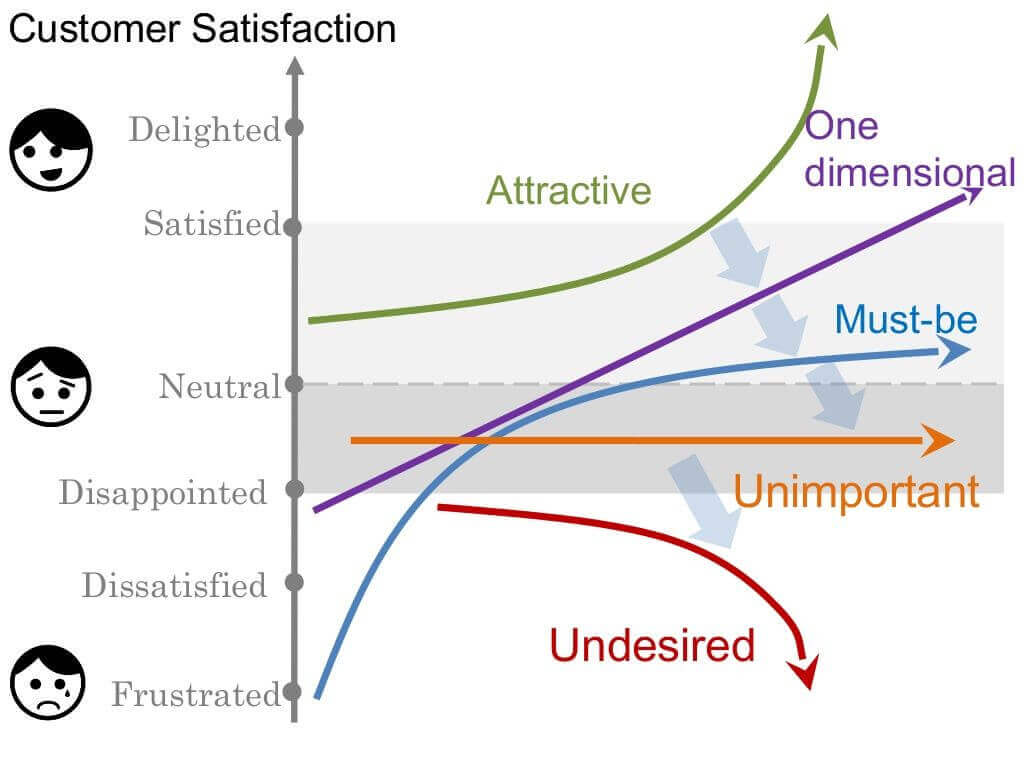 [Source: Pinterest]
Step 3. Adjusting Your Plan Post-MVP
During this stage, you and your development team will create a list of Should have, Could have features to implement next. You can change the list with those features due to key performance indicators, user feedback on the app MVP, tracked user behavior patterns, and so on.
Related readings:
FEATURE PRIORITIZATION FOR THE PROJECT'S MVP
CODE REFACTORING OF MOBILE AND WEB APPLICATIONS
HOW WE NAIL HIGH-LOAD PROJECT DELIVERY
HOW TO ESTIMATE BASIC EXPENSES FOR ANDROID OR IOS APP DEVELOPMENT
How much does it cost to develop an app?
The "How much an app cost" question does not have a one-size-fits-all answer since every mobile app has a unique business goal to solve pains and target particular users. Besides this, different applications need an unusual amount of space for mobile devices, use additional third-party integration, and provide access to varying amounts of data.
Apart from the app complexity, you need to consider the developer location since the hourly mobile app developer rate varies drastically.
What our clients say