Can you imagine everyday life without messaging apps? I believe not because messaging apps became an integral part of a lifestyle. For that, there are big players in this niche that have numerous users can a vast revenue.
Wondering, how to create a messaging app like WhatsApp?
Well, this article is right for you.
Here, we have gathered the most important features for the instant messaging application, the development cost, and monetization strategies.
Before we start, let's take a quick look at the messaging app market and your potential competitors.
Why is Whatsapp so successful?
WhatsApp has a dominant position in the instant messaging apps market. At the same time, it is an example of doing something familiar in a distinct manner that managed to engage the target audience enough to secure the 'platform's steady growth.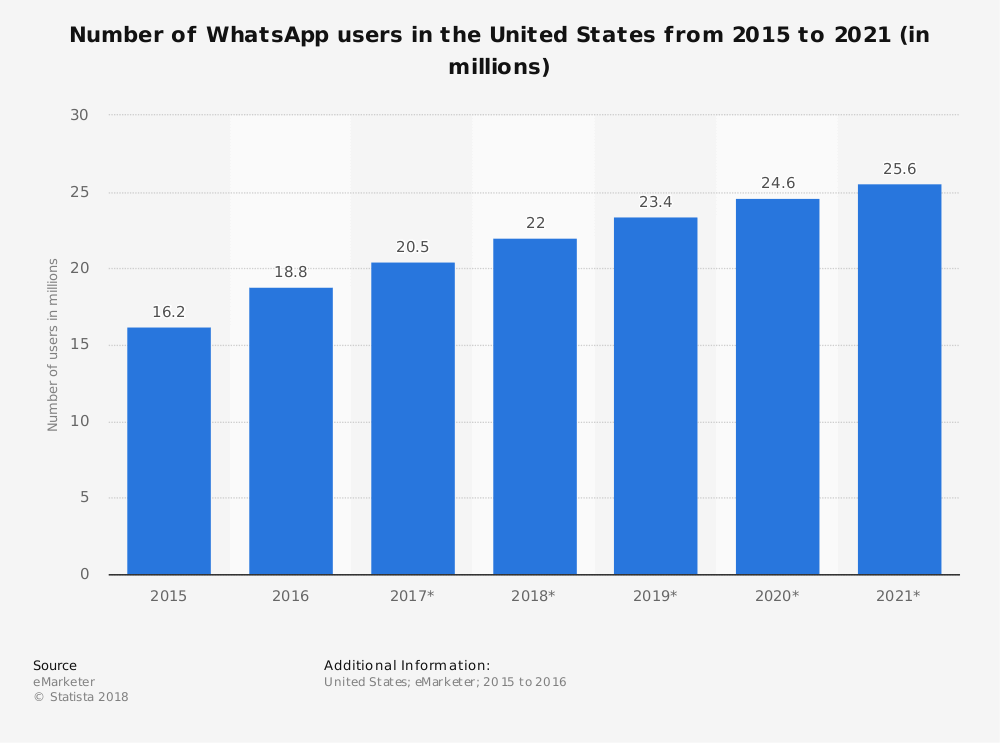 'Let's look at what made WhatsApp and apps similar to WhatsApp so popular.
1. WhatsApp embraced mobile
The late 00s saw rapid adoption of smartphones and the rise of iOS and Android mobile platforms as viable development options. However, the majority of the market leaders in their respective areas were slow to realize the potency of this emerging market segment. And soon 'they've found themselves late to the party.
Skype was a desktop application first, and it took some time to make the full transition to mobile. On the other hand, WhatsApp (and subsequently, apps like WhatsApp) was a mobile-first application, and it took full advantage of that.
Mobile phones tend to be a preferred tool for instant communication. For that, users needed "Skype" for smartphones. Even though WhatsApp was still mostly a text messaging app - its availability on the mobile gave it a significant advantage over Skype. And when WhatsApp had implemented full VoIP - it was the dawn of the new day for an industry.
The success of WhatsApp inspired entrepreneurs to step into the instant messaging market and soon enough there were Viber, Kik, and Slack - each of them presented
2. WhatsApp transformed User Onboarding
One of the most frustrating things about Skype was long login.
Since WhatsApp was a mobile application - it could take a shortcut in that department. 'Here's how - 'they've changed the way user account was made.
Instead of identifying with a complicated system of logins and connected accounts - the user is defined by his telephone number. And all of the contacts on his whole are now part of his WhatsApp contacts. That alone cut about a half of an arduous process of getting into the 'application's ins and outs.
The phone-bound ID provides another layer of trustworthiness.
3. WhatsApp first adopted end-to-end encryption
These days, privacy and security are amongst the essential requirements for any application that deals with personal information. In the case of instant messaging apps - this is an undertaking as there are many ways the messages can be intercepted midway through due to the open-ended nature of the internet.
WhatsApp had implemented end-to-end encryption and marketed it as a differentiating feature before the competition jumped on board.
By using innovative features, WhatsApp increased user engagement and attracted new audiences segmented who were interested in the cutting edge features and higher quality of the service.
The following factors resulted in a landslide dominance of an app for over a decade.
Cross-platform compatibility, ease of use, and privacy are key factors to consider upon deciding on how to create an app like WhatsApp.
READ ALSO: How to Use Machine Learning in Mobile App?
Now, let us move next and find out how to create a messaging app like WhatsApp.
How to build an instant messaging application like Whatsapp in 4 steps
Step 1. Select a platform (Android, iOS or both)
Chose the mobile platform depending on your target audience, geographical location, and demographic profile.
Step 2. Determine the features list
Create the fist of the most important instant messaging app features to build an app MVP
Step 3. Set up budget
The project cost will depend on the number of features you want to implement as well as the number of mobile platforms.
Step 4. Pick an outsourcing company
Choose the development team that will satisfy your time, quality, and cost requirements.
How to build a messaging app: main features
As far as WhatsApp is the leader in the market, I will appeal to its features and functionality to describe the whole development process and help you determine how to make a messaging app.
Registration and address book information
For the first time, when a user enters the app, he needs to sign in it. The most convenient way to do it is to use his existing phone number.
In WhatsApp, they also use an SMS confirmation code for security reasons.
The next step is to add contacts from the address book. Make sure the step move is rapid and convenient.
The more friends the user has in the messaging app, the more chances that he will use it.
You should also consider adding a Facebook profile or other social networks depending on the type and purpose of your app.
The profile customization option helps users create their customized profiles and express their individuality. They can change names and nicknames, background colors or patterns and fonts.
Message exchange
This function is a bit more complicated than it seems at first. Your messaging app is supposed to send messages to users. But also it's expected to store the conversation history and provide users with it in case they logged in on another device. For instance, WhatsApp 'doesn't store the messages on its server, which makes their life much more comfortable.
We bet that your users won't be satisfied with this single characteristic. It is especially considering the trends that I have described above.
Think about other possibilities that add additional value and give a unique experience to your users.
Today custom stickers and smiles became an inevitable part of the digital dialog, and sometimes it can turn into additional income entry.
Notifications
This tiny, but quite an important feature informs your users about a new message arrived. Notifications should be implemented in your app while developing the MVP. To add this feature to the app, our developers use
Google Cloud Messaging
Apple Push Notifications.
Multimedia file transmission
You can also consider enabling your users by swapping their photos, gifs, memes, and any other photo, video, and audio content. Detailed analysis and study of this option can give you a clue about the distinctive features of your app.
It also makes sense to provide synchronization with cloud services like
Google Drive
Dropbox
Evernote
or others.
Location sharing
The option to share your location can be very helpful for your users. And if you make it even more advanced, 'don't be surprised if your users use it to navigate each other, set up meetings and stuff like that.
To create a messenger for different operating systems, our team uses
Apple MapKit
Google Location SDK
You can empower your app with geolocation. iBeacon and Eddystone sensors can catch your users when they are passing by and send them messages. This technology is trendy among retailers now.
How much does it cost to create an app like WhatsApp?
Let us take a look at the table with the main MVP features and the estimation in hours.
Feature

Estimation in hours

Registration and address book information

· 12 hours for iOS app development

· 16 for Android

· 8 hours for the backend

Message exchange

· iOS 25 hours

· Android 32 hours

· Backed 47 hours

Notifications

· iOS 12 hours

· Android 16 hours

· Backend 16 hours

Multimedia file transmission

· 25 hours for iOS

· 32 hours for Android

· About 40 hours for backend.

Location sharing

· iOS 12

· Android 16

· Backend 8

Total

For iOS app 208+ hours

For Android app 231+ hours
You can estimate a more detailed app development cost using our calculator.
The approximate cost to make a messenger app depends on the number of features. An approximate cost includes:
Back-end development from $25-30K
Front-end $20-25K
The whole app costs from $55K.
Takeaway
The messaging market shows continuous evolution, and there is still a chance to create a messenger app for Android and iOS that will get a decent market share. After reading this article, you know how to make an app like WhatsApp.
Development cost depends on four key factors that you are to decide before building an instant messaging application:
Select a platform (Android, iOS or both)
Determine the features range
Set up a budget
Pick an outsourcing company that will satisfy your time, quality, and cost requirements.
Also, don't forget to set up benchmarks and 'KPI's - that's how to create a messaging app that will rock! For this sort of app, three essential metrics are the number of active users, retention rate, and audience engagement.
Check out our related articles:
HOW TO CREATE A SOCIAL MEDIA APP
HOW TO MAKE A MUSIC APP LIKE SPOTIFY
HOW MUCH DOES IT COST TO DEVELOP AN APP LIKE SNAPCHAT
HOW TO BUILD A MOBILE APP WITH GEOLOCATION