Blog
How to create WhatsApp: Messenger Development Guide
How to create WhatsApp: Messenger Development Guide
Want to create a messenger application like WhatsApp? Well, you are not alone among business owners who are pursuing this business idea. But only a few proceed from considering to developing.
For creating such a project, you need to be aware of WhatsApp's main functionality like application, technologies behind those functions, and costs for developing such a project.
In this article, we've described all these points. But before digging into the smallest details, let's look at the bigger picture to find out whether it's worth investing in messaging app development.
Should you create a WhatsApp-like project for your business?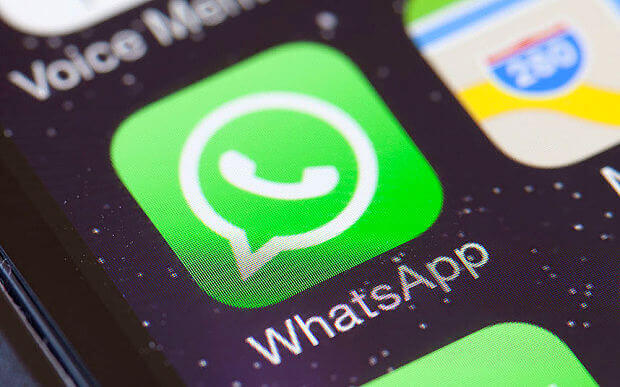 [Source]
People prefer messaging applications to SMS, calls, and email clients like Gmail because messengers are more convenient than other communication means. Below we have some numbers that prove that messaging apps are up and running:
Statista reports that In April 2022, WhatsApp had approximately 2.44 billion unique active users worldwide, up 6.4 percent compared to the corresponding month in 2021.
The chat apps market will keep up with this overall growth, and by 2025, users will make four out of five mobile connections with a smartphone
The messaging apps' average revenue was $8,7 billion on 2021
After considering all the information above, the messaging apps market will continue to grow, and that there is still room for new messaging apps.
READ ALSO:
HOW TO CREATE A MUSIC APP LIKE SPOTIFY
HOW TO CREATE VIDEO SOCIAL MEDIA APP LIKE TIKTOK
HOW TO BUILD A DATING APP LIKE TINDER
HOW TO MAKE A LIVE STREAM WEBSITE LIKE TWITCH
HOW TO DEVELOP AN APP LIKE NETFLIX
But before you create a WhatsApp-like project and enter the messaging applications market, you need to get to know your potential competitors, i.e., other most popular chat apps in 2022 as of right now based on the number of monthly active users.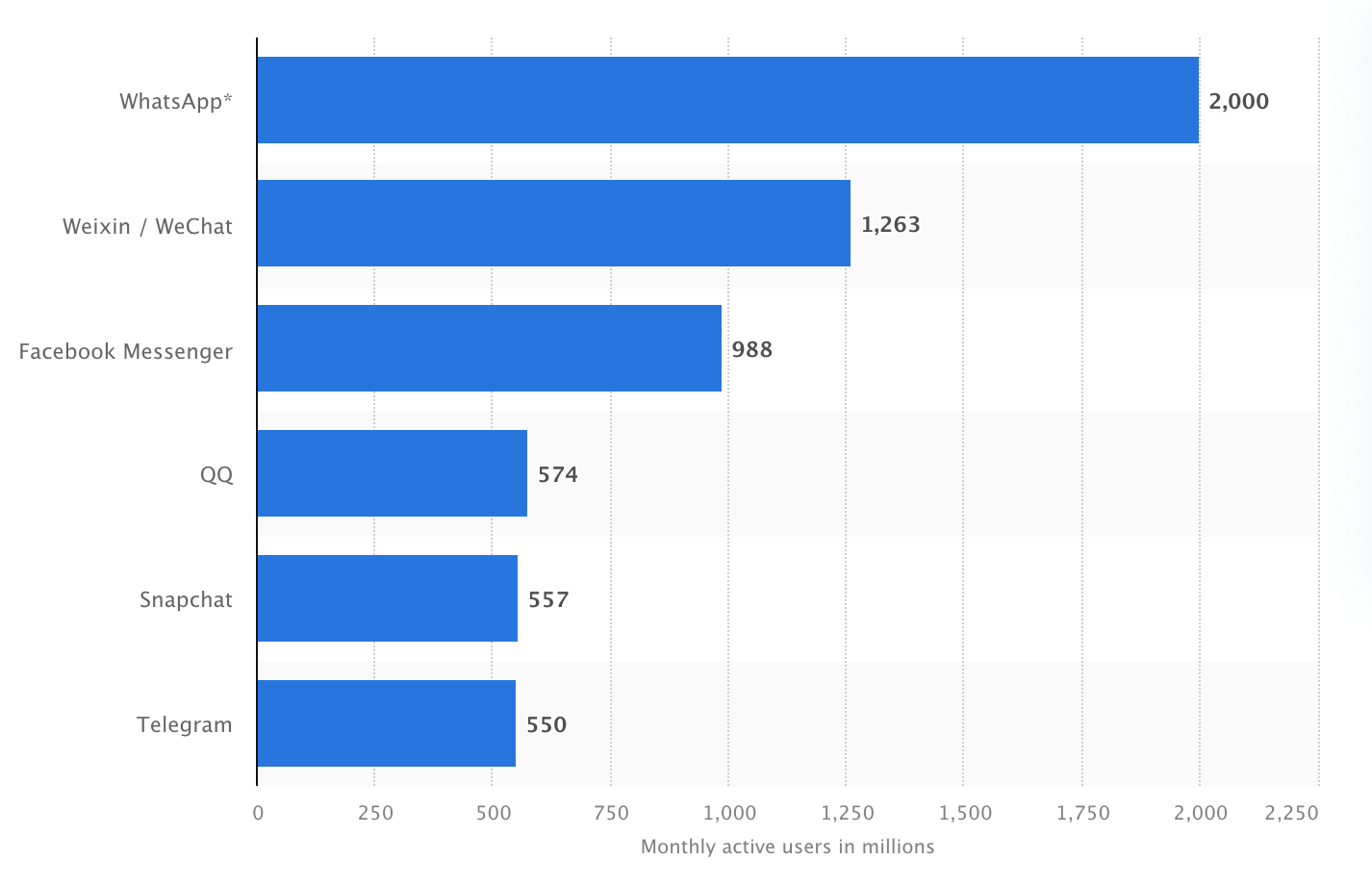 For comparison, to make it clear which messengers are gaining popularity and which have sagged over time – let's leave the older statistics here.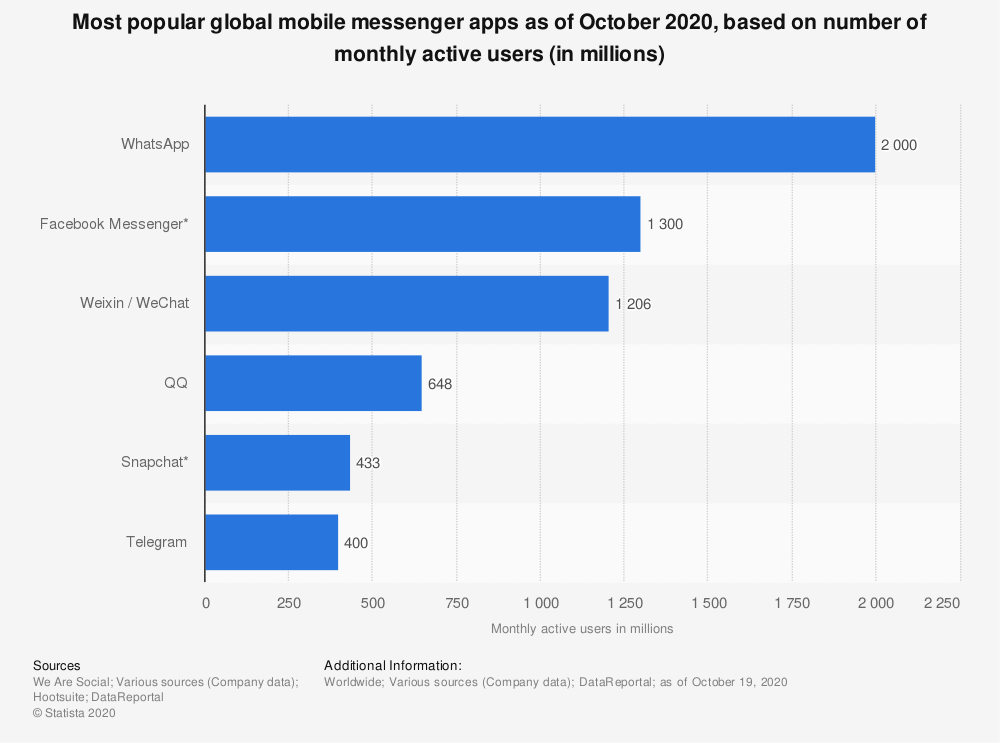 [Source]
Now, it is time to determine what steps you need to take to create your WhatsApp-like messaging project.
OUTSTAFFING VS. OUTSOURCING VS. MANAGED SERVICES: DIFFERENCES AND BENEFITS
How to create a WhatsApp application in 4 steps
Step 1.Determine the project's MVP features list.
Create the list of the most critical instant messaging project features to build an app's MVP (minimum viable product), i.e., the first project's version.
Step 2. Pick an outsourcing company
Find the development team that will satisfy your time, quality, and cost requirements. To get a clue on requirements for a development team and tips on choosing the right developers, read the article about outsourcing mobile application development without failing.
Step 3. Launch the discovery phase
During the project discovery phase, developers create functional and non-functional requirements for your business project, project technical documentation, suggest its architecture, write user stories, prioritize functionality and create a clickable prototype.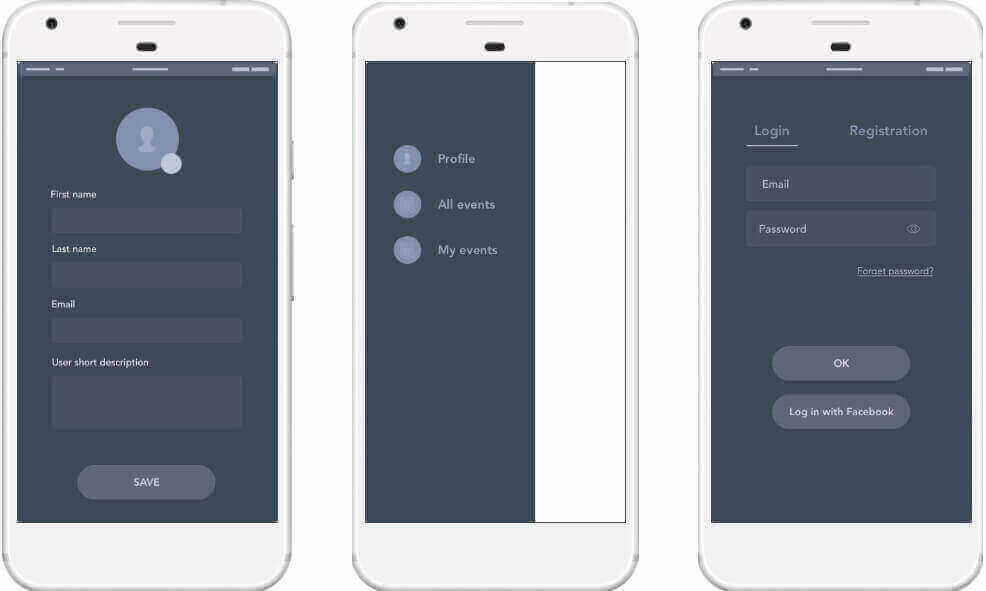 [The APP Solutions example of project's prototype]
Step 4. Initiate the development phase
Developers use the project's tech documentation as a backlog for building the project's MVP. The design team creates drawable screens for your business application using a clickable prototype's design as a reference.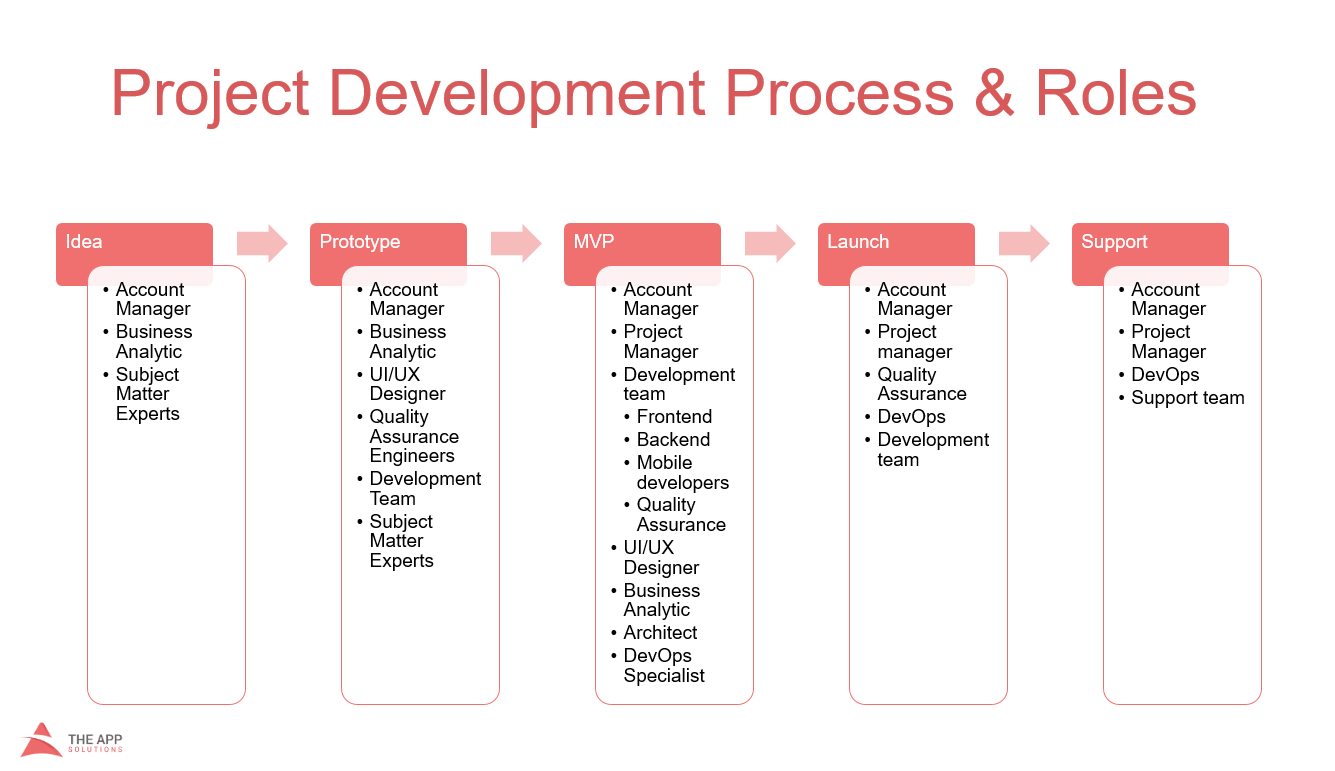 [Mobile app development process: steps and dev team members]
After all these steps, you receive the first version of your WhatsApp clone, ready for a release on the application marketplaces. In your experience, all the phases take 4-7 months to complete.
But it is your responsibility to take care of fundraising for the second development phase to improve your business project and market the project, so you receive the first users right after the MVP release.
To save you from searching for all the necessary functionality, we've created a feature list you can use for your project. So, let's check it out.
WHAT TECH STACK TO CHOOSE FOR YOUR PROJECT
Creating a WhatsApp-like project: main features and tech stack
Instant chat applications allow users to exchange text, audio, video messages, and calls in their WhatsApp account and group chats. There are many functions of WhatsApp. But you don't need to integrate all of them at once. Below we gathered the most important functions:
Login and profile
For the first time a user opens the app, one needs to sign in and create a WhatsApp account by providing one's phone number.
The application sends a message with a confirmation code to the user's phone number, so one can log in to a WhatsApp account using the verified phone number
After verifying the user's phone number, the user can create a WhatsApp account with a name and photo
When a WhatsApp account is created, the user can add contacts to the WhatsApp account from contacts, save them, start sending messages and create group chats
Message exchange
The application must store the conversation history in the WhatsApp account or a group chat and provide users with it if they logged in on another device like WhatsApp, which doesn't keep the messages on its server.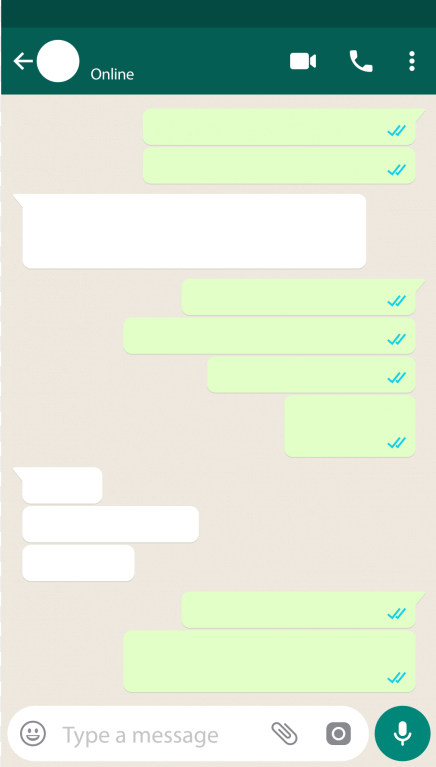 Notifications
Notifications inform users when a new message arrives on the WhatsApp account or a group chat. To add this feature to the app, our developers will use:
Google Cloud Messaging
Apple Push Notifications
HOW DO SECURE MESSENGERS LIKE WIRE AND SIGNAL MAKE MONEY?
Multimedia file transmission
Consider enabling your users with file sharing functionality that allows sending their photos, gifs, etc along with text messages. You can find WhatsApp file sharing functionality in dialogs in the upper right corner.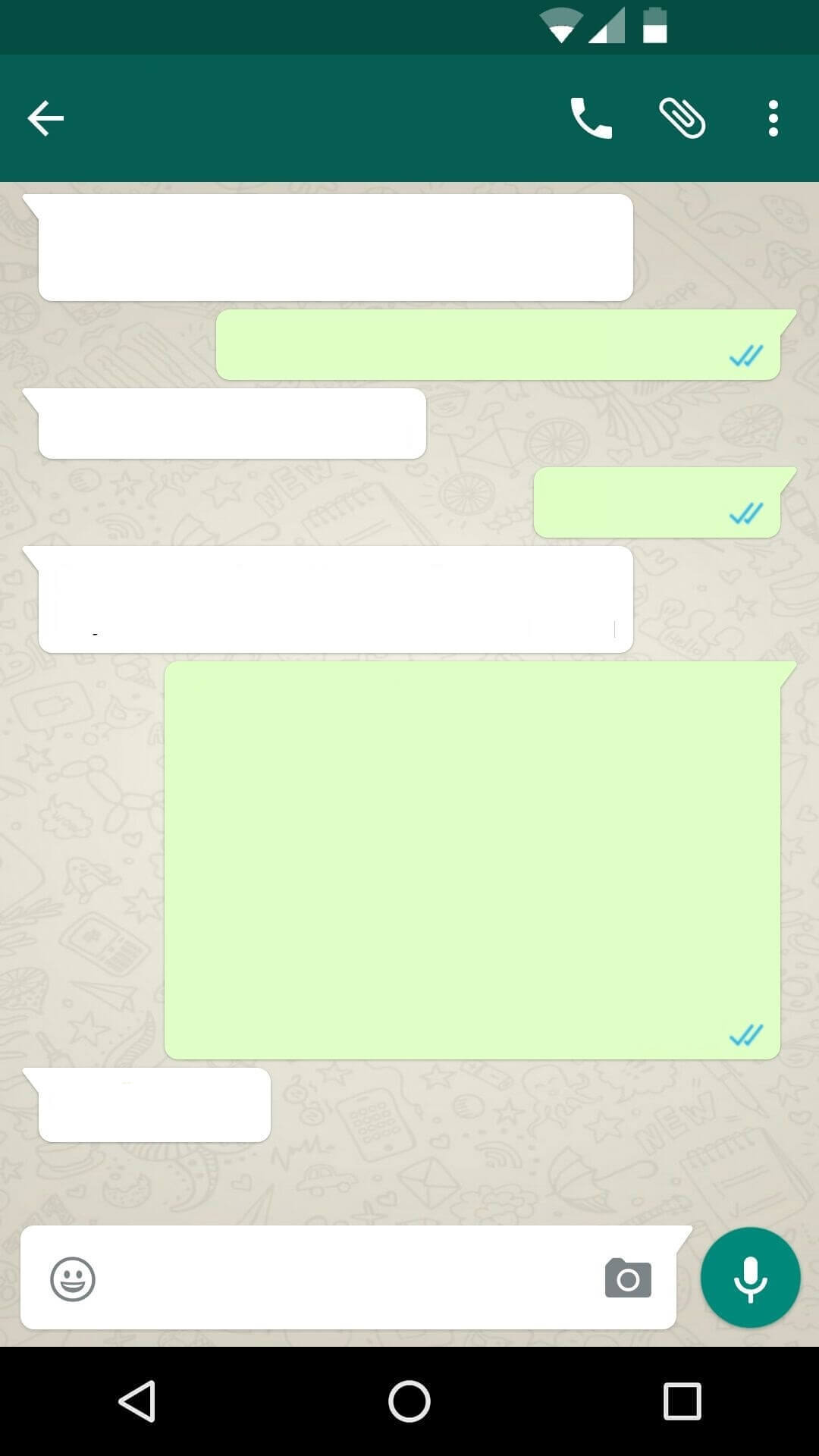 It also makes sense to use synchronization with cloud services, including:
Google Drive
Dropbox
Evernote
Location sharing
The option to share your location can be beneficial for people who are going to use your application. To create a location-sharing functionality for different operating systems, our developers use:
Apple MapKit
Google Location SDK
Now, let's answer such a pragmatic question concerning the amount of money you will spend for your project – what does a new WhatsApp-like app cost?
CHATBOTS FOR REAL ESTATE: HOW TO CHOOSE THE RIGHT SOLUTIONS FOR YOUR BUSINESS
How much does a WhatsApp-like business application cost?
Let us take a look at the table with the main MVP features for a WhatsApp clone and the estimation in hours.
Registration and address book information
Message exchange
iOS 25 hours
Android 32 hours
Backend 47 hours
Notifications
iOS 12 hours
Android 16 hours
Backend 16 hours
Multimedia file transmission
25 hours for iOS
32 hours for Android
40 hours for the backend
Location sharing
iOS 12
Android 16
Backend 8
Total: from 208+ hours for the iOS app, and from 231+ hours for the Android app.
The approximate cost to create a WhatsApp app depends on the number of features, but an essential estimation based on developers' assumptions starts from $55K.
REASONS YOUR MAGAZINE NEEDS A MOBILE APP AND HOW TO MONETIZE IT
Create a WhatsApp-like application for business: Key Takeaways
Messaging applications are gaining momentum. The most popular messaging application, WhatsApp, includes over 2 billion active monthly users, followed by Facebook Messenger and WeChat.
To create your WhatApp-like project, make sure you're using the steps we listed:
Gathering features
Finding developers
Initiating the project discovery phase
Launching the development phase
While developers will implement the functionality and the design of your application, don't wait time. Learn how to raise funds for further improvements for a WhatsApp-like business project and investigate marketing strategies to apply to attract users to your project.
If you are looking for a development team to answer your questions concerning your business idea, you can rely on us. Contact our business development department to receive a free consultation.
Related readings: