Everyone likes music. Life tempo is getting faster and faster, however, and often there's no time to go through the entire list of music tracks, purchasing the ones you like, sorting them into playlists, and all that jazz.
Instead, everybody goes online to get an effortless user experience and receive some rhythm in their earphones in the matter of clicks. Mobile devices and stellar speed Internet connection only compliment this trend.
The purpose of this blog post is to shed some light on the topic of creating a custom Spotify clone, what stages that will involve, what features to add, and what critical factors you should take into consideration - all for the sake of building a music streaming app.
Why music steaming? Because nowadays it accounts 75% of music industry revenue.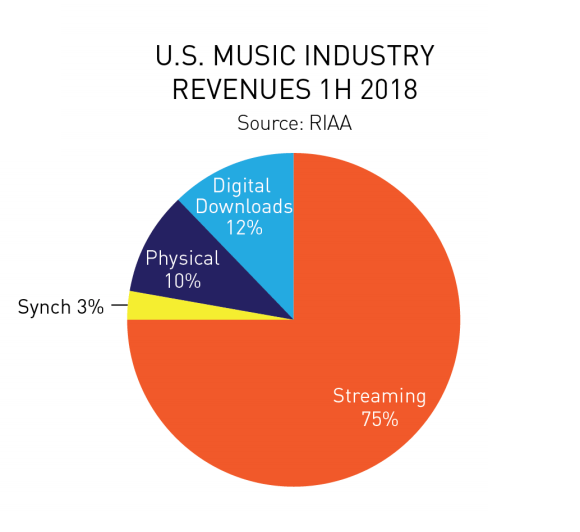 If we're talking about music services - there are typical online radio stations and music streaming services, like Spotify. That's how people enjoy quality easy-accessible sound spots.
What's more, people globally shift to their mobile devices in order to do pretty much anything. Phone calls take just a fraction of the time people spend on their cell phones. And in terms of the type of apps that are most popular, music takes the second place after social networking.
Add here a trend of simplifying UX for subscribers in all areas, the total of 52% out of 75 million Spotify users who run on mobile and you get a clear lucrative idea of showing your Spotify clone to the world.
Did I mention that 72% of Spotify users are millennials, who, it seems, were born with mobiles in their hands?
The Killer Idea Behind Spotify
This online streaming service works differently from many other music services on the net. Its main aim is to make your listening time as comfy and as seamless as possible. So they do all the technical part for you to get tracks one after another without any delays.
Basically speaking, Spotify's music is stored on various servers. To stream a random track on your mobile Spotify should find it on one of the millions of servers and head it to your device. Servers, in this case, are computers and all other gadgets of Spotify's subscribers. To be even more accurate - the streaming services use a cache of these devices' hard drive. A cache is a specific area of your computer's memory, which holds the latest data downloaded from the web.
To enable your smooth listening experience, these guys check your device's cache first to make sure you didn't listen to this sound and it's already there. If not, then they start extracting a track (or at least fragments of it) from the cache of other nearby Spotify users.
This concept is much more effective than hitting servers with endless requests to download this or that track. At the same time, you become an essential link for a global social music sharing network, which is really cool and engaging too. And most importantly, it enables users listening to all this music legally by paying royalties to authors.
You can also choose between different formats of subscriptions: for mobiles, tablets, and desktops, free and premium - with different levels of access.
These figures down below look quite inspiring, don't they?
Current Leaders on the Sound Streaming Market
Obviously, Spotify is not alone with all this online music thing. So talking about the particular streaming market, there are some major players there except Spotify: Apple Music, Deezer, Google Play Music and Tidal.
All these monthly subscriptions equip you with the same bunch of features:
Type of service - music library, cloud storage and radio-embedded
The range of devices you can listen to your music on
Sharing favorite tracks and playlists
Sound quality provided
Recommendations and editor's picks
Searching for your favorite artists/stations
Online/offline modes of listening
As you can see, all these services appear to be outstanding because of one single thing - they are effortless, intuitive and easy to use. That's exactly what you aim at. Moreover, there is just a huge spare stake of the market, filled with people still listening to random offline and online radio stations (71% of all music listeners in the U.S.).
The only reason why they stand these repeating songs coming over and over again on air is being lazy to pick and choose a nice customized service. So the only task is to hit these potential subscribers at the right place at the right moment - make sure you offer them the easiest and quickest way to engage.
How to Make Money with a Spotify-Like App
To make a closer look at Spotify or other typical music streaming service, their business model can be broken into two main tiers:
Free (option with limited functions and embedded ads)
Premium (add-free, unlimited, offline subscription)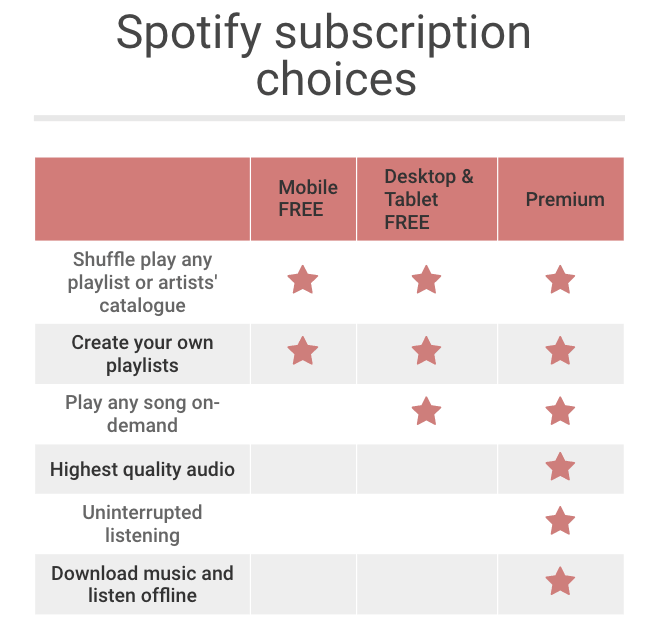 According to their site, Spotify collects revenue from advertising within free accounts (minor part) and from Premium membership fees. They claim to spend a major chunk of money to pay royalty rewards to artists, though.
Read also: How Do Apps Make Money?
That concludes how you earn with your Spotify clone. Basically, you are to become a part of "back to paid music" preachers, deal with authors and provide your users with a good deal of music value for their membership.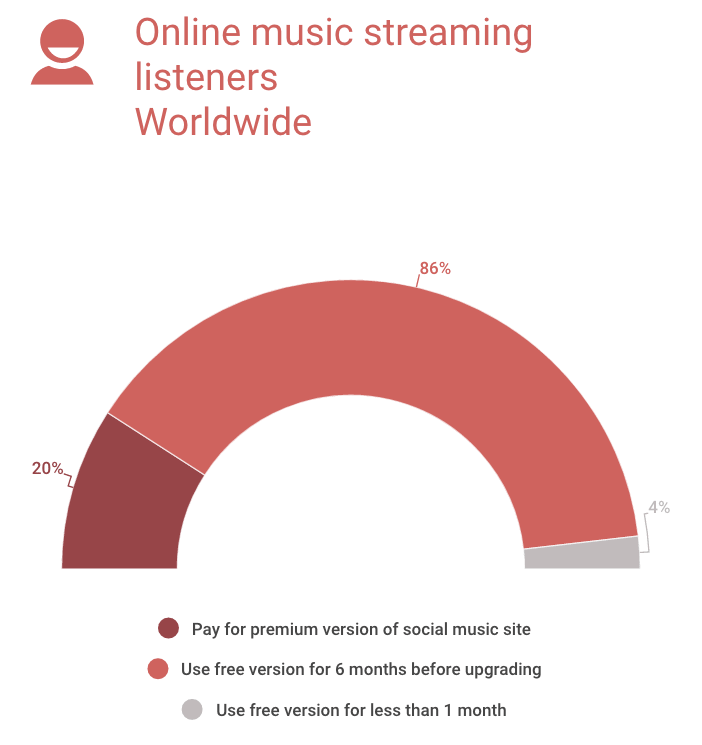 Where to Start: Your Guide to Making a Music App like Spotify
Idea is everything
Right before music app development, you want to specify a whole concept of the app, find the similar application and of course think of something that makes your app special and one-of-a-kind, yet easy to get and totally user-friendly.
Plan & Estimate
This market a truly big potential. But that's not enough for running and spending all you got for a killer application. You need to study who these people are, what they like, how they live and, make an important conclusion of the most effective way to hit them with your product. And, as a result, adjust the application according to your audience's preferences.
Licensing
Talking of music streaming service you are about to create - one more thing to fix is getting a license for providing your subscribers with top-notch legal audio content. In the U.S. this license is called Public Performance Rights and handled by The American Society of Composers, Authors and Publishers or Broadcast Music Incorporated. In Europe - by European Stage Authors and Composers.
Developers choice
Now it's time to come to the actual work and choose a team who will build an app for you. There a lot of factors for you to consider, but in terms of how much does it cost to develop a music app like Spotify, you can make some rough estimations per each region and move on to further details:
USA/Canada-based dev teams - $50 to $250/hour
Westen Europe - $30 to$170/hour
Eastern Europe - $25 to $150/hour
Australia - $50 to $150/hour
India - $10 to $80/hour
You also should learn first a project history of a particular music application development company, as well as a good name of developers all over the country (think of the legends going around Indian guys of IT). Communicate with your team preliminary to make sure you're on the same track. At the APP Solutions, we usually hold meetings with our clients on the regular basis via Skype.
The average development cost for music streaming app like Spotify is about $40-50K for one mobile platform.
See also: How to Outsource App Development?
Prototype it
You don't want to skip this step in any case. Our development team usually crafts kind of a clickable demo version of the app with a proper design - this way you are able to see what it looks like and what sort of overall impression provides. All it gives is an opportunity to fix issues and make changes at the initial stage and at the lowest price possible.
Build it
At this stage, you will decide on your MVP (minimum viable product) and all the other details with your development team and you are, guys, ready to go.
We, at the APP Solutions, provide our clients with an independent team of a project manager and devs, who act as one whole for the sake to develop a music streaming app.
Take it to the test
After the application is ready, you need to provide in-depth testing to make sure no detail is forgotten and you are ready to rock your creature into the world. We usually implement it right after application is ready and approved. Plus 3 more months after release our developers can fix any issues occurred for free.
Critical Features to Include in the Spotify-Like App
If you are a freshman in the stream, just follow this frame of features to craft your own comfy music service:
Registration / signing up
First and foremost, a user should be authorized in your system. It provides all base for personalization and grouping user's music, not to mention, you pack yourself with a comprehensive data for further analysis and scaling.
Make sure you make this step very effortless for users. Connect it to social media and you get new subscribers in the matter of taps.
Music organizing
There should be a wide variety of settings and options depending on levels of user access, features of grouping one's music, etc. They want to create their own playlists featured by their moods, current activities, genres and reach for various libraries on demand. That's how it looks in SpotNews audio streaming platform.
Track search
To organize their music, users need to find those picks first. Search feature helps navigate the entire music ocean available and that is a truly critical function to provide users with personalized music experience. Because they can find an abundance of random tracks in other places. All they want is having their featured, special sounds right at the fingertips.
All things social
Let your users follow their favorite artists and organizations, add friends and stay up to date with all of them. This feature also helps to share songs with friends, as well as highlighting favorite tracks on a social feed.
It's also gonna serve your app a good deal of word-of-mouth advertising at the same time.
Read also: How To Develop a Social Media App?
Push notifications
This is a deciding feature for such a social community based on follow-ups and spreading content. People want news from their favorite sources, that's how it works now - users want personalized valuable benefits from your service.
Offline/online music reach
Feel free and occupy some part of the device's cache to save some music for a user to get back to while flying or running into the Subway. There also will appear a list of local files, so I can always know what I'm able to listen to without Internet connection.
Summary
So to put it all together, let me mention that a huge privilege and motivation for stepping into this white online music business is a significant gap of people, who are still holding onto random old-school radio stations. The most deciding thing, as in any successful business project, is to stick to a logical pattern of actions, to make that smart approach and do all things gradually. That will ensure you with right decisions on all stages.
Just remember how to make a rocking music app - do it effortless and easy for your users in all means - that's your secret weapon and an absolute competitive advantage.
Check out our related articles:
HOW MUCH DOES IT COST TO DEVELOP A CHAT APP LIKE SNAPCHAT IN 2019
HOW MUCH DOES IT COST TO MAKE AN APP?
Calculate your project cost right now