"Come on, baby, light my fire…" We can bet, you've started to hum this tune after reading the line from this song. Music is everywhere today, it is with us more than any of our friends.
The way of music consumption has changed radically in the past few years. Mobile devices, ubiquitous Internet connection and hundreds of dedicated mobile apps for music let you go along with a soundtrack of your life wherever you are.
Research in a field shows a 79% increase in the amount of time spent in a music app each month between 2014 and 2015, rising from 31 minutes to 64 minutes.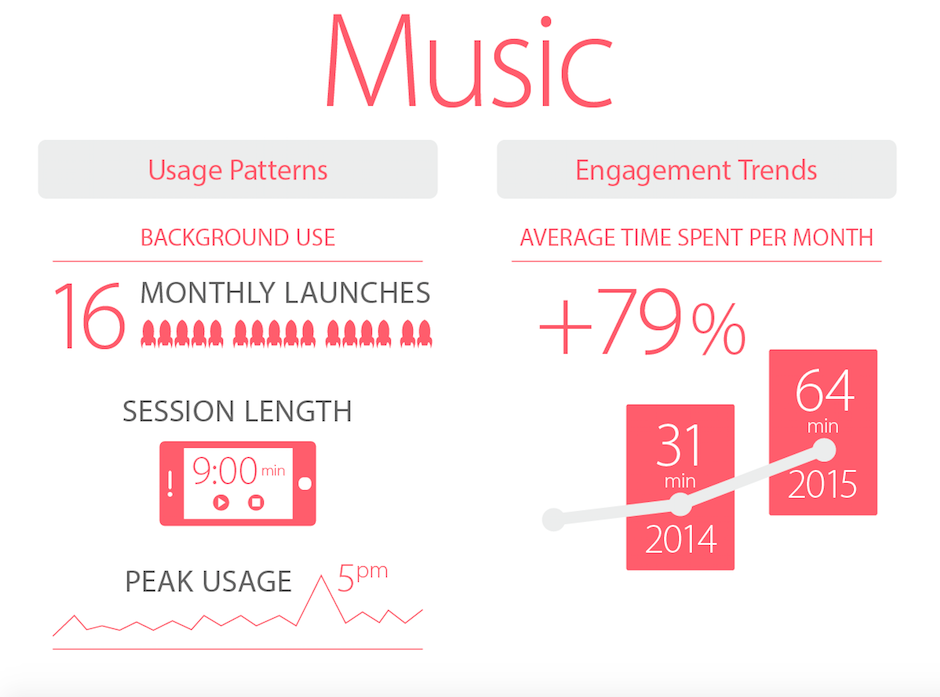 Thriving streaming and subscription services have established a new business model and rules for music apps development.
Read also: HOW TO CREATE YOUR OWN APP
To become successful, music app needs to present good speed, less resource consumption and deliver tracks to users in the matter of clicks.
If you are considering music app development for startup, this article will guide you what way to choose for moving forward.
Main players in music apps development
To start with, let's have a look at some recent stats.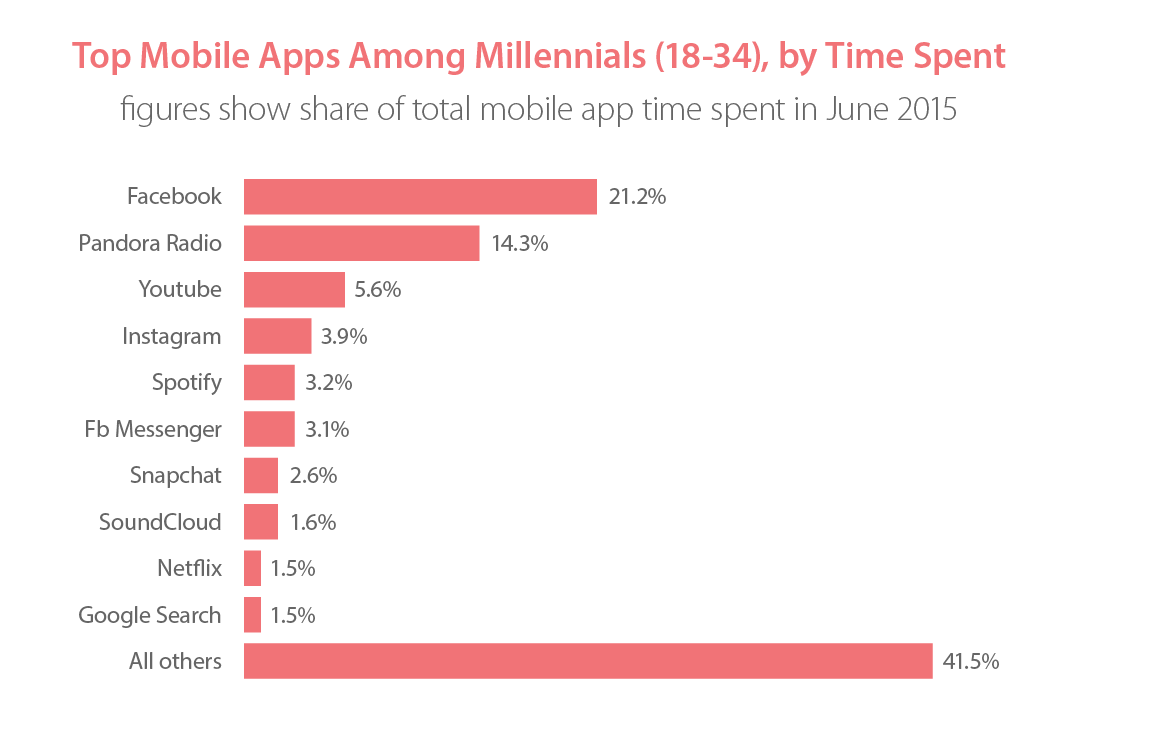 As you can see in a chart above music apps take a significant place among users' preferences. Pandora Radio, Spotify, and SoundCloud seem to be leading apps that compete in the field.
Here is how their popularity changed within a year, according to App Annie research.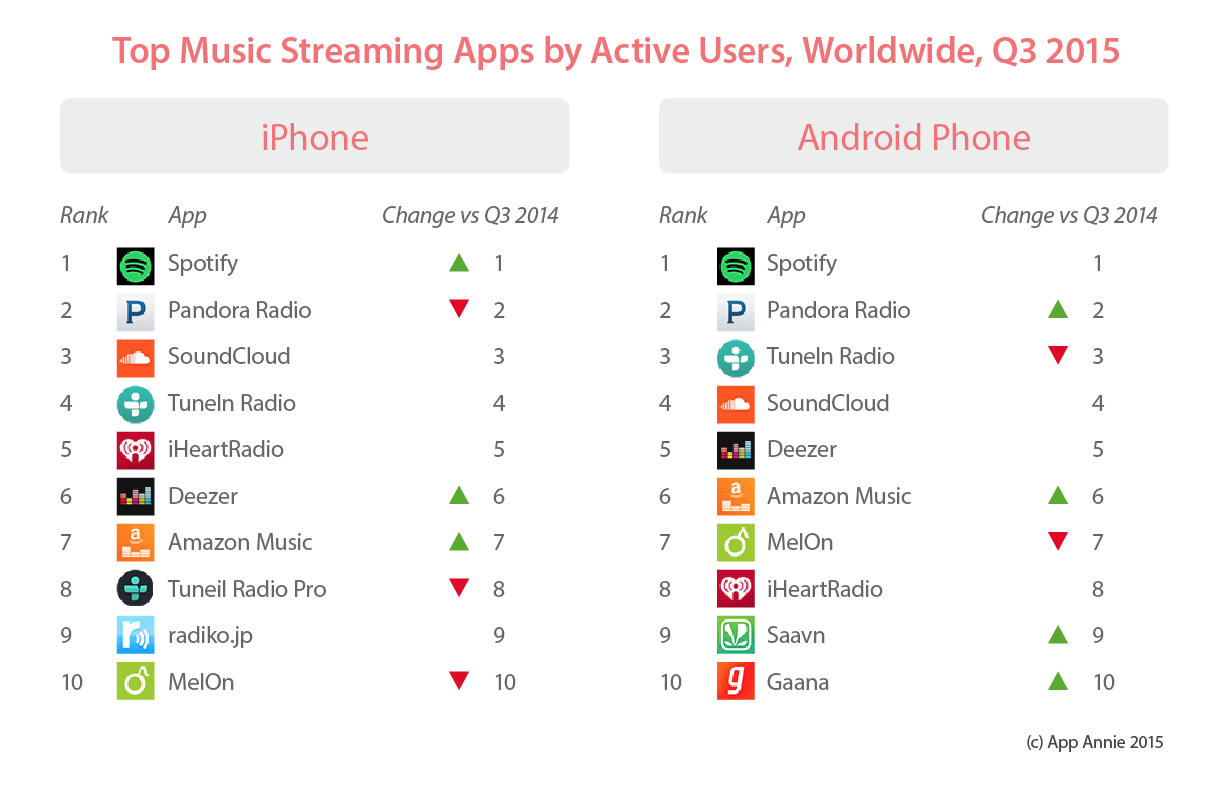 All three services stream songs based on the selections user make. "Stream" is the key word and main feature of these apps.
The streaming itself is a delivery method of the medium. Today streaming became an alternative to file downloading.
It works in few steps:
User clicks the file he wants to play
The request is sent to the streaming server, telling it which file user wants
The streaming server sends the audio file or audio stream directly to a user device
Spotify App
Thus, Spotify stores its music on various servers. As high-quality files require lots of storage space and processing power, Spotify finds them on one of the millions of servers and deliver to your device. Computers and all other gadgets of Spotify's subscribers are used as its server. To be more precise, Spotify applies the cache of these devices' hard drive.
Such approach allows Spotify app to provide its users with a prodigious library of 30 million-plus tracks. If you are not in the mood for making a playlist yourself, the app has a station generator and mood or genre based offerings as well.
Moreover, Spotify service has a powerful social value by letting its users become a part of global social music sharing network. It enables you to create playlists in collaboration with your friends, or you can follow a playlist from another Spotify users to get updates. One of the most prominent social features of the app lets you follow your Facebook friends to see the music they listen to. Also, you can get in music in touch with artists by following them and seeing what music they like. The service is very friendly and alerts you when your favorite artist releases a new album or announces an upcoming event.
Read also: HOW TO MAKE A MUSIC APP LIKE SPOTIFY
Another feature lets you download music from your computer to your phone and sync it for offline listening.
Spotify available on iOS and Android platforms and has several subscription options:
Free plan (with embedded ads)
Premium (ads-free)
Users may subscribe to free plan, but in this case, they don't get many features. But instead, they get ads directly in their earphones between the tracks and possibility to play music in shuffle mode without any choice what comes next.
For the $9.99 monthly in premium subscription, users listen to music with zero ads and get the unlimited access to exclusive content.
To sum up all above, we can distinguish the following Spotify's main features:
Massive catalog of user-built playlists
Newsfeed
Extensive search by filters: artists, albums, and playlists
Sync user's playlist for offline listening
Social share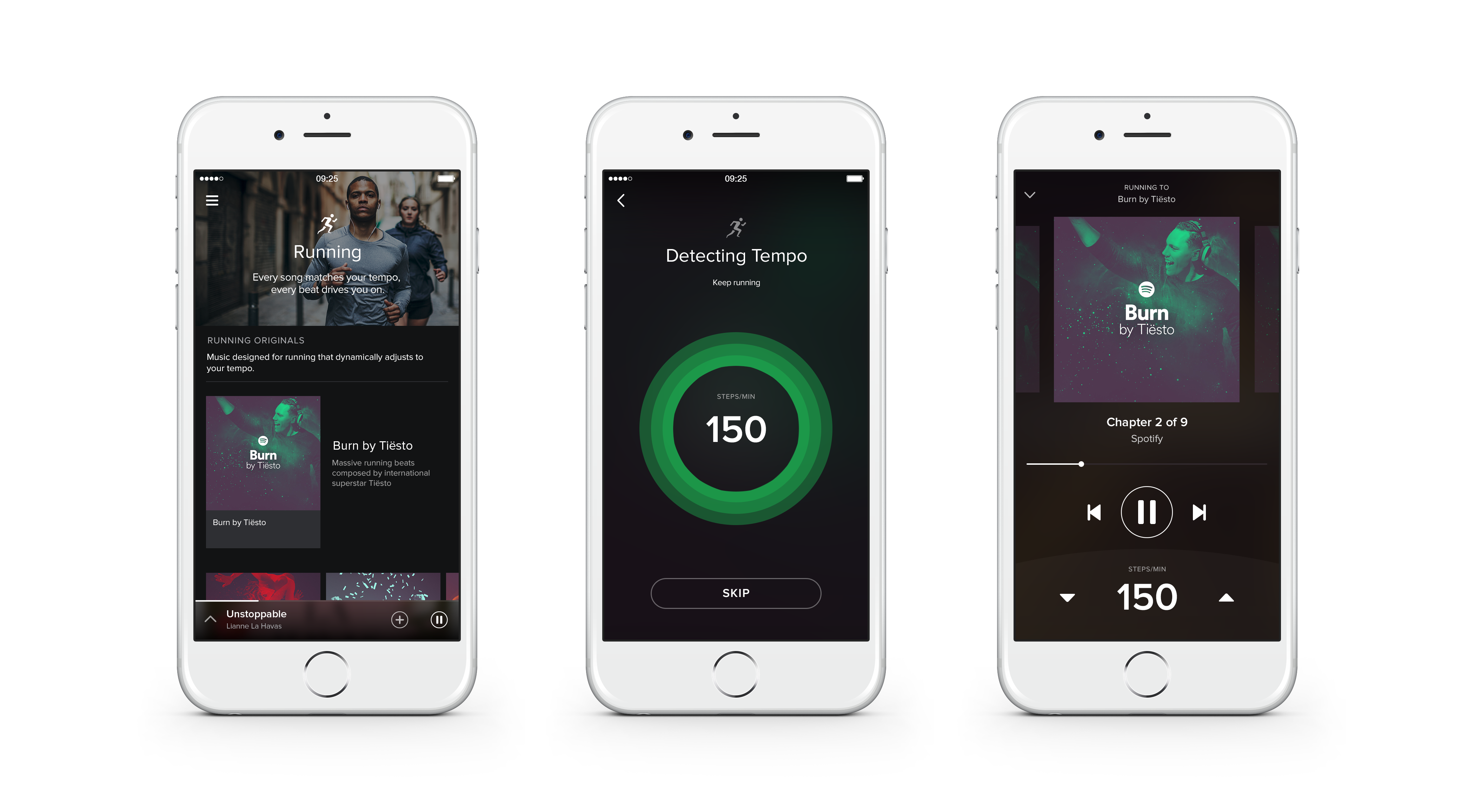 Apple Music
Apple Music is another great service that music app developers consider to be the best example of music application.
Also, this service is considered to be a strong Spotify app competitor. Everybody remembers the buzz when Spotify team has accused Apple of unfair competition. Because Apple has rejected an updated version of the Spotify app from the App Store. According to representatives of Spotify, the company has made it especially for the promotion of its own music service Apple Music.
However, Apple Music works on a similar principle as Spotify does and provide users with tremendous music library.
The app asks you about your favorite genres and artists to get to know your music tastes while you are singing in. This helps the app to be smart in its recommendations.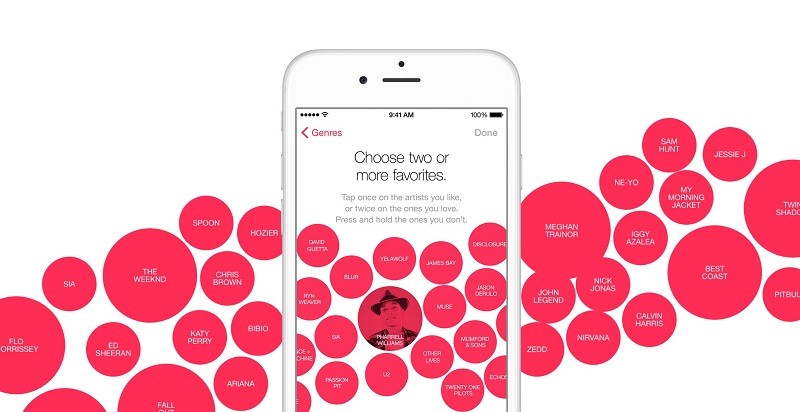 Apple Music allows you:
To combine your iTunes library with music from app library
To find music you want to hear based on your preferences due to a combination of human music experts and algorithms
To search for new music using Siri on iOS devices
Also, Apple Corp offers Apple Music API for music app developers. Developers may use it to integrate Apple Music features in their app and to ensure superior user experience.
Pandora Radio
This splendidly done Internet radio app take the second place among music apps by active users and enables you to create radio stations composed of songs and bands. Pandora Radio helps you find new tunes and offers custom music streams tailored to your preferences of artist or genre.
To deliver you the new music Pandora's software analyzes your listening patterns using the Music Genome Project and compares them with service's enormous database of tunes.
What happens behind the scenes:
User type the name of song or artist he likes
The service pulled up the Genome analysis for it
The algorithm compares every song in the Genome database looking for matches but ignoring genres, user connections or ratings
It analyzes the similar traits across 400 parameters such as beats, melody, rhythm, tempo, lyrics and many others.
Pandora allows you to make your own stations, share them with your friends and even buy tracks from iTunes.
No ads and unlimited access are available with paid subscription.
Music app development cost
Needless to say, the price of music app development depends on many factors, from developers origin to project's complexity and features.
Summarizing the functionality performed in the best apps for music, let's pick out the сritical features to implement in the app with your ideas.
See also: HOW TO ESTIMATE BASIC EXPENSES FOR YOUR MOBILE APP DEVELOPMENT
Registration / signing up
An essential option that identifies user to synchronize his playlist and music in service.
You may use social media authorization and enjoy getting the new subscribers in the matter of taps.
Sharing
Another one important option that supports and enhances your social presence. Give your users an unlimited opportunity to share songs either through Twitter, Facebook, etc.
Track search
Give users a capability to find effortless music they want to hear and you'll get an army of loyal users.
Catalog
Provide users with music catalog to help them find how many music content your service offers. It might seem obvious, but there are a lot of bad examples on the market when developers have ignored this feature.
Push notifications
Recent research discovered that push notifications lead to higher engagement across all categories, but the most of all they impact on music apps' engagement. See on the chart below how exactly.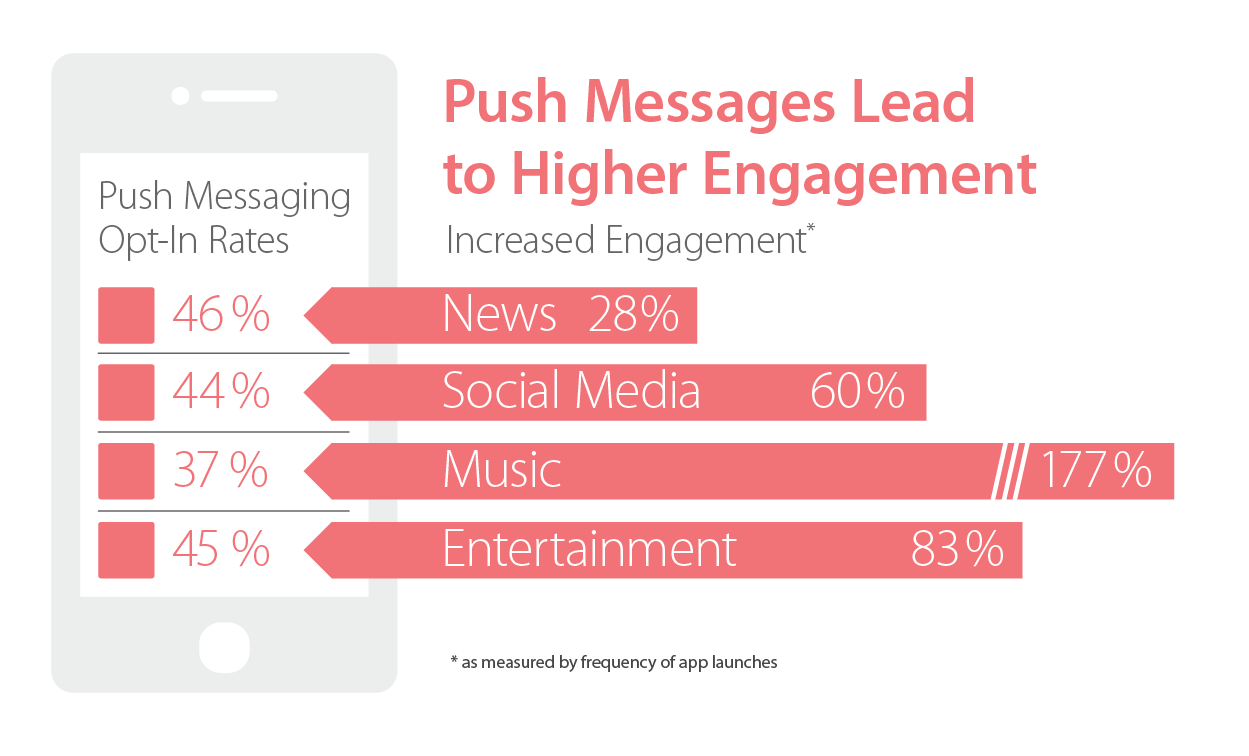 Performance
As the key features of leading services are almost the same, the app's performance may become the deciding point. App needs to present good speed and less resource consumption. It should take less than 300ms for the music to start playing from the moment a listener has selected a song.
Discovery
Whether through recommendations algorithms, music Genome, friend recommendations or scrobbling, your users want to discover new music every day. Just help them, they'll definitely appreciate it.
Extra tools
To excel the mediocrity rivals on this highly competitive field, you should offer your users some extra services and tools. For instance, as Spotify app has done. The service suggests tailored playlists that may refer to current mood, time of the day, special events and so on.
To make rough estimations how much does it cost to develop a music app, have a look at prices per each region.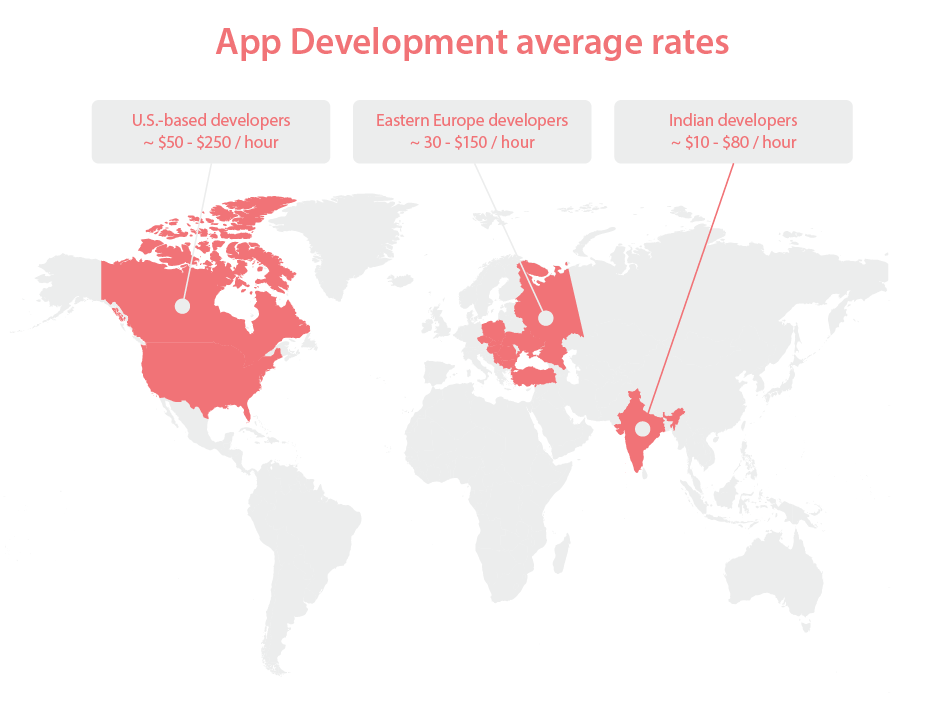 At the App Solutions we will help you choose the most essential features of your future app and make its estimation. To ensure that you are on the right way, our business analyst will provide you with two hours free consultation.
We have a transparent pricing policy, so you may always know what the money is actually paid for.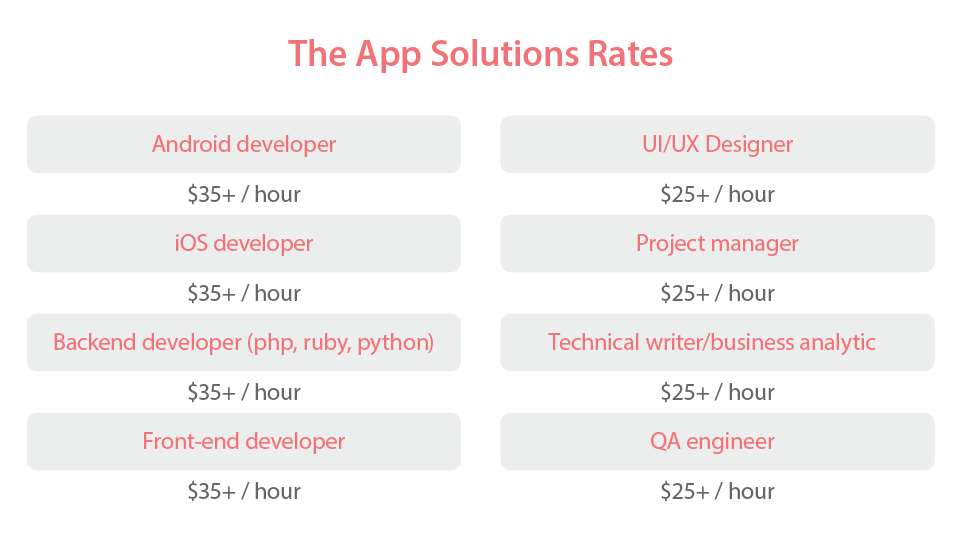 Summary
While thinking about your own music app, make sure you don't reinvent the wheel.
Research the market mindfully to discover what existing audio streaming apps perform well or poorly.
Build an app that provides an improvement on anything other services do poorly. Pay special attention to app's design making it effortless and easy for end users in all means. And don't forget – social experience is always welcome.
Use the tips from this article and your app will have all chances to become noticeable by users.