A common question people have, especially if they are new to app development, is how free apps can be beneficial for business. The most frequent question about free apps is, "How do free apps make money and can they make ANY money at all?"
According to the usual person's logic, if the app is "free," then you're building an app and giving it away... without earning anything since the app is free. Is this correct?
Actually, the short answer is no.
Let's take a general look at the market - as we can see, the majority of the apps are free, especially in the Android Google Play market. The statistics as of the first quarter of 2018.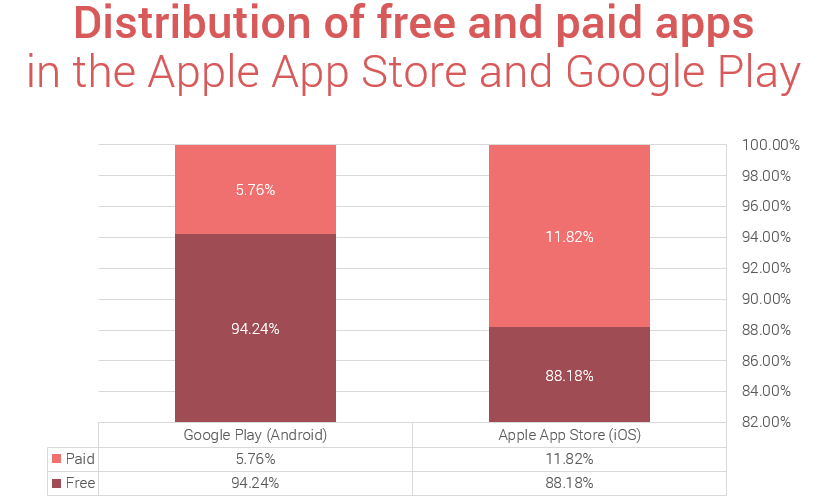 [According to Gartner Statista]
Are all of these people simply wasting their money on apps that aren't going to profit them? Nope. Mainly, since free apps are the most downloaded mobile applications to date, you need to find out how free apps can prove profitable, and ask your developer to capitalize from their distribution by mobile application monetization.
Free App versus Premium App
Many apps come in a free and premium version. The premium version requires that the user pays a one-time fee to upgrade to the premium app offering better features or acting as an expansion of a lite app version. Some apps come with a regular free version and a High Definition (HD) version, and the apps are paired together.
When the free app is created, it contains a link for accessing the premium money make an app. Once the link is clicked, it will take the user to the app store where they can pay for the premium or HD offering.
In reality, a lot of free apps are demo apps. The user gets to test-drive the free app and often the features in the application are just enticing enough to get the user to buy the paid version. In fact, such free apps to make money work like a hook that leads to the profitable catch when the user makes the decision to download the full version of the free mobile app.
READ ALSO: How much does it cost to make an app
If going this route with a free and premium app offering, the paid for app needs to have enough features to make the user believe "Hey, I really want all the functionality the full version offers." The key is not to give away all the best stuff in the free-based offering.
Of course, there is no rule saying that a free app cannot also be ad-supported, which is another method to bring in revenue. When going from free to premium, there is no longer a need for an ad-supported, so you can also hook those consumers who want to get rid of the free advertisements by telling them an upgrade eliminates the ad-supported feature.
is nice about pairing up a lite app with a premium app is that the lite app can serve as a marketing tool for the premium app. Since freebies are always enticing, you can bring in more mobile app users with a free app that acts as a stepping-stone toward getting the same app users to go premium.
Essentially, you still have to market the free app, but you can get a profitable turnover without having to promote the premium application aggressively since the advertising is already done with the free app you offer.
12 Mobile App Monetization Methods
You can read about app monetization methods in more detail here, but let's list the app monetization methods that you can consider for your business:
Rewarded video ads
In-app purchases (for example, a power-up for a game or an extra feature)
Interstitial video ads
Payable ads
Interstitial display ads
Native Ads
Banner display ads
Pre-roll video ads
Paid app downloads
Paid subscriptions
In-feed video ads
Affiliate programs
On the graph below you can see the effectiveness of these monetization ways according to mobile publishers worldwide: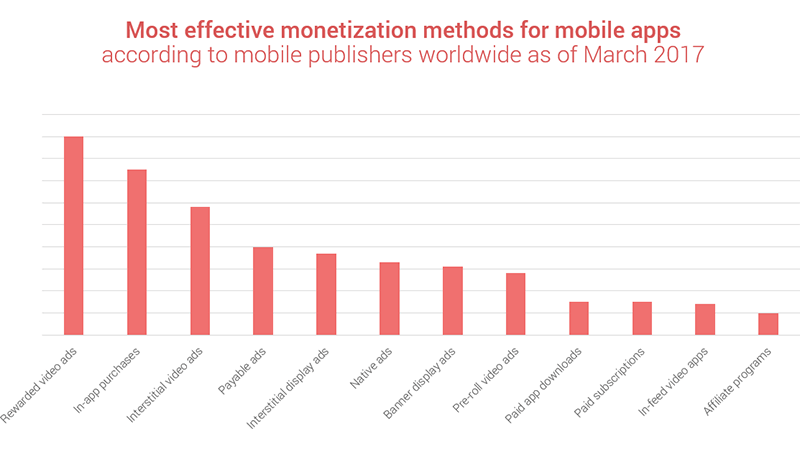 [Source: Statista]
In-App Purchases versus Low Priced Mobile Apps
When it comes to making any profit with free apps, it is all about leveraging the download count to lead to a more profitable endeavor with premium applications. Mobile app creators have found that even when offering an app at a low price, like for just under a buck, they end up making less money than if they would have opted to offer a free mobile application with the option to make in-app purchases.
In fact, the download count can prove ten times higher when you have a free app where consumers can decide if they want to buy specific features. This is an example where it is evident that consumers like to be able to have a choice as to whether they can access more fee-based features or not rather than being forced into the cost of a mobile app with no free chance to test-drive the offering.
Free apps can be used as enticements where you can have your mobile app offer additional features that can be unlocked via an in-app purchase. For instance, some mobile games might give the gamer access to more coins via in-app purchasing solutions, or additional scenes, puzzles, powers, or special functions.
If we look at statistics, we will immediately see that this is a phenomenal option: as many as six out of every ten of the most profitable games in 2011 allowed for in-app purchasing. In-app, purchasing is ideal for one-time or ongoing purchases, and clearly, the ongoing purchases are the best option for making a serious profit. Thus, you should develop mobile games with in-app purchasing offers that are enticing enough to keep the money coming.
Finally, do not forget to get into using networks like AdMob, InMobi, or Google's advertising network to bring in additional revenue.
Advertisement Supported Mobile Applications
Banner advertisements in free apps can bring in a bit of revenue for you too, so while you work on getting consumers to desire your premium app, you still make a few bucks by offering a free lite alternative.
The key to making money via ad support networks is to bring in the traffic: This is done via aggressive marketing and the creation of a cool free app. Some of the ad networks you can work with offer payouts on a CPC or CPM basis (cost per click and cost per thousand impressions respectively).
You can work with networks like AdMob, iAds, which are offered by Google and Apple, respectively. Just remember, high traffic and a lot of downloads are going to be needed to make a good profit from your free app offering.
Also, as you can see from the statistics below, the share of advertising and in-app purchases are growing more rapidly than paid apps and it's a trend we foresee in the future as well.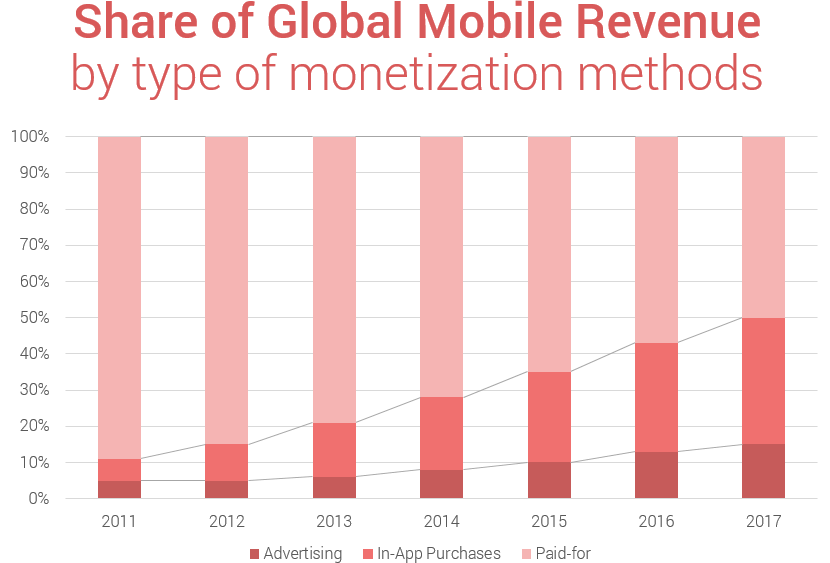 Cost Per Install Networks (CPI)
Cost per Install Networks is a new introduction to the mobile app marketing industry. To sell your app, you are paying a company like Chartboost or Playhaven (third parties) every time your app is downloaded.
The average fee you end up paying is between $ 0.80 and $3.00. Many developers are finding this method affordable and a good way to draw in a consistent profit that parallels the download count.
Getting App Sponsors
Sponsors are another way to make a bit of revenue. It has been so ever since the marketing industry came into existence. With sponsors, you can get your money up front, and if the sponsor is prestigious, their name can prove to elevate the reputation of your brand. You have to find sponsors willing to pay you when you white label the application.
READ ALSO: App crowdfunding
You might approach a sponsor and make them an offer by telling them you have an app that has had several thousand downloads (which you can support with your analytics), and you can then offer to change the graphics to reflect the brand of the sponsor for a set fee. What's more, you can get the sponsors you work with the market the app for you: It's a win-win for everyone.
However, there are few other options on how do free apps make money while being free to purchase:
Freemium: If you want to make money without ads, you can ensure users with a free application with some paid features that make the experience more advanced and unlock new facilities.
Partnership: To make money with apps, you can partner with a company with a similar customer base. By integrating their offers in your app, you can get a referral fee.
Subscription: This model is pretty much analogous to the freemium strategy. The only distinction is that you ensure users with content instead of features.
Takeaway:
To make money from free apps is possible, but it takes some efforts. You can't expect to create a free app and have it draw profits all on its own without aggressive marketing and innovative advertising.
By using advertisement networks, ad-supported options, in-app purchase offerings, and cost per install solutions, you can improve the marketability of your app that will lead to greater profits over the course of time.
Would you like to create a mobile app?