Blog
How to make a live stream website like Twitch
How to make a live stream website like Twitch
What would you pick: watching a movie or reading a book? Most of us would choose the first option because a video is more engaging and more memorable than text. And that is why – our brain processes visuals 60,000 times faster. Besides, 90% of the total information transmitted to our brain is visual.
Owners of video-streaming platforms are unlikely to think about these figures. But the fact is, the live streaming video industry is expected to reach $124.57 Billion by 2025. And, if you want to jump on the bandwagon, and create a live streaming website, this article is right for you. Below, we share a guide on how to create a live streaming website like Twitch, the development steps, and costs.
What is Twitch
streaming platform

and how does it work

Twitch. tv is an online streaming platform where users can watch or broadcast live or prerecorded videos. Twitch was started in 2011 as a small platform for live video streaming called Justin. tv. In the same year, Justin Kahn, the platform founder, received $8 million in venture investments for platform development. In February 2014, Justin. tv was re-branded as Twitch Interactive, and in August of the same year, the service was acquired by Amazon for $970 million. Now, Twitch had an average of 2.78 million concurrent viewers in 2021, a 31% increase on 2020. Average concurrent viewers increased by 68% the year prior. The 30 million unique users view Twitch streams daily There are an estimated 51,500 Twitch Partners, as of August 2021.

When players are broadcasting videos, they usually add audio comments via a webcam appearing in the corner of the screen. As well as this, platform users are involved in live chat with gamers who have similar interests. Such interactive chatting creates a real-life social experience in the digital world.

However, Twitch users use the platform for more than video game live streaming:
Twitch hosts E-tournaments and upcoming games demos.
The platform users use Twitch for video game tutorials, when many users can interact with each other and the instructor in real-time.
Also, Twitch performs as a software development learning environment where user communities stream programming projects and talk through their work.
Apart from gaming, Twitch also has non-gaming live-streaming categories, like IRL (In Real Life), Talk Shows, Creative, and even Cooking.
The Twitch business model includes the following revenue sources:
Advertising. Twitch charges a cost per mile (CPM) fee from gaming companies, portals, and developers for running ads. The cost of CPM varies between $2-$10.
Subscription. Twitch users can buy a subscription from the following options $4.99, $9.99, $24.99 per month. A paid subscription allows users to watch videos without ads and use premium Twitch features. Twitch premium features include an Expanded Emoticon Set, Custom Chat Username Colors, Priority customer support, and so on.
Partners. To support favorite streamers, Twitch users buy paid subscriptions for some channels. Twitch splits the subscription cost 50/50 with the channel owner.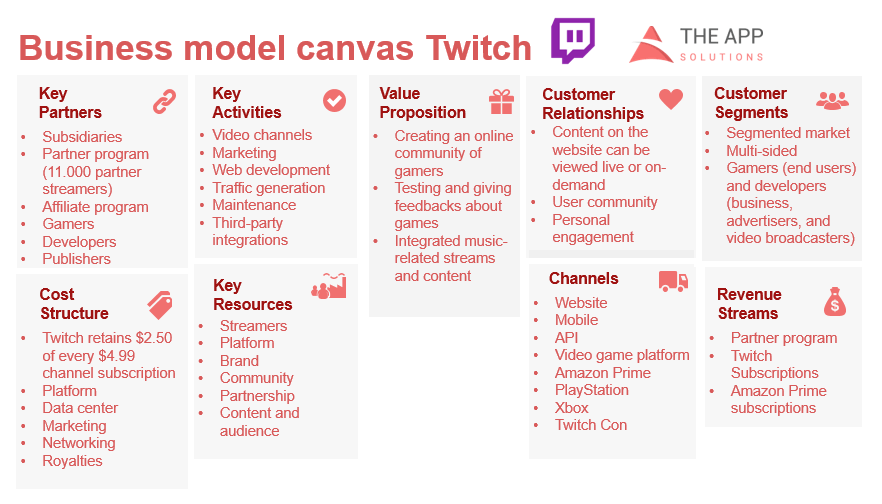 Now, let's take a look at other business industries that can benefit from live video streaming.
READ ALSO:
HOW TO CREATE A MUSIC APP LIKE SPOTIFY
HOW TO BUILD A DATING APP LIKE TINDER
HOW TO CREATE VIDEO SOCIAL MEDIA APP LIKE TIKTOK
HOW TO DEVELOP AN APP LIKE NETFLIX
Do
live streaming services

fit your business?

The Twitch example shows us live-streaming is a perspective industry for more than just streaming games. Below we have gathered other perspective spheres:
Education is the most prominent niche for live video streaming. According to the University of Dartmouth, 86% of colleges and universities have a presence on YouTube. Thus, you can create a live video streaming website to stream live lessons to extend the students' classroom experience.
Conferences. 67% of viewers are more likely to buy a ticket to meetings after watching live streaming of the same event. You can build a live-streaming platform to stream scientific conferences or other industry-specific events.
Concerts. Concerts and festivals make up 43% of most-watched live content. Besides, 30% of people who watch a live stream event will attend in person the following year. In total, more than 4.6 million people watch music festivals via live streams each year. Thus, you can start a live streaming business to stream music festivals.
Online retail. 40% of customers say live videos of products impact their purchase decision. Thus, e-commerce is another industry where retailers can go live with their products and conduct see-now-buy-now strategies.
Healthcare. Live-streaming in healthcare can benefit in different ways. By using live video, doctors can hold training sessions or guide surgeons during a surgical procedure. Also, live-streaming allows for direct communication of patients with healthcare professionals to diagnose treatment.
Gaming. The role of live-streaming in this industry is tremendous. By developing a live-streaming game website, you may reach a maximum amount of users, increase engagement, and create a loyal gaming community.
Fitness. A fitness live-streaming website where coaches and health diet specialists share their experience is another perspective niche. A live-streaming website would help your fitness business to attract new customers and build loyalty among existing ones.
Must-have features of the best live tv streaming app
Now it's time to take a closer look at the essential elements to build your live streaming website. You can consider this feature list for your live streaming website MVP.
User registration. Allow users to register and login to your website via social media profiles, like Facebook. By tying your streaming website with other social media, you would give your users the option to share live stream links with their friends in social media and attract more users.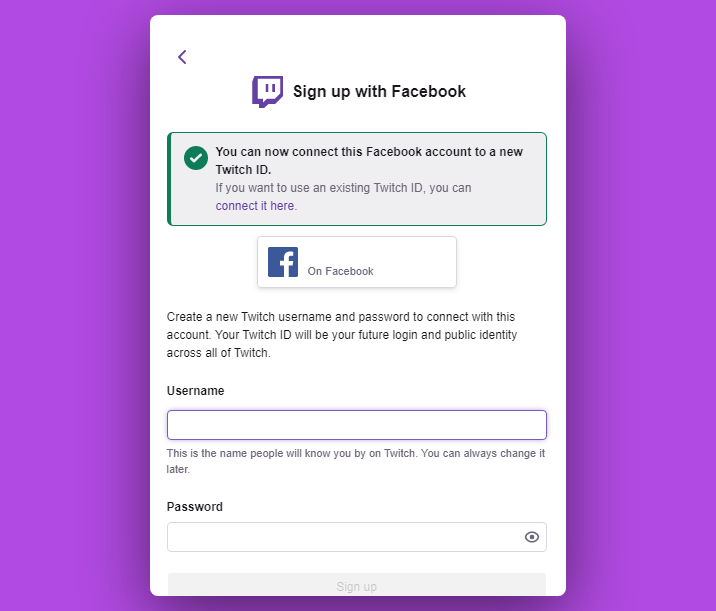 User profile, where users add personal information, preferences, and links to social media. Your website should include two types of users such as watcher and gamer or trainee and trainer. Thus, they should have different user profiles with a distinct feature set.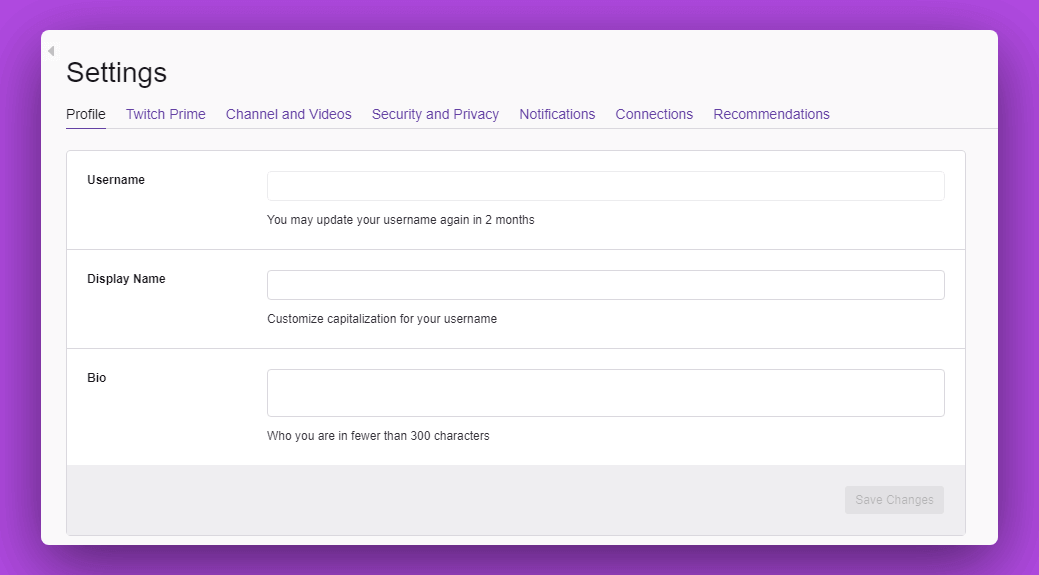 Player. Your website users could watch live streaming videos via a player from any device. As well as this, you can give your users an option to customize the player theme, control video replays, resolution, and notifications.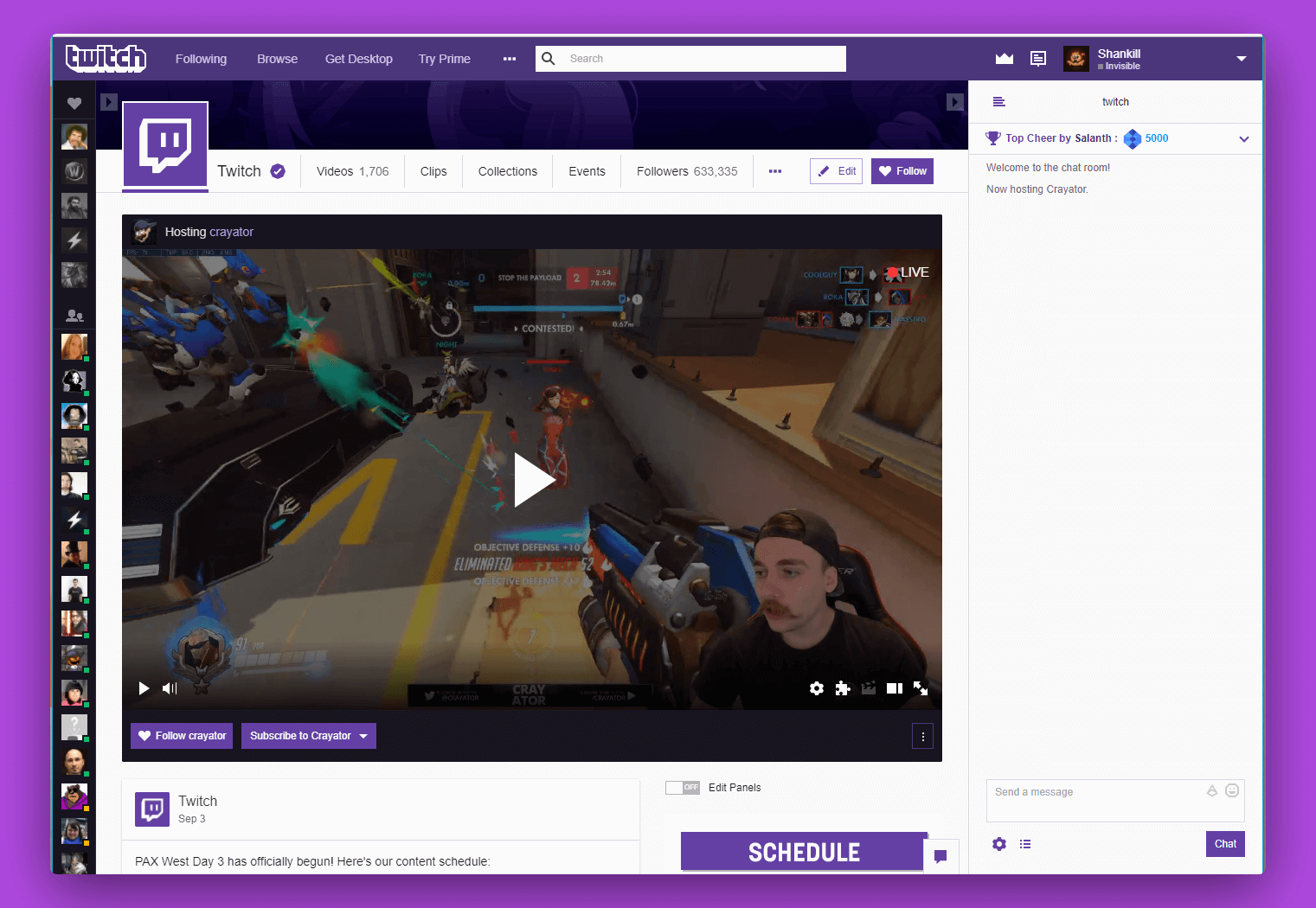 Live video streaming. The quality of streaming video is the most critical factor for 67% of viewers who use live video streaming services. To provide users with high-quality video streaming, you would need to use RTMP. RTMP means real-time media protocol that maintains low latency connections. To achieve this, RTMP splits the entire stream into smaller chunks to travel from the server to the client.
Security. If you wish to run live streams of paid content, consider advanced security features. To prevent video assets from a data breach, you can use AES encryption, DRM, and IP-based access control.
Chat. This feature allows users to communicate with each other during live streams and ask the streaming person questions. In this way, you would create a sense of real-life experience online. To empower your website with a live chat, you can integrate a third-party solution or develop a custom chat which might cost more.
HOW TO MAKE AN APP: LIFE CYCLE OF MOBILE DEVELOPMENT
Streaming Service

Additional features

Below we share other features to consider for the second development phase of your live streaming app:

Personalized content. If the streaming website includes multiple video categories, allow users to select the most relevant content in the Discover section so that users can see new videos from their selected categories.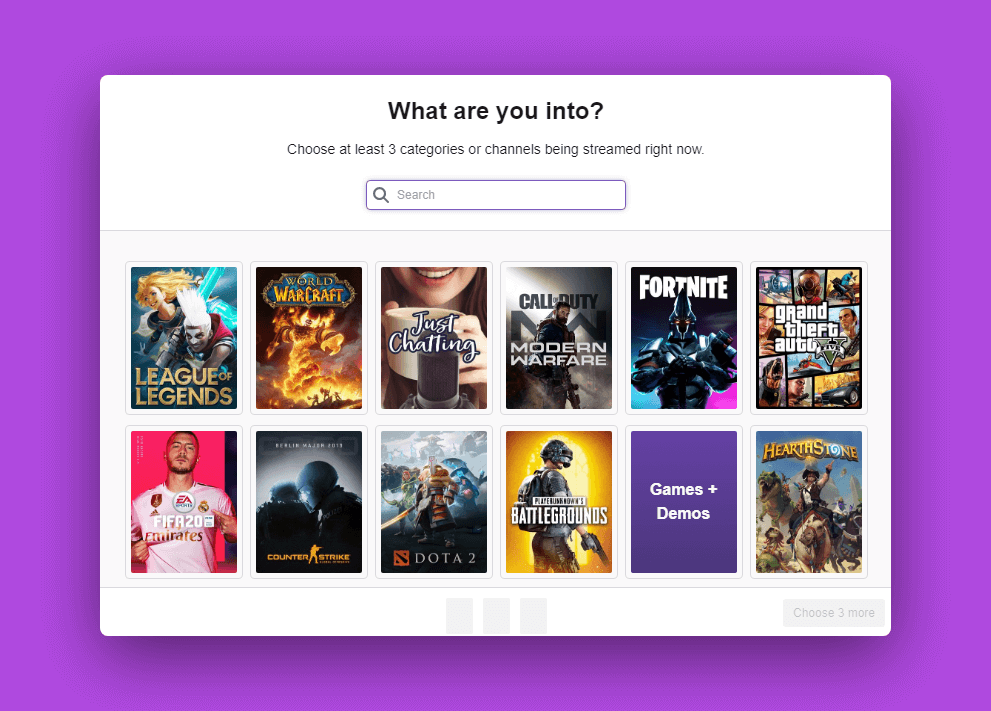 Analytics. To make your platform successful, you need to track user engagement, peak traffic, and viewership. It would also be great if your analytics could compare traffic for different video events. In this way, you would know which streaming category performs better.
Auto video categorization. To catalog streaming data in real-time manually is almost impossible. This is where Artificial Intelligence (AI) and Machine Learning come in handy. Use AI to automatically analyze the video content and Machine Learning to prevent copyright infringement on your platform.
Schedule Live Streaming. Your streaming website might attract people from different countries and time zones. Thus, a live streaming schedule feature is essential. Allow streamers to schedule the next session and inform their followers about the new stream via Push Notifications.
Monetization. You can provide users with paid subscriptions, paid access to premium content, or donations via a built-in payment gateway. Your payment processor should accept credit and debit cards, PayPal, and other payment methods, like Apple Pay. As for Twitch, they use the Xsolla payment system.
OUTSTAFFING VS. OUTSOURCING VS. MANAGED SERVICES: DIFFERENCES AND BENEFITS
How to create live streaming website like Twitch: The project roadmap
And now, let's go through specific steps required to build your live video streaming platform:
1. Business vision
Here you need to identify what you want your potential live streaming platform to be according to your goals. In this way, you will give your business a clear focus and avoid heading in the wrong direction. Thus, you need to research your competitors and choose your niche. You also need to decide how your streaming platform will stand out and how to attract users. You can formalize a live streaming platform business vision by writing a vision statement.
2. Discovery (inception) phase
You and your development team will create a Functional specification describing the inner logic of your website, the feature list, and so on. This document should also include functional requirements relating to ways the product must behave, and non-functional requirements explaining the general software characteristics.
3. Tech stack
Now you need to select the platform that will power your live streaming website and third-party services to integrate. You can choose among existing live streaming platforms such as Vplayed, Brightcove, and Contus Vplay or develop a custom one. At this stage, your development team will also create server architecture, database schema, and other live video streaming solutions.
4. Design
To create an engaging design, you and your team will go through several steps. First, you, as the main stakeholder, should visualize your vision of the website layout and elements by creating sketches. Then, the team will use those sketches to create a wireframe for every screen of your website. Next, they will turn wireframes into a website prototype to receive feedback from you. Only after approving the prototype, the team will start developing the website design.
5. Development
The team will begin building the front-end, back-end, and adding third-party integrations such as payment gateway. Such projects require the integration of comprehensive cloud architecture for keeping and streaming a large amount of data. Thus, we recommend starting the development off with a live streaming website MVP. The MVP will include high-priority features, such as user profile, live streaming player, and others. In this way, you can validate your business concept and minimize risks for your business.
6. Testing
For a successful launch, the QA team will thoroughly test your live streaming website to ensure every website element operates correctly. To achieve this, the QA team runs both manual and automated testing.
7. Second development stage
After the launch of your streaming platform, gather feedback from users to decide what features they want you to implement next. Honest user feedback may point out some disadvantages in your platform. By using such feedback, you can select a list of features to implement during the second development stage and improve your website.
WHAT YOU'RE PAYING FOR OR HOW ADS.TXT HELPS TO FIGHT ADTECH FRAUD
How much does it cost to create a live streaming website like Twitch?
Real-time video streaming platforms are complex projects that require a certain amount of effort and time to develop. Below, we share a list of streaming website MVP and estimation in hours.
FeatureScreen

Functions required

Design

Front-End

Back-End

Architecture

From 24 Hours

Design

From 80 hours

Registration

Registration via

From 12 Hours

Login

Login via

From 8 Hours

User Profile/Account Settings

Edit user profile, photo
Get user data from social media
Homescreen

From 12 Hours

Screen of video

Video player
Online chat with other users
Online streaming from webcam

From 8 Hours

Streaming live video

Integrating Cloud hosting
Creating a player on the front-end side for taking data
Managing data on the server and returning it to other users in live mode based on sockets

From 4 Hours

From 40 Hours

From 120 Hours

Messaging between users

From 8 Hours

From 32 Hours

From 40 Hours

Total:

Design from 92+ hours

Front-end from 72+ hours

Back-end from 224+ hours

The cost to develop a live streaming website MVP varies from approximately $10,000 to $50,000.
How to monetize a live streaming video platform
And now, let's find out how you could make money from live streaming websites like Twitch.
Subscription model. You can charge platform users monthly or annual subscription fees. In exchange, you can provide users with premium content or advanced platform features.
Advertisements. Running ads on your streaming platform is another live streaming business model. For this monetization model, you can choose among the following options:
Pre-roll. Ads run before the stream begins
Mid-roll. Ads run alongside the live stream
Post-roll. Ads run after the event
Donations. Users may like to show their appreciation and donate money so you can make your online service even better. To empower your website with this feature, embed a build-in "donate" button.
MONOLITHIC VS MICROSERVICES: CHOOSING THE ARCHITECTURE FOR YOUR BUSINESS APP
The APP Solutions – Success Story
CASE STUDY: VIDEO STREAMING APP PROOF OF CONCEPT
At The APP Solutions, we often receive requests from potential clients for video streaming app development. Clients, who consider The APP Solutions as a tech partner, are looking for evidence that we have expertise in video streaming and social media app development.
We decided to build a proof of concept of a video streaming application to ensure the ownership of the tech expertise. We also gave a detailed description of the overall architecture, feature list, and technologies we applied.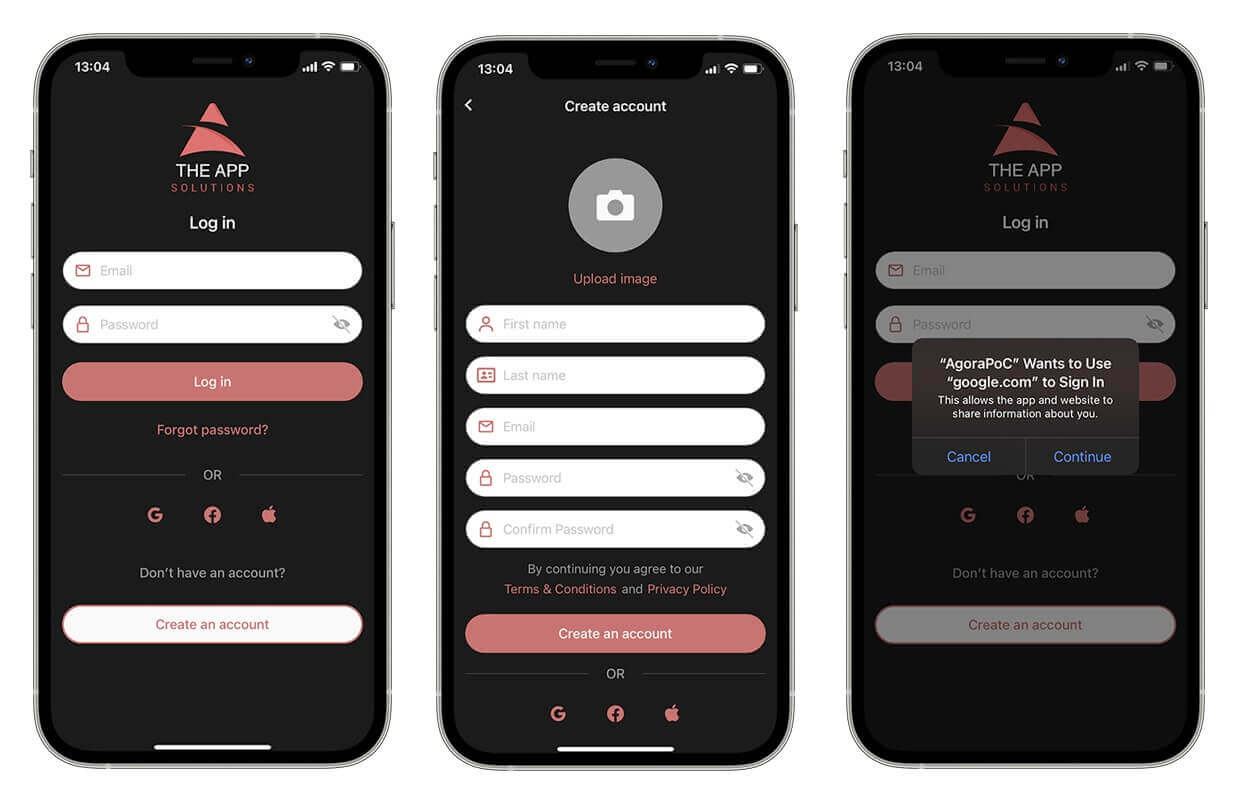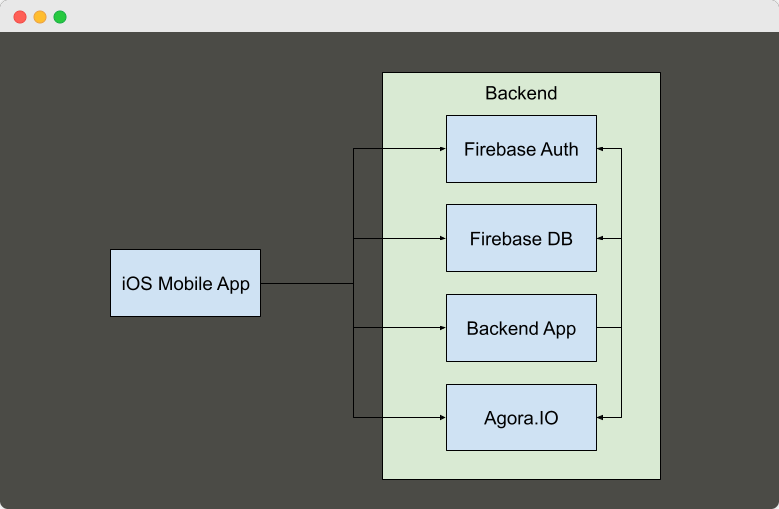 The development of the video streaming app proof of concept gave us the following expertise:
We integrated video streaming functionality to the POC using Agora.IO SaaS.
We implemented the authentication and authorization by Firebase Authentication.
We worked with Firebase Realtime Database, which supports direct connectivity with end-users applications (like mobile, web, etc.) server-side applications.
We optimized the development process by applying ready-to-use Firebase functionality.
As a result, we showcased our expertise in video streaming app development.
In a nutshell:
how to create a live streaming website
As you can see, live streaming sites like Twitch are becoming new social networks where people share the same interests and building communities.
As for the live-streaming itself, it is a prospective technology. You can apply live streaming, not only for gaming, but in almost every industry such as education, online retail, and so on. Still, to build a live streaming website, you will need a well-thought-out business vision, as well as a bunch of advanced technologies to provide users with high-quality video transmission. To find out whether your business idea has earning potential, launch your streaming platform as MVP and add other features during the second development stage.
What our clients say
See related:
FUNCTIONAL VS NON-FUNCTIONAL REQUIREMENTS: MAIN DIFFERENCES & EXAMPLES
AWS VS AZURE VS GOOGLE: CLOUD COMPARISON
SHOULD YOU HIRE APP DEVELOPERS NEAR ME OR OUTSOURCE OVERSEAS?