How to Build an App Like Yelp?
Online directories like Yelp, TripAdvisor, Open Table, and Foursquare have become extremely popular. Such apps help tourists to find specific places. From a business point of view, apps like Yelp have numerous means of monetization.
If you consider developing an app like Yelp, continue reading. Below we will describe how Yelp works, its main competitors, Yelp monetization model, the feature list, and the cost to create an app like Yelp.
What is Yelp?
Launched in 2004, currently, the Yelp application has over 178 million users in 2022. The app helps users to find local businesses among various business categories like the pizzeria, hotel, or shop on the basis of other users' reviews and ratings.
Yelp uses geolocation to show the list of businesses nearby. Users can filter the search results or define a specific business category as markets, shops, and cafes. Then, the app allows the sorting of the search results by distance, price, and rating. Then, Yelp shows business address, phone number, working hours, visitors' reviews, etc.
The app users can see the route to the chosen place on their smartphones. Visitors can leave their reviews and comments about the business if they are registered in the app.
Now, let's move on.
WHAT TECH STACK TO CHOOSE FOR YOUR PROJECT
How do apps like Yelp make money?
The app provides businesses with both free and paid advertising options to promote their products and services on both the Yelp website and the app. The advertisement option includes:
Targeted Advertisements & Profile Enhancements

Transaction revenue

Other services

Branded profile. Companies pay for a branded profile with premium features such as adding custom images and videos to make their profiles more personalized. Companies can receive a CTA button in their Yelp profiles which transfer customers to their websites.

Enhanced profile. With this feature, businesses can prevent ads by other companies from appearing on their business pages.

Yelp Verified License. To build trust among customers, companies buy the Yelp verification license that appears on their business pages.

Search advertisements. Companies listed in Yelp pay the platform to promote their profiles in the app search. The app charges a cost-per-click fee for every user who clicked on the ad.

Online Ordering. Yelp charges a commission on every product ordered or bought via the application.

Yelp Deals. The platform charges service fees for every product and service promoted on the platform through discounted deals. If the customer uses the deal, the app charges businesses additional fees.

Gift certificates. When the business sells a gift certificate, and a customer buys it, the app charges a transaction fee depending on the gift total.

Yelp Reservation. This feature is popular among restaurants and cafes. It allows users to make an online reservation via Yelp.

Yelp Waitlist. With this feature, users can join the waitlist and check their wait times.

Yelp Wi-Fi Marketing. This paid Yelp service allows businesses to advertise on the Wifi login page. Also, companies could receive valuable insights into customers' ranging, including social media and direct contact.
Read the article about app monetization.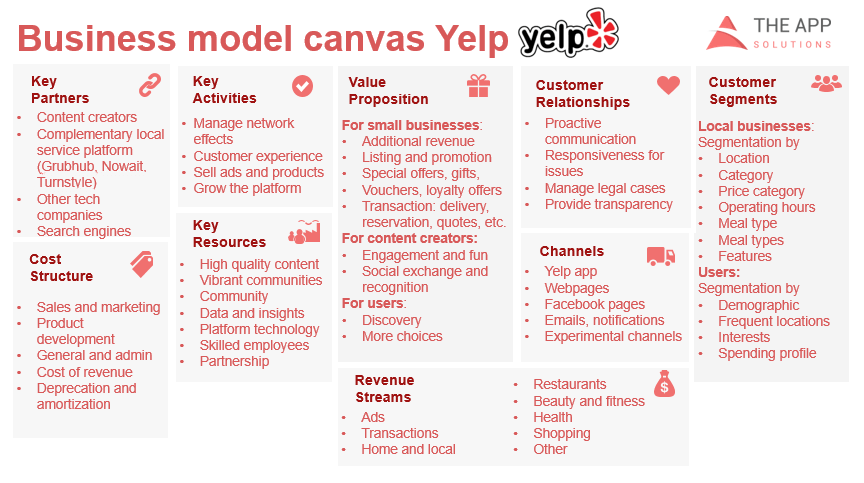 Key features to make an app like Yelp
To develop a successful app like Yelp, we recommend clients to launch the app with basic features, or an MPV. With this approach, you can collect feedback from your users and decide what functionality you will implement in the next stage. Such an approach is also budget-saving since not all startups are ready to pay for the development of a complicated app with numerous features.
REASONS TO GIVE UP ON UBEREATS AND BUILD A RESTAURANT MOBILE APP
Below we describe what basic Yelp features you will need to launch your app as MVP. This section also includes the description of more advanced features you can add to your app in the second development stage.
MVP Yelp features
Newsfeed. Being a social media platform, Yelp has news feeds where users can check a chronological list of previous activities, news, and notifications.
Location-based search. Geolocation-based search allows users to find the nearest businesses and restaurants using the geolocation on their mobile devices.
User profile. The user profile includes all user reviews, photos, as well as places, visited by the user's friends, and a list of favorite places.
Reviews and ratings. The reviews and rating feature allows users to add reviews and rate businesses they have visited.
Filter. The app's users should have the ability to filter search results by at least basic parameters like Price, Delivery, Offering a Deal, and Distance.
MACHINE LEARNING IN MOBILE APPLICATIONS: BEST EXAMPLES
Advanced Yelp features
However, to build a successful and multipurpose Yelp application, you need to implement Social sign-in, Reservation, Media files, Purchases, Messenger, Advanced filters.
Admin panel. The admin panel is an essential part of your future project. The admin panel should be integrated with the content management system (CMS) that allows for the editing of information, managing services, blocking or deleting users, and so on.
Yelp Reputation System. The reputation system is the main competitive advantage of Yelp. With its help, the app's users can receive a clear picture of businesses and services.
For business, it is tough to get the highest score in-app rating. First of all, customers tend to share negative experiences more frequently than positive ones. Secondly, it is all about Yelp`s unique review filters.
How much does it cost to create a Yelp-like app?
So, how much does it cost to develop an app like Yelp? Well, it depends on the number of features you want to implement, the degree of design customization, and what development team you choose.
To give you a clear idea of the app development process, we share the approximate estimation to create an app like Yelp in hours dollars below.
| | | |
| --- | --- | --- |
| Feature | Estimation in hours | |
| Social sign in | 30–40 hours | |
| Push Notifications | 80–100 hours | |
| Geolocation | roughly 70–100 hours | |
| Uploading pictures and videos | 80–160 hours | |
| Reviews and Rating | 80–160 hours | |
| Filter Integration | 300+ hours | |
| Filter by category | 40–60 hours | |
| Reservation | 200–250 hours | |
| User profile | 300–340 hours | |
| In-app purchases | 120–160 hours | |
While the U.S. and Western European developers charge from $80 to $250 per hour, developers from Eastern Europe will cost you from $50 to $100, depending on their experience. Still, an average Yelp-like app cost varies from $40k to $70K.
The App Solutions experience
Recently, we launched the Quepro application, a social platform that connects people with local specialists. Despite the tight deadlines, we managed to launch the app MVP within three months, and we are proud of the result.
For this project, we implemented a geo-location feature, so the app is enhancing users that are located within a distance of 100 meters to 100 miles.
The app messenger allows people to receive advice from professionals in real-time.
Users can also use the app in any city in the world by changing the location on the map.
The application was developed both for iPhone and Android within compliance with all UX regulations and design guidelines required for each type of device.
For this project, we used the following tech stack: Java Android SDK, Jackson, Gson, Google map, Picasso, Volley, and Google Analytics.
For the Admin Panel on the back-end, we used: PHP, MySQL, HTML5, CSS3, Jquery, Nginx.
Conclusion
People like to share their experiences as well as visit new places. For this reason, online directories, like Yelp, will remain popular in the near future. By applying many monetization models, Yelp receives significant profit from its users.
That is why you should consider making an app like Yelp for your startup. And, if you are looking for a development team to implement the project, we are here to help.
What our clients say
Related readings:
CONVERSATIONAL INTERFACES – THE FUTURE OF UI