Really impressive things are going on recently in all areas of life. If you pay attention, it's easy to see that online, and especially mobile presence, is something each and every business is looking for. The reasons are simple, obvious, yet essential - you lift sales, improve brand awareness and build mutual loyalty with your client. Sounds very advantageous, especially for a dining industry.
As marketing rules and trends change, online became a dominant environment for your audience. New ways of advertising are here because people do not leave their smartphones for a minute - just hit your folks at the right time with an appropriate message! With the help of an app, you'll easily leg up on competition.
There is a number of ways how a mobile app can serve in your business. To cut a long story short, people don't always want to cook their food. They better head to a nice place or stay home and order some goodies. That's why a restaurant needs a mobile app.
In this article I'm going to:
showcase a current situation in mobile among restaurants
analyze major reasons to get and range of functions to include in a similar app
finally, present some world's best dining-related apps and all the benefits of having your own.
Dining figures and trends
Let me start generally - 94% of smartphone users check for places in the neighborhood and, as a result, 90% of them act within 24 hours. That's rather impressive, isn't it?
Accordingly, a market share of restaurant mobile app development shows a serious growth, if compared to other areas. It is about $160 million for the year of 2016, which is twice as much as revenues of 2014.
In accordance with Interactive Advertising Bureau, 69% of people order their snack from mobile devices. And they all tend to spend more money when buying foodstuff online. Most of these hungry crowds will not place an order within your restaurant if they can't read menu clearly. The next step they'll take is searching for your competitor, right?
This figure could only mean one thing - once mobile app for restaurant ordering is built, you appear in TOP 5 dining spots worldwide in online search! Basically, everyone can reach you now.
And here is why you might really want to get there:
Do you think there's enough marketplace for your new restaurant app?
You should also know that about a half of restaurant-goers (just about everyone nowadays) will download your app and return to your place for getting special offers you provide through this channel.
Read also: Why is a Mobile App Useful for Retail Business?
Goodies your clients expect from a solid restaurant app
As far as application goes, it is a continuous interaction between you and your consumers. It's also a "vicious circle", because once you make your folk happy, provide them effortless user experience, they keep coming back, repurchase and happy to comment, review and recommend.
So let's see what kinds of experiences you can offer to your starving people with a "wine and dine" application:
1. Effortless view of menu and daily specials
2. Opportunity to order delivery and in-app pay it
3. Reserve a place for a dinner
4. Give feedback, review, comment a product/service
5. Share on social media
6. Take part in referral programs
7. Engage in loyalty programs (bonuses, discounts, coupons) and more.
Just take into consideration, satisfied people - with your food, service and mobile experience - will eventually get loyal and come back on a regular basis. And that is a really good excuse to find out how to build a mobile app for restaurant, isn't it?
For providing these crucial interactions within your app, embed the following features:
geolocation - this feature is a must-have for a dine spots finder; you need to embed maps and GPS services into your app. It's gonna show users locations and distances to desired destinations. The App Solutions' recent app called QuePro has the same feature implemented: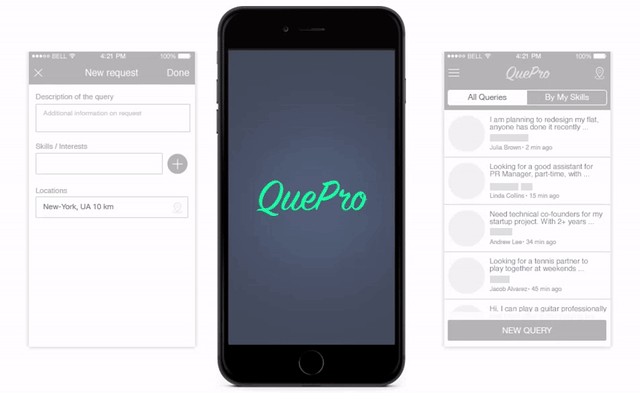 menu view and ordering feature - this will be the skeleton of your app, a list of dishes with pics, descriptions, pricing and "add to basket" buttons - restaurant app developers code a familiar catalog, which looks nearly as one in our Nuwbii app: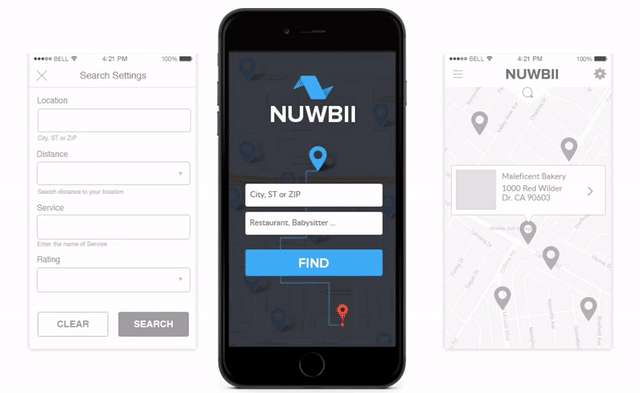 in-app purchases - mobile payments increase up to 40% of total fees, so you better incorporate an online banking tool into your app, which redirects users to a usual online payment form. Two clicks and order is paid - very convenient!
loyalty program - it's 5 times cheaper to keep existing client engaged than acquiring a new one. Here comes your best friend - mobile app development for restaurants. Think over and enforce your app with customers rewards and scores for future purchases, carrying them onto levels of loyalty and inviting to come back repurchase continuously with discounts and special offers
social media detail - this integration is essential because it sparks a captivating social experience and word-of-mouth to gain new customers and more revenue, as a result.
These are the core features we usually complete in custom mobile apps for restaurants of our clients. We also tailor additional functions for every particular project and calculate overall restaurant mobile app development cost.
7 major reasons why your restaurant is in need of a mobile app
Just putting it out there, you need to make a mobile app for restaurant. Today there is no other chance, but collect the maximum of your audience and profit through this highly interactive tool.
1. Reach your audience super locally
Whether you decide to use GPS coupons (people check-in in your app and get rewards for visiting) or iBeacon technology (a special hardware will catch geolocation of your app's users and immediately send trigger notifications to stop on by).
Read also: How To Build a Mobile App With Geolocation
2. Easy and quick user experience equals higher sales
When a person is looking for a place to eat or order a delivery, you want to provide the most effortless way for them to accomplish order apart from yummy food. Obviously, a mobile application is your best engine for that.
As much as you like your increased sales, your consumers enjoy easy ordering - so give it to them for nights, when they don't feel like cooking, or fridge looks empty. Over time, they'll appreciate a convenient opportunity to return to their orders through the app and get their favorite food in a matter of seconds. And you'll always enjoy your up-sales and enlarged orders - side salads, add-ons, desserts - things, which always work well through mobile ordering.
3. Develop another, significant, sales channel
Ordering mobile is an entire lead generation channel, and you create a full mobile marketing strategy around it to involve more patrons and nurture their loyalty. Once they know they can order from you via an app, they will do it much more often. They can browse your menu, choose a delivery time and get your notifications on various occasions. Whenever you're not fully booked, send free push notifications through your app to people only one mile away from you with a special lunch offer.
4. Optimize operational part for your stuff
Employees try hard to identify the words of customers over the bad line. It's quite annoying for both parties I assume.
Application cuts down the need for using a phone for ordering as well as accelerates payment and provides many opportunities for customization of the order. Less time on the phone - more time for fixing orders the way clients want them. Also much less hustle for delivery men with cash payments.
5. Engaging in loyalty programs
Treat each customer as it's your one and only and soon they will start referring your place to their friends and share it on social - word-of-mouth marketing is the most effective way to get recognized after all. You can also encourage people to comment, share and refer by providing some nice perks to them. These things usually signal people that your spot is customer friendly, delicious and cozy. And you keep a fire burning with the help of push notifications - effortless and free promo tool within your mobile app - they even don't need to open the message, it appears on the screen and voila, they already know you got 30% off your business lunch today.
6. Grow your ROI on special offer days
Your daily discounts and offers can smoothly increase the revenue during the working days, not to mention they easily double sales during weekends. Send the notification at the right time and your craving people will return to you for more tasty food.
7. Abundance of valuable info
The last, but not least, your app users gonna provide you with a lot of stats to consider - overall market expectations, ordering time and frequency, preferred foods, feedback on the quality of dishes and service - basically all you need to keep fresh and know where to improve continuously. It's an absolute win-win, agree?
Best global restaurant mobile practices
Even though it's only about 5% of a worldwide market, who introduce mobile apps into the dining industry, there are still quite outstanding cases, which impersonate the most effective international marketing techniques, and we have a lot to learn from them for sure.
Yelp
One of the first and most massive worldwide restaurant-finding apps out there. Great interface, over 50 million restaurant reviews across the globe, user-friendly search for a spot nearby, read comments and reviews, check photos and even special offers of the day. You can also filter by price range, distance and ratings and narrow the list to the most solid list.
See also: How to Develop an app Like Yelp?
UrbanSpoon
This service uses your geolocation for picking local places for you - with reviews, photos, price points. Shake your iDevice to activate randomizer of the app and choose a place for today's night out.
OpenTable
Great tool for booking a place without all that booking calls jam. Choose time and date, a number of people and see available options. Click "Book" button and you're ready to go. Don't forget to add this dinner to your calendar and invite friends to join through the app. A couple of clicks and one task crossed out from your to-do list.
GrubHub
This tool will find a place for you in the neighborhood, show the menu of takeout restaurants, reviews, all restaurant info and will help order from the chosen one. A cherry on top is saving your previous orders, a couple of taps and you reorder favorite items.
To sum up, I really have not enough words to say about why you wanna build a mobile app for your dining spot. Go leg up the competition until they wake up and go develop their own interactive mobile tools.
A lot of benefits come with it. People don't want to think much, they don't want complicated things. Make their eating experience easy and pleasurable and they're yours.