Blog
Reasons to give up on UberEats and build a restaurant mobile app
Reasons to give up on UberEats and build a restaurant mobile app
The COVID-19 pandemic has caused considerable damage to many businesses. The restaurant industry is not an exception.
Measures of social distancing and general caution in public places mean people are dining out less and less. Restaurants in the U.S. faced a 46.1% decline of seated diners on September 23, 2020.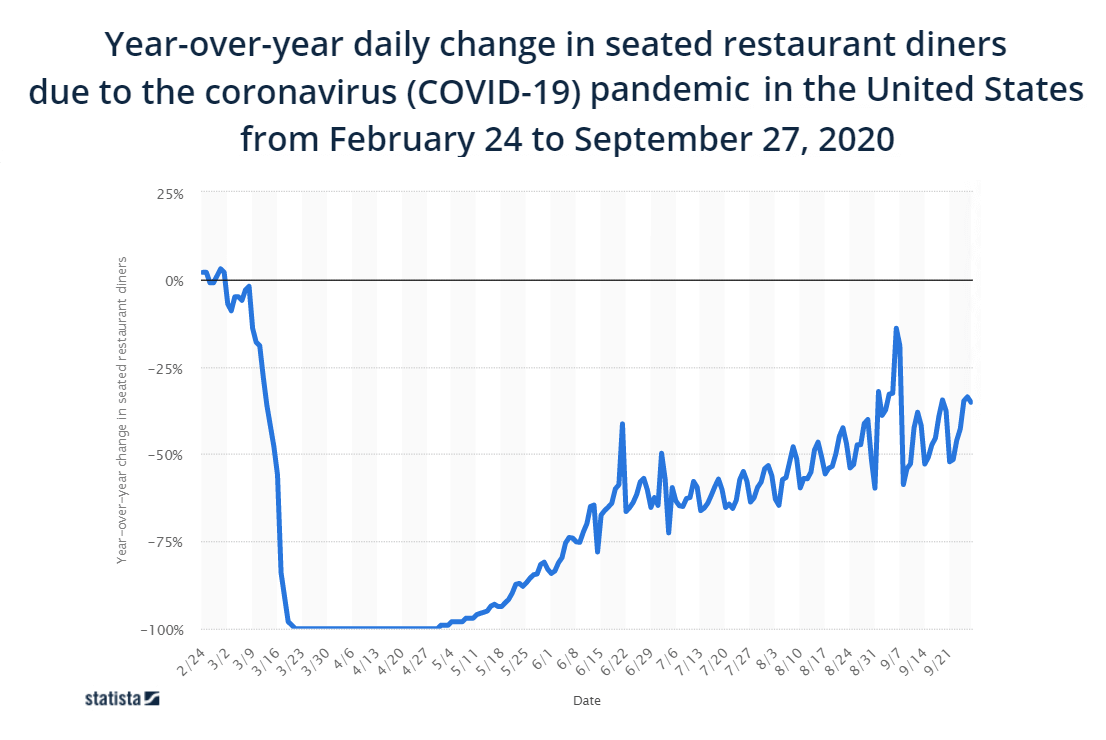 While some restaurant chains try to adopt takeaway meals, others see their future partnering with third-party delivery services, including UberEats, DoorDash, and Postmates. But, instead of profit increase, restaurant owners are facing unfair commissions and low margins.
Let's find out why food delivery platforms are not the best choice and how you can benefit from developing your own restaurant ordering mobile app.
A GUIDE ON STARTING A FOOD MEAL KIT DELIVERY SERVICE
What is wrong with UberEats and other third-party food delivery providers
The vital thing restaurant owners ignore when dealing with on-demand food delivery providers is that such platforms aim to earn their own profit and do not care about yours.
You can see it not only in additional commissions but in all elements of such a partnership. Here are the main reasons why restaurant owners stop dealing with food delivery platforms.
To make your restaurant appear on UberEats, you must pay a $350 one-time Activation fee for ordering a software install. But that is not all. Then, you must pay a 15% service fee of the final customer check to the platform for payment processing, customer support, and marketing services. In this case, your restaurant couriers deliver orders. If you want orders delivered by UberEats couriers, you must pay an additional 15% delivery fee for each order received.
HOW TO BUILD A FOOD DELIVERY APP LIKE UBEREATS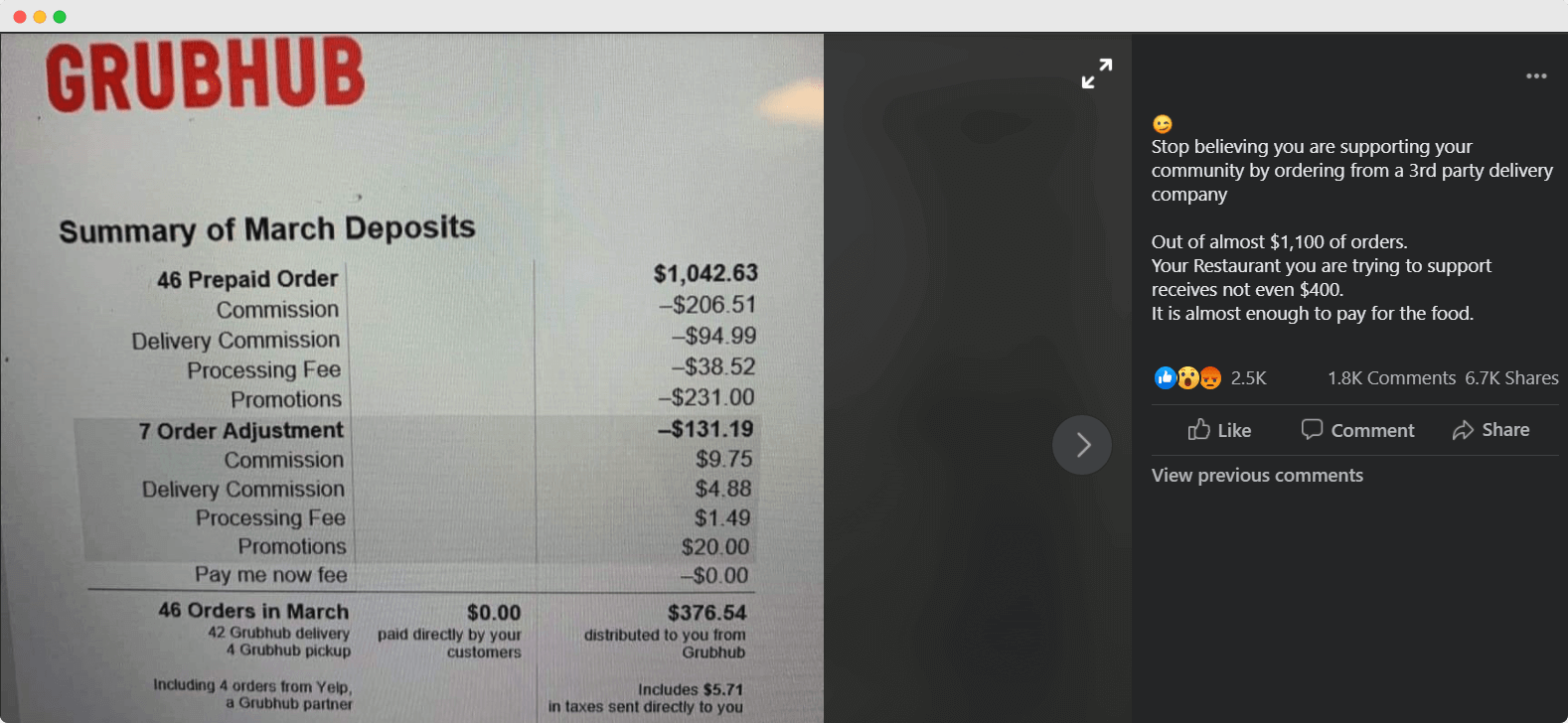 [A restaurant owner criticize GrubHub for high commissions on Facebook]
So, why don't restaurant owners just add 30% to the meal cost and receive the same profit as an offline restaurant has? Meal delivery platforms have strict pricing policies. All your dishes must be of the same price as on your menu. Thus, you receive 15-30% less margin just because of partnering with delivery services.
The platform's 15% delivery fee you pay does not guarantee that the courier will deliver the order without damage. Also, there are cases when couriers have open ordered food and tasted it.
Food delivery marketplaces bring new customers. But such customers wouldn't order food from your restaurant regularly. All customer details you might use for your marketing campaigns are stored in the delivery's platform databases. Thus, you can't use them for building loyalty.
Now, let's compare how having your own restaurant app is different from dealing with on-demand food delivery services.
REASONS TO GIVE UP ON UBEREATS AND BUILD A RESTAURANT MOBILE APP
Partnering with food-delivery platforms vs. owning a restaurant ordering app
So, let's find out the pros and cons of owning a restaurant ordering app versus listing meals on food delivery platforms.
Costs
As we said, food delivery platforms charge from 15% to 30% for their services. Let's calculate what that 30% means for a restaurant chain business.
Let's imagine you own a Souper Salad, the restaurant chain based in Texas with 17 locations and 2,300 employees. Each year, your restaurant business generates about $90 million, and 75% of all orders came from a food delivery platform, which is the average percentage of online orders in 2020.
Now, let's calculate your average pre-tax profit margin from offline and online orders, which falls between 3 — 5%, according to the Restaurant Resource Group, and how much you need to pay to a food delivery platform for 75% of your online orders.
$22,500,000 is your revenue from 25% offline orders and 5% profit margin will be $1,125,000.
75% online orders out of $90 million equal $67,500,000, while you must pay 30% commission, which will be $20,250,000. From $47,250,00 that remains, your 5% profit margin will be $2,362,500.
Now, let's imagine you decided to invest money into a mobile ordering app for your restaurant chain. Once your restaurant app is up and running, you no longer need to pay third-party delivery providers. With a mobile food ordering application, you receive the new sales channel to increase delivery orders from mobile users.
Responsibilities
When you cooperate with food ordering platforms, you are responsible for placing meals, uploading their images, and adding prices. You are also responsible for receiving, managing, and packaging orders. While marketing, technical support, and delivery, are on the platform's side.
But, if you are willing to start your mobile ordering app, consider that there are a lot of responsibilities to handle. For example, your couriers must deliver the order on time and handle orders adequately. It means couriers mustn't open the ordered meals, touch or taste them, nor flip the delivery bag.
Thus, you become responsible for providing couriers with training and hiring trusted employees. You also become responsible for managing customer service and customer feedback.
BALANCING THE SUPPLY AND DEMAND WITH AN ON-DEMAND GROCERY DELIVERY APP
Community
If your restaurant already has loyal customers, you can expect them to order from your restaurant even via third-party food ordering services.
The main drawback is that such partnering has a low acquisition rate. Thus, customers who place orders on food ordering platforms will forget your restaurant's name the next day. The main goal of food ordering services is to provide buyers with a variety of meals, not building customer loyalty or increasing the retention rate of a particular restaurant.
When owning a mobile food ordering app, you store personal customer info in your database. Thus, you receive a powerful tool for building a community of loyal customers around your restaurant.
If your restaurant already has loyalty programs, you benefit in several ways. You can announce your mobile ordering app's launch and get the first app users. Another option is to invite loyal customers to participate in the food ordering app's beta testing. Thus, you can receive first user reviews on the app's functionality and find room for improvement.
Restaurant ordering apps are also an effective marketing channel for restaurants. You can send push notifications to inform app users about new dishes, special offers, and birthday discounts, thus, build customer loyalty.
Perspectives
What can you expect from working with food-delivery services? The number of your new orders might grow over time, as well as the fees you pay for those services. As a result, while you are waiting for a profit increase, you face a decreased profit margin.
Developing a restaurant app for ordering food costs money. But, you can return on investments during the first year of the app's launch, and then, your income will only increase. You can also partner with other restaurants and charge them a service commission.
You can charge a commission for each order the same way UberEats and others do. But consider more convenient conditions for your partners. Instead of 30% fees, you can charge 5% or 10% to make listing products affordable, even for new and small restaurants.
Related reading:
Alfred Ibiza Case Study: How We Developed a Food Ordering Platform
Features to consider for restaurant ordering apps
Restaurant ordering apps serve three types of users working closely together: restaurants, couriers, and customers. Let's see what functionality you need for each group.
Customer app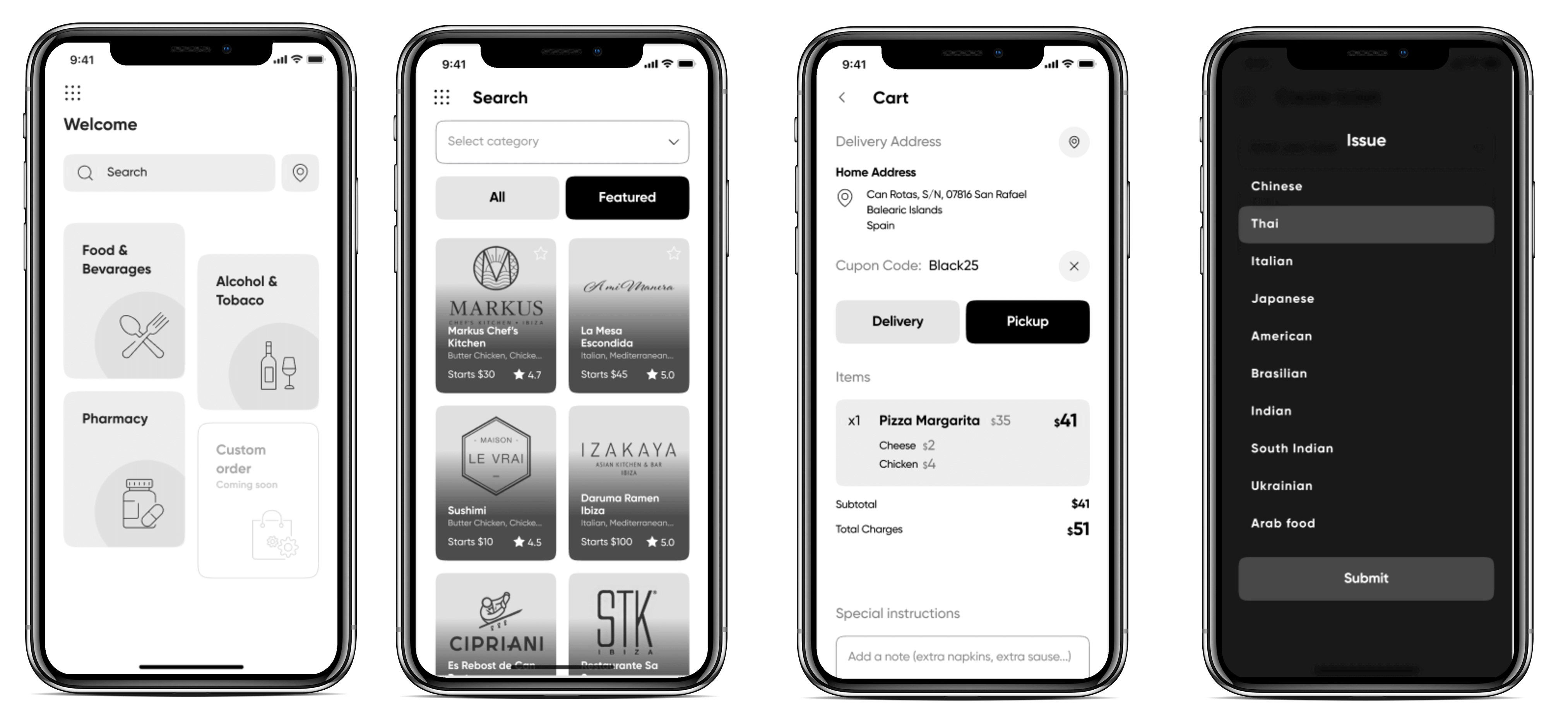 [Customer app layout by The APP Solutions]
To successfully find and order dishes from your restaurant, the buyer app needs the following functionality:
Log in. Before ordering meals, the user should register on the platform using an email. But the faster login alternative of logging in to the app is via social network login.
Profile. The customer profile includes personal details, including name, email, phone number, and the delivery address.
Search. The customer can search for meals using a search bar and meal name.
Meal categories. To simplify the customer's search, divide your menu into several categories, like Drinks, Appetizers, Main Courses, etc.
Order page. The order page includes a detailed description of meals, photos, and the order total.
Checkout. The customer can pay for the order and the delivery in cash or via a built-in payment gateway.
Delivery tracking. The customer can see the courier location in real-time.
Favorites. The customer can add liked meals to Favorites and re-order them anytime within just seconds.
Push notifications. The app sends notifications to inform customers when the restaurant changes the order status and when the delivery begins.
Restaurant app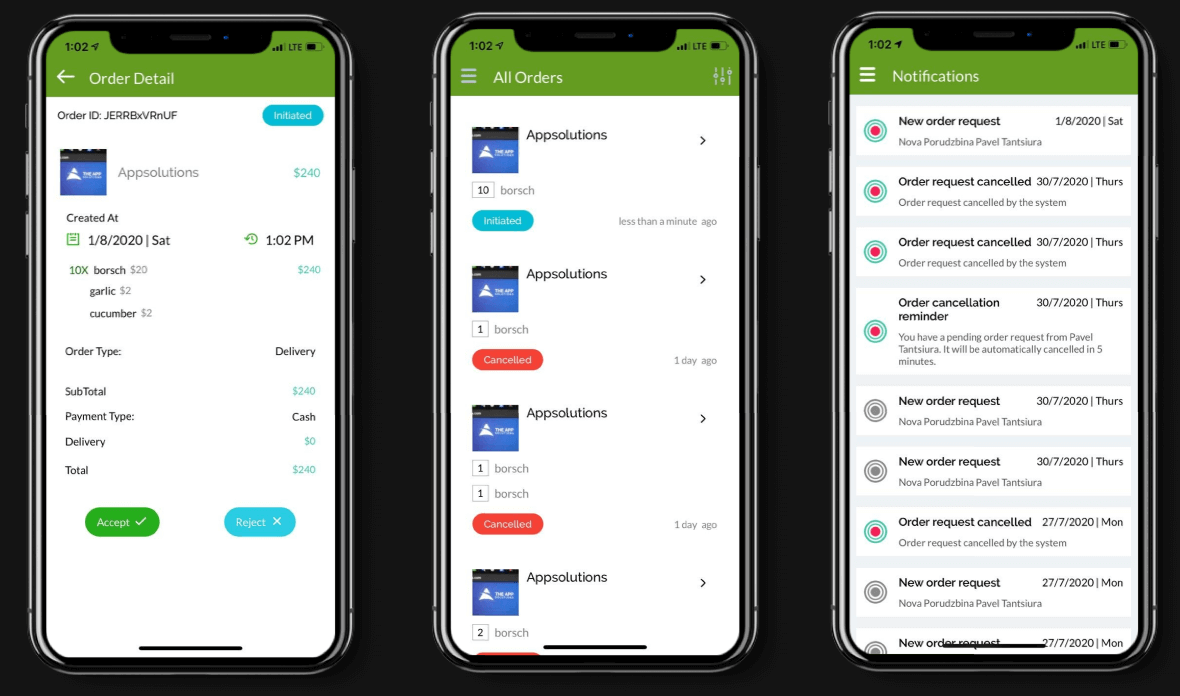 [Restaurant app layout by The APP Solutions]
We suggest adding the following features to the mobile app for restaurants:
Menu management. You can add products to existing product categories, change meal descriptions, upload meal images, list ingredients, and set prices.
Order management. You can approve or decline new customer orders and change the order status.
Live-chat. In case you need to clarify order details from the customer, you can use a built-in messaging module.
Delivery requests. To deliver the order from your restaurant, you create a new delivery request, and the platform notifies nearby couriers about it.
Courier app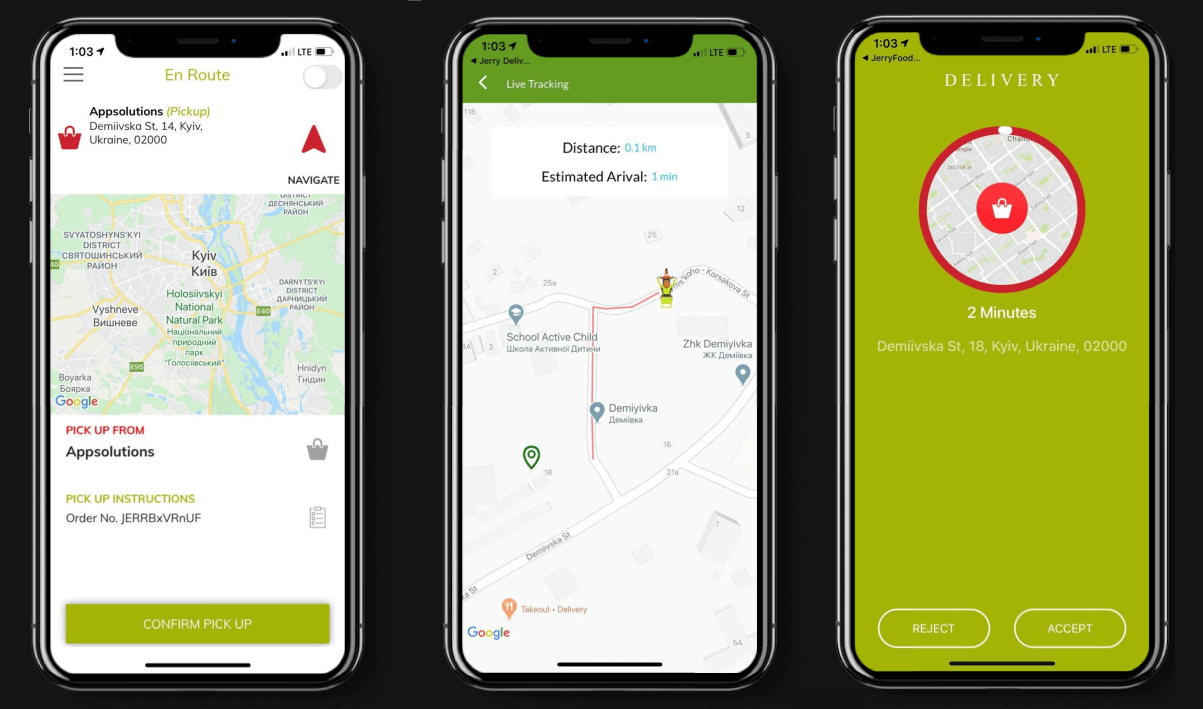 [Courier app layout by The APP Solutions]
For a successful online food delivery from your restaurant to the client's doorstep, the courier app requires the following features:
Delivery requests management. The courier can accept or decline new delivery requests. After the order is delivered, the couriers change their status to Completed.
Order details. Once accepted, the courier can view the order details, pickup, and drop off addresses.
All orders. The courier can see the list of completed and upcoming orders.
Built-in map. The app finds the fastest route to the client's location and shows it to the courier.
Online delivery tracking. The app monitors the courier location via a GPS module, built-in to the mobile device, and sends it to the customer app.
Delivery time. The platform's algorithm automatically estimates the delivery time and shows it on a built-in countdown, so the courier knows how much time is left.
Admin panel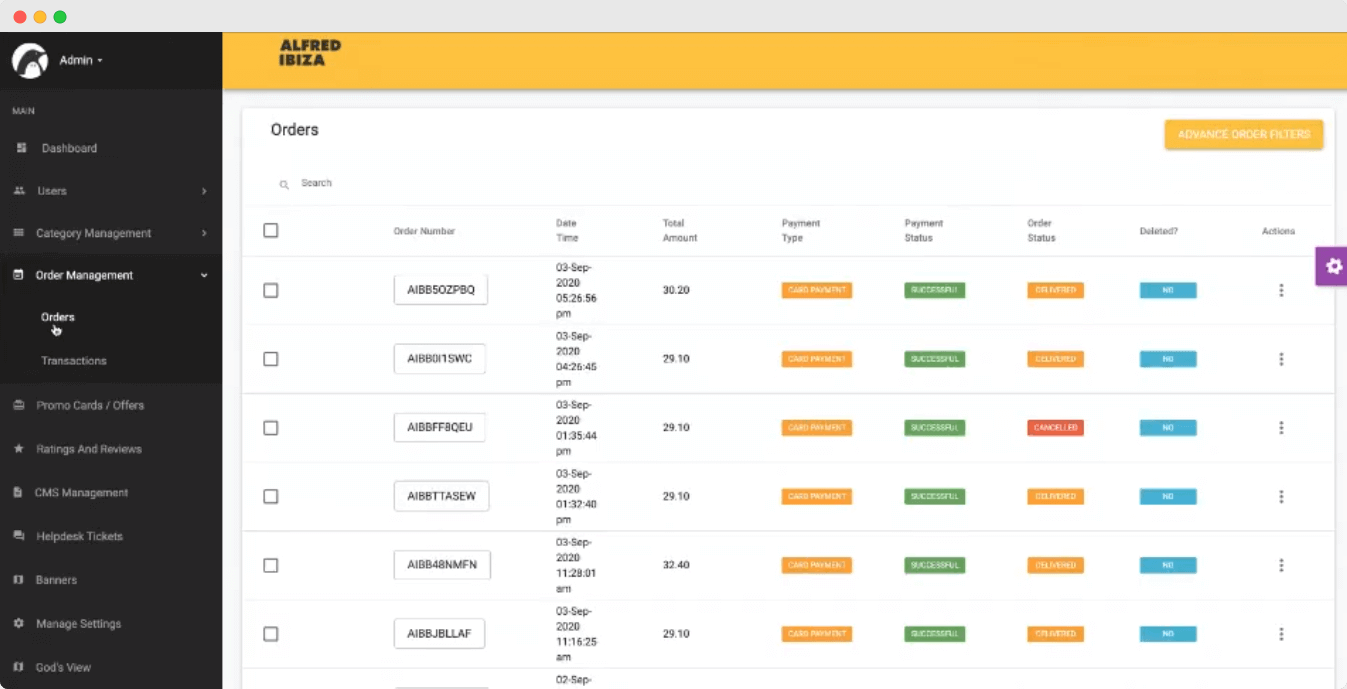 [Web-based admin panel layout by The APP Solutions]
While customers, restaurants, and courier apps operate on mobile platforms (iOS, Android), the Admin panel is the app's only element developed for the Web. Here is the feature list for the Admin panel to manage customers, restaurants, and couriers.
Dashboard. The platform's admins can view the number of users, new and completed orders, and how much money the platform processed.
User management. Admins can add and block customers, restaurants, and couriers when needed.
Order management. Admins access the information about all orders using a unique order number, view the order details, and change the order status.
Category management. This feature allows adding, editing, and deleting meal categories.
HOW MUCH DOES IT COST TO DEVELOP A DIET APP FOR IOS?
How much does it cost to make a restaurant app?
Restaurant ordering apps consist of three mobile apps — for customers, restaurants, and couriers. Don't forget about an admin panel, which will work via an internet browser.
If you ask developers how much the restaurant app will cost, you will receive a rough estimate of $40,000 to $80,000 per app. The total project cost may vary from $160,000 to $320,000. In case you want to launch mobile apps for both iOS and Android, the total project cost will double.
Unlike other development teams, we can build restaurant apps with three separate mobile applications and an admin panel for $70,000.
Thanks to our tech expertise, we reduced restaurant app development costs by 60%, and we are ready to deliver your project within three months. We also leverage React Native to make mobile apps platform-agnostic, i.e., available for both iOS and Android users.
In a nutshell, to make a restaurant app, our developers need:
From 20 days for a business analyst to dig into your business requirements and create the project documentation
From 20 days for the design of each app's screen
From 38 days to create and set up the app's back-end
From 22 days of React Native developer's work
From 42 days for the quality assurance manager to test all features
From 110 days for a project manager to have full control of the project process from kickoff to the project release
Developing a restaurant app: The APP Solutions experience
At The APP Solutions, we have experience in developing mobile apps for restaurants. Lately, we finished Alfred Ibiza, an on-demand food delivery platform for Ibiza island.
With our mobile app, customers can place online food delivery orders, restaurants can receive and fulfill them, and couriers can deliver ordered food to the customer's location.
The main challenges we overcame during the project development are the following:
Custom price algorithm
Since the app includes different product categories, we needed to create a custom pricing algorithm. The algorithm must add 5%, 10%, and 15% to the total product price depending on the product category. We also developed the logic for the minimum sum of an online food order and courier commissions.
Different delivery methods
To meet local regulations, products from Alcohol and Pharmacy categories had to be delivered by business representatives.
Multiple pickup locations
To allow customers to order from different restaurants, we built the database with all products, custom pricing, and delivery methods.
Learn more about other obstacles we faced from the Alfred Ibiza case study.
Building a mobile ordering app for restaurants: the final word
While some restaurant owners sacrifice 30% of their profit margin by partnering with food delivery platforms in searching for new orders, others invest in restaurant app development.
For the first time, listing your restaurant on an on-demand delivery platform will help your business survive the second wave of coronavirus. It is also an effective way to meet COVID-19-related restrictions.
If you are looking for a solution that will work from a long-term perspective, develop an app for your restaurant.
If you are ready to make a restaurant app for your business, don't hesitate to get in touch. Our mobile and web development team will stand by your business idea and create a reliable and user-friendly application.
Client testimonial
Allen Day, Developer Advocate and Spokesperson for Google Cloud.
Related reading:
Why is a Mobile App Useful for Retail Business?
How To Build a Mobile App With Geolocation
How to Develop an App Like Yelp?