Blog
Why Is a Retail App Useful for Business?
Why Is a Retail App Useful for Business?
It's been evident for several years that everything goes mobile. And this notion applies to retailers more than to anybody else.
But let us not jump ahead and take a closer look at the mobile industry to find out what is going on and what opportunities it opens for retail business.
Recent Flurry research shows that American consumers spend, on average 3 hrs and 40 minutes per day on their mobile devices. Going further, we'll see that 90% of the time on mobile is spent on apps.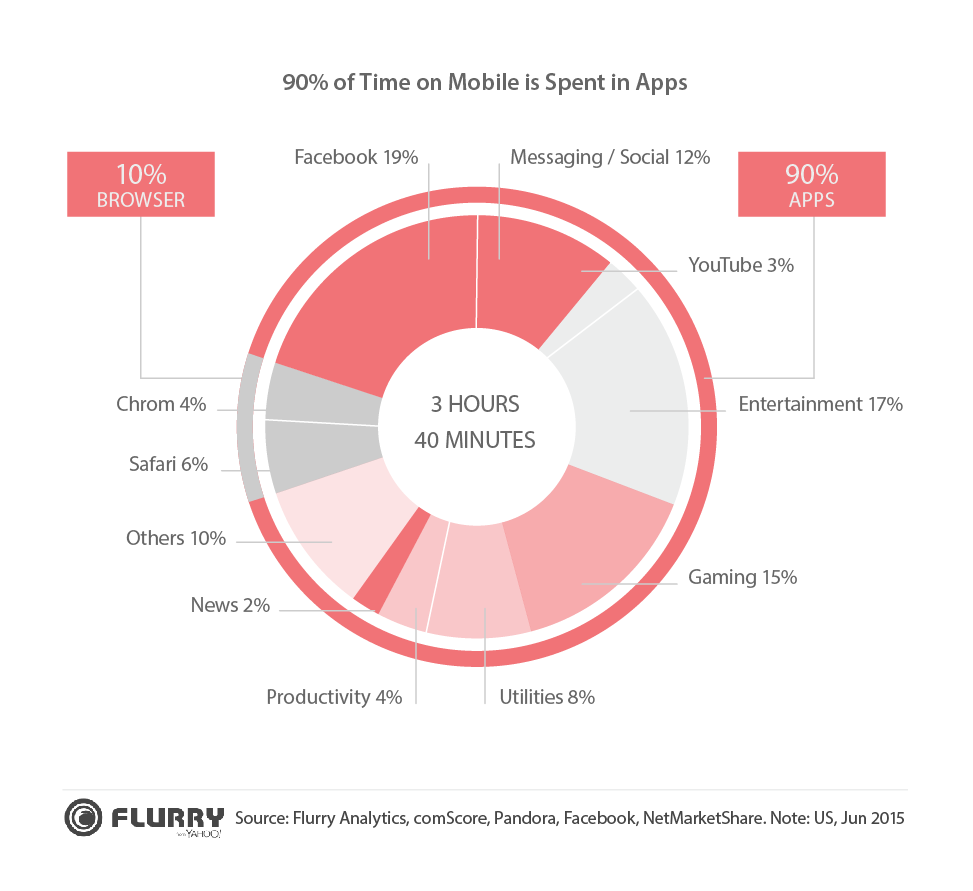 The proliferation of results mobile and the app industry, in particular, has reached in the past years is impressive. Have a look at the chart below.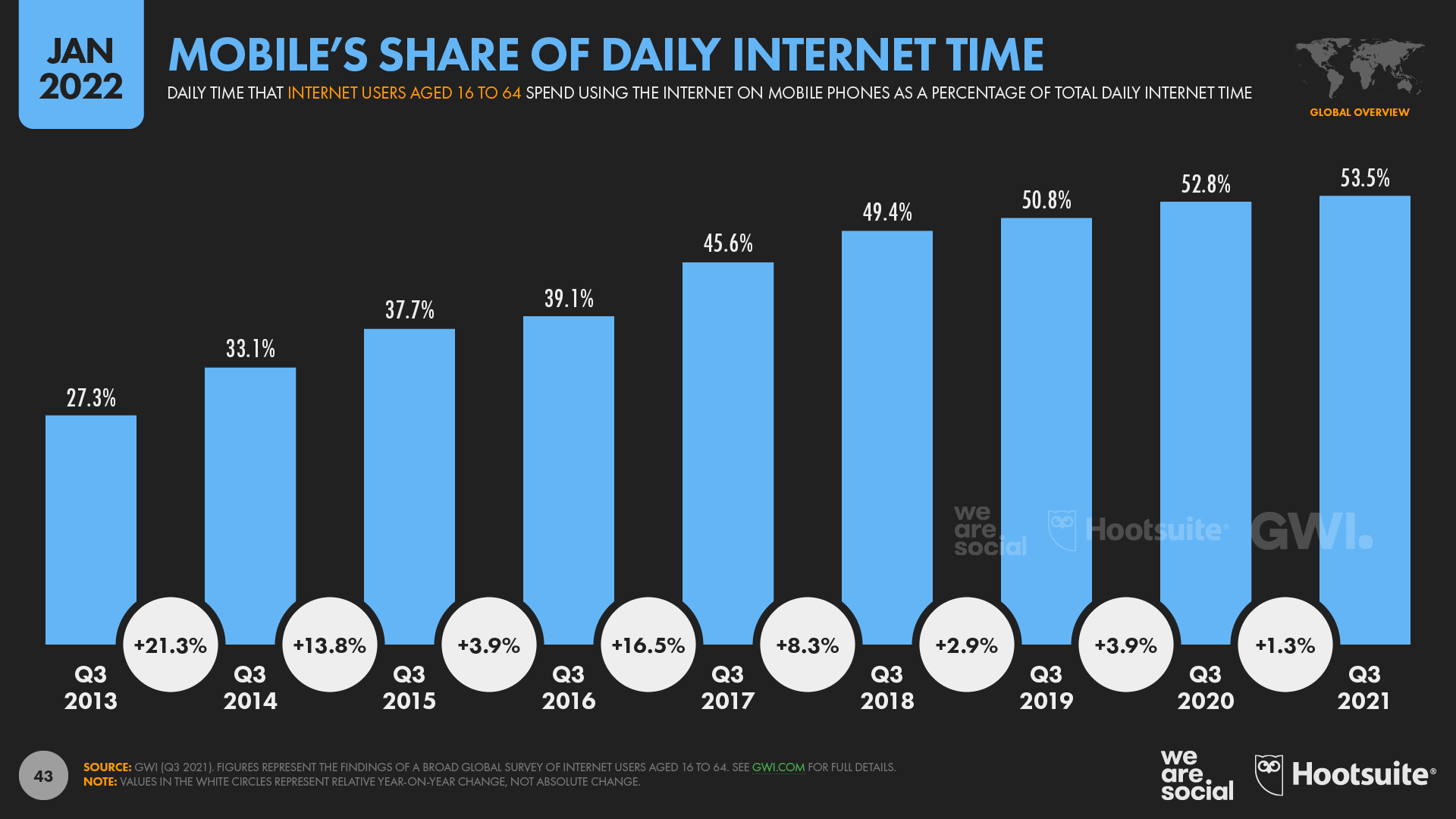 What does it mean for the retail business?
The mobile revolution has changed the way retailers can interact with their customers. There is no need anymore to rely on billboards or printed materials to advertise discounts and special offers when you can do it more efficiently through an app.
Moreover, mobile growth has impacted and changed customers' buying habits.
They compare prices, search places, goods, and other buyers' reviews using their smartphones.
Today mobile commerce grows like a weed outdoing all other kinds of e-commerce.
Also read: Do You Need a Mobile eCommerce App for Your Business?
Mobile apps for retail business demonstrated astounding growth by 81% in 2015.
According to the IBM report, mobile devices accounted for about 57% of all online shopping traffic this past Black Friday in the US; it is up to 15% over the same period in 2014.
Lastly, 54% of customers consider a mobile app for retail business much more convenient and more comfortable in usage than a mobile site.
The chart below displays the benefits of shopping in an app according to the consumers' survey.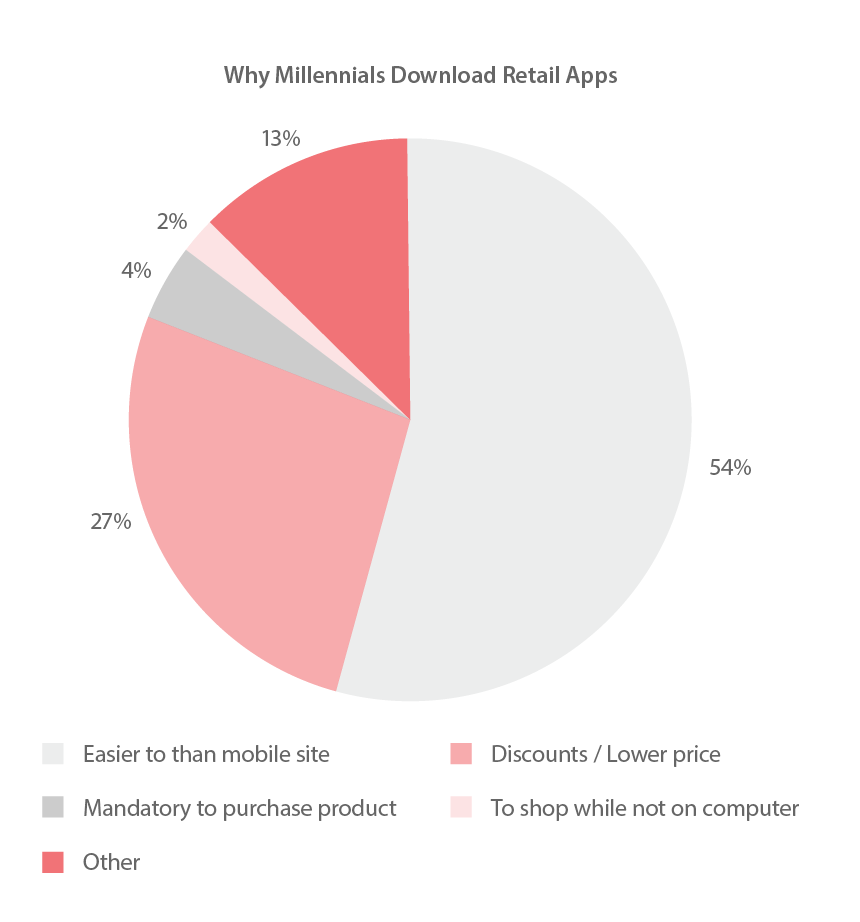 So, mobile apps are becoming more and more common in retail. If you want to keep up to date with your business, you should consider custom retail mobile app development.
But some industry stakeholders are still not sure whether they should invest in retail mobile app development. These hesitations are similar to the adoption pattern of the websites in the early 2000s. First, you think – "it is not necessary," but later – "we need it immediately!"
How can retail businesses use mobile apps?
The team at the APP Solutions has created a list of beneficial technologies and tools that can be used in apps to help boost your business.
But before going ahead, it's important to note the following.
There are available two ways how to implement different in-app features. You can take advantage of 3rd party solutions or invest in custom development. Custom development provides your project with exceptional flexibility, but it tends to be expensive and time-consuming.
Using a 3rd party solution, you'll be able to verify different hypotheses, try how the solutions work in practice, and decide whether you need some feature, or it isn't relevant for your business. Doing this, you don't need to spend lots of money and time.
Let's see the advantages and disadvantages of each approach in a particular case.
Geolocation technologies
Geolocation itself is an effective technique that helps to navigate your potential and existing clients, especially if you own brick and mortar business.
Read also: How to Build a Mobile App With Geolocation?
Global retail leaders, such as Walmart, Tesco, and Target use geolocation to help people find the nearest store in the area and see its opening times and facilities.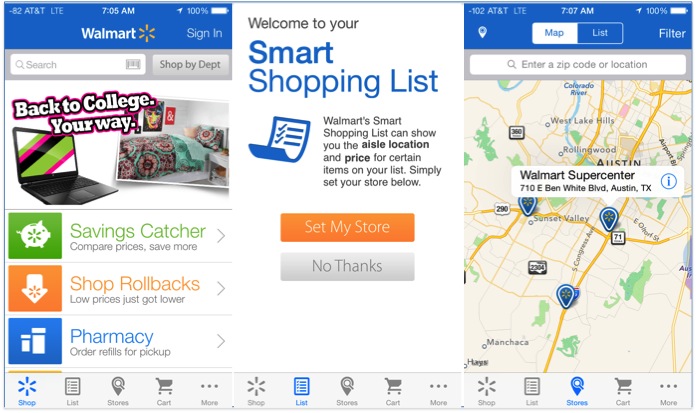 So, how can we integrate this technology into an app?
Both mobile platforms iOS and Android have a variety of APIs for implementing different functions.
To integrate geolocation in the mobile applications, two critical points correspond to a separate API:
determining a position of the object
displaying the identified object on a map
Android Location services provide extensive opportunities for developers.
E-COMMERCE CONVERSION RATE OPTIMIZATION STRATEGY EVERY ONLINE RETAILER MUST TRY
We use Maps services to show specific data on the maps provided by Google. The app sends a request which data should be displayed, and the Maps services use their mechanisms to implement it. As a result of that, your application is not involved in the maps creation process, drawing objects, plumbing a route, or geolocations identification. It uses a 3rd party service to do that.
The integration of geolocation on the iOS platform is provided by the iOS Location service.
The developers take advantage of iOS Maps services to implement a variety of features:
standard, street, 3D views
programmatically pan
zoom in /out feature
pitch the map option
As a result, the app interacts with the geolocation maps services using their features. Such an approach significantly reduces development time and provides business owners with reliable solutions.
At The App Solutions, we have used it to build the geolocation-based app for our client called Nuwbii. It is an app that finds businesses in the neighborhood and helps business owners promote their activity.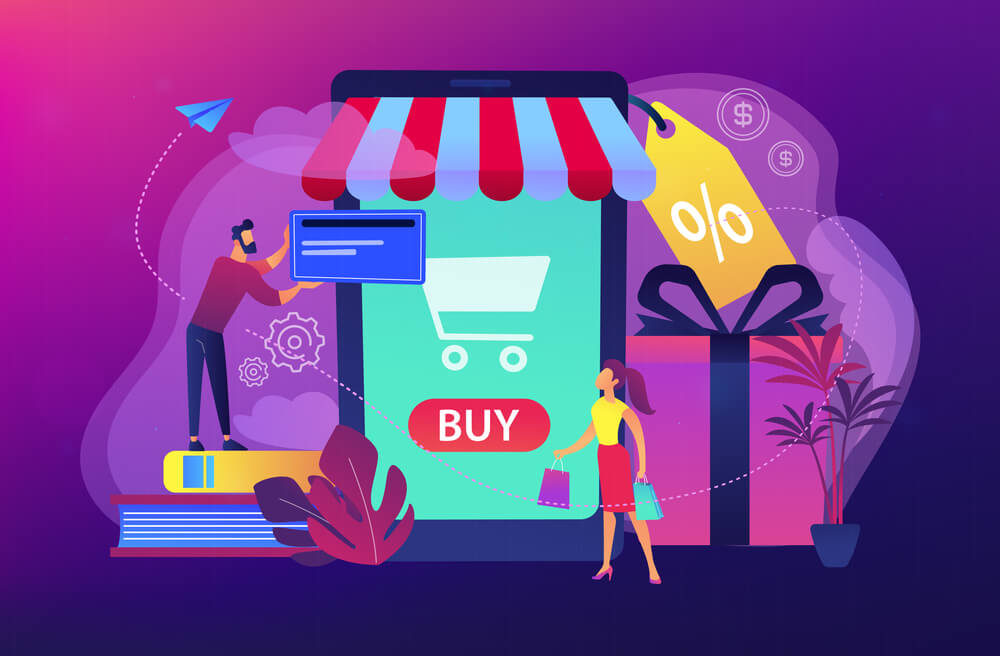 Beacon technology
It's another tremendous geolocation-based technology that will help increase customers' offline spendings.
The Beacon system is used to determine the location of clients to propose new products and offers.
For instance, you can send special offers to customers when they are in proximity to your store, delivering ads to them at the right time and place.
In combination with geolocation, Beacon technology allows mobile apps (both on iOS and Android devices) to receive signals from a system based on Bluetooth in the physical world and send push notifications to the customers' mobile devices whenever they are within range and have the appropriate application.
Beacon technology is widely used by McDonald's, Tesco, Macy's, and other retail giants.
With this technology, any retailer gets powerful tools to reach customers by sending them hyper-local, meaningful ads directly to their smartphones.
To integrate Beacon in your app, we would use the Core Location APIs to get a notification when the device has moved into or out of a beacon region. The process will not take a lot of time because all system requirements are included in the iOS/Android SDK, no additional license is needed.
If you want to make a beacon pilot and take a look at how it works, you can use Beaconstac Starter Kit.
ARTIFICIAL INTELLIGENCE IN ECOMMERCE: THE BEST USAGE AND TOOLS
Customer loyalty programs
To develop a mobile app for retail business can be a good idea to implement your loyalty rewards program.
No more discount cards which can easily be forgotten at home or even lost — no more annoying questionnaires to get more information about your customers and their preferences.
Customers that download your app can get access to exclusive offers, discounts, early-bird specials, and much more.
Read also: Benefits of Using Augmented Reality for Business
Best retail mobile apps use different surveys to find out which rewards their customers prefer to provide them with an effective loyalty program. Also, you can gather the history of clients' purchases to make special discounts on their favorite goods or services.
Through the app, you can also send birthday coupons. Such an approach significantly increases engagement and revenue. To implement this option, we would create a special screen, where customers can see personalized discount information based on their purchasing history.
Push-Based apps and push notifications
Today's push-based apps can anticipate user needs, providing them with relevant information based on their interests. If a user is interested in a certain product, the app can automatically send updates about price, discount, or availability without the user's request about it.

Also read: 10 Ways to Build a Bulletproof Push Notification Strategy
The future is already here: you can know the customer's interests due to tracking their actions in the app. Also, you can use push notifications to remind customers about your upcoming events and news, such as new arrivals, sales beginning, presentations, and special offers.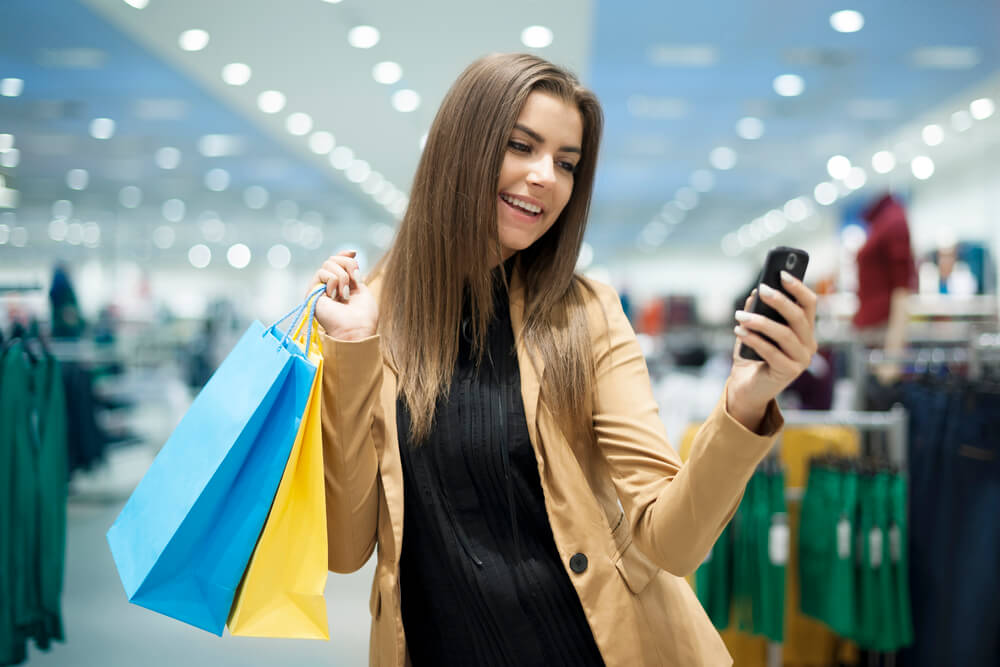 Mobile payments
Mobile payments provide maximum convenience for shoppers. The convenience factor here is twofold:
Customers can pay for goods without cash at mortar and brick stores by integrating into an app their credit card information.
Ability to make purchases immediately in the app using inbuilt technology for mobile payments.
To integrate mobile payments into an app is possible in two ways:
Use 3rd party solution like Stripe.
Stripe has native iOS & Android libraries for easy integration of payment service on both platforms. Also, the technology offers ready-made payment forms and customizable payment flow with no extra code required. The only disadvantage you can be faced with is the transaction fees on each order (2.9% + 0.3$) – however, it's not a big price, and the time you will save will more than makeup for the added cost.
Invest in the development of a customized payment system.
You can invest in the development of a customized payment system to avoid additional fees. It allows you to develop a more flexible solution, but it also requires too many back-end modules, that need to be built.
"Buy" or "Build," is the decision you should make.
HOW CAN CHATBOTS HELP E-COMMERCE BUSINESSES?
Analytics
In the consumer-oriented world, insights become the new currency.
Understanding the client's' non-obvious needs and deliver to them a personalized experience requires deep data analysis. But first, you need to collect the data. The mobile app provides the best capabilities for this.
The data analysis allows making business decisions based not on the bare hypothesis, but solid analytics. Such an approach gives vast maneuvering space for shopping experience improvement. As a result, retailers can drive sales, both in-store and out-of-store.
We at The App Solutions highly recommend using analytics tools in your app.
You should consider this at the development phase and start monitoring things before you publish your app on the mobile stores.
Otherwise, you'll need to wait for the app's re-release to implement analytics tools. When integrating in-app analytics service, you can use the standard dashboard or create custom dashboards.
PREDICTIVE ANALYTICS VS. MACHINE LEARNING: WHAT IS THE DIFFERENCE
The standard panel provides primary metrics: number of users, session duration, active devices.
To get more sophisticated data, you should use custom metrics. Custom parameters are provided by event-based analytics tools and allow you to analyze users' behavior, including bounce rate (shows where the user decides not to continue the purchase), retention rate (the ratio of the number of retained clients to the number of lost customers), sharing, purchases. The developers have to define events and their properties for your app. It's possible to track these events separately or create a series of events (funnels).
Our development team can implement any analytics solution on your demand: Google Analytics, Flurry, Apsalar, Localytics, etc.
Sales support
Have you ever wondered, what way of communication with your customers prefers more, via text or phone? The culture of social media made mobile texting a strong habit for many people.
Get a broad range of capabilities right at your fingertips providing the sales support directly in your app. No matter what kind of goods you are selling, receive, and answer questions in the app, be with your customers 24/7. The morning ride to work, waiting in line at a doctor's office are excellent opportunities for people to use their smartphones engaging with your app, and ask you something about products or goods your company produces. Remember your customers need a way to reach you anywhere and anytime.
Responding quickly to customers' requests enables you to keep your business on top of rising customer demands.
HOW ECOMMERCE USES MACHINE LEARNING APPLICATIONS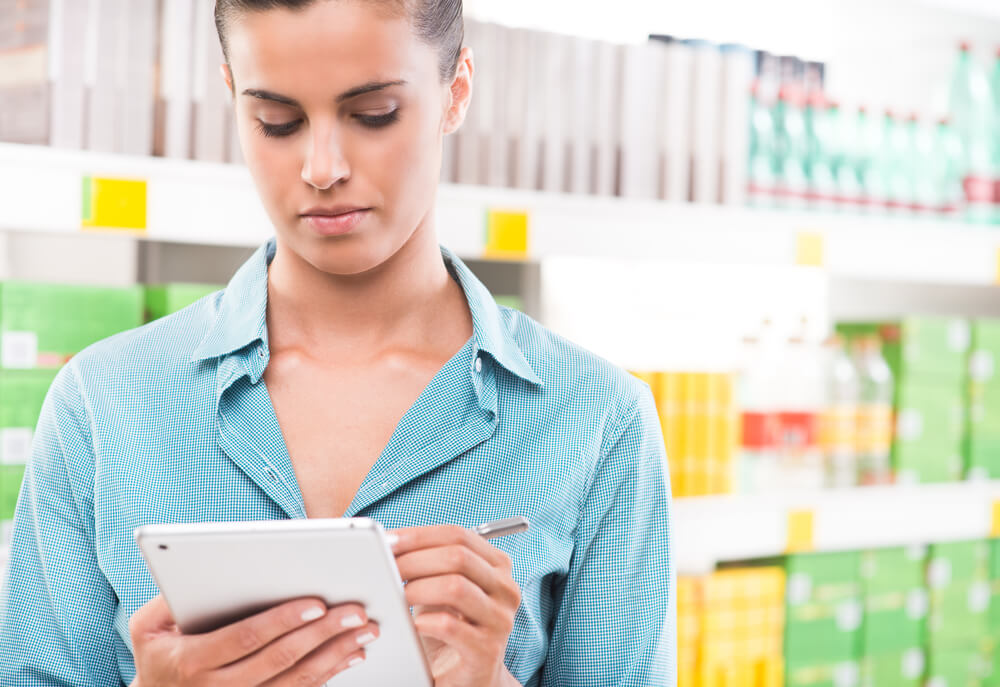 The pros and cons of mobile apps for retail business
Beyond doubts, app development enhances your market presence taking your marketing strategy to the next level.
To have a successful mobile app, you need first of all in all along to think about the end-users, solving their problems, and fulfilling a particular purpose.
It is generally expensive and an extremely time-consuming process. Considering these facts let's compare all the pros and cons to make the final decision – is it worth or not to design an app for your business.
WHAT TECH STACK TO CHOOSE FOR YOUR PROJECT
The pros of developing an app for retail business:
The time people spend with their smartphones continuously increases
Apps help keep your brand prominent in the marketplace.
Apps increase customer retention and loyalty, helping to provide sales support.
Having an app allows you to demonstrate products and services, connect with clients.
You can give users a better customer experience.
Apps loading time is faster than mobile sites.
Customers can use your app in offline mode. It's a real benefit.
The app allows you to keep in touch with clients no matter where they physically are, send them reminders, and build efficient loyalty programs, rewarding the most loyal customers.
Vast analysis capabilities. You can quickly grab the statistics of user's purchases and analyze the data about how they shop and use your app.
If compared the cost of an in-app catalog of products and services with print brochures, the first one will win.
HOW TO OUTSOURCE MOBILE APP DEVELOPMENT
What you should consider:
If you want to have a substantial market presence, you should make an app for each platform: Android, iOS. That will take considerable time and costs.
You need to provide your app with continuous updates.
The cost of an app depends on its functionality, the more it has, the more it costs.
Having an app means restlessly track and monitor users' feedback.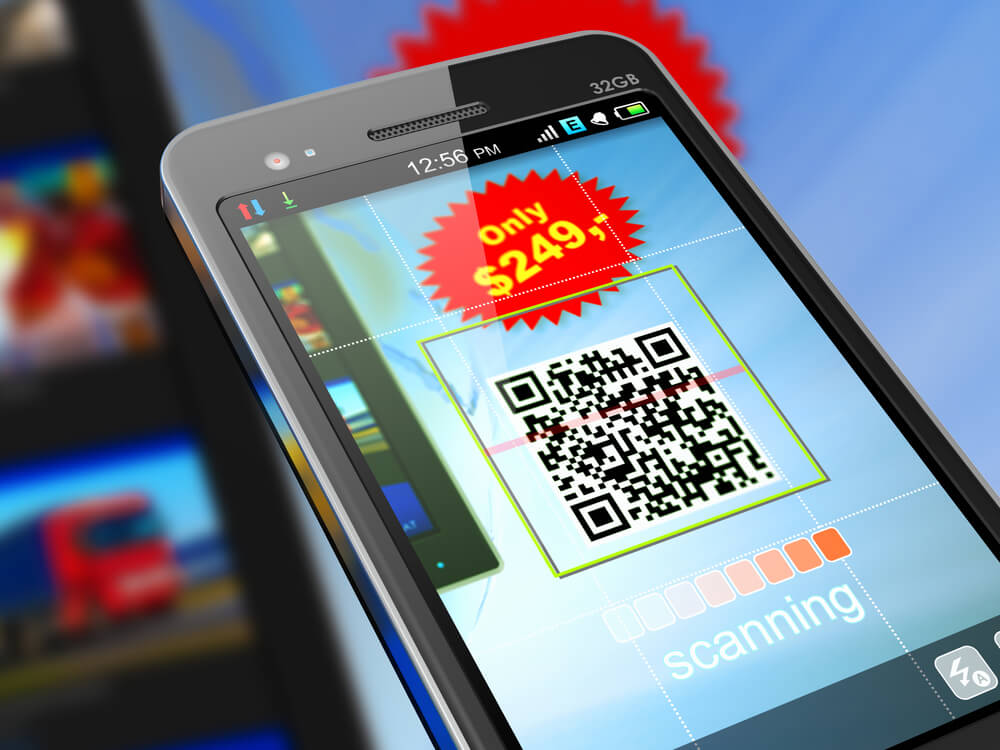 Conclusion
Summing up all the facts, you should take into consideration the following. The well-done mobile app is not just a convenient platform for purchasing goods. The successful project ought to provide a personalized customer experience and respond to users' interests by providing them with the best service.
"61 % of U.S. consumers have a better opinion of brands that offer a compelling mobile experience than brands that do not, and 40 % will turn to a retailer's competitor because of a bad mobile experience", says Internet Retailer research.
But to develop a retail app is not a simple task as it would seem at first sight.
And it entirely depends on the retail mobile app development company, its team of developers, and their proficiency.
We at The App Solutions offer a whole array of services in mobile app development.
Our team of app developers are highly qualified and have vast experience in native development.
Extensive expertise in retail mobile app development is our thing. We know all the hidden pitfalls that retail business can be faced with. But we are always ready to work hard in providing our clients with the best in market solutions.