Blog
How Can Chatbots Help E-commerce Businesses?
How Can Chatbots Help E-commerce Businesses?
Today, the word "bot" is no longer associated with science fiction. Now, chatbots allow you to book a ticket or accommodation, order food, or even pay for your order online.
Chatbots are currently used, not only in e-commerce websites, but also in social networks, like Twitter, Facebook, and, in particular, the Facebook Messenger platform. Why? The reason is simple – instead of calling customer support, over 65% of online shoppers will message a business. Also, 53% of shoppers are more likely to buy from a store they can message. And, Facebook reports on a host of data only proves that trend. Reports show that every month Facebook business pages are exchanging over 2 billion messages with customers.
But why is it important? Let's see.
If you do not want to get left behind but rather be ahead of your competitors in online retail, you should be able to communicate directly with your clients. And, to make such communication even more useful, consider adopting chatbots for your e-commerce business.
In this article, we will look at the most successful e-commerce chatbot use cases and go through a step-by-step guide on how you can develop a perfect chatbot for your online store.
But first, let's see what the benefits are of using chatbots in retail stores.
Key benefits of using e-commerce chatbots
Around 80% of online businesses are planning to use chatbots by 2020.
The reasons why this digital trend is up and running lie in the following benefits of chatbots for e-commerce:
Improved customer engagement
As we have said, modern customers prefer sending messages to businesses rather than making phone calls. But, to keep customers engaged with your business, you need to respond in time. In fact, according to Harvard Business Review research, a five-minute delay in answering a customer query decreases the customer engagement rate, and a ten-minute delay reduces this metric by 400%. Chatbots for retail businesses respond to potential buyers' queries immediately, thus increasing the customer engagement rate by 54%.
Drive sales
A chatbot could be integrated into your website or shopping app. By providing customers with immediate responses, shopping chatbots significantly drive sales to your online store. The recent Ubisend report shows that 40% of consumers want offers and deals from chatbots. Also, online shoppers are willing to spend more than $400 on an online store powered by a chatbot.
Reduce customer acquisition cost
As you may know, Customer Acquisition Cost (CAC) is a metric that shows how much money you spend to attract one customer, and the lower the CAC, the better. Chatbots reduce CAC since they offer engaging and instant conversation on your online store; thus, customers stay longer on your website. Moreover, chatbots for retail and e-commerce sites provide customers with personalized product recommendations and, as a result, increase chances to convert website visitors into customers.
Decrease customer support costs
If a potential customer is interested in your products, one may ask for a more detailed product description. Statistics show that answering simple questions is relevant to 55% of online shoppers, and 64% of online shoppers prefer 24/7 online support that can not be provided by a real person. Here chatbots are handy. By integrating a simple FAQ chatbot, you can decrease customer support costs by 30%. But to answer complex queries, a chatbot should switch the customer to a human agent.
Build Loyalty
Customer loyalty, also known as customer retention rate, is another metric that chatbots can improve. To build loyalty among existing customers, consider integrating instant chatbot, and always be in touch with your target audience, provide them with customer service and relevant product recommendations.
Streamline sales funnel
By using an e-commerce chatbot, customers can identify the product they want, find it in a matter of clicks, and buy more seamlessly. Thus, chatbots have become a new sales channel for online retailers.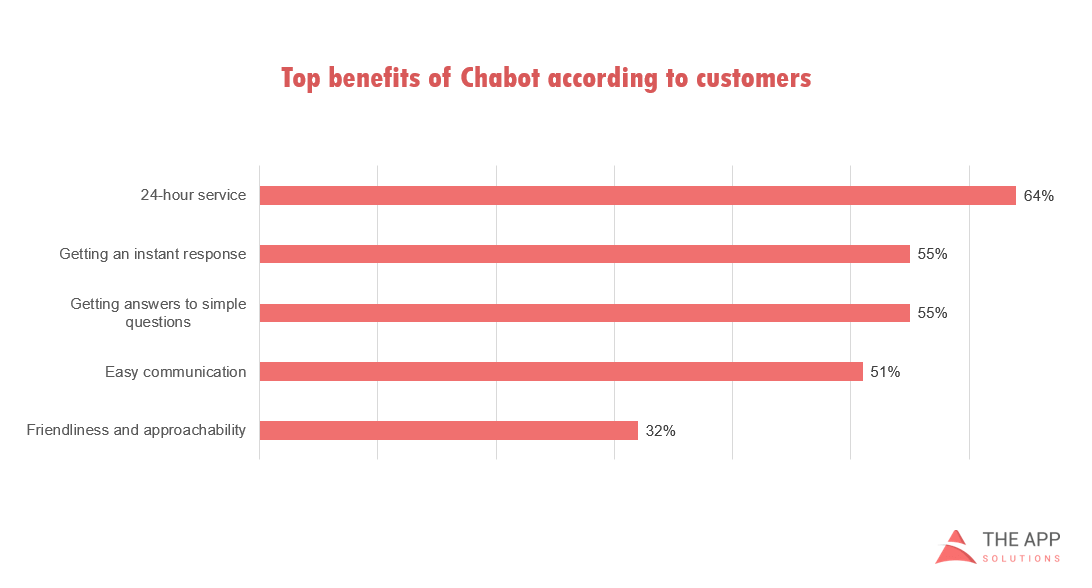 Top 5 most successful e-commerce chatbot use cases
Let's see the most successful examples that show the use of chatbots in retail by famous brands.
Order automation
How many steps do you need to take for ordering, for example, a pizza via a website? The answer is at least five – select a pizza you want, add it to the shopping cart, go to the shopping cart to complete your order, fill in the delivery address, and pay for the order. Chatbots can shorten this process to just two steps – you need to give a chatbot your order details, share your location via GPS, or put it manually. Sounds incredible? That is actually how a Pizza Hut Facebook Messenger chatbot works. Moreover, the company launched a Twitter chatbot that decreases the ordering process to just one action- sending a pizza emoji in direct messages. After the launch of Facebook and Twitter chatbots, Pizza Hut increased digital revenue by 75-80% and continue to receive 50% of its orders from these digital channels.
Personal product recommendations
When customers are visiting your online store to buy a particular pair of jeans, they spend some time in the product catalog to find the exact pair they are searching for. Such a buying process may become an irritating experience, especially if your online store has numerous product categories. To avoid this, online retailers integrate chatbots to help buyers in selecting products that perfectly meet their needs, just as Aerie, the clothing and lingerie spin-off of American Eagle Outfitters did. The company integrated a chatbot for Kik messenger, developed on the Pandorabot platform. To learn more about style preferences, the bot shows online shop visitors two images of clothing or lingerie. Then, the bot customizes the item recommendations and offer more relevant products. As a result of such integration, AEO chatbot acquired twice as many users across all social channels.
Conversational marketing tool
Do you like Nike sneakers? What if you can put any image on sneakers to customize them in the way you want? That is what Nike did in their conversational marketing strategy to promote Nike AirMax Day. The company developed a Nike StyleBot for Facebook Messenger to enable fans to style their shoe design, using previously uploaded versions for inspiration, and sharing the results with friends via Facebook Messenger. Such a conversational marketing campaign brought the company 12.5 times higher click-through rate (CTR) compared with their other campaigns, and four times higher conversion rate that their average marketing campaign.
Chatbots for shopping assistance
To receive relevant product recommendations at an online store is a great experience. But what if a chatbot can suggest the whole outfit to you? That idea inspired H&M to create The Official H&M Chatbot. The main goals of the H&M Chatbot are to streamline mobile shopper's customer experience, help them to search through outfit possibilities, and guide them directly to an online store to complete the purchase. To receive a personalized look, the customer provides the chatbot with gender, style, and the total price for all items. Then, if the shopper likes the outfit, one can save it to archive, buy all items at the H&M online store, or share the look via social networks. By using a chatbot, the company facilitates impulse buys and decreases the shopping cart abandon rate due to streamlined sales funnel.
Personalized 24/7 customer support
While a human agent can not be around and answer all the customer's queries, chatbot nails it. An example is the Twitter DM chatbot created by the Etsy marketplace. The company's chatbot has clear call-to-action buttons that provide shoppers with more personalized customer service, fixes problems immediately, and helps in finding more information day or night. Despite any issues that may have arisen, in this way, Etsy managed to build a strong relationship with clients which encouraged them to return in the future.
How to create a chatbot for an e-commerce store
If you want to build one for your online store, follow the steps of the chatbot development guide, described below.
Step 1. Define the bot's goal
What do you need a chatbot for? Should it answer user questions, offer discounts, or promote new products? To decide on your chatbot functionality, you will need to communicate with your customer support, sales, and social media teams. To give you an idea of how you can use a chatbot, we have selected the most widely spread use cases of chatbot in online retail:
Send notifications and reminders
Work as digital assistants
Handle online transactions
Collect customer data and user feedback
Advertise and broadcast
Conduct market research
Entertain and educate users
Automated customer support
Streamlined business processes
Give personalized recommendations
Provide access to information
Upsell products and services, etc.
To build a chatbot for a retail business, we advise you to be selective and wrap your ideas with certain limits, i.e., the number of functions. In the beginning, empower your chatbot with one or two simple tasks and analyze how the bot works for your business. You can always add more sophisticated functions later.
Step 2. Select the chatbot type
When you are done with the functions of your chatbot, you need to choose its type. Nowadays, there are two main types of chatbots:
Pre-scripted or rule-based chatbots are the simplest type since they work on the basis of predefined answers. Use such a chatbot if you need a solution for solving simple tasks, like customer service bots, to answer users' questions.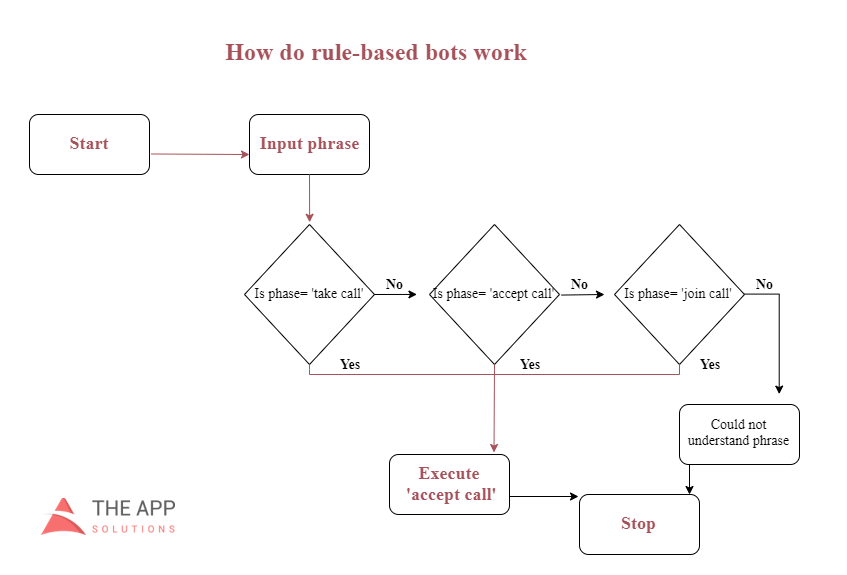 AI-based chatbots are more advanced than the previous one. By using AI (artificial intelligence) and NLP (natural language processing), such bots can understand user input and answer with relevant non-pre defined answers. You can even empower your bot with an NL (machine learning) algorithm, so the bot can learn from each interaction with a user and remember one's preferences. Still, AI chatbots require pre-launch training; thus, you need to hire chatbot developers.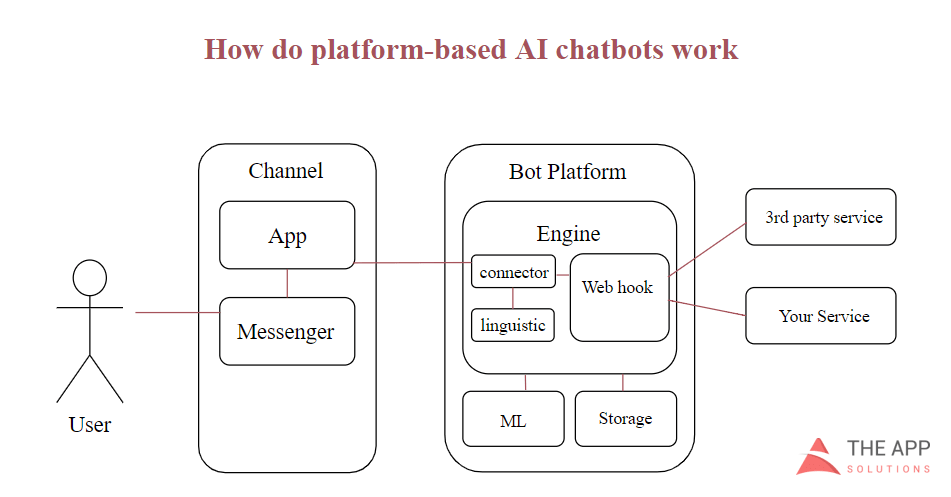 Next, consider where you will use your chatbot since it will impact the technical solution. You can develop a chatbot for the following channels:
E-commerce website
iMessage or SMS
Social networks such as Twitter, or Slack
Messaging apps, including Facebook Messenger, WhatsApp, and Telegram
If you need to use the same chatbot in both your online store and Facebook Messenger, you can create an omnichannel chatbot that will work across several channels.
When you know your chatbot use case, its type, and channels, you are ready to select the platform to build your chatbot.
Step 3. Choose your platform
Below we have gathered the most popular platform for building an e-commerce chatbot.
Unless you want to create a custom e-commerce chatbot, you can select the most suitable platform that varies on the bot's complexity.
Best platforms for simple chatbots
Chatfuel

Botsify

Flow Xo

Target platforms

Telegram
Facebook Messenger

Facebook Messenger
WhatsApp
Instagram

WhatsApp Web
Facebook Messenger
Slack
Telegram
Twilio SMS

Price

Free with basic features;
Chatfuel Pro ($30/month) with advanced features is also available

Free
Basic ($10/month),
Premium ($30/month)
Business ($50/month)

Free
Standard ($19/month)

Description

Chatfuel chatbots work on pre-defined coded rules and serve clients accordingly.
The Chatfuel builder platform has drag-and-drop feature which makes it the ideal platform for beginners who want a chatbot to perform basic roles.






Botsify provides users with its custom templates for travel, restaurant booking, etc. along with drag-and-drop functionalities.
Anyone can create bots effortlessly without writing a single line of code.
Even the free version comes with 20 templates.

Flow Xo offers templates and tools to create and test the functionalities of your bot with a built-in test console.
The bot can connect with your customers over voice and chat.

Best platforms for AI chatbots for e-commerce


IBM Watson

Microsoft Bot Framework

Wit.ai

Target platform

Facebook Messenger
WhatsApp
Instagram

Website
App
Cortana
Microsoft Teams
Skype
Slack
Facebook Messenger

Website
App
Cortana
Microsoft Teams
Skype
Slack
Facebook Messenger

Price

Lite (USD 0)
Standard ($0.0025 (USD) per API call)
Premium (price not disclosed)

Standard channels (Free)
Premium ($0.50 per 1,000 messages)

Standard channels (Free)
Premium ($0.50 per 1,000 messages)

Description

IBM Watson is the platform for AI chatbot that can handle complex conversations.




It can process around four terabytes of data and is hosted on a cluster of ninety IBM Power 750 servers, each of which uses a 3.5 GHz POWER7 eight-core processor.




Chatbot developers can leverage a wide range of technology frameworks, including:

Node SDK (Software Development Kit)
Java SDK
Python SDK
iOS SDK
Salesforce SDK
Unity SDK

to make IBM Watson with different platforms.





Azure Bot Service provides a scalable, integrated connectivity and development service to help developers create intelligent bots that can engage users across multiple platforms.




The development tools are provisioned with the Microsoft Bot Builder SDK, which .NET and Node.js developers can access and use to create an engaging talking bot.




The SDK also includes an emulator for debugging your bots, as well as a large set of sample bots you can use as building blocks.




The cloud-based service is globally accessible across 141 countries, and bots can communicate in multiple languages including:

English
French
Italian
German
Spanish
Japanese
Korean
Chinese.

This NLP-powered chatbot builder offers resources to create engaging, scalable chatbots to serve different purposes.
Wit.ai learns human language through every interaction and leverages the community to evolve and improve further.




Chatbots with Wit.ai support 50+ languages, and developers have the flexibility to use any of the available SDKs, including:

Android,
iOS,
Cordova,
HTML,
JavaScript,
Node.js,
.NET,
Unity,
Java

And other.
When you know what bot-building platform you will choose, it's time to hire chatbot developers and start building your bot.
Step 4. Create a chatbot MVP
You can create a simple bot with a DIY platform within several hours. But to develop an AI chatbot is far more difficult. However, to find out whether a chatbot suits your business needs, you do not need to spend a fortune on its development. We recommend launching such projects as MVP (minimum viable product). For chatbot MVP, we suggest only pre-scripted answers. To understand the project scope, check out our estimation of the MVP of a Facebook Messenger bot for e-commerce product recommendation.
FeatureScreen

Functions required

BackEnd

Architecture

12 hours

Customization for agents

– Logo

– Agent Name

60 hours

Connection to Data Server API

16 hours

Switching between a chatbot and human agent

– Switch between Human Agent and Chatbot

32 hours

Gathering of data from user

– Type of product

– Color

– Size

– Material

32 hours

Data transfering to API, receive results

-The chatbot search for relevant products in your online store database

16 hours

Search Results

– Show search results

8 hours

Show more variants

-The chatbot shows more relevant products from the selected category

16 hours

Chatbot Management

– Define questions and answers

40 hours

Total

From 232 hours
In our experience, the cost to develop a chatbot MVP varies from $3,500 to $5,000 and takes from 2 to 6 months, depending on the bot's complexity and the number of integrations.
Step 5. Launch your chatbot
After your development team has created a bot and ensured it is without errors, it is time to launch it on your e-commerce website. Now you need to pay extra attention to how the chatbot interacts with clients and ask them for feedback. You may also ask users what features they would add to your chatbot. After gathering all user feedback, bring them to your development team to prioritize features to implement during the second e-commerce chatbot development stage.
In a nutshell
More and more people want to communicate with businesses via messengers, and online retail is one of those industries that can receive a significant profit from this trend. Therefore, to keep the most effective communication with users, increase sales and engagement, and build loyalty, a chatbot is a must. Various use cases and successful e-commerce chatbot examples show that chatbots for the retail industry are a win-win for both sellers and buyers.
Related articles:
WHAT IS THE BEST WAY TO CREATE A CHATBOT: PLATFORM VS. CUSTOM
WHY BUSINESS USE NLP? FIVE PROMINENT USE CASES
HOW CHATBOT CAN MAKE AN EFFICIENT PATIENT SUPPORT SYSTEM