What is the best way to create a chatbot: Platform vs. Custom
Chatbot integration with a website or mobile app is a win-win strategy for both your business and your clients. Why? Firstly, thanks to various use cases, chatbots can increase revenue by up to 25%, lead generation to 9.5%, and improve engagement with clients by 35%. Secondly, your customers receive a better UX experience of finding and ordering goods or services, paying for them seamlessly, and more. Are you ready to integrate a Chabot into your business strategy? Great! But the question is, "Whether to build a custom-made Chabot or use a Chabot building platform"?
Let's find out.
Below, we have gathered the main chatbot types, their usages, and a comparison of custom vs. platform-build chatbots. After reading this article, you will know exactly what kind of chatbot you need. Depending on its type, you will know whether you need a custom chatbot or platform-build solution.
Main types of chatbots
A chatbot is a computer app that mimics human behavior during a conversation with a real person. But, the degree of chatbot's humanity depends on the complexity of the technologies behind the app. Now, let's look at the Chabot types in more detail:
Type 1: Scripted/Quick Reply Bots
Scripted is the simplest type of chatbot. Such chatbots are powered with decision three hierarchy and communicate with people using predefined scripts via a set of questions or buttons. Such scripted chatbots are the slowest medium of getting the user to their desired value.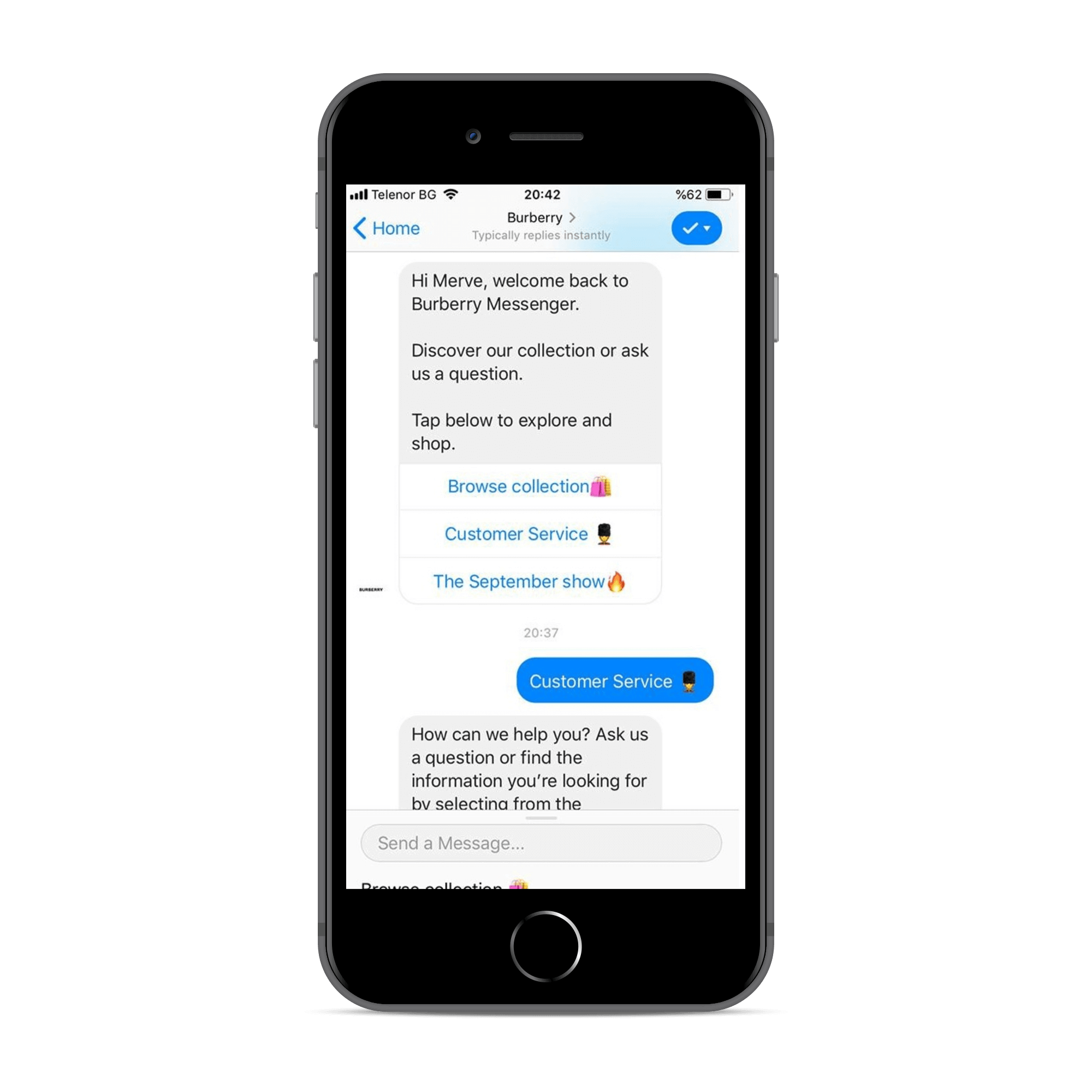 [Burberry scripted chatbot]
Type 2: AI Chatbots
AI chatbots are more complex than scripted chatbots and include two subdivisions:
Chatbots with Natural Language Processing
Content Enable Chatbots with Machine Learning
Now, we will take a closer look at these types:
Natural Language Processing (NLP) chatbots can understand, analyze, and prioritize questions according to their complexity. NLP chatbots are programmed to recognize particular keywords. Then, such chatbots respond appropriately with a non-pre-scripted response. More advanced NLP can even understand your message intensity, i.e., whether you are asking a question or make a statement.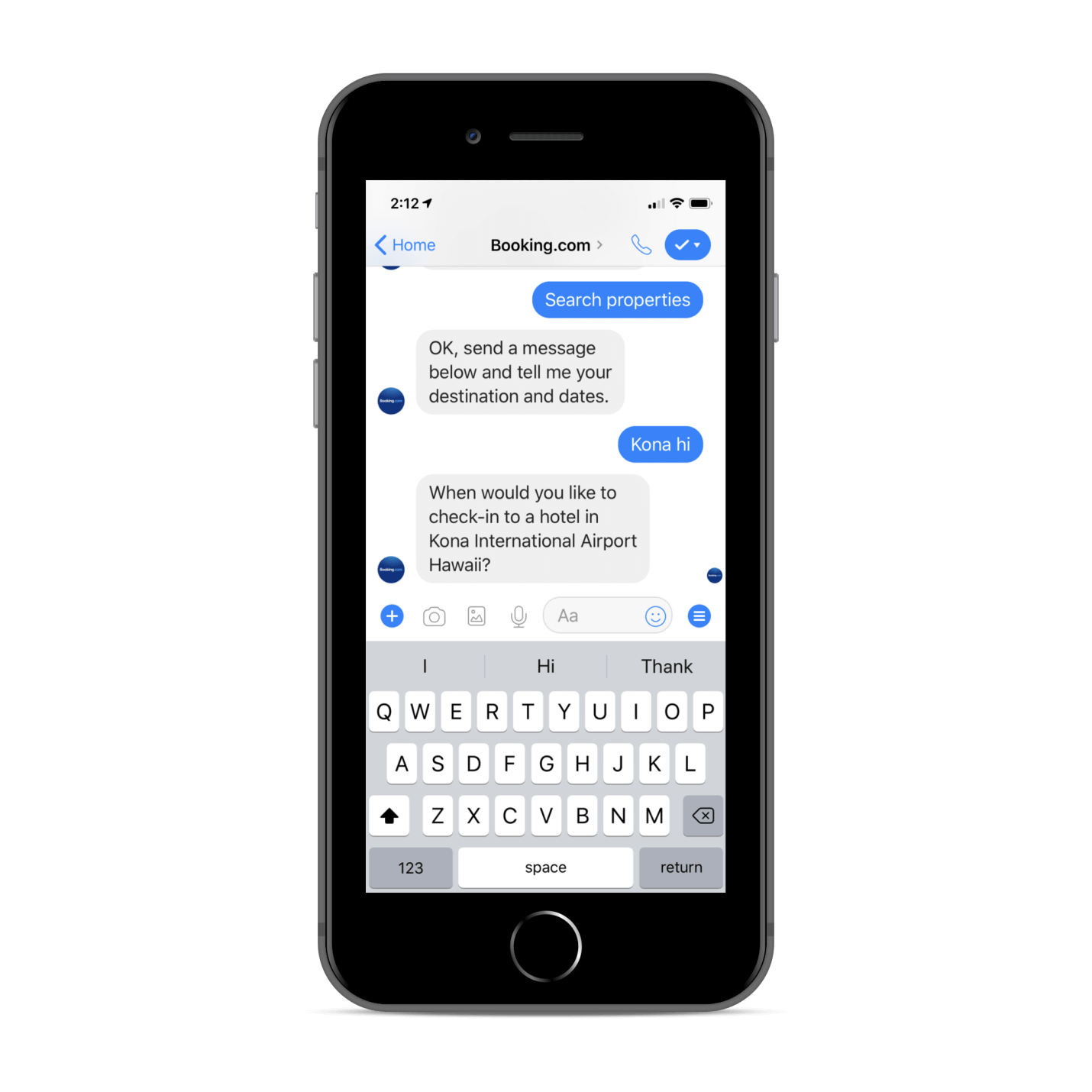 [Booking.com NLP chatbot]
Content Enable Chatbots. Powered by Machine Learning (ML) and Artificial Intelligence, Content Enable chatbots are the more advanced type. ML chatbots learn from conversations that happened in the past with a specific user and grow over time. Examples of such chatbots are Siri, Alexa, and AI versus, created and taught by our team, ISD GmbH, and Hoskhod agency. To learn more about this project, read the full case study.
Now, let's look at how you can use a chatbot for your business.
Chatbot use cases
You can use live chats and chatbots for multiple business areas, including customer support, streamlined payment, shopping assistants, and even healthcare assistants. Many marketers agree that such chat options are here to stay as automation continues to make advances. Now, chatbots can cover the following usages:
FAQ assistants
Chatbots, in most cases scripted, can perform as live FAQ and process over 80% of support queries. It means that the customer can ask them questions and receive an answer. But, to create such a chatbot, you need something more than integrating FAQ section materials into a chat interface. FAQ chatbots should also be able to ask follow-up questions and connect the user with a real person if needed.
Such chatbots are used for both websites and mobile applications, and one example is the "Kate" chatbot, a mobile app digital assistant, developed by Geico insurance company. App users can ask Kate questions, via both voice and text, and receive answers about billing and basic policy.
Navigational botsshopping assistants
Navigations bots help website or mobile app users search for specific information such as blog articles, a particular website page or product, via a conversational interface. You can use the navigation chatbot to direct customers to the most relevant product. Firstly, the user tells a chatbot what product one is searching for. Next, the navigation bot shows the user all the products that match the user's request and sends links to those items. To achieve this, the chatbot back-end is integrated with catalog and service-side API. Still, such chatbots are something more than navigation menus. Shopping assistants can even adopt changing messages and themes, send holiday greetings or information about an actual sale.
Shopping assistants are widely used in the clothes and fashion industry. An example is the H&M bot on the KiK platform, which understands user style preferences, gives personalized style recommendations, and even builds an outfit.
Healthcare assistants
Chatbots help clinics and hospitals save a considerable amount of money. In the healthcare industry, chatbots can perform as online receptionists, nurses, interns, or even assist with a patient progress report, assess drug interactions, and check post-op recovery.
Besides, chatbots can make medical diagnoses faster, as MedWhat chatbot does. Thanks to the ML algorithm, MedWhat chatbot provides users with increasingly accurate answers on questions concerning medical diagnoses. Besides this, thanks to machine learning, the bot learns from each interaction with a patient. MedWhat bot expands existing medical data using a vast volume of medical research and peer-reviewed scientific papers.
Recommendations and Booking agents
In industries like hospitality and traveling, chatbots can be used as personal traveler assistants or virtual concierges. In this way, customers receive 24/7 online support, which impacts customer loyalty and satisfaction. You can integrate such chatbots into a website, and even a Facebook Business page, like the SnapTravel agency has.
Using the SnapTravel Messenger bot, travelers can find the best accommodation that meets their preferences and budget. This bot is powered by Artificial Intelligence and works as an aggregator. You need to enter the dates and city you want to go to. Then, Snap bot analyzes offer from Expedia, Priceline, and other travel websites, to come up with the best deals. After selecting the best option, the user can book accommodation right through Messenger.
Lead generation and retention bots
Chatbots might also be a part of a content marketing strategy and generate more leads from social media or websites. Besides this, a retention chatbot could activate your old leads by sending them sales alerts or relevant updates as TechCrunch Messenger chatbot does. It informs subscribers about stories on relevant topics. To achieve this, users need to subscribe to sections, authors, and topics on the TechCrunch website, and then the bot sends news articles, and other updates, right to the user via Messenger.
Transactional bots
This type of chatbot is much different from other use cases on this list. The main goal of transactional chatbots is to simplify user experience and provide a convenient and quick channel for completing a particular action. Transactional chatbots allow users to place new orders and repeat purchases and even conduct an online payment.
An example is Pizza Hut's bot that helps users place orders for pizza and other meals via Twitter or Facebook. The bot also informs customers about recent promotions and answers FAQ questions.
Have you selected a perfect type and usage case for your chatbot? Great!
Now, let's find out whether to build a bot with a builder or make a custom bot from scratch.
READ ALSO: NLP Business Applications
Platform-based chatbots
Chatbot platforms allow you to make your own chatbot by yourself. While some chatbot-building platforms have a simple drag-and-drop menu, others require a degree of technical knowledge. Now, we'll take a look at the most popular platforms for building chatbots, their capabilities, and price policies.
Flow XO

Chatfuel

Azure Bot Service

Complexity

Simple

Medium

High

Where to use

· Facebook Messenger

· Slack

· Twilio SMS

· Telegram

· Website

· Facebook Messenger

· WordPress

· Shopify websites

· Website

· Mobile app

· Cortana

· Skype

· Slack

· Facebook Messenger

Main features

· Simple questions answering

· User answers validation

· Switch between a chatbot and live chat

· Accept payments

· Build-in templates

· Online chat

· Payments

· Call button

· Switch between a chatbot and human agent

· Support integrations via JSON API

· Natural Language Understanding

· Open-source SDK

· Native integration of Azure Cognitive Services.

· Any type of bots: from a Q&A bot to your own branded virtual assistant

Costs

· Standard Plan – $19 per month

Add-ons:

· 5 bots or active flows – $10 per month

· 25,000 interactions- $10 per month

· Free – up to 1000 Subscribers

· Pro – from $15 per month

· Premium – from $199 per month

· Free – 10,000 messages/month

· Premium channels- $0.50 per 1,000 messages

So, what are the advantages of bot-building platforms?
Chatbot builders are handy for developing simple or even sophisticated chatbots for any business
You can integrate your chatbot to most popular messaging platforms, such as Messenger, Telegram, Skype
Some platforms allow integrating a chatbot right to your website or mobile app
You can connect your chatbot with third-party services such as payment gateway
Chatbot-building platforms are cheap or even free
By using a platform, you can set your business logic of chatbot behavior
At the same time, chatbot building platforms have some disadvantages:
You can only create a chatbot with simple logic. For more complex chatbots, you will need help from developers
Chatbot-builders' tools may not always help you achieve your desired results.
If you are not a tech person, you will need more time and effort to make a chatbot. However, there is no guarantee that the chatbot will perform well.
Building a chatbot from scratch
If you want to create a sophisticated chatbot with your own API integrations, such as a shopping assistant, booking agent, or healthcare assistant, consider developing a chatbot from scratch. You can create a solution with custom logic and a set of features that ideally meet your business needs. Such chatbots work as a server-side application that implements chat features via its own API. To create your own custom chatbot, you need to hire a development team for chatbot development services. If your chatbot requires the integration of Natural Language Processing, the development team will use Opennlp or Nltk NLP tools. In this case, consider that NLP will perform as a separate service.
Below, you can find our feature list of a custom chatbot MVP for a travel agency with estimation in hours.
FeatureScreen

Functions required

BackEnd

Architecture

12

Customization for agents

60

Connection to Data Server API

16

Switching between a chatbot and human agent

Switch between Human Agent and Chatbot
Return, Forward functions for user

32

Gathering of data from the user (Search for hotel, tour, full package flow)

Dates
Number of adults
Number of Infants
Meal
Hotel stars

32

Transferring Data to API and receiving results

16

Tour Proposals

8

Show more variants

16

Admin Panel

Admin Login

8

Chatbot Management

Define questions and answers

40

Total

From 240 hours

In our experience as a chatbot development company, developing a custom chatbot starts from $4000 and takes from 240 hours of coding.
By developing a custom chatbot you will receive the following benefits:
You can integrate complex and unique functionalities to your chatbot
Your development team will provide your bot with excellent user experience, as well as helping you to find the right technical solution for your business needs.
The development team will conduct tests of your chatbot to ensure that it is bug-free.
After the bot release, the development team will provide you with technical maintenance and further bot improvement.
However, there are also some drawbacks:
Developing a custom chatbot takes more time and costs more than developing a bot via the building platform.
To develop such a solution, developers will need to create service infrastructure and hosting, which also takes time.
Now, let us compare developing a chatbot with a platform and a custom solution.
Platform vs. Custom: Chatbot development comparison
Platform

Custom

Initial cost

While some bot development platforms are free of charge, others will charge a fee:

· Monthly

· Per user

· Per transaction basis

The cost will depend on:

· Experience of the developers

· The number of developing hours

· Bot usage case

· The number of platforms required

· The number of chatbot users

· The number of third-party integration such as an online store or a CRM

· API integration

Planning

You can simultaneously plan and build a chatbot using a flowchart-like or drag and drop interface

Here, you need to consider the integration of a chatbot with:

· NLP

· Analytics

· Payments

· Subscriptions

· Integrations

· Platforms

All elements will work together, which increases both chatbot complexity.

Build Time

By using ready-made templates, you can integrate a simple chatbot in messenger in less than 30 seconds.

The chatbot building time depends on

· Number of developers

· Number and complexity of features

· Number of integrations

Testing

You need to test the Chabot on your own. You can receive support on Chabot testing via a test/development chat within the platform.

The developing team will conduct the bench of the test to ensure that your bot operates correctly.

Maintenance

You can make changes and integrate new scenarios on your own without coding.

Only developers can make changes in the bot code.
Want to Learn More About The APP Solutions Approaches In Project Development?
Download Free Ebook
What to choose: platform-build or a custom chatbot?
There is no single answer since the solution will depend on the complexity of your chatbot, its' usage case, number of integrations, and so on.
Chatbot builders suite for developing:
FAQ bots
Transactional chatbots
Navigation bots
Lead generation bots
Besides, you can use chatbot builders if you are in a hurry, have a tight budget, and need simple functionality. However, even platform build-solutions may be complex and apply MLP, AI, and machine learning. For such cases, you need to hire a development team to set up and teach the sophisticated chatbots for you.
Custom chatbots are great in the following use cases:
Shopping assistants with AI and machine learning
Healthcare assistants
Medical diagnoses bot
Hospitality chatbots and personal concierge
A bot with catalog and service-side API integrations
In a nutshell
Chatbots vary in the level of their complexity, usage cases, and industries. Still, with such great diversity, you can find the option that will ideally meet your business needs. To achieve this, you need to answer the following questions:
What is the purpose of the chatbot?
Where will you use it: in a messenger, website, or app?
How complex should it be?
How many features should it have?
Do you need to integrate it with third-party services, such as analytics or payment gateway?
After answering these questions you will have a clear idea of whether to build your own custom chatbot or use a bot builder.
Related articles:
HOW CHATBOT CAN MAKE AN EFFICIENT PATIENT SUPPORT SYSTEM
GUIDE TO MACHINE LEARNING APPLICATIONS: 7 MAJOR FIELDS
BASICS OF NATURAL LANGUAGE PROCESSING
5 CHALLENGES OF CHATBOTS FOR BUSINESS AND HOW TO OVERCOME THEM