You probably wouldn't be surprised to find out that Wish is one of the real ecommerce stars in the mobile market sky. According to Flurry survey, the usage of shopping apps has been growing faster than any other application category recently. The average session length both on iOS and Android devices has been risen by 174% year-over-year.
No matter what we are looking for, there is a particular mobile app for online shopping that changes the way we find something, choose it, and make a decision to buy.
Let's have a quick look at the new behavior patterns that all we have acquired as consumers:
81% of purchases from our smartphones are spontaneous (according to the Google study Zero Moment of Truth – or simply ZMOT);
90% of us move between devices and screens to complete the purchase;
30% of us will abandon a transaction because of the disappointing mobile experience;
every 100msec increase in load time decreases chances of sales by 1%;
we are expecting mobile transactions to be easier than offline (by 51%) or desktop ones (by 50%);
for 61% of us, positive mobile experience forms a better opinion of brands.
All these stats brought over $115 billion revenue in 2015 and climbed to the mark of $142 billion this year, as stated in Forrester Research.
By the way, here is how US market looks like. No wonder, why shopping applications are so popular.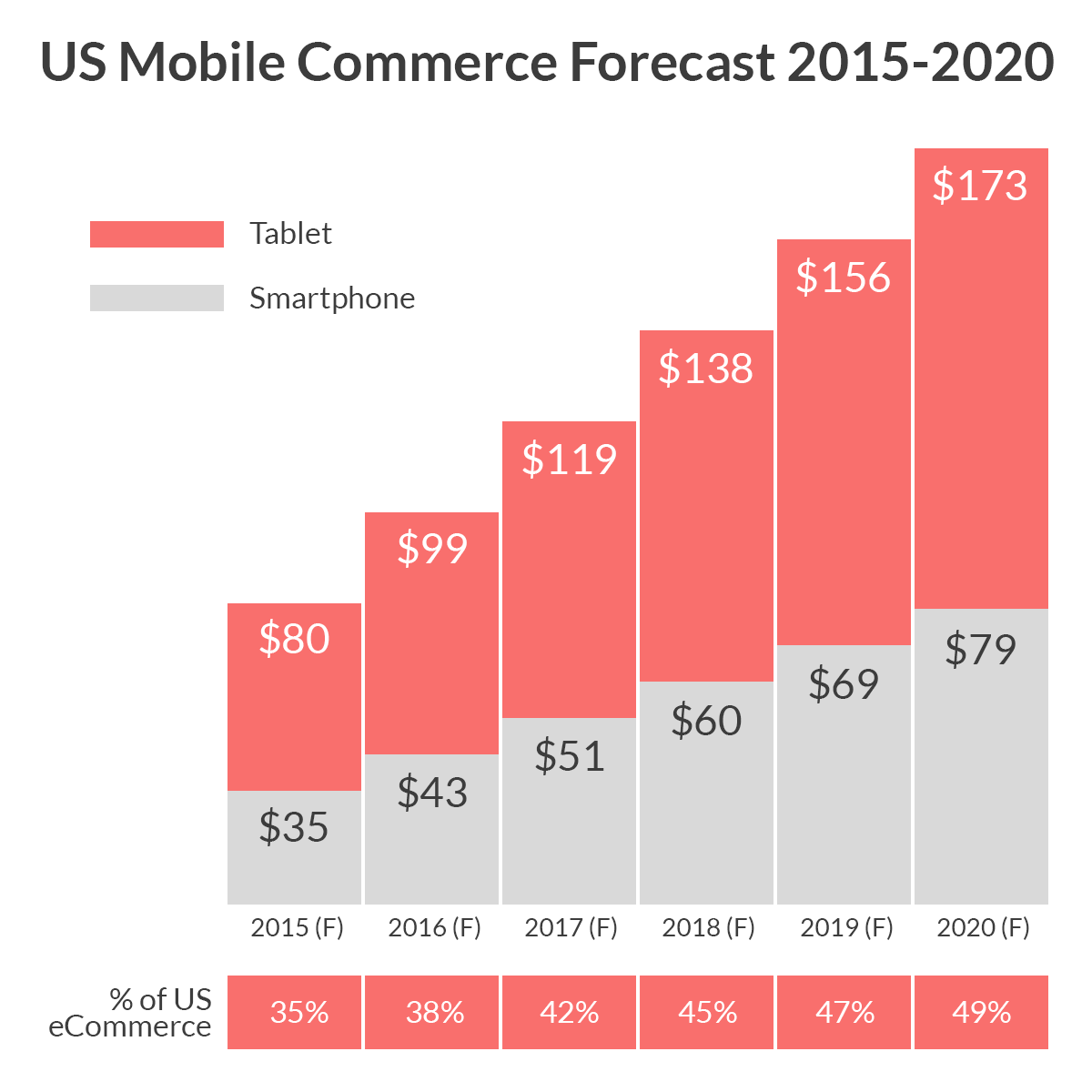 So, what is the Wish app about?
Opportunities offered by mobile commerce are hard to overestimate. Alternatively, minded developers decided to extrapolate the interactive wish list properties with clear monetization mechanisms to the application based on purchases of real goods. Here comes the Wish app!
See also: How to Use Machine Learning in Mobile App?
The Wish marketplace co-founder Peter Szulczewski explained his goals as: "We want to be Google AdWords for the retailer" and they are getting closer to their goals so far all over the US market: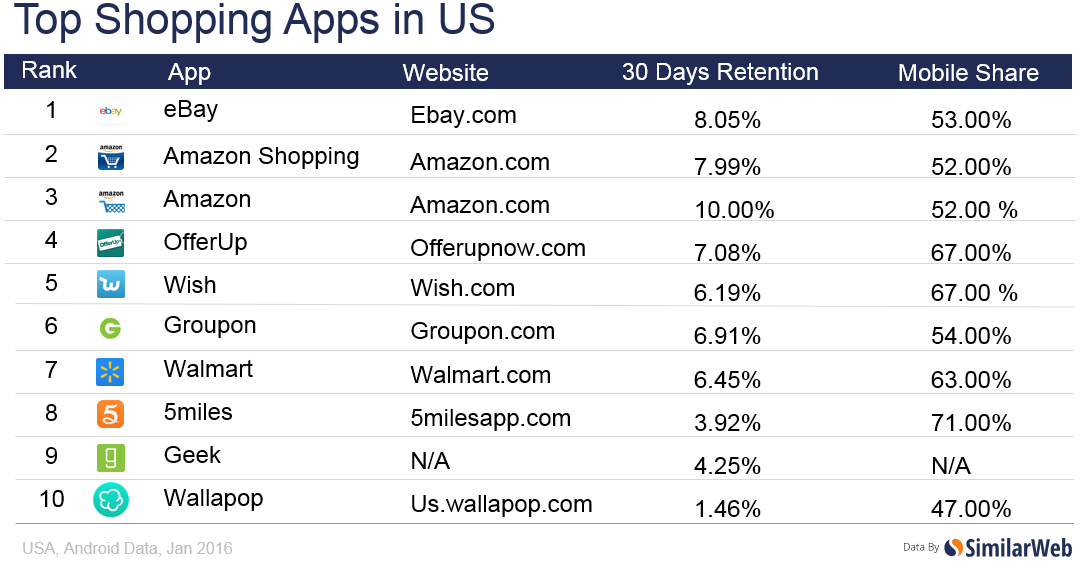 Wish app connects merchants with customers around the world. Currently, there are over 100 million customer accounts and 100 000 merchants that are selling roughly 40 million items for sale. What is good about Wish is their pricing. Basically, you can find there everything from smartphone cases and clothes to wearables with the price 50%-80% lower than average. Many of these items are unique, and you cannot find them easily the Walmart's shelves.
The monetization model is also not too intricate. Wish cuts 15% of the price from each deal. For comparison, other marketplaces like Alibaba don't charge their merchants. The reason for this fee is extra services that Wish provides to help sellers set up commerce processes and communicate with clients.
The Wish guys have found and implemented few key insights that helped them to succeed:
They were mobile-oriented first.
From the screens of their smartphones, the users will likely to buy low-cost items rather than expensive ones. That's why guys provided the shipping directly from the distribution centers and factories thus reducing the cost. Also, the platform offers a broad range of discounts.
To better understand the intricacies of e-commerce marketplace app development like Wish, let's consider it's important options.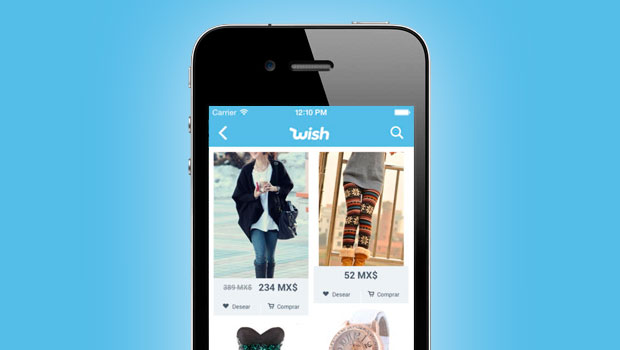 To Use a Wish, You Need an Account
First, when you open an app, you need to create an account. You can easily do it by connecting your Facebook or Google+ profile. Now the application knows some basic characteristics about you like age, date of birth and gender. Without registration, you can`t see any deals and commit purchases. Now all offers are relevant to your demographic portrait.
There is an interesting feature about this step that actually helps to sell more. Wish actively pushes the social media channel. And they have few reasons for that. First of all, it makes relations between buyer and seller more clear and transparent. Also, according to Forbes, 40% of consumers are purchasing goods after liking them on Facebook. People are feeling more comfortable buying things when they know a friend or colleague made a similar purchase successfully.
Authorization feature is usually implemented by direct interaction with client-server API. For logging in existing social media account, you can also use open authorization protocols.
Use Push Notifications for Communication
After you logged into Wish, the app asks you to allow sending push notifications. This feature is essential for shopping app development. Basically, you create another communication channel with your customers. Now you can send all discount notifications and triggers notes right to the screens of users, and there are few chances they can miss them.
Read also: 10 Ways to Build a Bulletproof Push Notification Strategy
Shopping Surfing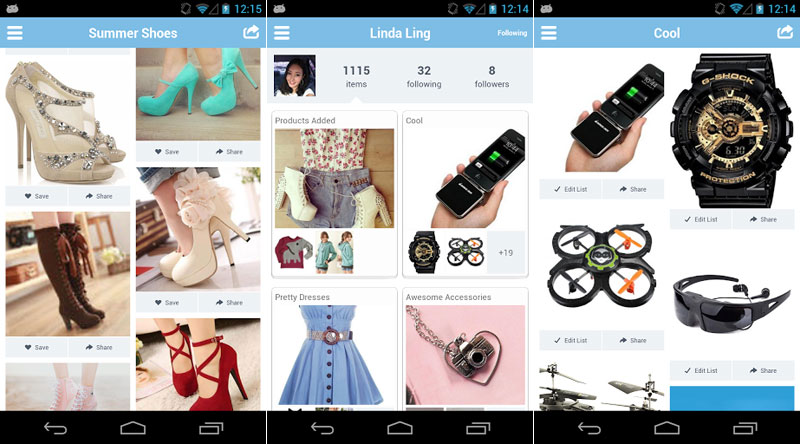 The next step of the Wish app experience is to choose the categories you are interested in. This information together with your personal data provides the application with the info for more personification.
To develop Wish app clone at the APP Solutions, we have our set of instruments for personalization. Together with our partners from Softcube. The tool we can provide for our customers to develop a shopping app helps to analyze customers preferences and offer the goods that are more attractive.
This SaaS solution contributes increasing sales up to 12% by the same conversion. Of course, this tool increases your shopping app development cost. But you can implement this solution after your project is already launched and you had established links with merchants and earned customer base.
While surfing through the universe of different goods, the customer has two options: to add a product to the wishlist and to put it in the shopping cart.
There are also some other cool features to implement in your app like Wish, though:
Virtual fitting rooms. With an augmented reality technology with a brand new and exciting shopping experience. Just imagine: your users can actually try on a pair of new glasses before purchasing them with a help of the front camera in their smartphones. Read also: Benefits of Using Augmented Reality for Business
Reviews from real people. Photos of goods from real life also help to make that hard decision "to buy or not to buy." I should note that Wish uses this feature, so, don't fall behind!
Style boards. Believe me, girls going to love this feature. It can look like a more sophisticated wish list, where your customers can create the looks combining existing items with desired ones.
Take my Money Right Away!
Ok, I want all those lovely stuff from your app-that-is-just-like-Wish-but-better. How can I pay money? This is a critical task for your app developers. You need to ensure both your customers and merchants with security. Also, it is also important to take into account such cases like order cancellation, money back, etc.
To provide reliable payment options, we usually recommend our clients to stick to the native app development with means having a custom application for every operating system like iOS or Android.
The most common ways to submit payments is via PayPal, payment card, direct bank transfer or cash on delivery.
Shipping
Speaking about the Wish app, shipping has always been the weak side of the service. Wish insists that the delivery to the US for less than two weeks and up to 25 days worldwide, but you can google for plenty feedback saying that always takes much longer.
To provide excellent service, you can with the third-party delivery that already has its network and enough human resources. Also, don`t forget to let your customers track their orders so they can see, where is their package in real time.
Takeaway
The key features that you should consider in your marketplace application are: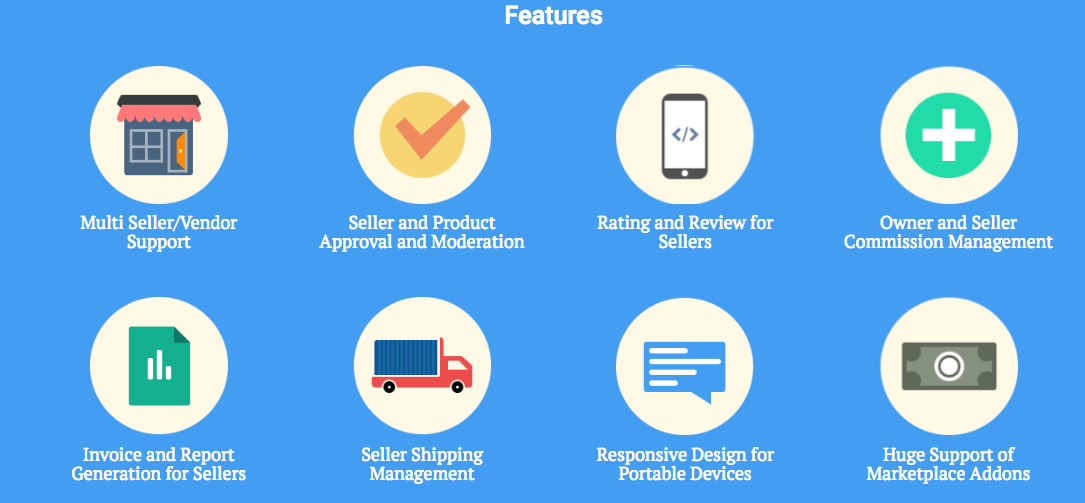 There are also some other great ideas you can think about:
Customer support
Products comparing
Option to divide payments into parts or to credit customers
Calculator and currency converter
Bloggers choices
Add to favorites
Gift cards
The next question after "How to develop an app like wish?" should be the one "What unique I can suggest to my customers?" By answering this question you can also figure out the cost to make an app similar to Wish. You can contact our managers for more detailed information and estimation of your dream project.
Need an ecommerce mobile app?