Fashion and technology: How online clothing retailers can leverage AI in 2021
What do fashion and technology have in common? Retail clothing companies apply Artificial intelligence, Machine Learning, and Augmented Reality to provide outstanding customer service, not only in-store, but also online. Thus, fashion and retail businesses are predicted to spend $7.3 billion annually on the adoption of AI-powered solutions by 2022.
If you're considering developing a fashion e-commerce website or looking for technological trends to refresh your ready-made e-commerce apparel store in 2020, read this article to the end. In this blog post, you will learn how the clothing retail industry leaders leverage technology in the fashion industry, and what AI solutions to consider for your online fashion store.
How technology influences apparel online retail
The main struggles of all online retailers are how to increase sales in retail clothing, reduce shopping cart abandonment rates, and make shoppers return regularly. To achieve this, shoppers should find products more streamlined, receive highly personalized product recommendations, as well as the ability to order products avoiding long checkouts. Let's see how AI and ML technologies help fashion brands to achieve these goals.
Improved engagement because the first thing your customers interact with your fashion e-commerce website is proactive AI chatbots, who ask clients about their preferences and speed up product search. Also, fashion retailers who allow their customers to search for products by images, or discover similar products face a higher engagement rate
Increased income due to more accurate product recommendation feeds and more suitable upselling options. AI Machine Learning algorithms analyze a shoppers' behavior, gather information about a customer's preferences in style, and understand your fashion shoppers even better than human stylists.
A higher customer retention rate is the result of previous advantages. If the customer receives relevant fashion products every time they interact with your online store, they will shop at your fashion e-commerce website more often.
Greater brand loyalty. Each time shoppers receive assistance from AI-powered chatbots, and find fashion items via image Recognition-powered search, they begin to perceive your online fashion store as a close friend who understands their needs.
In a nutshell, Artificial Intelligence solutions, and machine learning algorithms, transform the way shoppers interact with e-commerce fashion retail while increasing the number of loyal customers and income.
Download free eBook on eCommerce app development
Download now
Top 5 use cases of technology in fashion online retail
Now, let's take a look at e-commerce technology trends and how key fashion brands utilize them.
1. Fashion and AI-powered computer vision for similar product suggestions
Each time shoppers see that their desired item is out of stock or in the wrong size, they abandon your online fashion store, and you lose money. The solution is an advanced product suggestion algorithm, powered by Computer Vision. Unlike other AI algorithms trained with customer data and behavior patterns, this artificial system obtains information from product images, analyses its attributes such as color, size, style, etc., classifies them, and suggests other items based on visual similarities. RIS' "29th Annual Retail Technology Study says only 3% of retailers use Computer Vision in their online store, while 40% of fashion brands will implement this tech within the next two years.
One example of an online fashion retailer that implemented Computer Vision for a more precise recommendation is Macy's, an American department store chain. To integrate intelligent suggestions with cognitive learning capabilities, a fashion retailer teamed up with IBM Watson, the most powerful AI platform for business. Once you start to discover products, you receive suggestions of visually similar products in the "More Like This" section. You can apply filters, including color, patterns, style, and price, to receive different suggestion results.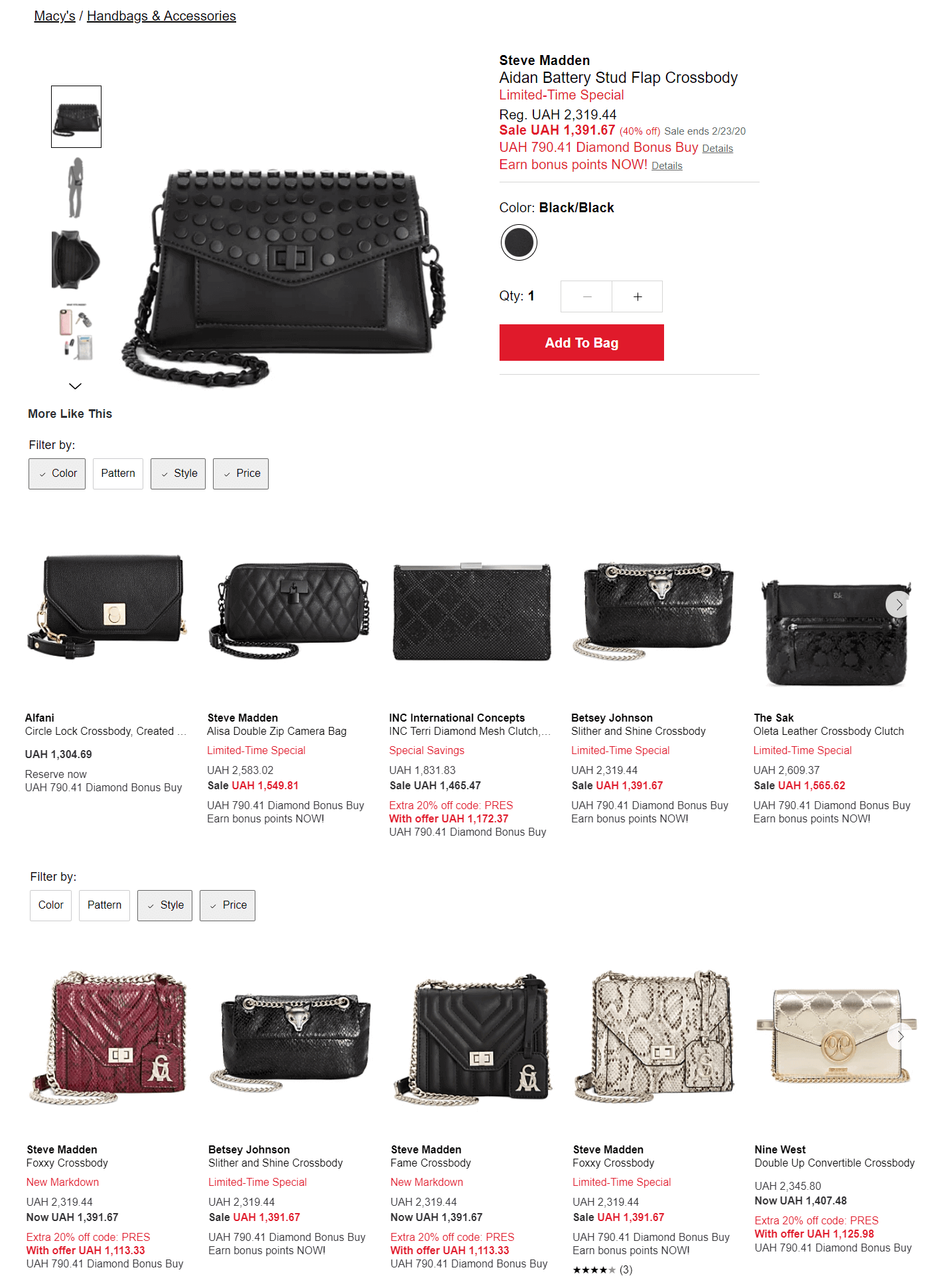 [AI apparel recommendations in Macy's online store ]
2. AR/VR in product merchandise
The main reason why some fashion shoppers avoid buying online is that they need some in-store experience where they can touch and try items. The absence of a try-on option concerns fashion jewelry retailers, who receive the most income from offline sales. So, how to fill in the gap between fashion online shopping and buyers' desire to try jewelry before buying? The solution is a virtual try-on feature powered by Augmented Reality, integrated into an online store or e-commerce mobile application. AR try-on uses algorithms and sensors to detect the position of a buyers' camera on mobile devices, and then overlays 3D objects atop real-world surroundings, making the online shopping experience more personal, unique, and engaging. Thus, virtual AR try-on helps fashion shoppers to try any product without leaving their homes, which significantly impacts a buyers' decision to make a purchase. Around 72% of fashion shoppers bought a piece they didn't intend to buy after using AR virtual try on.
Pandora, a fashion jewelry retailer, applied this technology for its shopping mobile application. We participated in this project as developers of 3D models of jewelry.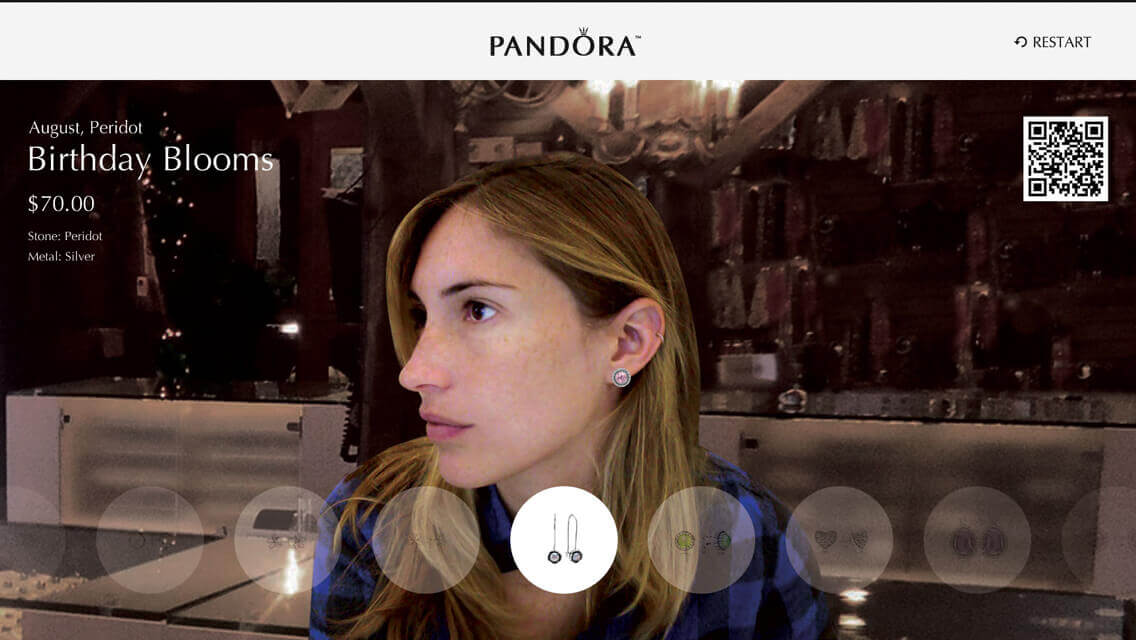 To try on any jewelry from Pandora's product catalog, users need to complete the face-scanning process so the app's algorithm can see the borders of the face and then place 3D models of jewelry, developed by us. Pandora app users can also get all the information about the jewelry that caught their attention.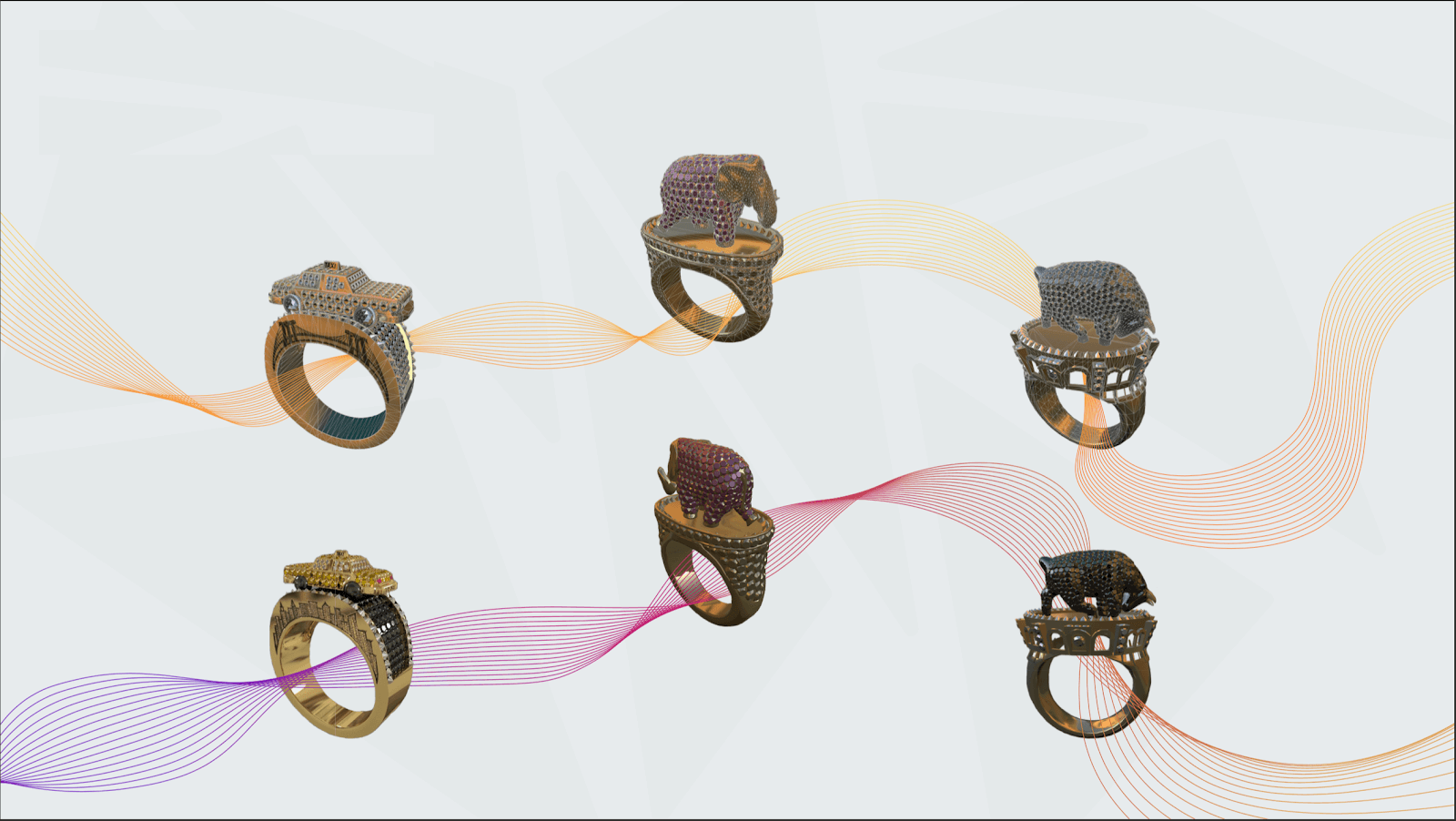 [Our 3D jewelry pieces created for Pandora AR store app]
3. Chatbots with Natural Language Processing
Shoppers who have questions concerning your fashion products will be disappointed and leave your online store if customer support answers too slowly. For 44% of online shoppers, a live chat where they can have their questions answered is a decision-making factor to shop at your store. At the same time, maintaining a contact center with hundreds of online managers might be too costly. If you want to provide customers with high-quality services while keeping costs low, consider integrating a chatbot with Natural Language Processing. Servion Global Solutions' research predicts AI will power 95% of customer interactions by 2025.
Apart from online chatting and answering FAQ, chatbots can show order status updates, compare products, search for products, and perform as virtual assistants for online shoppers. Chatbots ask customers to type the item needed. Thanks to Natural Language Processing, a chatbot understands the user's input and comes up with relevant search results.
Louis Vuitton is one of the fashion brands that have leveraged AI-powered chatbots for their Facebook page and increased customer engagement. LV chatbot is powered by mode.ia platform and utilizes Natural Language Processing to help clients to find the exact item they are searching for. Fashion shoppers can put the request (e.g., red dress in size small), and then browse products by color, price, patterns, etc. After the shopper has found the perfect item, LV chatbot redirects the customer to the Louis Vuitton website to complete a purchase.
4. Image recognition for Visual Product search
Fashion online stores that have a long journey to finding desired products no longer satisfy the needs of modern customers. Also, the vast popularity of fashion influencers, such as Selena Gomes, Kylie Jenner, and Kim Kardashian, push shoppers to search for similar bags such as those their idols have. The best way you can optimize on-site search is to integrate image recognition technology. Visual product search works like Shazam for clothes. To allow customers to find items using pictures, developers apply Deep learning technology and teach the Image recognition algorithm using a massive amount of training data to identify different products, colors, shapes, etc. Then, the AI algorithm identifies items from the image uploaded, finds similar or identical items in your product catalog, and shows the search results to customers. Thus, shoppers save time on typing words to keyword-powered search and receive desired fashion items immediately. Visual product search integration results in twice as quick checkout, compared to keyword search and a 20 – 30% increase in conversion for product categories.
Farfetch, an online luxury fashion retail platform, integrated Visual Search powered with image recognition to their mobile shopping app. To make visual search possible, Farfetch co-operated with Syte.ai, an AI startup, that specializes in developing Image Recognition algorithms for online retailers and marketplaces across all industries.
Now, shoppers can easily find the same clothes as their favorite singer or Instagram influencer wears by taking photos and uploading them to the app.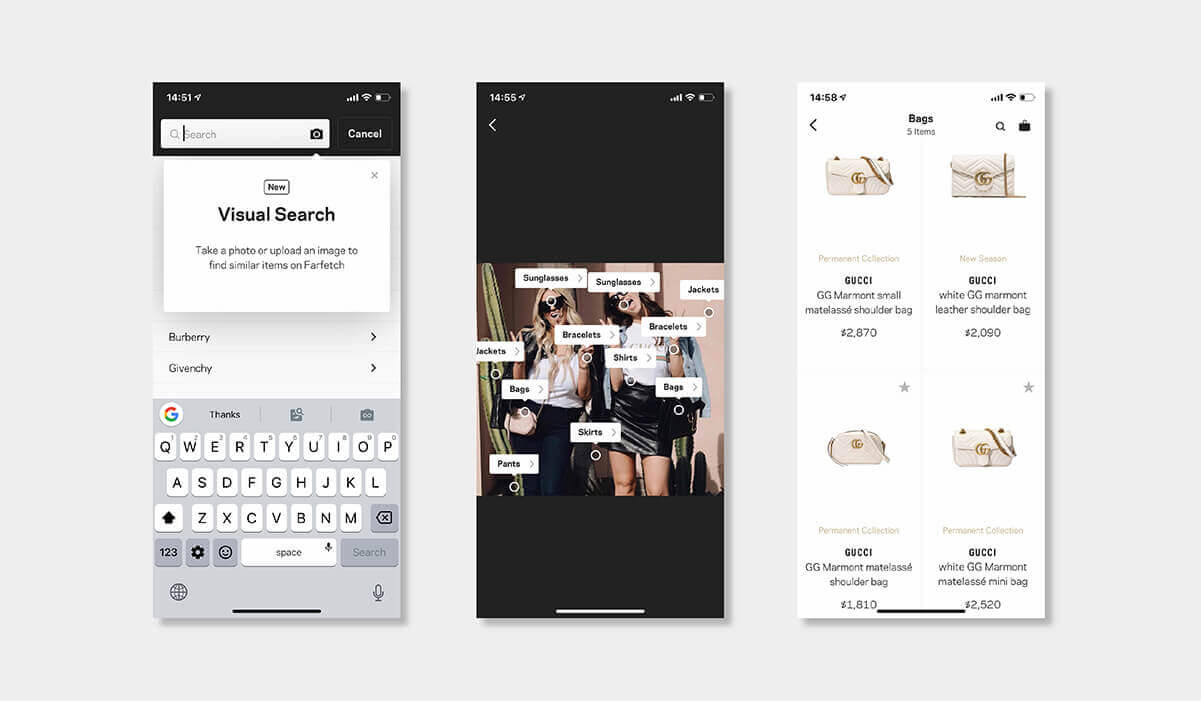 [Farfetch AI clothing search via image, source]
5. AI fashion stylists
As you may know, personalization is key to fashion shoppers' hearts. To make customized recommendations even more relevant to customers, consider investing in AI-powered stylists that analyze information from uploaded images, detect patterns in photos and suggest similar items from your product catalog that meet a customer's preferences.
Thread, the online fashion company, nailed fashion AI outfit personalization in their online virtual stylist. The mission of Thread is to apply Artificial Intelligence to help men to dress well, more comfortably, with efficient accessibility. Thus, this service is targeted at men who value their time and money and prefer using this service than surfing the Internet for relevant products.
After you upload your photographs, measurements, info about your current wardrobe, and budget, an online service assigns you an AI stylist who will suggest clothes for you to buy from partners' catalogs. Currently, the platform is partnering with over 500 brands with different pricing and styles, including high street retailers such as Marks & Spencer and River Island, to luxury clothing brands like Burberry.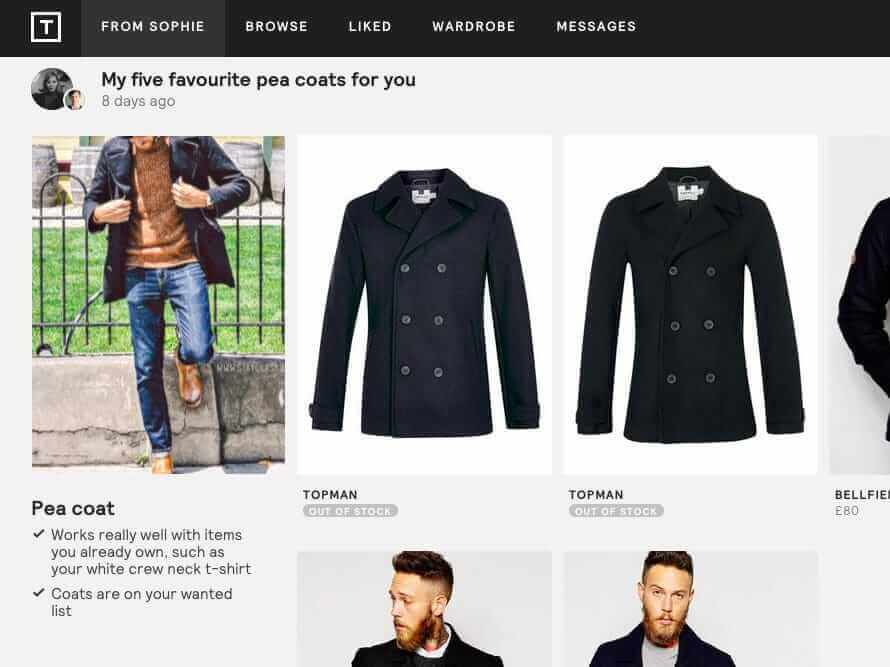 [AI-powered outfit suggestions, source]
Technological future of AI and fashion online retail
The online fashion retail industry is the most competitive yet profitable niche. To stay afloat with your online fashion brand, you need to empower your online store with streamlined in-site search, immediate customer support, and more personalized suggestions. Now that you are aware of AI and ML-powered fashion retail trends, the last thing remaining is to hire developers, experienced in AI and ML algorithms.
What our clients say