Do you have a fitness app on your mobile phone? If yes, we are not surprised. After the fitness boom of the Apple Watch in 2015, more and more people have become more aware of their health and body shape. Because of this, the industry of fitness applications continues to grow. There are many apps aimed at different aspects of our everyday life from eating healthier food to working out.
While there are many competitors, the niche of fitness applications remains prospective.
Do you want to develop a fitness app and get your market share? Then, you are on the right path to success.
But how to start a fitness app?
Below, you will learn how to create a fitness app, different monetization strategies, and fitness app development costs.
Fitness app industry perspectives
Look at some numbers to find out whether or not you should invest in fitness app development in 2019.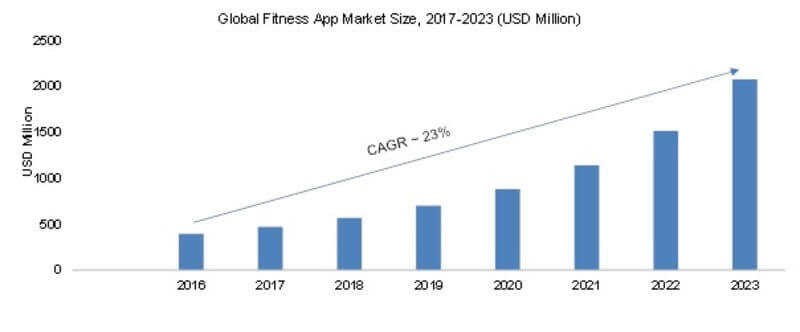 Image source: Marketwatch.
But there is more.
According to a Statista report, the revenue in the Fitness segment amounts to US$16,857m in 2019.
Besides, the revenue is expected to show an annual growth rate (CAGR 2019-2023) of 5.0%, resulting in a market volume of US$20,499m by 2023.
Moreover, the revenue is expected to show an annual growth rate (CAGR 2019-2023) of 7.2%, resulting in a market volume of US$3,072m by 2023.

Image source: Grandviewresearch
To wrap up, the demand for fitness apps is growing from year to year. Thus, a fitness or workout app could be a good idea for a startup.
How to develop your fitness app in 4 easy steps
Step 1. Choose the monetization model
Pick the monetization model among paid apps, in-app purchases, freemium, ads or sponsored content.
Step 2. Consider basic fitness app features
The basic features for a fitness app are User profiles, Notifications, Social sharing, Geolocation.
Step 3. Hire a development team
To make your own fitness app, you need to hire a mobile development team to turn your business idea into a working solution.
Step 4. Workout application development
If you are launching an app for Android and iOS, you will need at least three developers - iOS and Android mobile app developers as well as a backend developer.
Types of fitness apps
To create a fitness app you need to choose its type. Fitness apps provide their users with different features: result tracking, motivation to keep going, socializing, and even education on the topic. It's like having your own affordable personal coach in your pocket.
The performance features divide fit apps into three types of mobile healthcare apps:
Activity tracking apps
Diet and nutrition apps
Workout and exercise apps
Let's look at each of them.
Activity tracking apps
The apps in this category can track a user's physical activity - pretty much everything you've done during the day. Activity tracking apps collect user information about the number of steps taken, stairs climbed, hours slept, distance and speed run, and calories burned.
The app shows the user data on the app screen, and the app is usually capable of building charts, saving routes on the map, and showing the user's progress.
An example:
HealthKit app, that stores and manages the following data:
Body measurements/weight history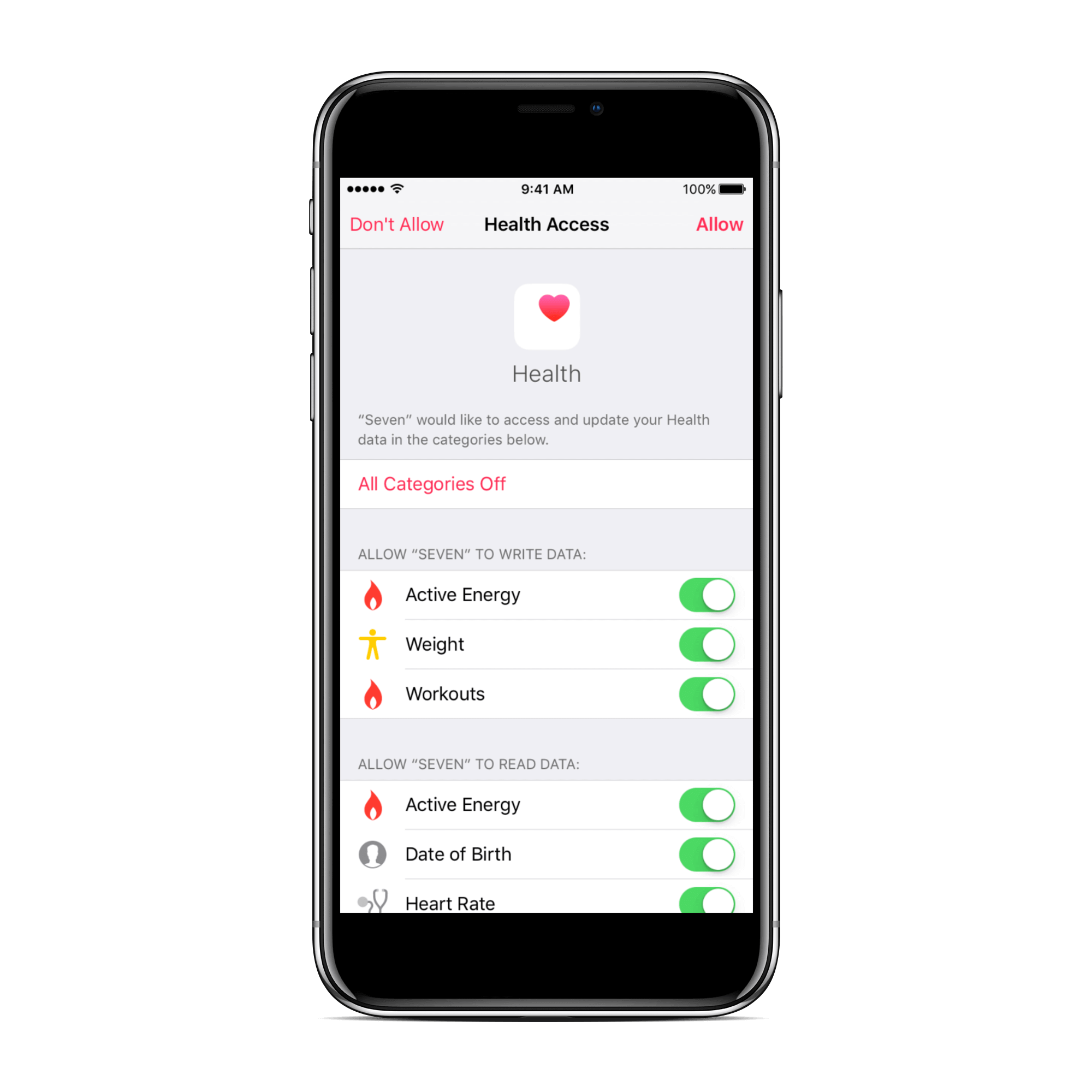 Number of steps/distance traveled
Favorite types of activity/sports
Exercise duration
Read also:
How To Develop a Social Media App?
How To Build a Mobile App With Geolocation
Diet and nutrition apps
Diet and nutrition apps help users monitor their food habits, count the number of calories taken/burned, control water balance, body weight, and so forth.
With a vast range of diet applications, users can set personal goals, create grocery lists, and even collect recipes.
They could also possess some user-engaging features or gamification elements, scoreboards or slimming competition, for example.
Diet and nutrition apps can also be considered as activity tracking apps because they track your nutrition habits. The difference is that they have more specific functionality.
For example:
The MyFitnessPal mobile app and its main features.
Diet Tracker. With the application, users receive access to a massive database of foods and acquire a target number of calories based on their age, sex, and weight.

Image source: MyFitnessPal
Community. Users can share tips and advice, as well as build connections through sharing personal experiences or struggles using build-in MyFitnessPal forum.

[Image source: MyFitnessPal]
Calorie Counter. Each MyFitnessPal member uses an online diary with a calorie counter. The app also automatically saves favorite user food and snacks and makes them easy to find.

[Image source: MyFitnessPal]
On the whole, users install a diet app for the purpose of sticking to a diet, tracking calories, and controlling water and coffee intake.
Your nutrition and diet app should provide users with detailed and comprehensive daily stats. Most importantly, an app should push users towards their goals.
Workout apps
A workout application gives you a personal fitness trainer in your smartphone. You can take it everywhere and exercise with that trainer wherever you want. Sometimes you can even choose a coach by name and level of physical training, as it is done in the Abs Workout app.
Our example is Sworkit. and its features.
Different programs. Users can choose which part of the body they want to work out first. The options include"Full Body," "Upper Body," "Core Strength," "Lower Body," "Anything Goes," and "Custom Workout."
Timer. When doing either strength or the "Yoga, Cardio & More" option, you can choose the length of time to perform movements, starting with five minutes. Then, while working out, you can pause, skip exercises, and turn sound on and off from the workout screen.
Social sharing. When users are done with their training, the app allows them to invite and challenge their friends by posting on Facebook and Twitter.
Wondering how to make a fitness app?
Read our guide below.
How to create a fitness app: the step-by-step guide
If you want to turn your business idea about a fitness app into a reality, follow the steps described below:
1. Choose the monetization model
How to make a fitness app profitable?
Well, there are several ways to receive profit. For your future business, you can choose among:
Paid apps. Before using your app, users should buy it. The price on the app may vary depending on the application type, mobile platform, and the content you offer
In-app purchases. If you want to launch a free fitness app but make it profitable, you can encourage users to buy something in your app. There are many types of in-app purchases you can offer, from premium content to healthy diet recipes.
Freemium. Your users receive basic app features for free but should pay for the premium feature set. Such a business model is also known as a premium subscription model. It means that basic features are free, and advanced fitness plans or personal coaching services are paid.
Ads. You can cooperate with other fitness-oriented businesses and allow them to run advertising campaigns in your own fitness app. You can charge a cost-per-click or a cost-per-mile commission.
Sponsored content. This business model includes partnering with fitness experts and gyms. Your partners can distribute valuable content to the app users and enrich your app with their expertise.
2. Consider basic fitness app features
While each fitness app has a unique feature set, there are some basic features presented in all apps. To create your own fitness app, consider the following fitness app ideas:
User profiles. A personal account is necessary for a fitness app. It provides users with an opportunity to switch between numerous devices and not be afraid that the data might get lost. Also, for tracking personal goals and achievements, a personal account is a useful thing to have.
Nutrition apps are aimed to help users achieve their personal goals, including healthy eating, losing weight, or even gaining weight.
Thus, it's necessary to create a profile with personal data where users can enter and update their physical characteristics such as current weight, height, and age.
Notifications. Push notifications are essential for the fit application. In-app notifications remind users about workouts and motivate them continuously. They can be set in connection with a workout plan or personal goals and notify users about the upcoming exercise.
Push notifications in nutrition and diet apps act as calls to action, encouraging the users to get off the couch and burn some calories to achieve their objectives.
Track physical activity. Connecting your app to a smartphone's sensors to implement the tracking function is made simple using Apple's HealthKit and Google Fit. They both provide APIs to access the health and fitness data collected on their platforms. Google and Apple have created an ecosystem that acts as a hub for consolidating data from any activity tracker and fitness application.
Social sharing. Allow your users to connect, share their results, and they will be happy to tell the world about your app
Geolocation. Seeing how many kilometers you've run, walked, or cycled, by looking at a map, gives you a massive boost of motivation and satisfaction.
Next.
3. Hire a development team
To make your own fitness app, you need to hire a mobile development team to turn your business idea into a working solution. At this stage, consider that the developers from different countries have a different hourly rate.
For example:
Developers from the US and Australia charge in average $110/hour
Western Europe from $80/hour
Eastern Europe from $50/hour
But there is more!
4. Inception phase
Every development project starts with the product discovery phase. During this stage, you and your development team will:
Define the scope of work required for your project
Create the project roadmap
Plan resources and set the MVP budget
The discovery phase takes 4-6 weeks. It includes a functional specification development, the creation of UX/UI design, and a visual prototype of your app to give you a clear vision of the end product.
5. Technical documentation
When making a fitness app's technical documentation, a technical writer is a person who prepares the product's technical specifications based on the client's requirements. It includes use cases, platforms, and all other required information for the fitness app developer to start working out the solutions.
6. Design
Our design team needs around two months (160 hours) to create an outstanding design for the fitness app - both UX as well as UI parts. Again, to create your own workout app design, the cost depends on the requirements - perhaps you only need standard features, but you might also want some custom micro-interactions.
7. Workout application development
If you are launching an app for Android and iOS, you will need at least three developers - iOS and Android mobile app developers as well as a backend developer.
8. Quality Assurance
Testing and bug fixing takes up another chunk of the development time. Besides checking the code for bugs, QA engineers test the overall user experience of the project and whether the features work as they are expected to.
How much does it cost to make a fitness app?
It is quite hard to give an accurate price for developing a fitness tracker app without clear terms of reference. The cost to build a fitness app depends on the app's type and its complexity.
The table below contains a rough estimate of hours for fitness app development.
| | | |
| --- | --- | --- |
| Phases | Estimation in hours | Average rate |
| | 80+ hours | $25/hour |
| | 160+ hours | $25/hour |
| | 960+ hours , | $35+/hour |
| | 240+ hours | $25/hour. |
| | 288+ hours. | $25/hour. |
To receive a precise of your fitness mobile app, use our Project Cost Calculator.

The main thing you have to know about the fitness app cost:
The total cost of fitness app development depends on the time and the number of developers involved in the project.
An average amount of time for developing a fitness app (without the inception phase) starts from 4 months.
However, project timing depends on numerous factors, including the platforms targeted (iOS and Android), the app's features, and the type of app.
Takeaway
Fitness application development can be quite a challenging task. But now that you know how to build a fitness app, we hope it will be easier for you to estimate the cost of your idea.
A few things to summarize:
Your solution should have the best fitness app features such as personal account, setting goals, actual activity tracking, and social elements.
The app can offer a custom workout plans creation feature.
It's an excellent idea to collaborate with as many wearable producers as possible (and cost-efficient)
People love competing or comparing themselves to others - give them this opportunity.
When building a fitness app, consider gamification features so that people are motivated to use your app and share it with their friends. (Think of all the kinds of challenges and badges RunKeeper or Nike+ has.)
Finally, to build your own fitness app, we recommend starting such an ambitious project as a fitness app by creating a fitness app MVP (Minimum Viable Product). This approach helps you to save money and test out the idea without spending vast resources and efforts.
What our clients say
Check out our related articles:
HOW TO CREATE A MOBILE TRAVEL APP?
HOW TO DEVELOP AN APP LIKE YELP?