A real fitness boom exploded in 2014. Sport and health care became the new religion.
Mobile development industry couldn't stay out of this and another boom was triggered: the flourishing of fitness app development.
The chart below shows significant changes in the mobile market landscape.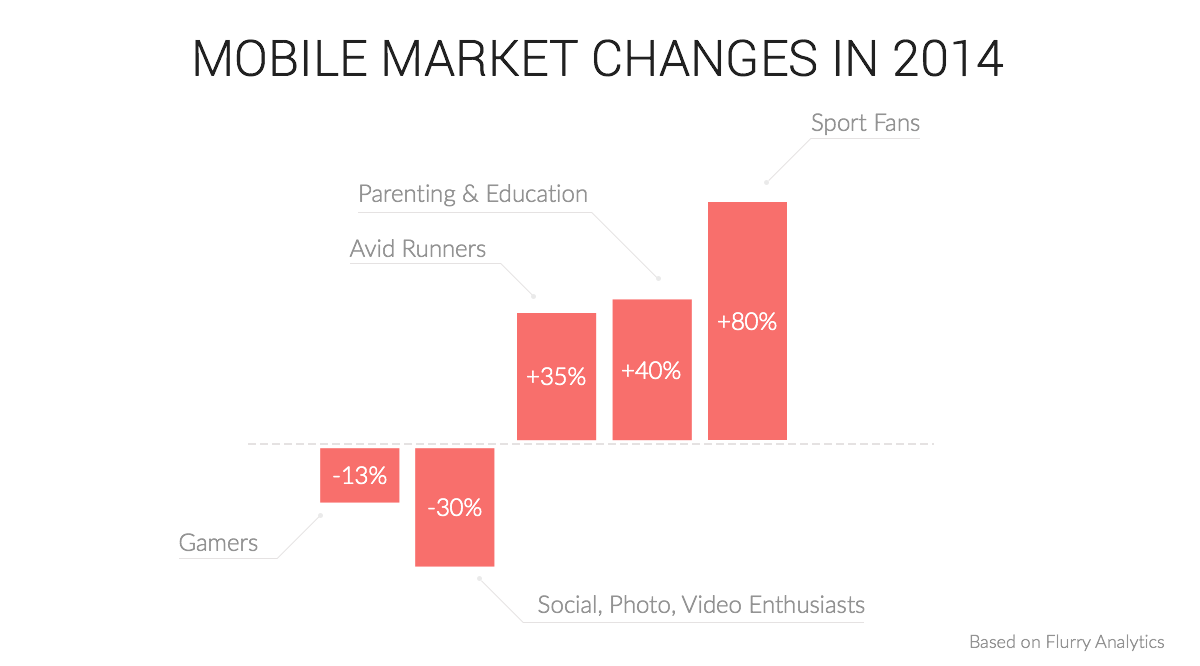 According to Stephanie Tilenius of Kleiner Perkins Caufield & Byers, by 2017, 30% of US consumers will be wearing a device to monitor food, exercise, heart rate and other critical signs.
It goes without saying that sports trend continues to skyrocket.
How to make a fitness app?
The Nilson report shows the global health and fitness mobile app market was worth about $4 billion in 2014, and it's going to increase up to $26 billion by 2017.
Demand is growing from year to year, thus fitness app could be a nice idea for a startup.
Fitness is a pretty hot topic right now and if you have a good idea, you need fitness app developers for hire.
But it's hard to start when you are not deeply involved in the issue.
We go through essential aspects to help you get fitness app development straight:
- types of fitness apps
- features that should be included in a fitness app
- fitness app development cost
- how to hire fitness app developers
Types of fitness apps
Fitness apps provide their users with different features: results tracking, motivation not to stop, socializing and even education on the topic. It's like to have a personal coach in a pocket affordable for everybody. Sounds groovy, isn't it?
But before going ahead, it's necessary to define the direction.
By performance features, the fit apps can be divided into types. To put it bluntly, there are three types of the healthcare mobile apps:
activity tracking apps
diet and nutrition apps
workout or exercise apps
Let's have a closer look at each of them.
Activity tracking apps
The apps included in this category can track user's physical activity, in other words, almost everything you have done during the day.
Activity tracking apps give users an information about steps taken, stairs climbed, hours slept, distance and speed run and calories burned.
User data is displayed on the app screen. The app is capable to build charts, save the routes on the map, showing user's progress.
To make the long story short, we've made the list of basic functions that the good activity tracking app should possess:
A personal account is absolutely obligatory in a fitness app. It provides the capability for users to switch between numerous devices and not be afraid that all the data will be lost.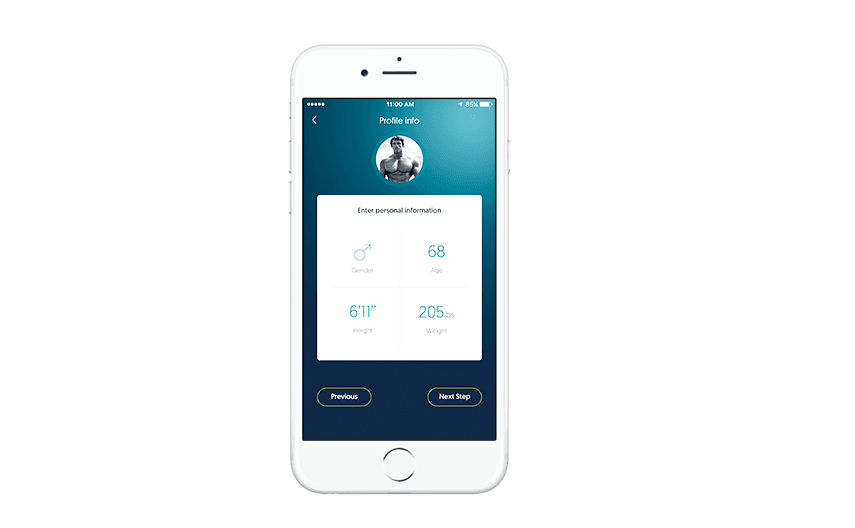 There is no need to connect your app to a smartphone's sensors in order to implement tracking function. HealthKit and Google Fit both provide APIs to access health and fitness data collected on their platforms. Google and Apple created an ecosystem, which acts as a hub for consolidating data from any activity tracker and fitness application.
Both HealthKit and Google fit store and manage the following information:
- Body measurements/weight history
- Number of steps/distance travelled
- Calories burnt
- Favorite types of activity/sports
- Duration of exercise
- Heartbeat rate
To make a successful tracking app, you should definitely take the social share feature into account. Users love to share their results with friends, it helps them keep high motivation and encourages for new achievements.
Read also: How To Develop a Social Media App?
Also, it would be a good idea to integrate a user playlist into an app, as RunKeeper has done, for instance.
Seeing how many kilometers you've run, walked or cycled by looking at the map gives you a huge boost and satisfaction. So, don't disappoint your users, and show them their achievements at the map.
See also: How To Build a Mobile App With Geolocation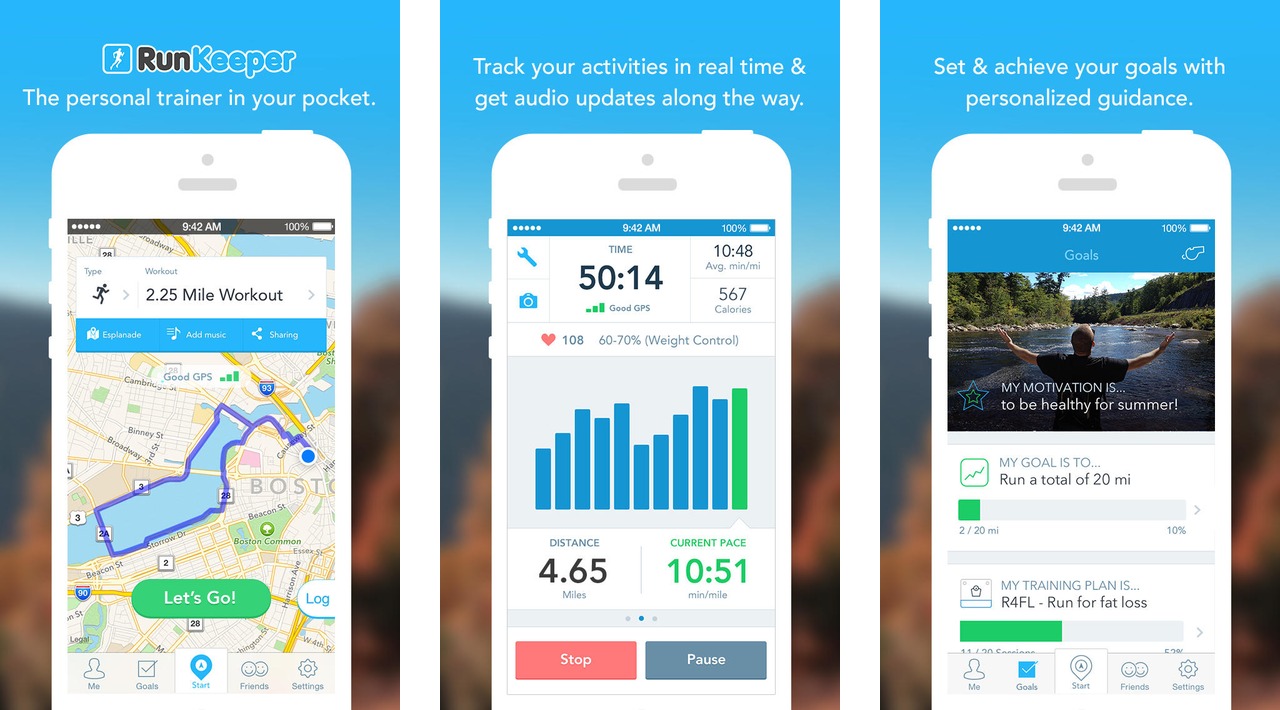 Integration of wearable devices data
In fact, tracking apps boom was partly caused by the growing popularity of different wearable devices: Fitbit, Garmin, Nike+, Apple watch, etc.
To make a successful tracking app and extend its capabilities, you should definitely provide app's compatibility with as many wearable devices as possible.
Even dominating brands on the health and fitness market make their apps capable of handling data from competing activity trackers.
To detect and monitor pulse, blood pressure, and other physiological parameters that are impossible to get from a smartphone you need to enable data flow from a fitness tracking device by Bluetooth connection.
Нere are some useful tools that help developers create a fitness app with wearables integration:
Jawbone UP
This open source platform gives you a set of APIs and SDKs to develop a fitness application, as well as to connect hardware products to the platform.
Garmin
The platform offers tools to build an app for Garmin wearable devices.
The Fitbit API
It allows any fitness app development company to interact with Fitbit data in its' own apps.
Push notifications are essential for fit application. In-app notifications remind users about workouts and motivate them continuously. They can be set in connection with a workout plan or personal goals and notify users about the upcoming workout.
Diet and nutrition apps
Diet and nutrition apps help users monitor their food habits, count a number of calories taken/burned, control water balance, body weight, and so forth.
With a vast range of diet applications users can set personal goals, create grocery lists, and even collect recipes.
They could also possess some user-engaging features or gamification elements, scoreboards or slimming competition, for instance.
Diet and nutrition apps can be also considered as activity tracking apps because they track your nutrition habits. But they have more of a specific functionality.
On the whole, users install diet app in purpose to stick to the diet, track calories and control water and coffee intake.
To be completely successful your nutrition and diet app should provide users with detailed and comprehensive daily stats.
And most importantly, an app should push users towards their goals.
Check out the list of basic functions that should be included in diet and nutrition apps:
Creating an account with personal data
Nutrition apps are aimed to help users achieve their personal goals. That can be healthy eating, losing weight, or even gaining weight.
Thus, it's important to create a profile with personal data, where users can enter their physical characteristics such as current weight, height, and age.
This simple function helps monitor the progress.
This function here pursues the same goals as one in activity tracking apps.
Notifications are going to send users calls to action, encouraging them to get off the couch and burn some calories when they have missed their goal.
Read also: How to Build a Bulletproof Push Notification Strategy
Allow your users connect with each other, share their results and they will be happy to tell the world about your app.
You can make the process of entering data easier for a user by building a database with a dictionary in your app. This allows users to quickly add items to their list.
It is a useful feature which allows logging food purchases due to barcode scanning.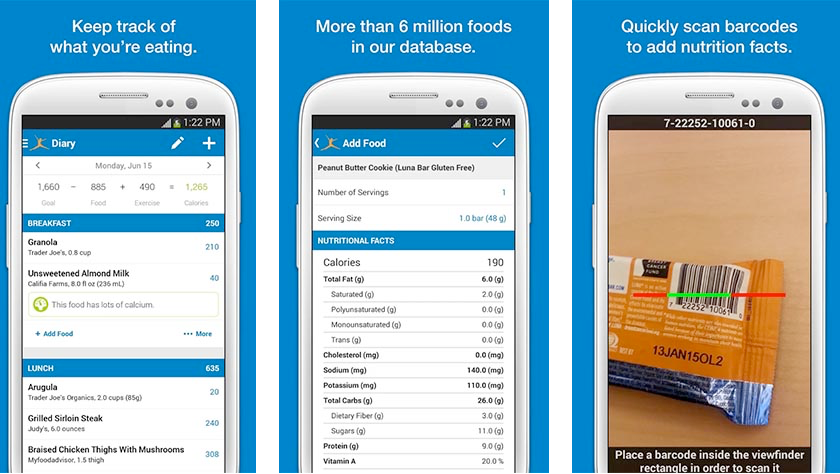 The user wants to count how much calories he takes or how much water he drinks per day. You can implement this feature as an ordinary logbook with a colorful visualization.
Workout or exercise apps
The list of applications in this category is really huge on both the Android and iOS sides. 7 Minute Workout, SworKit Personal Trainer, Jawbone UP, Abs Workout and many other.
Workout applications provide a user with a set of exercises and demonstrate how they should be performed.
Workout application gives you a personal fitness trainer in your smartphone. You can take him everywhere and exercise with him in any place. Sometimes you can even choose a coach by name and level of physical training, as it is done in Abs Workout app.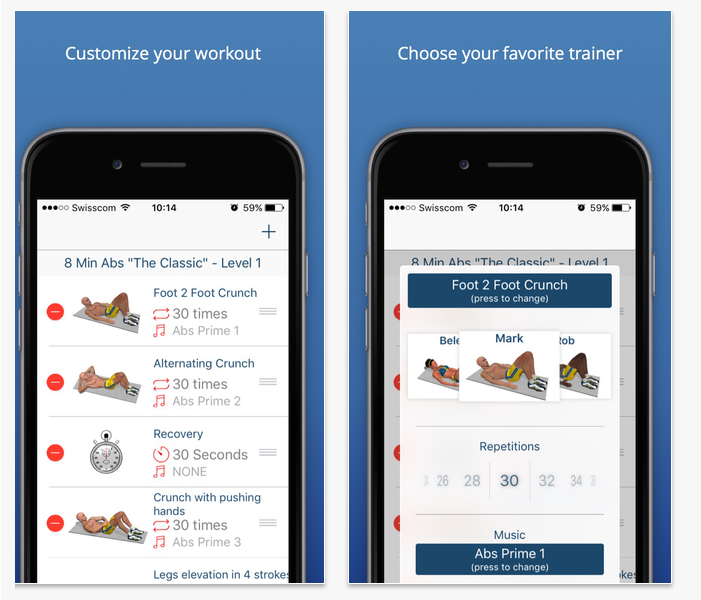 Here are basic features for workout apps:
Creating an account
Push notifications
Setting targets
Let users make a workout plan and set goals, they should constantly move forward and develop.
This may depend on the type of an app.
Normally, a workout consists of the warming up, set of active exercises, and cooling down parts.
Set of the exercises can be performed in different formats: text, illustrations, 3D models, and video. Modern workout apps tend to use a combination of text and video to deliver a better result.
How much does it cost to develop a fitness app
It is quite hard to tell the accurate price for fitness app development without clear terms of references. The cost to build a fitness app depends on app's type and its complexity.
So, we can talk about rough estimation in this article.
The total cost to make the fitness app depends on time and number of developers involved in the project.
An average amount of time of developing can vary from 2 to 3 months.
But this time depends on numerous factors: the platform targeted (iOS, Android), app's functions and type.
Here are common tasks in the development process and time needed to complete them:
Technical writer is a person who prepares the product's technical specifications based on client's requirements.
To write technical documentation for fit app takes about 40 hours.
According to our rates, it costs $25+ per hour.
Our design team needs 40-60 hours to create an outstanding design for the fit app, both UX and UI parts.
The hourly rate of UI/UX designer is $25+
At the App Solutions, we recommend hiring two developers per platform (iOS, Android).
It takes in average 330-350 hours for one platform (the working time of two developers). The cost can be estimated according to the following rates:
- Android developer – $35+ per hour
- iOS developer – $35+ per hour
We provide our clients with a personal project manager who will care about delivering all project requirements to the development team.
Our project manager coordinates the work of the in-house team on your demands.
To support such project takes 50-60 hours of work with hourly rate $25+
The process of app testing takes up to 90 hours. The rate is $25+ per hour.
Normally it takes from 40 to 50 hours to fix bugs. The hourly rate is $25+
Takeaway
To sum up, we can say that creating the fitness app can appear quite a challenging task.
Your app should possess a number of basic features to offer users seamless performance.
The app should offer a capability to create custom workout plans and shouldn't distract users from exercises at the same time.
You need to collaborate with as many wearable producers as possible.
And don't forget about gamification and socialization. People are fond of competing and sharing their results.
Also, we recommend starting such ambitious project as fitness app with creating MVP (Minimum viable product). This approach helps you save money and test the idea without spending vast resources and efforts.