The industry of mHealth is up and running and there are over 44,000 healthcare apps in the App Store alone. There are numerous mobile apps for different purposes, including data analytics, appointment booking, telemedicine, and even meditation.
With such diversity, you can use your device, not only for tracking the number of calories burned, but also receive consultation from a medical specialist or predict various medical conditions.
If you are looking for a healthcare app idea for further healthcare application development, you are in the right place. Below we list the most prominent healthcare apps for doctors and patients with examples and explain how to make mHealth app compatible with essential regulations across the globe.
But first, let's take a quick look at the mHealth mobile app market.
mHealth market overview and trends in 2019
Healthcare mobile apps revolutionize the way patients receive medical treatment and monitor their medical conditions.
Statistics shows that there are currently over 325, 000 health-related mobile apps now presented on app marketplaces.
Statista reports, in 2020, the healthcare mobile app market is expected to reach 60 billion U.S. dollars.
60% of mobile device users downloaded a mHealth app to their device.
As for healthcare mobile app trends, mobile fitness apps are more popular among Android users (39% of download), while iOS users prefer using health-oriented mobile apps (62% of downloads).
At the same time, mobile healthcare apps increased productivity among medical staff and clinicians, and are expected to save over $200 billion on remote patient monitoring.

Now that you are aware of the main mHealth app market trends and stats, let's find out more about the healthcare app development process so you will know how to build an app for healthcare.
Steps of healthcare mobile app development services
Step 1. Choose your technological partner among healthcare software development companies
When choosing the best healthcare dev company, consider previous projects, client reviews, and the company's tech expertise.
Step 2. Ask developers for a quote to create a healthcare app
Fill in the contact form to schedule a meeting with a business development manager to clarify more details of your project.
Step 3. Receive a rough estimate on medical app development
Based on the project's details, a business analyst, project manager, and solutions architect will create a rough estimation for your project and send it to you.
Step 4. Launch the inception phase with a team of medical app developers
When you agree on the initial estimation, healthcare app developers will clarify more details on your project to create user stories, mockups, and wireframes.
Step 5. Start the healthcare software development process
When you agree on all deliverables of the inception phase, the team will start building the app iteration by iteration.
Types of mobile health apps
There are different types of apps for health aimed at various end-users, including medical professionals, labs, and patients, which impact their features, some integrations, and the degree of data security required.
Professional healthcare app
Targeted at medical personnel, such apps include patient data, such as name, date of birth, insurance number, address, and so on. Thus, when launching a professional healthcare development process, you need to make a medical personal mobile app HIPPA compliant and pay extra attention to private data encryption to avoid data breaches. mHealth apps for medical specialists include the following types:
Clinical communication apps
Such applications are developed to improve clinical decision-making and communication with clinical specialists in a particular hospital. They include messaging and voice chat, file sharing, and electronic health record systems.
One example of such an app is Halo, communication, and collaboration platform for clinical specialists, which includes the following features:
Send physicians and nurses Lab and PACS results
Integrate with EHR (electronic health records) to edit patient records in real-time
Store files on cloud-based platform, Amazon Web Services, to increase security and reduce costs on health systems maintenance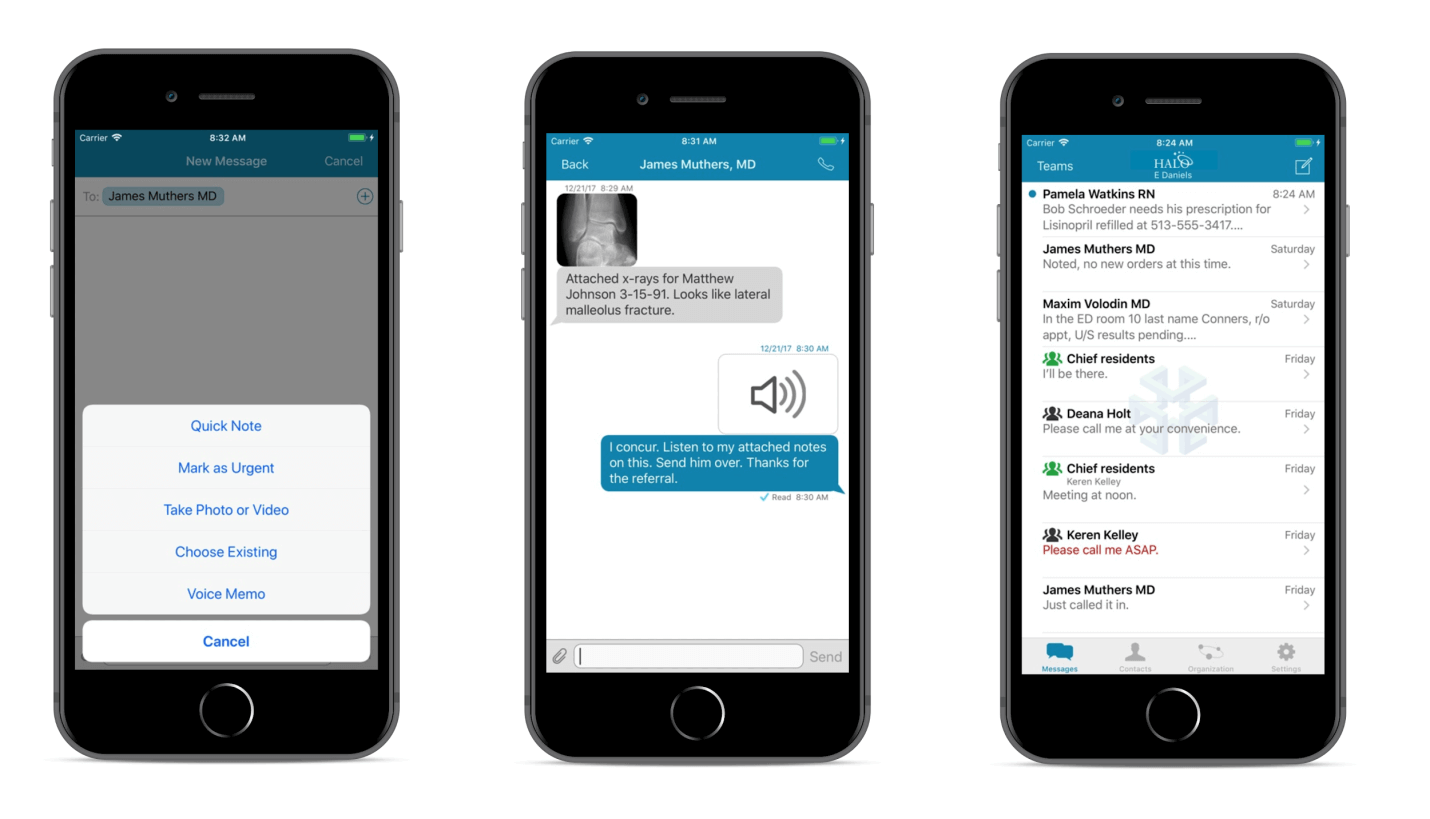 Patient communication apps
This type of app boosts customer satisfaction, loyalty, health outcomes, and provides more transparency between patients and doctors. When developing a patient communication app, consider not only EHR integration and messaging features, but also a patient portal and hospital bracelet scanner to access patient health records seamlessly.
That is how the EASE mobile app works, offering users the following features:
Invite relatives to the network within the app to keep them informed about updates
Include HIPAA compliant texts, photos, and videos that will self-destruct after 60 seconds
Leave a physician review at the doctor's profile page for social proof and hospital brand awareness
Pay donations to donors via build-in payment gateway
Send premade bulk messages to patients and their families to keep them informed
Prohibit saving files, texts or other documents from the app to the device to ensure patient privacy and avoid data breaches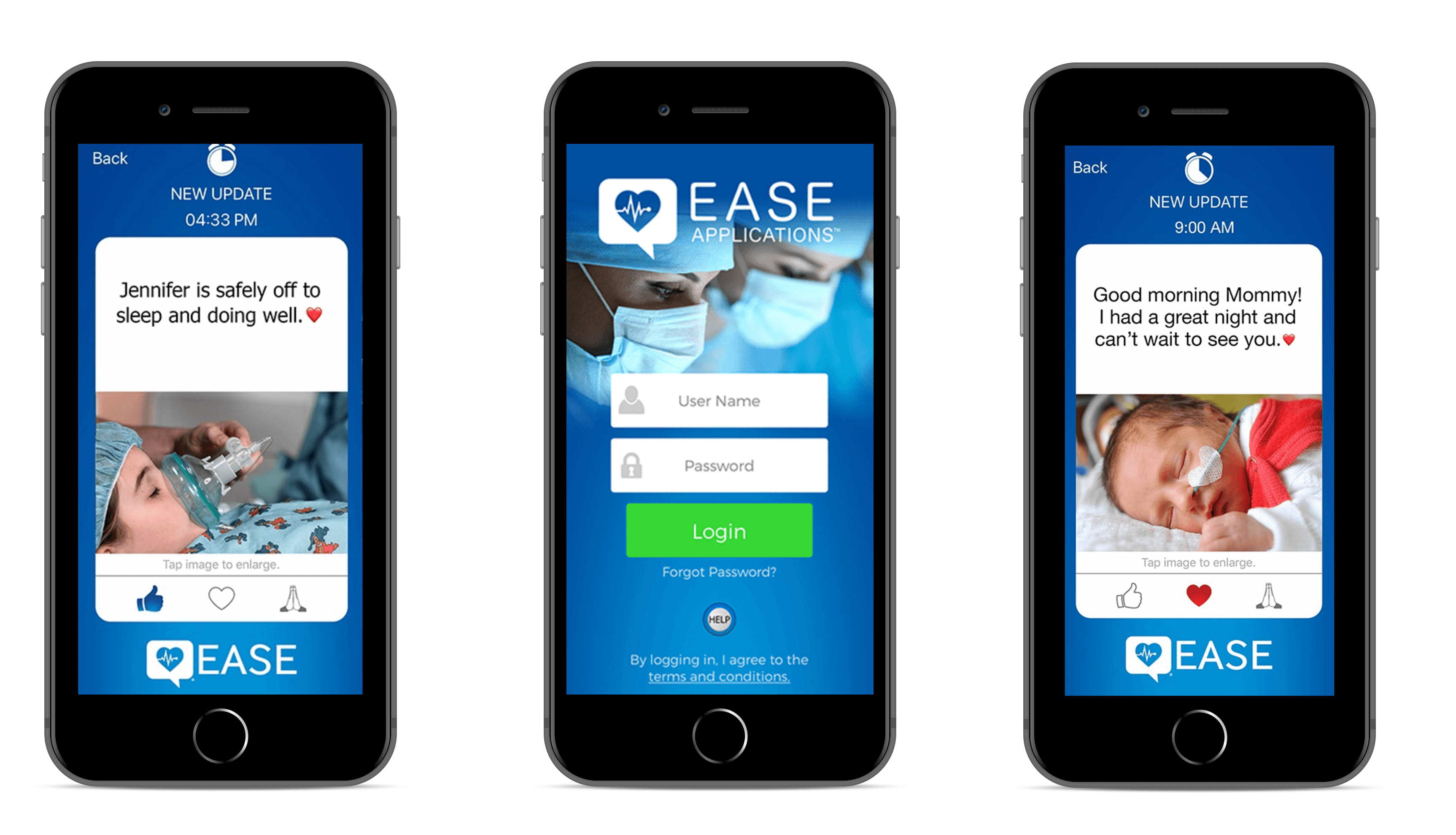 Medical record apps
Targeted at medical professionals, such apps are a combination of EHR, EMR health record, anamnesis, patient history, and clinic management app. Such apps simplify updating patient records, including blood pressure, medical visits, examinations, prescriptions, and other information to keep track of a patient's progress.
Medical Records is an app that belongs to this mHealth app category. In addition to the features above, the app also includes:
GPS navigation via Google maps to the patient's location
Prescription module allowing doctors to save medical info
Appointment feature to schedule an appointment with patients
Recording videos or procedures instead of text messages
Exporting health reports to Excel, PDF, and Word formats
Searching patients by I.D.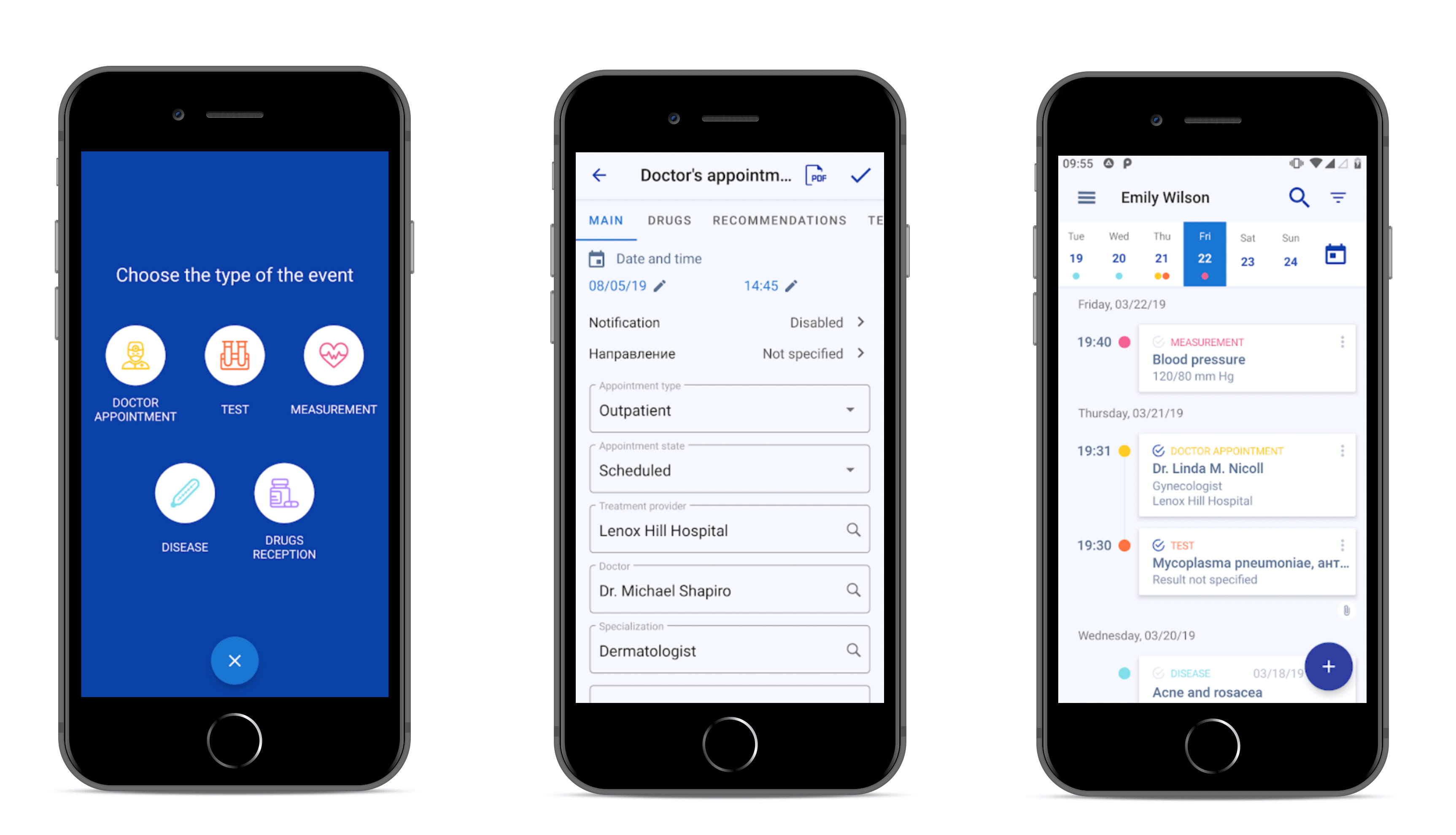 Risk assessment apps
Medical personal use such applications to track the critical condition of patients and provide urgent medical care if needed. Such apps are integrated with Electronic Health Records (EHR) and wearable devices, which allows monitoring patients' health conditions in real-time, tracking heart rate, and identifying patients at risk. Risk assessment apps save clinicians time by sending auto-generated reports and other assessment records to the admin office. Moreover, to decrease operating costs, risk assessment solutions store all the patient-related data on the HIPPA-compliant cloud servers. To build a risk assessment mobile app, developers often use machine learning for pattern recognition, as we did for our recent project, a skin cancer detection neural network.
An example of such apps is FHR 5-Tier(Forecast Health Risk and Predication), aimed at obstetricians, midwives, and nurses who use electronic fetal monitoring (EFM) for patients in labor. Let's look at its features:
The app allows interpreting fetal heart rate (FHR) tracings to decide about further patient treatment in real-time
The five-color (green, blue, yellow, orange, and red) system is used in the app to allow medical specialists to standardize the management of different fetal heart rate tracings.
When the app finds a risk to a patient's health, it uses colors Yellow, Orange, or Red to notify the doctor about the patient's state of urgency and provide a list with recommended actions.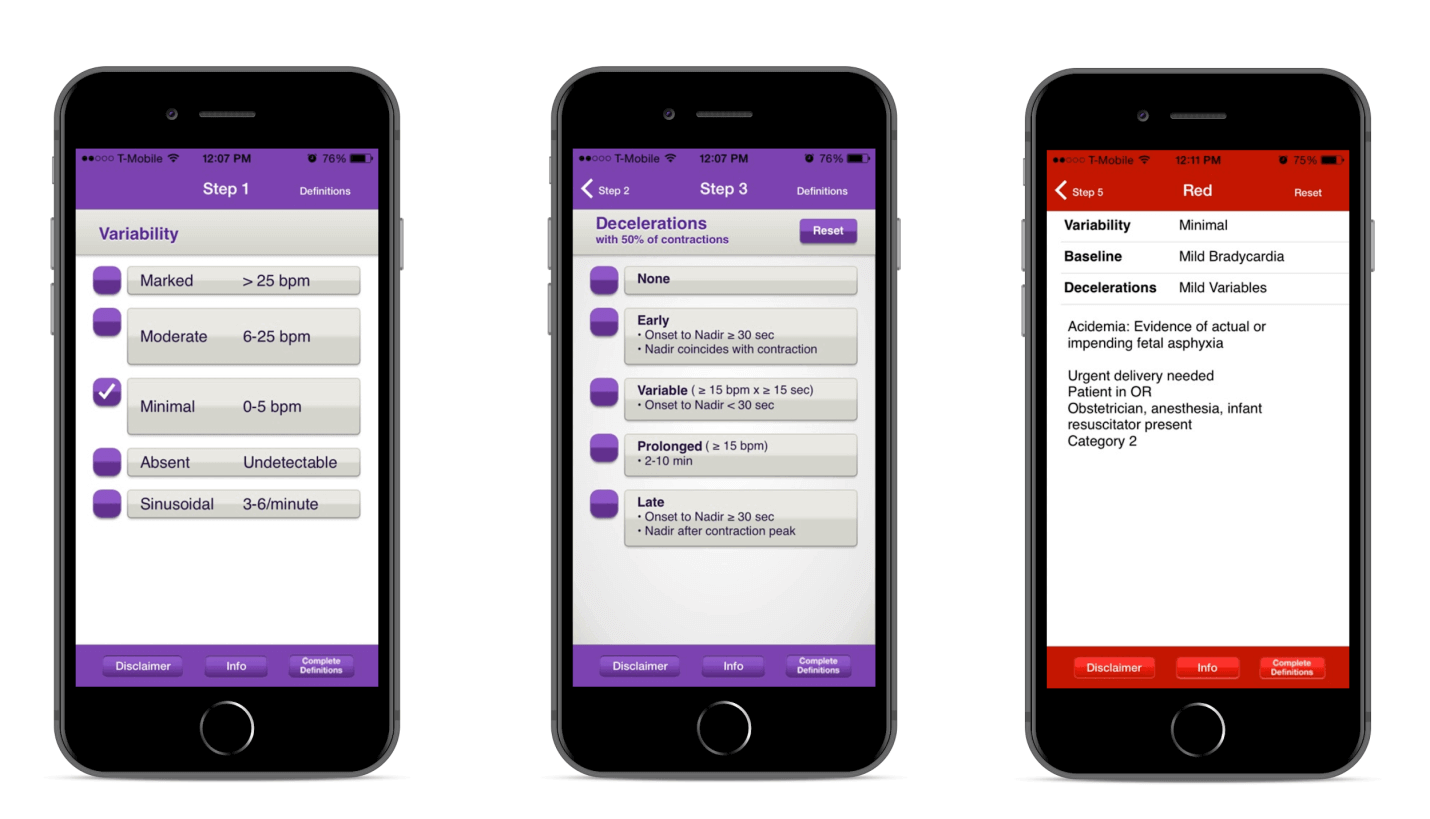 Barcode Scanning apps
The application of barcode scanning mobile apps in healthcare, allow medical professionals to scan a patient's electronic health records and medication barcodes using a built-in camera in their mobile devices, avoiding expensive barcode scanning devices. In this way, barcode scanning mobile apps in healthcare allow tracking of medication supply, improving productivity, facilitating barcoded medication administration, and provide error-proof critical processes.
Epic Rover is one healthcare app that belongs to this category, empowered by Scandid Barcode scanner SDK. Apart from scanning a patient's medications barcodes, develop a healthcare mobile app with the following features:
Integration with Epic electronic health records for better admission of medicines and treatment
Visualization of patient-related info and progress in the form of charts
Build-in messenger to communicate with patients and other medical personnel
And other functions to make the doctors' work even more efficient.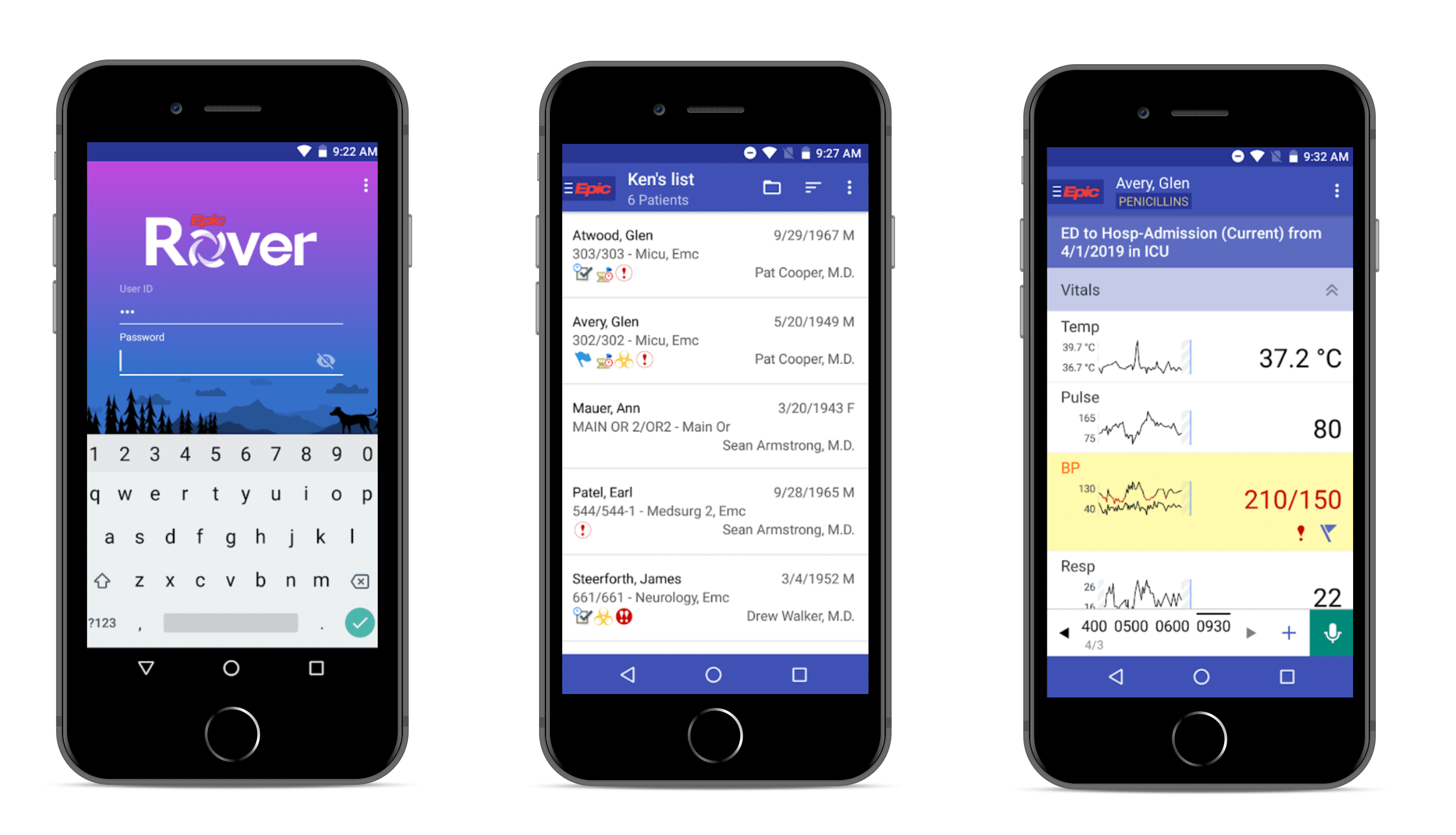 Medication dosage apps
Such applications are used by physicians to calculate individualized doses of medicine based on the patient's age, weight, and other personal info, avoiding laborious manual calculations, spreadsheets, and sophisticated tools. In this way, medical professionals increase their productivity, and patients receive more personalized treatment, which also ensures a positive outcome.
One example is the DoseMeRx app for medical professionals. Let's find out more about its features:
Integration with EHR, where the doctor can leave notes on the patient's state, medications and dosage assigned
Set up reminders so that patients can track their medication intake
Build-in feature to predict treatment outcomes
Integrated dose optimization feature that leverages Bayesian dosing methods to guide dose optimization, based on clinically validated pharmacokinetic drug models, patient characteristics, drug concentrations and genotype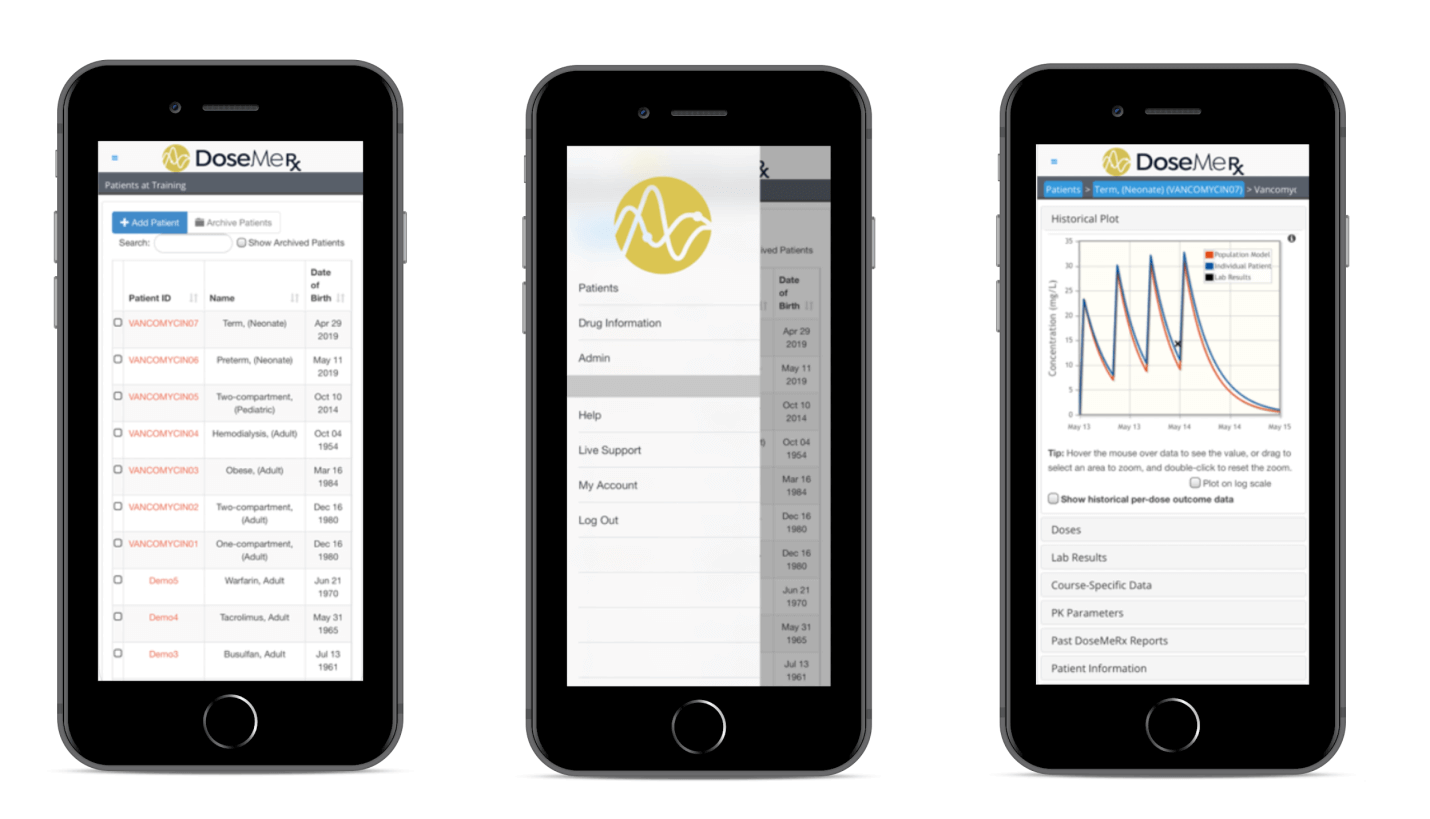 In a nutshell, mobile apps improve the performance of medical professionals at each step of interaction with patients, avoiding human errors, and increasing the effectiveness of medication treatment. Now, let's see which mHealth applications are available for patients.
READ ALSO: Hospital Mobile App Development
Healthcare mobile apps for patients
The patient-oriented mobile app market includes two main categories: medical and wellness. Below, we highlight every type of app from both of these groups, their examples, and essential features.
Doctor-on-demand or Telemedicine apps
Even in a busy environment, patients can receive treatment and consultations from medical specialists using telemedicine apps, without leaving their offices or homes. Such mobile applications help patients to find a necessary medical specialist from a pool of doctors, book an appointment, and attend it via video call, and pay for the consultation via an integrated payment gateway.
One typical doctor-on-demand mobile app is Evisit that includes other features:
Push notifications to remind both doctors and patients about the scheduled appointment
Virtual waiting room with waiting time tracking where patients can prepare the information required
Two-way video connection so patients can see the doctors they communicate with
Built-in messaging, EHR, search for medication, prescriptions, and other features to deliver patients the medical experience of attending an offline appointment with a doctor.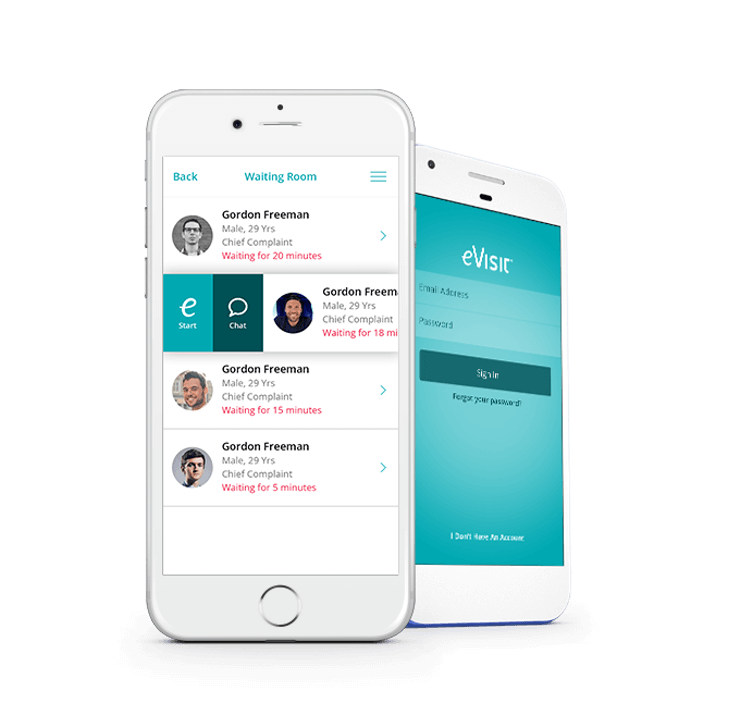 [Source: Softwareadvice]
Condition-based apps
Such apps are aimed at tracking specific health conditions. They are popular among users with epilepsy, diabetes, cardiovascular disease, asthma, allergies, and even depression. While some apps in this category are more sophisticated versions of a digital diary with visual medication management, others use predictive analytics and machine learning to notify a user about a particular health condition one should be aware of.
Founded by Munroe-Meyer Institute, Seizure Tracker is a perfect example of such apps that allow users with Epilepsia to log their seizures, and includes a bunch of other features:
Video recording, so patients can describe their seizures, their triggers and what happened afterward
Manual input of seizure info, so the user can specify their seizure type, time of day, length of seizure and other related information
Option to synchronize user profile with private Youtube channel to record info about seizures and share it with relatives
Build-in library to store all videos or notes about seizures
Auto-created reports where users can see the number of seizures they have experienced recently, or during a particular period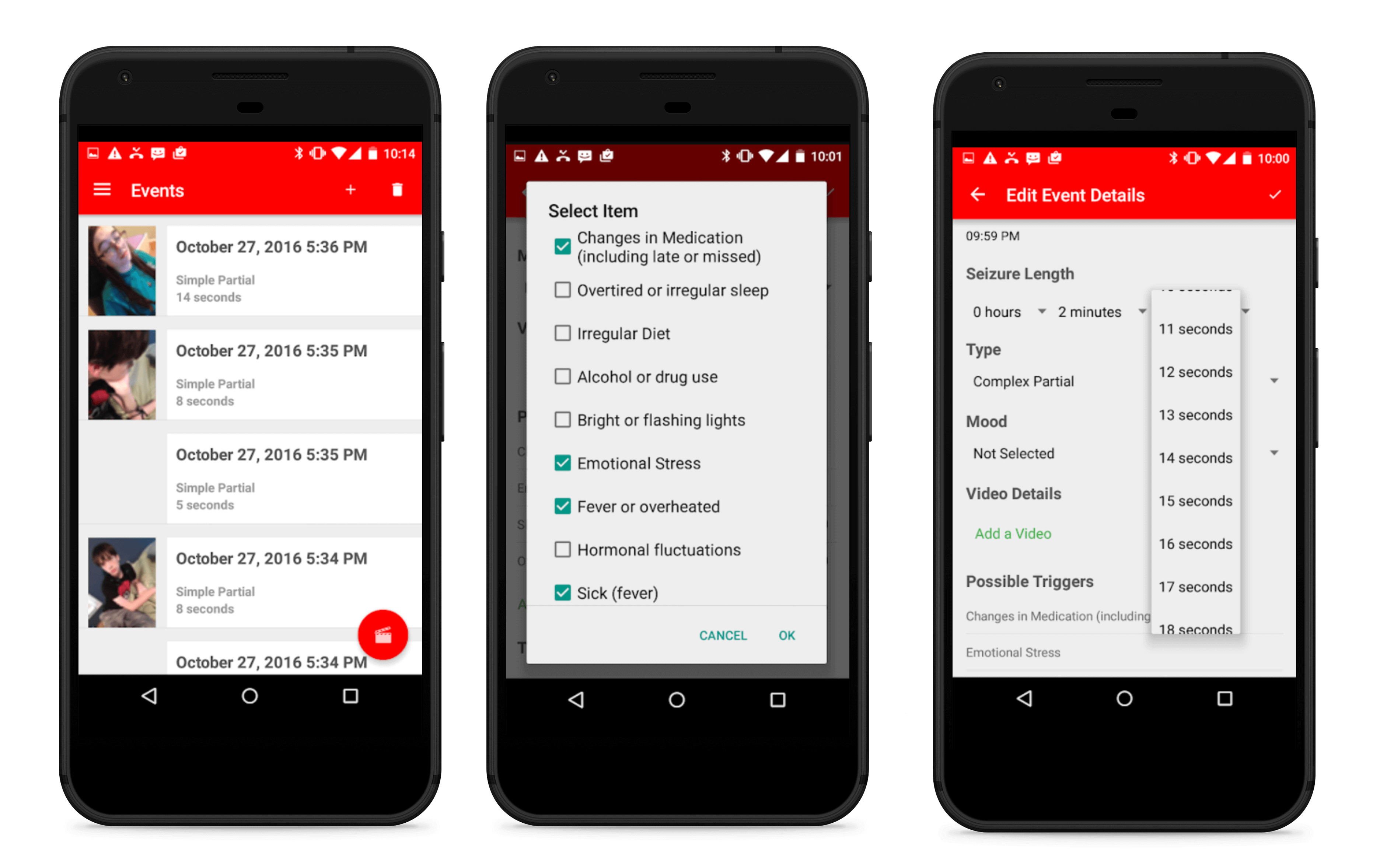 Fitness apps
Such apps help users keep fit by tracking their daily activity, weight, number of calories burned, list with workout programs, and integration with wearable devices. In our previous article devoted to fitness app development, we described other features of such apps and gave you a guide on how to develop one.
MyFitnessPal is the most popular fitness mobile app, which includes:
Diet tracking with recommendations on calorie consumption based on the user's age, weight, sex
User community where other users share their success stories about losing weight
Calorie counter to control the amount of food, water and coffee consumed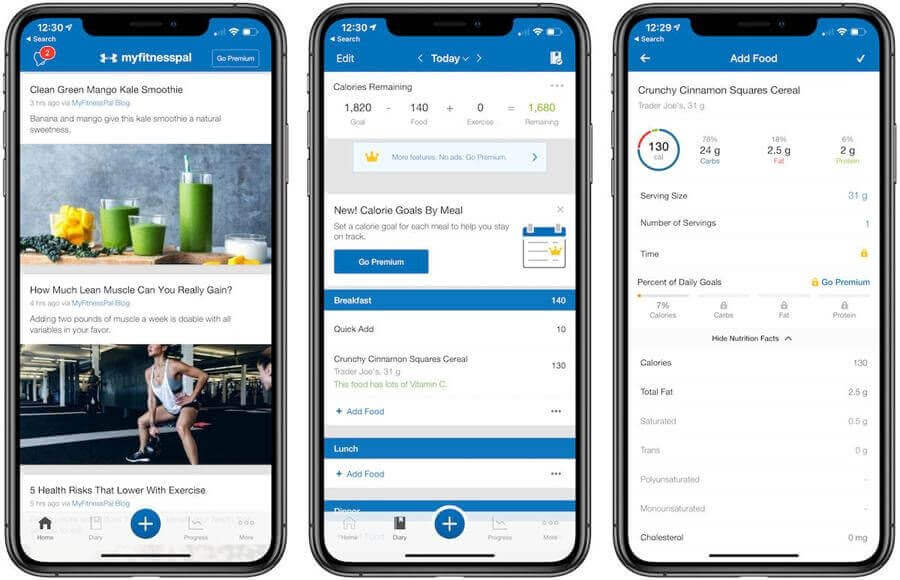 [Source: Fusioninformatics]
Diet and nutrition apps
Diet and nutrition apps are another popular category in the mHealth market, targeted at users who want to lose weight. The standard set of a diet app includes a comprehensive library with food and nutrition, calorie counter, diary with meals, and progress chart.
Lose It! app belongs to this mobile app category and provides users with the following features:
Barcode scanner to receive information about product nutrients within seconds, and track intake of carb, macro, and calorie
Snap It allows users to log images of food taken on a mobile device
Gamification that helps users set challenges and motivate them to lose weight
Meal planning to customize the user's eating and track macro, carb, protein and overall calorie intake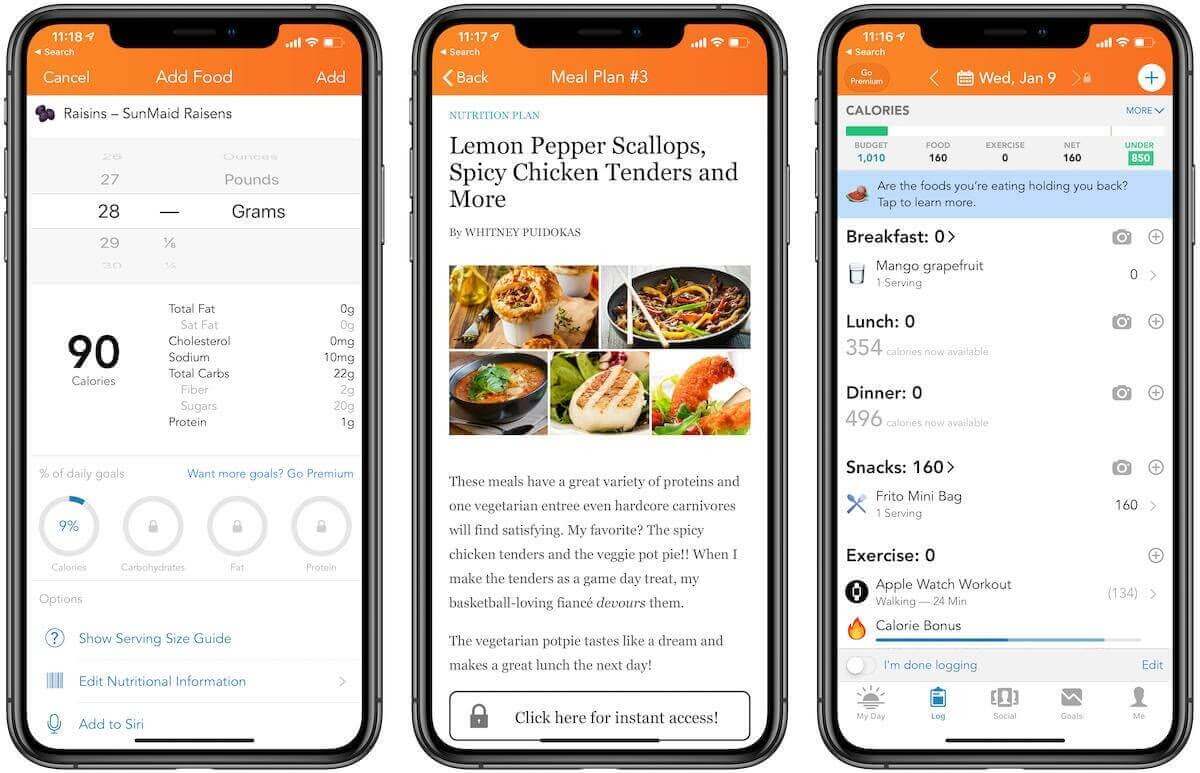 [Source: Macworld]
Meditation apps
Meditation mobile apps also belong to the mHealth market since they help users to maintain their mental health with the help of guided meditations. As a rule, such apps include a library with pre-recorded sessions of guided meditations, timer, gamification, and useful tips about breathing exercises.
Calm is the best-known meditation mobile app, valued at $1 billion. The app's main goal is to help users reduce stress and improve sleep. To achieve these goals, they use not only ancient methods of relaxation, but also a scientific approach based on ongoing studies conducted by scientists from Arizona State University, Ryerson University in Toronto, Massachusetts General Hospital, and others.
The main features of the Calm app are:
Guided meditations for different purposes (relationships, breaking habits, happiness, etc. )
Mediations of different lengths for users with varying levels
A library with podcasts, sleeping stories, relaxing music, breathing programs and masterclasses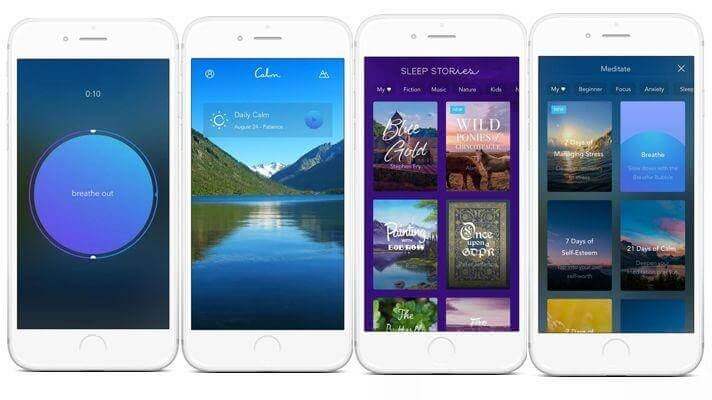 [Source: Trendhunter]
Regulations to consider before starting healthcare app development
If you want to build a mobile medication app, the first thing to consider are security regulations and compliances across different countries that are mainly concerned with patient data safety. Otherwise, if your app does not meet these regulations, no matter how good your app is, it will be deleted from app marketplaces.
The good thing is that, if you want to build a weight loss, calorie counter or meditation app, you do not need to make it compliant. For other mobile applications that deal with a patient's health records, and other sensitive personal data, you need to consider the following regulations in order to keep user data safe from breaches:
The USA
The law requires mobile app developers to ensure, not only application security from any third parties, but also sensitive patient data stored on the device or during data transmission
This regulation requires any health status information, including the provision of health care, or payment for health care, health plans, and other information that can be linked to a specific individual, to be secured and protected from third parties.
This act contains expanded privacy and security provisions that were included under HIPAA, also holding their business associates and service providers responsible for disclosing breaches. The bill is aimed at addressing the privacy and security concerns associated with the electronic transmission of health information.
The European Union
To launch your mHealth app on the European market, you should provide users with the ability to protect and control their private information concerning the processing of personal data.
This directive protects the rights and freedoms of persons concerning the processing of personal data and the movement of free data.
The United Kingdom
The Data Protection Act (DPA) is a United Kingdom Act of Parliament, which controls how organizations, businesses, or the government, use personal information. It protects people and lays down rules about how data about people can be used.
Canada
The act governs how private-sector organizations collect, use, and disclose personal information in the course of commercial business. At the same time, it states that people should have access to their data held by any organization or business, with the right to challenge its accuracy. Appropriate safeguards must protect personal information.
Ready to hire a healthcare app development team?
There are many types of mHealth apps aimed at different users. If you are going to develop a healthcare app, you need to consider it's end-user, since it impacts the number of features, as well as regulations to consider. If you are looking for a healthcare mobile app development company, want to receive further consultation or estimate the app's cost, drop us a line.