Blog
Key differences in EHR vs. EMR vs. PHR: what to choose for your healthcare organization
Key differences in EHR vs. EMR vs. PHR: what to choose for your healthcare organization
Have you ever had a situation when you visited your physician, he gave you a receipt for medications, and you couldn't read a single word? Well, notoriously bad doctor's handwriting will soon belong to the past, since statistics show that, in 2018, over 95 percent of hospitals, and nearly 90 percent of office-based physicians, have adopted an electronic health record (EHR) system.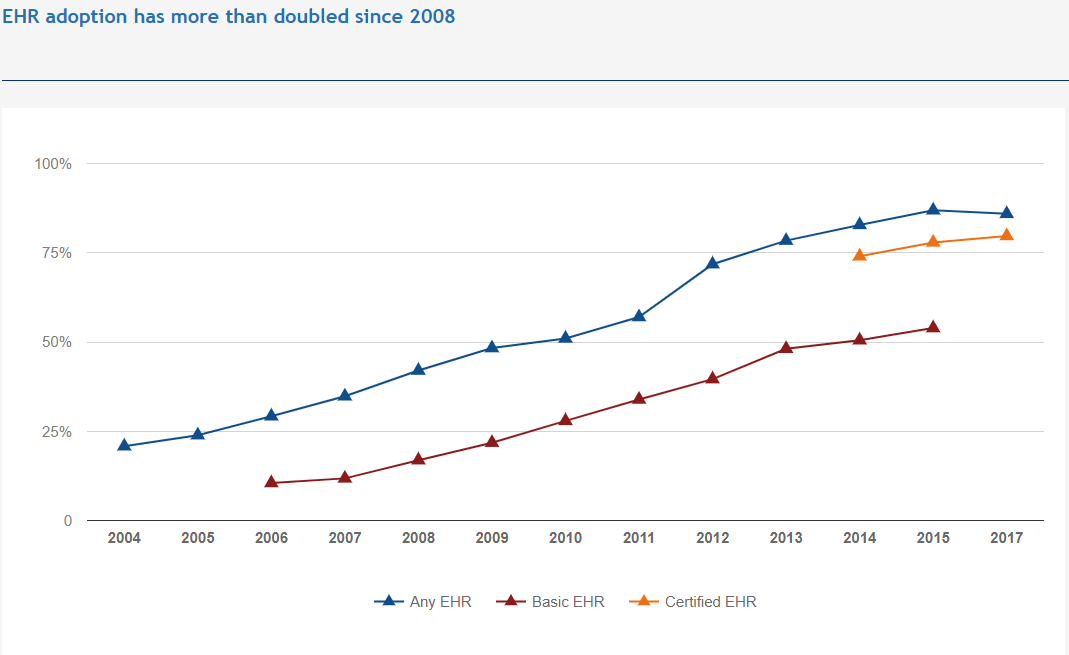 [Source: Healthit.gov]
However, for effective medical treatment, physicians use not only electronic health records (EHR), but also electronic medical records (EMR) and even personal health records (PHR).
If you are considering developing medical, electronic, or patient health records, you need to read this article through to the end. Below, we give a detailed description of all types of health records, compare them, and give handy tips on what kind of records you need to use for your healthcare organization.
How To Make A Medical App In 2022: The Ultimate Guide
EHR vs. EMR vs. PHR: definitions
All these abbreviations of digital health records are used by different medical specialists under different conditions and include a different set of features. To avoid confusion in terminology, and to keep records straight, let's go ahead and understand these concepts in-depth.
Need help in developing your Healthcare App?
Reach out
HOW TO MAKE EHR/EMR EPIC INTEGRATION WITH YOUR HEALTH APP
What is EMR software?
EMR in healthcare, which stands for 'electronic medical records', is a digitized version of hand-written paper records maintained at the office of medical specialists. Such documents include medical diagnosis, treatment, and prescribed medications aimed at tracking patient data over time.
The main advantage of EMR healthcare data is that it helps practitioners to receive quick access to the patient's basic vitals, including age, weight, blood pressure, and so on. Based on EMR, medical specialists can provide a more personalized medical treatment for patients. While EMR software solutions could be used within a particular office, doctors can not share this data with other departments. Let's consider the following example.
A Step-by-step Guide on HIPAA Compliance
When a doctor needs to share a patient's electronic medical records with a colleague from another department, such as an endocrinologist, one needs to print the data and then sent it via email. After the endocrinologist has checked and commented on the patient's EMR, a doctor needs to manually input this information into the EMR system for feather diagnosis and treatment.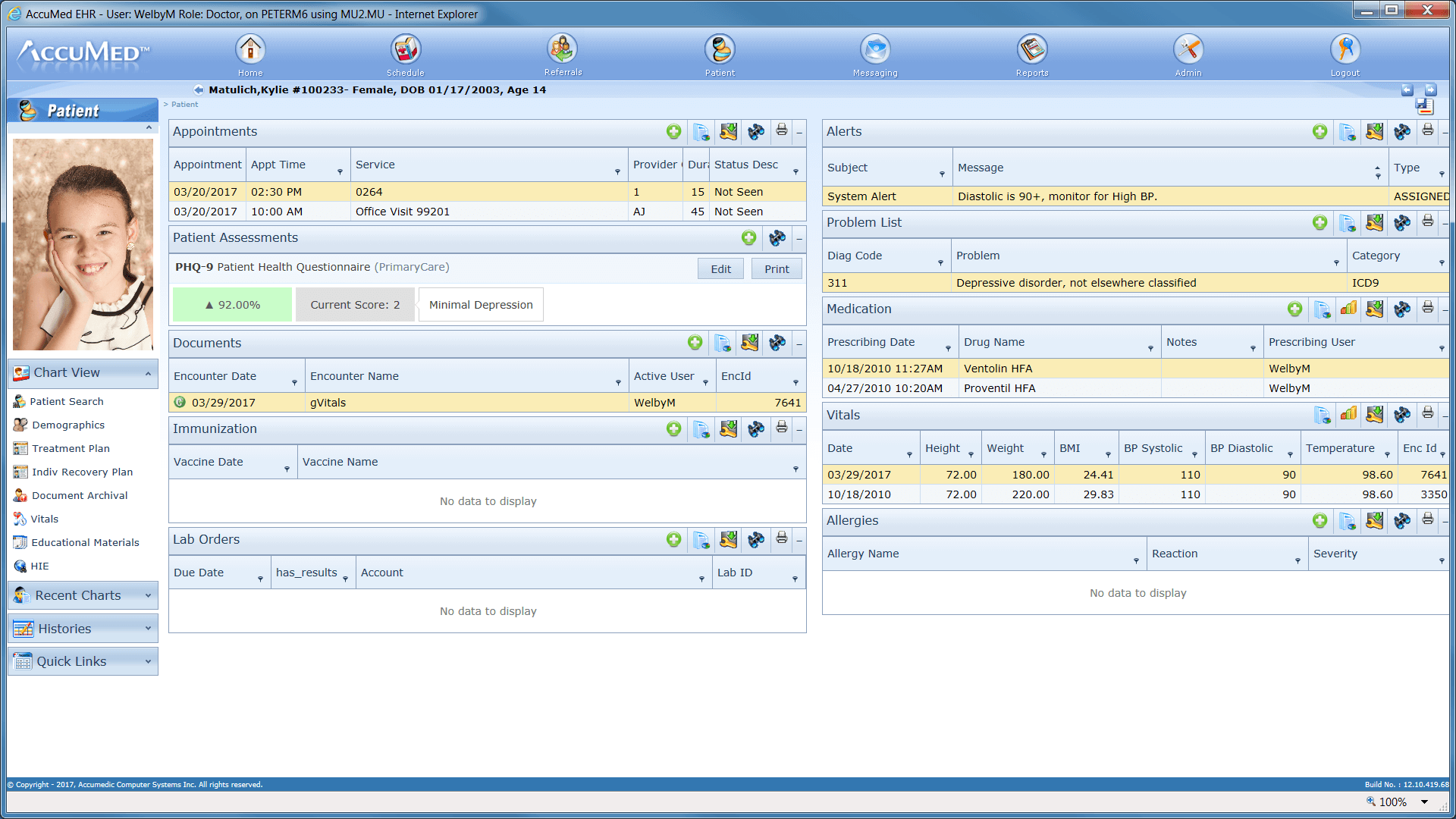 [Example of an electronic medical record interface, source: YUKSEL SETHWI]
What is the EHR software?
EHR, which means 'electronic health records software', is similar to EMR. However, the main difference between EHR and EMR is that EHR systems offer much more. EHR systems collect health information about patients from multiple sources, such as hospitals, physicians, labs, and patients. Such an approach improves the way patients receive treatment. For example, ERH allows doctors in the emergency room to access a full patient's medical history, and details about allergies and other issues immediately. The advanced features of EHR systems significantly improve diagnosis and treatment (and life in general) for both patients and doctors:
Patient portals allow patients to access their healthcare data via laptop or an ERH mobile app from the comfort of their homes
Electronic prescriptions, transmitted directly to pharmacies, save patients' time since all the medicine will be processed while the patient travels to the pharmacy from the doctor's office
Voice-to-text translation and speech recognition saves doctors' time rather than having to manually write patient healthcare information.
Reporting makes it easy to track revenue projections and provide details on how many patients have paid or failed to pay their bills.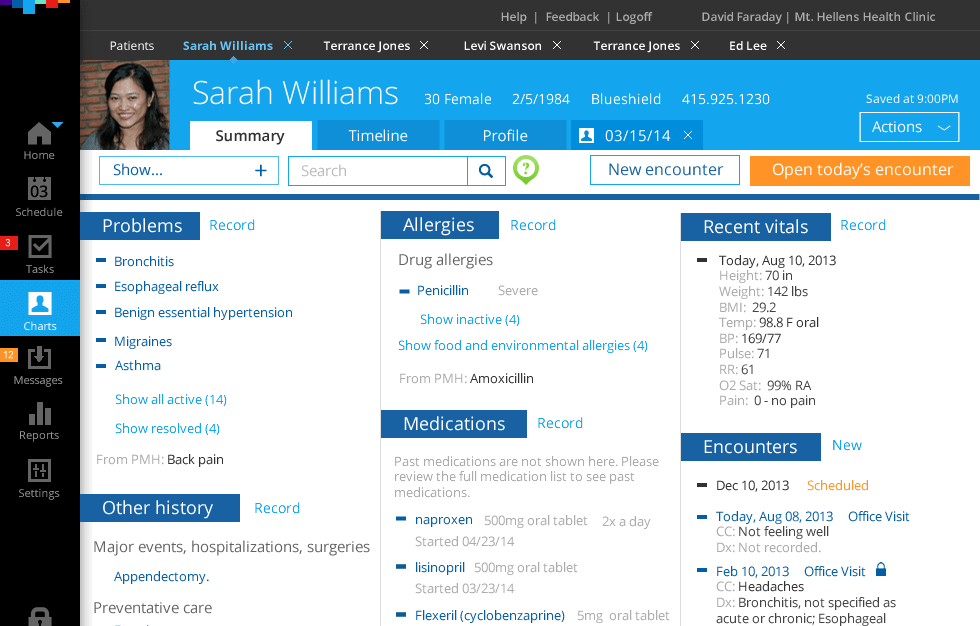 [Example of an electronic health record interface, source: Stefan Klocek]
What is the PHR software?
PHR or 'personal healthcare records' may seem similar to EMRs and EHRs. However, the patient is responsible for updating and keeping all data up to date. Such data may include patient's medical history – past critical information from doctor visits, medical procedures, medical & lab reports and data, and even family health history.
Related readings:
Calmerry Online Therapy Platform
A White Label Telemedicine Platform
BuenoPR – 360° Approach to Health
While such health information is less clinical, PHR systems work great for tracking the patient's healing progress after extensive surgeries, providing medical specialists with enough data to make the right decisions. PHR mobile or web apps store vital radiography storage, such as MRIs, X-rays, etc.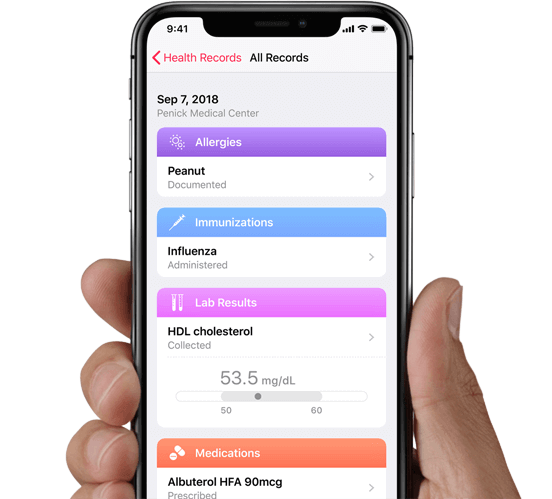 [Example of a patient health record interface, source: Apple]
Now that you know what EMR vs. EHR vs. PHR are, their main features, and end-users, let's compare these medical systems in more detail.
What is the difference between EMR, EHR, and PHR software?
So, what is the difference between EMR, EHR, and PHR? To show you a clear picture, in the table below we have compared these systems by end-user, the information they include, and the ability to access this information by other users.
| | | | |
| --- | --- | --- | --- |
| | EMR | EHR | PHR |
| End-user | Medical specialists in one department | Doctors across hospitals, labs, pharmacies, patients | Patients |
| Type of information | Medical history, prescriptions, current patient's health conditions | Electronic records of health-related information on an individual | Include patient's medical history that is entered by patients themselves, as well as data from other sources such as pharmacies, labs, and healthcare providers |
| Information access | Can be created, gathered, managed, and consulted by authorized clinicians and staff within a single healthcare organization | Can be created, managed, and consulted by authorized clinicians and staff across more than one healthcare organization | Can be created, gathered, and managed by patients |

Now that you know the difference between PHR, EHR, and EMR, let's find out which system will best suit healthcare organizations.
Healthcare Apps Development: Types, Examples, And Features
Electronic Health Record vs. Electronic Medical Record vs. Patients Healthcare Records: Which one will work for you?
If you want to develop or buy software for your own practice and need to ensure that you are purchasing the right type of system, consider the following:
If your healthcare facility has specific expertise in particular healthcare services, such as dentistry, choose Electronic Medical Records.
In the case of your medical facility including numerous departments, such as labs, X Rays, emergency, and surgery, and you need to provide seamless transactions of patient-related data across these departments, consider developing the Electronic Health Records system.
If your healthcare organization puts patients first and needs to track their recovery progress, Patient Healthcare Records is your system of choice.
Download our Free Healthcare app eBook
Download
In a nutshell
The main difference between PHR, EHR, and EMR is in end-users, type of information storage, and the ability to share patient data with others.
EMR is suitable for keeping healthcare data by medical specialists within one department
EHR allows different medical professionals from various departments to access healthcare records
PHR makes it easy for patients to track their health during medical conditions or the recovery period.
Now that you have a clear understanding of the difference between PHR, EMR, and EHR, you can choose the right software for the digitization of your healthcare records.
I want a free consultation for my Healthcare project
Contact Us