Why Create a Custom Mental Health App In 2022
According to data from the National Alliance for Mental Health, 1 in every 5 adults in the US experiences mental illness, while 1 in every 6 youths in the US aged 6 – 17 experiences a mental health disorder every year. More abysmal is that suicide is the leading cause of death for those aged between 10 and 34 in the US. This data alone is proof that there is a need to make mental health applications available to the general public. It would also explain why there is an influx of mental health apps in app stores ranging from those helping relieve symptoms to those that help healthy people remain healthy.
Reasons why developing a mental health app is a great idea
There are several reasons why developers, who are keen on helping those suffering from mental health problems, consider creating a mental health application. Here are three reasons.
It will help bring mental health services to those who cannot get them
Data from the Anxiety and Depression Association of America shows that approximately 18% of adults in the US suffer from anxiety disorders, yet only 36% of these individuals receive treatment. Furthermore, according to data from the National Council Medical Director Institute, 77% of US counties have a severe shortage of psychiatrists. This implies that, even if more patients decided to get help, there would come a point where the current practicing psychiatrists may be unable to help many people. With mental health apps, more people can receive help from the comfort of their homes from different mental health practitioners from all over the world.
High demand
The Coronavirus has caused havoc, not just to the physical health of individuals, but also to their mental health. Many people have lost their jobs, lost family members, and some industries like the healthcare industry have been severely affected. According to a report by The Standard in 2020, 46% of health workers interviewed from a sample size of 1400 said they were suffering from a mental health issue. This is compared to 39% in 2019. This increase implies that more people will be looking for mental health apps in the future.
How To Make A Medical App In 2021: The Ultimate Guide
Room for improvement
Data from the Digital Mental Health Revolution report shows that there are more than 10,000 mental health apps available today, with over 100 startups each year. However, many of these apps are underperforming. Some applications do not cater to many users' needs and preferences, and some need to be upgraded to meet the current needs and demands. There is room for more to be done, moving from traditional therapy techniques to apps encouraging patients to do more self-care practices.
With the aim of improving the quality of services they offer, we find platforms raising money. For example, Lyra Health raised $175 million at a $2.25 billion valuation to connect workforces to therapists and mental health services. Similarly, Calm raised over $70 million, and Headspace raised over $400 million. Some of these funds are being used to improve the services they offer, and making mental health services more readily available e.g. free in some cases.
Calmerry Online Therapy Platform
A White Label Telemedicine Platform
BuenoPR – 360° Approach to Health
Types and examples of the best mental health apps
Not all mental health apps are created equal. There are many different types of mental health apps offering different services. Consider the different types and examples of each;
General mental health apps
These applications help users to maintain their mental health by helping them maintain good habits and break bad habits. They also help them maintain their physical, emotional, psychological, and spiritual health, which all contribute to their mental health. These applications can serve functions such as mood trackers, giving positive quotes, and giving relaxation exercises like guided meditation. Mindfulness and Meditation apps fall under this category. One such application is Moodfit.
Moodfit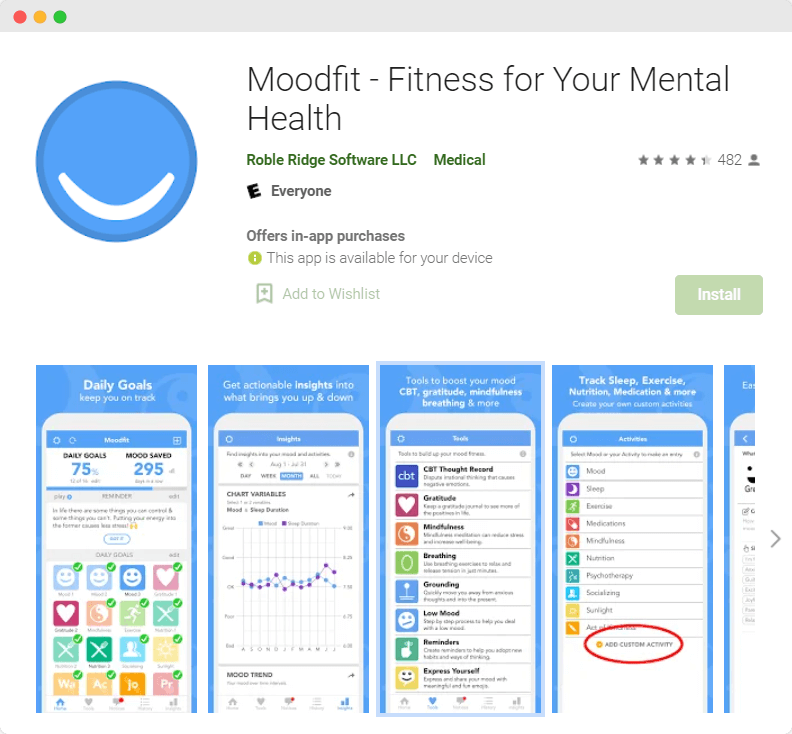 Moodfit is a free mental health app designed with tools and insights to 'shape up' your mood. It helps you get into mental shape the same way you would get into physical shape. Moodfit can help you feel better whether you are feeling anxious, depressed, stressed or have PTSD.
Here is how it works:
You fill out a questionnaire that helps you determine the severity of your symptoms. You also get articles and audio files that can help you understand what you are experiencing.
You can track your moods.
Eventually, you can understand the effects certain things and activities have on your mood, for example, specific medications, amount of sleep, or exercise.
Receive actionable insights to help you feel better and alter your mood
Education and assessment apps
Such applications help their users to get information on mental health disorders such as PTSD, bipolar disorder, anxiety and depression, eating disorders, and negative thoughts, among many others. These apps share materials used by mental health practitioners when identifying mental health disorders. One such application is Sanvello.
Sanvello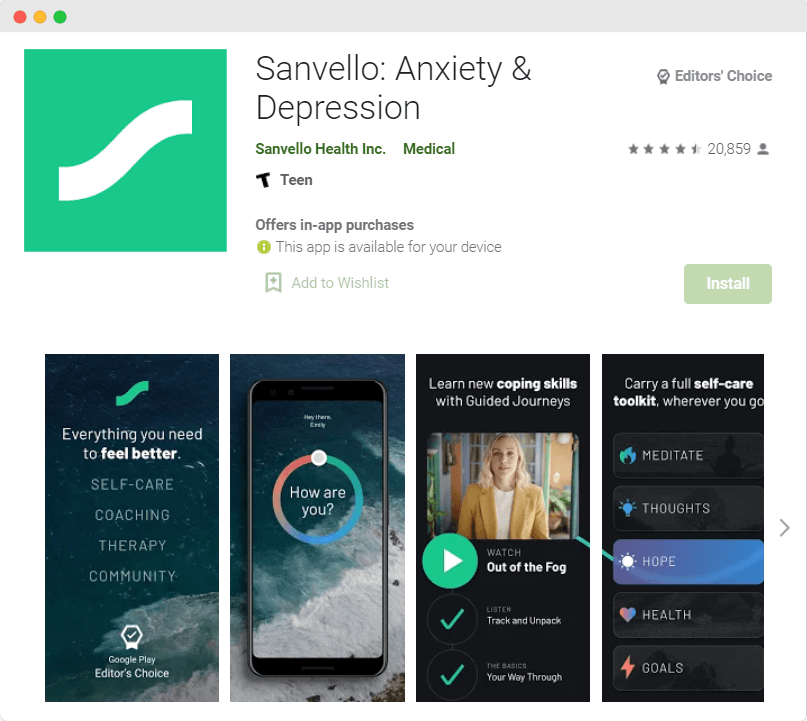 Sanvello's mission is simple. 'To help people build the life skills they need, anytime, anywhere, in any way they choose.' To do so, they provide their users with clinically validated, evidence-based tools and techniques to help them deal with stress, depression, anxiety, etc. A randomized study of 500 adults who had mild to moderate anxiety found that Sanvello's tools successfully decreased symptoms. These effects lasted even after the participants stopped using the app.
By using Savvello, you can:
Find cognitive behavioral therapy tools
Learn mindfulness skills
Track your mood and health using their inbuilt tools, and use this information to improve your mental and physical health
Follow the guided journeys designed to help you feel more in control of your life.
Use the tools to cope with specific issues, for example, the fear of public speaking.
Mental disorder apps
There are many mental disorders apps. These help you deal with specific mental disorders by providing you with the tools necessary to help you function better. Current mental disorder apps deal with problems such as depression, PTSD, anxiety, and schizophrenia. They use techniques such as cognitive behavioral therapy cbt, Mood monitoring, cognitive training, and rational emotive behavioral therapy.
More development is expected to help treat other disorders. For example, there is still room in the mental health apps market for PTSD, Bipolar Disorder Apps, Eating Disorder Apps, and Obsessive-Compulsive Disorder Apps, and cognitive behavioral therapy cbt apps, among others.
WHY CREATE A CUSTOM MENTAL HEALTH APP IN 2021
MoodMission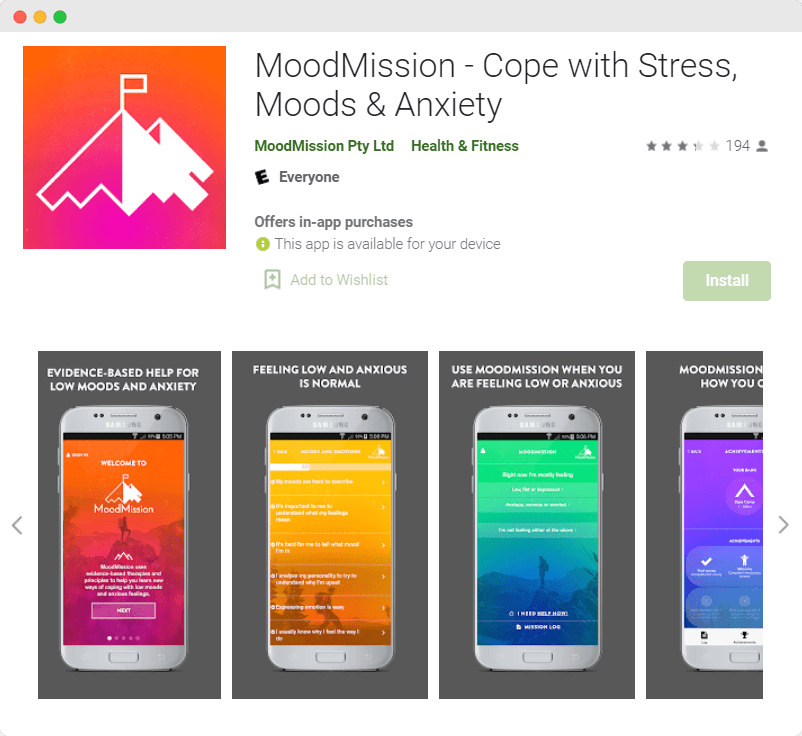 One great application that caters to users with PTSD, depression, anxiety, bipolar disorder, and stress is MoodMission. Here are some of its functionalities:
Go through an available list of options and choose the problem you are experiencing.
Receive five 'mission' suggestions based on the information you provide
Go through each mission with mindfulness, understanding the activities in that mission together with how it may help
Accept a mission, and after completing it, rate how distressed you feel.
Your completed missions are logged, and you are ranked based on completed missions.
Online therapy apps
These apps act like banks when you swipe your card at Starbucks (they are intermediaries). They connect you to licensed mental health professionals near you. There are several ways to meet your therapists, depending on your preferences and what the app offers. Ideally, you can get onto an online call, a video call, or chat online. Some apps give group therapy sessions whereby several patients get on a conference call and have a group therapy session. One great example of an online therapy mental health app is Calmerry.
Calmerry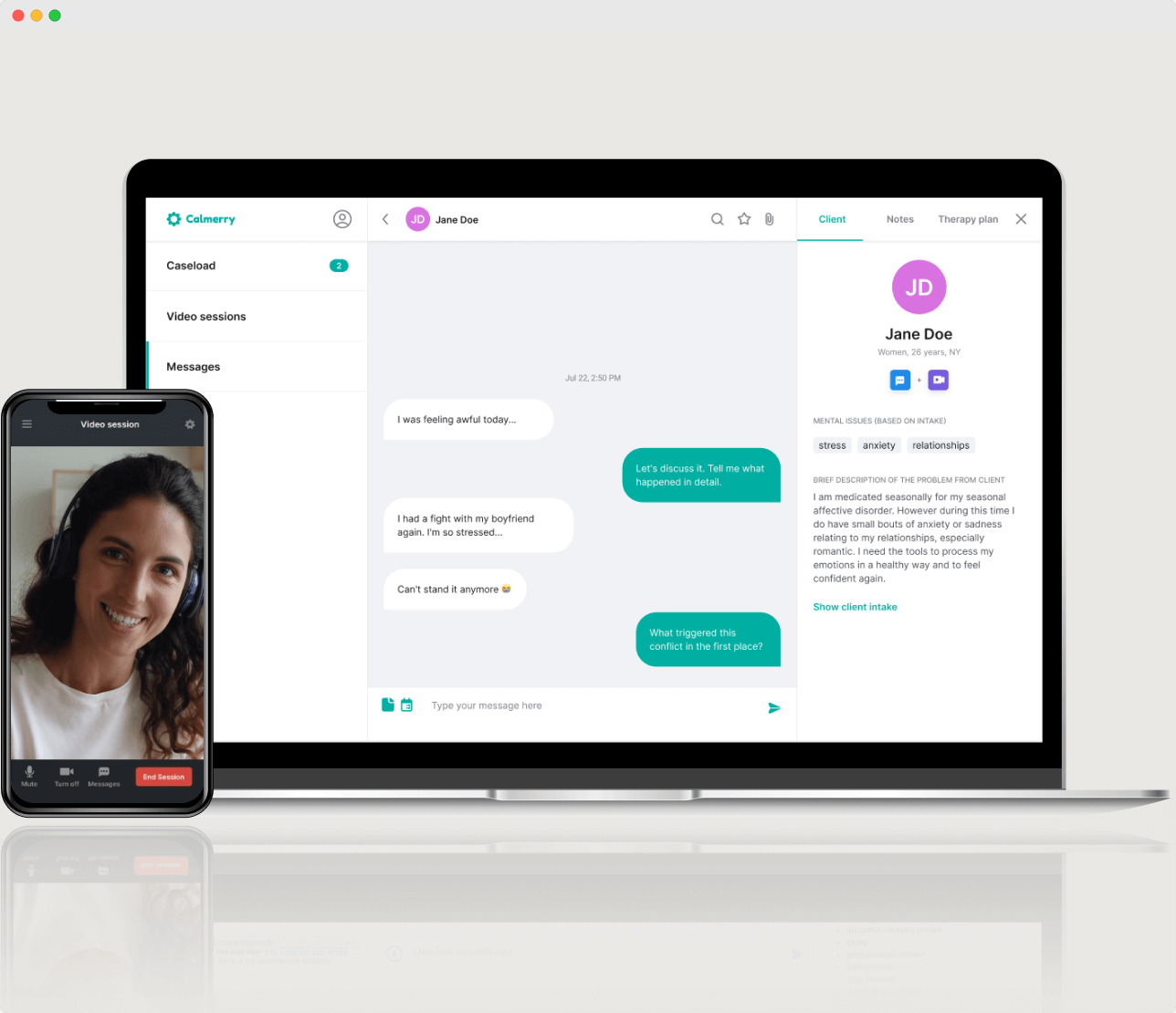 Calmerry will connect you with therapists that match your needs to get you the help you need in order to achieve your goals and meet your needs. There are many types of therapists available such as:
Cognitive-behavioral therapy (CBT)
Gestalt therapy
Acceptance and commitment therapy (ACT)
Solution-focused brief therapy (SFBT)
Schema-focused therapy (SFT), etc
Here's a gist of how using Calmerry will work:
Get a brief assessment where you answer several questions
Choose how you wish to get therapy
Select a subscription option that works for you
Get matched with the right therapist for you
Start your therapy sessions.
HEALTHCARE APPS DEVELOPMENT: TYPES, EXAMPLES, AND FEATURES
Must-have Features for Mental Health Mobile Apps
While different mental health apps have different features, there are some features that every mental health app development team should strive to incorporate. These features can be broken down into two main groups: Features for patients and mental health professionals. Here is a breakdown of each.
For the patient
These features make it easy for you to track your progress. Some have mood tracking, guided meditation, breathing exercises, and mindfulness among other important features. Here's a more comprehensive look at the features;
An entry survey – This survey is used to collect basic information concerning the user. This information includes their age, location, gender, family status, current mental health conditions, etc. This information can help the application match the client with the most relevant therapist. Some apps give an entry assessment test that helps users identify the cognitive issues they are facing, particularly if they have never been diagnosed before.
Matching flow – The entry survey and assessment data is used to match the patient to a therapist. In the US, counselors practice in the states where they are licensed, so factors like the state may determine which counselors will be matched. The apps typically match users to a new counselor for free if they are not satisfied with the one they get.
Text messaging functionality – This feature is excellent for patients or therapists who prefer to communicate through online chat. It's also an easy way to reach out, for example, if the therapist is currently in another session.
Video conferencing – This function is excellent for video sessions.
Subscription – This is how many of these apps monetize their applications and pay counselors. Users chose the subscription that fits their needs and can cancel at any time or ask for refunds in line with the terms of service. Some subscriptions unlock extra features, e.g., video conferencing.
Therapy space – Therapists use this space to record their patients' goals and track their progress in real-time.
Therapy management – Patients can use this space to manage their therapy sessions, e.g., pause accounts for some time or put unfinished sessions on hold.
HOW TO BUILD A MEDITATION APP LIKE HEADSPACE AND CALM
For counselors
Short survey – These verify that the therapist is certified to work with patients. These can include asking for clinical permits, state permits, etc. They also give any necessary information about the counselor.
Text and video chats – This is how counselors access their patients
Caseload management – This allows the therapist to manage their caseloads and even determine how many clients they are willing to work with.
Tech stack for a custom mental health application
The tech stack creates an ecosystem allowing several technologies to run one application. Some technologies to use include;
Angular for the front-end
Daily.co for secured video calls
Ionic for developing a hybrid mobile app
Node.js for the backend
S3 Bucket for developing the messaging feature from scratch
MongoDB for secured database
Redis for sessions queues
Pusher to send push notifications without sensitive data
Kafka for exchanging messages between microservices
Ideally, you want to find developers with experience in one or more technologies listed.
Related reading:
Video Streaming App Proof of Concept
Developing mental health mobile apps
You would be hard-pressed to find one person to develop the application. You are better off hiring several specialists. The specialists needed include;
Business Analyst (BA)
The BA will bridge the gap between IT and the business by using data analytics to find solutions that will fit both your mental health business and your potential clients.
Project Manager (PM)
The PM is responsible for running the project on a day-to-day basis, including ensuring that it stays within budget, is done on time, and is done within the scope laid out.
System Architect
The system architect will write the technical documentation for the project data after receiving and analyzing data from the PM and the BA.
Developers
Developers offer one or more technical solutions,
Designers
Designers visualize the project by making prototypes, creating flow in the app, finalizing the project design, etc.
Quality Assurance Managers
Quality Assurance Managers test the lines of code to ensure that the parts of the project align with the technical documentation and that they work correctly.
As you can imagine, it may be very time-consuming and expensive to interview every person needed to make the app a reality. For this reason, it may make more sense to outsource to a development team. Here are six steps to hiring an outsourcing app development team to understand how to go about that process.
If you are wondering what it may cost to hire an outsourcing app development team, here are some numbers. These values depend on factors such as the team's geographical location and the app's features. A simple app may cost you between $25,000 to $50,000. A complex app with multiple features may cost from $100,000 to $200,000.
Costs aside, government compliance for sensitive patient information is a core issue you need to understand.
HOW MENTAL HEALTH CHATBOTS HANDLE STRESS?
HIPAA, PHIPA, and GDPR compliance
Many people opt to use mental health mobile apps over traditional therapy because they understand it to be more private. Some regulatory guidelines for mobile mental health providers ensure the app's safety and, consequently, its reputation. Essential components include;
HIPAA compliance. When developing the app, it may be helpful to determine whether the HIPAA Privacy and Security Rules apply. A healthcare app becomes Subject to HIPAA if it includes the user's Protected Health Information (PHI) that can be traced back to the patient. Otherwise, most mental health apps in the app stores are not subject to HIPAA as they are meant for the patient's private use.
GDPR privacy standards. GDPR requirements are EU regulations directing how businesses should manage personal data. If your app will serve users in the EU, it is advisable to meet these requirements.
Regulatory guidelines. Mental health practices are regulated on federal and state levels. Therefore, it's essential that you only engage licensed therapists who are acquainted with the federal and state laws. If you are unsure which regulations your application should meet, this interactive mental health apps tool, designed by the Federal Trade Commission, might help.
Encrypting app data. Ensure that all stored or shared data is encrypted at all stages – Passcodes, usernames, and biometrics.
These features help keep the user's data private from prying eyes on their end, which helps them feel more secure.
HOW TO MAKE A PERFECT MOBILE APP IN 6 STEPS
TIPS from The APP Solutions
When developing Calmerry, The APP Solutions faced many issues. Below are some solutions that were useful in solving these issues
Therapist validation
To adhere to federal and state regulations about where therapists can offer their services, you need to develop a way of validating the licenses of the therapists hired. You then need to develop an algorithm that matches therapists and users from the same states only.
Architecture
The app's architecture needs to handle hundreds of actions done by thousands of users regardless of location. An application with video conferencing capabilities functionality, for example, may require heavier loads on the servers compared to chat-based apps.
Unique session I.D. per call and token per participant
Session IDs are necessary to initiate calls. Participant tokens will be unique to the session IDs and will enable users to join the calls. The session IDs can also help prevent double-booking in the calendar if a calendar function exists.
Encryption
To ensure the safety of confidential and sensitive information, it is advisable to encrypt text messages and videos on both endpoints.
The bottom line
According to data from the KFF, more than 30% of adults reported symptoms of anxiety, PTSD, or depression during this pandemic period. This implies that the time is ripe for mental health app developers to develop health apps and online therapy platforms to help people cope with mindfulness and mental health.
If you are looking for a reliable tech partner for your mental health project, the APP Solutions is a mental health and therapy app development company. We can provide solutions for therapy app development and other similar projects. Drop us a few lines and we will get in touch with you.