The APP Solutions – Custom Healthcare Software Development Company
Healthcare software development is one of the most demanding types of work. You need to constantly keep in mind that you are making a product for a particular audience. Many of the users may need special needs, which must be considered. Therefore, having an original idea in mind that will improve life and improve the quality of health of others is only the first step towards a full-fledged "mechanism." That is a health application that will not drown in the first months due to the pressure of competitors but will be able to both become a useful tool for users and bring profit to the creators.
To do this, it is important to find a counterparty who will help you in this difficult but terribly important enterprise. Obviously, gathering a team of super cool developers under your wing, who will work harmoniously within a couple of weeks after meeting, is not so easy in today's reality. A much better solution would be to hire a well-coordinated outsourcing company that will do whatever you want and even more. The APP Solutions is a software development company which can become such an embodiment of your ideas. We will not only translate your thoughts into reality, but also improve them since we don't have [S1] a hefty proven experience.

Custom Healthcare Software Development Solutions
Medical Practice Management Software
This technology is requested for maintaining clinical workflow and optimizing everyday operations. It assists in keeping medical records, setting appointments, managing finances, and accounting activities. Any action related to both medicine and medical issues – from monitoring diabetes patients to a service that helps relatives of sick people find the nearest hotel to a hospital.
Electronic Health Record Software
This design allows the maintenance and management of patient data in electronic records. The reports stored include information about allergies, laboratory conclusions, medical history of a patient, and demographic statistics. It can be as simple data provided to the clinician and records that can be edited by the doctor if necessary. Everything is done in strict accordance with HIPAA. Also, solutions are possible in which the user independently enters data about his health, and the doctor, if necessary, verifies the indicators.
E-Prescribing Software
The technology allows sending medical prescriptions directly to drug stores and pharmacies. It strengthens the connections within the healthcare industry and serves the patient's comfort, above all. How nice it is just to leave the doctor's office and immediately pick up your appointment at the nearest pharmacy! And even better, the application itself sends a prescription to the pharmacy for medicine for chronic diseases, in case the patient himself forgets to replenish his stocks.
Healthcare CRM
This software type works with customer management. The main task is to maintain better relations with clients – meaning better care quality, contact management, and accurate performance reports. Such healthcare software development aims to improve interactions in such a massive structure as the public health system.
Data Management/Warehousing
Collecting, analyzing, organizing, and storing big data helps doctors collect statistical data. Millions of case histories, thousands of medical studies, hundreds of scientific discoveries – all this is stored in databases, with proper processing of which you can get an invaluable amount of helpful information.
Predictive Analytics Software
A platform for the analytics of records/patient data. Such healthcare software developments not only systematize information, but also help to apply it to form predictions for certain groups of patients, or even entire medical industries.
HIPAA/GDPR Compliance
No medical application development solution we make comes out without strict adherence to global privacy standards. In particular, those officially approved in the US, Canada, and the EU. Integration of standards can be done in several ways – all according to the client's wishes.
A Step-by-step Guide on HIPAA Compliance
Medical
A vendor-independent software solution that automatically collects and integrates vital patient data from various medical devices into an Electronic Medical Record (EMR) system wirelessly. Facilitates and reduces the work of medical staff, reducing human error.
Calmerry Online Therapy Platform
A White Label Telemedicine Platform
BuenoPR – 360° Approach to Health
How We Tackle Healthcare Software Development
Have you come to us with a clear idea? You may have even done some marketing research that indicates that your idea is a sure and profitable venture. Great! The better your request is formulated, the faster we can get started and bring your idea to life!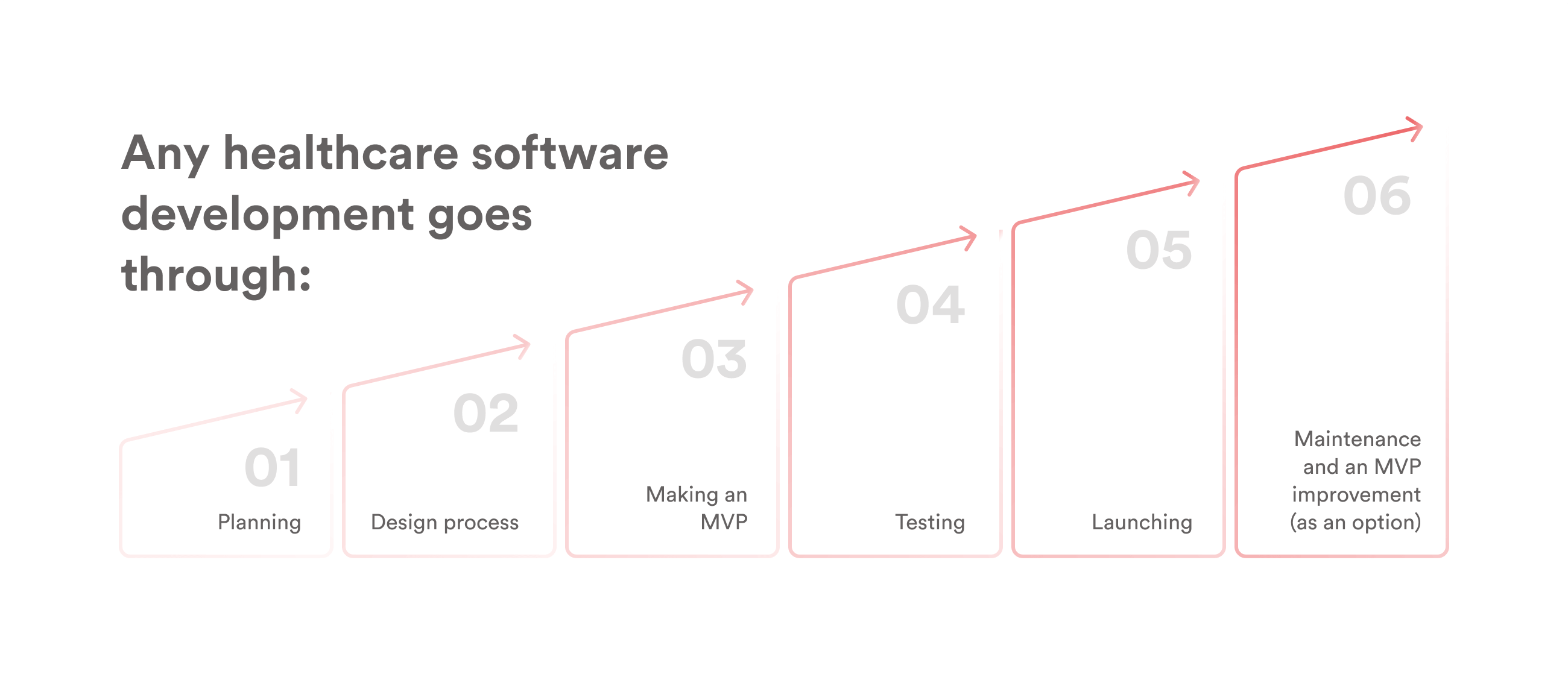 The joint creation of a clear roadmap is the key to successfully completing the project. Therefore, it is not enough to discuss the "route" itself, but also the timing, software stack, storage location, legal subtleties, analytics, potential risks, and much more.
UI/UX design matters more and more every year. With an abundance of choice, people have become as picky as possible about the appearance of the product they are going to use, sometimes giving priority to the "wrapper" instead of the quality of the product itself. Therefore, a well-created design in a healthcare application is not just a huge component of success but also an invaluable help to its users. Here details matter more than ever.
 Another critical ingredient on the path to successful healthcare software development is choosing the suitable options for the MVP version of your project. There is no one-size-fits-all recipe for what exactly should make it to the premiere, but there is no doubt that it should have perceptual hooks that will keep your potential user coming back to the app over and over again. Based on our experience, we will gladly advise you at this critical stage.
Our company offers software development services and product testing so that the day before the launch, some irreparable bug does not "suddenly" appear. We are fully responsible for the product we develop and are ready to stand by it.
 It's time to open the champagne – everything is ready, and the project can start sailing in the harsh ocean of health applications. And we need to share this exciting moment with you.
Has your project received recognition from the first users? Does the audience demand more? The APP Solutions is always ready to help improve the original design, add new features, improve what has already been done, remove unnecessary things – who else, if not ourselves, can best help the project we have developed.
Technologies We Use
In our portfolio, we have many clients; some ask to suggest technology stacks that better suit their purposes, while others come to us with strict technology limitations. Therefore, to indicate any technology, firstly, we should analyze all requirements and constraints that drive the goal to implement a solution. Only after this our software solutions architects will be able to produce the architecture vision of the solution and suggest a technologies stack.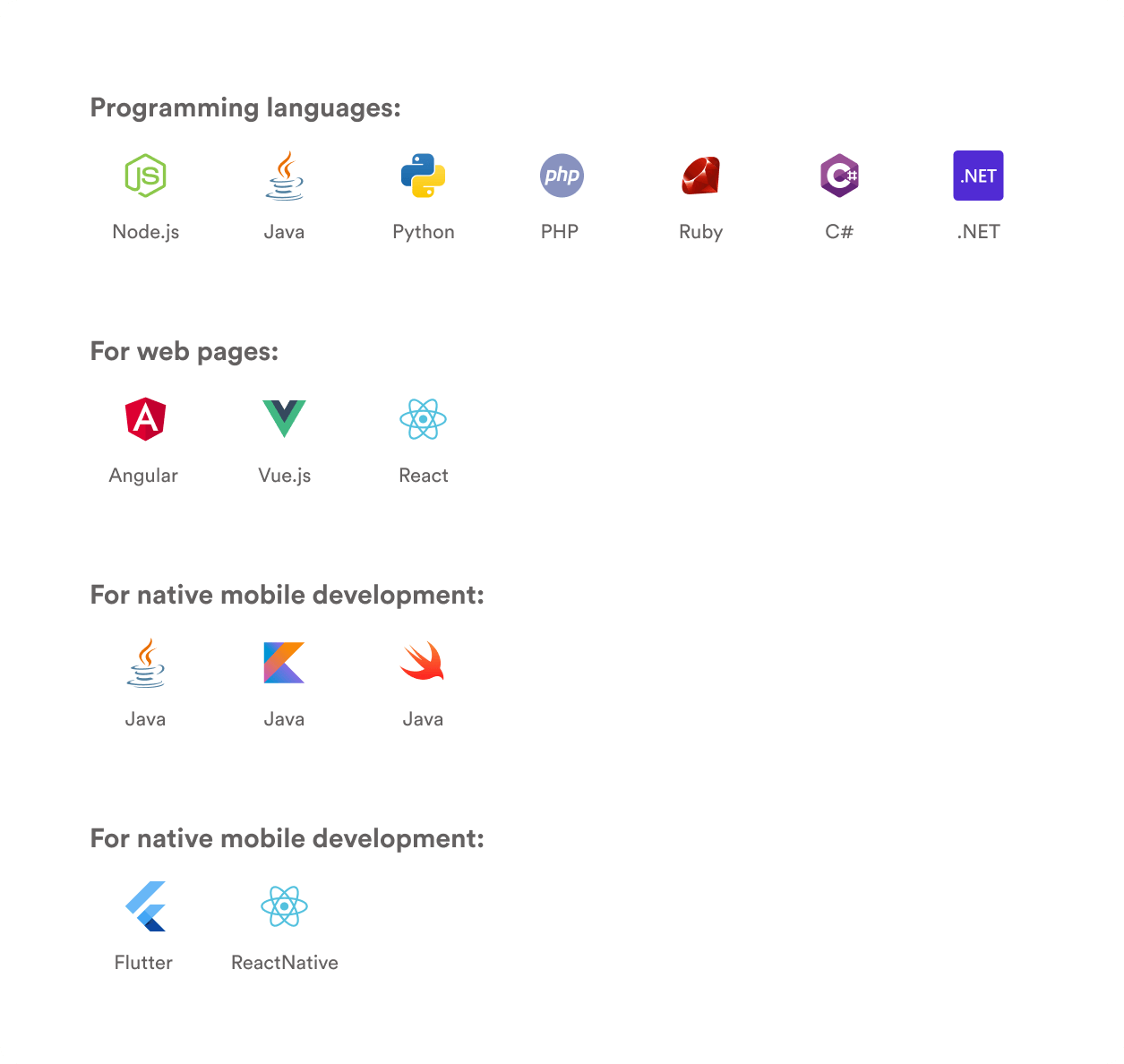 Regarding infrastructure providers, we have deep expertise in clouds, especially in MS Azure, Amazon Web Services, and Google Cloud Platform (by the way, we are a GCP partner and vendor). We prefer to use clouds as an infrastructure, but we understand that not all cloud services are suitable for healthcare. For instance, the USA has a HIPAA compliance policy, which imposes severe restrictions on the use of computing and storage. Fortunately, we have good experience in compliance with HIPAA, GDPR, etc.