Blog
Ultimate Trends of Luxury websites and app development
Ultimate Trends of Luxury websites and app development
Why do people shop for luxury goods? The main reasons are the "happiness" and "joy" they feel when they buy a new Gucci bag or a little black dress by Chanel. Luxury e-commerce accounts for 17% of all industry revenue and is expected to rise to US$58 billion in 2022.
Modern luxury brands should provide customers with software that meets high expectations. Therefore, having the right web or mobile software is key to luxury brand success.
In this article, you will learn why your luxury brand needs a mobile or web app and trends in luxury web design. You will also find out about mobile apps from different luxury segments.
Luxury web and mobile app development: reasons to invest
With a mobile app for your luxury brand, you will receive the following benefits:
Brand awareness. Research suggests that over 80% of all luxury goods sales are influenced by digital channels. Your premium mobile app or website will be an extra touch-point in luxury-shopping journeys. Online software is a great communication channel to inform customers about new collections. Luxury software is a perfect entry point for Millenials, who have large buying power. A recent report showed Millennials made-up 67% of spending on personal luxury products.
Customer loyalty. All luxury brands want to build meaningful and deep relationships with their customers. This means that your solution should include something more than a product catalog presented on other luxury online shopping websites. Consider adding AI or ML features such as image recognition for finding products. In this way, you will provide extra value, prestige, and a unique customer experience.
Sales from digital channels. Web and mobile luxury apps can drive extra sales for all luxury products and service providers. This concerns not only luxury clothing, but also hospitality. Thanks to mobile luxury apps, your business can receive additional income from digital channels.
Luxury website design trends for 2021
When creating a luxury goods website, you need to consider the following tendencies:
The basic color palette, such as white, black, and gold, is a business card for all luxury brands. This luxury website design trend is unlikely to change in 2020. To give you an idea of luxury website design, let's take a look at the Rolex website. The white background and absence of small elements make customers concentrate on products.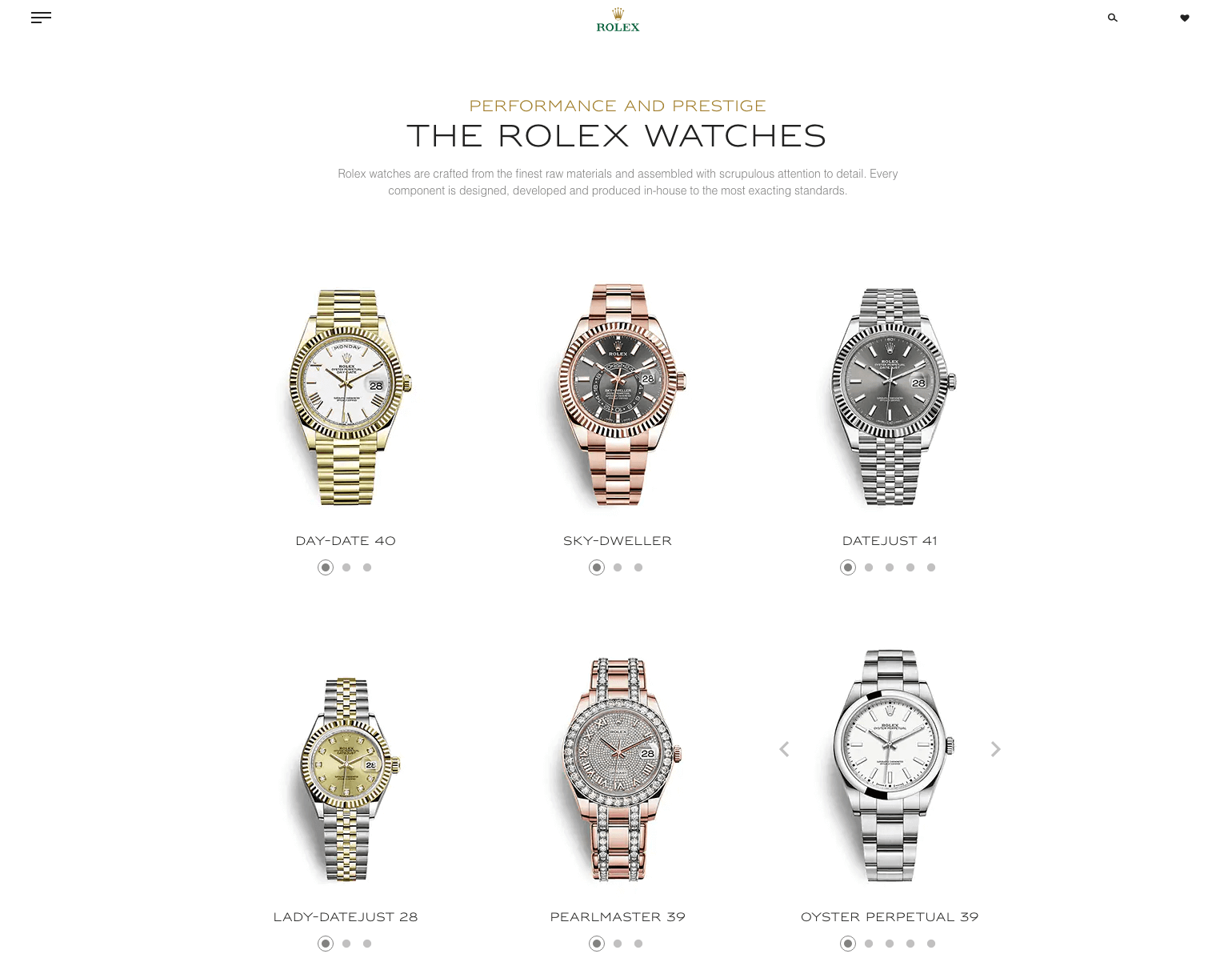 Most luxury brands pay extra attention to photos they place in their product catalog. Hence, high-quality images of products is another luxury website trend to consider. For instance, the Louis Vuitton product page includes high-resolution pictures and zooming. In this way, customers can see all the details of the bag before they can buy it.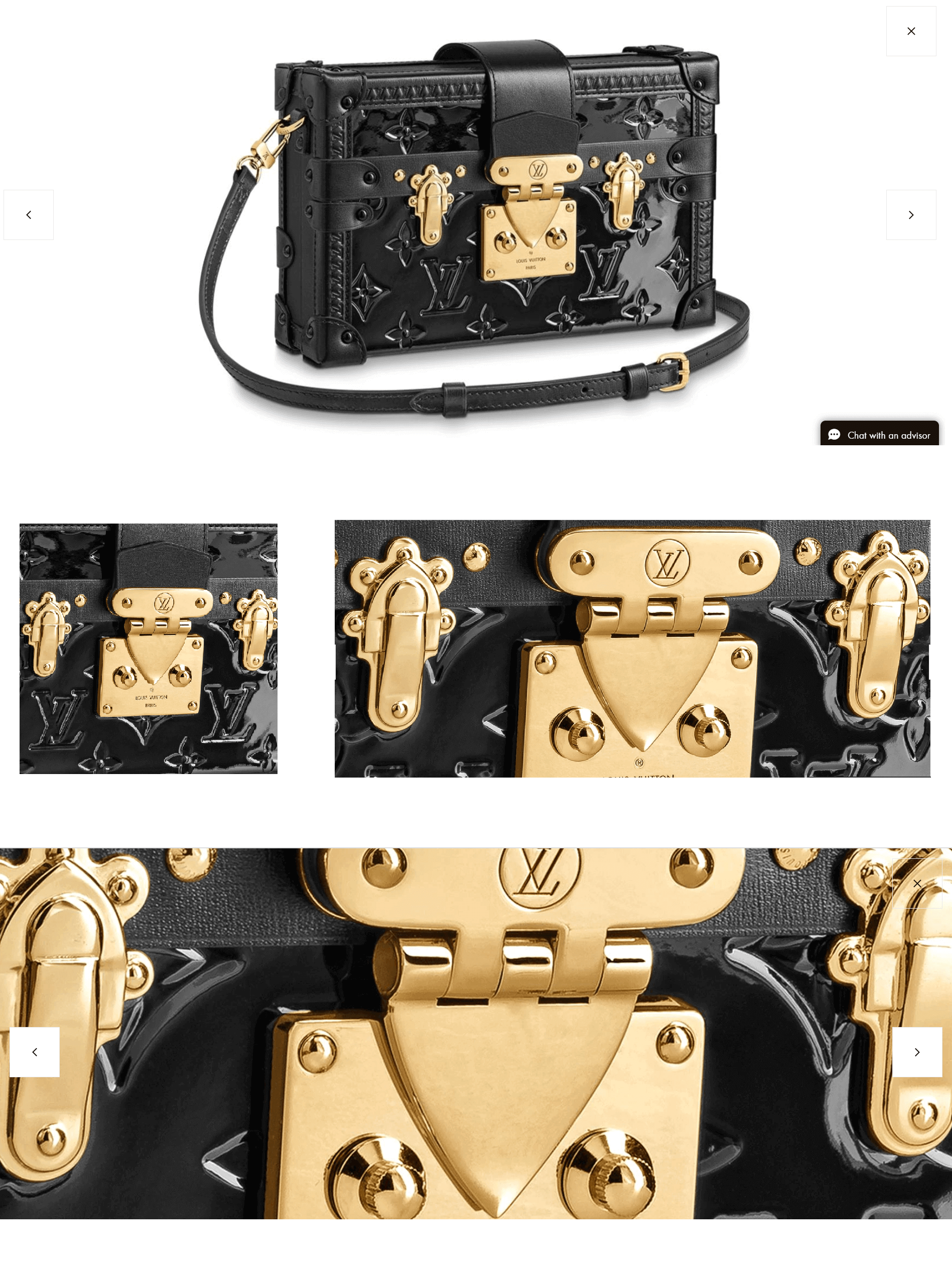 Personalized shopping experience
When buying luxury products online, customers need help from your brand's representative. You need to empower your website with live chat or allow customers to schedule a call with an expert. Let's see how Tiffany uses this luxury store website trend. The website includes a call scheduling section. Here, you can book a call and receive a consultation from Tiffany's representative.

Best tech trends create a luxury website or app
Below we have gathered top technological solutions to consider for luxury web or mobile apps.
Omnichannel experience
In most cases, luxury shopping starts online. Shoppers prefer discovering products via websites or mobile apps. Then, customers visit offline outlets to see, touch, and try the product. In this case, the luxury omnichannel experience is essential.
Hence, avoid situations where the product discovered on the mobile app is out of stock in your outlets. To achieve this, consider adding a Find in store button to a luxury online shopping site, as Louis Vuitton did. Users enter an address and zip code to see a list of offline stores where the required products are in stock.

AR technologies
By levering Augmented reality in mobile apps, allow your clients to try luxury watches or jewelry. An example of a luxury brand that applies AR in a mobile app is Panerai, a Swiss watch manufacturer. This AR luxury brand app allows you to explore the models of watches in every detail. You need to wear a bracelet, focus your mobile device's camera on it, and the Panerai watch will appear on your wrist.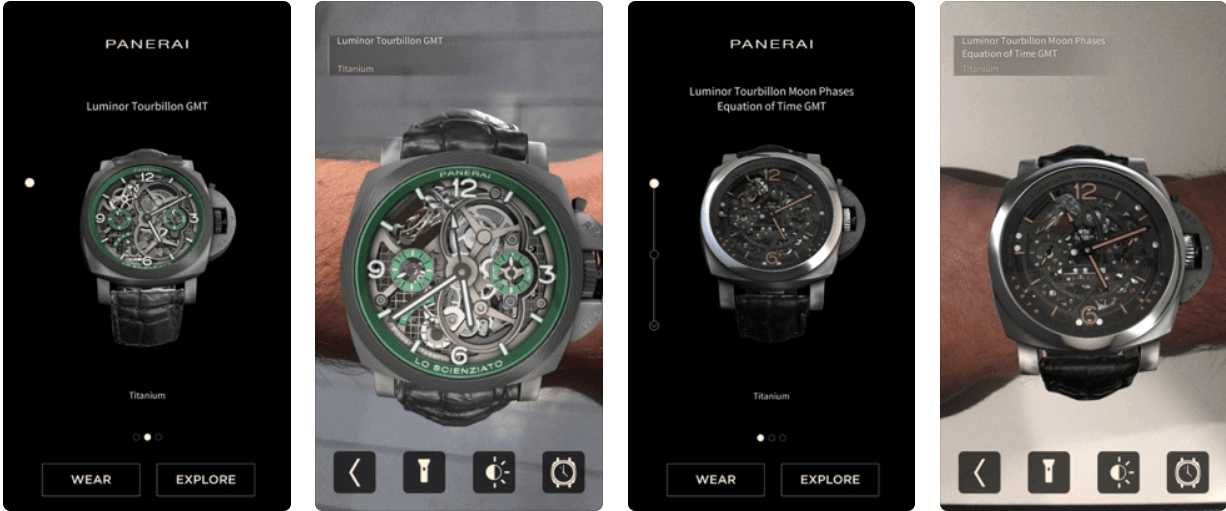 Chatbots
Modern luxury brands should provide their customers with a personalized shopping experience. The best way to achieve that is by leveraging chatbots. Such luxury brands as Burberry, Tommy Hilfiger, Richemont's Jaeger-LeCoultre have already adopted a chatbot strategy. Thanks to chatbots, customers discover products, receive personalized recommendations, and even place orders.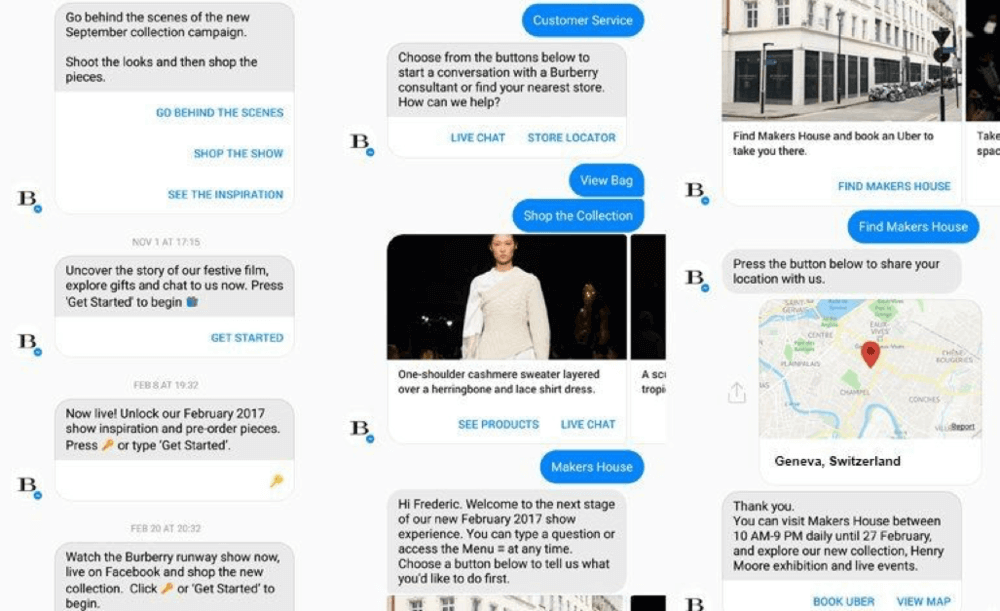 [Burberry Facebook chatbot, Source]
Mobile app for professionals
If you own a luxury beauty product brand, think about a useful mobile app for beauty professionals. One example is the Nioxin Consultation app we developed for Nioxin, a Coty Inc. sub-brand. Coty Inc with 9.4 billion U.S. dollars in net revenue. It is a multinational beauty company that owns approximately 77 brands, including Dolce and Gabbana.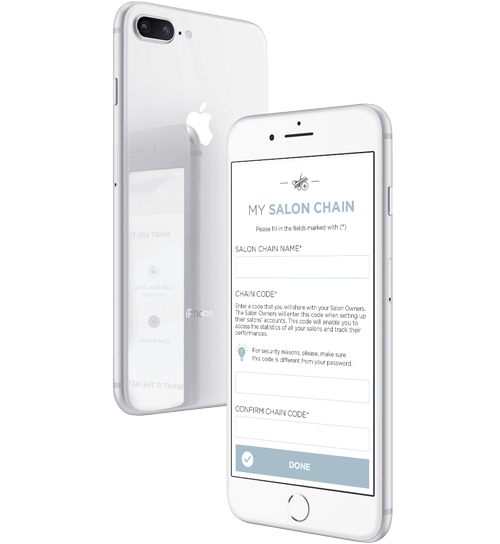 [Our Nioxin mobile app]
We built a luxury haircare app to help beauty professionals find the most suitable products for their clients. The app has image recognition technology. It analyzes the client's hair condition and offers the most suitable product. The app also includes statistics to track the hair condition over time. Read about other app features on the link.
Digital solutions for all luxury segments
We analyzed the best mobile apps from different sectors of luxury goods and services and listed the best examples below.
Personal luxury goods
This segment includes fashion, cosmetics, fragrances, watches, jewelry, luggage, and handbags. The leader of this niche is LVMH (Louis Vuitton Moet Hennessy) with a 47.2 billion U.S. dollar value. It was followed by Chanel ($37 billion ), Hermes ($30.97 billion), Gucci ($25.27 billion), and Rolex ($8.39 billion).
Louis Vuitton, which is a part of the LVMH brand, includes the following hi-tech solutions to its luxury shopping app:
LV product catalog with new collections, sizes, and prices
MyLV personal account with wish lists, orders, preferences, and personalized content display
LV Finder allows you to find any Louis Vuitton's product via the search tool with image recognition
Horizon Connected Luggage tracks your luggage on the LV App map via an integrated GPS device
Tambour Horizon Connected Watch to personalize the interface of your Tambour Horizon watch with a unique design
Don't forget to check e-commerce mobile app development costs and stages in this article.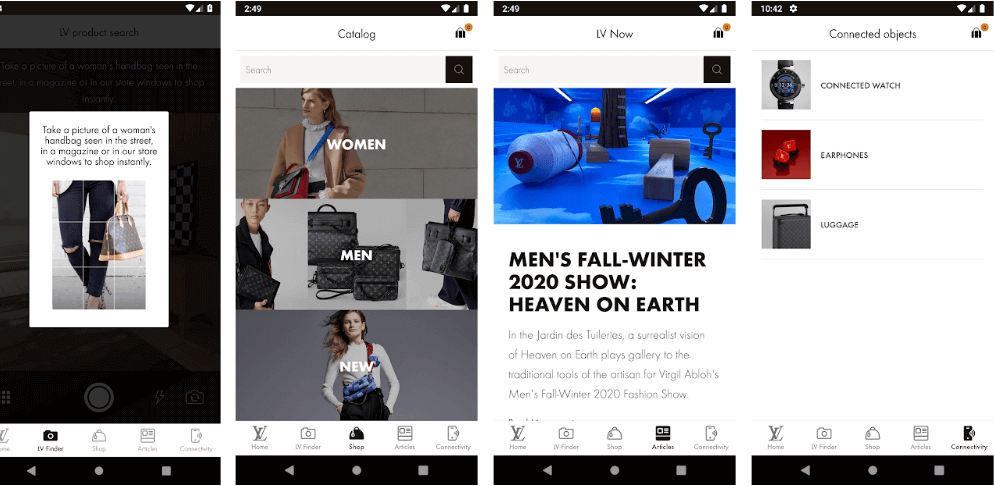 [Louis Vuitton mobile app]
Luxury hospitality
The luxury hospitality niche, which will reach $20,442 million by 2022, enjoys the benefits of web or mobile app development. The reason is simple. People are ready to pay extra revenue to get the most comfort while traveling. Thus, to meet the demands of luxury customers, owners of luxury hotels or spa centers should develop a booking app with some extra features. One example of a luxury travel app is Marriott Bonvoy which includes the following functions:
Bonvoy account with integrated Apple Wallet, Member Card, and history of account activities
Search and booking service to find accommodation
Mobile Check-in to register at your hotel
Mobile Key to skip front desk registration
Mobile requests to ask for extra services
Online chat with the hotel's representative to solve any issue that arises
You can learn more about travel app development in our previous article.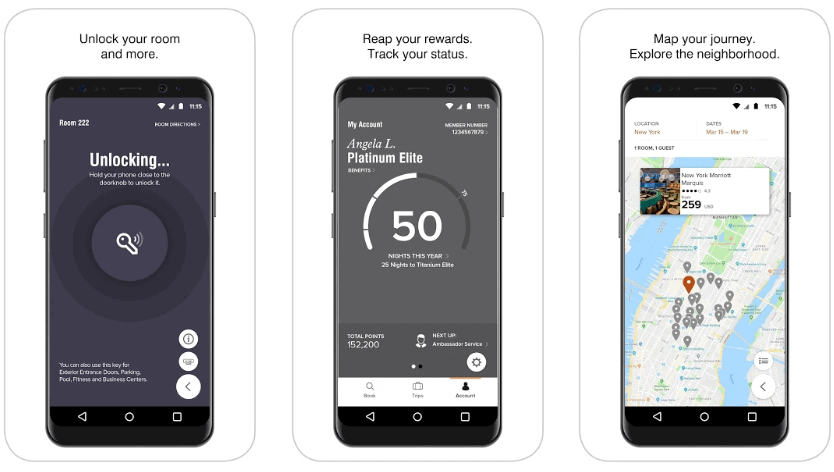 [Marriott Bonvoy mobile app]
Luxury Vehicles
The market for luxury vehicles will reach 611,300 million US$ in 2024, up from 423,000 million US$ in 2019, a new study has found. Luxury vehicle manufacturers have shifted from selling online to building a strong community via the app. Maserati nailed the development of a luxury mobile app for car owners. Let's look at the app's features in more detail.
The Grand Tour section tells you the history behind the brand and each car model
A personal account allows you to check your car status and stay tuned to the latest Trident's news
The Maserati Owner section includes online booking car services with 24/7 emergency help, 365 days a year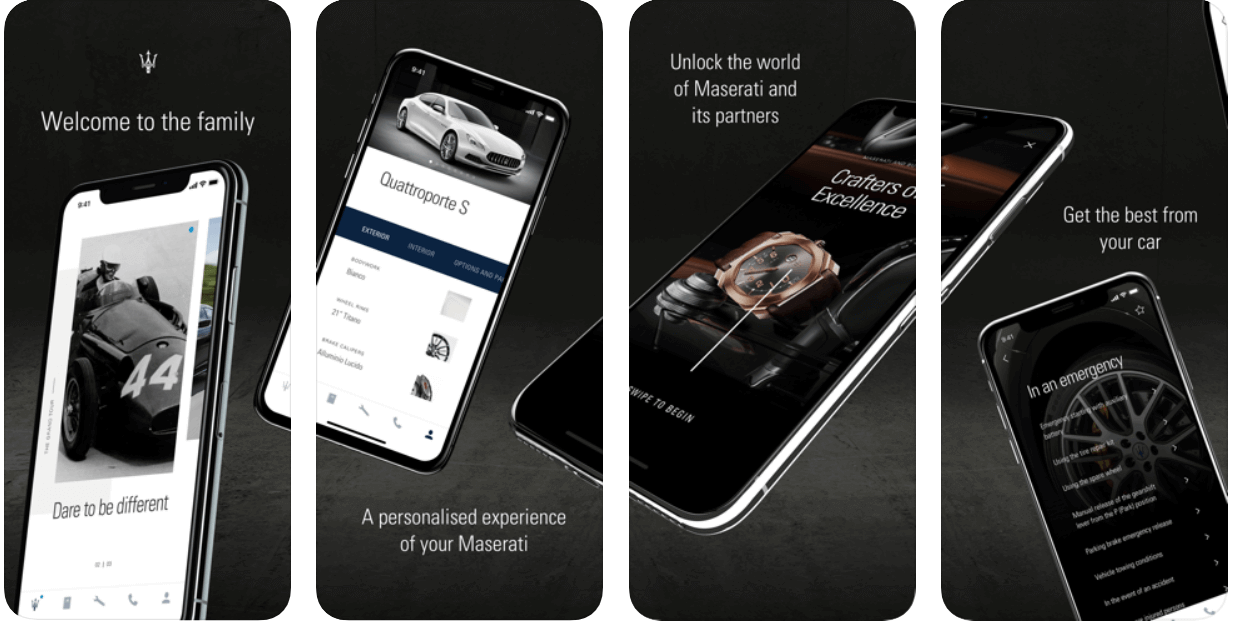 [Mazerati mobile app]
Another prominent luxury vehicle niche is luxury on-demand taxi-hailing services. Such a service is for wealthy people who travel a lot and want to experience luxury driving in supercars. Luxury taxis are a new segment that has become popular in mega-cities such as London. One example of a luxury taxi app is an app we developed for a London-based startup. The company's car park includes only supercars like Lamborghini, Gelentwagen, and others. Due to a simple Uber-like model, luxury customers can hail a lux-class taxi to drive to a party or an important event without the need to rent a car.
For more information, read our article about taxi app development.
Private jets and yachts
Apart from cars and hotels, luxury services also include renting yachts and private jets.
Thanks to the on-demand business model, you can rent a jet using the app. One example of a jet booking app is Victor Private Jet Charter which provides users with the following services:
Search section includes 7000+ private jets for an end-to-end individual jet charter experience
Compare section to choose the right aircraft and operator at the right price.
In-app flight booking and cost estimate features help you to find the best aircraft available
Compare the actual aircraft and operators side by side to choose the right plane and operator at the right price
Ask for a quote in-app and receive flight estimates as the app finds the best aircraft available
Book a jet and pay for a flight via a build-in payment gateway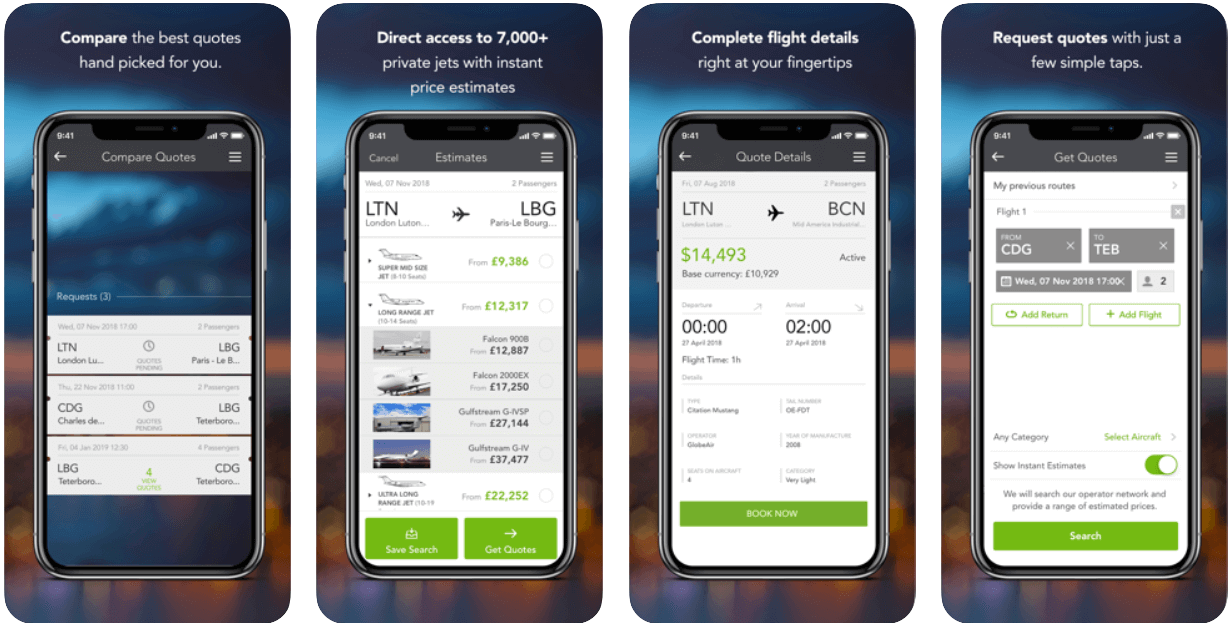 [Victor Private Jet Charter]
Yacht renting is another popular luxury service that has a high demand. For this reason, the ship booking mobile app will bring even more clients to your business. The best example of a yacht booking app is GetMyBoat. App users can book a boat and pay for it in-app.
Apart from a yacht booking feature, app users can use GetMyBoat for the following services:
Pontoon Rentals
Jet Ski Rentals
Houseboat Rentals
Catamaran Charter
Party Boat Rental
and other services.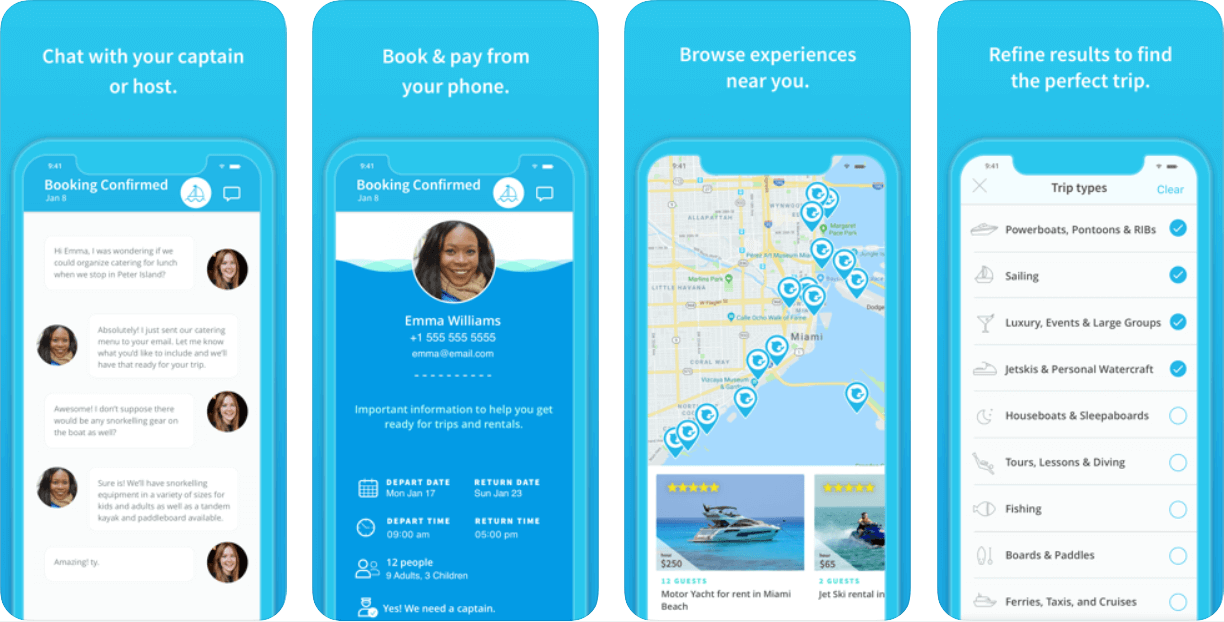 [GetMyBoat]
On-demand yacht apps work as marketplaces. This means that the app consists of three parts. They are user app, yacht or jet owner app, and admin panel. The cost to build a luxury app for taxi booking varies from $80,000 to 150,000 per mobile platform.
In a nutshell, luxury web or mobile apps increase brand awareness, bring extra revenue, and build strong relationships with clients. UI/UX trends from this article will help you to build an outstanding online boutique. As for mobile apps, consider that there are different solutions for different luxury goods and services. If you want to receive a more detailed estimation, use our project cost calculator.
To get a quote from your web and mobile app development team, fill in the contact form and tell us about your project.
What our clients say