The Development Guide on Luxury Boats and Yacht Charter Apps
Thanks to the on-demand economy, we receive numerous services via the mobile application, eliminating long waiting and paperwork. Popular in the food ordering and taxi-hailing industries, on-demand apps are also relevant for luxury yacht charter, which is extremely popular among wealthy Millennials. Yacht chartering businesses should concentrate on building streamlined and user-friendly yacht rental apps to meet the demands of young millionaires.
If you consider adopting a mobile strategy for your yacht chartering company, you should be aware of the industry leaders' best practices, as well as app development steps.
By the end of this post, you will know how to develop a luxury app for superyacht brokerage, have insight on essential app features, and the development costs.
But, before digging into the yacht charter app development guide, let's figure out why the standard yacht chartering process no longer meets luxury customers' demands.
The problem in the luxury yachting industry
An Allied Market Research report revealed that the luxury yacht market is a fast-growing industry expected to reach $10.20 billion by 2025 from $5.70 billion in 2017. The main industry drivers are the increased disposable income of customers and millennial buyers, who prefer yacht chartering over yacht ownership due to high costs. Also, Millennials expect luxury yacht chartering services to be as convenient as their favorite on-demand apps, including Uber, Airbnb, and Netflix.
At the same time, to charter a yacht via a broker, you need to wait at least several days to find out about prices, and over two weeks to actually charter a boat and sign all the necessary documents and agreements. As a result, yacht chartering businesses that still communicate with clients in an old-fashioned way are losing millennial customers.
If you want to keep your yacht-chartering business afloat and meet the expectations of wealthy young-adult travelers, an on-demand yacht finder app is a must. Using the app, your customers can find, book, and even pay for a charter within minutes, avoiding long waits and other inconveniences.
Related reading:
To build an outstanding luxury yacht charter booking app you need to have a clear picture of what the on-demand service model is and how it works.
Free E-Book on On-Demand Transportation Project Development
Download Now
On-demand yacht booking app to connect yacht charters and yacht owners
On-demand applications perform as a middleman between customers and service providers, allowing them to make business transactions in just a few minutes.
In recent years, we have seen how the on-demand business model has revolutionized many industries. For example, Uber, a taxi-booking app, has completely changed the way we book a car. Now, you can hail a taxi in a few clicks in your mobile app, get the estimated trip cost and length, and even track the location of your driver via GPS.
This on-demand business model also fits the luxury yacht chartering industry. But, instead of taxi-hailing, where time matters, your yacht chartering app should be focused on visual representations of boats and their characteristics, additional luxury services, and social proofs. An app that completely nailed it is Ahoy Club, a leader in the superyacht chartering market.
A bit of information about Ahoy
Ahoy Club is a digital marketplace where seekers of luxury marine adventures can find the best superyacht from 3,610 yachts in a quick and less costly way. At the same time, luxury yacht providers can list their boats and receive absolute control over charter scheduling and pricing.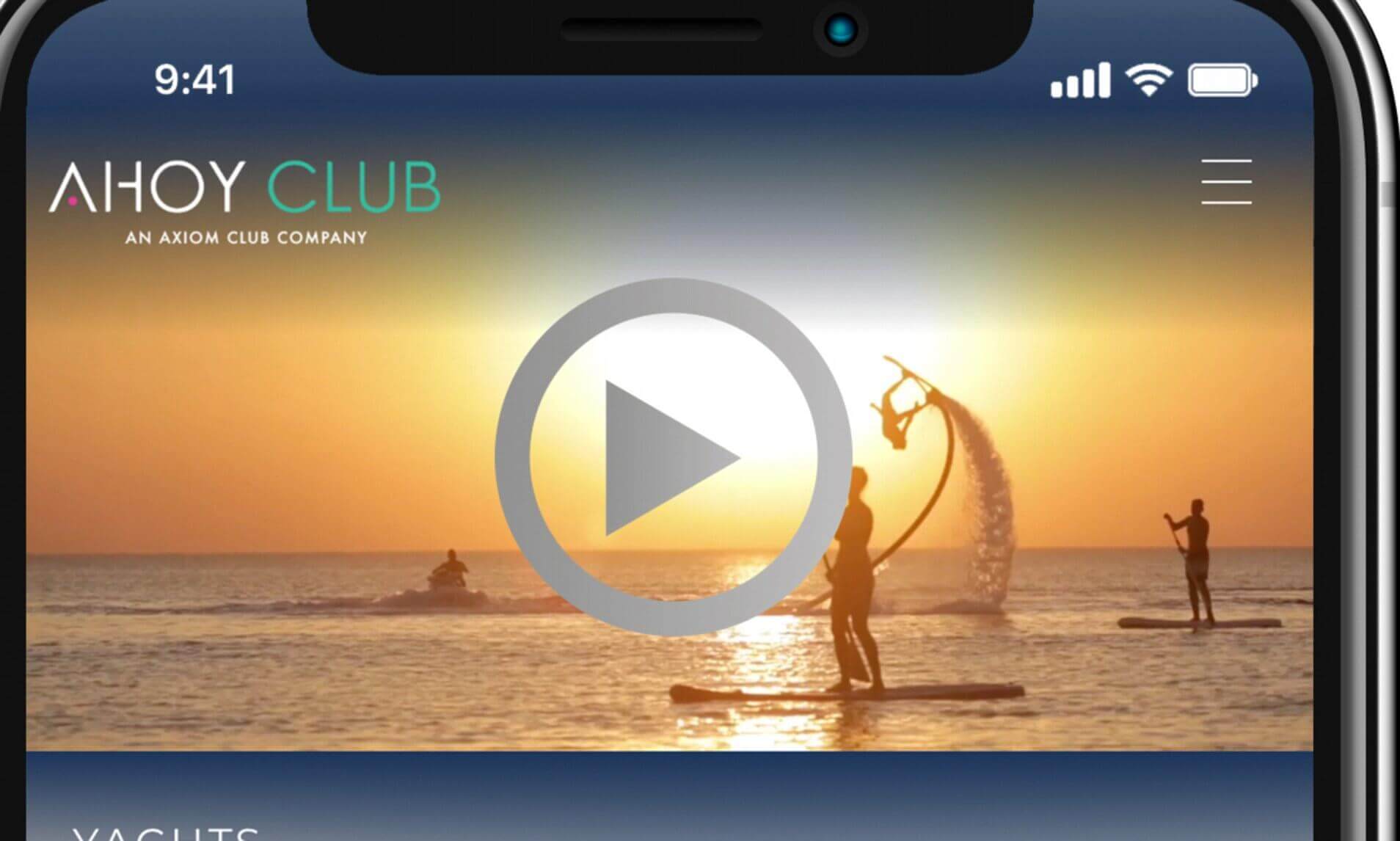 [Source]
The idea of such a service came to Ian Malouf, Ahoy Club founder, when he found that the yacht chartering process is cumbersome and slow, and no longer meets the needs of modern customers. To solve this issue, he decided to "make the chartering experience quicker, more informative and more fun" with the Ahoy Club app that allows you to "book a yacht in less than three minutes and save money." And his idea paid off. Currently, the Ahoy Club app offers users luxury yacht chartering at all destinations worldwide.

How Ahoy works
To charter a luxury yacht as a user, you need to sign in on a mobile app, select your member type, destination from 154 countries, departure and return date, the number of guests, yacht type and size, and a charter plan.
Next, the app will show you the search results with available yachts for rent. You can compare and choose the best option for your marine adventures. To book a boat for luxury leisure you need to send a request to the yacht owner.
Once the yacht owner approves your booking, which might take up to 48 hours, you will receive a transparent and independently recognized digital contract. Due to this contract, you pay a 25% deposit with your bank card via a build-in payment gateway. The next step is to discuss all the trip details and additional services with the yacht representative in build-in secure messenger and pack your bags for the most fantastic holiday ever. You need to pay 25% of the Charter Fee, the remaining 50% of the Charter Fee plus the Advanced Provisioning Allowance, the Security Deposit, and Additional Charges before the charter starts.
After you've enjoyed your holiday, you can leave a review and rate luxury services received, the yacht, sailing crew, and the Capitan.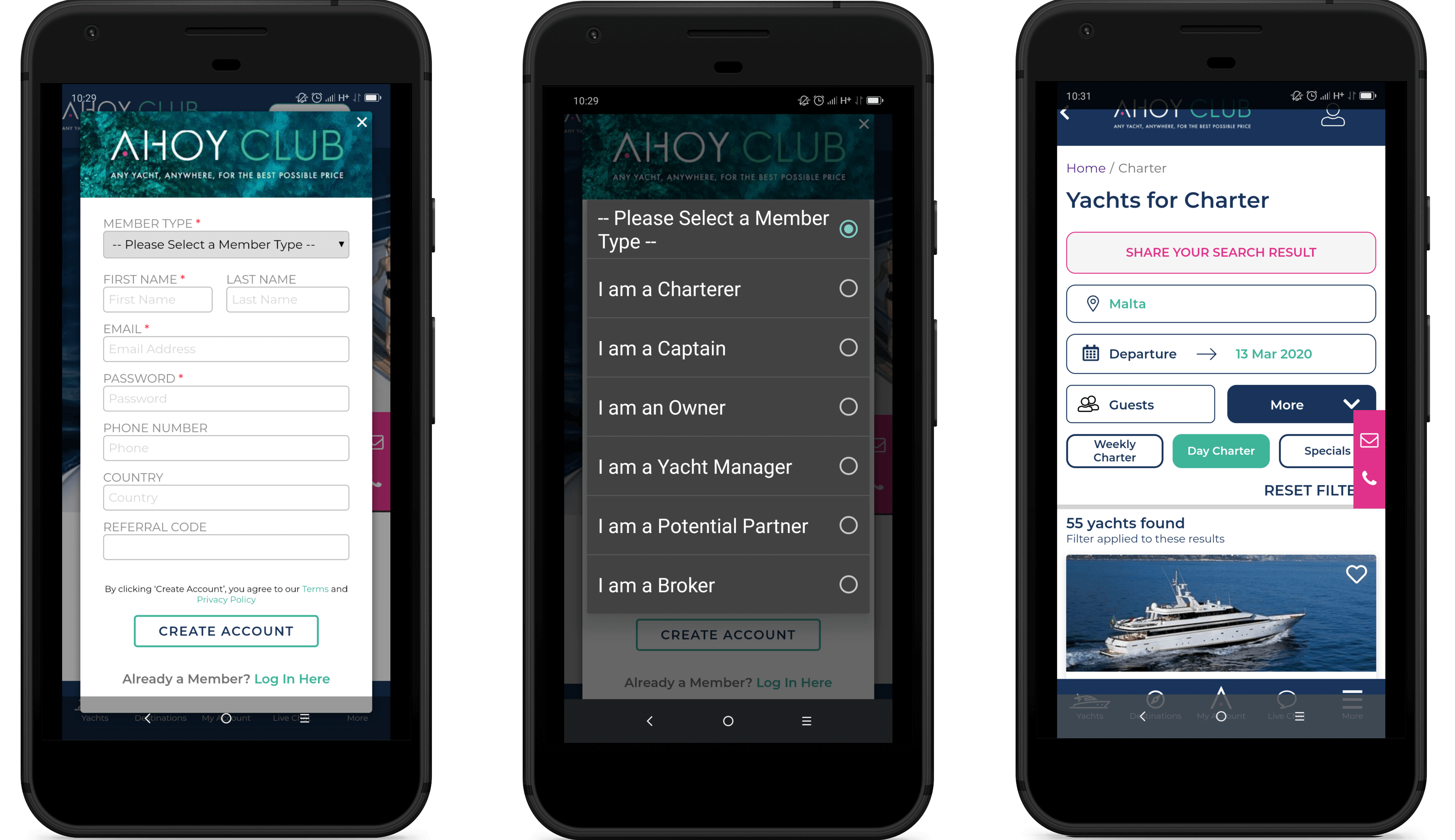 To list your superyacht as a yacht owner, you need to sign in to the app as a yacht owner, Capitan, Yacht manager, or Broker. Next, provide all technical characteristics of your boat, including the yacht's name, length, year built, number of guests, the port of registration, and your country.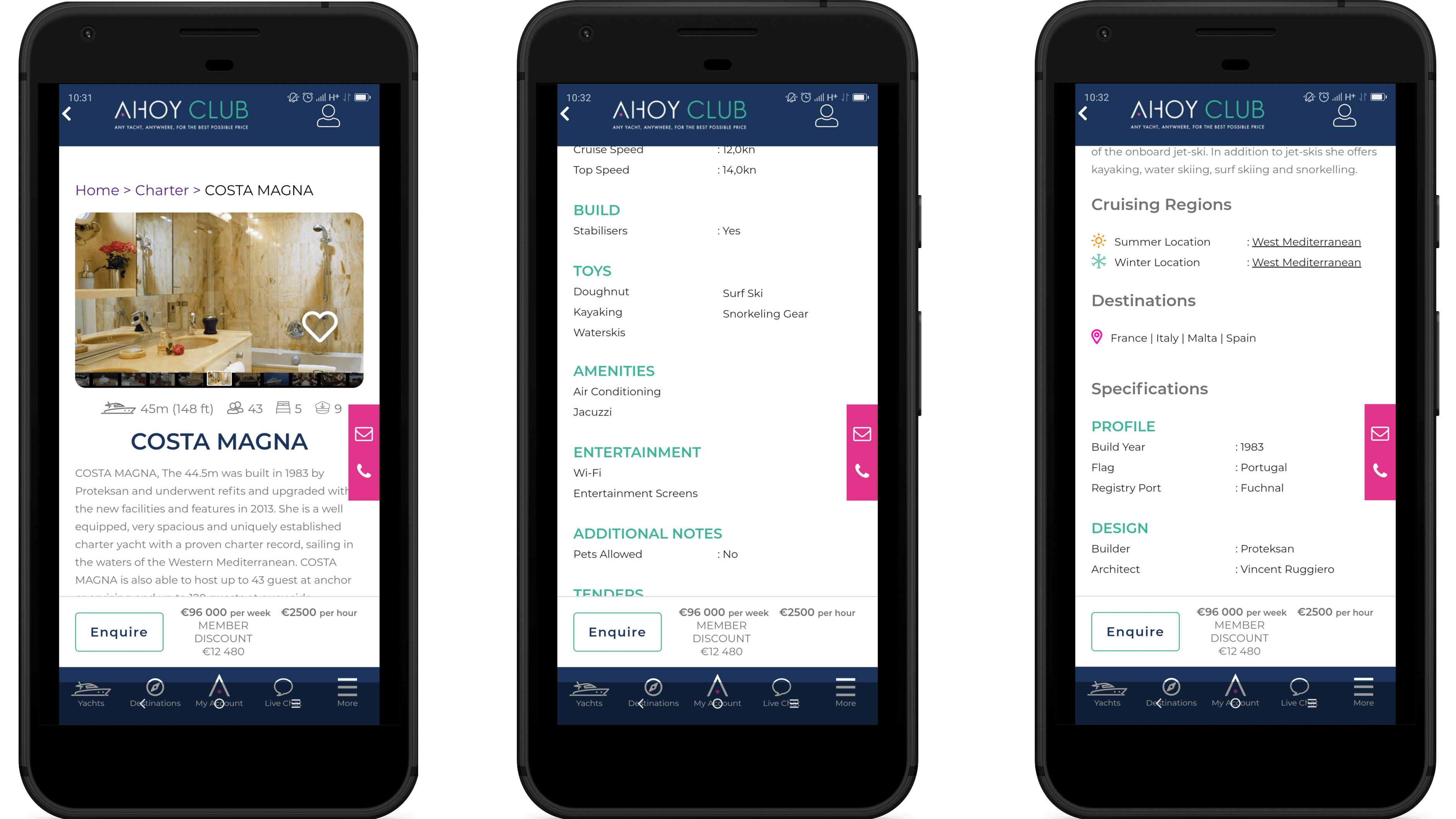 Don't forget to include high-quality images of the yacht, cruising regions, destinations, service type (one-day booking or only long-term cruise), and add additional amenities, such as jacuzzi, gym, cinema room, etc. Once you've listed your superyacht, you can manage booking and voyage schedules, set instant prices, and even promote your yacht in the app's Targeted Marketing platform.
Monetization model
To earn money, Ahoy Club applies a usage-based model and charges small fees and commissions on each charter made through the app and every yacht listed, including:
Payment Handling Fee in an amount of 1.5%, charges on each charter total deposited or refunded via the app
Central Agent Fee. The app charges 5% on each yacht listed by an agent on behalf of the owner
Commission, a fee Ahoy charges owners on any yacht booking made via the mobile app. There are two main types of such commissions – 15% of the Charter Fee on yachts that are less than 24 meters, and 4% on a yacht more than 24 meters.
Software Charge, a 3% Charter Fee paid to Ahoy by the yacht owner, for providing digital services
Now that you know how to earn money with your yacht booking app, let's take a look at the essential yacht app features and development costs.
Steps to build a luxury yacht charter app
Below we list the essential stages of developing a great yacht rental app.
Step 1. Analyze the luxury yacht booking app market
By analyzing your competitors, and knowing their strengths and weaknesses, you can shape your project vision, mission, and monetization strategy.
Step 2. Hire yacht booking app developers
Once you have a vision of your project, you can start searching for developers of mobile apps with experience in on-demand services and ask them for a quote.
Step 3. Create technical documentation of your Airbnb for yacht app
Technical documentation is a must for a successful boat charter app since it includes the app's back-end architecture, user stories, technical solutions, and third-party integrations, as well as a detailed project estimate.
Step 4. Start building boat rental app MVP
Before developing a feature-rich boat rental software, try your business idea by launching an app Minimum Viable Product with only essential features, and find out whether it is popular among users.
Step 5. Empower your boat sharing app with advanced features
Once users start chartering luxury yachts via your app, it is the right time to add more advanced functions to your Airbnb for boats and provide them with a more convenient booking experience.

Private luxury yacht charter app: essential features
Yacht charter booking software performs as a marketplace with different user roles, including a charterer, yacht owner, and an admin who manages operations between both parties. Thus, your yacht chartering software will consist of a Charterer app, a Yacht owner app, and a web app for the Admin panel. Below we list essential features to include to the MVP of your yacht charter booking system.
Charterer app
A charter app aims to find the best yacht via search, book it, pay a deposit to the yacht's owner, and leave a review about the luxury yacht services provided.
Thus, essential features of Charterer app's are:
Log in via email or social networks such as Facebook, Linkedin, or Twitter
Yacht search with geographical regions, prices, number of guests, and charter plan (Weekly Charter, Day Charter, Specials, or All-Inclusive)
Filters to allow users to find the best option according to cost, size, and location, year of manufacture, etc.
Schedule booking section where users can request the charter of a chosen yacht
Built-in payment gateway integration via API for seamless money transfer between charterers and yacht owners via PayPal, Credit/Debit Card
Rating and reviews to allow charterers to share their experience on luxury traveling
Yacht owner app
In this app, yacht owners, or other members of the yacht's management team, should be able to provide as much information about their boats as possible, manage yacht bookings, receive deposits, and communicate with clients.
Thus, the yacht owner app should include:
User verification to find out about the user's role in the yacht management (yacht owner, crew, yacht manager, etc.)
Yacht listing, where the user puts info about the yacht, including name, country, the port of registration, size, type, etc.
Setting fees. Users can set prices on a specific period based on the yacht's type, size, length of trip, etc.
Approve or dismiss charter to show chartеrers whether your chart will be available on the requested period or not
Schedule charters to show booked yacht charter dates via the in-built calendar
Admin panel
In this web application, you, as an Admin of yacht chartering marketplace, can manage all the transactions, both charterers and yacht owners, see the number of booked charters, number of declined charters, and other information of your app. The essential features of an Admin panel are:
Dashboard to track crucial metrics of your app such as the number of users, number of active deals, and number of deposits paid, etc.
Yacht listing management to edit yacht descriptions, add images, approve user reviews, etc.
User management to verify the user's role in the yacht crew, resolve disputes, approve user profiles, block suspicious users, etc.
Reporting and analytics are vital to keeping track of your app's most active users, most popular destinations, yacht types, etc.
Advanced yacht chartering app features to consider
Once you launch your app's MVP and start attracting yacht owners and charterers, you may want to empower your app with the following advanced features:
Built-in messenger allows app users to communicate within an app on the trip details, entertainment, menu, etc.
Price comparison so charterers can check trip costs and choose one that fits their budget
Weather checker, since the weather could be a reason to postpone a trip due to dangers in a storm or rainy seasons
Cloud solution integration to keep all the information about your customers, deals, and prices on a secure cloud, while maintaining your app's infrastructure on scalable virtual machines, and handle the massive traffic load. For this service, consider only Certified Cloud Platform Partners.
Online concierge is a chatbot that will help you to reduce customer support costs by providing automated answers on FAQs, necessary information about luxury yacht etiquette, safety tips, etc.
How much does an on-demand yacht chartering app cost?
So, how much does an on-demand app cost? Mobile app projects that include several types of users are the most difficult. Also, remember that you are going to develop two separate apps (one for the charterer and yacht owner), managed by one web-based Admin panel. Such a project requires, not only senior-level app developers but also time and money. Thus, to give you a clear idea of the app's MVP project scope, we have gathered and estimated essential features in hours.
FeatureScreen

Functions required

Design

FrontEnd

BackEnd

Architecture

12

24

Design

Development of UX/UX Design components

40

Yacht owner's profile

Personal info
Edit profile
List of scheduled events

8

16

20

Charterer profile

Personal info
List with preferences
Booked charters

8

16

20

Search for a yacht

Choose yacht model
Apply filter
Send a charter request to the yacht owner

16

24

32

Charter request confirmation

Approve charter request
Cancel charter request

16

Messenger

Charterer and yacht representative can send text messages

16

24

40

Payment

Third-party API integration such as Stripe or PayPal

8

4

40

Feedbacks and review

Rate yacht owners
Rate yachts

10

20

20




Admin panel

Dashboard
Catalog Management
User Management
Booking Requests

64




Project Documentation

Technical specification
Installationdeployment
Instructions, development documentation

118
On average, to build yacht booking mobile apps, our developers will need from six months, which costs from $60,000 per mobile platform. However, the price is subject to change according to the feature list, the number of users, business requirements, etc. To get a more precise cost of a yacht booking app, use our project cost calculator.
Streamline yacht chartering leveraging boat reservation software
New times call for new technological solutions, especially in providing luxury services. Since tech-savvy Millennials are the primary target audience for a super luxury yacht chartering business, the only way to meet their expectations is to develop a streamlined and mobile-friendly luxury yacht booking app. In this way, you will make the exclusive lifestyle more accessible, while receiving considerable revenue from a commission-based monetization strategy.
Think it's time to develop a luxury mega yacht chartering app? We are here to help. Fill in the contact form to ask for a quote.
What our clients say