According to CB Insights, more than 70% of upstart tech products fail. This happens due to various reasons, from running out of money to relying on the wrong team. Statista points out 20 main reasons. The infographic below demonstrates them: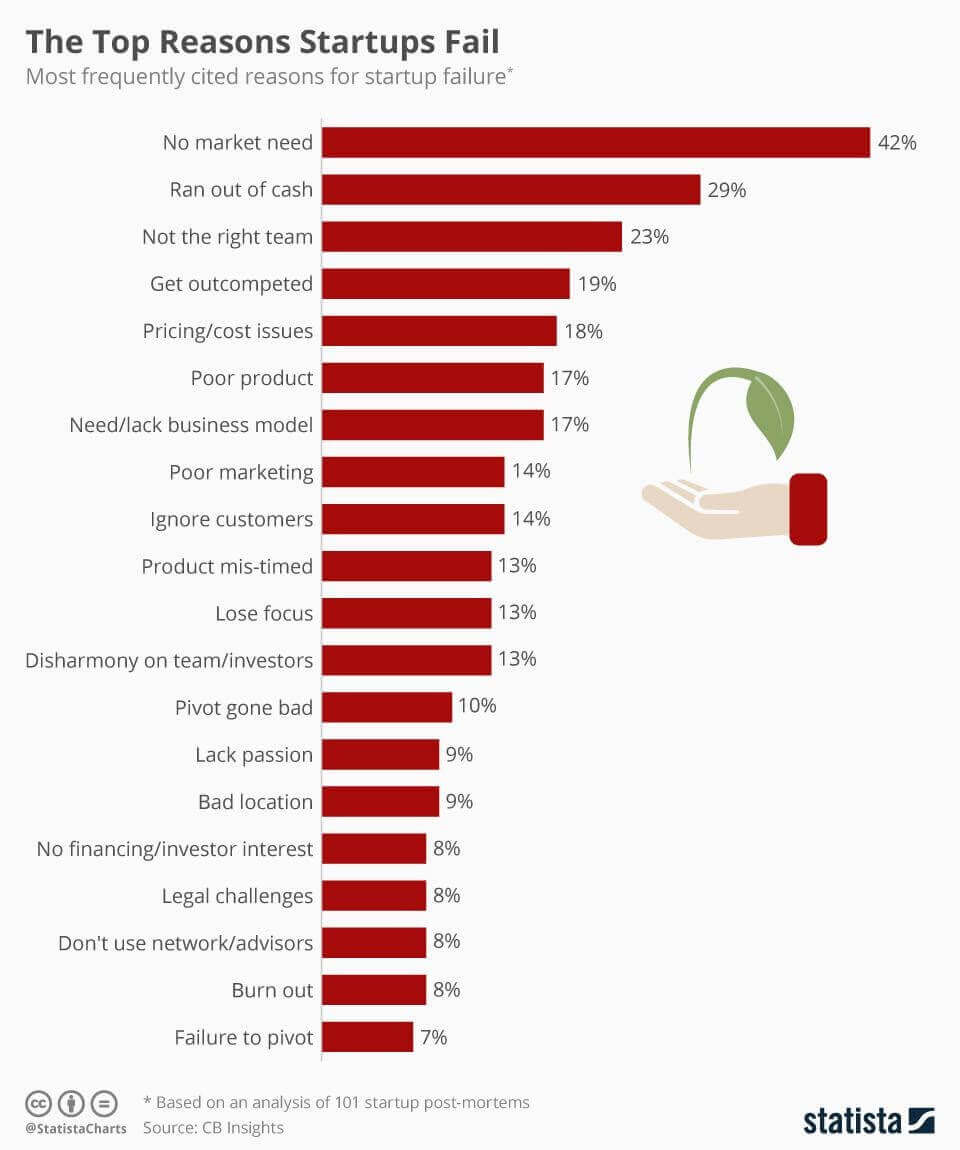 [Source]
But there is another reason you may not have heard about and this is Minimum Viable Product - MVP. Your future product will not generate profit if it's not in high demand. A Minimum Viable Product - MVP is ideal for assessing your customers' product demand.
Let us break down the "what is MVP" question and explain how to use the Minimum Viable Product - MVP approach in your future project.
What does MVP mean in web and mobile development?
Mobile app building and quality have become significant within the past few years. To hit the correct targets and win over customers, the team needs to follow an iterative cycle. And a Minimum Viable Product - MVP is a paramount ingredient for that.
The MVP is an abbreviation of a Minimum Viable Product. Initially, MVP was coined and defined by Frank Robinson in the early 2000s. But a minimum viable product didn't get full recognition until 2011. In 2011, Eric Ries's book moved the goalposts by presenting several new concepts including MVP. But what is MVP or Minimum Viable Product at its core?
The purpose of MVP is to probe an idea with customers initially and obtain honest feedback. MVP simplifies forming hypotheses for further growth. Additionally, a Minimum Viable Product allows the go-ahead for developing a full-fledged product. Put simply, you query potential customers whether or not they are interested in a new product. Since collecting customers' feedback from an MVP is often cheaper than building an app, it saves money as well.
The idea of an MVP or minimum viable product may come across as financially limited in appearance. However, a minimum viable product is all about providing the main use and receiving customer feedback to go on. Depending on the work field, there are around 18 MVPs on the market. These include Wizard of Oz, One Painkiller, and other classifications.
In general, an MVP plays a considerable role in retaining a certain level of flexibility in the product.
Minimum Viable Product vs. Prototype: What is the Difference?
Various MVP misinterpretations hamper product owners from implementing this approach in the most adept way. As for the whole process, the minimum viable product stage fits between the prototype and the minimum lovable product.
MVP and prototype are quite similar in their aim because they both provide a basis for customer feedback. However, a minimum viable product and prototypes are geared towards different potential users. The first adopters of the latter are those people partaking in its building. A minimum viable product, on the contrary, is intended for customer use. In most cases, a prototype serves as a bait for funding and controls the MVP. Commonly speaking, an MVP is a functional prototype.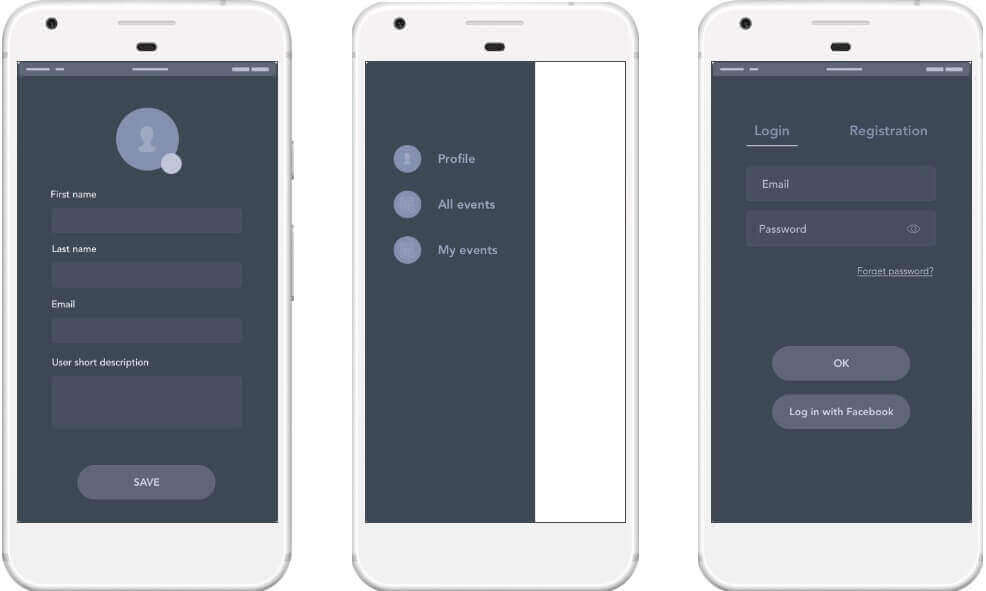 [App's prototype example]
Benefits of launching projects as MVP
A minimum viable product entails benefits as basic and straightforward as the product itself. Appropriately built, this iterative reduces cost, improves customer relationships, and adds to the product quality. Launching products as an MVP also includes other benefits such as:
Faster time to market. Using this approach guarantees a fast pace to the marketplace. Since creating the MVP forestalls procrastination, your perfect, straightforward, and useful product will get delivered on the market sooner. By supplying your MVP so quickly, you put an early stake in the ground for your product and its claim to fame. The quicker arrival of your product additionally offers you the chance to evaluate the market.
Fewer development costs. While feature-rich products involve an enormous chunk of time, their cost develops at a geometric rate. Kicking off with an MVP, on the contrary, presupposes fewer features, thus minimizing money spent on the project.
Lower risks. If the market refuses the product, the team ends up wasting time and money on a useless product. An MVP helps eliminate this situation and assesses your hypothesis with genuine customers on the market. If the market acknowledges your barebone product, your odds of success improve. In this scenario, you can keep a tactical distance from the danger of losing funds.
Successful projects launched as MVP
Facebook
Today people can't imagine their digital lives without this social network. However, the site was first launched as a minimum viable product. The MVP was created to associate students from American schools. Although it was not a pioneering concept, Facebook managed to revamp this idea. Because of its straightforwardness and ease of use, this product gained immense popularity. This is how its founders introduced their promising idea as a minimum viable product to the market.
Uber
In 2008 in Paris, two friends discussed business plans and ideas when they had to go somewhere. After they couldn't find any ride, they produced an original product idea that would help tourists and citizens pick up their own taxis. The story of Uber began with a Minimum Viable Product - MVP. Before launching the app, the service was tested by New York customers. The app was a modest one and had a simple set of features. Once the MVP was polished according to customer feedback, the service went full force.
Instagram
Instagram is relatively new in the game. However, it didn't stop the app from becoming one of the most used social media platforms. Initially, the app or the MVP of Instagram offered photo filters. But it didn't go far until the sharing feature was added.
The MVP development process with The APP Solutions
The MVP stage is an integral component of the agile MVP development approach we implement for our projects at The App Solutions. These moves will help you define and rank features. They will also help sketch out the plan to send your MVP to the market.
Step 1. Attend a Workshop
Workshops and Discovery phases ensure you allow your precious time to profitable and predictable products. Our company offers several workshop packages based on your needs and incentives. Thus, if you opt for a quick run workshop, the main deliverables will include:
Agenda
App Store portfolio items, feasible portfolio items
Technical architecture structure: a high-level overview with basic schema/diagram
Preliminary project scope and app structure
Design screens (maximum 5 in total)
Step 2. Set business goals
Before sending your MVP to market, it is essential to pinpoint your incentives. This will help outline your plans for a minimum viable product. The goal should be defined as the issue you wish to solve for your potential customers. However, make sure you set reasonable business expectations to achieve them.
Step 3. Write project documentation
When there is a team involved in the development process, everyone tends to view things differently. This is what project documentation is for. It facilitates communication and eliminates possible misunderstandings. Also, it makes sure your product features are fine-tuned and adequately managed, controlled, and delivered. At the App Solutions, we usually prepare project documentation during the Discovery (Inception) phase.
Step 4. Create project roadmap
A project roadmap has a rundown of the project's goals, features, and deliverables presented on a timeline. It also features essential milestones and dependencies for a product. A project roadmap serves as a communication tool and helps articulate strategic thinking. With the project roadmap, you get an instant overview of the whole project plan.
Step 5. Develop a project's MVP
We don't build up a massive piece of the project and direct far-reaching testing at the very beginning. Instead, we develop a small part during one cycle (from 1 to 14 days). At that point, our group performs testing, bug-fixing, and shows you the outcome during a demo call.
During this stage, our group achieves:
Definition of ready outlined by your project manager and a business analyst
Definition of done, to ensure that the user story works properly and bug-free
Acceptance criteria
Thus, we guarantee that all the code is without bugs and works as intended.
Want to Learn More About The APP Solutions Approaches In Project Development?
Download Free Ebook
How Much Does an MVP Cost?
While developing an MVP, the total can vary from $30,000 to $50,000 based on your work requirements and scope. Note that the MVP cost is around 20-30% of the full-fledged product development cost. As usual, design and functionality are the two integral components of an MVP. The total depends on how complex the product design and features are.
On average, the development process includes the following areas of work:
Design from 40 hours
Back-end from 226 hours
iOS/Android from 242 hours
QA from 140 hours
Bugfix from 70 hours
Project management 170+ hours
Project documentation 80+ hours
Our projects launched as MVP
HYPR is an on-demand super car-hailing app that operates on a subscription basis. Our client was inspired by our blog post about taxi-hailing mobile app development. And he asked us whether we could develop a taxi booking app for the luxury segment. We were more than excited to take on this opportunity and dive into developing a challenging product.
First, we made the apps compliant with TFL and created tech documentation with all possible scenarios and user stories. As step 3 of our product development process, we prioritized features and planned an MVP. Before this, we analyzed all user feedback. As the project was quite complicated, an MVP was required to achieve the proof of the concept of the business idea. Fourthly, we started to implement user stories and main scenarios for the passenger app, driver app, and admin panel. At this step, we also developed a Subscription website and integrated a payment gateway.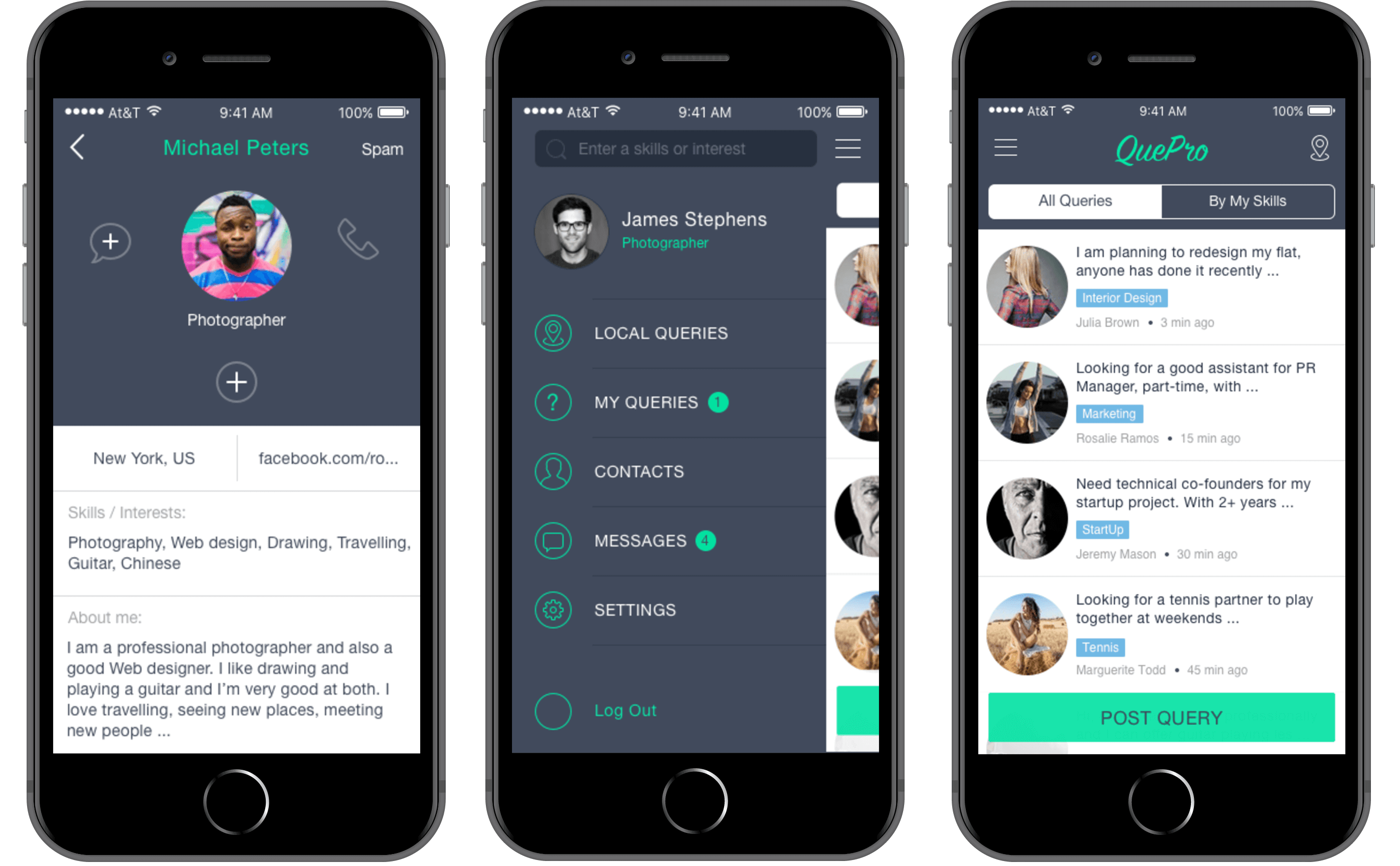 QuePro is a social platform that connects people with local experts. The platform allows users to post their queries to local experts and receive advice from them in the form of public chat.
Here, we had to implement the product's key functionality with a tight deadline in mind. Our client wanted to make a social platform that would operate flawlessly on mobile devices. Our task was to create this app from scratch and ensure its high level of performance. This project started with a minimum viable product as well.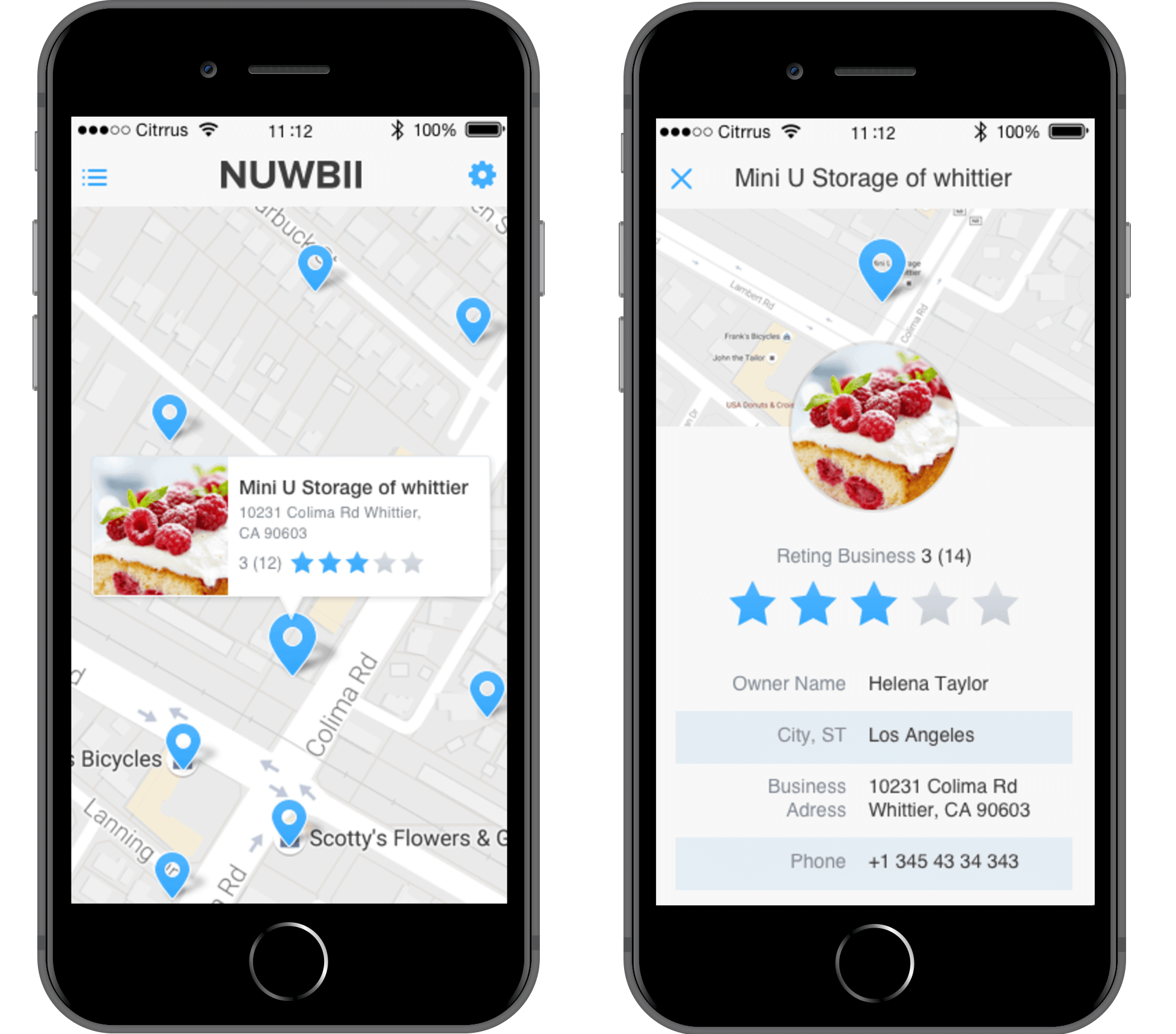 Nuwbii is an innovative resource geared towards finding local products and delivering a new channel for promotion. Before starting with creating the full product, we had to research the target market first. Our business analysts carefully studied personas, their habits, and behavior patterns in order to understand what features users required. But even though we had done a healthy share of research and risk assessment, we started with an MVP before launching the full-fledged product. A minimum viable product helped us understand the customers' needs and develop a new product worth being proud of.
Conclusion
As often happens, companies spend years worth of hard work to prove their hypothesis wrong. As a result, a carefully designed product turns out to be of no use to customers. A minimum viable product stresses the impact of feedback on new product development.
The concept of a minimum viable product refers to creating an austere product with a narrow set of features that can be offered to potential customers. Then you assess the feedback and fine-tune the solution to suit your customers' demand. In this way, the company doesn't commit to a product that customers may not want to buy.