Blog
Best use cases of Artificial Intelligence in the transportation industry
Best use cases of Artificial Intelligence in the transportation industry
As a logistics or transportation business owner, you want to achieve a competitive edge. You may also want to eliminate risks connected with human errors, low workforce productivity, and inefficient operational planning. To achieve your goals, you need to transform your operational landscape by adopting AI in your transportation business, including related technologies such as Machine Learning, IoT, and data analytics tools. Why? The simple answer is that algorithms and AI-powered software are more precise, learn faster, and almost-error free, so that they can provide you with data-driven insights.
Besides this, Accenture's report reveals that 36% of large-, mid- and small-size organizations have already adopted AI for logistics and supply chain processes, which means your business could be left behind by competitors.
We've created this post to give you some ideas on how to leverage AI solutions for your logistics or transportation organization and the advantages of AI in transportation. You'll also learn how AI solves main issues with your business' profitability while increasing its effectiveness.
Main issues in transportation, shipping, and logistics industries
While delivery and logistics businesses vary in size and the number of fleets, all of them want to achieve maximum performance of their trucks, while keeping costs low.
Undoubtedly, you face problems that day by day get in the way of your business' success, and continually encounter issues, such as:
Increasing fuel costs. Continually rising fuel prices increase your operational costs, forcing you to charge more for your services to keep your business profitable. Also, your fleet drivers may use more fuel than expected because of poor road optimization, traffic, or sudden road maintenance, which also impacts your financial bottom line.
Empty truck miles. You don't want to transport air because, with every empty mile, you lose an opportunity to earn money. At the same time, improper predictions of supply and demand can result in 20% empty miles, according to Aaron Terrazas, director of economic research at Convoy. The reason for such a situation is that human schedulers have limitations on how tight they can fill a truck's schedule using historical and upcoming data.
No transparency of truck locations. The ability to track vehicles in real-time is essential for maintaining proper speeds and significantly reducing the amount of fuel used by your fleet. Moreover, real-time vehicle tracking is necessary for better routing and dispatching, which in turn reduces truck mileage and increases the number of jobs completed in a day.
Big fleets are hard to maintain on time. Let's imagine your fleet includes fifty trucks and a small fleet maintenance team that maintain trucks on time and in proper condition. Such a fleet requires precise monitoring and control of all technical parameters. But when a vehicle breaks down on the way due to poor maintenance, you face the extra costs of calling a tow truck, freight delivery, and truck maintenance that was not part of your plan, and again, you are losing money.
The need for back-office optimization. You are always looking for ways to make your business processes better and more efficient, which becomes more difficult as your business grows. At the same time, your back office employees continue doing routine tasks, such as manual data checking from invoices. If your accounts department is still working with data in such a way, it is high time for you to adopt modern technology and optimize data operations.
All the problems listed above are just the tip of the iceberg but do not despair. You can solve all these issues with modern technologies, such as Artificial Intelligence, Machine Learning, and Data analytics software, which will definitely increase transportation business effectiveness.
Best applications of AI in the transportation industry
Artificial Intelligence or AI is a special algorithm programmed to perform a particular function. Machine learning is a more narrow sub-niche of AI since the algorithm learns while performing operations and applying pre-defined parameters. Artificial Intelligence in transportation has become the driving force for such giants as Amazon, DHL, and FedEx.
Now, let's take a look at the best examples of AI in transportation so that you can select the most appropriate solution for your business.
Route optimization
You can solve a well-known Vehicle Routing Problem (VRP) by applying ML-powered route optimization software. This will create an optimal route to depots for multiple customers while minimizing the road costs and number of vehicles.
Let's find out how AI in logistics works.
The user selects the place of departure, the specific point of destination, and even a specific time of day.
Then, AI algorithms analyze multiple factors, including traffic patterns, weather conditions, and traffic reports, and generate the best possible routes.
The algorithm can also rely on historical traffic data to predict the best day of the week, and even time of day when the driver should go out on the road.
Some platforms can also send notifications to drivers' mobile devices or tablets about the nearest gas station with the lowest costs, restaurants, and hotels on the road.
One example of artificial intelligence in transportation is Valerann, an Israeli-British startup that developed a smart road system. Its AI algorithm tracks road conditions and predicts the situation on highways, leveraging wireless sensors integrated into roads.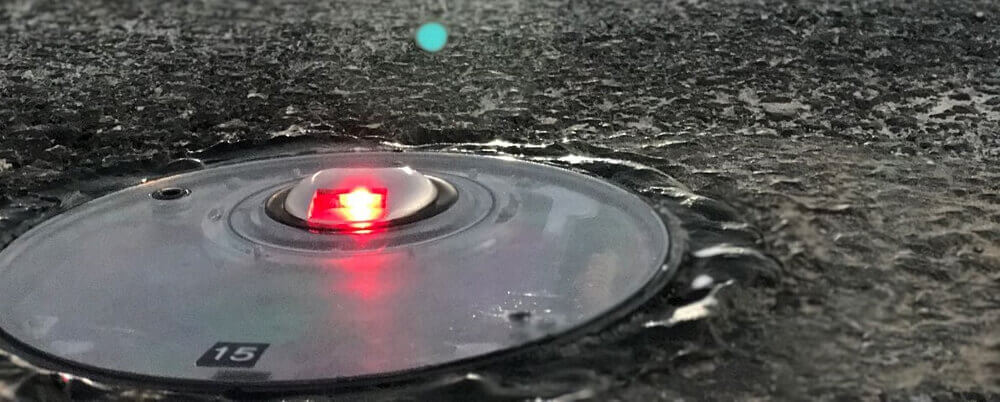 [Valerann's sensor]
In this way, Valerann's team created a smart route optimization network that shares information with Valerann's cloud, where AI and Big Data algorithms transform the data into real-time analysis and provide real-time information to drivers and even self-driving vehicles.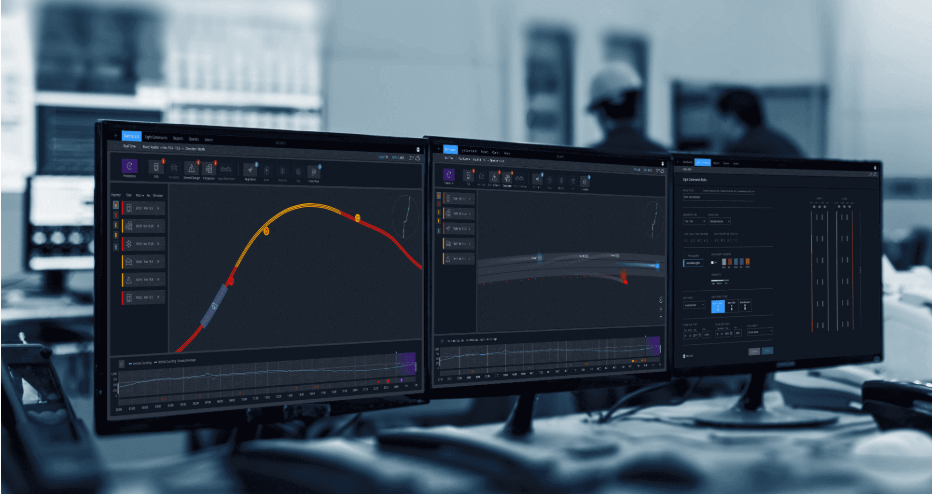 [Source]
Shipping volume prediction
Another use of AI and predictive analytics in transportation is turning historical data from your transportation management system into a data-driven tool for forecasting the number of sales and shipping volumes. In most cases, such a forecast consists not only of your historical data, but also external factors, including seasonality, weather, and even public holidays. Depending on your business' needs and planning processes, you can receive forecasting for just one day or several weeks and optimize the operational process with a data-based plan in advance.
Related reading:
One example of predictive analytics and artificial intelligence in transportation is Transmetrics. This platform, for automated predictive demand planning, provides users with detailed historical reporting on the basis of operational performance and even detects trends and target inefficiencies in their workflow.
Once the user integrates the software with one's TMS system, Transmetrics starts to auto-extract data.
Then, the software improves its quality by eliminating missing events, values, and dimensions, as well as duplications and outliers applying AI algorithms.
Next, Transmetrics calculates the best way to use one's resources and provides an optimized plan for strategic decision-making.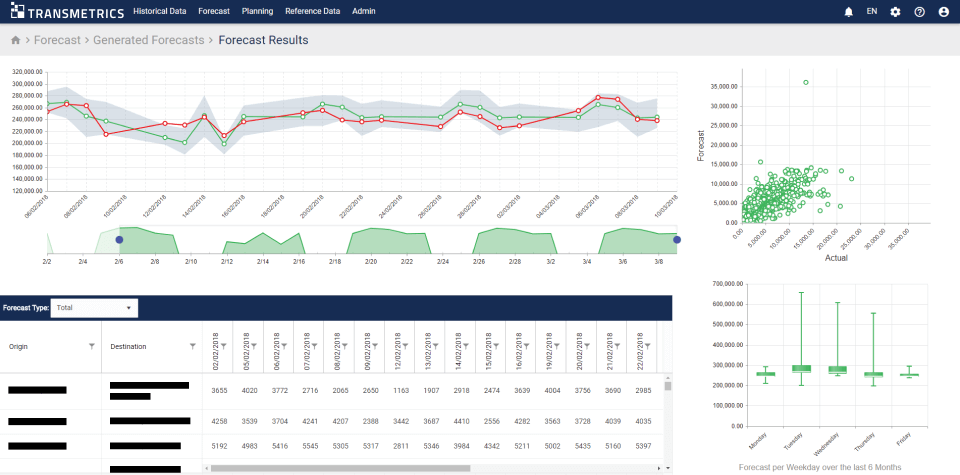 [Source]
Predictive Fleet Maintenance

One more use of AI in logistics is predictive maintenance software for full truck analysis of potential failures and scheduled repairs. Such a solution will increase your fleet's lifespan and reduce operating costs.
For more effective predictions, the software leverages IoT (Internet of Things) devices such as on-vehicle sensors that connect with each other.
These sensors track vehicle location via GPS, and onboard diagnostics II (OBD II) sensors monitor the engine speed, torque at transmission, accelerator, and pedal position.
Then, data from all sensors go to the local gateway over a mobile data connection as the vehicle moves.
Thanks to such an approach, fleet managers receive a detailed record of vehicle data, fuel usage, engine performance, route, location, driver, time, and delivery. Thus, your fleet management team can order parts and components in a timely fashion, plan vehicle availability, and avoid technical and logistical issues.
The most notable example of such software is Hitachi Predictive Maintenance for Fleet Operations, powered by Google Cloud. The platform utilizes the internet of things (IoT) data, reliability-centered maintenance (RCM) methods, and artificial intelligence (AI) technologies to provide users with advanced fleet maintenance efficiency and asset reliability.
Hitachi Predictive Maintenance software gathers, analyses, and evaluates data from IoT sensors and external data sets, such as weather data. Then, the collected information is analyzed by machine learning algorithms that provide fleet management monitoring, asset health, and performance.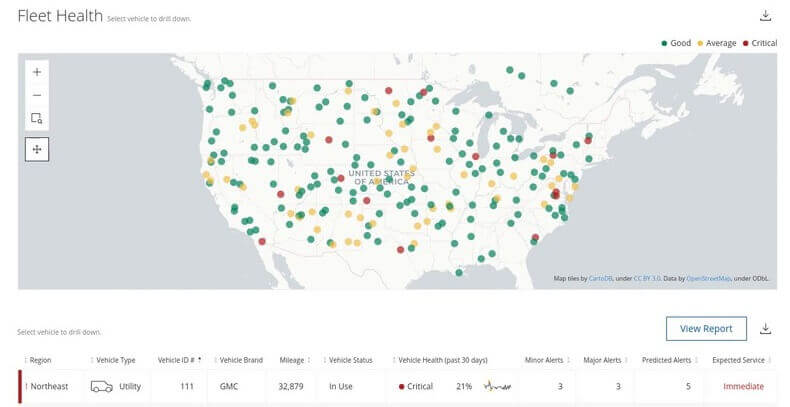 Hitachi's solutions also include augmented reality (AR) technology on mobile and Google Glass so that users can receive real-time guided inspections and repairs.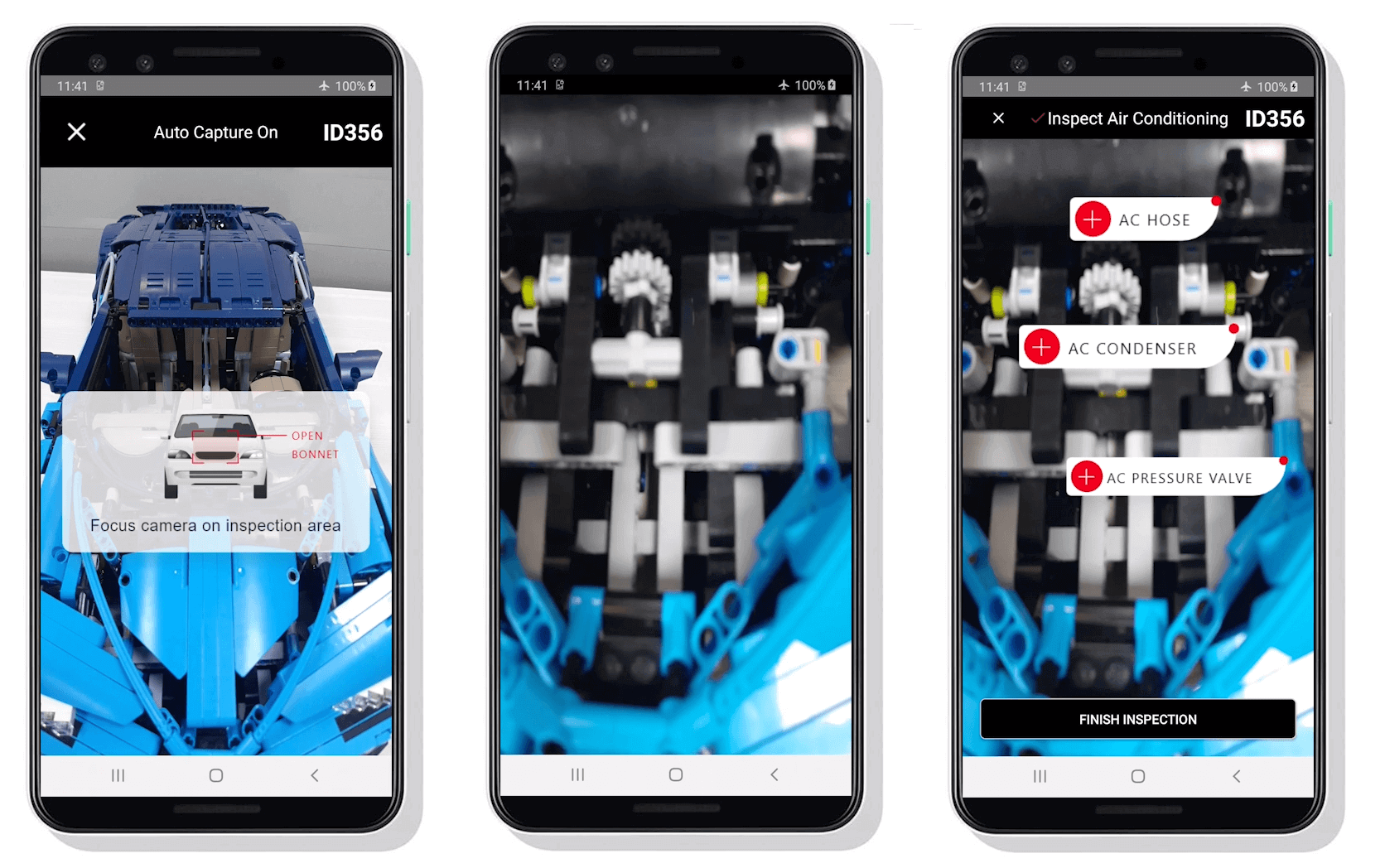 [Source]
Real-time Vehicle tracking
Apart from predictive maintenance, IoT sensors are also handy for securing real-time tracking of your entire fleet.
IoT sensors, placed on each vehicle, gather location data and send it to the local gateway over a mobile data connection.
Then, the gateway delivers that information to a network server while the truck is still on the road, and sends it to a cloud-based application server.
Thanks to IoT sensors, you can monitor the speed, location, and direction of your vehicles in real-time.
One example of such a solution is Wialon by Gurtam company, a GPS monitoring, and IoT platform, which tracks over 2.4 million mobile and stationary units in 130+ countries around the world. Wialon supports over 2000 devices for vehicle tracking. Currently, Wianor offers its SDK, a software development kit, so that you can create a Wialon-based application with a dedicated development team. Also, you can integrate Wialon Open API with your ERP and other third-party systems.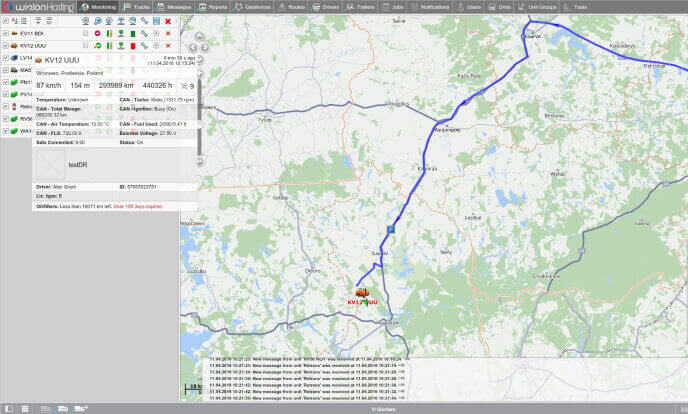 [Wialon's dashboard]
Accounting and shipping documents
Most of the time, logistics accounting teams are dealing with routine tasks, such as reviewing and processing every transaction. At the same time, you can automate freight documentation, accounting, and massive volumes of unstructured data with AI-based systems and natural language processing (NLP) technologies.
Such data extraction software will not only help your team in extracting critical information regarding:
Received billings
Addresses
Dates
but is also capable of:
Monitoring anomalies in invoices
Classifying documents
Verifying compliance with different regulations
and more.
To optimize documentation turnover, consider integrating SHIPS Navigator, an AI-powered Content Management System by Ebe Inc., available for web and mobile platforms. This CMS streamlines billing and settlements, accounts, payable invoices, carrier onboarding, and logistics processes.
Thanks to integrated AI algorithms, the system will automatically process routine transactions without manual intervention. In this way, you will eliminate manual data entry among your critical systems and streamline accounts payable processes while improving billing accuracy.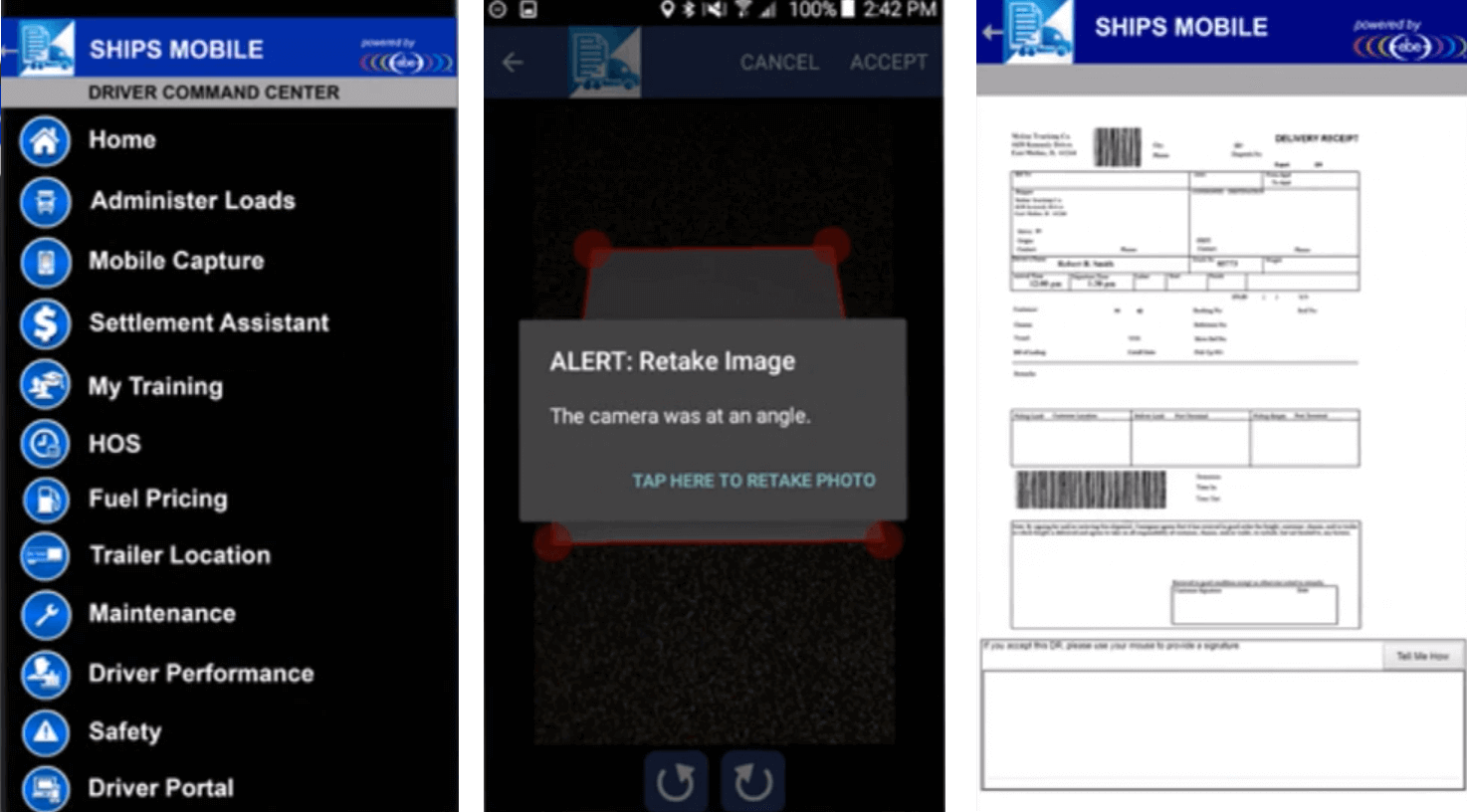 The future of AI in transportation and logistics
Artificial Intelligence and Machine learning will help logistics and transportation business industries to operate better, faster, and more productive.
The adoption of AI and ML-powered software can distinguish you from the crowd of competitors with a competitive edge, help optimize your business processes, and reduce operating costs.
If you have selected one of the AI use cases in logistics from this blog post, or are inspired to build your transportation software from scratch, you are on the right path to success. All that remains is to hire developers with substantial expertise in AI algorithm development and start your project.
What our clients say