Airbnb has become another global platform to turn travelling experience upside down. This extremely popular space became a true community with an abundance of options and opportunities for everyone... at a reasonable price!
The most exciting part is that this cluster offers truly diverse adventures by renting a single room, apartment or a suite, a houseboat, a yacht or even a castle - and you're packed with a totally fresh experience!
As far as this travelling experience becomes more and more popular, let me first outline this - once you're finished reading the article, you'll know the trends and opportunities within the industry as well as understand the app like Airbnb cost and procedure. You will also be able to calculate the price for each desired feature and decide which ones you really need.
To organize your knowledge on Airbnb clone app development and features let's divide this paper into parts and explore each one microscopically:
Short outline of the global travelling trends;
Airbnb market share and competitors;
Overall app cost factors and features approximate pricing.
Travelling trends
bleisure - business people tend to add more independent time to business trips;
looking for new experiences - common formats become less popular whereas unusual destinations and experiences are what they are digging for, and 69% of travellers are going to implement this in 2016;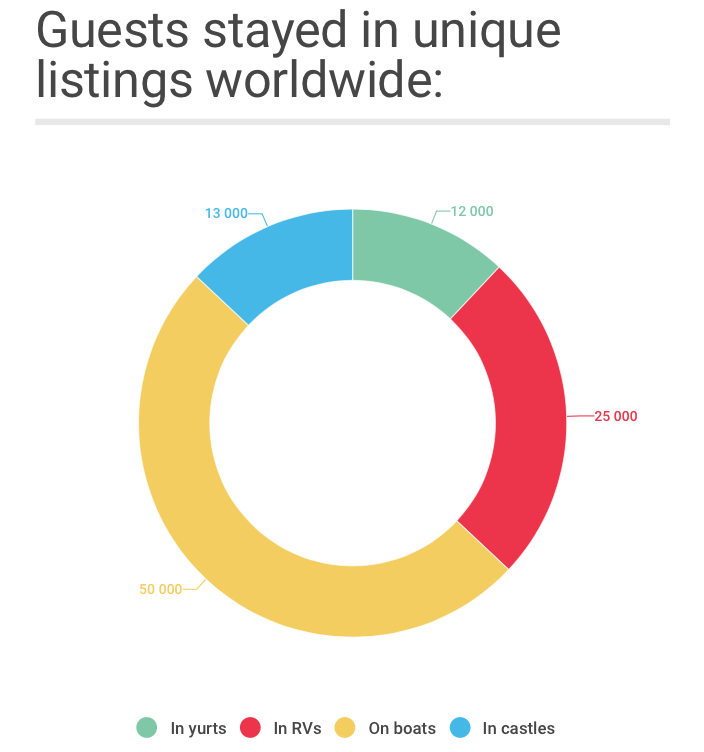 spending more money for travelling - material things are not what people invest in anymore. Not only because travelling becomes more expensive, but because it's worth it, travelers gonna spend;
solo travels - this stack grows from year to year significantly, and destinations adjust their services and products for these folks - 35% is a big number of people, and they are more open to interact with local culture through various experiences as they are totally dynamic and free to choose.
Global Airbnb course
60 million active users registered
500 000 guests stay per night via Airbnb
people traveled about 10 billion miles to Airbnb destinations
more than 700 000 hosts
2 million listings
192 countries and 57 000 cities Airbnb are active in
estimated revenue around $900 million
Airbnb competitors
It goes without saying - this game-changing travel format becomes growingly popular, and Airbnb appears to be not the only platform for listing and booking accommodations around the globe. Some other companies make an app like Airbnb and hit the court with their offers.
Among largest players in this market there are:
HomeAway - over 1 million global listings, has the same range of services and a couple more like own insurance program; operates a couple of more regional sites in this niche - VRBO, TravelMob, and VacationRentals - so it's the full family competitor for Airbnb;
FlipKey - a huge company owned by TripAdvisor, has a pile of users and highest quality rates because of manual verification program by website's employees; around 5000 special deals daily offer highly loyal conditions for everyone;
Roomorama - another safe service which requires users to confirm their best intentions in sharing houses with guests - personal IDs, bills and personal picture help ensure this too.
See also: iOS vs Android Development
There are a couple more of really good tried-out services out there, and this field still seems to have so much room for interesting ideas, services and their implementations. This particular data proves a tremendous potential of the market and opportunities for cutting-edge technologies to widen it unlimitedly. It seems like it's a perfect time to build an Airbnb mobile app and I'm getting excited :)
App pricing factors and cost of features
Let me start this part by saying that there are some factors, which influence the cost to create an app similar to Airbnb. Not to mention, you can choose diverse modes of crafting it which is likely to project onto Airbnb app development cost as well.
Here are major aspects for you to consider and keep in mind:
the size of the development team - if you are enthusiastic enough to do a part of a project manager and administer closely the whole process then you can keep your team short and sweet. Otherwise, except developers and designers, you'll require project manager, system administrator and a couple of more insider managers;
a number of platforms and devices app is being built for - iOS, Android, iOS and Android, add up a number of different screens to adjust the app to - all this should be considered beforehand based on target audience location, their preferred device environment, and stuff. FYI - Android app development takes about 20 to 30% more time than iOS one;
the technical complexity of the features - you decide what range of elements you want within your mobile application, so rate them from simple to medium and high complexity. Mind that the price is largely shaped by how long it takes developers to implement each of these;
design - custom vs. standard - if you prefer some unique visuals and tools instead of ones based on pre-built sets, it's about to change price quite a bit too.
Moving to particular features, it's important to mention - rough timing indicated below covers all stages of creating a feature - from drawing logics to testing. Elements are also listed from basic and simple to additional and complex. So let's dive right into how much does it cost to develop an app like Airbnb.
Prep stage
Every app building project starts with creating an overall strategy and fixing technical base for further operations. These are inevitable steps, which basically create a ground to the future app. This phase usually takes up to 50 hours:
about 20 goes for overall setup of the project
the same 20 - for implementation of API
around 10 for database pattern
5 to 10 more hours - for implementation of various services and libraries
Registration/ login feature
This is one of the fundamental segments of any app. To start using it you need to register and, this way, agree with the conditions and policies of the app usage. For your development team implementation of this component can take around 10 to 16 hours.
User profile
In case of whole Airbnb idea, there can be two sorts of profiles:
guest
host (owner of the place)
Basically, users add varied pieces of personal info to the profile like:
name
gender
contact info (e-mail address, telephone number, actual living address, etc.)
personal description
some optional bites of info
Execution of this part would take around 16 hours.
Settings framework
This feature allows users customize and configure all personal data and preferences such as:
updates notifications via SMS or push
wish-lists
payment currency and method
It would take about 24 hours in total to build this infrastructure.
Filtering element
That is the way to go after the user is all registered and set. Fixing a host requires placing details on the type of housing you offer as well as pricing, photos, etc.
In the guest mode within Airbnb, you have a wide range of options to choose from in order to find a suitable location. These are, for instance:
spot you want to visit
number of people
check-in/check-out dates
room/house type
price spectrum etc.
As far as this feature is quite wide, it will take developers around 24 hours to construct.
Descriptions of chosen rooms
So once you've executed all desired filters, you see a list of search results. Every item in this list has a wider description with ratings, photos, reviews, available dates, map and terms of getting the place.
Mainly, this feature makes a skeleton for users to select the option they like. Therefore, it can reach up to 150 hours for developers to build and set up everything within.
Maps implementation
That is a visual and easy alternative to searching for your perfect location - just check various ones on the map, tap to check if it's important for you to stay near definite sites or something.
It is to take about 24 hours to frame this one.
Signing up as a host
If you decided to rent out your place, then you create a host account, fill in all the necessary details and app then shows you how much can your house/apartment/room cost. This is the full function, which enables hosts to place adverts, communicate with potential habitants, provide booking and stuff. And it's estimated to take about 100 to 120 hours of development.
Adding to faves
This feature allows users to create their personalized shortlists of locations to be able to come back to these at any time, pick and choose. 10 to 12 hours is the average time to implement this important button inside the infrastructure.
Embedded messanger
This is a truly meaningful tool for communication of any sort within a community. Live talk opportunity makes users feel high reliability and authenticity of the service and its' participants. Up to 40 hours is an approximate time for implementing this item.
Friends invitation
Not much to say, you can recommend the app to your friends through invitation. It usually takes about 10 to 11 hours to craft the feature.
Translation component
This is basically a button, enabled through the Google translator, which converts any description into your mother language. And it will usually take about 3 to 4 hours of development time.
Guide feature
This element will show some complementing sites and other must-visits near chosen location. Very personalized and convenient, isn't it?
It costs around 10 hours of developers' work.
Read also: How to Build a Mobile App With Geolocation?
Nota Bene! Backend
Each feature you decide to pick for your product requires time to craft and configure on both client side (how it interacts with a user) and server side (functionality, connections with servers, etc.).
The server-side stack is crucial as well as wide scale part of every app building process. It's also going to be the most time-consuming one. After all, you want an app to perform as a killer, right?
You'll need to add around 600 hours for these operations to the entire timing.
And now, when we're done with calculating time for crafting your Airbnb-like app, it's the right time to choose who will implement it for you. It basically covers a cash part of the question "how much does an app like Airbnb cost".
Globally the price differs for hours of developers. Here are average region hourly rates down below:
USA/Canada-based dev teams - $50 to $250/hour
Westen Europe - $30 to$170/hour
Eastern Europe - $20 to $150/hour
Australia - $50 to $150/hour
India - $10 to $80/hour
Outline
It's just the time to finalize an overall development cost for your Airbnb-like application internationally, guys.

As you can see, Indian development company will charge you the least out of all regions. Just make sure you check the portfolio of the particular team along with entire reputation and rumors going on around Indian development "story."
Eastern Europe experts are famous for their high professionalism together with moderate pricing, so they are worth considering for sure.
Australian and American professionals are paid the highest out of this range - it's expected for the regions anyway. No need to worry about quality and all the procedures.
Just a hint for you, guys, - primarily these will be East Europeans relocated to the US or Australia sitting there :)
Search and pick a development team, bring your idea and start the discussion - believe me, it will take some time and experience till you start the development itself, so the time is now! Best of luck and see you in Featured Travel Apps List soon!
You might also like:
How to Develop an app Like Yelp?
How Much Does it Cost to Create a Navigation app Like Waze?