Blog
Artificial Intelligence in eCommerce: The Best Usage and Tools
Artificial Intelligence in eCommerce: The Best Usage and Tools
Do you feel empathy for your customers? Imagine how great it would be if, when searching for a product, you can find it within just a second, buy it, and then receive relevant product recommendations. Such a flow creates the illusion that an online store knows your tastes even better than your family members.
Fortunately, today there is room for such a scenario. By leveraging e-commerce AI tools including image recognition and machine learning algorithms, your online store can streamline product searches and personalized shopping experience. Moreover, demand forecasting, one of the uses of artificial intelligence, will keep you from "stockouts."
We've already written on how to use AI in the logistics and education sectors. In this article, we've gathered the best e-commerce AI tools, their prices, and platforms they support. Thus, you can select the right AI plug-in for your online store, whether it is a WooCommerce website or custom built solution.
Top AI and machine learning e-commerce tools
Before diving into the details, let's find out how artificial intelligence can benefit businesses. An online store is profitable when shoppers find and buy what they want and receive relevant and personalized product recommendations for up-selling or cross-selling, thus increasing your average total and income.
Moreover, you have a segmented customer audience, so your online promotion campaigns are always successful, and your most popular products are never out of stock.
Skeptics might say that this is a dream, but only because they are not aware of how to use artificial intelligence to achieve these goals.
As an AI development team, we ensure that the main role of AI in e-commerce is increasing profit by applying computer vision, machine learning algorithms, and data analytics. These technologies are useful for data-driven business insights and enhanced online store functionality.
Now, let's check out what AI can be used for and select an AI tool for your online store.
Visual search tools
Visual search AI tools for ecommerce allow users to search for products using images instead of keywords. Such tools use computer vision and deep learning, sub-niches of machine learning. But how do developers enable computers to see products?
First, developers gather a dataset of images, divided by categories.
Next, developers choose one of the machine learning algorithms for e-commerce and train them with this dataset. Deep learning technology, which also occurs in this use case, helps the algorithm develop its neural network, similar to our brains.
As a result of such training, the algorithm can detect items on the image, categorize them, search for pictures with the same attributes in its database and come up with pictures of similar items.
E-commerce search engines enable your customers to upload images of the product they are looking for. Then, the tool, trained with your product database, suggests products of the same color, pattern, type, etc.
The list of online retail businesses using such artificial intelligence tools includes ASOS, Wayfair, Neiman Marcus, Argos, and IKEA. Visual search can increase Conversion Rate by 11%, boost customer acquisition, engagement, customer loyalty by 10%, and bring 125% more page visitors.
To receive all these benefits you do not need to pay extra money for building such a solution from scratch. There are many pre-built visual search plug-ins.
Platforms: Woocomerce, Shopify, Magento
Pricing: Free 14-day trial, paid plans: $9, $29,$49 per month depending on the product number.
Impresee enables shoppers to search for products using images and even draw and design products they are looking for. This tool includes the following feature set:
Search-by-photo that allows your customers to search inside your store using pictures
Text-based search, so your customers can still use keywords for finding products
Creative search, which enables customers to draw the product they are looking for
Snap that look which detects each item on uploaded pictures with complete looks
Impresee has an integrated analytics dashboard. With its help, you can learn about product trends, customer preferences and products your customers are searching for to add to your catalog.
This AI tool for visual search has advanced customization features to customize the size and color of search buttons so they match your online store's style. You can also edit search results, labels, result location, etc.
Impresee has a demo product version, so you can try this tool before integrating it.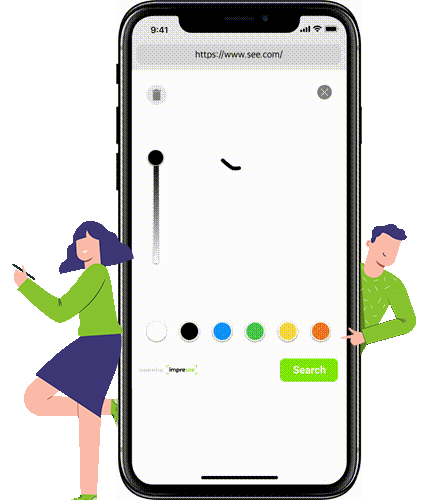 [Source]
Platforms: Any web-based (API and JavaScript integrations)
Pricing: By request
Syte AI is the best e-commerce search solution that detects objects on photos and suggests relevant items from your product catalog. Apart from fashion items and decor detection, this tool automatically identifies gender, age, brands, and logos from the uploaded photos. Syte AI is also handy for detecting toys, packaged goods, and even groceries.
To use this tool for your online store you need to integrate it into your website via API or Javascript. If you are a non-tech person, you can do it by hiring a web development team.
After the integration, your developers will send Syte your catalog in CSV, XML, or another format. Over a 24 hour period Artificial Intelligence will analyze your product with images and conduct ongoing auto sync from an FTP (File Transfer Protocol) folder to suggest items from your product catalog.
Boohoo, a UK-based online fashion retailer which applies Syte AI for its visual search. According to Boohoo's case study, Syte AI doubled their conversion rate, raised page visits to 100% per session, and increased Average Order Value by 12%.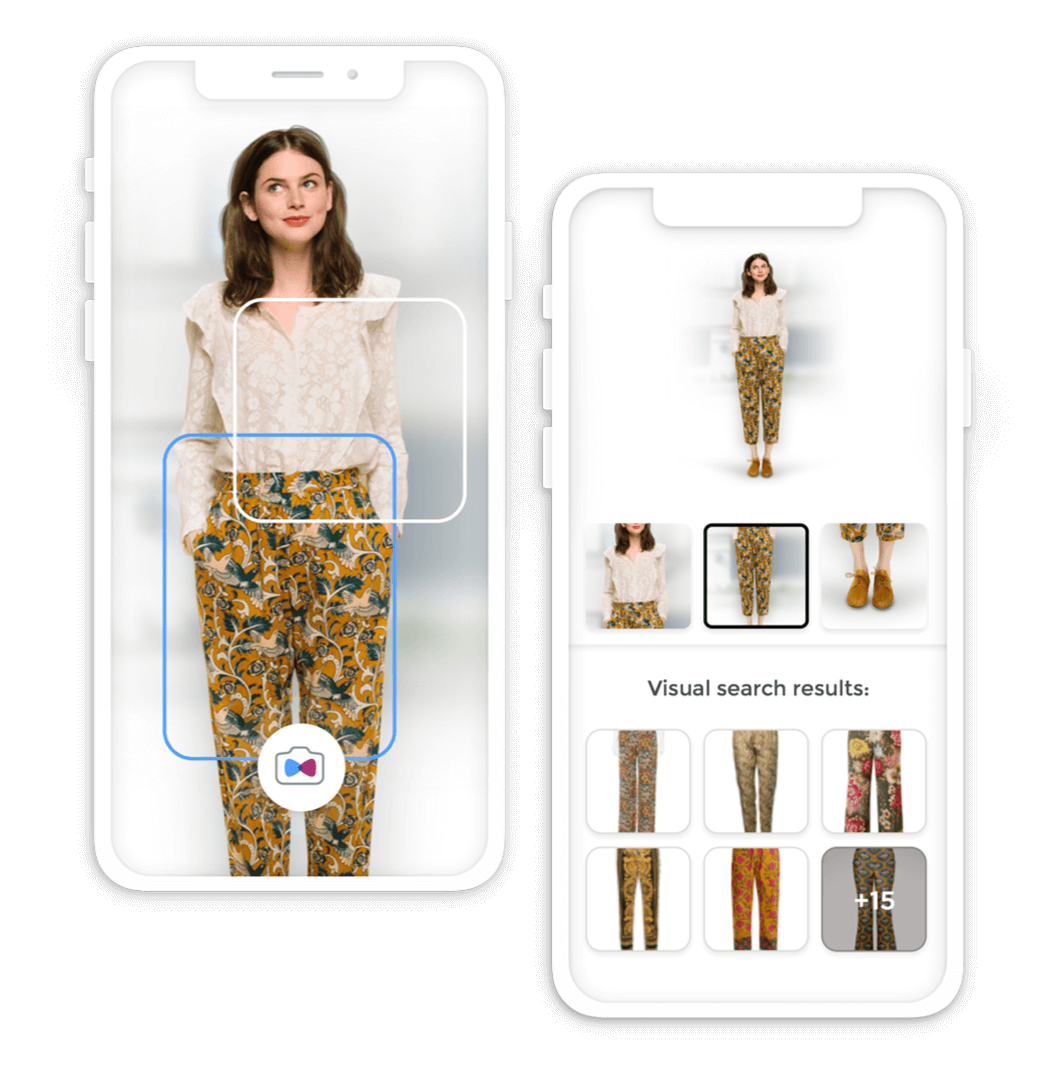 [Source]
Platforms: Any (Public API, Android, iOS, web SDKs)
Pricing: By request
Slyce, another AI-based tool for visual search, ensures quick and accurate search results by using a combination of on-device detectors and cloud-based operations. For leveraging native features of mobile devices, the tool offers SDKs (software development kits) for Android and iOS platforms. In case your online store does not have a mobile app, and available only in the web, you can use Slyce's web SDK.
Slyce's visual search handles 1, 2, and 3-dimensional images. It also includes advanced image recognition functions:
Catalog scanning
Barcode scanning
QR codes
Coupons
Any real-world image
Let's see how to implement this AI tool into your business.
Once Slyce is integrated with your online store, the dev team will select and customize Slyce's scanning mode's workflow based on your use case. Next, Slyce will convert a photograph into hyper-specific product descriptions. By using these descriptions, the tool will match your products with visual attributes and metadata extracted from the image uploaded by your customers.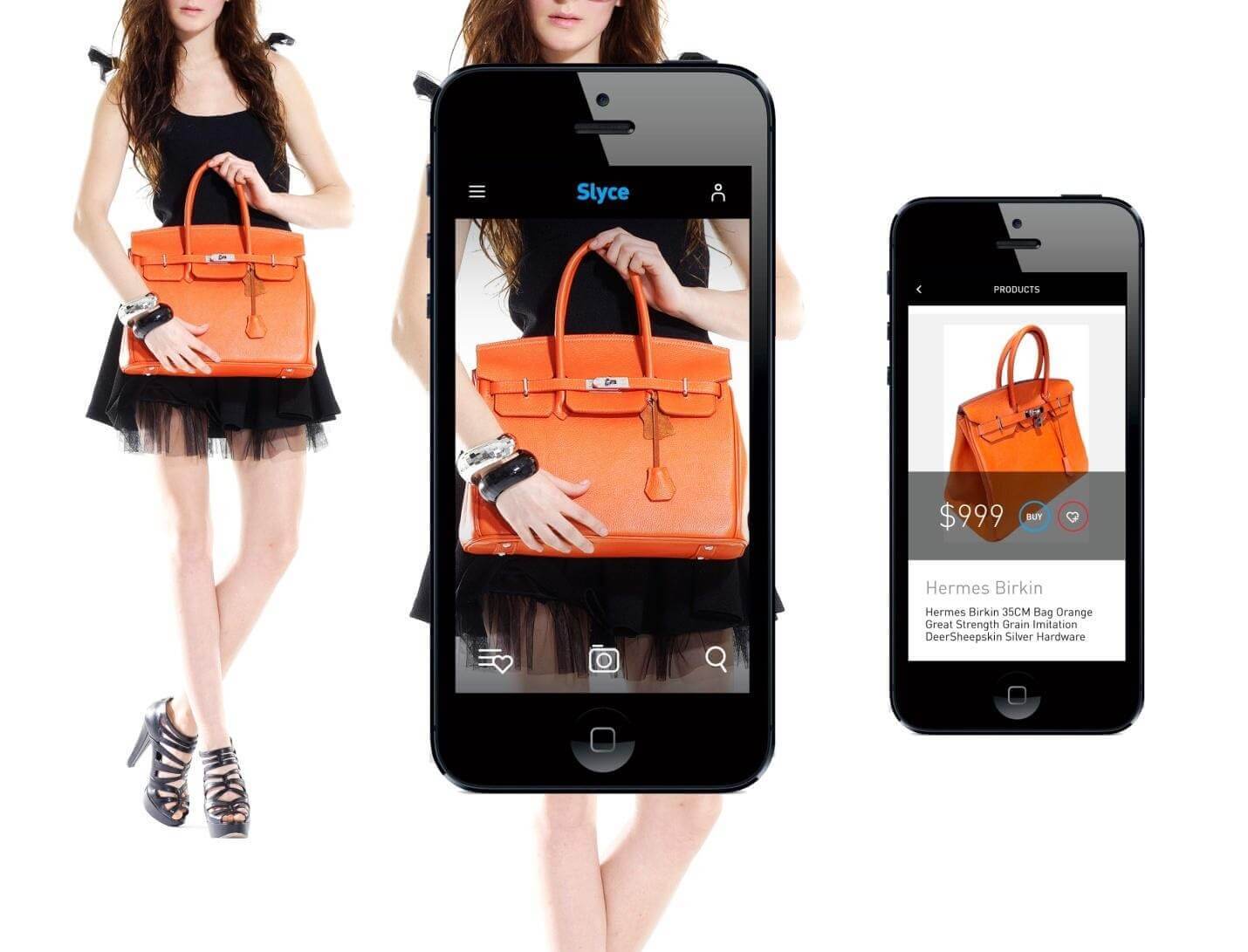 [Source]
Artificial Intelligence products recommendation tools
If you want to increase average order value, consider adding smart product recommendations, another application of artificial intelligence in business. But how will the algorithm know what to suggest to your customers? The AI algorithm will analyze all purchases made by your customers and learn the tastes of every shopper.
Then, the AI product recommendation tool will predict other relevant items and suggest your customer's personalized recommendations.
Machine learning algorithms, built into your e-commerce website, will keep learning from each new purchase and get better over time, while increasing your income. For example, AI-based product recommendations have brought Amazon 35% more sales.
Platforms: Magento, Prestashop, OpenCart, Shopware, BigCommece, Shopify, WooCommerce, custom (API integration)
Pricing: Free trial 30 days, self-served from € 99.99/month, managed service from € 999/month
Pleisty helps you automate and optimize on-site merchandising by suggesting personalized recommendations in the "Recommended to you" section.
Besides this, you can also integrate behaviorally targeted banners and show personalized Ads to each website visitor.
Pleisty includes a tool for personalized email marketing that will send emails with personalized product recommendations, thus inspiring your users through their shopping journeys.
Using integrated Pleisty's journey analytics, you can also identify valuable target audiences and design marketing communication tailored to their needs.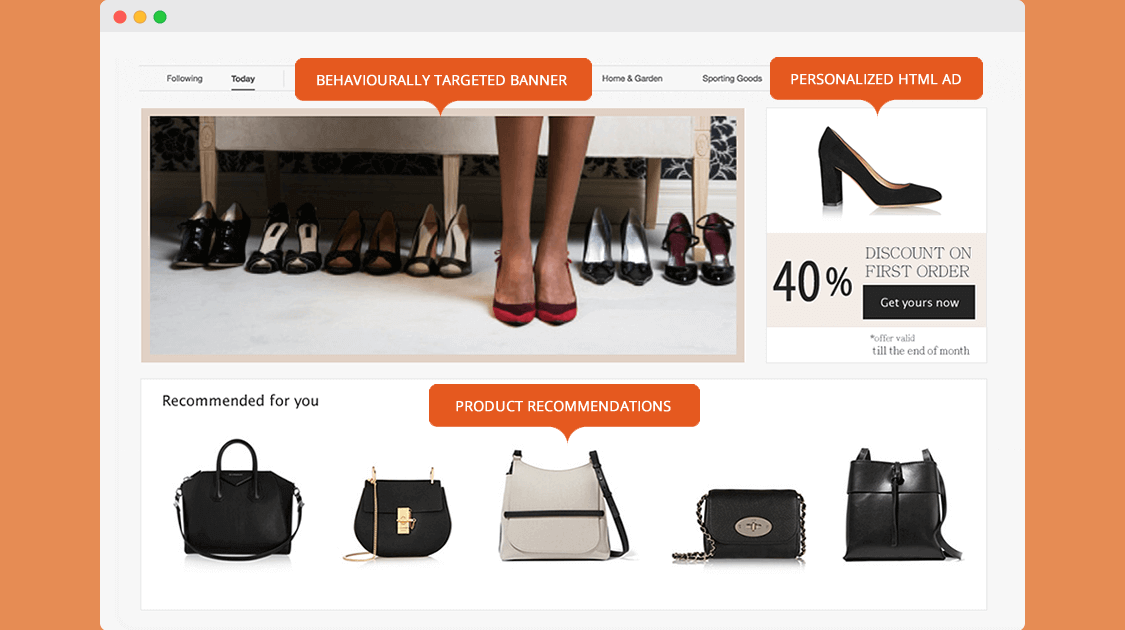 [Pleisty interface]
Platform: WordPress (WooCommerce)
Pricing: Free
This plug-in for WooCommerce online stores has a machine learning algorithm that analyzes what items shoppers frequently buy together. Based on this data, Wootomation recommends to your customers items other people also bought in their shopping cart.
Thanks to machine learning, Wootomation learns on the go. It means the more information this plug-in has, the better it becomes at suggesting products. The algorithm saves all predictions in the database and reuses them until a new order comes in, and re-analyses it in the background.
Wootomation is an open-source plug-in, thus, you can use it without paying fees or subscriptions. But it also means that you need to activate and set Wootomation by yourself via the Wootomation directory. In case you are not familiar with coding, we suggest hiring web developers.
This plug-in also has a support thread where you can ask questions and receive answers from contributing developers.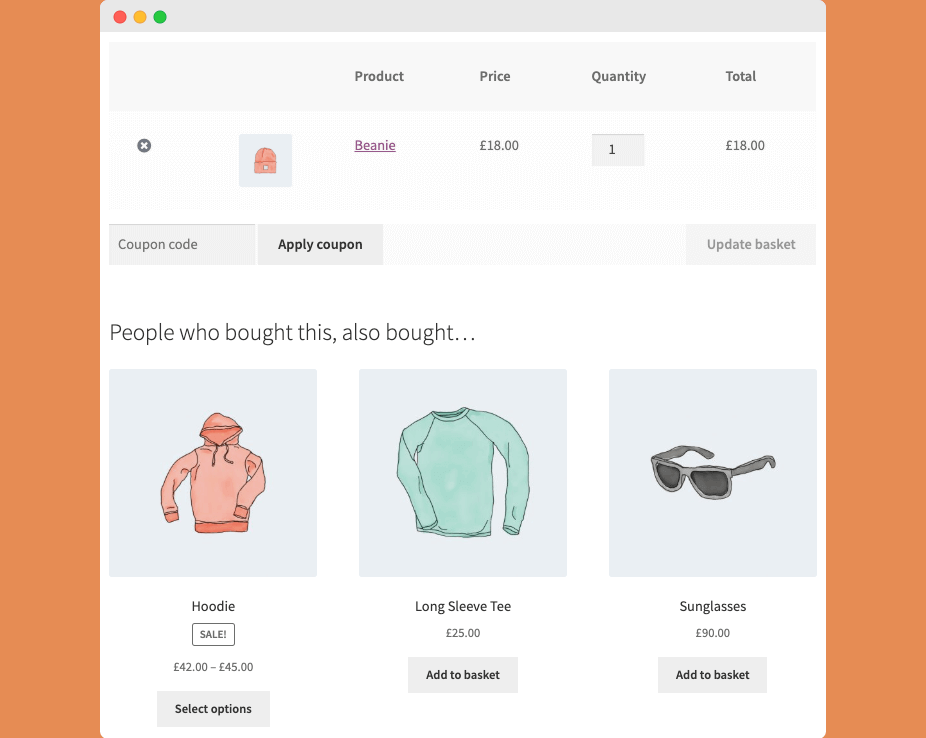 [Wootomation interface]
Platform: Shopify
Pricing: 14 day trial, from $9.99 per month
If you are running an online store on Shopify, and looking for a hassle-free recommendation engine with AI, this is your choice.
Personalized Recommendations can capture and analyze your visitors' clickstream behavior, i.e., the products viewed and bought, tags, categories, collections, sizes, and colors. It analyses, not only customers' actions, but also their individual preferences and similar users' preferences.
The plug-in has several types of logics to display relevant products. They include:
Related products from like-minded shoppers
Upsell Shopify
Cross-sell
Popular products
Recently viewed products
Rule-based "If this, then that"
Frequently bought together, etc
You just need to select the logic type that will work best for your online store and the plug-in will start suggesting items.
This AI tool for e-commerce allows tracking customers' performance in real-time in the admin dashboard. As an admin, you can track and micro-segment visitors, show the right recommendations, and match visitors with similar tastes. You can also customize the plug-in to match your online store design and style.
Apart from on-site recommendations, this tool allows sending newsletters with product suggestions and automated reminders with items left in the cart, and personalized related products.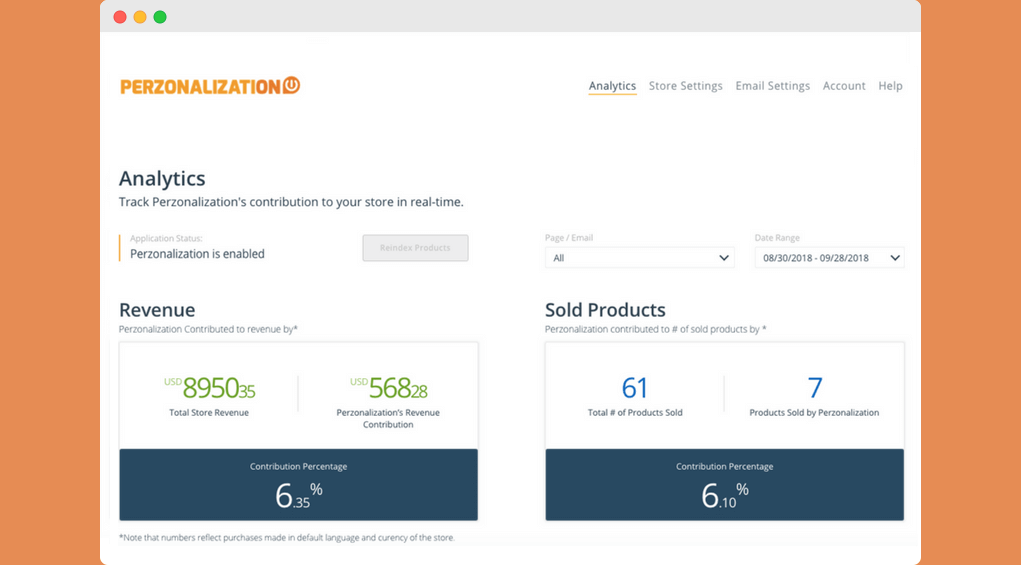 [Personalized Recommendations interface]
Demand forecasting tools
Demand forecasting is essential for business growth. With precise demand forecasts, you can better plan your inventory, ensure product availability, and predict sales. For decades, retailers have used traditional statistical methods (TSM) to predict their demand. This involved manual data input and analytics, which led to delayed or inaccurate forecasts.
In online retail, there are numerous interaction channels, different product sales values, and factors that impact customer behavior. Thus, TSM no longer meets the modern requirements of online retailers for forecasting future demand.
Fortunately, you can leverage predictive analytics and machine learning algorithms to receive highly accurate demand forecasts, thus improving your decision-making process.
But wait, how can AI algorithms predict future demand?
Demand forecasting platforms apply both predictive analytics and machine learning algorithms to analyze your historical data from CRM, ERP, and other sources.
The algorithm cleanses the data and identifies data variables. Cleansed data is used for building predictive models on future product demand and discovering business opportunities.
Machine learning helps demand forecasting solutions to monitor the predictive analytics model continually. In this way, the algorithm compares the actual with the prediction and improves the forecast accuracy in the future.
Mckinsey Digital's research suggests that demand forecasting with Artificial Intelligence reduces forecasting errors by 30 to 50%, lost sales due to being out-of-stock to 65%. while decreasing warehousing costs from 10 to 40%.
For receiving clear and precise demand forecasts, consider integrating one of the following intelligent systems in e-commerce.
Platforms: Shopify, Magento, Wix, other
Pricing: By request
Remi AI is an intelligent e-commerce system that suits small online stores as well as large online retailers. The best thing about Remi AI is that you don't need to be a data scientist to leverage this platform. This service applies AutoML that covers a complete pipeline from the raw dataset to a deployable machine learning model to your online store. Remi AI applies 14 different time series methods, including:
Recurrent neural networks
Deep learning
Probabilistic
ARIMA (Autoregressive integrated moving average)
And others. ​
Thanks to this platform, you will receive precise models for every single product from your catalog.
Uber, one of the Remi AI customers, leveraged this platform to optimize their surge prices. In this way, Uber increased the number of drivers on the road by 80%, effectively reducing failed rides by 65%.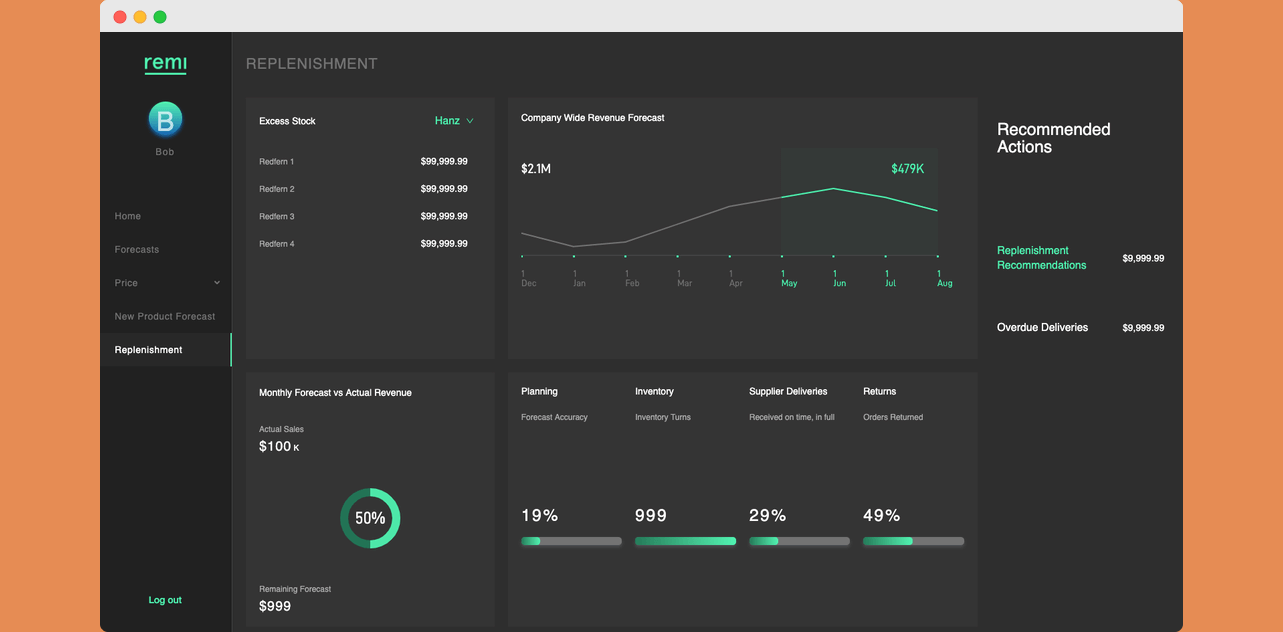 [Remi AI interface]
Platforms: All (API integration)
Pricing: By request
Intuendi is one e-commerce AI tools that forecasts your future demand based on data from your product catalog, sales, promotions, and orders.
For this purpose, Intuendi selects the best forecasting method for each product. The platform also extracts trends and seasonality factors for your historical data.
Intuendi considers past stockout events and improves forecast accuracy by building future demand.
The platform identifies all the products with a stockout risk and suggests the right amount to keep in stock to meet future demand. In such a way, you reduce the probability of a stockout and prevent any extra costs from last-minute fast-shipping purchasing.
Apart from demand forecast, the platform also includes such features as:
Notifications on the best time to order and required stock to satisfy future needs
Estimates from demand forecasting that let you decide the inventory level that will not disappoint your customers anymore
Sales estimation, so you can identify which products in your store need a sales promotion via cross-selling and upselling strategies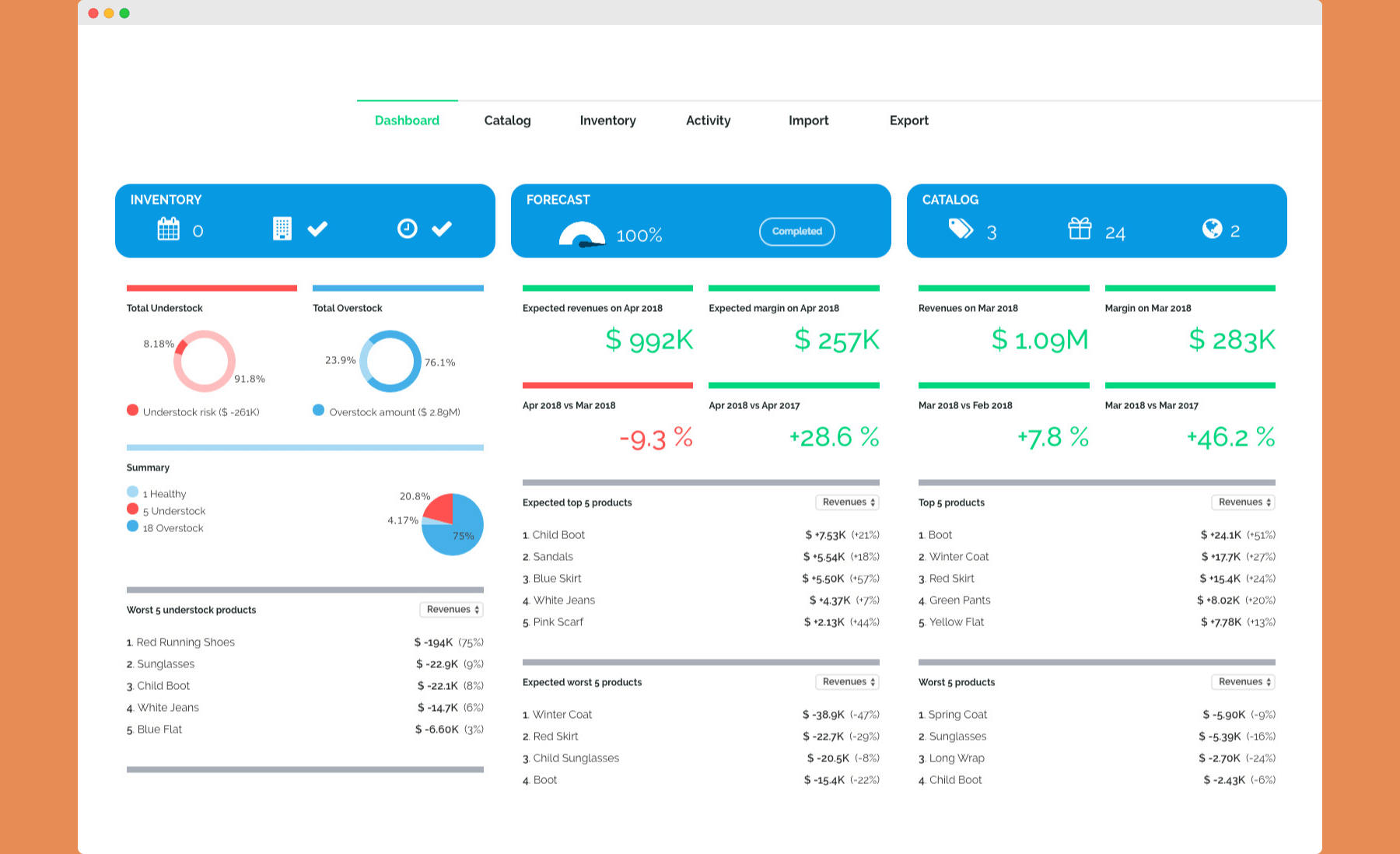 [Intuendi interface]
Platforms: Shopify, custom (Rest API integration)
Pricing: Light, Pro, Enterprise- custom pricing based on the number of SKU's and locations
FutureMargin is the best artificial intelligence software for demand forecasting. The platform uses your store's historical data, machine learning, and statistics to formulate automatic predictions.
FutureMargin also includes a bunch of advanced features:
Automated and fresh daily replenishment tips computed periodically using the latest store data
Pick optimal replenishment mode that selects appropriate replenishment mode for each brand, collection, or product based on the vendor's delivery time or available stock budget
Best pricing calculation. The platform calculates the best prices and automatically updates them using API. At the end of the price-split test period, you receive an analytics report comparing the benefits of a chosen pricing strategy
Full automation means you do not need to manually synchronize variants, products, order, stock, pricing, etc.
One of FutureMargin's customers is Martinus, a major East European online bookstore. After integrating FutureMargin, Martinus had an 84% increase in products expedited on the day of placed order, and reduced average order fulfillment time by 14%.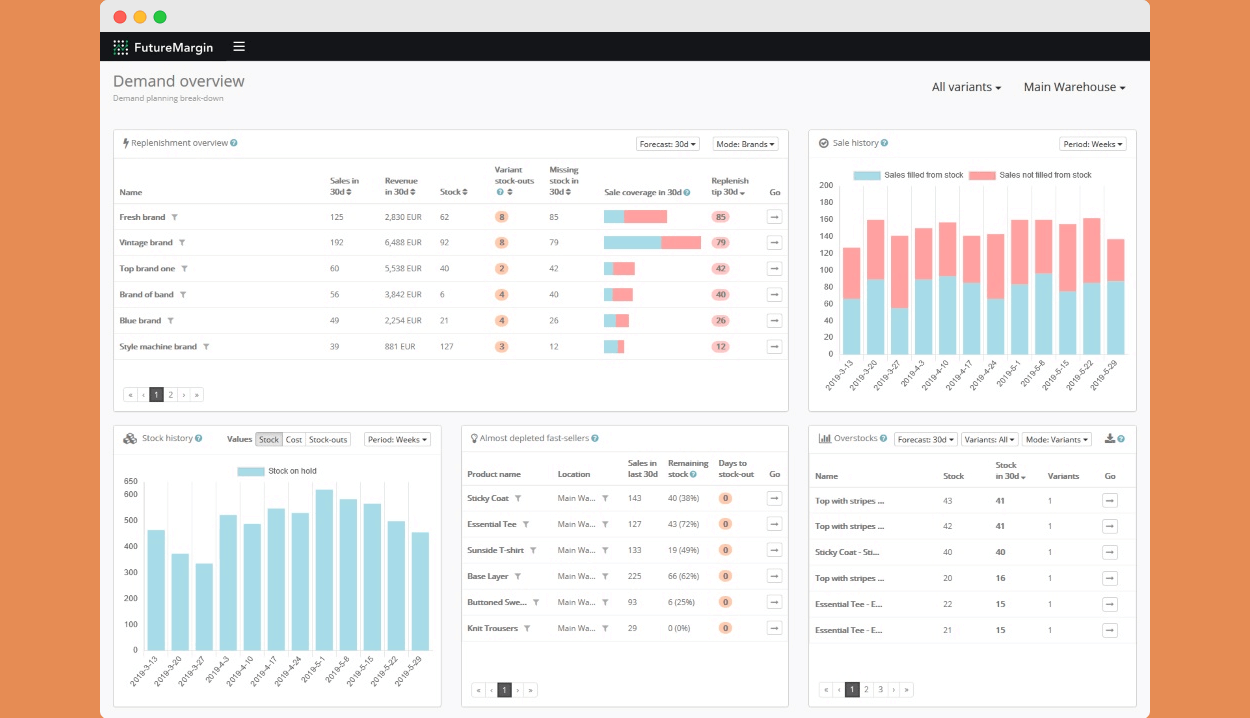 [FutureMargin interface]
Adopting Artificial Intelligence in e-commerce: the final word
Artificial Intelligence and machine learning are musts for meeting the demands of modern shoppers, staying competitive, and increasing e-commerce website profitability.
To adopt AI tools for e-commerce, consider an option from this article that supports your e-commerce platform, has a convenient pricing policy, and necessary integrations.
If none of the tools listed meets your needs, or in case you want to develop an all-in-one solution from scratch, we are here to help. We have expertise in developing custom AI-based pipelines and data analytics for individual businesses.