Blog
E-commerce conversion rate optimization strategy every online retailer must try
E-commerce conversion rate optimization strategy every online retailer must try
There are several conversion types. For example, digital marketing conversions count how many people clicked on your online ads. There are also online store conversions. Such stats show how profitable your e-commerce website is.
Today, we will talk about this exact type of conversion, known as the eCommerce conversion rate. We will discuss both good and bad conversion rates for online stores, highlighting eCommerce conversions across different industries and devices. You will also find out the reasons why your conversion rate might be low and how to use tools for eCommerce conversion rate optimization.
After you apply our advice on eCommerce conversion rate optimization, your site will become easy to use for your customers and provide them with a better shopping experience.
What is the eCommerce conversion rate?
Conversion rate (CR) is one of those metrics online retailers should track regularly. The Ecommerce conversion rate tells how many online shop visitors turn into customers. In other words, the eCommerce conversion rate shows the percentage of visitors who actually buy at your e-commerce website. However, it is not so simple.
What is a good eCommerce conversion rate?
The conversion rate in eCommerce depends on many factors. Online stores vary by sector and sell different products. Thus, some of them have a higher CR due to increased product demand. For example, online stores that sell apparel have higher conversion rates than online stores that sell jewelry or beauty products.
To put the record straight, let's find out how eCommerce conversion rates vary across different industries.
Average conversion rates for eCommerce sites by sectors
What is the typical eCommerce conversion rate? Before calculating the conversion rate of your eCommerce website, make sure to take a look at sectors with a higher and lower online conversion rate.
So what online shoppers purchase more often?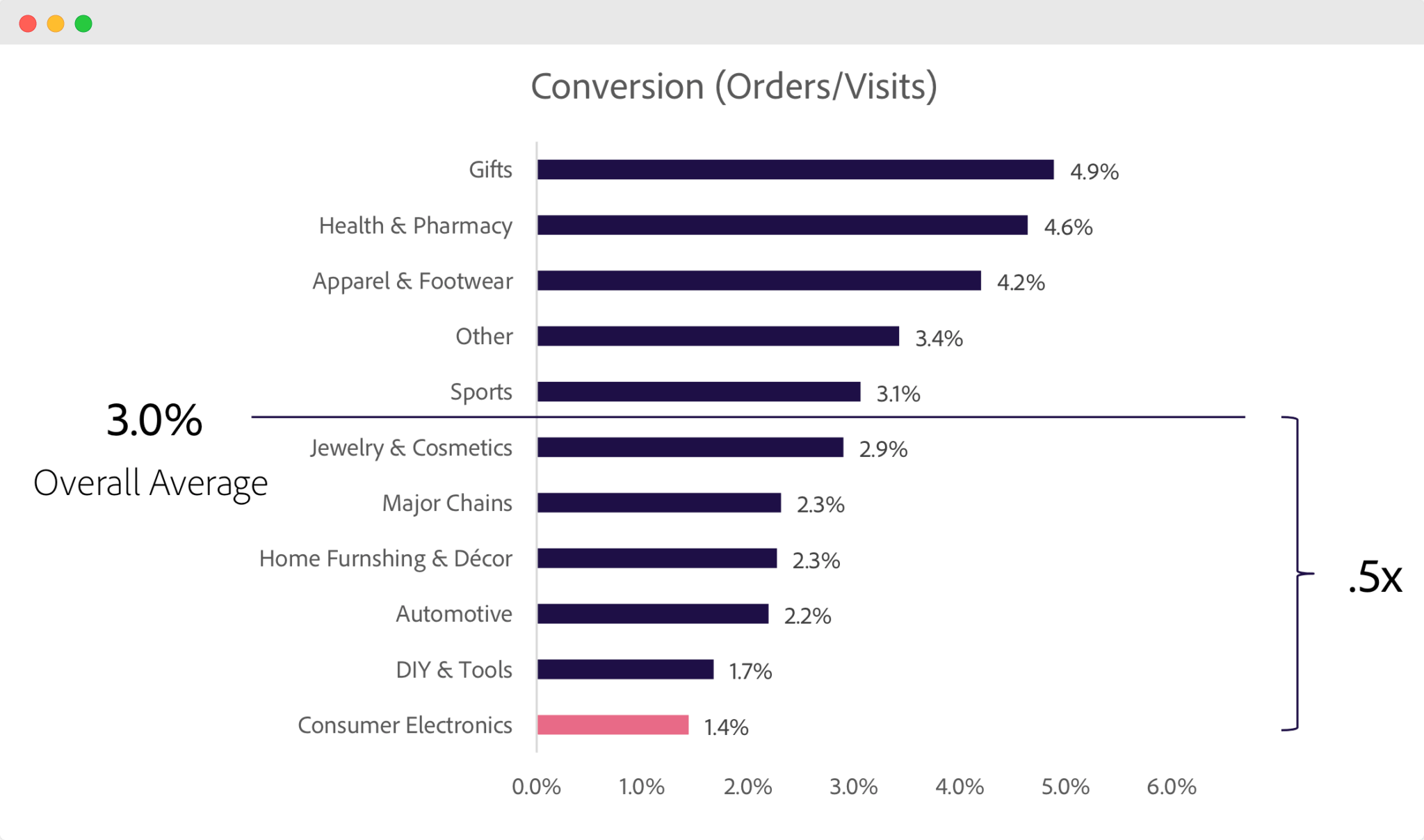 Statistics from Adobe Digital Index say that the higher conversion rates are in such sectors as gifts, pharmacies, apparel, footwear, and sports. All these industries have a 3% conversion rate in 2020.
The same report shows that jewelry and cosmetics, home furnishing and decor, automobile, DIY, and tools have a conversion rate below 3%.
So, what is a good conversion rate for an eCommerce store? The answer depends on your sector and the type of goods you are selling. It could be anything between 1-3%.
However, your conversion rate also depends on the traffic source, the buyer's journey stage, and device type. Let's take a closer look at each factor and see the bigger picture.
Ecommerce Conversion Rate by Source
The best performing traffic sources that bring the most eCommerce conversions are:
Referral (13.5%)
Email (10.2%)
Organic (4.1%)
Direct (3.9%)
Do not expect a high conversion rate from traffic that comes from social media, Facebook, and Google Adwords. All these traffic sources can only bring between 3.1% to 1.7% of the total amount of conversions.
Why? People who saw your Google ad know nothing about your business and the products you sell. Thus, they are less likely to purchase than customers who regularly receive updates from you via email.
These two types of people are at different buyer journey stages and have different motivations to buy something.
Let's find out more about the stages of the buyer's journey and how they differ from each other.
Ecommerce Conversion Rate and buyer's journey stages
Once the buyer sees your advertisement on the Internet, one still has little to no motivation to buy at your e-commerce website. To become a paying customer, one needs to go through awareness, consideration, and decision stages.
At the awareness stage, a buyer learns about the products and services you sell
At the consideration stage, one evaluates products or services you offer
At the decision stage, a buyer chooses your online business among competitors
In a nutshell, when you know about the buyer's journey stages, you can predict where most of your conversion came from and invest in the most performing channel.
But how do devices impact eCommerce conversions?
Ecommerce conversion rate by device
Online shoppers visit your eCommerce website using different devices. You need to know which device results in a higher conversion rate. In this way, you can concentrate your efforts on the type of device that drives conversions.
The main devices on which shoppers access e-commerce sites are desktops, tablets, and smartphones.
While most potential customers may discover your products using mobile devices, they are more likely to purchase a desktop. The mobile eCommerce conversion rate is at 1.82%, the desktop conversion rate is twice as high (3.90%), followed by tablets (3.49%).
Now that you know what eCommerce conversions are and what they consist of, let's move further and learn how you can calculate your eCommerce conversions.
How to measure conversion rates in e-commerce?
To see your e-commerce conversion rates, you need to divide the number of site visitors by the number of orders you received during a particular period. You can calculate the eCommerce conversion rate each month, season, and even year.
Let's imagine your eCommerce website had 1,000 visitors in the last month. During the same period, you received 30 orders. Thus, your conversion rate is 30 divide by 1000 which will be 3.0%
Where can you access eCommerce conversions?
You can see your e-commerce conversion rate in web analytics. Open your Google Analytics profile. Next, go to Conversions, and click on the Goals report. Here, you can see each goal's conversion rate, including Add to cart or Completed purchase. In this section, you can add alternative metrics to narrow down your results.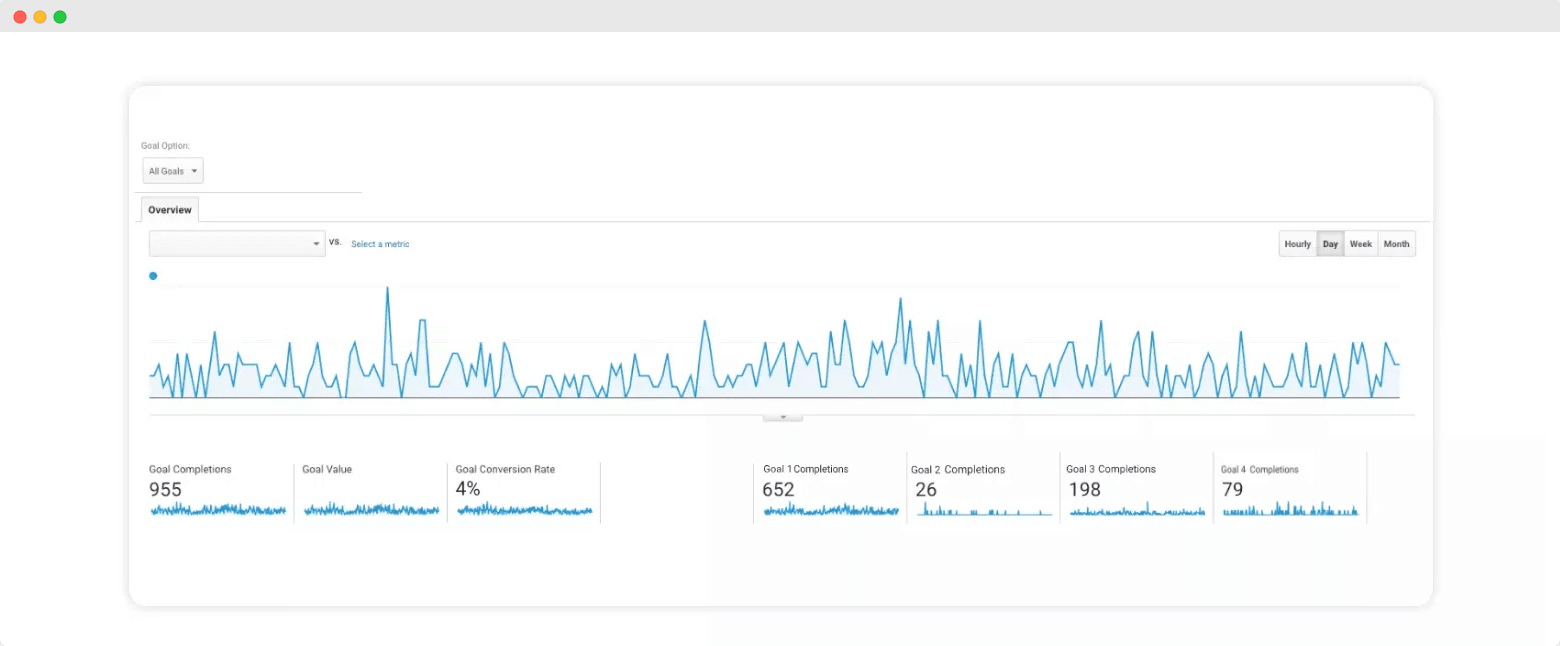 Open the Analytics section in your Shopify Admin panel and visit Dashboards. Here you will find the Online Store Conversion Rate widget and your sales funnel divided into different stages.
The average conversion rate for a Shopify store was 1.5% in 2019. In May 2020, the average Shopify conversion rate was a little higher at 1.6%.
But what to do if your conversion rate is 1% or even lower? First of all, you need to find out the reason for such a low conversion rate. Then, you need to use eCommerce conversion rate optimization tactics.
While most reasons vary depending on the website, sector, and products, there are typical reasons for low eCommerce conversion rates most retailers ignore. What are they? Let's find it out.
Reasons for a low conversion rate
Now we are going to analyze the typical reasons why your e-commerce website doesn't convert visitors. For this purpose, let's imagine an average shopper, for example, me. I like buying things on the Internet. As a shopper, I want a streamlined buyer's journey. For me, this will mean I can find a product and checkout in 10-15 minutes.
However, only a few sites can offer such a convenient user experience. It is no surprise that most stores have very low conversion rates and require eCommerce conversion optimization.
So, what keeps people away from buying at your e-commerce website? The Baymard Institute study report says that low conversion rates are caused by the following reasons: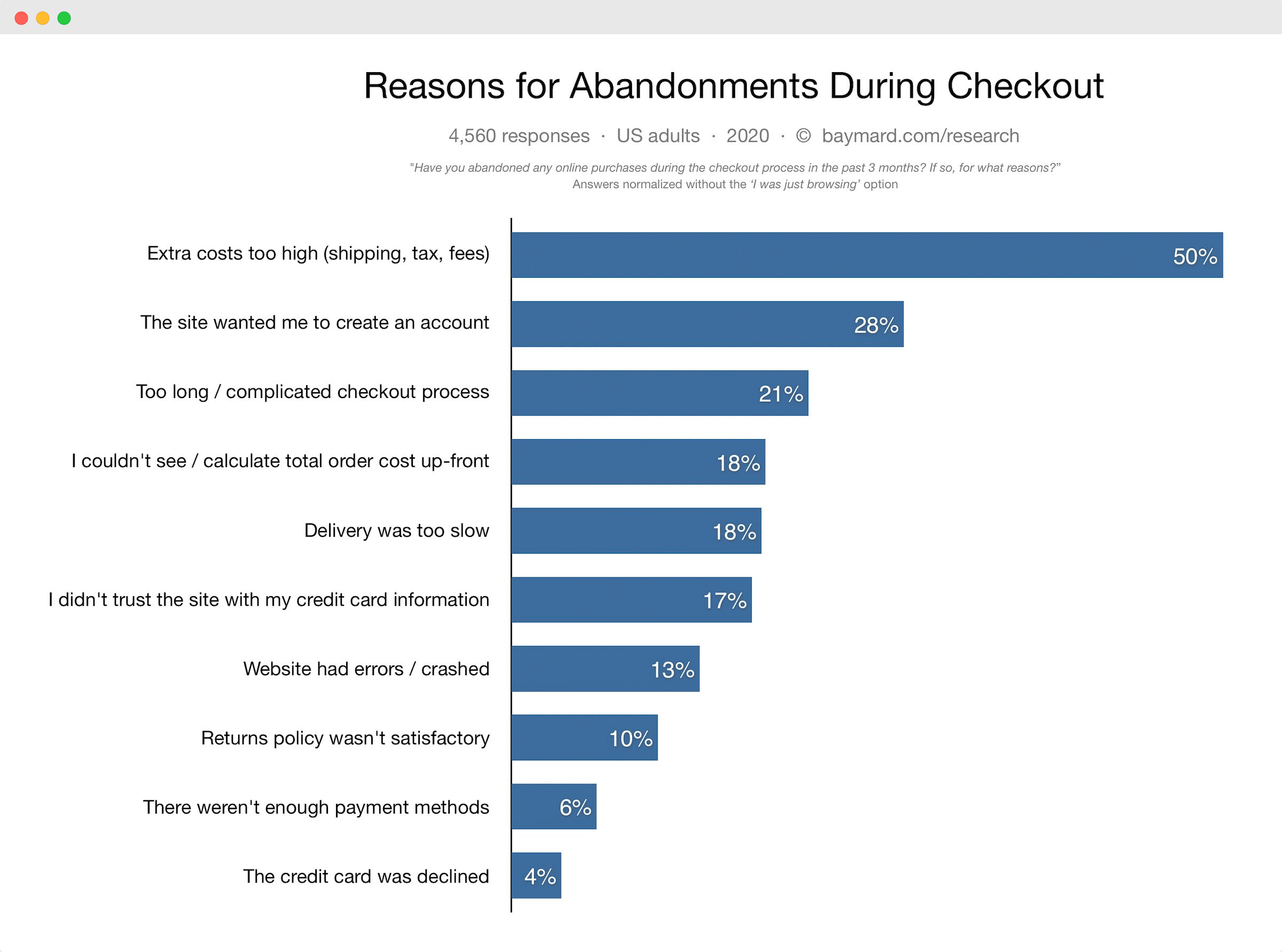 Poor navigation
Research suggests that 22% of eCommerce sites do not have an intermediate Category Page at the top of their catalog hierarchy. For this reason, site visitors can't properly navigate the eCommerce product catalog.
As a customer, I like to find products within just a few seconds, especially if I know what I'm looking for. However, if the shop I visit has poor navigation, unclear product categories, and no keyword search, I wouldn't give such a website a second look, but open another shop in the next tab. Most shoppers will do the same since it is easier to deal with eCommerce websites that respect your time.
Additional shipping costs
Around 61% of shoppers abandon shopping carts because of high or unexpected shipping costs.
When I visit an eCommerce site to purchase something, I expect to spend a particular sum of money. I add products to a shopping cart with a total order sum in mind. But at the checkout page, when I see additional costs charged for shipping and handling, I will interrupt the checkout process because I didn't expect to pay additional costs.
As a result, customers abandon carts and never return to finish the checkout. That is the way buyer psychology works. We get used to the fact that eCommerce retailers offer free shipping. Thus, shipping costs, even around 5-10 dollars, negatively impact your decision to make a purchase.
Forced customer account creation
The absence of guest checkout makes 34% of e-commerce website visitors abandon their carts.
Not all customers are ready to create a customer account, especially when they shop at your site for the first time. As an online shopper, I respect my time. Besides this, I get used to a streamlined and straightforward buying process.
Thus, if your potential customer already added come products to their cart, but need to create a customer account to place an order, they will look for a more straightforward option at your competitor's store.
Complicated checkout process
According to Baymard's Checkout research study, checkout issues are caused by the following reasons:
Long and complicated checkout caused 21% of US online shoppers to abandon their orders.
The average US checkout flow consists of 23.48 form elements and 14,88 form fields, negatively affecting the checkout process.
When I add products to the shopping cart and even agree to pay extra costs for shipping and handling, it does not mean I will make a purchase. Once I begin the checkout process and see many fields to fill in during a complicated checkout, I will interrupt it. Spending some time just filling all these fields simply annoys me as a customer.
Thus, if your eCommerce website has a long and complicated checkout, your potential buyers leave your eCommerce website, negatively impacting your conversion rate.
Shopping cart abandonment
Shopping cart abandonment could be a result of both extra shipping costs and long checkout.
But, there is a third option.
If the website I visit does not have a wishlist on the product page, I will add products I like to the shopping cart.
In such a way, I will not lose these items. When I am ready to make a purchase, I visit this site once again to complete the checkout. The funny thing is that I'm not the only one who does this.
58.6% of US shoppers also have abandoned their shopping carts because they were just browsing and were not ready to buy something.
Unfortunately, most customers forget about products in their abandoned shopping carts. However, even such behavior has its approach.
We just discovered the main issues that cause a low conversion rate for eCommerce. But how can you increase conversions?
Ecommerce conversion rate optimization strategies to try
What methods and tools do you need to apply for eCommerce conversion rate optimization? We suggest the following options as the most effective for conversion optimization.
Use product search optimization
To increase eCommerce conversion rates and help your website visitors find products in several seconds, you have several optimization options to choose from:
Category navigation. Category-level navigation at the Home page will help shoppers find what they came for. Thus, the design of the Homepage should include a clear product category so customers can narrow their search to specific products. On the top menu, you can place up to 7 product categories. For better optimization, you can also place links to the Return Policy, Privacy Policy, Customer Service, and your contact form. Another tip is to use a multi-column menu on the top page or left side to organize your product categories and subcategories.
Search bar. The search bar should attract customers' attention to use it and find products more effectively. Thus, we recommend placing it in the top menu. The search box should also provide auto-complete versions for the most popular products and categories. Thus, you eliminate situations where a customer can't find a product because of misspelled words and, consequently, increase sales.
Search algorithm. To achieve better e-commerce optimization, empower on-site search with Natural Language Processing technology. NLP helps the eCommerce search to understand more complex search queries that include the type of product and its price, color, and size. For example, the user could type "red cocktail dress size 9 under 200 dollars" to the NLP interface and receive relevant information.
Related reading: TOP E-COMMERCE AI TOOLS TO MAKE YOUR ONLINE STORE PROFITABLE IN 2020
Offer free shipping or inform beforehand
To avoid your customers' disappointment with additional shipping costs, you have two optimization options to apply:
Free shipping
Offer your online shop visitors a free shipping option. This type of optimization mainly works for new customers. You can also offer a free shipping option for shoppers whose total order value is more than a predefined sum. You can also add shipping costs to the product cost and say that such products are shipped for free.
Shipping costs calculator
Another eCommerce optimization option is to show shipping costs on the product page. For this purpose, you can integrate a shipping cost calculator. This type of shipping cost optimization automatically calculates shipping prices and shows shopping costs near the total order sum. Such optimization plugins calculate the shipping costs based on shipping destination, product weight or dimensions, cart total, etc.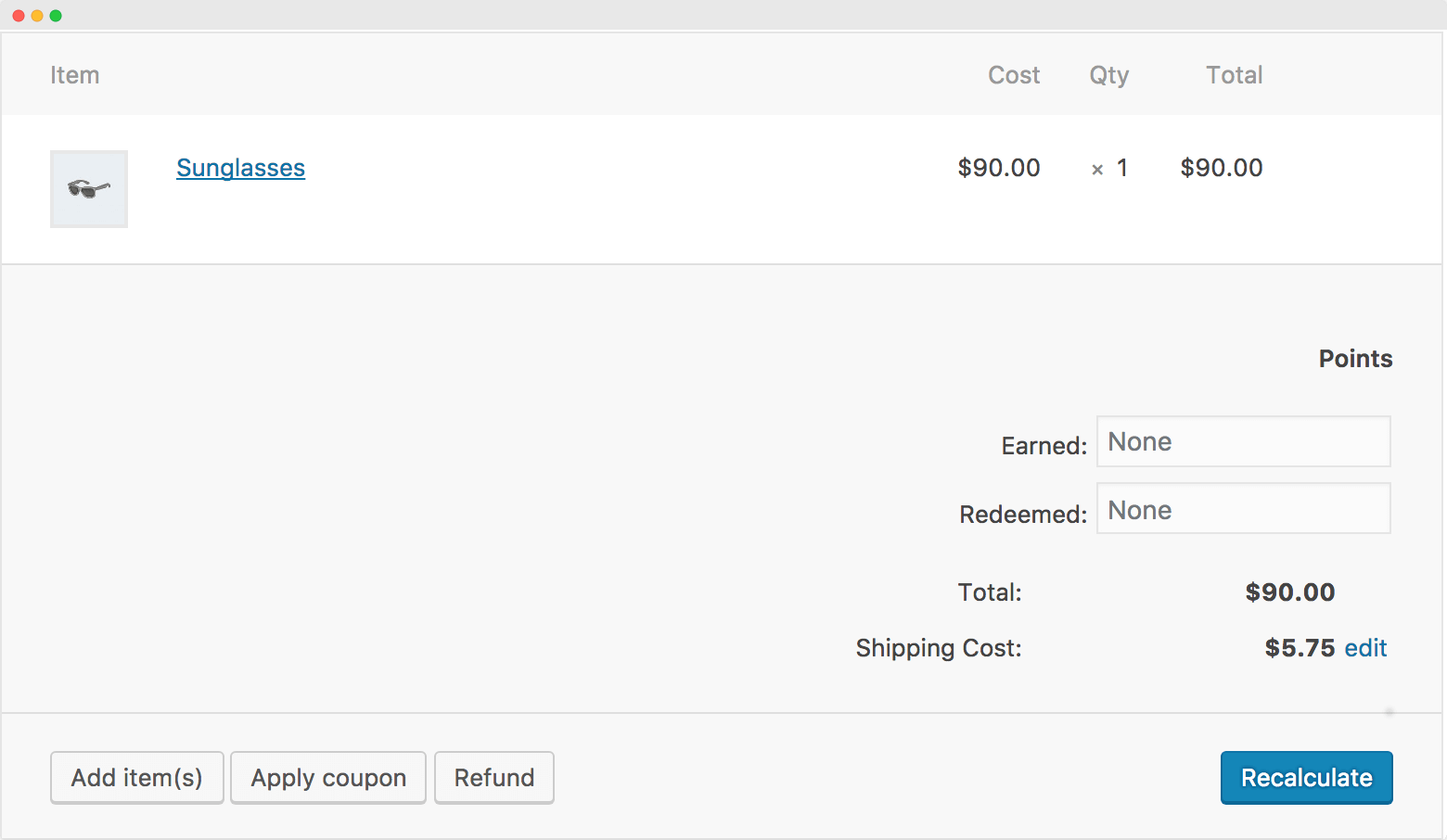 [WooCommerce Cost of Shipping plugin]
Offer guest checkout
You can drive conversion by eliminating the need for shoppers to create a customer account. This type of e-commerce optimization is attractive for first-time customers and those who don't feel comfortable giving you their contact details, such as an email address. Some eCommerce platforms allow setting guest checkout in the Admin panel, while others require additional plugins.
As a Shopify website owner, you can make customer accounts optional in the admin panel. Go to Settings > Checkout. Then, in the Customer accounts section, choose Accounts are optional. Next, click the Save button to confirm your new account settings. Now, your new customers can checkout without the mandatory requirement to create an account.
Magento 2 users can also disable and allow guest checkout. Go to the admin panel and find the Stores section on the sidebar. Then, in the Configuration section, select the Sales section and then go to checkout and click Checkout Options.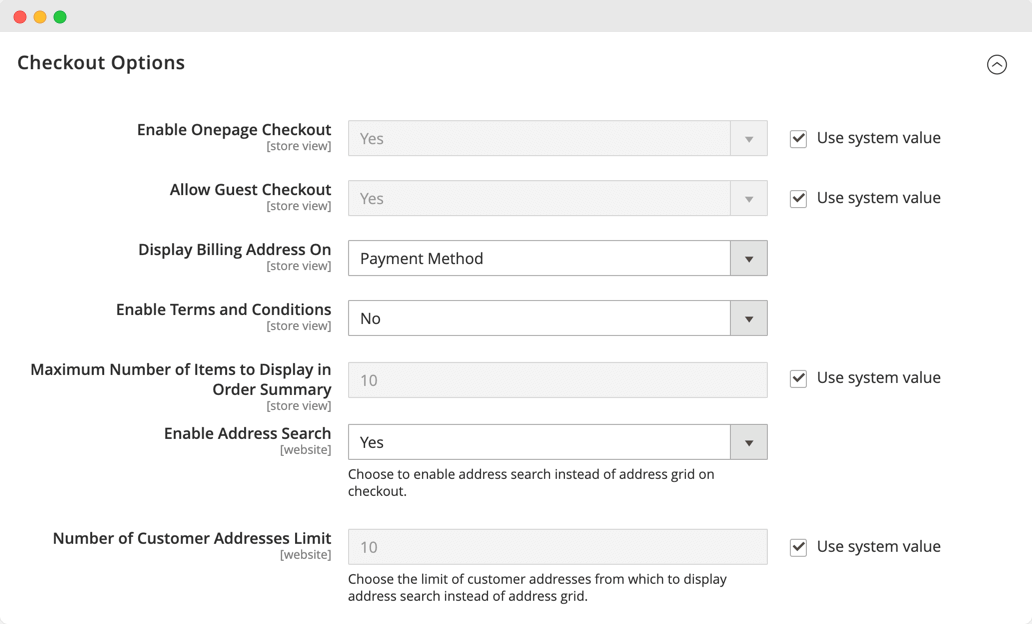 Here, untick the Use system value checkbox, select the store view where the configuration applies and click Ok to continue. Now, choose "Yes" in the Allow guest checkout field and make sure you press Save Config.
This platform does not allow enabling or disabling customers' accounts. Thus, you need to use the Checkout Manager plugin. With Checkout Manager, you can customize your checkout process by modifying conditional checkout fields and removing the order notes in the checkout form, including a custom message before or after the checkout form.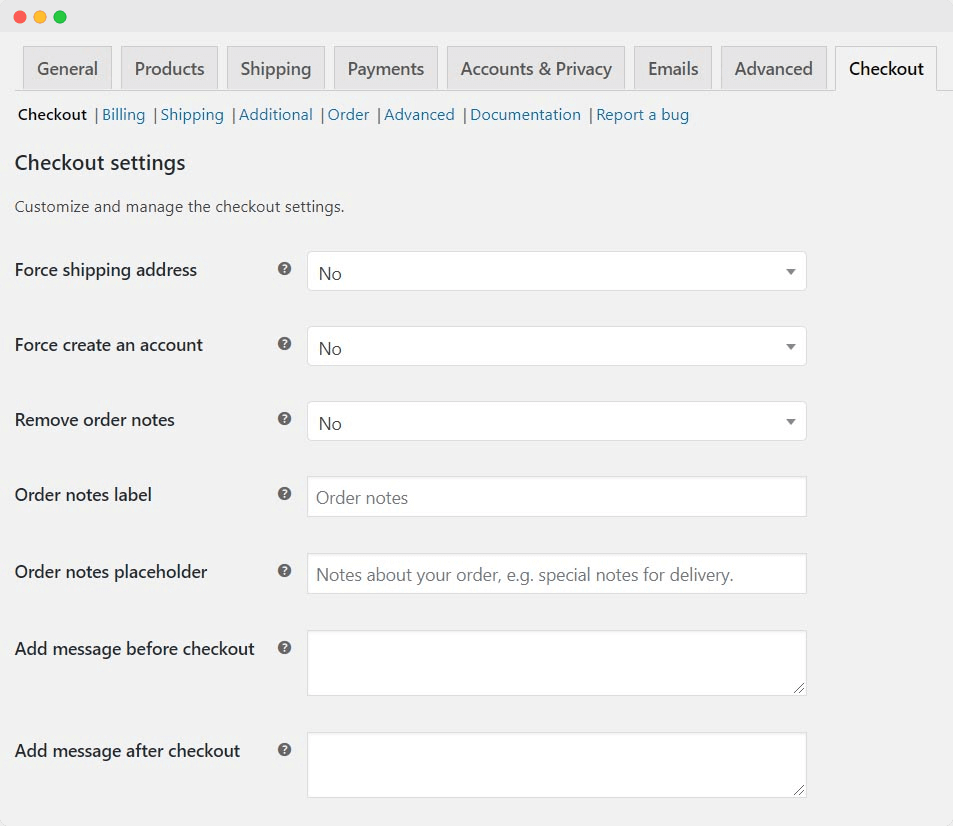 To integrate this plugin to your WooCommerce store, buy one site license for $20. Checkout Manager also includes other tiers for agencies ($40 one-time payment – 5 site activation) and developers ($80 one-time fee, unlimited site licenses).
Use checkout optimization
Most eCommerce platforms do not offer guest checkout by default. Thus, to improve the user experience at your website, allow visitors to check out in one step using additional plugins. Here are our favorite one-step checkout optimization addons for the most popular eCommerce platforms.
One Page Checkout for WooCommerce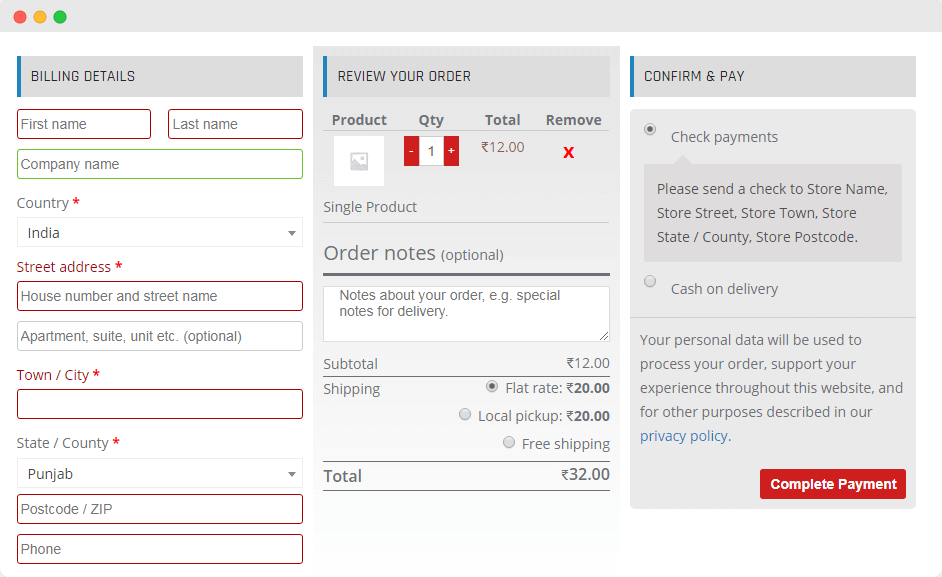 One Page Checkout for Woocommerce stores improves user experience with shopping cart optimization and checkout on one page. This CRO e-commerce plugin allows visitors to change the product quantity and delete products from their shopping cart. To start using this plugin, you need to pay a $79.00 annual fee.
One‑Click Checkout for Shopify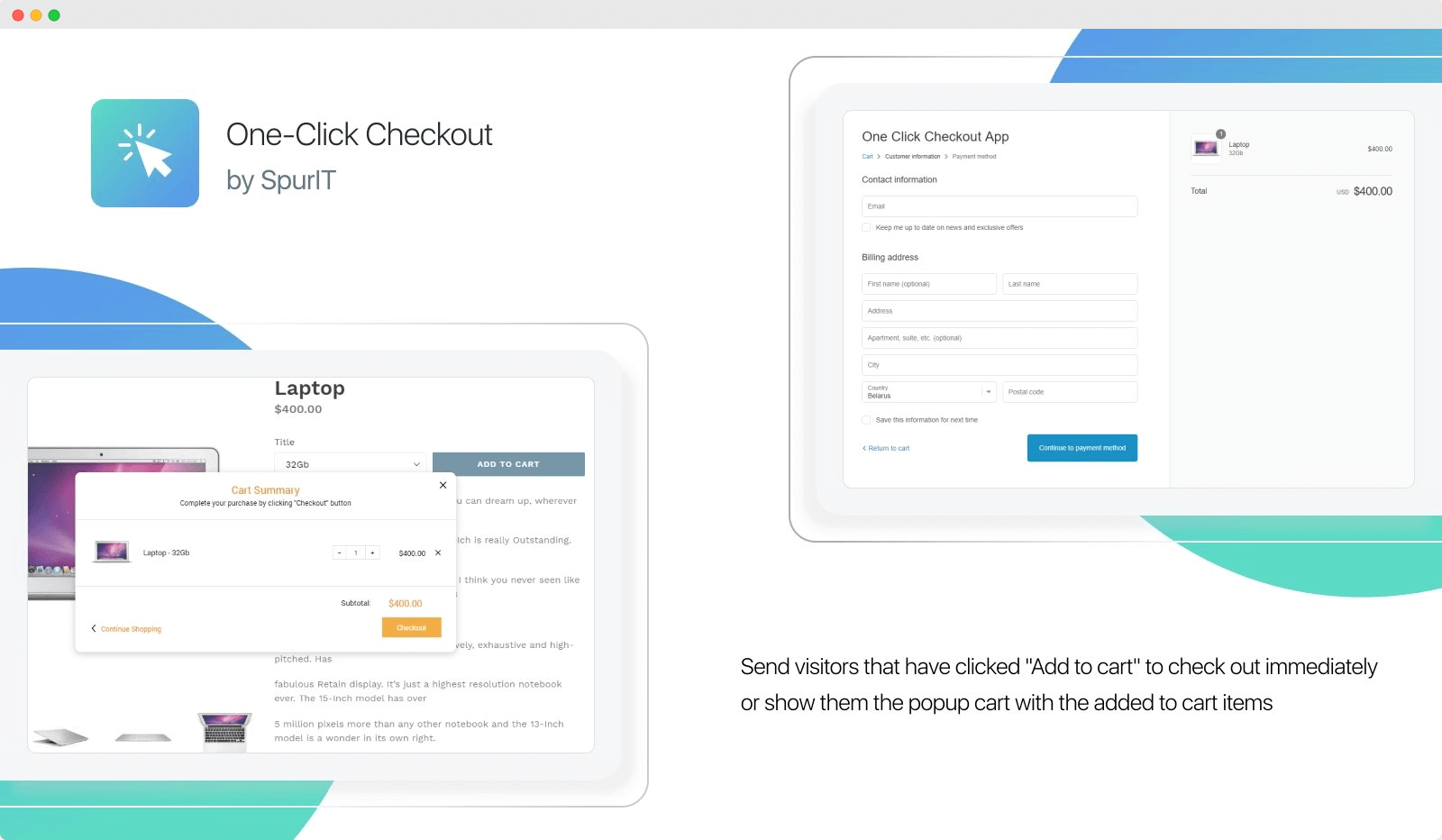 One-Click Checkout for Shopify platform users replaces the checkout page with a checkout pop-up. This optimization addon integrates Add to cart and Checkout buttons to all product pages.
Each time shoppers add items to their carts, this plugin shows a cart summary such as other products added, order subtotal, and offers a quick checkout.
At the checkout page, shoppers see a simple checkout form with 8 fields. You can customize the checkout pop-up and Buy Now button design and set your own 1-click ordering conditions for this app in the Admin panel.
One-Click Checkout offers a free plan with basic features. A Basic plan with a $9.95 monthly fee that includes checkout flow management, and a Priority Support plan for $18.95. At this price, you will receive a dedicated manager, a consultant that will help you to install the app, and priority in the live support queue.
OneStepCheckout for Magento 2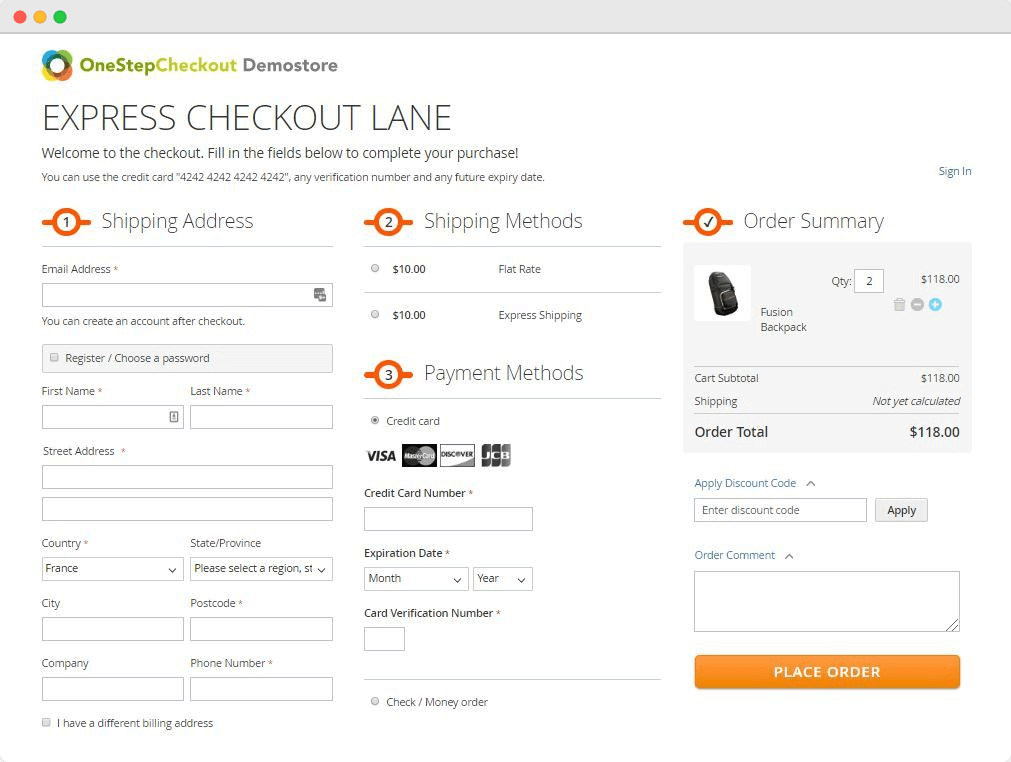 OneStepCheckout is one of the most popular checkout optimization plugins for Magento 2 sites with over 20,000 merchants. You can shape the checkout that you want with minimal development skills and resources.
This optimization addon turns the standard Magento checkout into a single page with a responsive design for tablets and mobile devices. With OneStepCheckout, you can disable unnecessary fields like fax, company, telephone, region, set a default shipping and payment method, auto-update available shipping rates, and integrate country auto-fill with GeoIP localization.
OneStepCheckout price starts from $570, but it is calculated individually, depending on your Magento version's need for online support, and installation service.
Integrate wishlists and apply mail marketing
To increase the conversion rate for your eCommerce website, you may try both wishlist and mailing because they work great in combination. For example, if a visitor bookmarked an item to their wishlist, you know that they are intending to buy it, but not ready to make a purchase right now.
To motivate hesitant customers, you can send an email and remind them about products on their customer wish list or inform them about a special offer with their order. The most popular ways of stimulating hesitant customers, or those who abandon their shopping carts, are contextual emails with such titles as 'Low in stock' and 'Price dropped.' Once sent, such emails bring shoppers back to your site.
To add a wishlist you can find the required addon at your platform's marketplace. But to find reliable email marketing software requires more time and resources.
Now, let's discover the most popular mail marketing services such as Mailchimp, Dotmailer, and Bronto.
Mailchimp supports integration with all eCommerce platforms and point-of-sale systems. This smart CRM automatically organizes all your customers into segments using the history or their previous purchases. Besides this, Mailchimp segments users by their engagement level and likelihood to purchase. In this way, you can better understand a shopper's behavior and activity across different channels in order to launch effective targeted email campaigns.
You can get the Mailchimp Starting plan for a $9.99 monthly fee. It includes pre-built templates for email marketing, A/B mails testing, and 24/7 support.
If you need a more advanced option, try Growing ties for $14.99 per month. You receive retargeting ads, advanced audience insights, and more.
If your customer base significantly increases, you might need such features as advanced user segmentation, multivariate testing, etc. You can find everything a big eCommerce store needs with the Premium tier for $299.00 per month.
Dotmailer is available for Shopify, BigCommerce, and Magento 2 integrations. Dotmailer goes far beyond just mailing software. Apart from sending emails, you can personalize your marketing messages across SMS, push notifications, live chat, and social ads.
To return browsing customers to their shopping carts and wishlists, you can apply retargeting ads via Google Ads, plus Facebook and Instagram.
Dotmailer's Accelerate basic plan includes product recommendations, marketing landing pages builder, and web behavior tracking. In more advanced tiers, you can find contact scoring, omnichannel marketing, and social media retargeting.
The platform calculates prices individually, depending on your business needs.
Bronto is a mail marketing automation platform developed by Oracle. The platform includes several products tailored to the different needs of eCommerce business owners. One of Bronto's products is Abandon Shopping Cart, a software that automatically sends personalized emails with inserted cart information into messages.
Bronto also tracks detailed cart activity and gathers insights such as recoverable carts and revenue. To make customers return to their carts and improve your conversion rate, you just need to set rules on the messaging frequency and delivery times based on the customer's checkout progress and shopping cart items.
To get a personalized pricing plan after a demonstration session, provide info about your eCommerce site.
Related reading:
HOW TO INTEGRATE PAYMENT SYSTEM INTO THE EXISTING APP
How to increase eCommerce conversion rate: the final word
Ecommerce conversion rates vary by sector and device. The average conversion rate for most eCommerce sites is between 1,5-3%. The main reasons for a low conversion rate lie in the poor customer journey at your store.
At the same time, the conversion rate optimization techniques in this article will help you to improve your conversion, make your business more profitable, and get more orders.