Blog
Reasons Your Magazine Needs a Mobile App and How To Monetize It
Reasons Your Magazine Needs a Mobile App and How To Monetize It
The year 2008 marked the beginning of the app revolution in tech, precipitating an influx of smartphone apps. Today, there are over 80 million apps in Android and Apple app stores. This app renaissance is part of every industry, including news consumption.
Online magazine and newspaper owners now focus on ways to deliver the news as making money remains a key objective. Top news companies like Politico, The New York Times, and HuffPost now own apps for their publications.
But is building an app a good business strategy for newspapers?
The answer is yes.
On the surface, monetizing an app seems a far-fetched idea. But in reality, a newspaper can monetize its content in a myriad of ways. In-app ads and subscriptions are some of the most common app monetization models.
On the consumer side, paying for an app can be a huge pain. Research has shown that most people will only pay for an app if it is 'absolutely necessary.' Users also believe that any paid app should provide high value for money. Hence, Netflix's popularity in the entertainment industry.
So, how can a newspaper or magazine create a lucrative app monetization model?
In this guide, we will discuss how to monetize an app, from the development stage to marketing the product. You will also find out the possible risks and rewards involved in mobile app monetization.
Why does your magazine need a mobile app?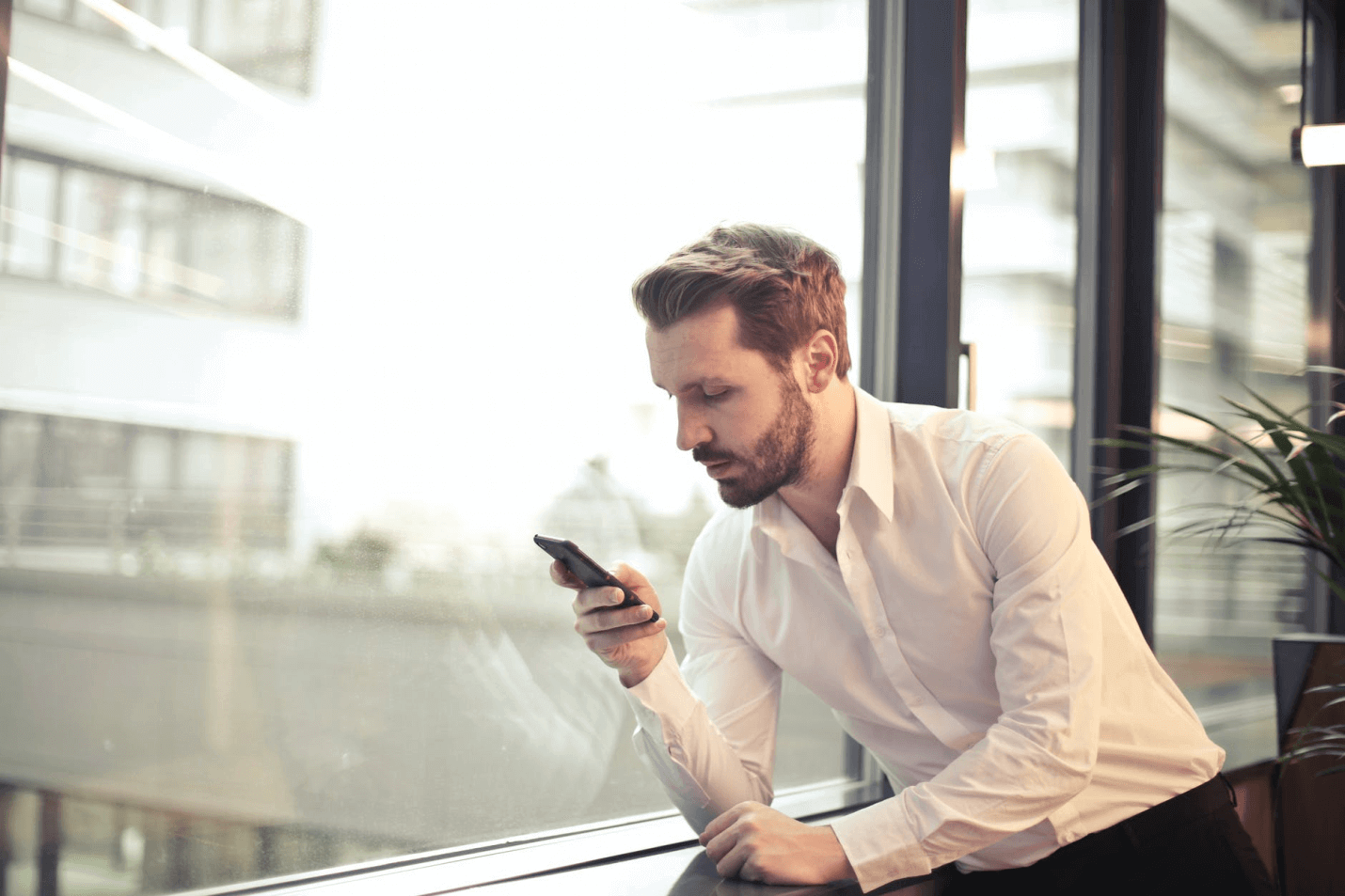 [Source: Pexels]
App development is a tiresome and money-consuming endeavor. So, any company that decides to make its app's needs iron-clad, guarantees the app's revenue potential. And, as a not-so-popular news outlet, your company's skepticism is justifiable.
Can the company recoup the cost of building the app? Are customers interested in the app? Will app monetization kill user experience? Which app monetization method is most lucrative for news apps?
These are the pressing questions every company's marketing department must answer before strategizing their app monetization strategy.
But you are in luck today since we have done most of the thinking for you. Let's check out some of the main administrative and financial reasons why building and monetizing your app is a sure bet.
Relevance and brand recognition
Your magazine's website gives you a public presence, but an app makes your product a household name.
And why is that?
Nowadays, most users prefer browsing on their smartphones. This preference for mobile versions of websites makes a mobile app an outstanding idea. Besides, apps provide a personal connection with the user through push notifications, live support, and other features.
With that in mind, a combination of your app and website's usage will increase your magazine's popularity and relevance in the industry.
Audience expansion
As the app becomes popular, the user base widens. And since the app users make up a new base, your magazine's audience increases. Even if the same users are downloading the app, its popularity in Google Play Store will make it a top contender in the news and entertainment category.
Competitive advantage
As it stands, most companies are reluctant to invest in apps for their magazines. This presents an opportunity for your magazine to assert its dominance with a massive user base.
Capitalizing on this untapped market potential will help your business generate revenue. Any news or entertainment outlet that fills this void will become a dominant force in news. So, why not seize this golden opportunity?
Improved user experience
As mentioned earlier, apps provide direct access to content and exciting functionalities that a website cannot provide. Users can enjoy their daily (or weekly) dose of entertainment instantly.
Also, users can customize apps with default themes and get useful tips on how to use the app. At the same time, you can establish a personal communication channel with users, irrespective of location.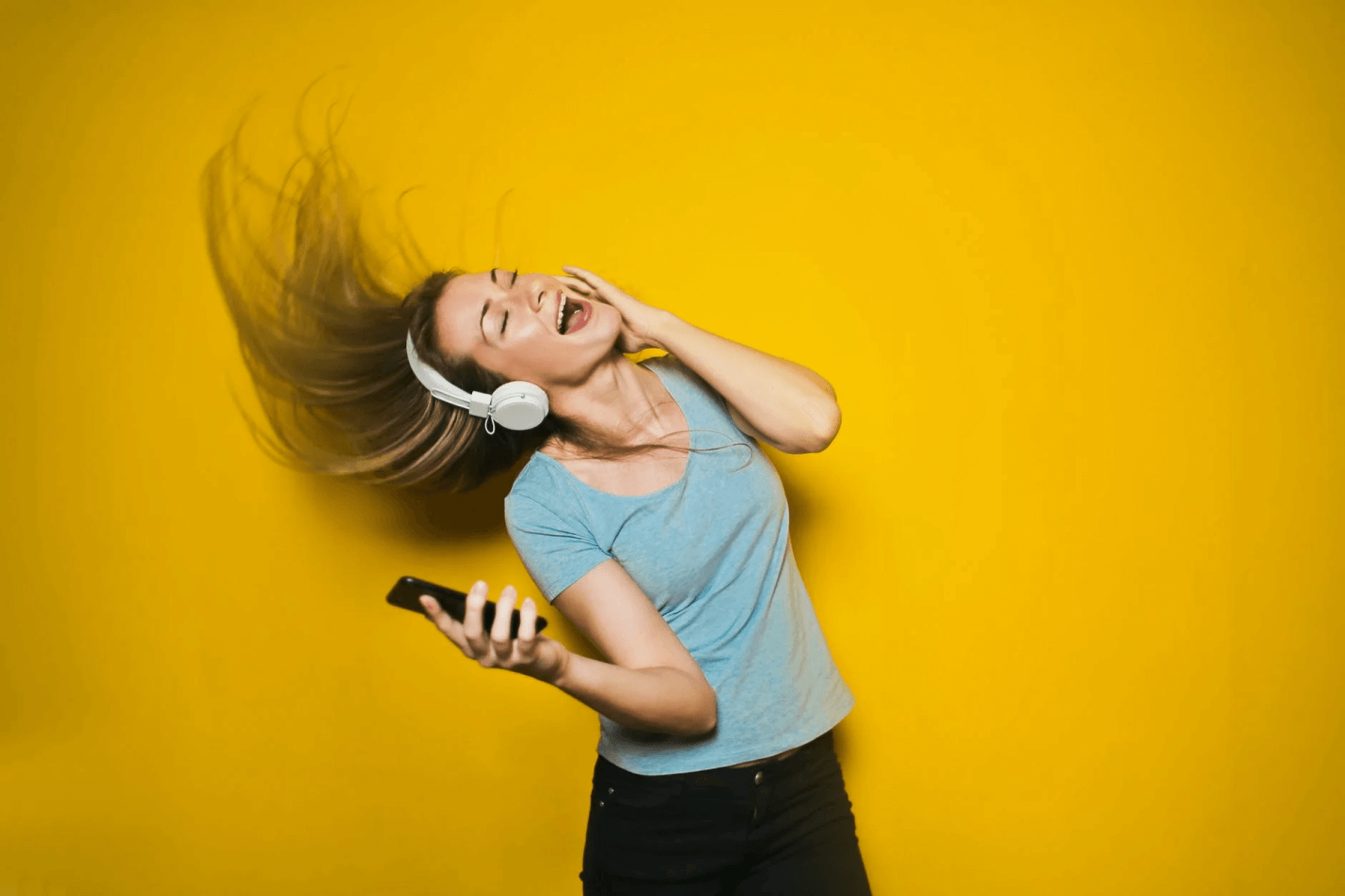 [Source: Pexels]
Most importantly, users can make in-app purchases and app payments from their smartphones. These app purchases are convenient for most users due to privacy issues associated with browsers.
Better marketing channels
The age of 'standard marketing' is gone. And we are not even talking about TV and radio ads. Those forms of marketing are largely ineffective to modern users. Moreover, modern companies don't view them as avenues for making money.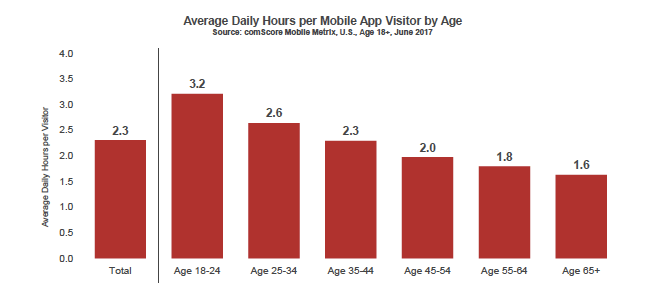 Graph showing mobile app usage by age. [Source MobiLoud]
Nowadays, users have short attention spans, which means that you need personalized mobile ad formats to get started. Consequently, these new methods of mobile advertising provide additional marketing channels that generate more revenue.
Increase in profit
Don't worry about the cost of building the app: you can regain everything within a short time using ads. In fact, app monetization strategies, using any native or video ad, will maximize your profits.
Moreover, app data showing user analytics will give your business useful insights into effective business expansion strategies.
What successful magazines and newspapers created their own apps?
The news and entertainment sector has remained a relevant industry because of its ability to adapt to modern trends. And yes, people love news and entertainment. Nonetheless, top news companies have identified the market potential of every mobile app monetization model for their products.
Still not convinced that you can combine news with making money? Check out the top newspaper and magazine apps according to data from Google Play Store and the App Store.
The New York Times was early to grasp the idea of using a mobile app to make money. This early-bird approach helped the company establish and expand its dominance in news and entertainment. Today, app users are allowed limited access to news articles every month. But you can only access the rest of the services with a subscription.
This news outlet's coverage of unorthodox events and news stories all over the world makes them the perfect go-to for news. And they have capitalized on this cultural relevance to develop an app.
The Huffington Post (HuffPost)
The award-winning publication has also invaded app stores space with an Android and iOS app. The app is free but requires login with an active Facebook account.
The UK-based tabloid has a downloadable app that users can get for free. The Metro app offers you entertainment news updates from the world of sports and celebrity lifestyles. The paid version includes automatic media content downloads and a 'Puzzles' edition.
The Wall Street Journal (WSJ)
Nothing is more refreshing than getting stock market and business updates on your phone every morning. The WSJ has created an application to address this need.
This app is perfect for the current political climate. The app's design allows users to read breaking news notifications. But you need a subscription to read news articles from this service.
This app is the early-morning coffee version of The Economist magazine. Espresso gives you instant access to daily global news updates. The app is also free of charge for the first 30 days.
The unprecedented events in Washington over the past months has made The Washington Post a top contender in news. As a result, the app is the perfect go-to for updates on current events in Washington and the rest of the world.
Like the Wall Street Journal, Bloomberg's app gives users financial updates on the latest stock market developments. The app's free version is customizable and easy to use with features like 'Watchlist' and stock market data.
A publication that prides itself on having the latest scoop on new technological advancements has no option than to develop a mobile app for its users. That's how to lead by example.
Pocket is similar to Medium in the sense that it is not an established publication. However, app users can save their favorite news articles for further reading. Pocket's mobile app free version provides a remarkable user experience. The premium version allows users to change in-app settings.
This news aggregation outlet focuses on breaking news from around the world. You can customize your notifications to get insights on the latest noteworthy global events.
Some of these are free apps while the rest are paid apps, but they all use in-app purchases and other monetization methods to generate revenue. In essence, you can develop your monetization model to mirror these top publications.
How to monetize a newspaper mobile app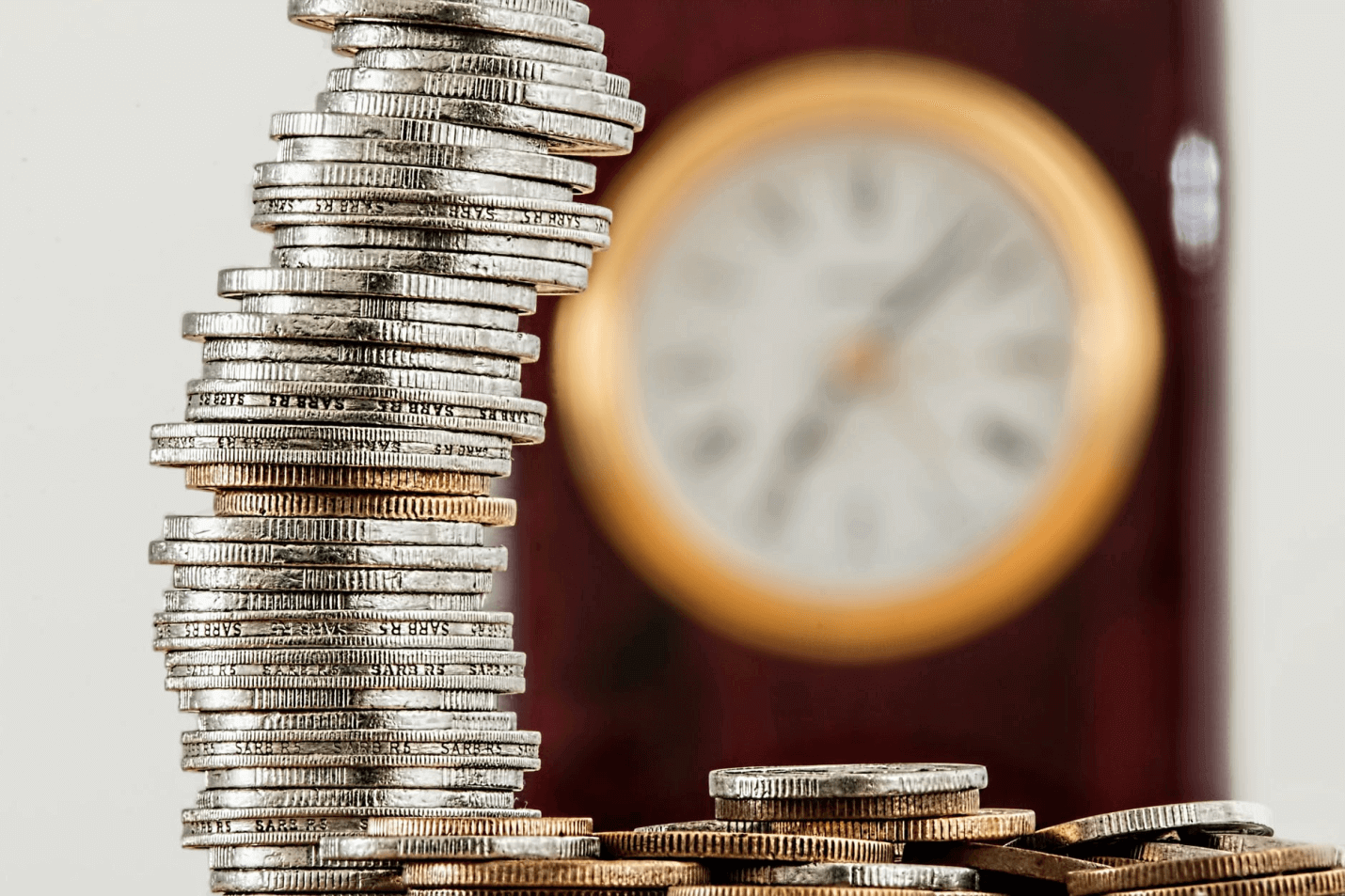 [Source: Pexels]
Mobile app monetization is essential if you want to boost your magazine or newspaper's relevance in the market. To level up with top newspapers, you need a mobile app. You can combine the mobile app with your website.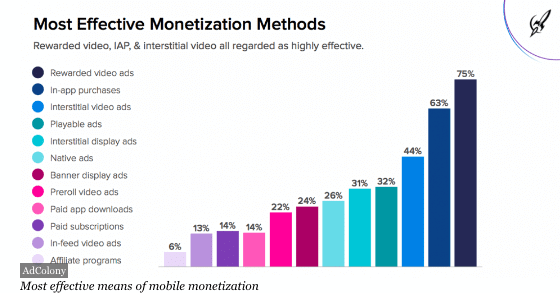 Most effective app monetization methods [Source: AdColony]
But you can't dive in head-first without an app monetization strategy in place. You need to work on monetizing your app with a marketing team. Create a foolproof mobile app monetization strategy based on outstanding value propositions and excellent mobile experience.
You can sell the app in app stores or use a subscription model. Placing the app in the Android app store and Apple app store is a great way to make money.
Here are some of the most lucrative mobile app monetization strategies to boost conversion and make money.
Paid apps
The main question is: "Who will pay for an app?"
Research has shown that less than 50% of app users are willing to pay for an app. And this number has been decreasing over the years in the news and entertainment industry.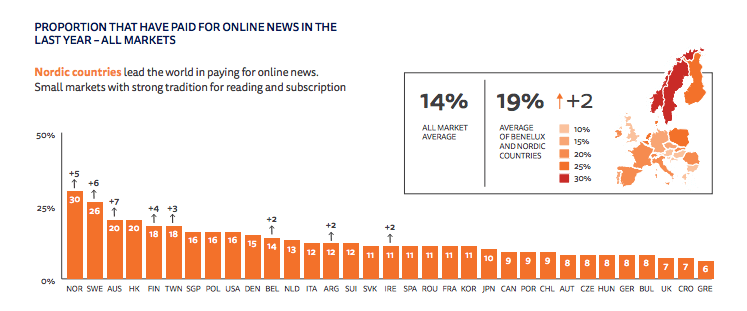 Paying news app users in Nordic countries [Source: Statista]
A magazine subscriber would not hesitate to download the app in the Google Play Store. However, some app users only download name-brand apps due to privacy concerns.
Nevertheless, you can generate massive app revenue by putting up your news app for sale.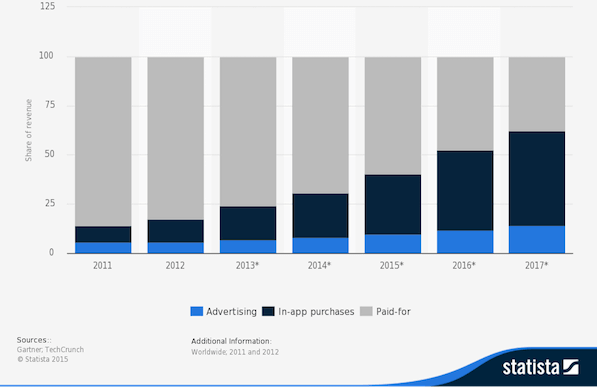 Comparison graph for app purchases and revenue [Source: Statista]
Subscription-based model
Mobile app developers are more incentivized to create free apps with a subscription-based model than paid apps. This app monetization model allows paying app users to pay for services at their discretion. It is just similar to paying for your monthly subscription to Reader's Digest and other periodicals.
By the way, users would rather download an app and pay later, than pay upfront. This allows them to assess the app to determine the obtainable value from the mobile app.
Freemium monetization model
The term 'freemium' refers to free and premium mobile apps. Unlike the subscription-based model, this 'app for free' monetization strategy is the most common way that apps make money.
The number of paid and free apps over the years. [Source: Statista]
Free app purchases allow users a limited preview of the app's functionalities before they can pay for it. And if they are impressed with the preview, they can pay for the app's premium version.
Free trial app monetization strategy
The free trial model is the best way to convince a user to buy an app or pay for a subscription. We all love freebies, especially when it allows us to test-drive our favorite paid apps.
Popular news agencies allow users to read their content for free for a specific period. Some magazines offer a free month while others offer only one week for a free trial. In a manner of speaking, "you have X days to convince me to pay for this app!"
But how can you monetize this free trial?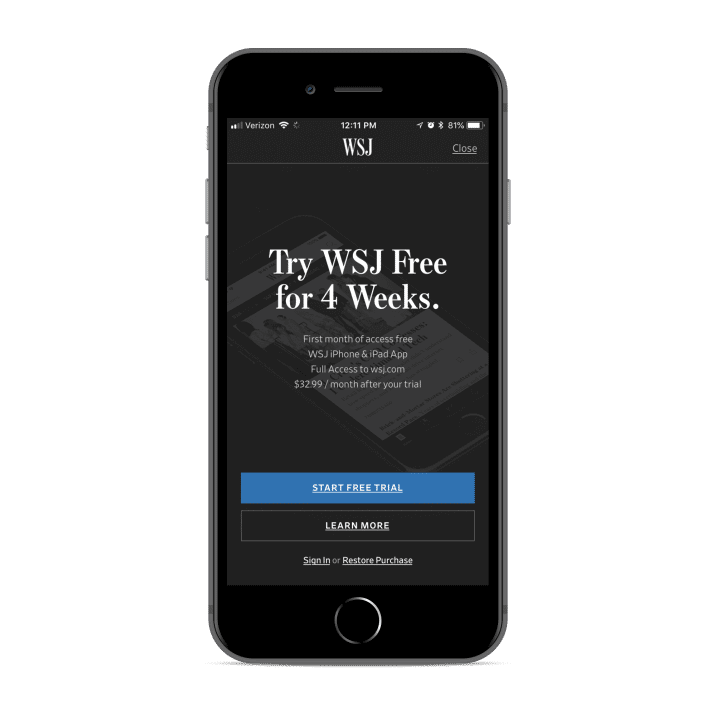 [Source: The Wall Street Journal]
Buy an app ad
The placement of mobile app ads is the most popular app monetization strategy today. This app monetization strategy compensates for free apps. You can use it as a way to generate mobile ad revenue based on impressions, clicks, and actions.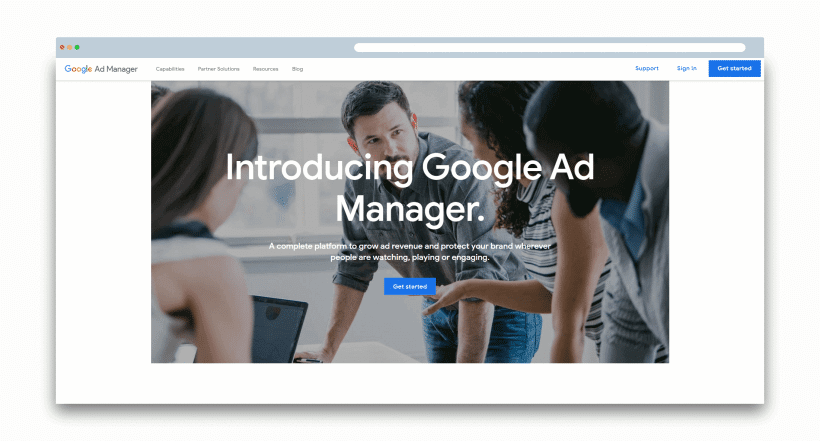 [Source: Google Ad Manager]
The main categories of mobile ad revenue include:
CPM — Cost Per Mille is the amount of revenue you can generate for every mile (thousand) impressions.
CPC — Cost Per Click determines how much app revenue you earn any time a user clicks on the ad. Cost per click advertising is quite popular in the ad space.
CPA — Cost Per Action is a less-lucrative but valuable metric that determines how apps make money. You earn revenue whenever the user completes an action — an in-app purchase.
As a news company, you can make money from your app by placing different kinds of ads. In fact, most free entertainment outlets focus on ads for the bulk of their app revenue. However, you would need the help of ad networks like Google Ads to make money from any ad category.
Here are some of the app ads categories to monetize your mobile app and increase revenue:
Native ads app advertising
Native ads are relevant to consumer experience when using an app. These ads target specific user browsing habits when using an app for free or revenue. For example, app users interested in marijuana legislation can receive native ads on CBD Oil.
Banner ads app advertising
Banner ads are quite popular across various platforms. You can use banner ads for your news page on Facebook and other social media platforms. But banner ads in-app advertising can only sell if they are catchy and product-related, otherwise, they may disrupt the user experience.
Interstitial ads app advertising
These ads are similar to banner ads. However, interstitial ads cover the entire screen for the duration of the mobile ad display. This is often a user experience headache. But you can avoid the disruption by placing the ads between natural pauses.
Video ads app advertising
Video ads are responsible for the highest click-through rates (CTRs) in-app advertising because they are interactive.
Most users hate ads, and forcing the ads won't make the aggrieved user subscribe to use the app. They would rather skip the ad than sit through those annoying seconds. But you can give them a reason to watch the ad.
Just as Duolingo offers users new 'Hearts' for every video, your news app can encourage app users to sit through long and short ads. For instance, you can offer a free story for every viewed ad. This app monetization model will make you more revenue.
Your news publication can monetize your app by allowing purchases within the app.
What features can generate money in-app? Will users pay for certain features and ignore others? How will I maximize app revenue?
The answer is: users only buy in-app features depending on their overall value.
For example, The Metro UK's app allows app users to buy the 'Puzzle' edition. In the same manner, your publication can earn revenue with a crossword puzzle or other mobile games that are only available for a certain price.
The 'Subscription' model is also considered an in-app purchase. The only difference is that you can focus app purchases on specific services rather than provide unlimited access to every service.
Partners and sponsors
Any news app or magazine making waves in the entertainment sector is an automatic magnet for sponsors and partners. So, app developers should always factor in the entertainment value that might interest the target audience. Most importantly, focus on brands that intersect with your user base.
In the same vein, you can collaborate with other media personalities or outlets for guest posts. If your outlet shows some promise in the market, brands will contact you for guest posting opportunities.
What are the essential features of any modern newspaper app?
You can cover your app with ads or use out-of-this-world fonts for the design. But none of these guarantees a successful app monetization model.
Old and new users should always be your main focus if you want to monetize your app. Don't add any feature just for kicks. Maintain a high level of efficiency by stripping down the app to the barest minimum.
At the same time, you need enough essential features to compete with other news and magazine apps. You just need to strike the right balance between creativity and utility.
Let's check out the essential features of any modern newspaper app.
Comfortable user experience
Comfort is the most crucial deciding factor of the appeal of mobile apps to users. An average newsreader wants to pick their phone, lay back, and enjoy a news article without any stress.
And it all starts with the app's design…
A modern app should have an exquisite and interactive UX design. The interface should allow easy navigation between pages. Also, the fonts and color scheme must be legible and appropriate for a news agency. A top mobile app designer will address these issues during the design stage.
Offline access
Of course, most magazine apps need an internet connection to function properly. But any mobile app with user acquisition aspirations must allow offline access to news articles. You can achieve this by using a caching method for news when the internet is available. Moreover, offline access increases user engagement as well as the app's overall appeal.
Breaking News alerts
What is a news app without breaking news? The answer: a redundant periodical.
If your newspaper app wants to become a top contender, breaking news alerts are compulsory.
Personalization options
Creating a personal user experience is necessary for both the user and your company. It allows the mobile app user to become part of a community. Users can also create profiles for engagement.
In the same way, your company will gain actionable insights into user experience and behavior. This data will fine-tune your marketing strategy to focus on niche app users. At the same time, you can get started on new expansion strategies for new users.
Sharing and connectivity options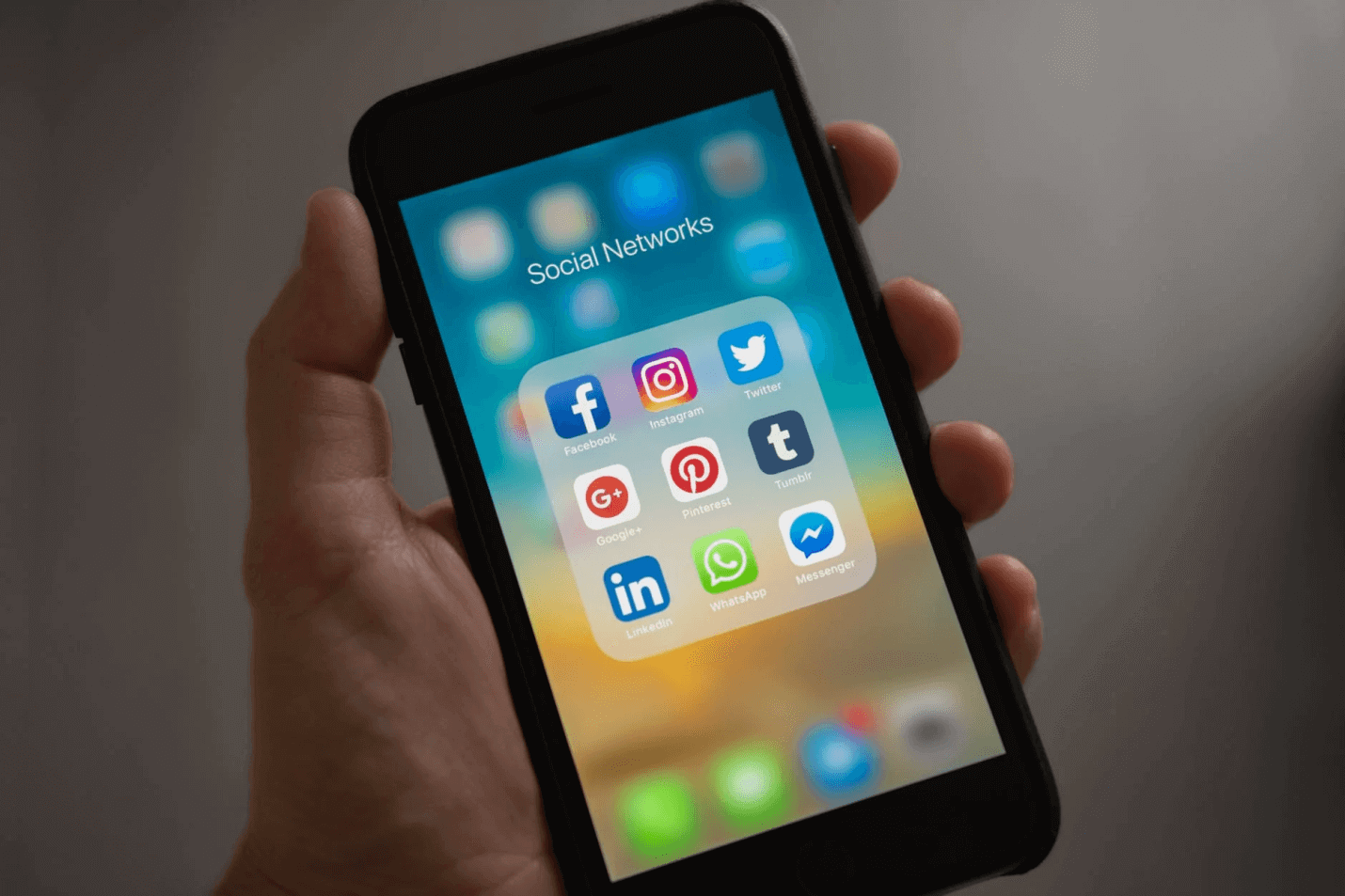 [Source: Pexels]
Let's face it; we all want to share interesting news stories to our Facebook and Whatsapp group chats. So, any modern mobile app must provide social media sharing options. More so, you need a 'Copy link' function for those who want to share the story without linking their social media accounts.
Sometimes you receive a news alert with a captivating caption, but don't have the time to read the entire thing. In other situations, you read an enthralling article that you would love to read later. This is why a newspaper mobile app must have a reading list or watchlist.
Users can add stories to their favorites or bookmark for later reference. Alternatively, they would have to search for the content manually, which is a grueling task.
All modern newspaper mobile apps must be able to display images and videos. Ensure that the media player used in the mobile app is compatible with all devices.
What extra features can you add later to your mobile app?
The features mentioned above are must-haves for every news agency's mobile app. However, you don't have to stop there: brainstorm with app developers for more eye-catching add-ons for your mobile apps.
These in-demand features pique users' interest in all mobile apps.
AI algorithm for personalized article suggestions
Reading statistics
Text-to-speech
Night mode
Push notifications
Online translation
Fact check banners
AI-integrated mobile apps track the user's interests and suggest articles related to those topics. At the same time, the AI gathers data on reading statistics and activity over a specific period. So, investment in AI features is essential.
In terms of interface, push notifications and theme customization features are excellent additions. After all, you need to get instant notifications on breaking news as soon as it happens. Besides, the night mode is important for users who want to avoid the glare from bright color schemes.
Translation services can help non-native language speakers to enjoy the news in their native tongues. Alternatively, you can provide several language versions of the same article. And in addition, the text-to-speech widget is a more convenient replacement for typing.
Most importantly, the current social climate demands a clear distinction between fact and fiction. The influx of fake news and alternative facts necessitates a feature that can give credibility to the facts stated in a news article.
How much does it cost to develop newspaper mobile apps?
[Source: Pexels]
Once you have made up your mind to build a newspaper mobile app for a global app store, you need to create a budget. Most mobile app budgets consider the following administrative and financial factors:
The newspaper mobile app's reach determines how much money you can invest in it. For example, 'NYT-Esque' mobile apps require a high standard of usability and functionality. At the other end of the spectrum, we have mediocre apps that won't cost you too much to develop.
Mobile apps with only standard features cost less to develop. Think of it like building a house: the more appliances and furniture you buy, the more expensive the overall cost.
Companies often develop mobile apps for all app stores simultaneously, but you can always stick with the most advantageous option based on your financial budget. Alternatively, you can use cross-platform mobile app development tools like Flutter.
With these three factors in mind, let's analyze the activities that affect mobile app budgets the most.
Marketing is an integral part of the app development process. Besides creating the budget for the app, the marketing team also works on the app's publicity campaign. The size of the marketing team varies depending on the newspaper company's objectives.
Also, the marketing team has the longest lifespan in the app's production chain. Their services extend from budget creation to the generation of app revenue. So, you can either go big with the marketing or limit your spending to the barest minimum.
Conclusion
In essence, you can monetize your app if it has a high-value proposition. Without app monetization, you are creating a revenue-consuming app revenue that will incur losses. Moreover, mobile apps improve your brand exposure and encourage customer engagement. You can also gain useful information on your user base, which will give you a massive competitive advantage in the market. And most importantly, you will make massive profits in addition to app sales.
However, you can only monetize your app by employing the right app monetization strategy. Follow the same app monetization strategies as top contenders like The Economist to maximize your profits. Strategize on the most effective app monetization model between app purchases and mobile advertising.
Ultimately, brainstorm with marketers and developers on app monetization to find out the standard and in-demand features for newspaper mobile apps. You can choose a subscription model or make your app free to download. In any case, don't exceed your budget.