Technical documentation for a mobile software can be that tempting expenditure item of the entire project you're thinking to save on. And at first sight, it really can be taken as not a critical detail and even a waste of money.
In fact, the situation differs quite a bit with this specification. And even more - it'll save you more money in the long term than you'd expect.
The range of employed technical writers (the ones who write software documents) in IT speaks for itself here: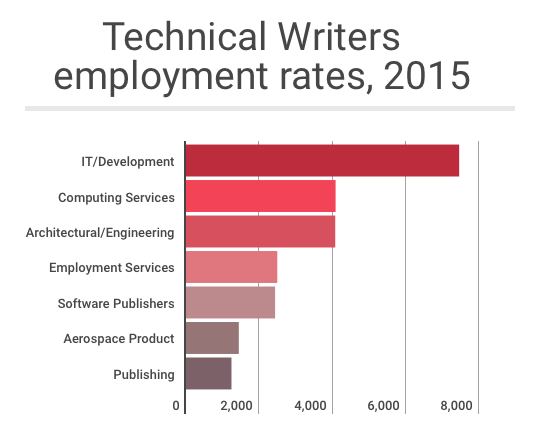 This column will cover a crisp definition of what exactly technical documentation for a mobile application is and a scroll of critical reasons to include it in your app development project.
First off - what's a technical document for a mobile application
Also known as a technical specification or a software documentation, this paper is a complex manual of your product, outlining requirements, business logic, and leading your specialists through all stages of the project. It'll include everything starting from the intro, purpose of the app, all the definitions to technologies to be used, testing to be done, timeframes, budget and even concerns or doubts. Entire roadmap for your project - good to have indeed.
LEARN ALSO: Outsourcing Risks and How To Avoid Them
5 reasons that prove importance of technical specification in app development
1. Makes your software universally understandable
It's been a proven fact that your technical document will help minimize the time for specialists to acknowledge themselves with the app's code, logics, interactions, and correlations inside of it. It's an original source of truth for your team.
2. Provides flexibility for future changes
Again, every bit documented means you're able to introduce changes in both software and team without any hassle. You're not worrying about newcomers not getting the logics of the software or it'll take too much time (which you're still paying them for). It'll also help reduce errors or misinterpretations. On top of that, any improvements to functionality will be implemented in no time.
3. Adds value to your app
Except tech document explains everything starting from architecture and design to all procedures inside of the app, it increases its' cost and reliability. Otherwise, the app becomes a maze for those who aren't familiar with your project.
CHECK OUT: QUALITY ASSURANCE FOR BUSINESS
4. Helps to keep control of your own product
Clear documentation will always mean you're free to change developers at any stage of the project. Without this paper you can find yourself dependent on the knowledge of your current contractor - whether they do their work qualitatively or not.
5. Allows reusing existing parts of the developed application
This optimization trend in software development brings its' fruit - more profitability, productivity, and quality of the product for the company. It's not only about the code but also about separate testing and entire project plans, requirements and test data. Without a development diary, this can't be accomplished.
To wrap up, these are major arguments of why technical documentation for your software is only a beneficial and essential part of the mobile application development.
In fact, there are a lot more extras you earn with technical documentation on board:
it spells out to your contractors accurately what is required;
it ensures you get exactly the product/service negotiated initially;
it helps correlate actual expenditures with your budget.
Decision is always yours as the owner of the entire project. And here you have proofs of why technical documentation is not actually the waste of money and you need a true technical professional to get it done for you.
Read also: What is Tech Stack and How to Pick Best One for Your Project