Blog
Tools for Android and iOS Prototyping
Tools for Android and iOS Prototyping
Mobile app prototyping has always been a great pain for designers and developers. Creating application interface with responsive mobile technologies is not effective and mostly demands hundreds of lines of a JavaScript code and depicting touch gestures with annotations.
It is not intuitive. It is really chaotic when you are pitching your application in front of the public and say something like "imagine how the toolbar is now swooshing in front the top of the screen" while desperately waving your hands and trying to imitate the gestures of a touch.
When we were high school students, such presentations were funny. However, now you probably want to strive for something a bit higher and find the best app prototyping tools.
Fortunately, there are prototyping tools for mobile app that allow an easy way of creating app prototype. In this article, we will consider the best prototyping tools and their main features.
Making a prototype app with Proto.io
Proto.io is a platform designed for app prototyping. It was developed by the Labs Division of SNQ Digital and launched in 2011. Initially designed for mobile device prototyping, Proto.io has extended to provide prototype applications for every item with a screen interface like digital camera interfaces, Smart TV's, airplanes, cars, and gaming consoles. This service does not require coding and utilizes a convenient user interface.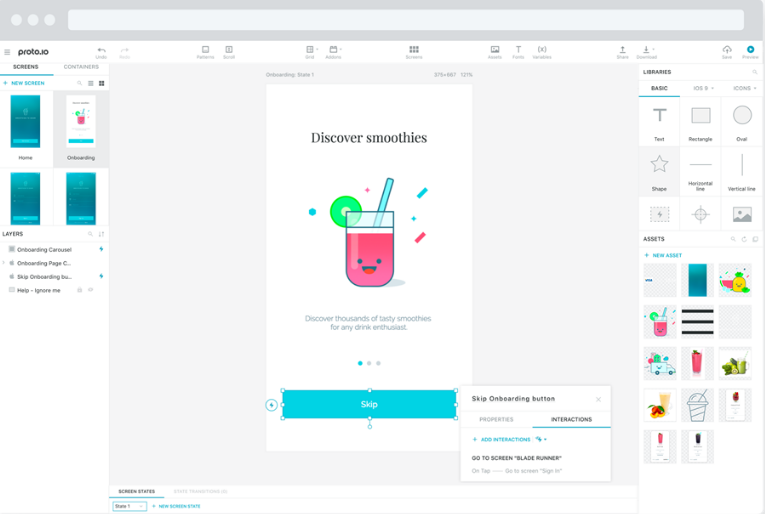 For several years, Proto.io has been creating tools for prototyping mobile apps and solutions. Recently they have introduced a new item that enables to view prototypes for iOS and Android apps in a more realistic way.
Read also: Why Android is better than iOS
Proto.io player allows users to test application prototypes for iOS and Android. It is a helpful tool that can improve the way you present an application.
For an average user, it means that they have an opportunity to edit a prototype quickly and view it as a mobile app. Other similar tools allow doing this on a mobile browser only.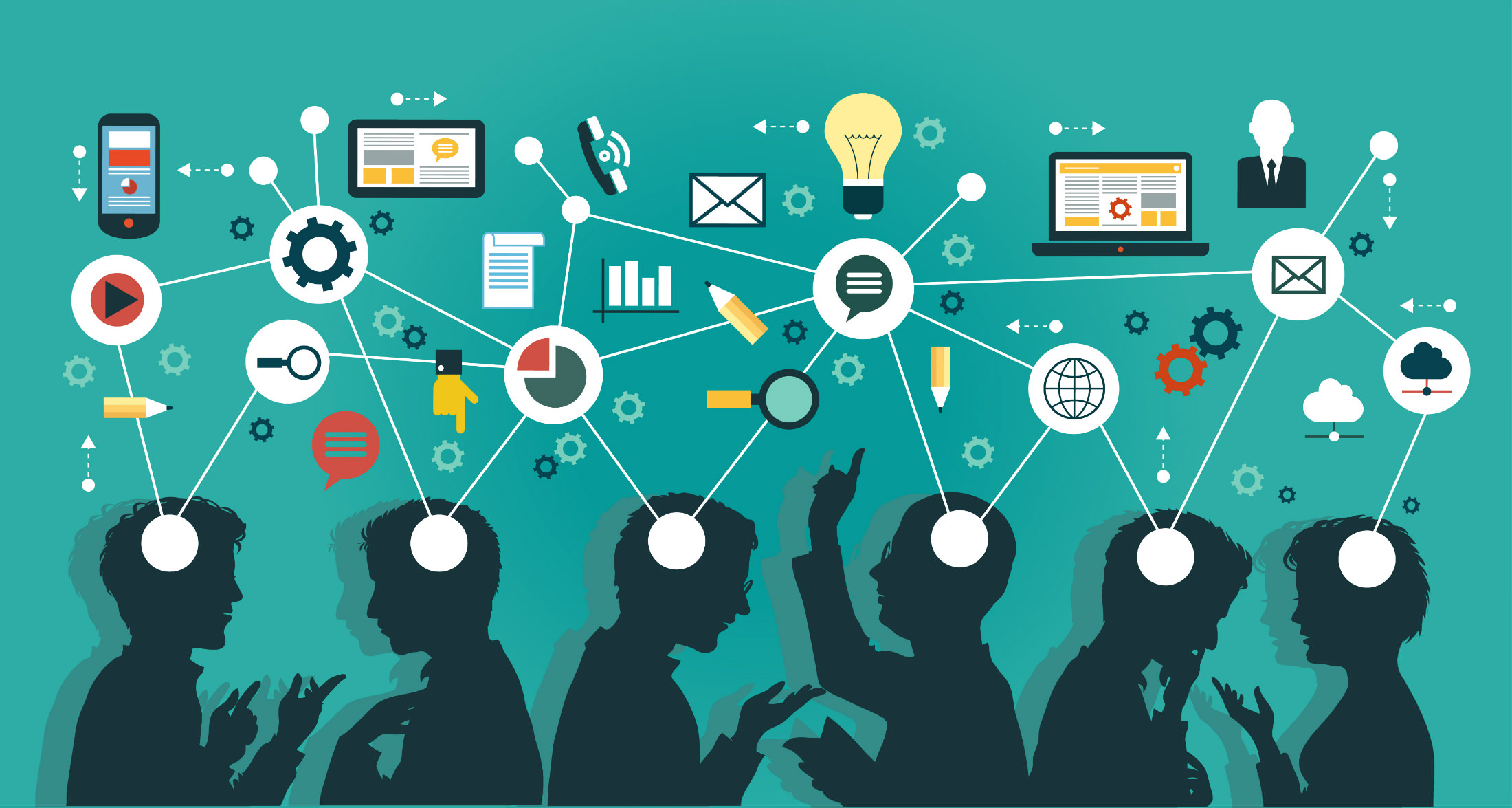 The other great thing about Proto is that its tools are easy to use. Even if you are not a Photoshop designer, you will be able to create nice prototypes with it. The elements could be easily dragged and dropped onto the screen. You can add images, buttons, and text, as well as links to the other screens.
If this is not enough for you and you want to have your design under a full control, you can customize your mobile app prototype. You can start with a blank template or project and create your way to a final version of a prototype.
Interface is rather simple and intuitive. In fact, you can easily learn it by just fiddling around than following tutorials. Take some time to explore interface, the rest will depend on your ideas and creativity.
Creating a mobile prototype with Fluid UI
Fluid UI is another alternative for creating prototype mobile apps. It is a browser-based prototyping and wireframing tool created by Fluid Software. It is used to craft easy and fast design of mobile touch interfaces. Fluid UI can be used for dynamic mobile application prototypes for iOS and Android. Fluid UI has prestigious clients like Samsung, Google, eBay and NASA and offers great features that differentiate these services from others.
The fluid is a great HTML5 interface prototyping service that allows users to create prototypes rapidly by using pre-built widgets and arranging them into a drag-and-drop editor. The first great thing about it is that it enables collaboration and iteration between the members of the team. This service allows building multi-screen prototypes connected to each other. It helps to export the screen flows, share, and collaborate with the other people.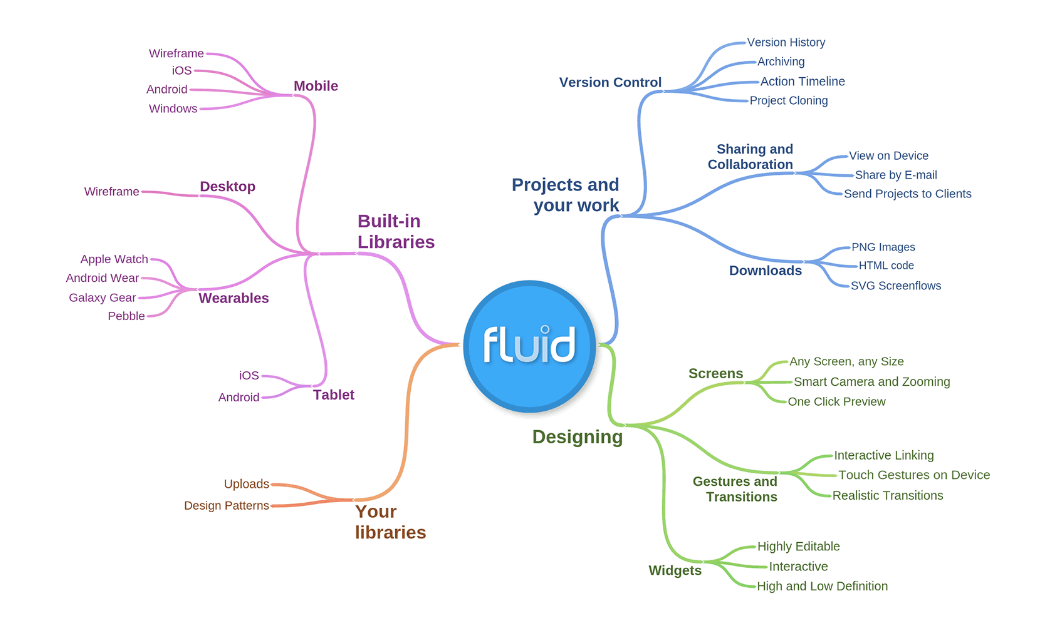 Fluid UI is an editor that allows you construct the elements and mix them the way you like. It seems a little bit more "unfinished" than Proto.io. However, it is not a bad thing because most applications don't need any overloaded and overdone features at the stage of prototyping.
It allows you to create screens at the first onset. Its features for prototyping apps are pretty comfortable, and it has more drag and drop functions than any other tool.
There are many interface elements available with Fluid UI. With this service, you will easily create your Android, W8 or iOS prototype.
InVision – another tool to create a mobile app prototype
InVision is considered to be the most popular tool for prototyping interactive user interfaces in the world.
We like InVision the most for its management feature of project feedback.
This feature allows customers and design teams to work together leaving their comments directly on the prototype. It helps not lose the track of feedback.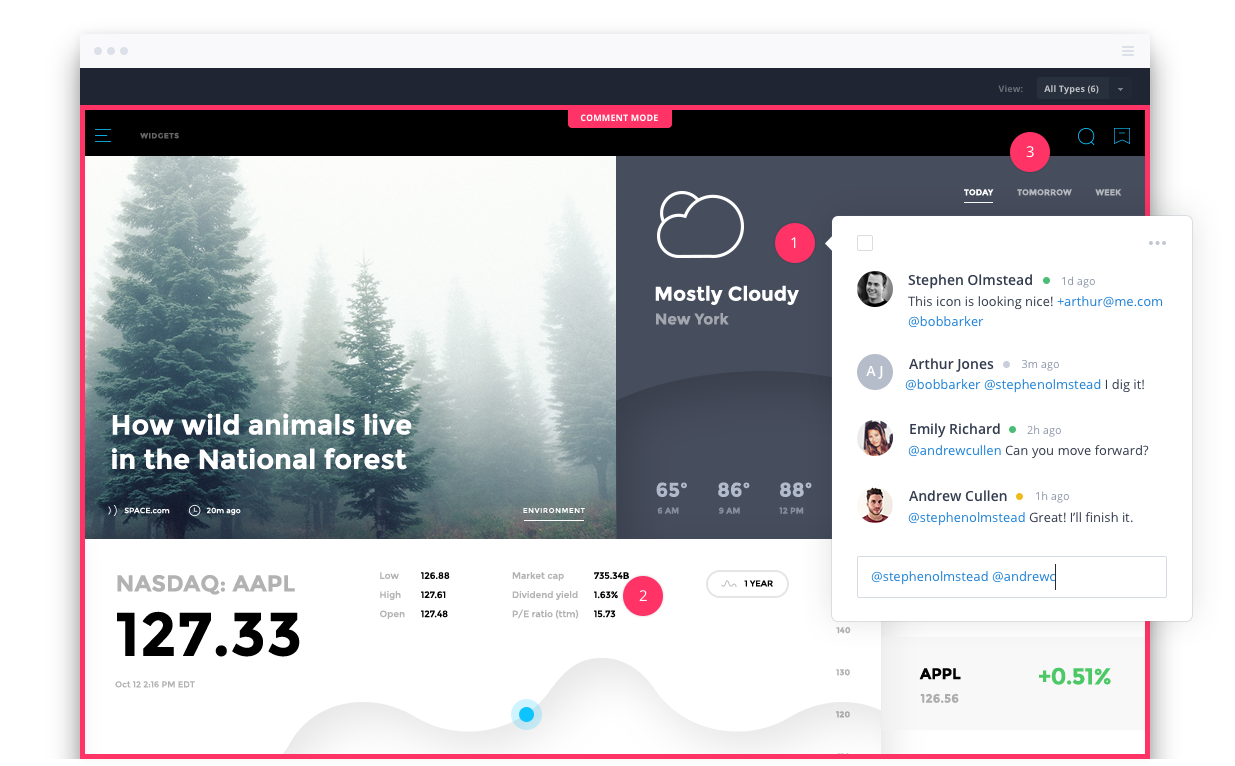 InVision has separate project management page, so you can communicate the project's status and feel certain that you don't lose the track of feedback.
The product evolves constantly providing designers with new features. Sometimes it seems that InVision's feature list is never-ending. It opens the vast range of opportunities for designers, providing them with essential and expanded UX prototyping tools as well.
You can:
import design files from Sketch or Photoshop
animate design assets
link pages to simulate real-life app
preview prototypes on mobile devices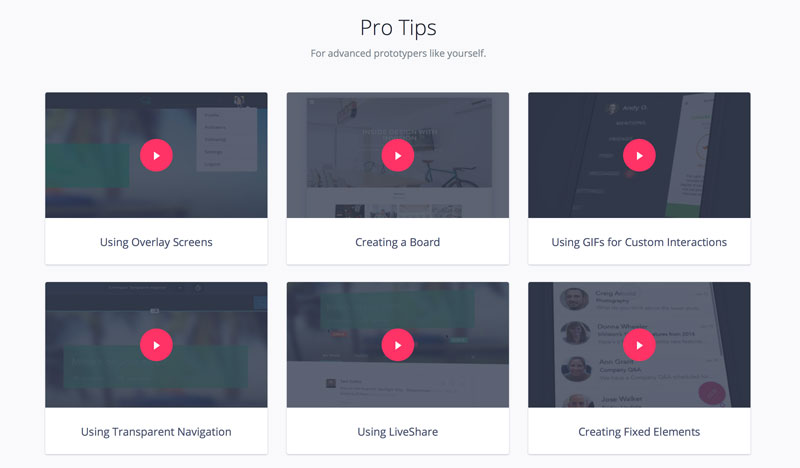 The access to unlimited free user testing and unlimited history is another strong argument for this interactive prototype tool.
Also, InVision provides integrations with apps like Slack, Dropbox, Box, and many more. Due to synchronization with Google Drive, your prototypes update themselves every time you edit source files.
It works like this:
upload your projects in PSD or png format
add hotspots to transform static screens into clickable, interactive prototypes
InVision is always announcing new features and it doesn't seem to be slowing down.
This helps it remains a game-changer among prototyping tools for UI/UX designers.
InVision allows you to work on one prototype for free. If you want to manage more projects, the price starts from $15/month for 3 projects.
Justinmind – offline mobile app prototyping software
Justinmind is another great prototyping tool that was created in 2008.
It can be downloaded to your computer, thus you are able to work offline without having to worry about whether you have an Internet connection or not.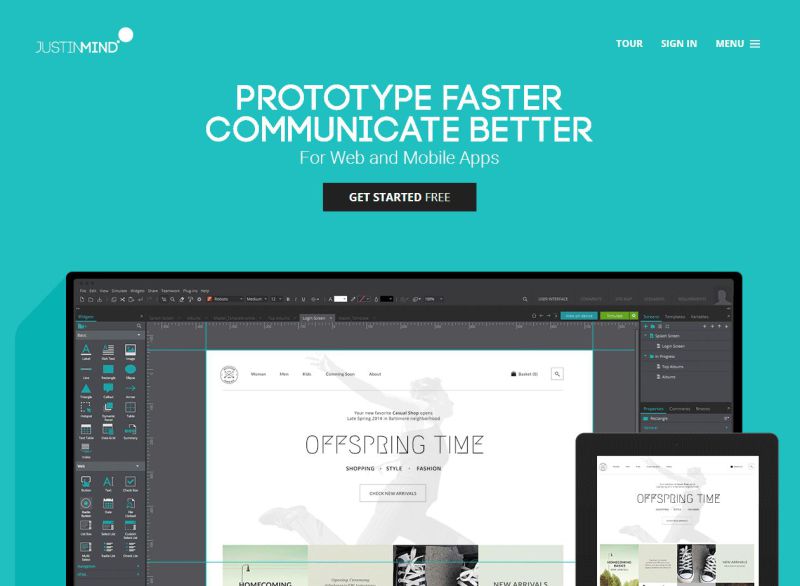 The application lets you design everything from simple app screens to advanced administration panel interfaces.
Justinmind possesses a vast range of UI prototyping tools providing you with items from its UI libraries.
Also, you are able to share mobile prototypes with your team and test them on any smartphone. Justinmind is very simple to use depending on the device you are given certain preference options you can tweak based on your project needs.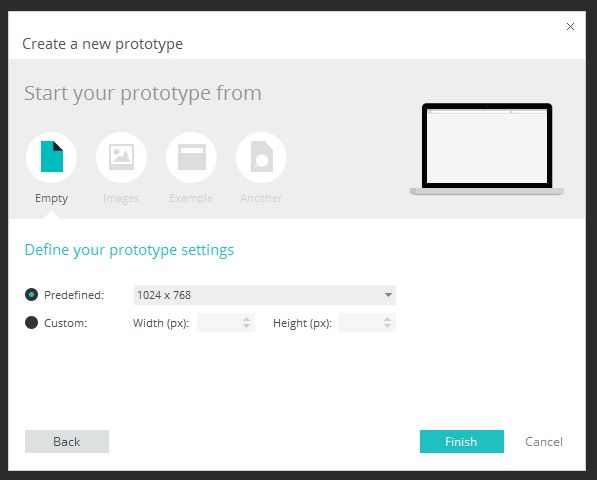 Justinmind offers many features and tools starting from $19 per month. At the same time, you can test a Pro version for free for 30 days.
The right way of prototyping: summing it up
Fluid UI and Proto.io have different approaches to providing prototyping services. Noticeably, the main difference is in the UX mobile design.
We cannot say that one is better than another because their approaches and philosophies are different.
In fact, each of the tools we've observed in the article is worth your consideration. We made the chart below to help you make a choice.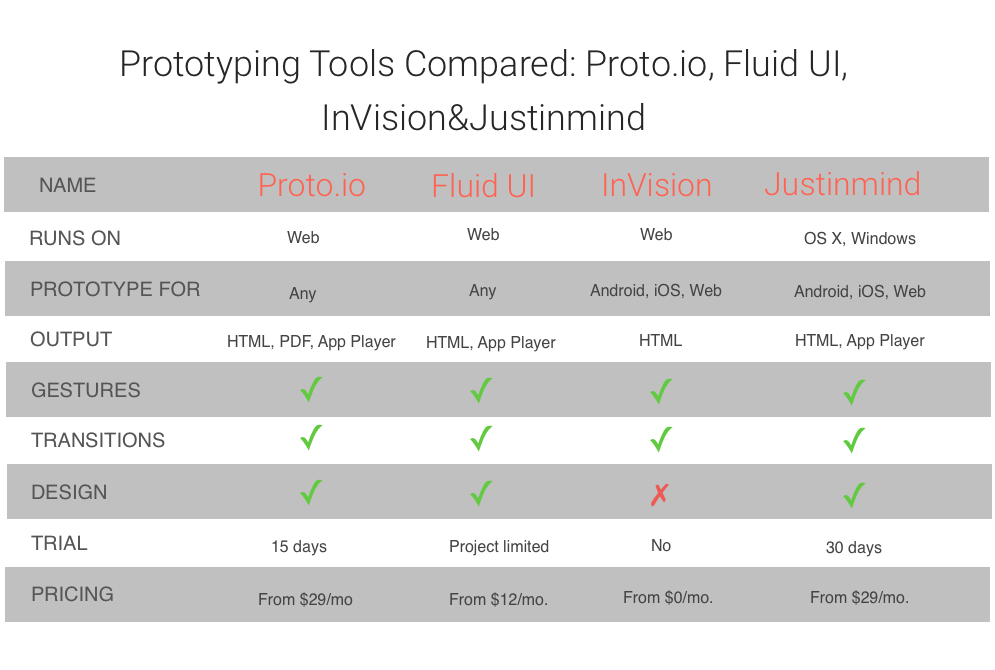 But to tell the truth, the best decision is to try the one and the other to determine which one is the most relevant to your specific needs. If you know any other helpful services that suit to the topic, let us know and leave your comment below.