We don't break the new ground if say that app development isn't a simple thing. As you might know, it's gonna cost a fortune.
Of course, not everything is so black, you can develop an MVP (Minimal Viable Product ) to reduce cost while testing your ideas.
But what should you do when even MVP's cost matters for your budget as you are just starting your own business?
Being entrepreneur it means to count every penny. And we, of all people, understand this.
Thus, we've got the solution!
Meet the unique product – ready-made industry app solutions. It's the mobile app maker developed by the App Solutions team considering different businesses requirements.
What is it?
Having created hundreds of apps for different clients we've put our expertise to create industry specific app solution for any business.
As the apps from the same industry have common features, there is no need to reinvent the wheel. We've made refactoring of our elaborated solutions in each field and extracted the essential apps' functions into different modules.
The pre-built modules we have at our disposal allow us to speed up the development process and significantly reduce app cost, instantly releasing a perfectly set up app that suits your needs.
Our ready made apps allow testing your idea quickly and on the budget.
While custom app development requires allocated budget and resources for management, our ready-made solutions are aimed to empower entrepreneurs with high-quality tools to test business hypothesis quickly & affordably.
Unlike the custom app development, our off the shelf solution allows to launch your app within days, not months.
What do we offer
We offer affordable app creator for the most sought business industries:
Taxi/Carpool
Dating
Messenger
Geolocation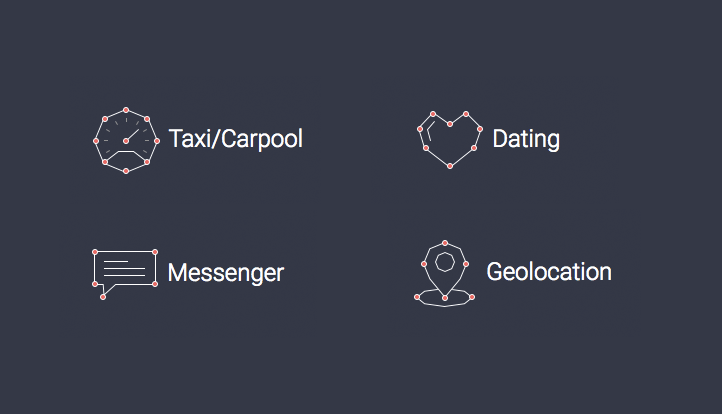 We are going to enlarge the list of our ready-made solutions at the nearest future, adding new industries, such as Event, Music streaming, Video streaming, Food delivery etc.
All of these apps are created by the most experienced IT professionals and meet all technical standards.
Taxi/Carpool
Ready-to-use solution for Taxi/Carpool industry includes the following options:
Normally it takes about 140 hours to implement routing and geolocation in custom app development. Using our solution you get the ready-made module which comprises integrated technology of GPS tracking to find cars and track the route, Google Maps to pin location on the map.
It is not enough to create the one-sided app, solely for taxi drivers or passengers. To ensure an excellent taxi service your mobile app should possess a set of 3 different products: two separated apps for passenger and driver and an admin dashboard. Our app builder contains both of them.
Providing taxi app with payment system is long-term undertaking and may take about 60 hours of work.
We pull out ready-to-use payment module which allows making auto payment right from the app. We implement the solution of gateway providers like Stripe or Braintree that help to set safe and convenient payments.
It is an essential feature to сarry out payments, create loyalty programs, save ride history and provide other important option for registered passengers. To create a user profile requires the authorization, "log in" option, in other words. It can be implemented through existing social networks like Facebook or via email and phone number.
An option that helps customers to choose the best driver according to his ranking. Also, it helps respond to complaints and maintain a high level of service quality.
Dating apps
Successful dating apps should possess a number of features, The App Solutions' app creator provides you with all of them:
Swiping feature became a new standard in the dating app's industry. Moreover, it is a new way to 'Like' anything today.
Swipe to "like" or "dislike" any view, just like Tinder.app.
You can easily get this feature into your own dating app without сostly custom development.
Dating apps are impossible without messaging. We offer ready-made solutions for message exchange based on our developments including the best worldwide practices.
Logins through social media
There is no need to develop matchmaking algorithms for your dating app, that could take more than 100 hours, by the way. Here is the ready-made solution that suggests possible mates based on user's location, his preferences, interests and in-app actions.
Messenger
The following features are at your disposal to choose from:
In the case of app development from scratch, it takes up to 60 hours to make the primary text exchange feature between two users. Our ready to deploy solution enables it ten times faster.
It is turnkey solutions with integrated Google Cloud Messaging and Apple Push Notifications to inform your users about new message arrival. No additional implementation is needed.
Stickers&GIFs became an inevitable part of a modern conversation. Apps like Viber or Line make the great deal of money offering their users vast range of stickers. This becomes even more relevant as the upcoming iOS 10 update will provide Apple's Messages with a collection of Disney-branded stickers, ranging from Mickey Mouse to Finding Dory.
Needless to say that usage of the box solution will be much cheaper to provide your app with stickers/GIFs.
Media content support (photo, video, audio)
Messenger is not solely for text anymore. A capability to send media content enriches the virtual communication with real emotions. To send a photo with your smile or an audio with love confession it is amazing, isn't it?
Today people have vast opportunities to share all shades of their emotions by sending the photo, audio, and even video.
Our canned solution is ready for prompt deployment to support media content in messenger apps.
When you send a website link in chat, it gives users an idea of what a link is about even before it's opened by creating a small website preview.
Our solution includes the link's title, a truncated line from the link's main content, a lead image, and the link's source website. It is exactly the same feature as WhatsApp and Facebook Messenger provide in their chats.
Geolocation apps
Provides future app with the variety of compasses, schedules of urban transport, terrain navigation and even astronomy maps.
Supplies venues with detailed description to help users get more info.
Streamlines how you manage events, people, places and business directly from the app. Track venue bookings, leads, calendars, promo offers, event details and more.
The ready-to-use solution that compares the data of venue location with the user's location and showed the nearest venue on the map.
This is fundamental feature for applications like Yelp.
The system analyzes the comments and appraisals left by users to build the rating of venues.
How does it work?
To create your own app with our ready-made solution it is easy and affordable like never before.
Just go through these few steps:
Select an industry in which you are going to create your app
Decide on the platform (Android, iOS or both of them)
Pick out the pre-built modules needed to be implemented in your app
Enjoy ready-to-use app in a few days
As a result, you'll get ready-made industry app including:
Unique design
Full source files and code
24/7 support
Publishing supervise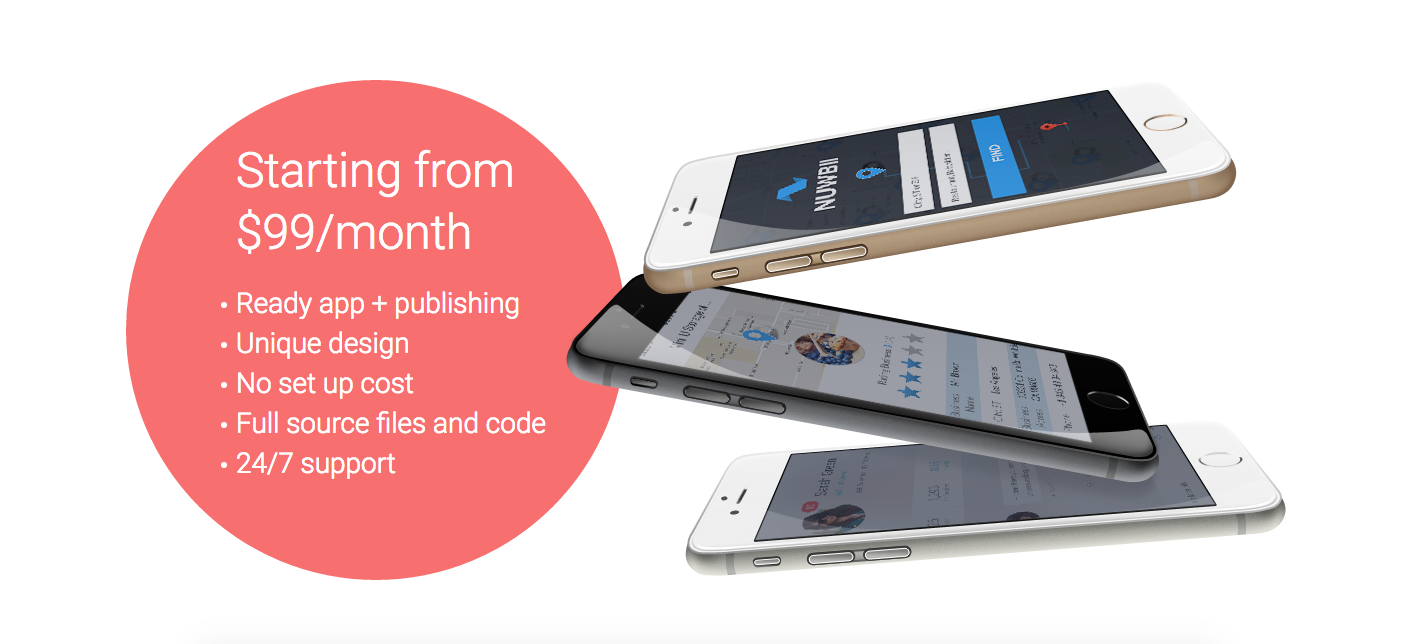 The web-based CMS (Content Management System) is at your disposal, as well. Thus you are able to manage all necessary in-app changes on your behalf.
We shoulder full app service from publishing to 24/7 support after its launch.
Also, we provide you with dedicated project manager to settle all emerging issues.
And the most incredible, you'll get all of this starting from $99/month.
To request the demo and launch your own app just fill in the form on http://industryapps.co/
Why should you choose us?
The App Solutions is an application development company with experience measured by dozens of successfully completed projects. We develop mobile apps on all of the most popular platforms including Android, Windows, and iOS.
We are passionate professionals that strive to put sense into each pixel, heart, and soul into every project taking care about the end user.
We use сutting edge technologies to create our apps.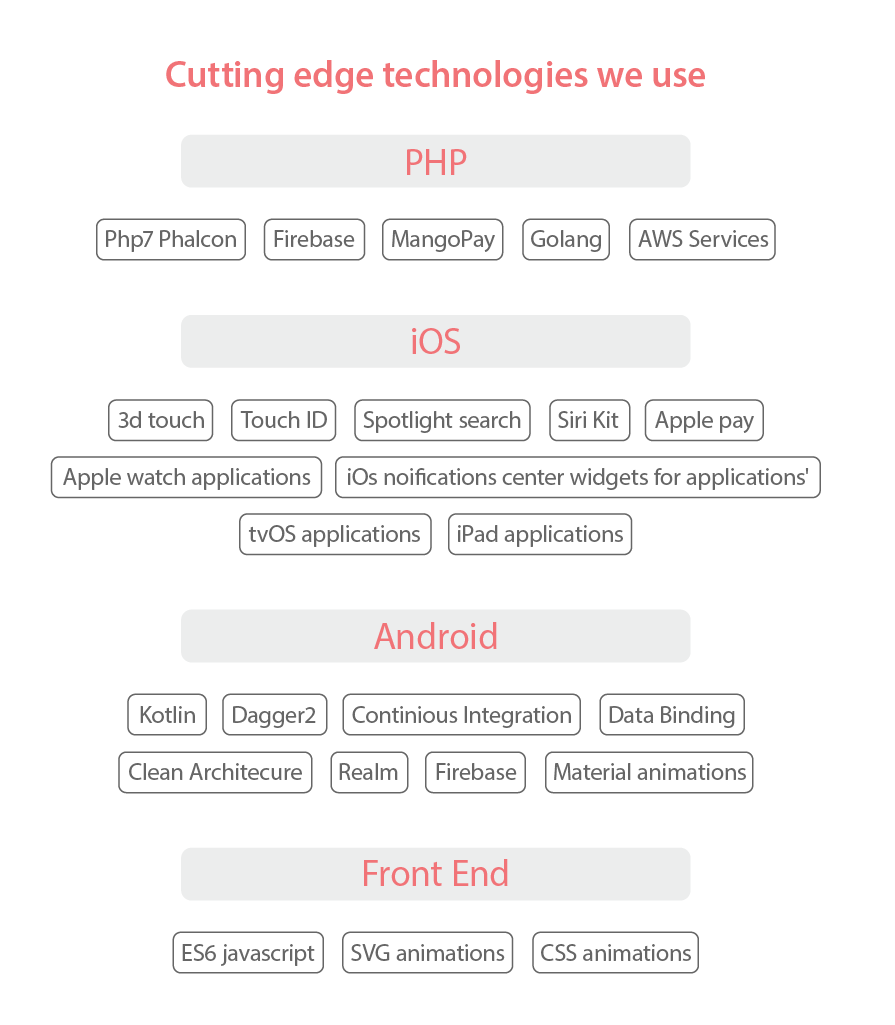 Got more questions? We've got answers. Feel free to contact us
Our managers are available on Skype, phone or per e-mail.