DevOps is a combination of cultural practices, tools, and philosophies that improve an organization's ability to deliver services and applications at a very high velocity.
DevOps principles also make it possible for a company to evolve and improve their products at a faster rate compared to companies that use traditional infrastructure and software management in their management processes. With this kind of speed, companies are able to serve their client's better and enjoy a competitive advantage in the market.
There is no doubt that companies which incorporate DevOps practices get so much done compared to companies which do not. In this article, we are going to look at DevOps benefits to companies.
FYI: Want to find out your web development cost? Try our web calculator.
______________________________________________
List of Benefits
______________________________________________
Benefits of DevOps and Why DevOps Is Important
Speed
One of the benefits of DevOps model is the fact that it enables a business to move at a higher velocity. As a result, a company is able to adapt better to the changing markets, innovate faster for their clients and become more efficient in achieving their company goals. According to the 2016 State of DevOps Report, companies using DevOps have a more competitive advantage than those who do not.
Improved Customer Experience
DevOps primary goal is to provide high-quality software to all end users at a faster rate in order to improve customer experience and satisfaction. The goal is to become more efficient and agile. This includes everything from improving the IT workforce's productivity to benefits in operating expenses. However, at the end of the day, it all goes back to creating a deeper engagement with clients by providing reliable applications at a faster pace.
Digital Transformation
Another advantage of DevOps is the fact that it brings about digital transformation. Companies all over the world are faced with the need to digitally transform. Digital transformation not only improves customer experience but also makes running an enterprise more efficient and in line with current times. DevOps is one way to deliver these digital services with quality and speed.
Efficient Operations
DevOps is based on lean principles. One of the core principles is the reduction of waste which includes things like unnecessary process overhead and waiting times. This is very advantageous to a company because it not only has a positive impact on costs by limiting their growth but also helps agility.
Reduction of Bottlenecks
In order to blur the line between Dev and Ops, both sides need to clearly understand what the other is all about. This enables the team to understand what the process is all about and how it can be tweaked for the advantage of the organization. For instance, if Ops knows all the basics of coding, bottlenecks can be avoided because they will not need to hire experts for it.
Employee Satisfaction
In a conventional IT company, both Dev and Ops staff are required to perform a set of specialized tasks. It is not easy for customers to see how these tasks benefit them because they are a small part of a very complex process. However, it is different for the staff because their impact is more direct and holistic. As a result, employees get a lot of satisfaction to see that what they are doing is having a significant positive impact.
Improved Collaboration
According to a Research done to analyze the effect of DevOps on mid-sized businesses, 56% of mid-sized businesses in Europe reported that collaboration was one of the benefits they got from using DevOps. The DevOps Cultural model makes it possible for a company to build a very strong staff since it emphasizes accountability and ownership. When you incorporate DevOps into our company, you will also get to enjoy DevOps communication benefits which enhance effective teamwork. This enables you to deal with every problem in a very effective way without wasting time.
Innovation
Another reason why DevOps is important is the fact that it makes employees very innovative. With the DevOps process employees are able to deliver high-quality software at a very fast rate in order address customer needs more efficiently. However, in order for a company to enjoy this benefit, they need to incorporate DevOps effectively into their company.
Constant improvement and Learning
The lean principles of DevOps lead to the development of a learning and improvement culture. In an unpredictable and fast-moving environment, it is very important to have continuous improvement because it is the only way you gain competitive advantage and an improved economic value.
Improved Service
With DevOps, companies find it very easy to remove service deficiencies. A company that uses DevOps can deal with service deficiencies faster than one that does not. This leads to an improvement in the perceived quality and reliability of a company.
The success of DevOps so far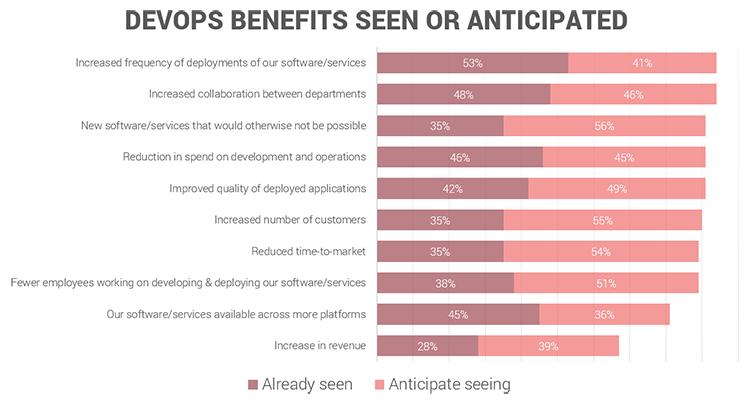 According to these statistics, it is clear that DevOps has lived up to all the expectations the developers had. The only thing that hasn't quite hit the mark is the increase in income but this is expected to change.
As you can see, DevOps has very many benefits. All types of companies big and small can benefit from incorporating DevOps into their company. It will without a doubt take the company to the next level.
Need DevOps services and training? Let's talk.