Here we got another fascinating interview, now online, with Greg Golebiewski – active tech investor and CEO of Emberlow, the battery saving app built in cooperation with The App Solutions.
The matter of our conversation is obviously all things Emberlow:
how the idea of the project was born;
what it took to turn it into the actual unique product;
UX tricks that were used for this app;
challenges faced along the way;
insights for entrepreneurs launching their mobile projects.
Having experienced quite a number of IT product launches, Greg got some interesting details to share indeed.
The APP Solutions:
Greg, it's nice to be in touch with you. Let me start by saying that we all are very curious about how the idea of Emberlow came into sight? How was the unique idea of the product shaped?
Greg:
Well, actually I get to travel a lot and a lot of my friends-entrepreneurs do. And of course, we're all the time facing this condition when you simply forgot to charge your battery overnight or simply used up your phone during the day and didn't notice the battery is almost dead.
After some research, I realized there is no tool, which would not only prevent the battery from the fast outage but also save important docs like your boarding pass, presentation or notify people waiting for you before the telephone goes off.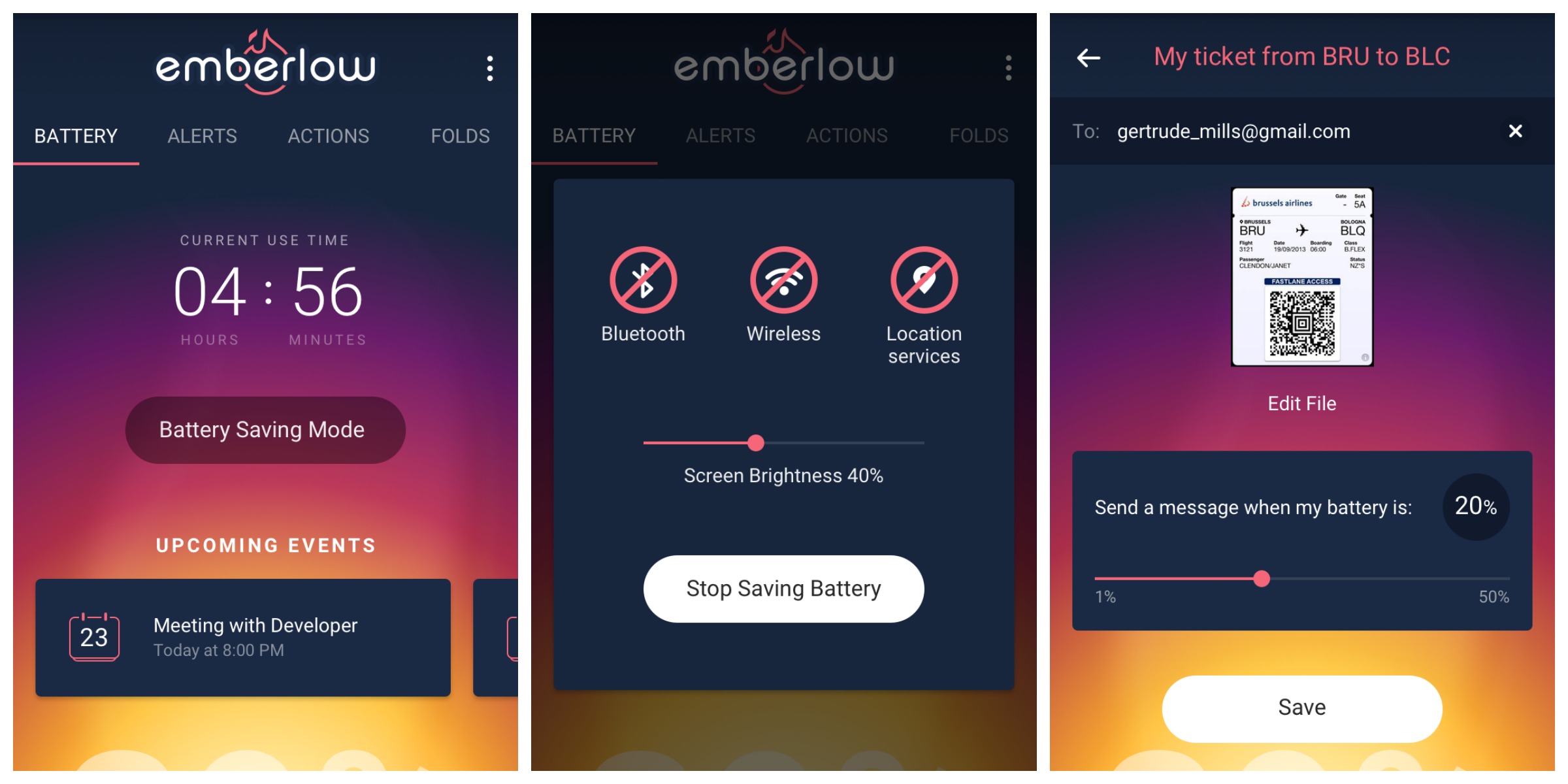 So that's the background of Emberlow – real-life situations, which moved me to create this mobile application.
The APP Solutions:
Thanks, I got that, Greg. Now let's discuss the killer feature of the Emberlow app because it seems there are a lot of basic battery saving options out there. Is that right?
Greg:
Yes, that's correct. There are a lot of services on the market that aim at excelling the battery life or managing battery life and they are very good at that. What's more, hardware manufacturers work in this direction too. So, of course, we included some of these options in the application as well.
But my main objective was to help people save their schedule and planned activities despite the unexpected death of the device on hand. They still need to be in contact with dozens of people, so simply preset alerts will help with that. The most recent GPS location or a short message about running out of battery will help you on the go.
We went even further – we launched so-called actions – if you don't have a printed version of your boarding pass and your telephone dies. To restore it at the airport, you need to pay, and you can even not have time for that.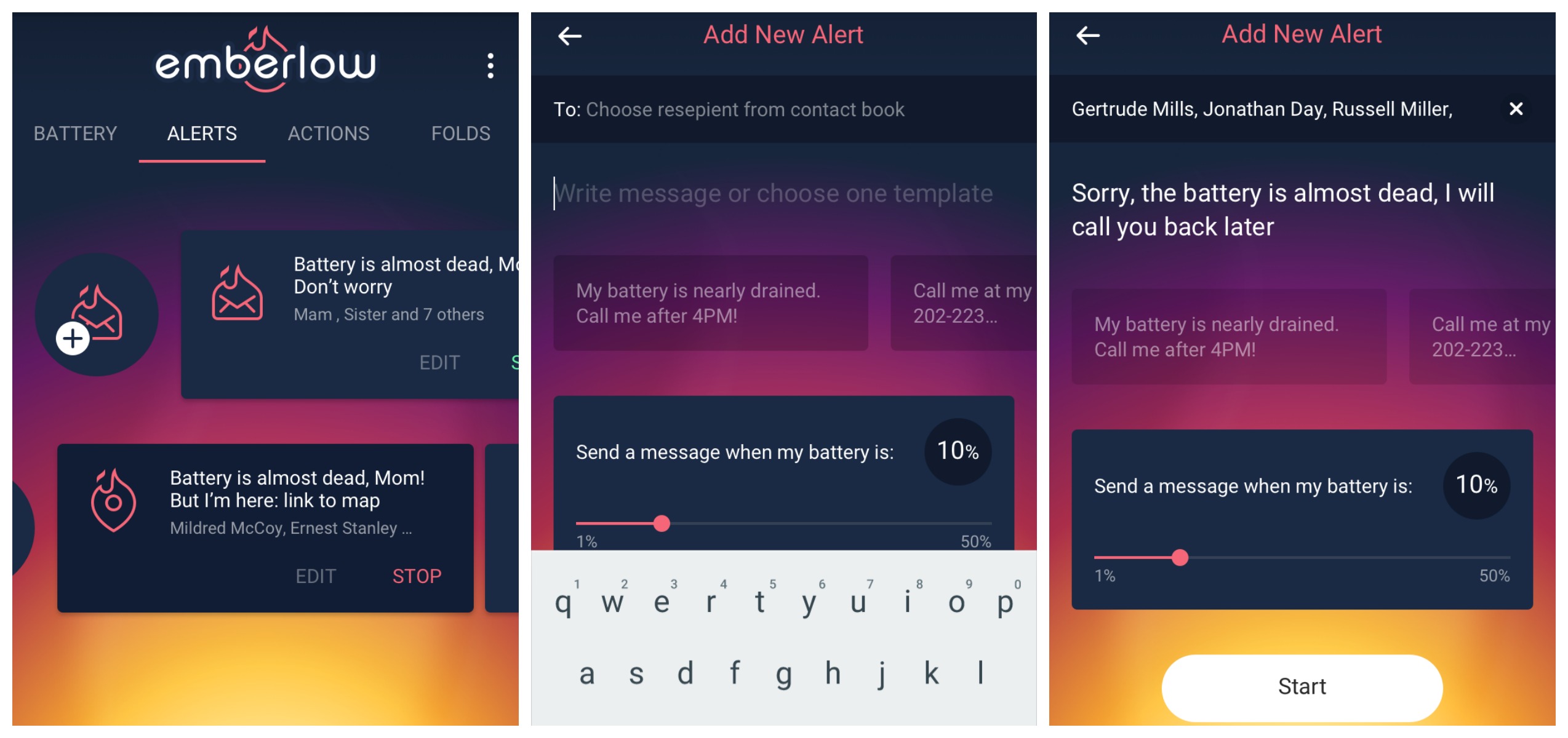 It also applies to many different situations. I personally have two teenage boys. And they do not really care a lot about charging their phones in time. So when I call and catch the voice on the other side telling me subscriber's phone is offline. And I don't like to hear that. I prefer to get an automated message from his phone with his location (in emergency cases) or simply telling "my phone is running out of battery, I'll be there in 2 hours" or something like that. They set it up once and activate when the battery reaches the low level.
The APP Solutions:
That's clear, Greg. Thanks a lot. And now moving onto some UX/UI tricks you suggested or you worked out as a team to simplify usage of this very app.
Greg:
Yes, I understand. And here goes what we call the Folds – the system of alerts and actions for repeating situations. So basically, to spend less time in setting up different preventive measures within the app, you place those in one Fold and enable it with one single tap. For any kind of user – from a student to a housewife or businessman it's only beneficial. And it works.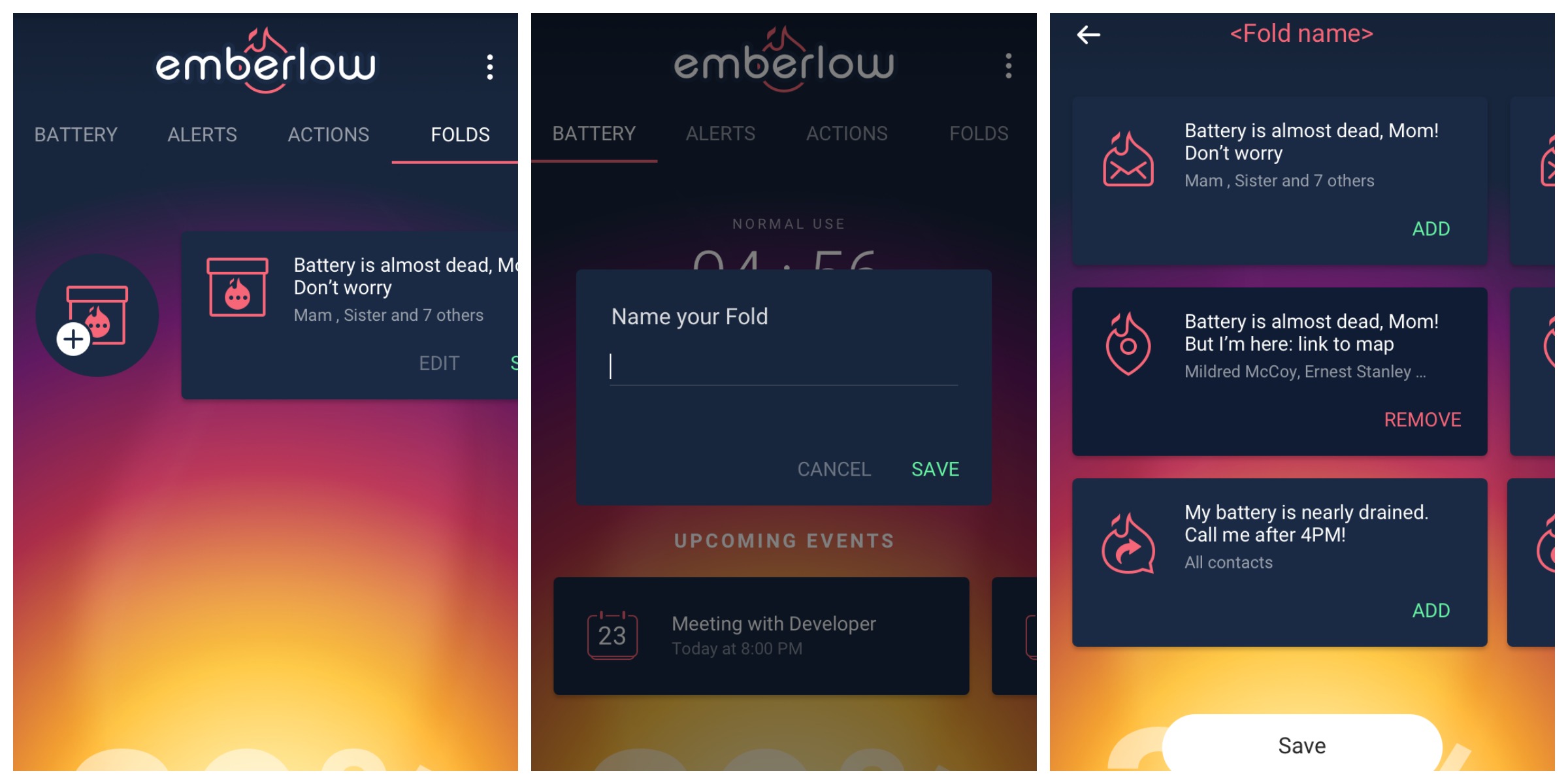 And by the way, that's one of the major reasons for picking Android OS to build an app – a rather broad audience, literally every Metropolis citizen with a mobile phone. As of yet, there are more people globally using Android phones than ones with iOS.
The APP Solutions:
That makes total sense. What do you think was the biggest challenge from the perspective of a completed project?
Greg:
Well, as far as I'm thinking of expanding the functionality of the app in the future and incorporate 3rd party services in it, we tried to figure out how Google allows working within the operating system.
It's mostly about technical aspects of IoT solutions integration – if we could help users of Smart House systems or medical device apps prevent problems caused by the simple battery outage.
Also, from the starting point, the major question was how to implement my concept with existing development tools. So we spent time in continuous cooperation with The App Solutions team to overcome some technical questions and create a truly top-notch product from scratch.
To you, Android lovers of the world, welcome to test out Emberlow mobile app – enjoy all the benefits and provide your feedback. It's very much appreciated!