Recently our CEO Mykola Slobodian had visited Norway for a strategic business trip. It was organized in cooperation with Linda Oksnes from the Norwegian-Ukrainian Chamber of Commerce (NUCC).
The main purpose of the visit was to get together with Norwegian companies and startups and discuss the state of IT outsourcing in Ukraine and Norway, define major touching points, priorities, and roadblocks. The ultimate goal of the discussion was to determine opportunities and possibilities for future cooperation.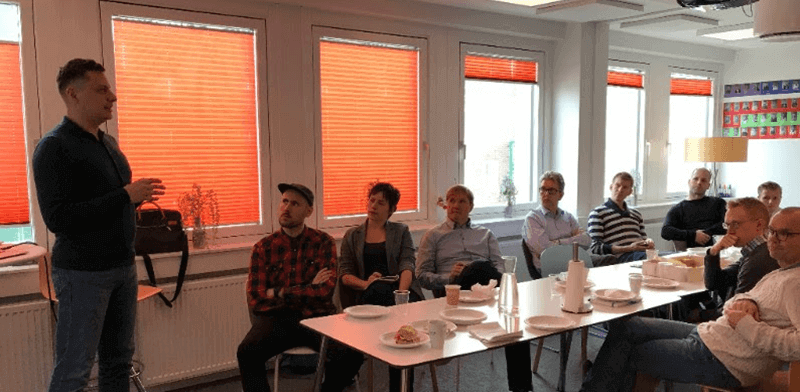 During the discussions, Mykola and Norwegian colleagues had exchanged insights about local IT business environments (Ukrainian and Norwegian respectively) and talked about commonalities of various elements of work ethics between Norwegian and Ukrainian companies.
It turned out that Norwegian and Ukrainian companies have a lot in common in terms of company culture. Both sides appreciate proactivity and pay-first approach and embrace an open-minded approach to the development of new solutions.
One of the biggest takeaways from the discussions was the fact that prices for the services of local Norwegian developers are sky high and that they are mostly oriented to overseas markets. Another important factor is that Norway is lacking enough local resources.
That leaves Norwegian entrepreneurs looking for feasible outsourcing opportunities. Some turn to Indian companies due to low prices, yet, that experience is not always a pleasant one. On the other hand – despite the unstable economy, Ukrainian companies seem to be much more reliable partners due to the cost-benefit ratio. However, Norwegian companies still feel uncertain about full-fledged cooperation because of the limited word of mouth and exposure to credible outlets.
One of the key events of the Norway trip was the presentation at NTNU Accel, a university startup accelerator.
Mykola gave a public talk on the topic of selecting foreign outsourcing partners. The presentation titled "Insider's Guide to Finding Outsourcing Partners" included a wide variety of tips, insights, and observations regarding the entirety of business operation from negotiations to project deployment. In his own words:
"I think this information can help startuppers to get well on their way in navigating the mad world of software development and not lose money in the process simply because they forgot to check something."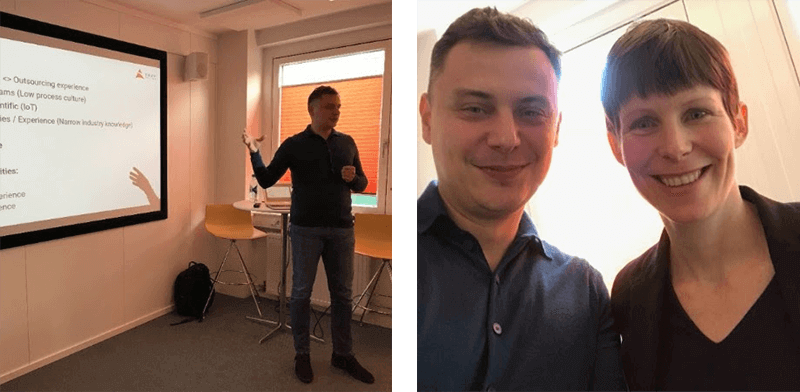 Linda Oksnes also prepared a comprehensive presentation about Ukraine as a web/mobile outsourcing destination. The reasons for that include:
Large capacity (Ukraine has one of the largest amounts of software developers in Europe)
High competence
Comparatively low price levels
1-2 hour flight away from major European countries
Let's hope that this trip will be something akin to what Neil Armstrong had said when he landed on the moon – one little step of CEO and a giant leap for the entire company in building a strong working relationship between Norwegian and Ukrainian companies.
* * *
NUCC is a non-profit member organization. Their purpose is to facilitate trade and business cooperation between Norway and Ukraine.