Blog
What Is a Lift and Shift Cloud Migration?
What Is a Lift and Shift Cloud Migration?
The migration of an application from on-premises infrastructure to a cloud is a challenging step to make for businesses as they're searching for an effective, fast, and cost-saving approach to moving to the cloud.
In this article, we will cover the meaning and key points of a Lift and Shift cloud migration type, discover whether this type fits your case, and find out how to make the path of migration smooth and easy for implementation.
Do You Actually Need to Migrate?
If you're reading this article, then Lift and Shift is a subject of interest to you. However, before sharing the concept and pros and cons of Lift and Shift, let's discover whether it's really the thing your business needs at this point in time, whether it's suitable for you to migrate to the cloud, or better to keep things in their current state.
If you have a commercial app with a stable and working infrastructure, Lift and Shift is the right approach to migration. On the other hand, for businesses with big data flow, complex technical architecture with a need for image recognition, it's better to consider refactoring migration.
Also, it's worth mentioning that not all on-premise apps will take all the advantages such as ephemeral to compute and autoscaling like a native one. This means that legacy navigation apps can't benefit while only replacing one server with another. In this case, it's better either to rebuild an app and install it on a cloud or keep using the current infrastructure.
What Does a Lift and Shift Cloud Migration Mean?
If you're still reading, let's dive deeper into rehosting or Lift and Shift – a type of migration that allows moving a business to another server while not changing an app. The answer to the question 'why Lift and Shift?' will be because it is believed to be the easiest and most inexpensive way to move to a cloud-based infrastructure.
So what do Lift and Shift migration stand for? First of all, it is a way of moving workload data from one storage type to cloud-based storage while not having to worry about whether all data will be transferred correctly. So, you will not have to re-architect in order to set them into a new environment as is the case when using refactoring.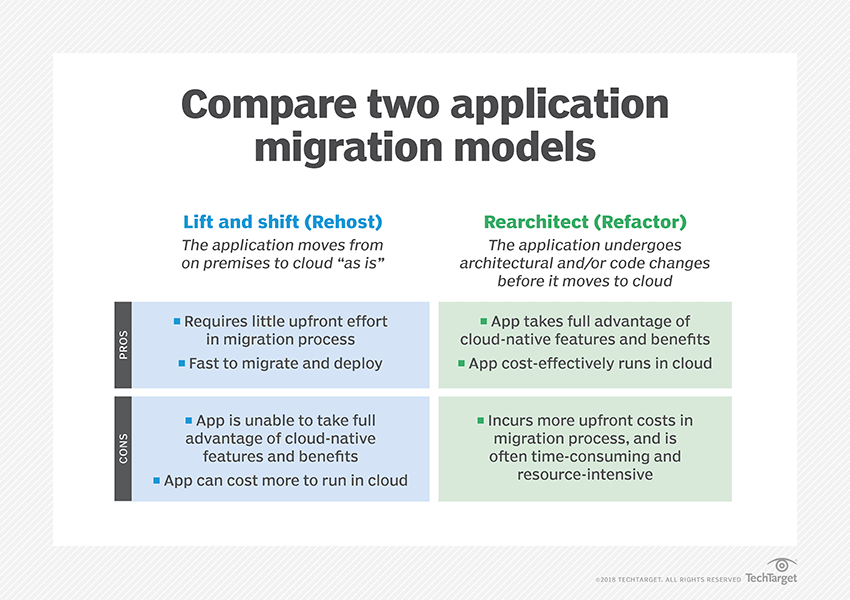 [Source: TechTarget]
In short, you just lift up the code and shift it to another server.
Moreover, this type of cloud migration allows you to transfer your app to a cloud in its current state without any changes in code or data architecture.
It's fully applicable when you're a newcomer to clouds as it's not as risky in comparison to other types of migration. There is no need to change an application entirely, and one can even migrate configurations that are not documented.
Migration with Lift and Shift is the best solution to scale a business if:
you are ready for long-term investments
you are absolutely sure you want to move to the cloud
your existing infrastructure is documented and stable
you're considering fast migration and short-term costs
the installed software can be operated on the clouds
The Advantages of Choosing Lift and Shift Approach
Here we are going to discover what benefits one can get from Lift and Shift:
Changes are not needed. Businesses don't have to change their current workflow to be able to use them in the cloud. Data is just rehosted while staying the same.
A fast migration. As you don't have to change anything, the migration is performed in a much faster way.
Cost Saving. Cloud migration Lift and Shift strategy improves the business' performance and helps to avoid wasting time and money on inefficient solutions.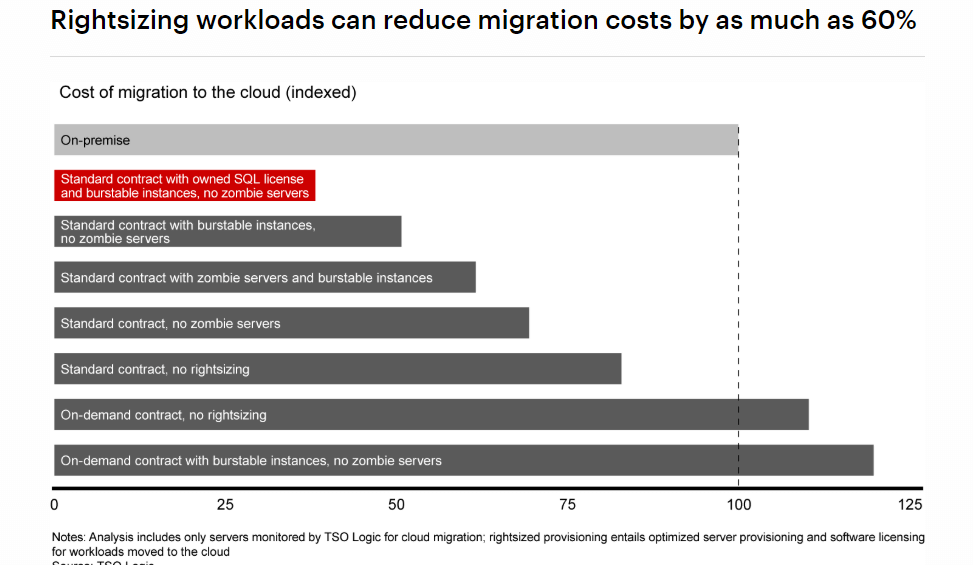 [Source: Bain]
For example, using the Lift and Shift approach helped Dow Jones to cut costs by more than 25%. Another example – GE Oil & Gas, which decreased their spending by 52% with Lift and Shift.
Moreover, the Lift and Shift approach doesn't require a reconstruction of the current IT infrastructure, so you don't spend additional costs on moving to the cloud.
More security for data. Migration provides you with role-based access control and multi-factor authentication for additional data security.
Who is Going to Benefit from Lift and Shift the Most?
With the advantages that Lift and Shift type of migration offer, we're going to discover which businesses would benefit the most.
Businesses that want to move to the cloud faster
Businesses that are new to the cloud and trying to avoid risky decisions
Businesses that want to cut their expenses while not spending extra time and money
Businesses that don't want to reconstruct their workflow, operations, and data
Businesses that want to provide more security for their data
Also, to boost migration efficiency we encourage you to use the special tools and technologies offered by the majority of cloud providers.
If your platform B is AWS storage or Azure, then, you can use NetApp's Cloud Volumes ONTAP to extend your current database and move them seamlessly to a cloud.
NetApp SnapMirror is useful for data replication from a NetApp environment to Cloud Volumes ONTAP integrated with an AWS or Azure storage.
How Much Does it Cost To Move to the Cloud?
You can find plenty of cost calculators depending on what kind of platform you are going to move to. Here's a list of the most popular platform calculators:
Challenges That Might Be Faced
Any kind of migration, including Lift and Shift, has its own risks. General data says that 42 percent of businesses fail while migrating. Let's have a look at what downfalls a business can experience if using Lift and Shift.
Yes, Lift and Shift helps to relocate data while eliminating overhead costs on rebuilding the current data architecture of an app. But, to be able to take full advantage of the packages native clouds offer, sooner or later, businesses can face the need for an additional layer of optimization. Some data should be redesigned to operate as efficiently as is possible. This is relevant for businesses that have large-volume data, a need for big data analysis or the availability of image rendering. For this, they should consider hybrid- or multi-cloud infrastructure.
But, no worries here. On public cloud storage, it's a simple matter to make some minor changes that won't influence the proper functioning of the entire cloud. However, it's recommended to add adjustments before the program is in work to avoid any technical issues.
Lift and Shift with The APP Solutions
It might look easy to plan and implement migration at first glance, but in truth, it isn't so. Like any new disruption, the process of migration should be perceived seriously and planned thoroughly.
A technology partner is the guarantee of your app migration success. The App Solutions company can become your trusted IT partner with migration expertise, and remove your concerns regarding Lift and Shift. Contact us to come up with a strategy for moving to the cloud that will work smoothly under the control of professionals.
We recommend you to follow these simple but straightforward instructions to reduce possible risks and enjoy cloud migration.
Analyze your hardware and workflow operations.
Develop a plan that will help you to move smoothly and enjoy the benefits of native-cloud platforms.
Start the migration process.
Test to detect and eliminate bugs as soon as they appear.
Optimize applications if needed.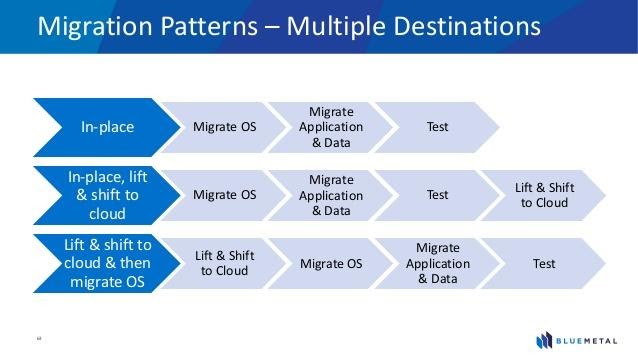 [Source: Cloudxchange]
Also, we advise you to consider the following vital timing before taking any action concerning migration:
The period of time you're planning to stay in a new server. If it is less than 12 months, there is no point in migration.
API restrictions. Check whether the chosen cloud has no API restrictions. Otherwise, you might face bottlenecks in your existing API.
Migration tools. Some clouds offer cloud-based tools to simplify one's migration process. If there are any, think about how you can integrate them for automation.
Prioritization of applications. If there is a need for several application relocations, you can write a runbook to transfer those applications that are essential for your business first.
Compliance between the existing infrastructure and a cloud one. Learn all the requirements of the chosen cloud, and whether some adjustments should be made to be sure all data will be transferred as planned.
Planning is everything. Act according to a built plan, as the success of migration will depend on your scale of analysis and actions taken.
Final Thoughts
If you're considering moving to the cloud because of cost, flexibility, speed, and security considerations, then Lift and Shift is good to have on board.
However, deep analysis with an experienced partner is a must to avoid wasting time and money on tools that not only won't work for you but on those that will require restarting your migration to a cloud once again.
A good plan is a power, and you can have such a plan with The App Solutions with just one click.
Related reading
10 STEPS FOR BUILDING A SUCCESSFUL CLOUD MIGRATION STRATEGY
CLOUD SERVICE MODELS EXPLAINED: SAAS V PAAS V IAAS V DBAAS