One may face numerous challenges during the process of cloud migration, but that onion is worth peeling. Otherwise, why would 52% of large enterprises want to migrate to public clouds over the next two-three years? As official Cloud Migration Survey of 2016 shows, cloud benefits are obvious:
Higher availability/scalability
Accountability
Cost savings
The respondents were less sure about cloud migration in 2012. You may compare the results with the pie chart below: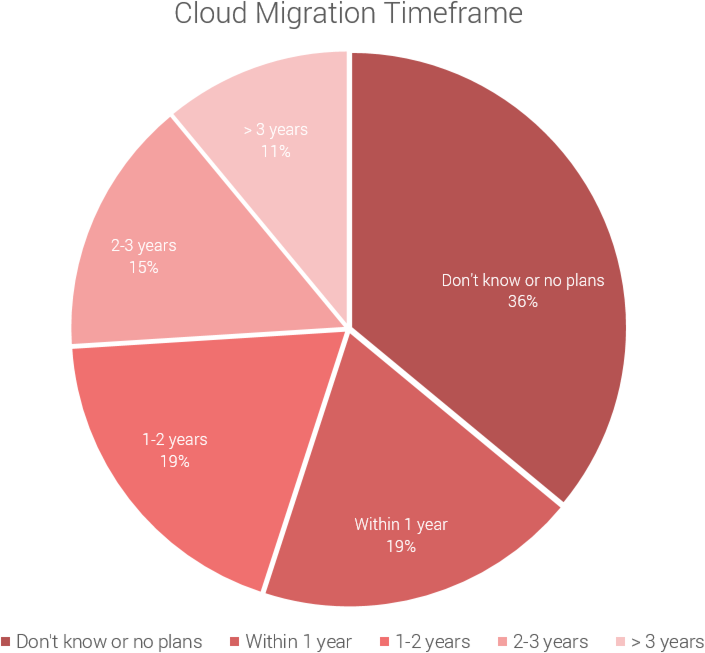 However, just as any other business decision, a smart strategy is required to obtain these benefits. Except for the efficient strategy, every company that wants to try this option must assess possible risks and develop an action plan. As far as the most popular product today is an application, it is critical to consider strategies for migrating apps to the cloud.
Once you decide that cloud migration is right for your company, it is better to implement the solution step-by-step to avoid possible gaps.
No migration strategy can be implemented without a project plan for cloud migration. No matter whether you choose to develop an outline or checklist to follow, you need a good plan in any case. It is important not only to take into account opportunities and threats but forecast the specific outcomes of this decision.
Here are the recommended steps to planning a powerful cloud migration strategy:
Cloud assessment stage. Planning costs + assessing architecture + evaluating security
Proof of concept stage. Studying Amazon Web Services (AWS) + establishing a pilot + gaining support within the organization
Data migration stage. Leveraging various storage alternatives + conducting migration itself
App migration phase. Hybrid migration strategy. This strategy is a preferred one according to RightScale 2017 State of the Cloud Report. Roughly 85% of companies involved in application development business prefer a multi-cloud strategy. Private cloud adoption has dropped, so it is better to avoid it for some time
Leverage the cloud stage. Auto-scaling + automatization + achieving elasticity and high availability
Optimization stage. Taking care of utilization, controlling and efficiency, improving performance and re-engineering
Should Businesses Move to the Cloud Today?
It all seems easy when an organization has an application migration plan. Some of you may still remember how painful it was before the Cloud was invented. Perhaps, this flashback will help you to feel the difference: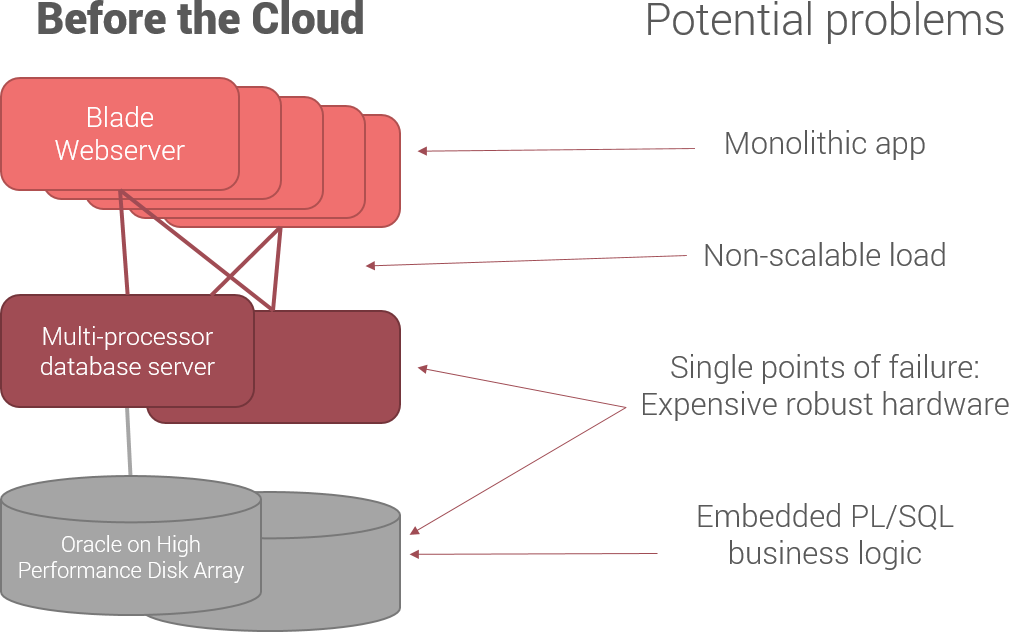 So, should we move to other parts like a checklist for application migration to the cloud? Before writing a plan, it is important to make sure that all technical terms are clear to all participants. Cloud computing is a quickly developing field, so the responsible IT-specialists should refresh their vocabulary from year to year. For instance, they should know the difference between cloud migrations and cloud-to-cloud migrations.
On a separate sheet of paper or file, it is critical to name all potential risks and ways to avoid them. There are not many risks faced by the organizations which decide to migrate to the cloud. The outcomes are usually worth the game.
Here are some of the answers that business people came up with when it came to cloud-related pain points (due to multiple responses per interview, the total number may exceed 100%):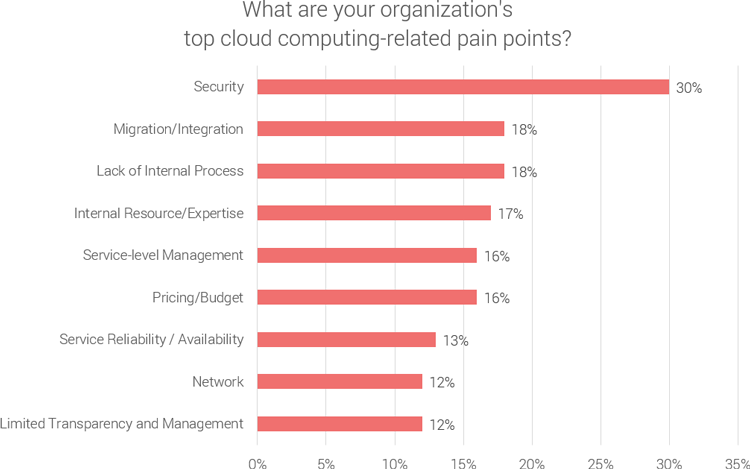 However, watch out when dealing with such sensitive factors as:
Compliance
Budget requirements
Level of performance
Cloud Migration Checklist Every Organization Should Follow
Studying many strategies and manuals is always a time-consuming process. Without it, an organization won't be able to overcome all obstacles without significant losses. Use as many tools as possible to migrate successfully!
We all know the difference between an outline/plan and checklist. Migrating to the cloud requires a checklist to support the migration plan. There are 6 primary assignments to appear on this checklist.
Pay attention to app/data. Remember that it's not a good idea to migrate just every application. Legacy apps and sensitive data like private banking info would be the worst choice. Mind the number of resources every app requires. As far as applications share sources, it is a special challenge to avoid so-called noise neighbors and high spikes in demand.
Estimate your financial opportunities. No matter how successful the organization is, it is always limited in its budget. Be careful: apps that are based on the legacy enterprise hardware like the initial versions of an Oracle database are usually pricier.
Decide which type of cloud you need. This point of a cloud migration checklist means selecting the most appropriate environment. Don't hurry up to define whether a public (AWS, Google), a private or a hybrid cloud is right for you – it is better to read the advantages of each.
Take care of security. When migrating to the cloud, your company's governance strategy may be under threat. Make sure your organization has the most recent providers certificates and shape the existing governance strategies as needed to meet the new requirement. Any extra safety instruments can increase the overall cloud costs, but they will guarantee the security.
Cloud-to-cloud migration challenges are waiting for you. Here, manual labor is important in order to examine existing apps and data and come up with critical configurations for OS and more.
Finally, identify your cloud migration strategy and stick to it. A cloud migration consulting may be a useful solution for organizations that have any doubts regarding their strategies.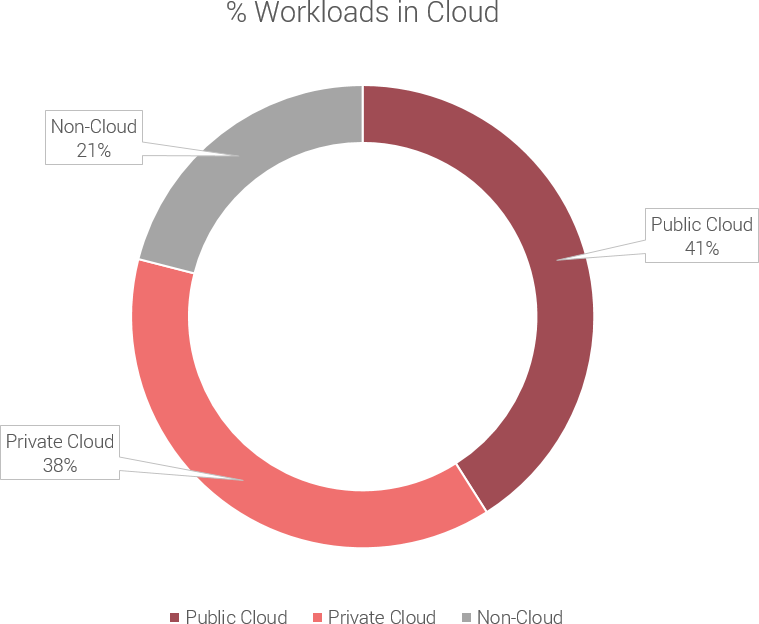 Should businesses move to the cloud? If you still hesitate, there are more facts that prove the efficiency of this method. Coming back to RightScale 2017 State of the Cloud Report, it can be noticed that the greatest share of currently operating companies run most of their workloads (41%) in the cloud. Moreover, a public cloud has a greater support (50% of respondents) than a riskier private one (33%).
Still, remember that the migrating to the cloud you choose depends on your apps' features and company's goals.
Need cloud migration services?