It's been a no-brainer, that development of an iPhone mobile app is a really good choice. The fact that Apple users are considered to be 7 times more active and eager to pay than Android ones speaks volumes.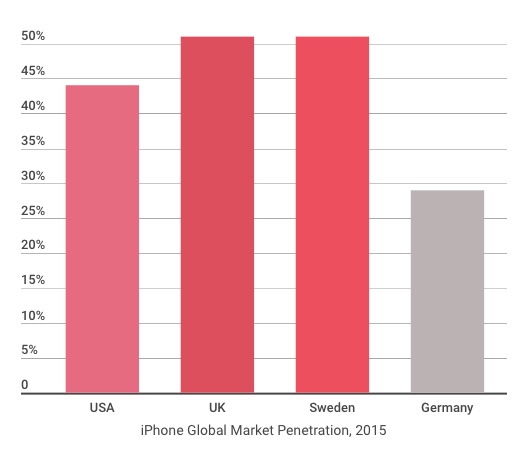 Two latest news about iPhone and Apple confirm that targeting this enormous market is an absolute win:
Pre-orders and first weeks of iPhone 7 sales reach record level and significantly exceeded iPhone 6S original demand;
Apple has just released Search Ads for mobile apps and it'll help to present your creature to the most relevant audience in the App Store.
Getting to the tips and tricks on how to outsource iPhone app development with ease, I'm going to go through the most important actions to take and details to pay attention to at every stage of this project.
In other words, you'll get a range of checklists to complete your path from drawing the concept to releasing a ready-to-go mobile application.
1st step: Shaping up the concept of your mobile product
First thing you need to clarify for yourself - how you see the finished application:
What problem will your app solve;
What exact functions will it perform;
In what way is it going to simplify your users' lives.
It's also crucial to do your preliminary research and study the competition.

Another side of the coin is a promotion strategy of your future mobile app. No, it's not too early to think about that. Actually, complete marketing concept will very much shape your product, help with UX decision and features to add/change. You can either pass this task to professionals (btw, a solid outsourcing app development company will do it for you with an in-depth understanding of the industry).
Having a clear understanding of all above-mentioned aspects will help a lot in your further negotiations, which is a major activity when cooperating with a remote team.
2nd step: Selecting your app development partner
Digitalizing of businesses around the world provides access to the widest variety of options. With your framed idea and technical task on paper, it's just the time to find the most suitable and appealing associate for your project:
Start with a basic search of what's available on the market;
Check companies' portfolios and clients (cooperation with the respectable brands speaks for the reliability of the company);
Familiarize with their competences (e.g. Apple gadgets except iPhone they build mobile apps for, markets they deal with, latest technologies they employ);
Next - make a request on the chosen outsourcing companies websites and observe their reaction (you want them to answer quickly, sound interested and friendly, and let you know when your manager is going to contact for a detailed consultation);
They'll usually offer to start a discussion with signing an NDA to protect your unique idea from stealing;
Communicate with your consultant and ask every single question you got - you want him to be proactive, provide clear explanations and generate useful ideas for your future product along the way;
After the whole theory is discussed, you can expect a cost estimation and prototype from the company within 3 to 4 business days (btw, a clickable prototype will also present you designers and developers assets of the company);
Interact with a business analyst and a project manager for your upcoming enterprise - you don't only want to hire the best coders (which is a normal will indeed), but also your team to be true business developers, who'd offer you nice ideas for the product and its' marketing strategy, interested in the success of your business and build it as if it was their own venture;
Last, but not least - choose substantial quality, not the lowest price - you can get a product on the half of the price, but get ready to spend even more money to get it fixed or rebuilt afterwards.
This is it for the part of making a choice on the outsourced iPhone application development company. Just keep in mind that you'll be working hand-in-hand with people first of all. So you want to feel comfortable in communication with them, be able to find common grounds and make sure they understand you right.
3rd step: Signing a contract and clearing up all aspects
Now when you're ready to start an actual offshore development project with your team, you are going to discuss the contract: payment scheme, communication plan, deadlines, ownership details and all other conditions.
So here is a number of insights brought from our clients' outsourcing experience:
You can negotiate the price - final price point and payment scheme are the matter of the debate, you can ask for some discount as well as optimize the size of your team;
Include all important aspects in the contract - whatever it is - your ownership rights of the code, range of services you order or deadlines for the entire project - confirm it on paper to avoid any misunderstandings;
Design a detailed project brief - you're gonna communicate with your team a lot because they don't exactly know how you see the product. So crafting a project plan with all clarified procedures is a good idea. The brief will describe the major milestones, responsibilities of both parties, control points and deadlines for each stage.
4th step: Implementing the actual project
Even though you hired a team to build a mobile app for you, this venture will still take a lot of your time - mostly in online meetings, discussions, solving technical questions etc. Communication is a vital part of any outsourced project and you are a supervisor, decision maker and a creative director of it. Just keep that in mind:
E-mail communication is not enough - now when you got a straight schedule of the project, you can fix the time for your meetings to discuss ideas, jobs done etc. To assume everything is happening is not correct, you need to double-check;
Always give detailed explanations, write the scopes of work, draw some basic schemes to show your vision of functionality, listen to a feedback and come to a common decision with your team;
Usually, you will have quite a significant time difference with your development contractor, that's why prepare for late working hours online.
Some really good examples of outsourcing mobile app development for iPhone are listed here.
Concluding thoughts
Despite having some peculiarities, iPhone app development covers some common project activities and is considered easier and more rewarding then Android app development by all means.
Stock up with laptop and patience - you got plenty of research, negotiation and creation activities ahead. And welcome to a community of mobile adepts!