The past decade has seen Amazon Web Services (AWS) grow to become the leader in cloud computing. The internet retailer has managed to gain over $12.2 billion in revenue as of 2016, after working with some of the biggest organizations including the C.I.A and Netflix.
So large is Amazon's growth that the fourth quarter of 2016 saw the AWS account for at least 40% of the public cloud service market in the entire world. Amazon's competitors such as Microsoft only accounted for 11% while Google and IBM had 6% each as reported by the Synergy Research Group.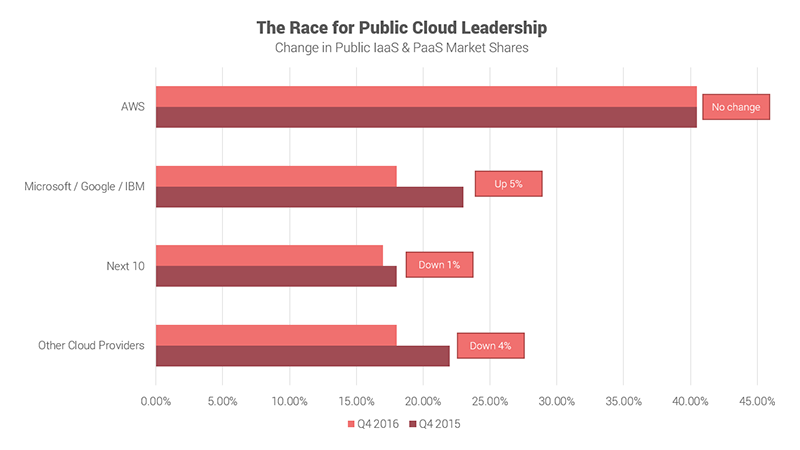 Considering that cloud computing is still in its early growth stages all over the world, the choice of services is still the one most businesses find hard to make. There are some things that you should consider and which make AWS data migration services the number one choice for the provision of these services.
What do most businesses look for when they need cloud migration?
Recent times have forced almost all businesses to consider data migration. There are many benefits to be accrued from such a move. However, successful migration requires a well-planned strategy to avoid having the business' physical infrastructure crammed into a virtual environment with no plan for their optimal use.
When looking for cloud migration services, businesses consider:
Return on investment.
The individual requirements of each asset being moved to the cloud – most businesses would have knowledge of the assets they have and would seek to move some of them to the cloud; prioritizing which are most critical. During cloud migration, the business would be looking for a partner who can prioritize the assets and applications in order of their Recovery Time Objective (RTO).
The amount of support that the service provider can avail. Each step taken by a company while moving to the cloud is unique, most businesses would look for a service provider that is versatile enough to accommodate the unique requirements.
The best process of migrating to the cloud is one that is personalized to accommodate the unique challenges of the business. A partner who understands that there is no one-size-fits-all migration strategy is usually the best choice.
AWS migration tools that are guaranteed to benefit your business
From privately linking your data center to an AWS region directly and migrating data to the cloud in batches to working with S3 for different geographical distances, Amazon's data migration services provide the following tools:
Unmanaged Cloud data migration tools that are simple methods of moving data to Amazon's cloud in small batches. They include:

Glacier command-line interface (CLI) which moves customer data to Glacier vaults
RSYNC which when opened along with a 3rd party filing system, copies data directly to S3 buckets
S3 command-line interface (CLI) which moves data directly to S3 buckets using commands

Cloud data migration tools managed by AWS. There are some AWS migration tools that are made by Amazon to enable your business to manage the move more effectively. They are grouped into two:

Optimizing the Internet, including methods that enable the movement of large archives, oceans of data, and for businesses that have unrealistic data volumes and bandwidth requirements.
Interfaces that are friendly to S3 include methods that simplify the use of S3 along with the company's existing applications. As opposed to simply shifting huge sets of data at one time, these interfaces assist a business to be able to integrate their existing processes directly using cloud storage.
Why you should choose Amazon's cloud migration services for your business
AWS migration service offers a wide range of benefits to businesses looking to migrate their data. The following are some key benefits of migrating to the cloud using AWS:
Ease of use. AWS cloud migration is specifically structured to enable application providers, vendors, and ISVs to host all your business' applications efficiently and safely regardless of whether they are native or new and SaaS-based. AWS also has a management console that can be used in accessing AWS's hosting platform.
As earlier mentioned, each business requires a unique strategy. AWS allows you to choose not only the programming language but also the operating systems, database, and web application platform you require when performing your migration to AWS cloud.
Cost-effectiveness. AWS has made its services as cost-effective as possible for all businesses. Each client is only required to pay for computing power and storage along with any resources used without having to get into any contracts or making commitments up-front.
Amazon.com has been a leading online business for more than a decade, accumulating a secure infrastructure for global computing that is not only reliable but highly scalable and influences AWS reliability as well.
This is always a number one concern for most businesses that are looking to migrate data. AWS employs an extremely secure end-to-end strategy that includes operational, physical, and software measures to secure infrastructure. By choosing AWS, you are guaranteed that your data is in safe hands.
Scalability and high-performance. A combination of Auto Scaling, AWS tools, and Elastic Load Balancing allows all your applications to scale either up or down by the demand. This along with AWS's infrastructure gives you unrestricted access to many resources for computing and storage whenever you need them.
From all of these benefits, it is easy to see how AWS has managed to grow so rapidly over the years and continue to provide excellent services to its clients from moving data to the cloud to cloud transfer.
Research from IDC, 451 research, Forrester, and Gartner all reveal that 50% of companies that attempt cloud migration end up exceeding their budget, take a longer time than expected, and result in the disruption of business. Choose to migrate to AWS today and enjoy scalability, efficiency, and reliability all at the most affordable prices.