Blog
How artificial intelligence and machine learning are changing the post-COVID beauty and cosmetics industry?
How artificial intelligence and machine learning are changing the post-COVID beauty and cosmetics industry?
As a woman, I want to wear makeup and keep my skin healthy. As a project manager, I want my team to create industry-relevant solutions that solve customers' business challenges. What's the point?
Not so long ago, I participated in a brainstorming session with other development team members. A skincare brand owner hired us for the Inception phase. So, we needed to suggest relevant solutions to the business disruptions COVID-19 had brought him.
After two-hour discussions and liters of coffee, we finally came up with a conclusion – we would integrate artificial intelligence and machine learning applications into his online store. We communicated this idea to the client, and he agreed.
So, I decided to write this article because the client's case is a mixture of my main passions – beauty products and intelligent technologies. Using the client's business challenges as an example, I'll tell you how COVID-19 has changed the face of the beauty and cosmetics industry. I'll also describe how intelligent technologies can turn the beauty industry gaps into gains.
What COVID-19 has changed in the beauty and cosmetics industry?
The industry of beauty and cosmetics was one of the most rapidly developing markets. In 2017, the beauty industry revenue was worth $474,179 million, and experts from Statista predicted the beauty industry to reach a market value of $571,696 in 2023.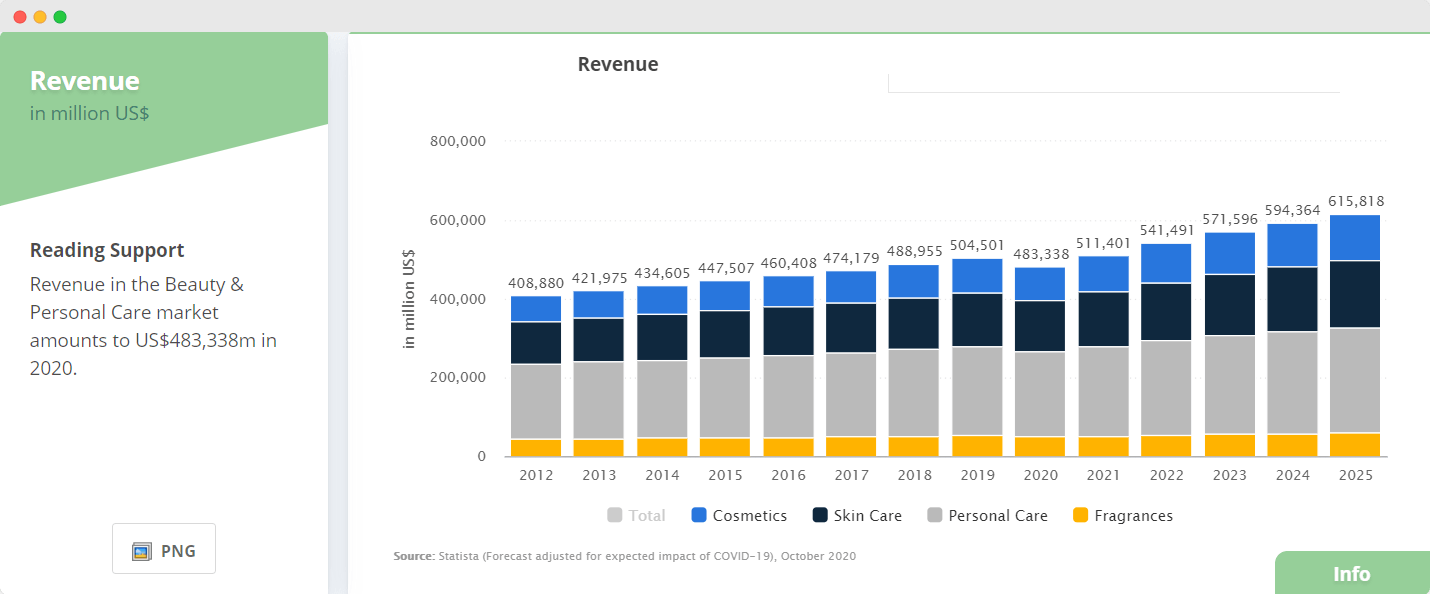 [Source]
But then, the pandemic came. As for 2020, the beauty industry revenue is estimated at $483,338 million, compared with $504,501 million in income received in 2019.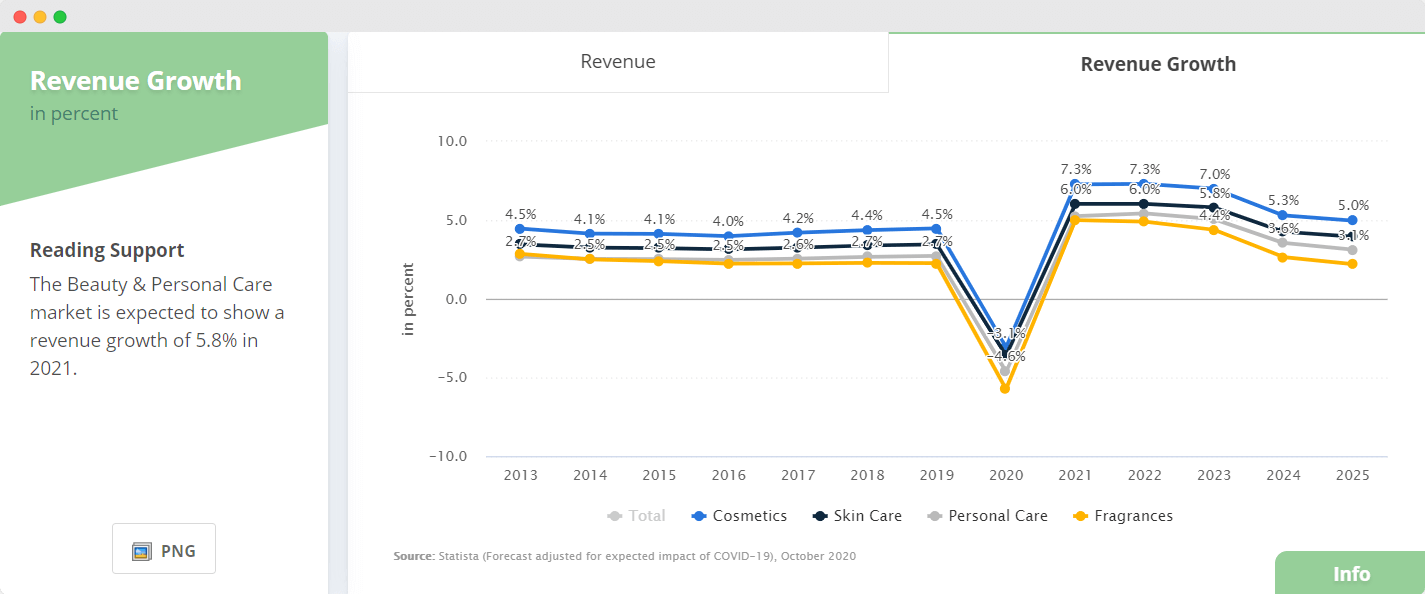 [Source]
And there are co-dependent reasons for the beauty market fall:
Global lockdown. Governments restricted the work of offline stores and shopping malls. For established beauty brands, such a limitation wasn't very stressful because they already had operating online stores. But for indie brands with retail stores located in one region – such a situation was a disaster.
No consultants. As a result, the lockdown left beauty brands without an opportunity to provide a personalized skincare experience to their customers. But, personalized suggestions of skincare products keep customers ( including me) from using products that don't suit our skin type.
Face masks. Even after governments opened shopping malls and other public places, some issues remained. Here is one example. You can attend offline beauty product stores. But how can you try a new lipstick while wearing a mask? Selling beauty products offline became challenging also because the virus can travel from one person to another via breathing. So, trying lipstick after someone had breathed on it could infect you with the coronavirus.
Less income. Since beauty consultants couldn't recommend products to customers offline, upselling and cross-selling also decreased. In contrast, online beauty retailers, who integrated AI-powered product recommendations before the pandemic, significantly gained from these technologies. In current circumstances, product recommendation via AI is the single available method to upsell and cross-sell beauty products online.
Late delivery. Closed borders complicated the provision of skincare and beauty products to warehouses. In contrast, online beauty brands with excess product stock faced decreased demand from customers. Many of them lost their jobs due to retrenchment or bankruptcy and weren't ready to spend their last savings on makeup. In this case, beauty brands met the need to quickly distribute makeup products with a short shelf life to profit.
In a nutshell, the pandemic impacted the whole beauty industry ecosystem – from shipment to distribution. Luckily, we are living in the age of intelligent technologies. So, let's see how machine learning and AI in the beauty industry can smooth things over.
Related reading:
NIOXIN Consultation case study
Top 5 Artificial Intelligence and Machine Learning applications in the beauty industry that confront COVID-caused disruptions
Before digging into details, let's quickly clarify some basic terms:
Artificial intelligence, also known as AI, is a sub-niche of data science. AI algorithms are smart enough to behave without human intervention. Artificial Intelligence algorithms have a wide range of applications – from AR filters in Instagram and Snapchat to self-driven cars and voice assistants.
Machine learning is a branch of artificial intelligence. Machine learning algorithms leverage different learning models, depending on a particular business use case. In this way, machine learning apps can automatically improve through experience. Netflix and Spotify adopted machine learning to provide users with more personalized content suggestions.
Over the past years, both ML and AI algorithms have penetrated the beauty and cosmetics industry. Experts predict spending for AI in the beauty industry will grow to $7.3 billion by 2022.
Here are five major beauty AI applications cosmetic brands adopt:
Augmented reality apps for virtual makeup try-on
Dynamic content personalization
Voice assistant for product recommendation
AI-powered beauty product search
Demand and supply forecasting tools
Such well-known brands as Coty and Shiseido already leverage artificial intelligence and machine learning technologies to adapt to the new normal and keep customers engaged.
Let's find out how intelligent technologies work in more detail.
1. Augmented reality for virtual try-on
Augmented reality is a technology stack that enables adding virtual images to real-life photos. Augmented Reality technology powers Instagram and Snapchat filters. But how does AR work?
The intelligent algorithm detects the buyer's face by analyzing 100 focal points to find facial borders.
The AI algorithm analyzes data points around facial characteristics to map the makeup on one's face.
AR adjusts digital objects to the size of the face and overlays them to a photo or video, so artificial items fit perfectly.
In terms of beauty products and skincare, Augmented reality enhances the online shopping experience with the ability to try lipstick and eye shadows virtually and even see the result of anti-aging creams by detecting wrinkles, spots, skin texture, and dark circles.
The pioneers in AR applications for beauty products were Perfect Corp and Modiface. Software providers used a combination of augmented reality deep learning and computer vision technologies for a virtual try-on before it became a mainstream trend.
Perfect Corp has been on the market since 2014. The company Beauty SaaS – in-store consultation, a mobile SDK, WeChat mini-program, and listing your products in our award-winning app, YouCam Makeup. Such beauty brands as Yves Saint Laurent, L'Oréal Paris, MAC Cosmetics, and Macy's used Perfect Corp technologies for customers to have a virtual try-on experience.
Watch the video below to check out how you can try various shades of makeup for the eyes, lips, and hair using your smartphone, create your look and even download results as you use it as a reference for your makeup artist.
[Source]
As for Modiface, it started in 1999 at Stanford University when one student-initiated research on automatic facial analysis. The student's name was Parham Aarab. He continued his research on face processing algorithms at the University of Toronto, and only in 2006 Parharm founded ModiFace Inc.
In 2018, L'Oreal acquired ModiFace and used its technologies for an AI makeup app with augmented reality in cooperation with Facebook. Using Modiface, you can virtually produce products with a smartphone camera and then move to the product page to make a purchase.
[Source]
2. AI-powered dynamic content personalization
Personalized is one of the most promising applications of artificial intelligence in the beauty industry. As Tapestry research firm's study shows, shoppers spend 80% of the time in the pre-search phase, while only 20% of website visitors add products to cart and checkout.
This means if you shorten their journey by providing them relevant items in the first place, customers are more likely to buy them.
There are several ways to use AI in the beauty industry for dynamic personalized content:
Capturing and digitizing product, content, and customer data
Tagging and organizing data into easily usable structured formats
Optimizing costs through data-driven decisions
Lazada, one of Asia's leading marketplaces, adopted a dynamic personalization and the result was inspiring. The marketplace increased customer engagement by 101%, overall revenue per visit by 9.4%, the overall conversion rate by 11.5%, and customer retention by 35%.
3. Natural Language Processing for total makeover product recommendation
Natural Language Processing (NLP) is a sub-niche of Artificial Intelligence. NLP combines linguistics, data science, and AI algorithms to enable computers to understand human language. The difference between NLP-powered applications and simple chatbots lies in data input and output.
While simple chatbots engage closed questions with "Yes" and "No" answers or simple commands, you can communicate with NLP apps more naturally and receive relevant non-pre-defined answers.
Beauty brands utilize Natural Language Processing technology for smart digital assistants that suggest products in a more personalized way. Since voice-driven beauty services work best combined with visuals, beauty brands target such apps for devices with screens. "Let's Get Ready", an NLP customer assistant by Coty, is a vivid example. The application was created for Echo Show, Amazon's first Echo devices with screens.
[Artificial intelligence makeup suggestions]
Coty, a multi-brand beauty corporation, launched "Let's Get Ready" in 2018. By using the app, buyers can create personalized makeup, hair, and nail looks for any event.
The app has the following workflow:
The app asks for details about your look preferences, hair, eye, skin color, and the event you are attending, to get started.
The app creates your profile, used by Alexa to recommend curated looks, visual tutorials, beauty tips, and recommended products from Coty's consumer beauty portfolios.
The app then offers you a personalized total makeover look from over 2,000 combinations of makeovers using Coty-owned brands products (Max Factor, Bourjois, Clairol, Rimmel, and Sally Hansen).
You can check out suggested makeovers on a built-in screen and ask Alexa to order beauty products via the "Shop the Look" feature.
4. AI-powered beauty product search
Providing personalized skincare and makeup product recommendations online is challenging. However, AI search algorithms simplify this task. AI search engines don't look like a simple search bar. Instead, such algorithms interact with buyer information during a short quiz.
One example of an AI-powered search algorithm application is My Beauty Matches, an online marketplace. The website lists over 400,000 products on skincare, makeup, and body care.

My Beauty Matches offers a quiz for new website visitors. With the quiz, the AI algorithm collects information about skin type and condition, hair structure, and preferences in fragrances.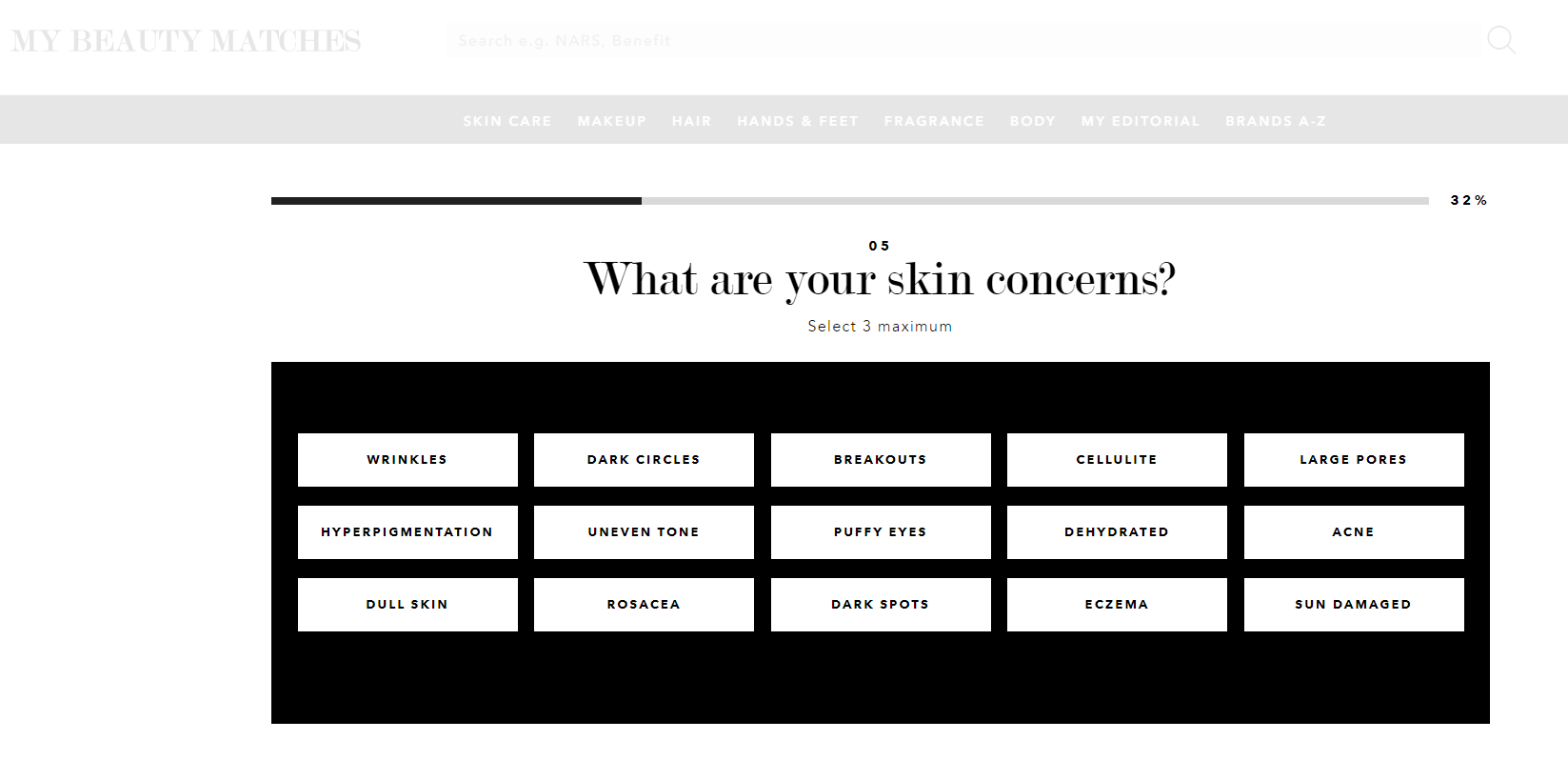 The algorithm analyzes your data, finds relevant products in the database, and displays personalized product recommendations.
Maybe this is how beauty consultants will look in the future?
5. AI beauty supply and demand forecasting
The pandemic made product shipment even more complicated due to closed borders and quarantine measures. Such a situation caused significant disruptions in the import of food, industrial products, and the beauty industry.
We already described why AI is useful for effective supply chain management in our previous articles. Now, let's see how beauty brands use AI applications in demand forecasting software.
Machine learning algorithms are the leading tech solutions for supply and demand prediction. ML algorithms analyze historical data and make predictions of sales and shipping volumes. But, supply chain apps can predict future demand in another way.
Predictive analytics create forecasts when historical data is no longer valid. Predictive analytics algorithms analyze the combination of external factors, including weather, seasonality, and public holidays to predict whether you need to order more red lipstick for a holiday season or not. In this way, predictive analytics help beauty businesses to adapt to changing demand conditions.
NARS Cosmetics, a beauty product brand from France, leverages demand forecasting applications and customer data to learn more about their customers, skin tones, and other preferences to build new products.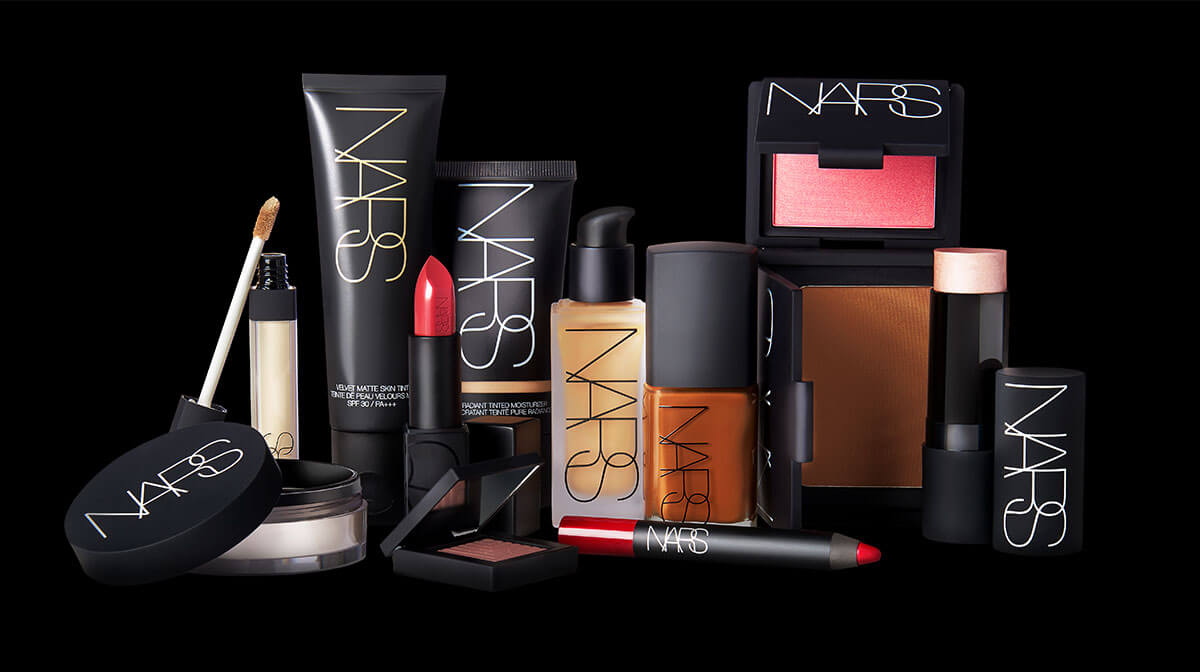 [Source]
Shiseido, a Japanese multinational personal care company, is another beauty brand that keeps an eye on demand forecasting. As for November 2020, the company is looking for demand planning specialists in the New York area to forecast their inventory in-house.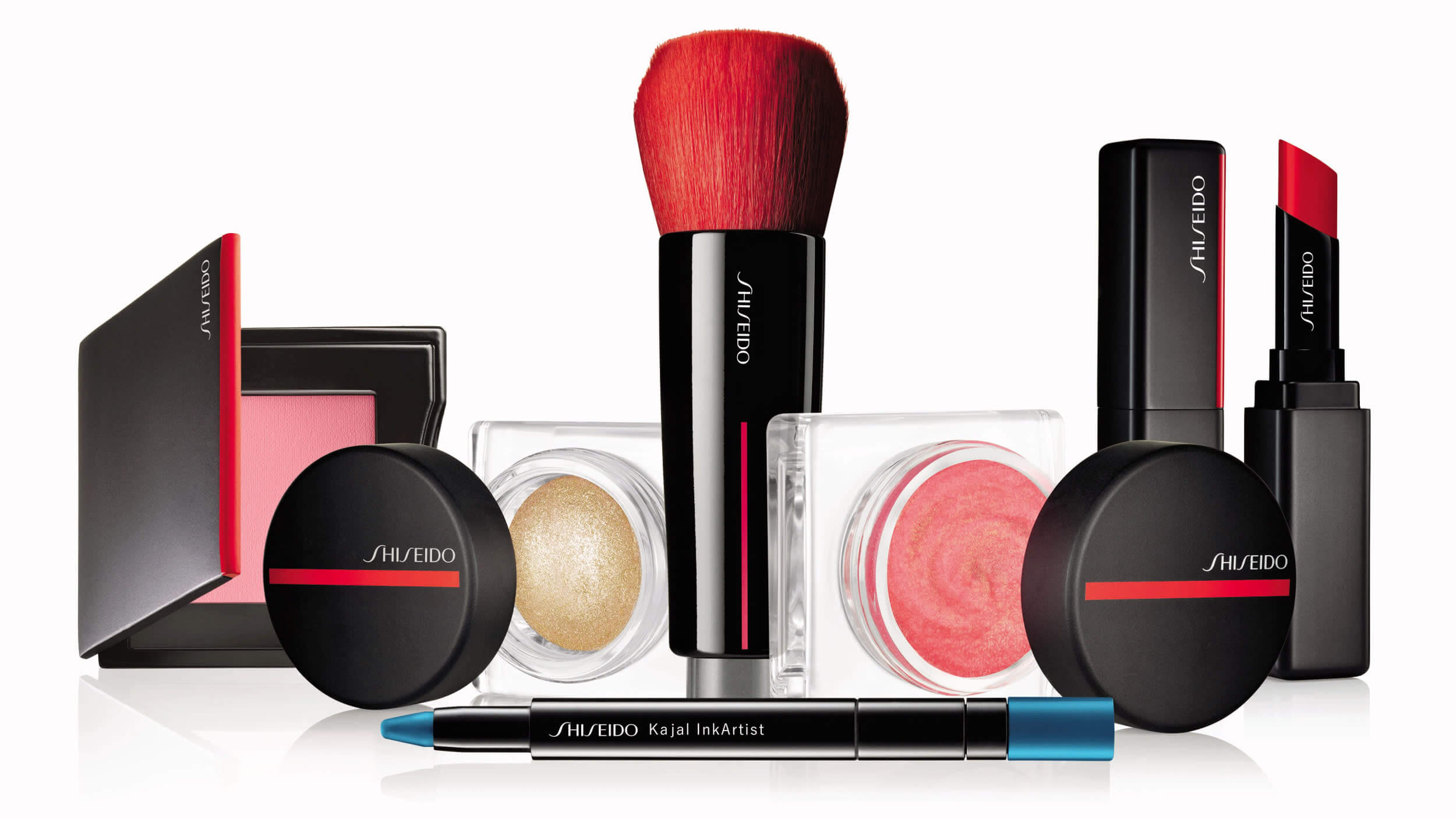 [Source]
Using machine learning and AI in the cosmetics market
Adopting artificial intelligence and machine learning has become more critical for beauty retailers in the past six months. Cosmetics brands should remain proactive and continue investing in technologies because this is the best time.
People are bored of sitting at home with no ability to travel, so why not entertain them with virtual try-on or AI product search?
Even well-established cosmetics brands doubt their supply chain and leverage data analytics to have information to rely on. Thus, you can't be too careful about staying relevant to your consumers and balancing your product stock.
Want to Learn More About The APP Solutions Approaches In Project Development?
Download Free Ebook
Next step
Do you work in the beauty industry? Are you interested in developing artificial intelligence technologies?
By leveraging AI technologies, we can help you to innovate faster so you can crush your competition.
What our clients say
Related reading:
Biudee Personalized Skincare App Case Study