Blog
Why Does your Mobile App Idea Need a SWOT Analysis?
Why Does your Mobile App Idea Need a SWOT Analysis?
Whether you are an app marketer, business leader, or client, you must understand mobile business basics. You must know that your app falls into a certain niche and is suited for a specific customer pool with exact requirements. Chances are, you already know that every business undertaking takes money, and if done wrong, may cost you users in the long run.
However, creating an economically sound app for companies is a challenging undertaking. You'd be surprised to know that the hit ratio of building creditworthy mobile apps is pathetically low – around 0.01%
Now the heart-balm.
You can dodge app failure by studying meticulously your brand insides – strengths and weaknesses. This is where a free SWOT application mobile analysis comes onboard.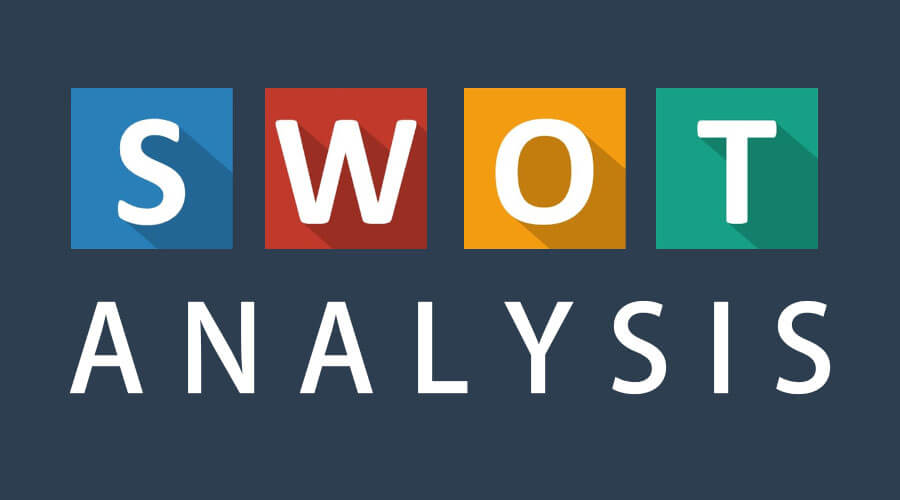 [Source]
You shouldn't underrate the importance of creating your mobile app project plan of action on a solid foundation. This refers to thorough management and addressing the ongoing operational tasks. Only after obtaining extensive data are you ready for decision-making.
Therefore, a SWOT analysis is the best tool to transform your brilliant app idea into a tangible app. Otherwise, there is no point bothering developers and going for app development in general.
PREDICTIVE ANALYTICS VS. MACHINE LEARNING: WHAT IS THE DIFFERENCE
What is SWOT?
A SWOT analysis is a core element of any business and strategic planning that every company should add to their toolbox. The abbreviation stands for strengths, weaknesses, opportunities, and threats related to business competition or free project planning.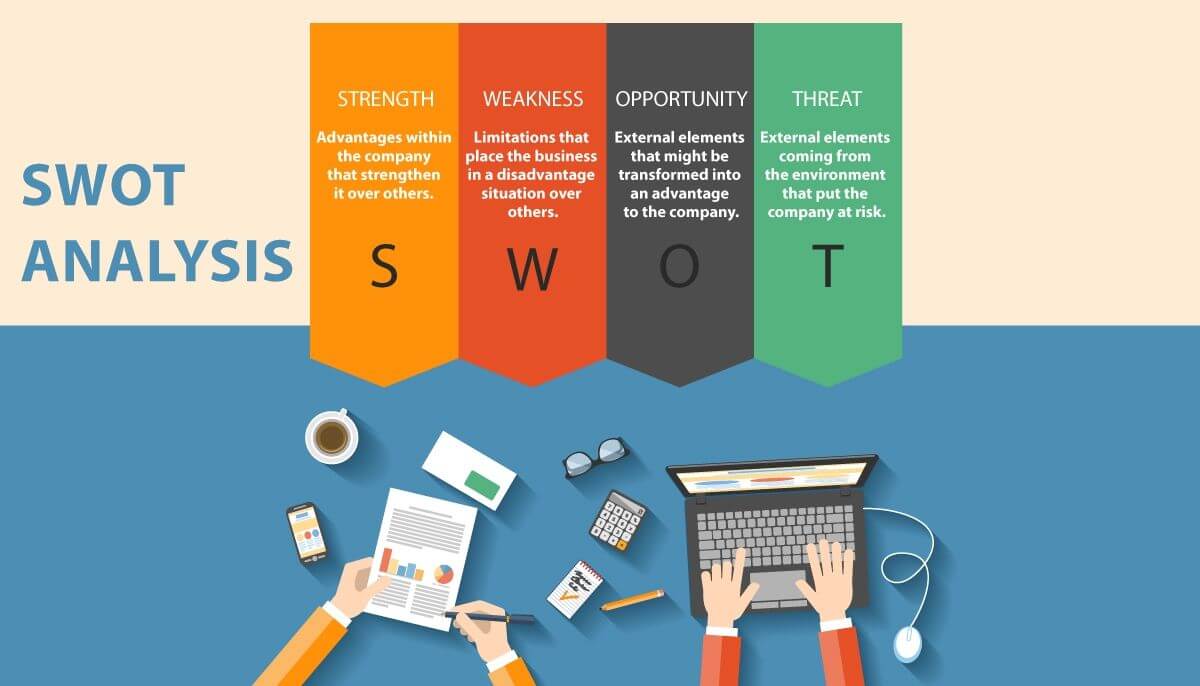 [Source]
While strengths and weaknesses are deemed internal factors, opportunities and threats are considered to be external factors.
A SWOT diagram analyzes an application or business undertaking by concentrating on each of these aspects, and makes analysis easy and accessible. The analysis usually consists of four boxes, each box describes a certain factor. However, the exact shape may vary depending on the design. It can be a box, circle, or any other convenient way that will help you conduct the analysis.
DATA MINING VS. PREDICTIVE ANALYTICS: KNOW THE DIFFERENCE
A free SWOT analysis comes in useful when trying to decide whether or not to engage in a certain project or strategy by picturing the for and against and pinpointing all the good, bad and ugly sides of a project. A SWOT analysis also facilitates decision-making regarding further moves.
This analysis will allow you to determine the aspects of your business that are doing great. These are the key success factors of your business that are strong and provide a head start. Outlining these assets will help you remain at a high ranking, and you will also need to find ways to leverage and build upon these strengths to expand your business.
Next, you'll want to identify ways to eliminate or recuperate your weaknesses. Weaknesses are the features that put you in a less favored position to your competitors. Figuring out what these weaknesses are, and taking measures to lessen them before they hurt your business, is vital. This stage calls for an elaborate and straightforward analysis of what is going wrong within your organization.
Once you are done with internal factors, you can proceed by identifying your external impacts. By recognizing your weaknesses, you can overcome and escape threats.
But what's in it for a mobile app development agency?
Well, it's simple. Being a standard process, a SWOT analysis gives a closer look at mobile application development technology. Additionally, this method allows businesses to analyze and test the related potential and worthiness of their app ideas, targets, and app purposes, to find and assess challenges and experiences that may be influencing their company.
DOES YOUR BUSINESS REALLY NEED AN ENTERPRISE ARTIFICIAL INTELLIGENCE
Last but not least, it allows any app ideas to prove more successful for the end-customer and market needs. Gaining this insight can help deliver greater results and overcome threats for your mobile app project.
This was a quick walk through the process of carrying out SWOT analysis. Now let's move onto the benefits this analysis entails for you and your business.
Benefits & Limitations
Before we dwell on the benefits, you must understand that a SWOT analysis does not give a ready-made solution. Instead, it facilitates analyzing the issues that impact your company or idea. A SWOT analysis is not a one-size-fits-all option for any application. Therefore, it is crucial to understand its main advantages and restrictions before you perform it.
SWOT Benefits
There is one thing that you should know – this type of analysis comes at no cost. However, if you cannot see the backside of your idea or business, it's better to contact a professional analyst. We usually offer such a service to our clients.
Here is a quick overview of what benefits this analysis entails:
It allows better divergent thinking and an enhanced vision of your business;
By understanding weaknesses one can overcome and escape threats;
Its framework gives you a competitive edge and more opportunities.
SWOT Limitations
SWOT analysis is not the panacea for your brand, it's just one imperative stage of your strategic planning. Therefore, it only encompasses what its name implies – strengths, weaknesses, opportunities, and threats.
SWOT is not suitable for complex and intricate issues or aspects. For example, this technique doesn't have a priority ranking and doesn't bring you to the final action. SWOT analysis is an idea-generator, it doesn't steer you toward the best option.
GOOGLE CLOUD SERVICES FOR BIG DATA PROJECTS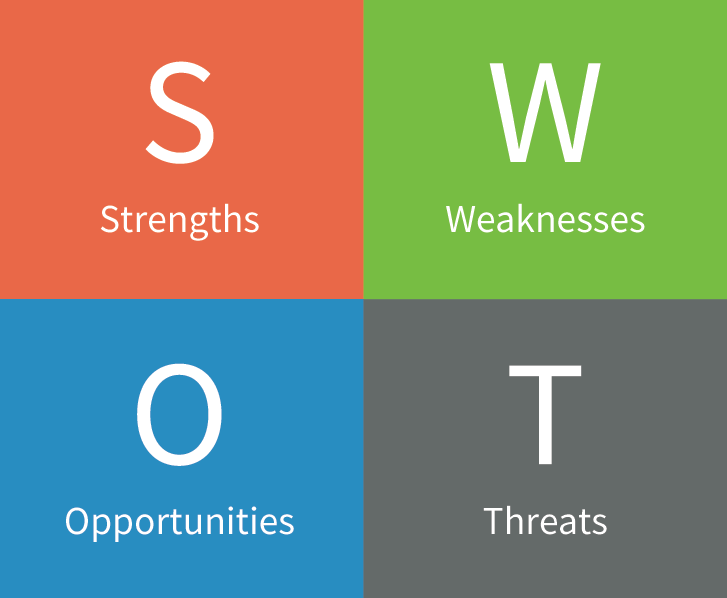 [Source]
Conducting a SWOT Analysis of a Mobile App Idea
Before taking the first steps, you need to outline the objective of your analysis. You can use SWOT on your companies, brands, mobile app ideas, minimum viable products, or any important features.
After this, you need to conduct profound research on your industry and the market. The data can be retrieved from both the online space and your team, business partners, or users.
Strengths
As an initial step, study all features of your future app. There is a good chance that most of them will fall into the strengths category. Additionally, do some competitive research to define your competitors' strengths. If you find some similarities, your business idea must adopt these strengths as indispensable elements.
Also, it is necessary to go through your advantages, unique selling proposition, unique resources, and the final goal regarding your sales.
Weaknesses
This step requires a bold and honest look at your business idea. As there is always room for improvement, you will likely find some weak points.
Again, some competitive research allows you to compare your weaknesses to those of your competitors and get some answers.
Consider the following points:
What new enhancements would you offer?
Is there something you could discard?
What weak sides do your customers point out?
What product features hinder your brand success?
OUTSTAFFING VS. OUTSOURCING VS. MANAGED SERVICES: DIFFERENCES AND BENEFITS
Opportunities
The top tip while assessing your opportunities is to take a hard look at your strengths. You need to think about how you can transform your strengths into new opportunities.
Cutting-edge technologies and different trending patterns can allow you to do that.
Also, remember that federal police monitoring and behavioral models of your target audience can create new opportunities as well.
Threats
If we are talking about threats and opportunities, there is one tool that helps identify the big picture. This tool is not new and is known as the PEST or PESTLE analysis. It helps analyze the Political, Economic, Socio-cultural, and Technological shifts in your business environment.
Let's go over the best questions that will allow you to find your threats:
What new challenges may you come across?
What anti-threat techniques and tools do your competitors use?
How do quality standards impact your product?
Is your product ready for evolving technologies?
Are you sure you won't have any financing constraints?
However, when you use the SWOT technique it is crucial to use only credible information and explicit statements. In this way, you will get rid of the apparent new facts and prioritize the rest.
FEATURE PRIORITIZATION FOR THE PROJECT'S MVP
Another tip is to use the categories at the same level and not to mingle the points. Thus, you cannot use the idea's weaknesses in SWOT on UX, etc. As we have stated above, to get a more extensive feature try other analytic tools like PEST Analysis, USP Analysis, Core Competence Analysis, and so on.
Example of SWOT analysis
A SWOT analysis is the ultimate tool. You can use this technique for both your business idea or app and for your brand in general. It is also relevant for different categories like user experience.
User experience cannot be crafted based on your friends' or relatives' feedback (well, it can, but we rather you didn't). UX calls for better and direct feedback from genuine end-users.
Now let's have a look at how you can use this analysis on UX:
Read also: How Does Business Analysis Work and What Are Its Benefits
Takeaway
A SWOT analysis is an unbelievably straightforward yet robust technique to help you build your new game plan.
It also outlines your objectives whether you're building a startup or mentoring an existing company. One cannot underestimate the power of analysis and planning. SWOT analysis is among those useful tools that can get your product potential to a new level. It improves the performance and given resources at any phase of your SDLC.
This system also enables you to come up with the best tactic, define your challenges, and evaluate your strengths, weaknesses, opportunities, and threats.
You can also reach out for our assistance. Our BA will be glad to carry out a profound analysis and decide on further moves. Please, liaise with our manager to schedule a meeting.