"Welcome to the Real World, Neo." Since COVID-19 impacted the way we live, buy, and sell, retailers must adapt to the new reality instead of expecting to "return to normal" anytime soon.
For most retailers, adapting to the new normal also requires delivering good customer experience, since coronavirus has changed the way customers behave. Modern shoppers have become more demanding and less trusting.
The global pandemic also changed customer attitudes towards interacting with physical locations, retailers, and products. This fact can not be ignored by retailers who want to lead the way forward and emerge stronger from this crisis.
Augmented reality is the solution that will help online and offline retailers provide decent customer service and pay respect to customer needs, wants, fears, and demands.
Fortunately, to integrate AR functionality to your retail business, you no longer need to build it from scratch. You can leverage existing AR technology to integrate augmented objects to iOS, Android, and web apps.
In this article, we will discuss the reasons for putting effort into AR development and applications of augmented reality at online and brick-and-mortar stores. We will also talk about how augmented reality (AR) works and the costs of AR retail apps.
Reasons augmented reality will benefit your business
The global crisis has impacted the financial stability of your customers. They have become more selective, not only in the products they need, but also which retailers to buy from. Besides this, customers have started searching more about brand values before making a purchase.
For online and offline retailers, this means integrating customer care as the highest business priority. It also means changing their business strategies to address shoppers' fears of coronavirus.
To reinforce customer perception of safety, you need to:
Reduce human contact
Customers are more prejudiced toward visiting retail stores and other physical locations. They are more likely to avoid public places to maintain social distancing, which requires offline retailers to adopt a new approach to their operations and customer service.
Adopt contactless product exploration
Buyers are now limited in places they discover products. Thus, retailers need to concentrate on contactless product exploration which can be implemented with augmented reality. In the same way that contactless payments keep customers away from touching screens and surfaces in stores, the augmented digital journey will keep customers safe while enriching their product experience.
Put effort into customer retention
Before the pandemic, retailers applied persuasion as the primary sales driver. But now, product experience is the primary demand driver. Customers want to experience products and services and expect retailers to offer them such an opportunity. Thus, retailers need to retain customers with high-quality products and experience more than acquiring new customers with persuasion.
To meet customer demands, you need to reconsider your brand values and make safe customer experience a top priority. On the way toward safe and engaging purchases, also consider integrating augmented reality for contactless product exploration.
Related reading:
BENEFITS OF USING AUGMENTED REALITY FOR BUSINESS
CASE STUDY: IOS AUGMENTED REALITY (AR) MOBILE APP
How big will the augmented reality be in retail?
Gartner survey says 46% of both online and offline retailers will launch either AR or VR apps to meet buyer expectations by the end of 2020. In the next 5 years, Goldman Sachs agency forecasts that the market for retail AR apps is estimated to reach $1.6 billion .
Augmented reality retail applications and examples
On your way to contactless product exploration, you need to choose the way AR will serve your business best. To give you a hint of how to apply augmented reality into the shopping experience, we have gathered the main applications of AR in retail, accompanied by real life examples.
Try-before-you-buy
Such apps visualize products on shoppers' photos, so customers can try how real products would look before buying them.
Augmented reality retail apps are incredibly popular in the beauty, jewelry, and apparel sectors.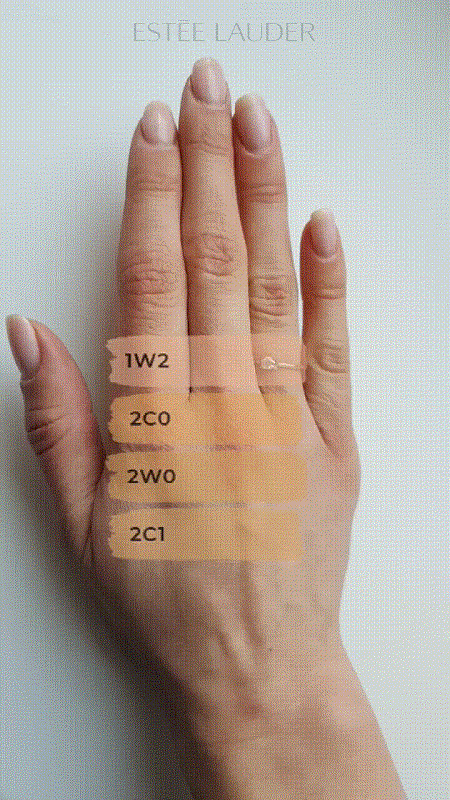 [ AR beauty app with automatic skin shade identification]
Brands that offer try-before-you-buy services are Warby Parker and Sephora. Let's look at their examples in more detail.
Warby Parker
Warby Parker sells sunglasses, eyeglasses, and lenses. The company enriched their online shopping experience with a virtual try-on to help people shop for glasses in a more convenient way.
All people have individual face parameters, such as a wide or small nose, etc. Thus, purchasing your next pair of frames online is challenging and there is no guarantee the purchase will suit you.
Thanks to Warby Parker's retail app, buyers can try frames virtually using AR, and find the most suitable pair of sunglasses.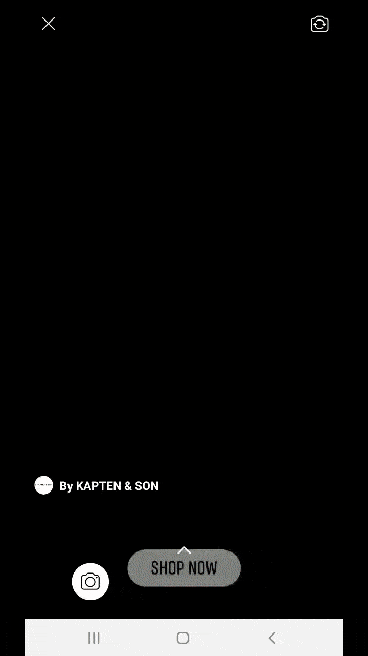 [ The APP Solutions' prototype of a virtual try on app]
To try glasses, select sunglasses from the catalog and go to the Virtual try-on section. The app leverages the front camera and scans facial data points.
Next, the app determines the shape and scale of your face and overlays a 3D model of a pair of glasses over your face.
Here is the video that shows how Warby Parker's AR retail app works.
Sephora
Sephora is a beauty product retailer that added AR to Virtual Assistant, its online shopping app. You can try beauty products virtually in the Product-try-on section, and augment your photo with looks created by Sephora's artists in the Looks section.
To try beauty products virtually, you can upload your existing photo from the gallery, capture a new selfie, or use live mood. You can use models photos that match your skin color.
Then, you can try any product, from lipstick to shadows, eyeliners, and even lashes on the image. Apart from that, the app includes product comparison features, and product details such as brand and costs. The app allows downloading the final result or sharing it with friends on Facebook, Twitter, or email.
In a nutshell, the try-before-you-buy feature allows users to visualize small AR objects like glasses, make-up, or jewelry. But what to do when you need to visualize something big?
3D product visuals
With product visualization you can see how products will look in real life. Such 3D models include not only hyper-realistic product image and texture, but also product measurements.
Furniture and home decor retailers, including Home Depot and IKEA, use 3D product visuals in their apps.
Home Depot
Home Depot , the largest home improvement retailer in the U.S., has AR functionality in its mobile app. You can overlay Home Depot products in any room of your home and see whether it fits or not. To create true-to-life 3D models of products in real-size and high-definition, the company leveraged Apple's ARKit.
To find out how products would look, point the mobile device's camera to the selected space in your home.
Next, the app will overlay the 3D visual of a product in real size. After you find new furniture, you can order delivery, or pick up the order at a Home Depot store.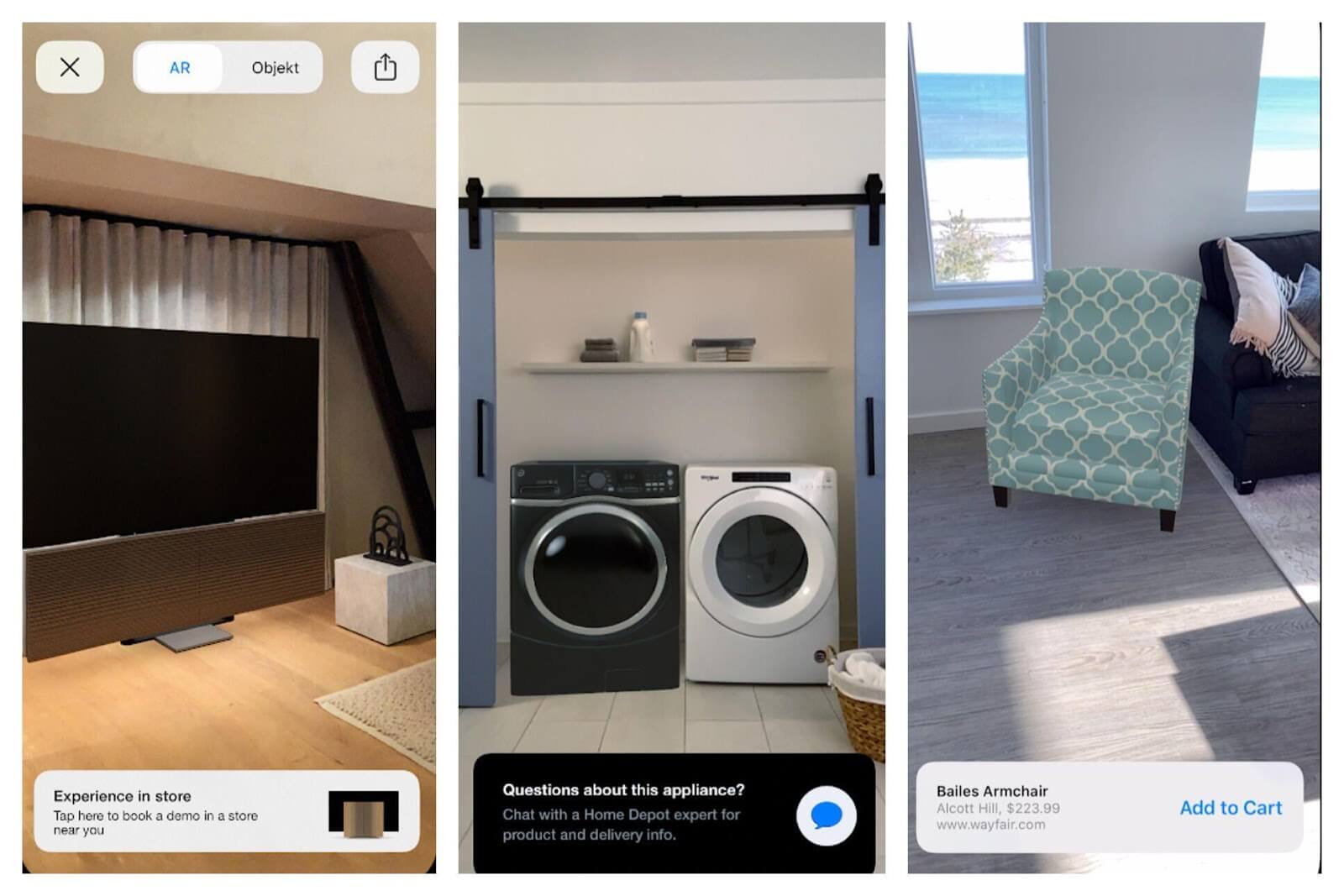 [Source]
IKEA
IKEA, a furniture and home accessories retailer, also allows customers to visualize products with AR at home. IKEA Place application has been around on app marketplaces since 2017, being one of the first apps with AR features powered by Apple's ARKit.
To visualize IKEA's products, the app uses locations from the real world. After the user has defined the area to place new furniture, IKEA's app measures the available space in the picture and suggests products that will fit it.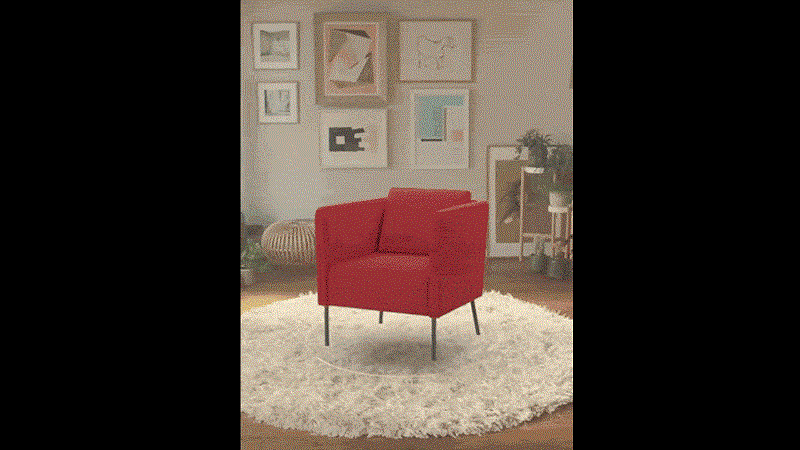 [Source]
Let's find out how to apply augmented reality in brick-and-mortar stores.
Virtual fitting rooms
How to use augmented reality in brick-and-mortar retail stores? To apply augmented reality, you need to buy special screens, called visual fitting rooms.
Visual fitting rooms, also known as Magic Mirrors, add objects to real world views in real time, and display the result on a screen.
Sensors, cameras, and displays enable smart mirrors to suggest new collections to buyers and display their look.
Visual fitting rooms are popular among clothing retailers who want to enhance the offline shopping experience.
The high costs and sophisticated development process make Magic Mirrors available only for established offline retailers. Despite that, there are several inspiring examples of Magic Mirrors applications .
Timberland
The apparel retailer used Magic Mirror technology in 2014 to attract new customers, especially millennials. The brand installed a virtual fitting room, empowered with Kinect motion-sensing technology in a Polish shopping mall.
The screen attracted shoppers who passed near the store and offered them new Timberland collections using AR technology. This marketing campaign was so successful that the brand decided to adopt virtual fitting rooms as a day-by-day retail store. In this way, Timberland made the shopping experience at retail stores more convenient and enjoyable.
Topshop
Topshop, the clothes retailer, introduced virtual filling rooms almost 10 years ago, in 2011. To empower the screen with the ability to augment a shoppers' look using AR Microsoft Kinect.
Topshop's virtual fitting room tracks a person's body with the built-in camera and adds a 3D model of clothing.
Now, let's find out how your products can interact with Augmented Reality.
How does augmented reality work?
Augmented reality adds objects in 4 steps.
Step 1. You capture the environment with a smartphone or tablet camera.
Step 2. The app analyzes the captured place and identifies the point to overlay additional objects.
Step 3. You select the product's image to overlay on the captured environment
Step 4. The app overlays the chosen content, forming a complete image consisting of the real-world background, and overlaid AR data.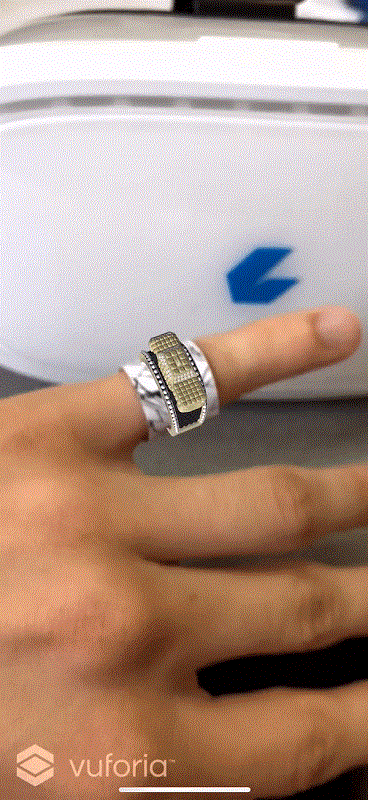 Not so long ago, AR apps required wearing a motion-tracking sensor to identify the location for a 3D model. More modern AR apps, built with advanced SDKs, automatically identify locations to apply 3D objects like rings, necklaces, earrings, etc.
How do retail products interact with augmented reality
There are several ways AR can interact with retail products:
Static includes content that is still and do not support much interaction
Animated means the user can move on a timeline or follow a sequence
3D content has width, height, and depth, or data with XYZ coordinates
Dynamic images support rotations, change in size, and other interactions
Procedural image includes content previously generated by the app automatically or algorithmically
Once you choose the right content type, let's select the way users will interact with AR objects in your app.
Types of interaction with AR objects
Static and fixed on glass. If you choose this interaction type, the static image will be overlayed to the mobile device's screen. You can use this type of interaction for creating permanent product images that users can see all the time.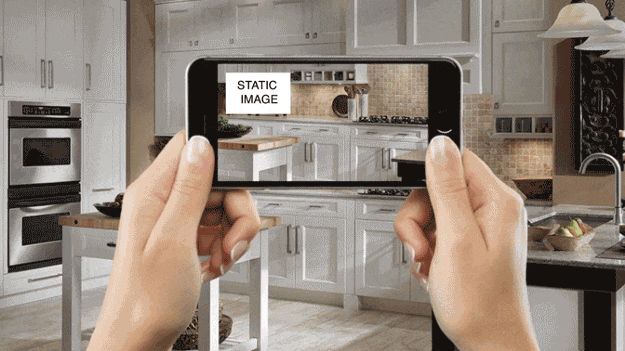 [Source]
Static and locked in space. Such elements are static, but they could have a dynamic feature when you need it.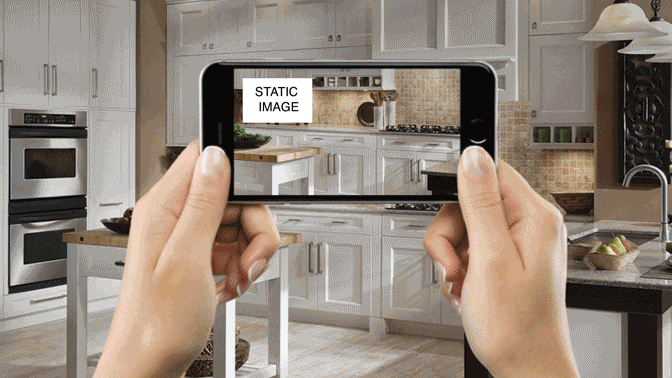 [Source]
Dynamic and flexible on the glass. Thanks to dynamic content, the user can change the position of product images.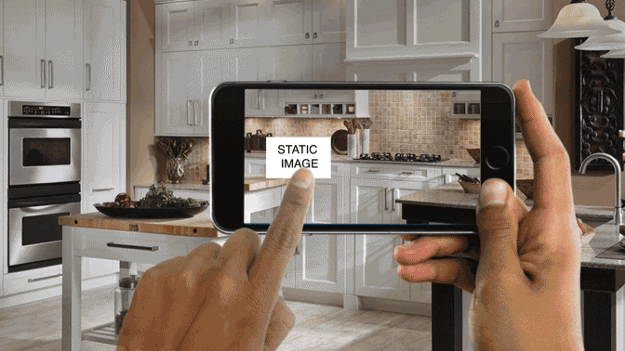 [Source]
Dynamic and flexible in space works best with 3D product models allowing users to engage with them.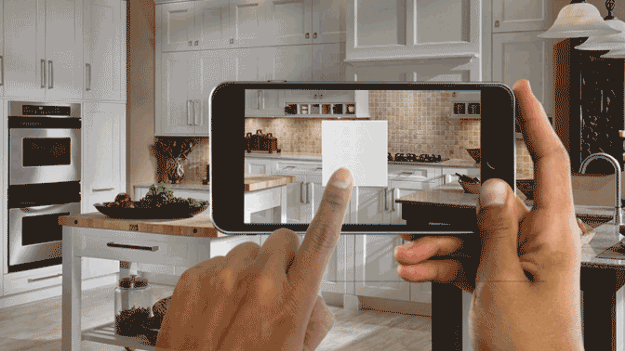 [Source]
Dynamic 3D and proportionate in space. You can see an object with real measurements in an actual environment.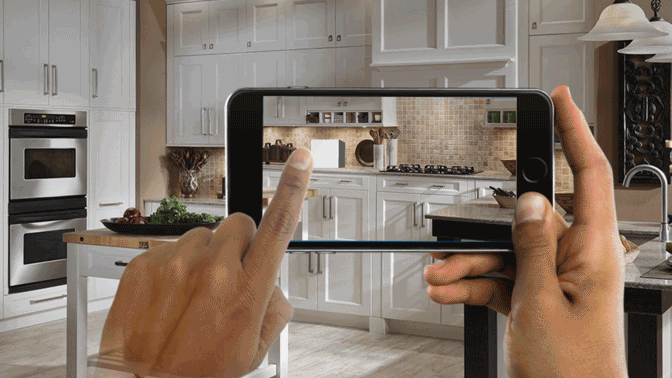 [Source]
What is the AR technology stack?
To build a retail application with augmented reality for iOS and Android devices, developers apply different AR development kits.
iOS AR development tools are:
ARKit is a framework included in Xcode that is compatible with iPhones and iPads.
RealityKit helps to implement 3D objects. RealityKit connects with the ARKit to receive data, and integrates virtual objects into the real world.
Reality Composer is handy for prototyping, building animations, interactions, and producing AR objects.
AR development toolset for Android apps includes:
ARCore Software Developer Kit (SDK) works with augmented reality on Android and the web and enables developers to create 3D objects.
How much does an AR retail app cost?
If you are serious about developing an AR app for your retail business, you want to know how much money you'll need to pay. The cost of building an AR consists of several factors as described below.
The platform
Since AR apps leverage native device functionality, you need to develop separate apps for iOS and Android platforms. We highlighted the differences between these platforms in our article, iOS vs Android app development, so check it out.
UI/UX design
A decent UI/UX design costs money. A fantastic design for an AR app will cost you even higher. Thus, think about the number of screens and the desired layout of AR retail apps beforehand.
3D models
To make your products appear in AR, designers will create the 3D visual of each product. If you have a product catalog with 10-20 items, you are lucky. Such visualization won't take much money or effort.
But if your online store includes 100 to 200 products, this might be costly. Thus, you need to prioritize them and develop 3D models of the most popular items.
Development team
Developers' hourly rates vary by country. Ukrainian developers will cost you $35-50 per hour of coding, while developers from the U.S. charge from $80 to $180.
Unfortunately, expensive app development doesn't guarantee the ultimate app's quality. Check out the article how to hire the development team to get insight on searching for the best developers.
Recently, we estimated the integration of try-before-you-buy functionality into an online store and iOS shopping app. To find out the cost of AR development, check out the table below.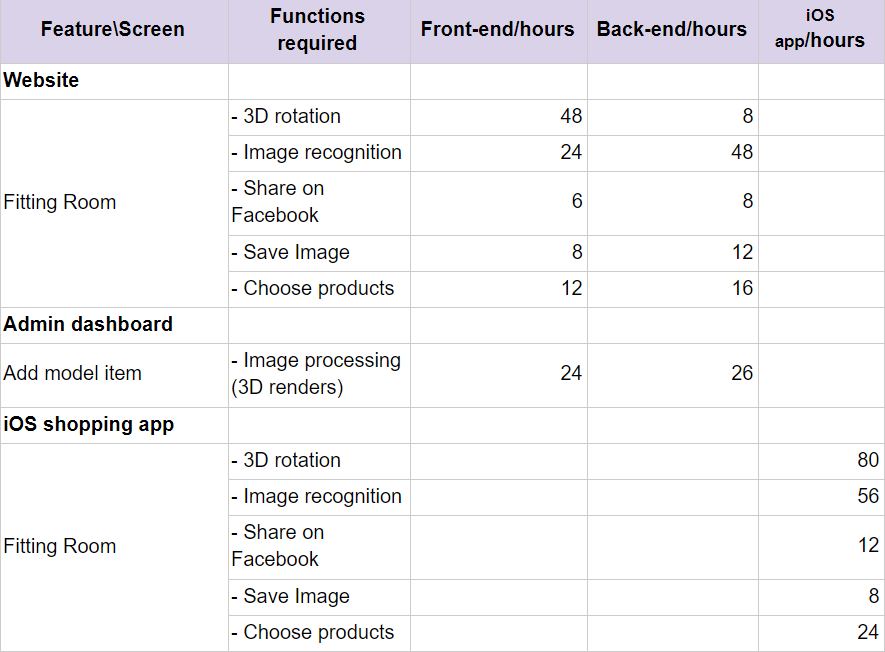 The integration of AR functions to an online store will take from 240 hours and cost from $9,500.
Within 180 hours, we can empower your iOS app with AR products try on, starting from $7,200.
The prices above are approximate. To find out the exact price of an AR retail app, use the project cost calculator or reach out to us by email sales@theappsolutions.com.
Augmented reality and retail: past, present, and future
The global crisis has made customers pay more attention to brand values. Nowadays, customers will buy at those retailers who have similar values to their customers.
Since physical stores are no longer a safe place for shopping, buyers are more likely to search for brands that provide augmented reality features and become loyal to those brands.
To face the challenge of adapting to the new normal, retailers should put their efforts into providing customers with contactless product discovery and reducing physical contacts at offline stores with augmented reality.
At first appearing in the retail sector almost 10 years ago, augmented reality features are now available for mobile and web apps.
Such applications are a win-win, for both customers and online retailers-buyers receive a more entertaining online shopping experience without the need to leave their homes.
In the future, more retailers will implement AR in shopping apps because this is no longer just a "nice to have" but a "must-have" element of a successful business strategy.
What our clients say
Related reading:
Calmerry Telemedicine Platform Case Study
Nioxin Consultation App for Coty-owned Brand Case Study