Just when the world thought app innovation had reached its peak, and the app market is at a saturation point – the Clubhouse app happened. The arrival & success of the Clubhouse app is conclusive evidence that technology keeps evolving.
This article offers insights into the podcasting industry, including the technologies required to develop a social media app like the Clubhouse chat app.
What is the Clubhouse App?
The Clubhouse app is an audio-based social media program; the first of its kind. It hosts talkback radio, house-party, & conference call live podcasts. Just as Instagram took the spotlight in 2010, and TikTok in 2020, so will the Clubhouse app in 2021. Within a few weeks of its release, the application amassed 600,000 users. And now, at the time of writing this article, it has leaped to over 2 million people.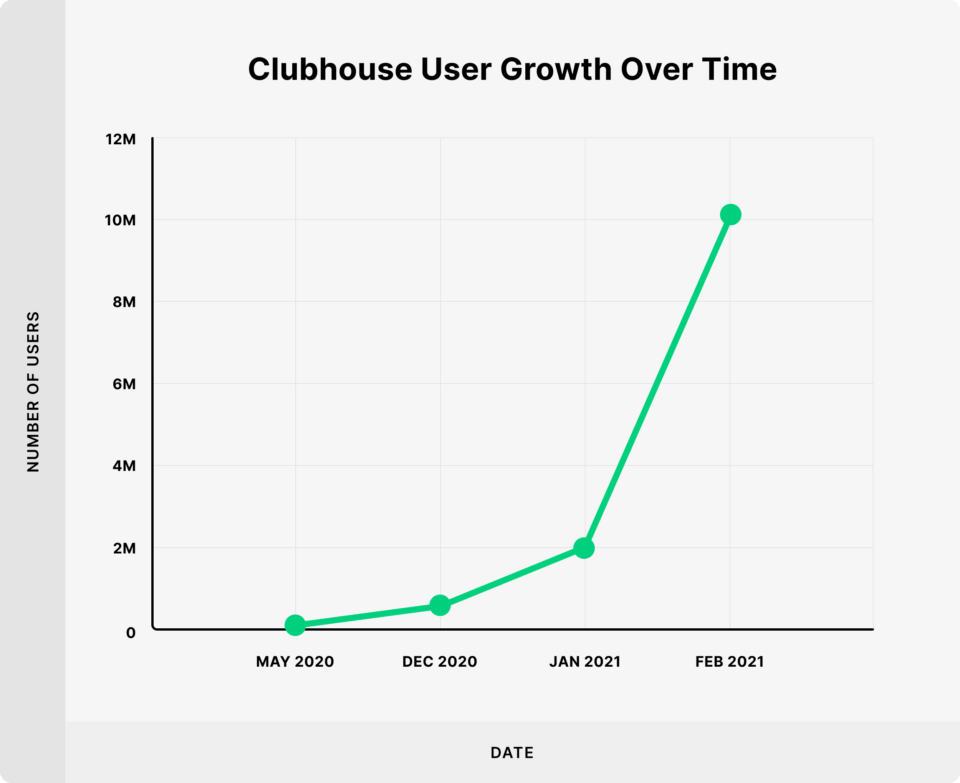 [Source]
The Clubhouse app is getting traction at an unprecedented rate. While its popularity is growing, so is its valuation. Talking about valuation, a few weeks after the app was launched, it was valued at $100 million. Over time, this figure has soared to a staggering one-billion dollars!
Clubhouse Isn't the New TikTok. It's The New LinkedIn. Although Clubhouse is a social media, it does not operate like most of them. It tries to balance business and pleasure, more like LinkedIn. The Clubhouse community also comprises individuals who normally would talk business on Twitter.
To make this audio-based chat app worthwhile for important activities, it comes with a few very important features, e.g. the Clubhouse rooms. Members can create profiles and link them with their Twitter & Facebook profiles.
Clubhouse may be better than LinkedIn because of its ability to strike a perfect balance between professional and personal activities in the rooms. This is an important attribute.
How Does the Clubhouse App Work?
The Clubhouse social network app is only available to iPhone users. Joining the platform is only upon invitation. To open a Clubhouse account one has to pay subscriptions. One of the rights reserved by the Clubhouse administration is the ability to change the prices at any time.
To get started with the Clubhouse social media app, you open the app and go to your profile to see a list of rooms. Clubhouse allows you to join a room of your choice, or create one.
Every Clubhouse room has a distinct topic hosted by either a pioneer or an expert in the field. It's not uncommon to find journalists, celebrities, and venture capitalists hosting Clubhouse rooms.
If you wish to contribute something to the Clubhouse rooms, you have to "raise your hand". The host of that particular Clubhouse room will decide whether to invite you to the conversation or not.
Clubhouse app: what is it and how do you get an invite to the exclusive audio app?
The Clubhouse is very exclusive. For one to become a member they should receive an invite to join the app. The invite will only come from a friend who already has a Clubhouse account. After the invite, and when you have become a member, you can also invite 2 exclusive friends. Members can invite their friends to download the Clubhouse app via their phone numbers.
Some of the world's top thought leaders who have already made appearances on the Clubhouse voice chat app are Elon Musk (Tesla CEO), and Mark Zuckerberg (Facebook founder). Their presence caused quite a stir. The Clubhouse app may still be smaller than its social media predecessors. But, its growth curve confirms it's the next big thing, it will conquer social media.
How do you set up a clubhouse Club?
In order to start a club in Clubhouse, the first thing is to create an account to become a member. Subsequently, go to your profile and select the gear icon; this will get you to settings. On the settings page, go straight to the FAQ section and click "How can I start a club". A detailed description of how you can start to open a club is given.
To be eligible for starting a club, a Clubhouse member should have hosted a room before. In order to host a room, you open the app and start a room. A room is started by inviting friends to come and join or enabling any persons who want to join to get in. After starting at least 3 rooms, you can then proceed.
What do clubhouses do?
The Club's functionality enables members to create and join private groups. These private groups will have your specific preferences. Three types of users can be found in private groups/ Clubs and these are the founder, members, and followers. Clubs will receive notifications based on their interests.
Are there alternatives to the Clubhouse App?
If you would like to develop a podcasting application such as the Clubhouse voice app this year, you are on the right track. Android users have forever searched for a similar app on the play store, but to no avail. It's high time someone started some competition.
There is enough revenue to go around for prospective investors in the podcast industry. Analysts anticipate that the global podcasting market will grow at an annual rate of 27.5% from the year 2019 to the year 2027.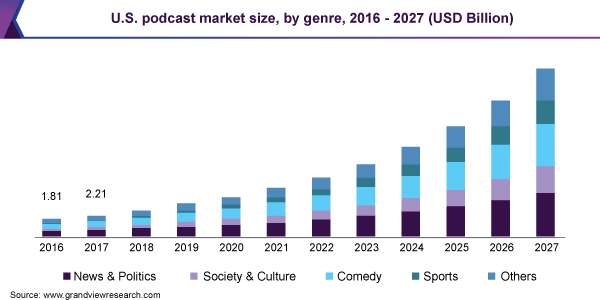 [Source]
What is a podcast, and how does it work?
Simply put, a podcast is an audio broadcast that is made in episodic series. People listen to podcasts while relaxing after a hectic day, driving long distances, or doing some exercises. Any activities that people do while listening to something else fit the category. Podcasts are gaining popularity compared to media such as blogs and vlogs. The reason is that people find them both entertaining and less distracting.
How to play podcasts
There are two ways through which people can listen to podcasts:
Downloading/ Streaming online
People can go online using their devices to stream or download content from the RSS feed. The podcast may be played on the podcast website or in a feed reader.
The alternative to streaming from the RSS feed is to download and use a media player application. Examples may include Pocket Casts or Apple Podcasts. People who subscribe to the RSS will access their podcasts through the player.
The player will simply synchronize data from the RSS feed. This enables the user to get current episodes and additional details such as file name, notes, and the link to the file (in MP3 format).
What's RSS?
RSS is an abbreviation that stands for Really Simple Syndication, which is a computer-readable (XML) format used for sharing web content. The RSS enables users & apps to receive updates to a specific web platform.
If the user prefers to use an aggregator (an application that collects, & displays content or links from various websites), the RSS feed reader will first convert the data into a readable format.
The RSS feed collects information which includes headlines, notifications of updates, summary notes, and links that direct the user straight to the website. Updates are done in real-time and the latest files published by websites will go on top in the RSS feed.
Reasons podcasting apps are the new content platforms
In the US alone, a growth from 51% to 55% of podcast listeners was observed between 2019 and 2020.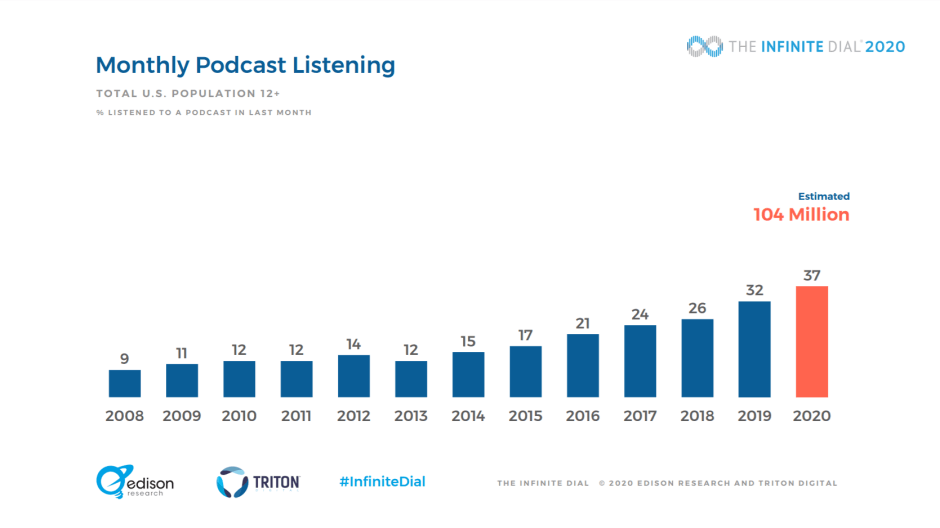 [Source]
Podcast listenership is surging across the globe with no signs of plateauing. The factor contributing to this growth is the emergence of podcasting apps such as the Clubhouse app. The app Clubhouse, and other social media platforms, are instrumental in boosting podcast listenership. Applications like the Clubhouse audio chat app are starting to take center stage everywhere because of the points that follow.
Easy consumption. Podcast apps such as Clubhouse allow consumers to easily find podcasts presenting on topics they like. People today have busier schedules and appreciate something that apps like the Clubhouse allow them to stay entertained and updated while also working. Clubhouse requires less attention compared to vlogs, blogs, & TV. Other than working, people can also listen to the Clubhouse voice chat app while driving, exercising, or relaxing at home.
Accessibility and diversity. Gone are the days when people relied solely on the radio to listen to programs. The disadvantage with Radio-cast was that listeners needed to be at a certain place to listen to a show. Moreover, only a limited number of topics could be aired. With smartphones, people are not place and time-bound. One can open apps such as the Clubhouse anywhere and at any time. And, the app Clubhouse provides countless topics on-the-go.
Intimate connection with listeners. With the advent of the Clubhouse social platform, podcasters can now have intimate time with their audience. The platform allows listeners to easily identify their favorite hosts and topics. When an audience is listening to these hosts presenting on their favorite topics/ show, they connect and hear them talk directly to their hearts and minds.
Social Media Marketing. Many podcasters are using the podcasting platform to promote their other businesses through podcasts. According to a blog by Midroll, about 61% of listeners have admitted to buying a product after a podcast advert.
Podcasts consumer types
Podcast producers can be grouped into 5 major segments:
Large Indies
This group makes a larger population of Clubhouse podcasters. It comprises independent podcasters who are either influencers or celebrities. Rumor has it that Clubhouse is grooming over 40 influencers (moderators) to succeed on the Clubhouse app. These individuals are getting tools and other help from the Clubhouse executives. Concerning monetization, Clubhouse is currently ad-free. But, Large Indies on other podcasting apps get money through adverts, donations, or commodities. Examples of independent podcasters out there are Sam Harris, Joe Rogan, etc.
Media Companies
These are big companies that offer media content through several formats. Examples would be newspapers, magazines, and radio-casts. On Clubhouse, several media companies, e.g. Barstool Sports, can be found. Media companies get their money from adverts mostly. Other means involve circulation revenue. Circulation can be described as the number of subscribers.
Hobbyist Creator
In the podcast industry, hobbyist creators are persons who produce content, usually without getting revenue. These individuals may not be influencers or celebs. The clubhouse also welcomes hobbyist creators.
Non-Media Businesses & Non-Profits
This group is not driven by revenue but focused on building a brand. Each show produced is for promoting the brand.
Podcast-Only Production Companies
These are organizations that produce their content but rely on platforms such as Spotify to reach their audience. They get revenues through adverts, or broadcast licensing to local and international TV networks, etc. Furthermore, they can produce content for a film.
The Clubhouse app is unique in that it accommodates the producers mentioned in each group. And, the clubhouse can make it possible for these podcasters to reach their audiences effortlessly.
Market predictions of the Global Podcast Hosting Software
The podcast market is expected to grow tremendously between 2019 and 2026. Already, over 1,750,000 podcast shows & not less than 43 million episodes have been produced. These numbers will only grow throughout 2026.
For you to catch a glimpse of the growth rate, there were only 550,000 podcasts at Apple Worldwide Developers Conference in 2018, but in 2021 the estimation is close to two million.
The podcast market key players
The major players in the podcast at the moment are Apple, Pandora, iHeartMedia, Amazon.com, Spotify AB & Sound Cloud Limited.
These players own the following shares of the podcast market:
Apple Podcasts (32%)
Spotify (26%)
Google Podcasts (3%)
CastBox (2%)
Embedded Player (2%)
Podcast addict (2%)
Key formats
The podcast market is categorized into the following: panels, interviews, conversational, solo, and repurposed content.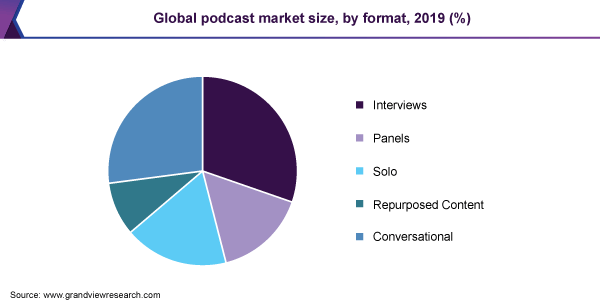 Podcasters on the Clubhouse app uses all of them. The two popular formats that you should know are:
Interview. This format is currently the highest in terms of revenue. Analysts revealed that in 2019 alone, it accounted for a share of over 30%. Another name for this format is "facilitator", used when a variety of guests are being hosted by the same individual. What's believed to make this format attractive is the freshness and originality of each cast. Every guest will bring with them new content, thoughts, and experiences, etc. The audience likes to be continually inspired, engaged, and stimulated by various opinions on different subjects of life.
Solo. This format is slightly below the Interview format in terms of its revenue share. Concerning how it works, it involves a single person who is a professional in a certain area. This individual may record content giving their views and experiences in their area of specialty. Most independent podcasters entering the podcast industry are picking this format since it's easy to start. The only requirements are free editing software & a microphone. The Solo format is expected to grow up to 2026.
Key perspectives
The year 2021 has seen a lot of services implementing podcasts. And, startups in the industry are getting funded & growing and, or, acquired by larger organizations. Below are examples of some of the things you should know.
Spotify
Starting this year, Spotify confirmed that it will allow podcasters to use its platform through paid subscriptions. People can already start signing up. However, before this begins to work, Spotify will test new functionality in its podcast creation tool. Part of this new functionality will enable existing and prospective podcasters (in the US) to publish paid content to their fans. The first to enjoy this functionality, however, will be existing customers.
[Source]
Podchaser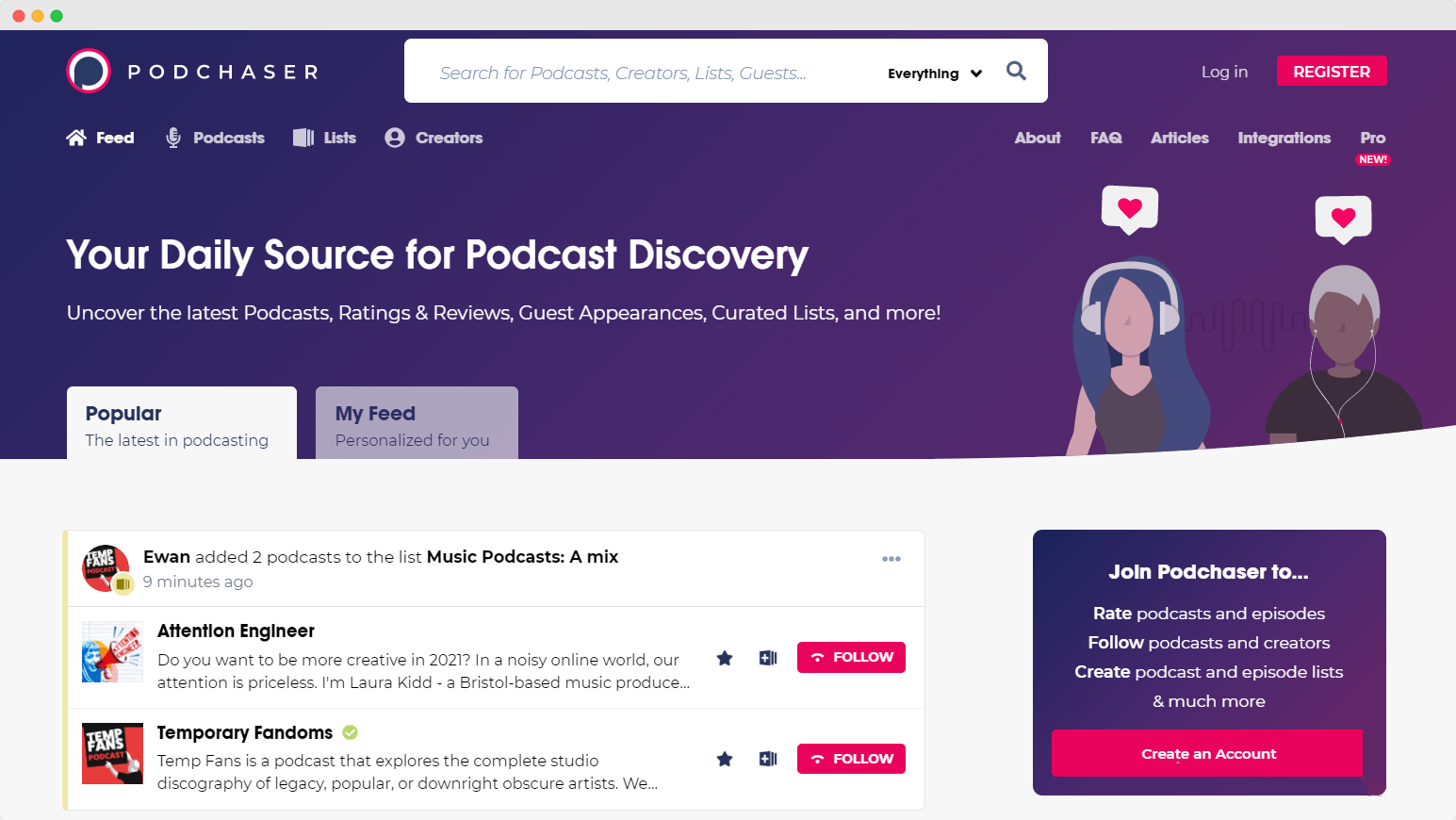 This is a startup that raised over USD 4 million in the creation of what they call the 'IMDB for podcasts'. Podchaser works the same way as the Internet Movie Database developed by Amazon. Users are given the ability to spot new podcasts as they come. They can review and rate them before adding them to their lists. The CEO also spilled that content of over 8.5 million podcasts which had already been produced, awaiting the launch of the startup.
Acast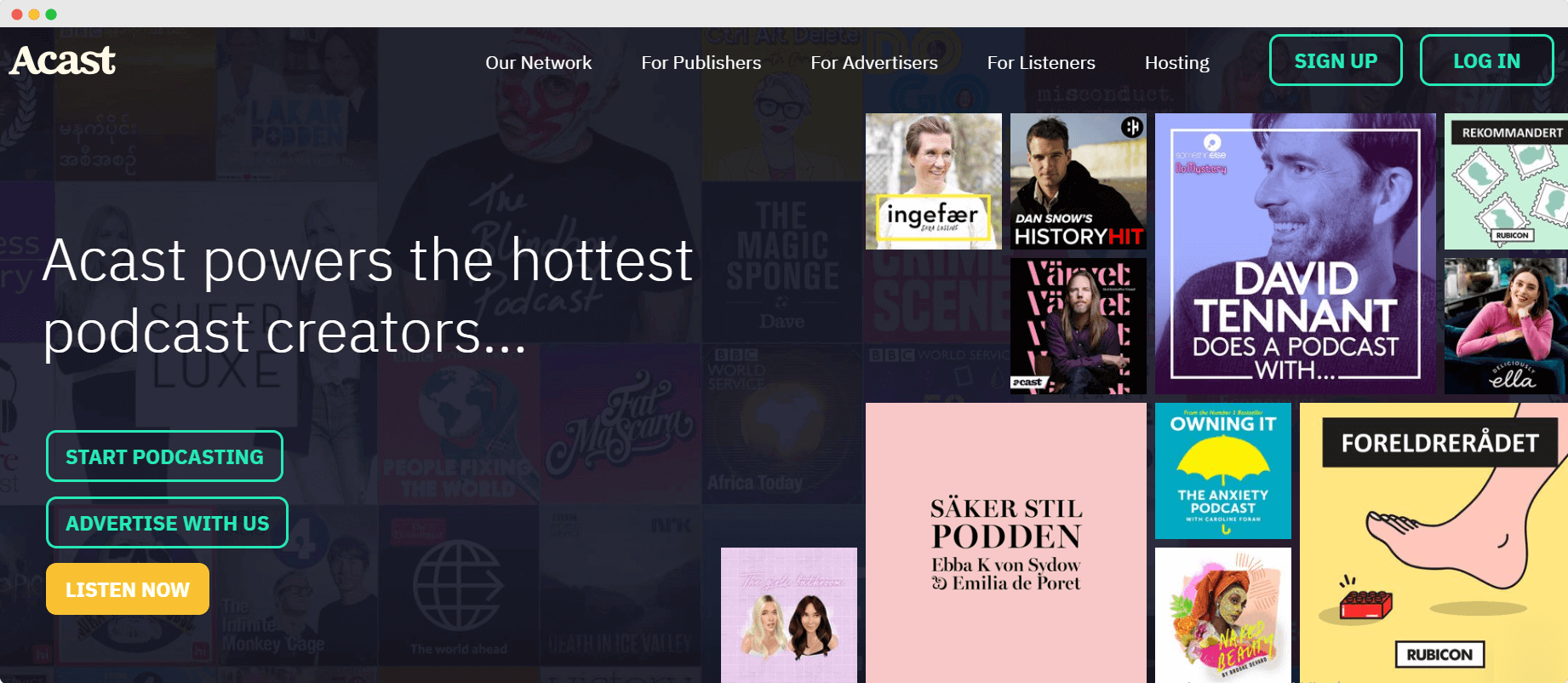 Acast, an advertising company for podcasts, bought Radio Public, a company that joined PRX a few years ago. Radio Public started with a podcasting mobile application. But, with time, its leadership shifted focus to providing products and services for podcasters. Examples of the products and services provided include an embeddable web player, pod sites, etc. Today, while part of Acast's business is to provide these services to podcasters, the other part is still involved in the podcasting mobile app.
Tech Stack for a Podcast App Development
Entities that need to venture into the podcast industry can do so with The App solutions. If they choose to develop a mobile-only app, The App solutions recommend that they know the SDKs (Software Development Kits) and technologies for their project tech stack. If the client may need help, the CTO, Igor Kopaniev advises the following solutions:
Agora.io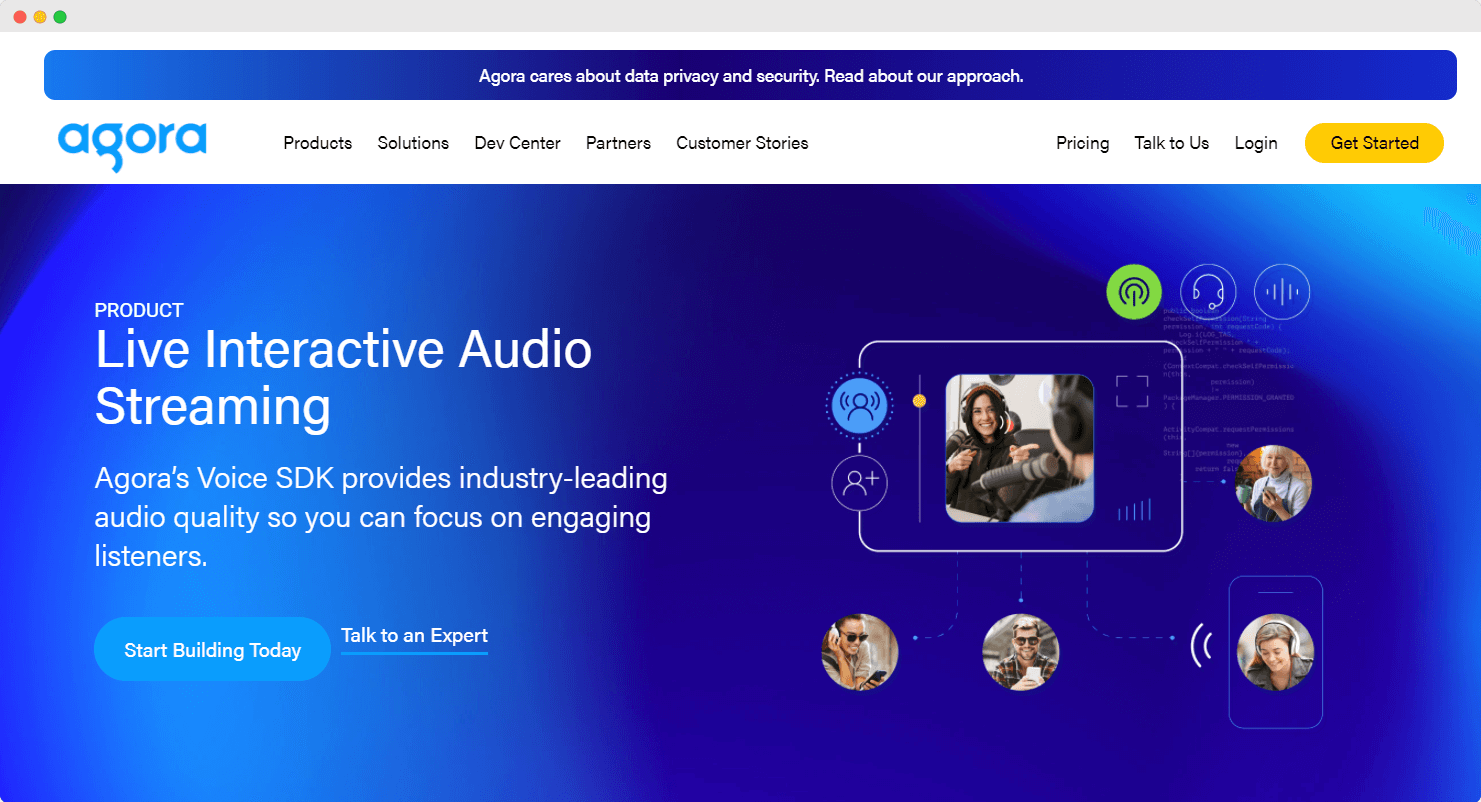 Agora.io enables developers to add HD voice & video communication to applications via a dynamic SDK. Since the tech used by Agora.io can manage billions of minutes of real-time communication annually, developers can support over two thousand users in one call. Regarding implementation, Agora.io is easy, inexpensive, and seamless. While all this is great, clients and developers should also consider data security. Agora.io was formed by a Chinese company, thus, has reliability issues.
Instead of Agora.io, here are some alternatives you need to know:
Live Streaming On AWS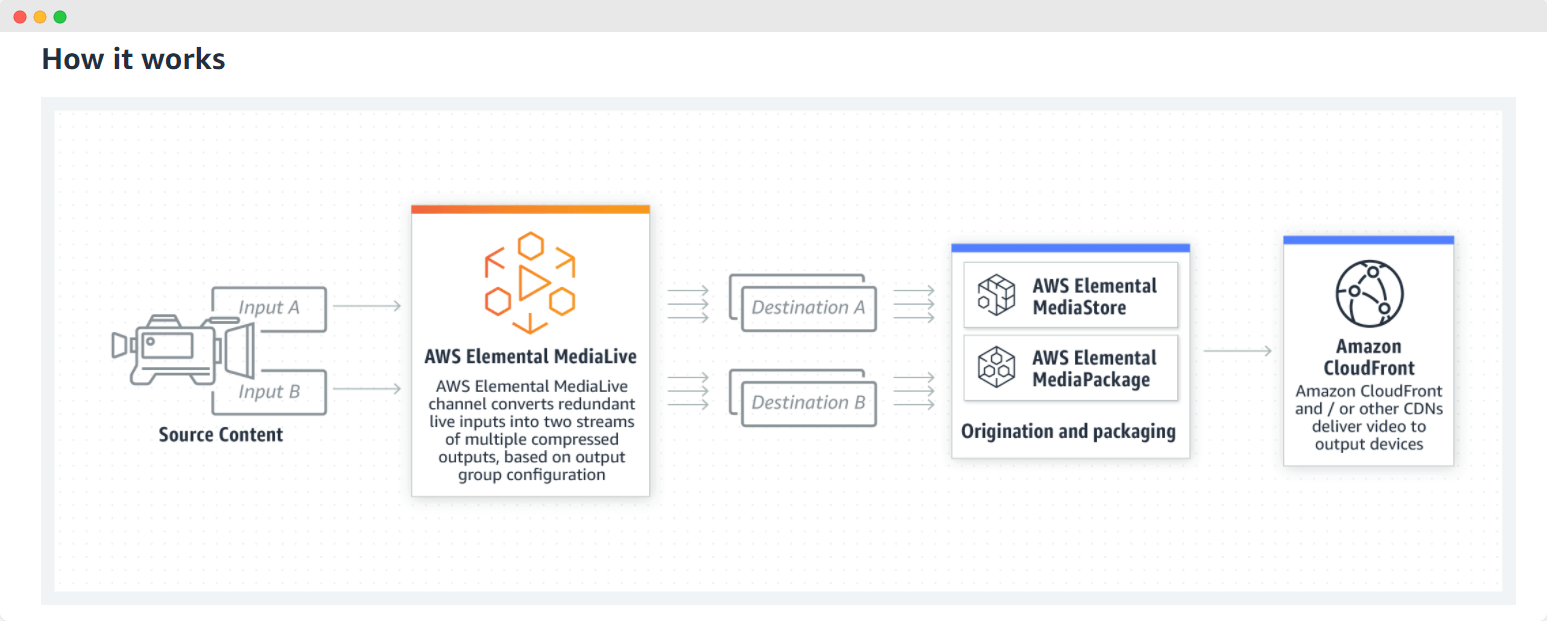 The abbreviation AWS stands for Amazon Web Services. AWS offers 2 Over-The-Top (OTT) streaming solutions for live videos. These two solutions are AWS Elemental MediaPackage and AWS Elemental MediaLive.
The above solutions offer viewers smooth live streaming of content. The MedialLive channel comes with dual outputs and inputs, plus some for the MediaPackage. When Live Streaming on AWS, the MediaLive, and the MediaPackage are both configured to encrypt & pack your content via an adaptive bitrate streaming on screens through HTTP Live Streaming.
Storage. The AWS Elemental MediaStore is augmented to store media. It provides great performance at low latency, the very thing needed for quality live video streaming.
Latency. To effectively minimize latency, the MediaStore works with the Amazon CloudFront. The Amazon CloudFront connects at the MediaStore's endpoints to deliver content at high speeds and low latency. Also, an Amazon CloudWatch will work as a dashboard that monitors every request made to the MediaStore. It reveals the overall performance of the workflow.
Security. Live Streaming On AWS is reliable concerning security. CloudFront provides sophisticated security that includes full HTTPS support and encryption at the field level. CloudFront also comes with an AWS Web App Firewall, Shield, & Route 53 to prevent many forms of attacks, including DDoS attacks.
Jitsi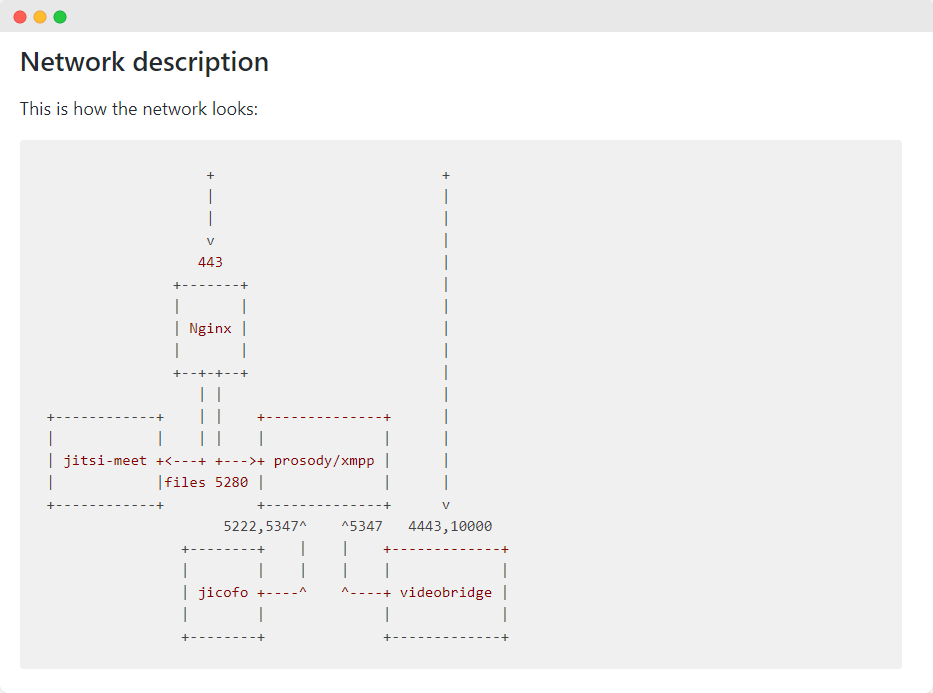 Libjitsi is a sophisticated Java media library that allows secure communication of media. Apps can securely stream, capture, playback, encrypt, decode video and audio flows. Additionally, it allows for advanced functionalities, e.g. audio mixing, management of multiple streams, and the attendance of video & audio conferences to be possible.
Libjitsi was initially a part of Jitsi but it was tweaked to allow other projects to utilize it. The distribution of Libjitsi will follow the Apache license terms.
On the other hand, Jitsi is a collection of Open Source projects that offer advanced video conferencing as well as Jitsi:
Storage. Any available recordings are stored on the company's servers waiting to be uploaded to a location that you pick (Dropbox). If no action takes place within 24 hours, the recordings are permanently deleted.
Security. Someone can activate end-to-end encryption when using Meet on a Web browser that allows streams that are insertable. To activate the end-to-end encryption, find the menu, open it and click on the tab that reads "end-to-end encryption" and click on it. All people who attend the conference should fill in a similar phrase or password that you use.
Ways through which Jitsi meetings operate:
Peer-to-peer (P2P). Users can use the Peer-to-peer mode to conduct one on one meetings. With the P2P mode, communication is secured through DTLS-SRTP encryption.
Jitsi Video bridge. This is used when the meetings involve multiple participants. In this scenario, encryption of communications (both video and audio) still uses DTLS-SRTP. But, the outer layer of the encryption is eliminated allowing the Jitsi packets to cross over the Video bridge. The packets only stay in memory when being routed to other people in the meeting. They are not stored persistently. In the event where even the packets are e2ee, the outer encryption layer will not be removed.
Akamai

Content producers can use Akamai Adaptive Media Player for simplified player settings & to ensure that their audience has access to top-quality online media playback. This Adaptive Media Player (AMP) does not only provide optimized bitrate playback algorithms but also gives users extra online media services.
Monetization. Producers can monetize their activities through ads with Freewheel/ Auditude, mid-rolls, VAST, companions, pre-rolls, or overlays.
Latency. Akamai only allows a 10-second e2e latency. This is enough to give online audiences a real TV experience while streaming. Akamai uses liveOrigin™ to manage low-latency video fragments while streaming HTTP-based media.
Security. To ensure that content is securely transported, e2e, Akamai allows users to get content via a Transport Layer Security (TLS). Users can also prevent unauthorized link sharing through Token Authentication.
Other security features:
Akamai supports platforms that do not use cookies for tracking
It provides an additional protection layer (Access Revocation) which allows unauthorized video streaming sessions to be revoked
Uses AES-128 encryption to protect HLS media against unsanctioned viewing
We recommend you use cloud-based services for your application's back-end. Examples include AWS and Google Cloud. To learn the differences between these platforms, click here.
Related reading:
Video Streaming App Proof of Concept
Conclusion
For investors or media companies that have been looking for fresh and profitable ideas, the podcast industry is the way to go. The success of the Clubhouse is proof that it is a viable business. According to statisticians, the Clubhouse is small today, but it will only continue to grow in the future.
Regarding monetization, there are many ways of monetizing a Clubhouse-like podcasting app. Clubhouse started lean, without ads, but can still make profits. This means a prospective investor has more than one way to make money from a Clubhouse-like application.
To get started with the development of a Clubhouse-like app, The APP Solutions can offer help. We can develop your application from beginning to end. While building your Clubhouse-like product, we also prioritize data security. Thus, we are against the use of Chinese-based software. It's better to choose from other trustworthy software vendors.