What is Artificial Intelligence in Healthcare?
As life expectancy increases, healthcare organizations face an increasing demand for their services, rising costs, and a labor force struggling to meet the needs of their patients. By 2050, one in four people in Europe and North America will be over 65, which means the healthcare system will have to deal with many patients with complex needs. Managing these patients is costly and requires systems to move from an episodic-based service to a more management-oriented long-term care.
AI Technology of Healthcare Providers
Artificial intelligence based on automation can revolutionize healthcare and help to solve vital problems. Few technologies are advancing as rapidly as AI in the healthcare industry. AI is now used in many life spheres, but the health-care industry was one of the first to use it widely. According to Statista, from 2016 to 2017, the AI ​​market in healthcare grew by $ 500 million (from 1 to 1.5 billion), and by 2025 is predicted to grow to 28 billion.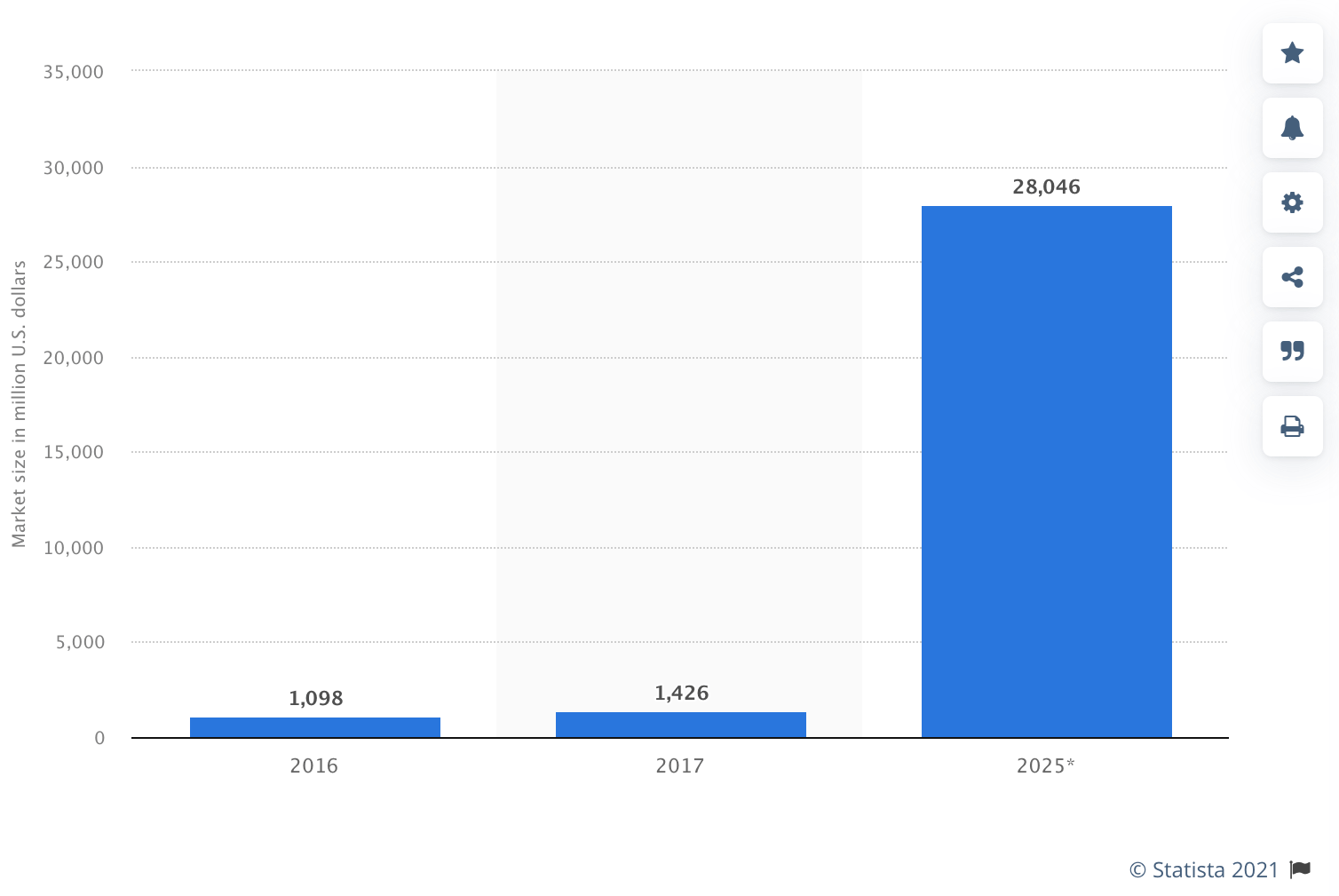 An even more optimistic forecast is given by Tractica – by 2025, growth is projected to be 34 billion, and by 2030 to 194.4 billion.
All of these investments include case studies on patient data processing and management, and transformation from paper to digital format, digital image interpretation (for example, in radiology, ophthalmology, or pathology), diagnosis and treatment, biomarker discovery, and drug efficacy calculations.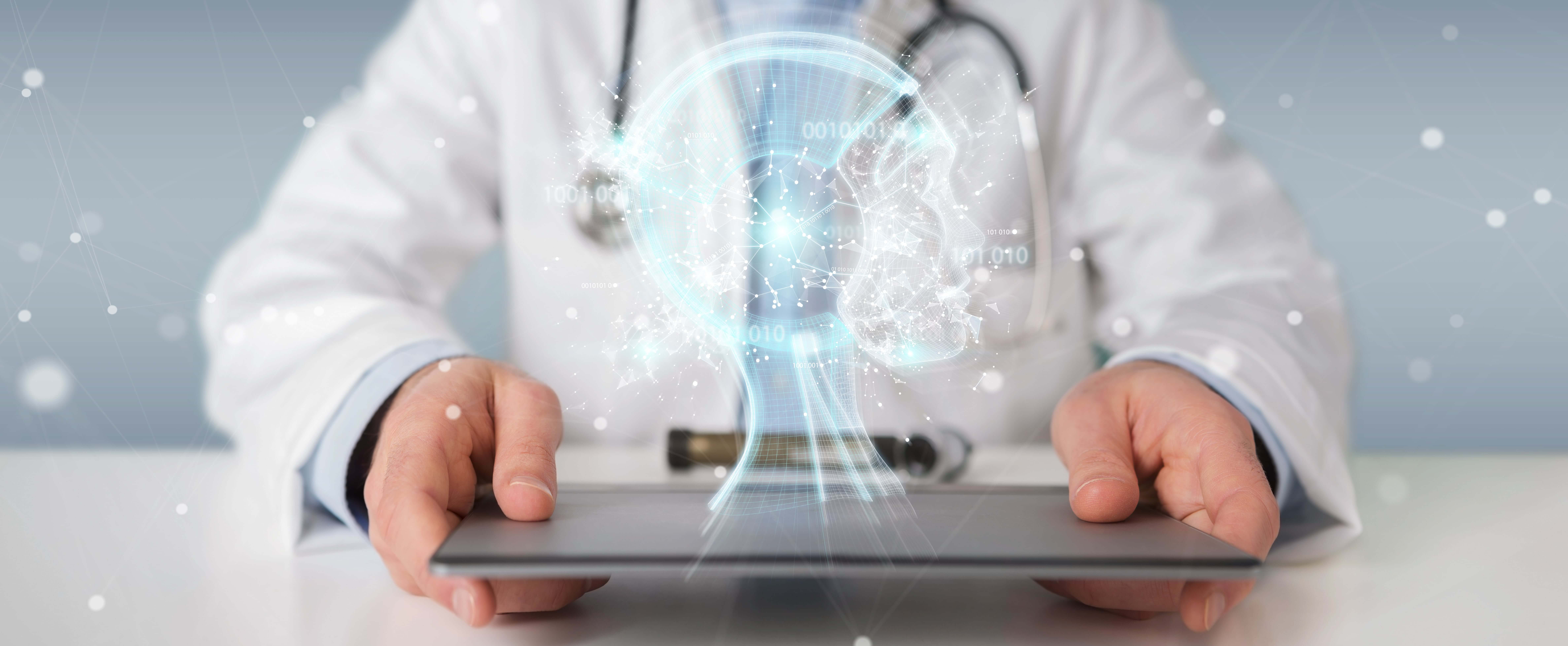 Forbes says AI tools are already being implemented in 46% of service operations, 28% in product and service development, 19% in risk management, 21% in supply chain management, and 17% in marketing and sales in the healthcare industry.
North America dominated the healthcare AI market with the largest share of revenues at 58.9% in 2020. Factors which determine the market in the region are a broader adoption of AI technologies, growing licensing and partnerships, and favorable government initiatives.
AI has proven to be an important resource for evaluating patient scan data and identifying treatment options throughout the pandemic. It has also been also used to improve the administrative operations of hospitals and health centers. As a result, we may see more business applications from healthcare providers for more widespread use in medical procedures.
How To Make A Medical App In 2021: The Ultimate Guide
EIT Health and McKinsey, in their report 2020, drew attention to which areas of medicine artificial intelligence is most often used.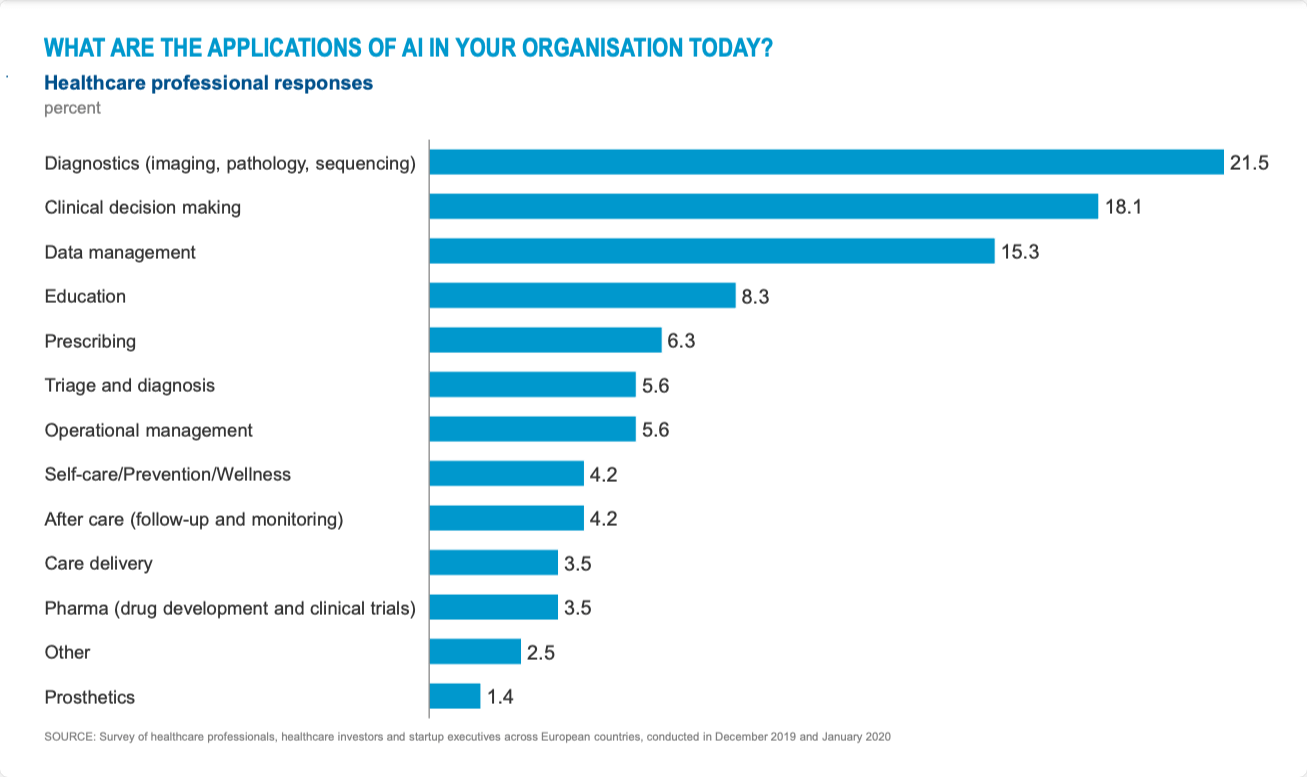 As you can see, first of all, these are diagnostic tests and clinical research. However, a large amount of investment is also spent on technologies related to managing the way hospital's function. Education and prescription automation are also included.
For example, AI is already being used to more accurately detect diseases such as cancer in their early stages. According to the American Cancer Society, most mammograms give false results. One in two healthy women are being told they have cancer. Using AI, mammograms can be viewed and translated 30 times faster with 99% accuracy, reducing the need for unnecessary biopsies.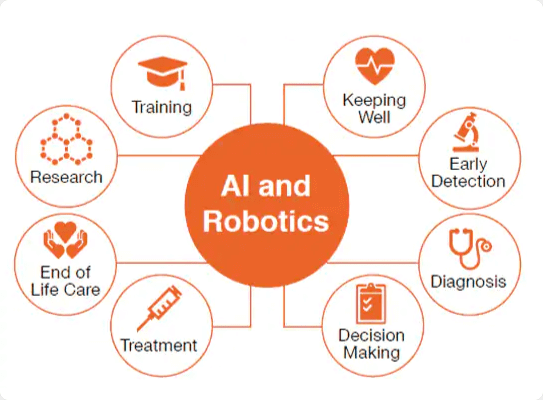 Three Phases of Scaling
AI in healthcare is a pervasive technology that can be successfully applied at different levels, depending on the complexity of the development.
First Phase
AI is solving routine paper, managerial, administrative processes that take time for doctors and nurses.
Second Phase
Remote monitoring. According to Accenture, artificial intelligence and machine learning can help meet 20% of all clinical requirements by reducing unnecessary clinic visits. At the same time, it is possible to reduce the number of readmissions to hospitals by 38%.
As AI in healthcare improves, patients will take more and more responsibility for their treatment. Already, successful developments are being applied in such complex fields of precision medicine as oncology, cardiology, or neurology. For example, clinicians can be virtually close to their patients and observe certain conditions without personal visits.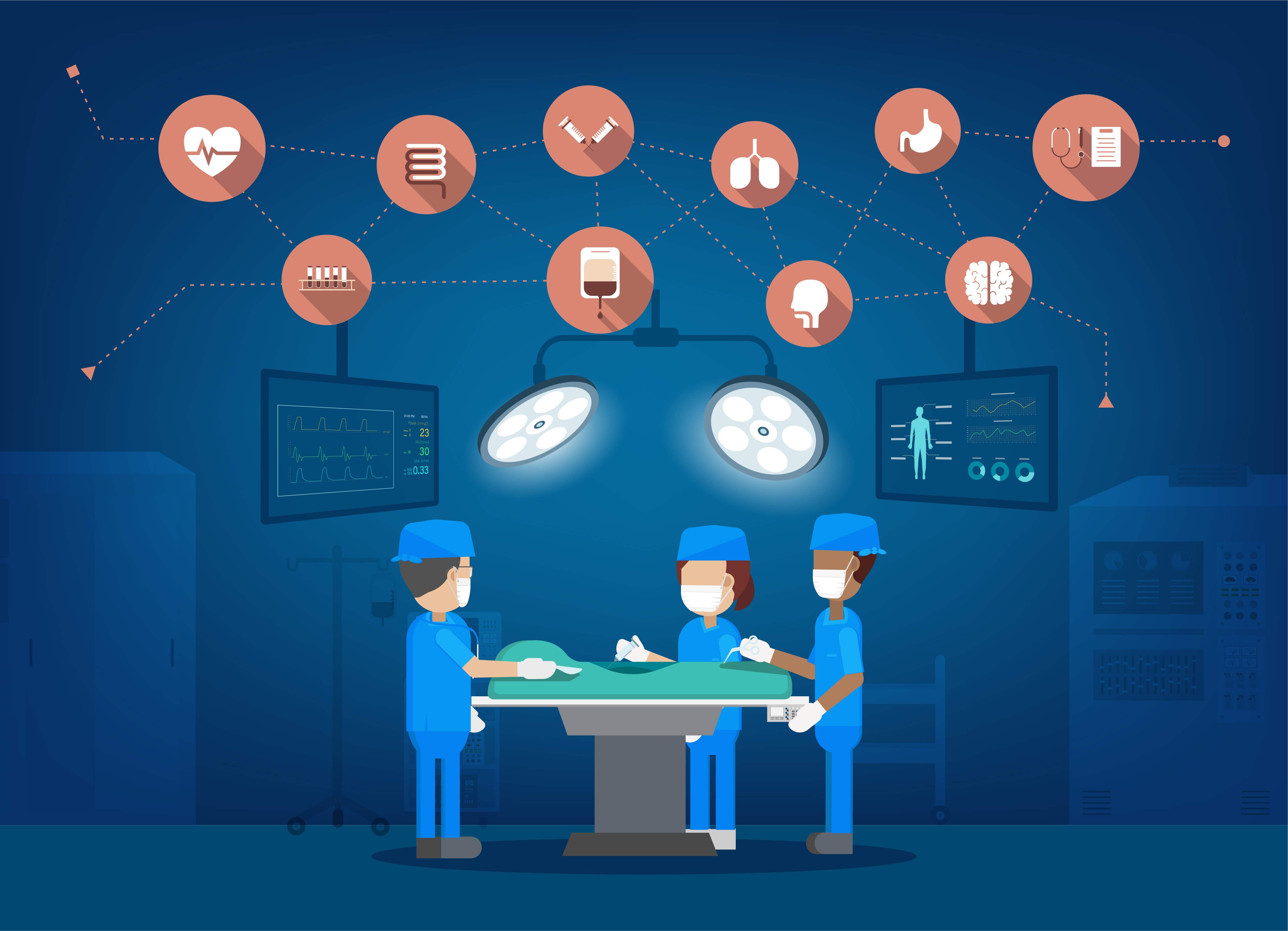 This technology has proven to be especially useful during the pandemic when personal care was limited, but patients still needed support from their medical providers.
Third Phase
AI in healthcare will become an integral part of the healthcare value chain, from learning, researching, and providing care, to improving public health. The integration of broader datasets across organizations, and robust governance for continuous quality improvement, are essential prerequisites for greater confidence among organizations, clinicians, and patients for managing risk when using artificial intelligence solutions.
AI Tools
Artificial intelligence is reshaping healthcare, and its use is becoming a reality in many medical fields and specialties. AI, machine learning (ML), natural language processing (NLP), deep learning (DL), and others enable healthcare stakeholders and medical professionals to identify healthcare needs and solutions faster and with more accuracy.
Does Your Business Really Need An Enterprise Artificial Intelligence
AI vs. COVID-19:
Patient Outcomes
Artificial intelligence technologies have played a critical role in the ongoing pandemic and positively impacted connected markets. It is used to quickly detect and diagnose virus strains and combat outbreaks with personalized information. For example, AI algorithms can be trained using chest CT images, infection history, symptoms, clinical documentation, and laboratory data to quickly diagnose COVID-19 positive patients.
In 2020, an NCBI study found that an artificial intelligence system identified 17 out of 25 COVID-positive patients based on typical computed tomography images, while experts diagnosed all patients as COVID-negative.
Thus, AI-based diagnostics can be used to accurately detect the disease even before the onset of apparent symptoms. In addition, these systems can be trained to analyze images and patterns to create algorithms to help healthcare professionals diagnose the disease accurately and quickly, thereby increasing the spread of AI technologies in healthcare. This will significantly reduce the load on the system and improve patient outcomes.
Related readings:
Calmerry Online Therapy Platform
Orb Health – Сare Management As A Virtual Service
BuenoPR – 360° Approach to Health
Benefits of AI/
Machine Learning

in Healthcare

There are several areas in which AI has excelled, especially significantly helping doctors and medical institutions with the challenges that are becoming more and more in the modern world.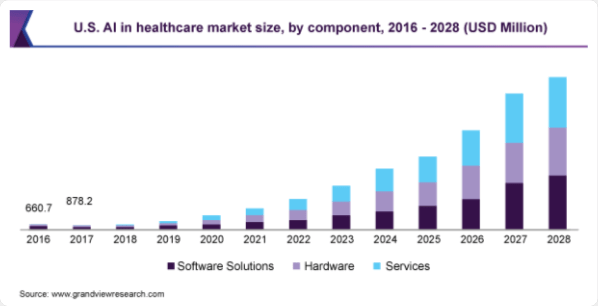 Predictive Analytics
With the rapid growth of medical knowledge, it is becoming increasingly difficult for doctors to keep up with the times. AI solutions that extract relevant medical expertise for each patient, and present it in a structured way can help clinicians choose the best treatment option, saving time and leading to more complex fact-based decision-making.
In a routine clinical setting, AI models can also detect patients at high risk of complications, or early deterioration, and provide recommendations to further support clinical decision-making with the prevention or early intervention. Reducing complications through early intervention can lead to improved health outcomes and reduced length of hospital stay and associated health care costs.
Predictive Analytics Vs. Machine Learning: What Is The Difference
AI can help identify a patient's condition and recommend possible care and treatment options. This can save physicians doing research and, in turn, spending more time evaluating the possibilities presented by the AI ​​and discussing them with the patient.
One successful, and most importantly, relevant examples (in the midst of COVID) is a technology that predicts the oxygen levels of each patient. The engine indicates oxygen requirements within 24 hours of arrival in the emergency department with a sensitivity of 95% and specificity of over 88% based on previously examined X-rays. Software is being created that makes the work of radiologists unrealistically easier.
Data Mining Vs. Predictive Analytics: Know The Difference
In the end, AI in healthcare could create a complete "home" version. For example, technologies already make it possible to produce "smart" toilets that could analyze urine and feces "on the spot." Another question is that it is unlikely that the invention will have many fans at this stage of human development.
However, this extravagant decision could free up many laboratory specialists involved in this type of analysis for more complex work. And if you look more into the future, doctors will treat the consequences of patients who were too lazy to check urine tests on time (which they could have done without even leaving home).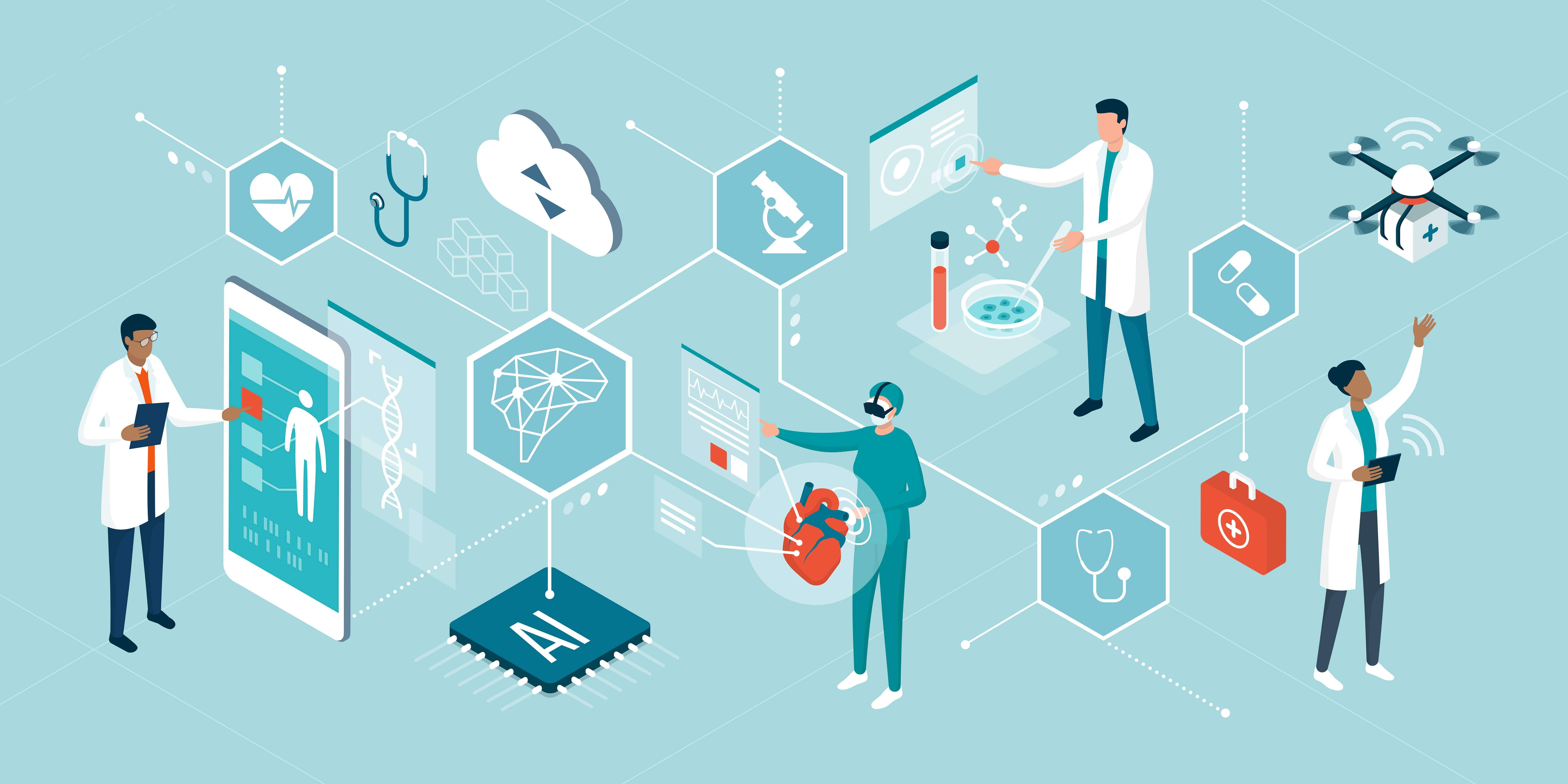 Storing and Organizing Patient Data Bases
AI, in particular machine learning, can also be used with large datasets to predict health outcomes, helping healthcare systems focus more on prevention and early detection, improve health outcomes and, over time, make health care systems financially sustainable.
The big data automation capabilities, and real-time analytics built into syndromic surveillance, provide the information you need to understand disease progression and predict its risk to patients before it occurs. In addition, track disease symptoms, better manage public population health by predicting hospital utilization, geographic leaps, and associated material and resource requirements.
Want To Build a Healthcare Mobile App?
Using AI to analyze large datasets can be helpful in both healthcare settings and epidemiological research. AI models based on clinical data from a large population (e.g., patients in a healthcare region or an integrated healthcare provider system) can help identify early risk factors and initiate preventive action or early intervention at the system level.
They can also help prioritize during times of staff shortage. Likewise, identifying an increased risk of unplanned hospitalization can help clinicians proactively intervene and avoid them.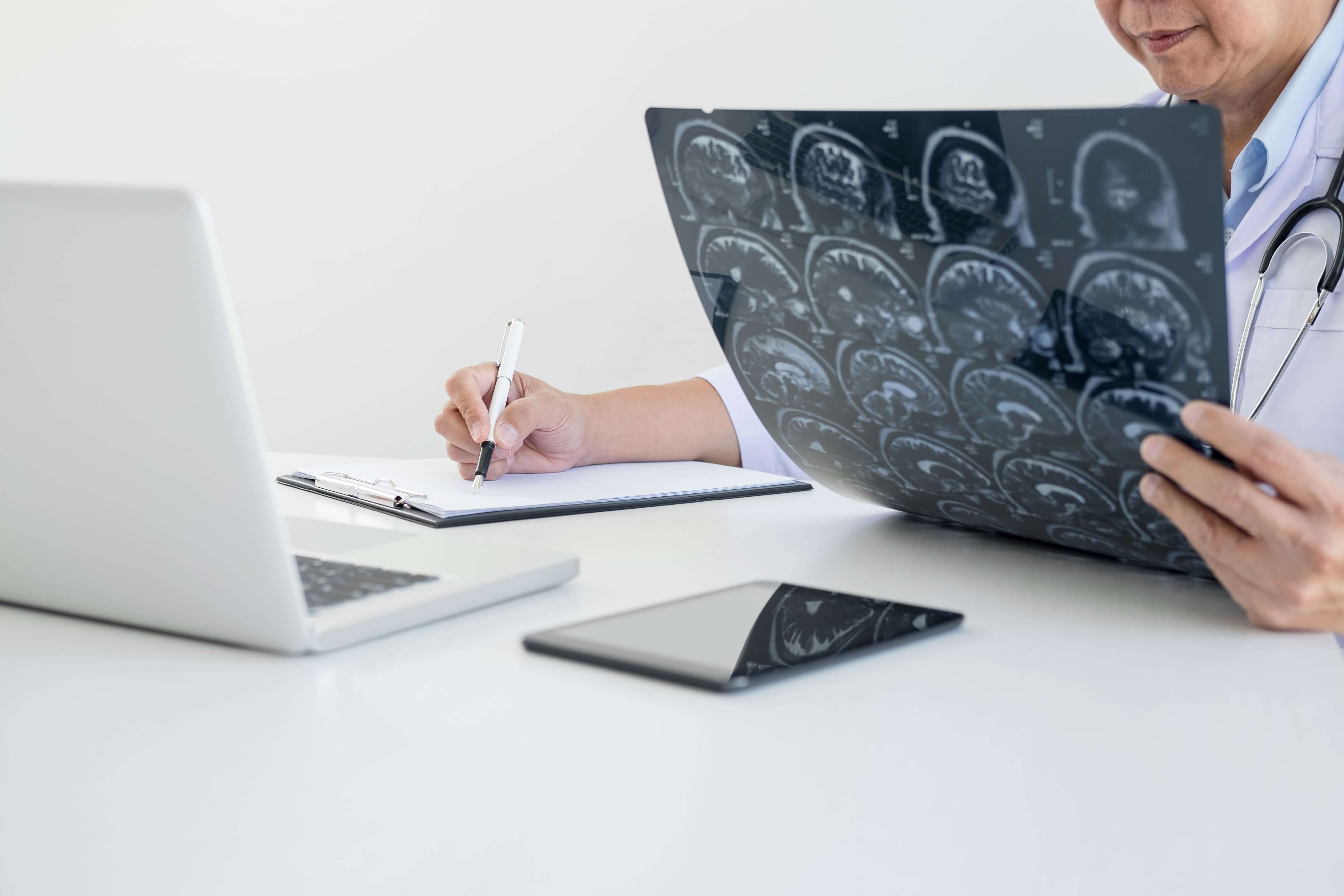 Analysis of Digital Images
Radiologists and cardiologists make it much easier for themselves to work with images and scans, thanks to the capabilities of AI. Technological advances in this area allow you to prioritize critical cases, avoid potential errors in reading electronic health records (EHR data) and electronic medical records (EMR) and establish more accurate diagnoses.
AI algorithms can analyze big data sets quickly and compare them with other studies to uncover patterns and hidden relationships. This process allows medical imaging professionals to track critical information swiftly.
The Patient Brief examines past diagnoses and medical procedures, laboratory findings, medical history, and existing allergies and provides radiologists and cardiologists with a summary that focuses on the context of the images. The product can be integrated with any structure of the medical unit's system, accessible from any communication workstation or some medical devices on the neural networks, and be updated without affecting the daily activities of the medical department.
AGILE HEALTHCARE: HOW TO IMPLEMENT THE APPROACH
AI and Pharmaceuticals
Another truly revolutionary example of the positive uses of AI in healthcare is drug research and discovery; one of the most recent AI applications in healthcare. By channeling the latest advances in AI to streamline drug discovery and repurposing processes, both the time to market for new drugs and their cost can be dramatically reduced.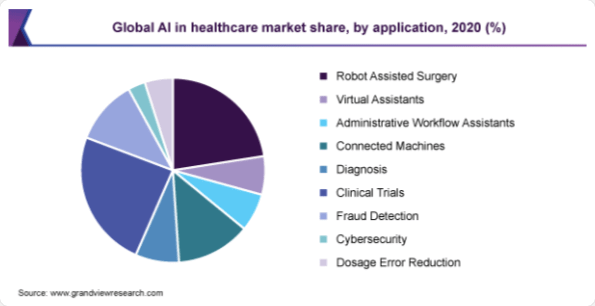 Supercomputers have been used to predict, based on databases of molecular structures, which potential drugs will, or not, be effective for various diseases. AI and machine learning algorithms can identify new drugs, track their toxic potential and mechanisms of action. This healthcare technology has led to creating a drug discovery platform that allows the company to repurpose existing drugs.
Identifying new uses for known drugs is another attractive strategy for large pharmaceutical companies since it is cheaper to repurpose and relocate existing drugs than to create them from scratch.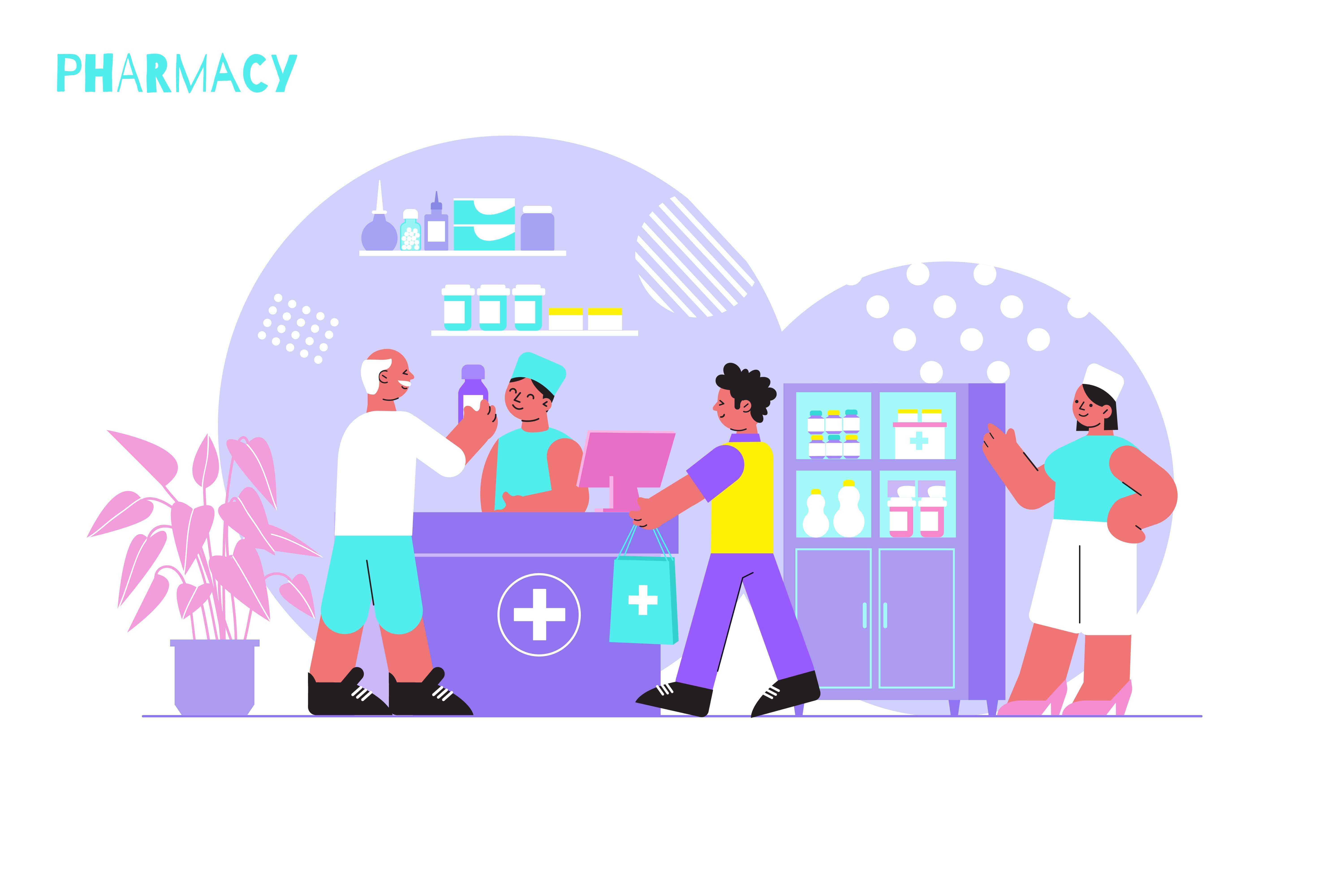 KEEP A PULSE ON EPIC APP ORCHARD AND HOW IT BENEFITS THE HEALTH SYSTEMS
AI and Genetics
Altered molecular phenotypes, such as protein binding, contribute to genetic diseases. Therefore, predicting these changes means predicting the likelihood of a genetic disorder. This is possible due to data collection on all identified compounds and biomarkers relevant to specific clinical trials.
This allows us to recognize genetic abnormalities in the fetus and compose an individual treatment for a person with sporadic congenital disease.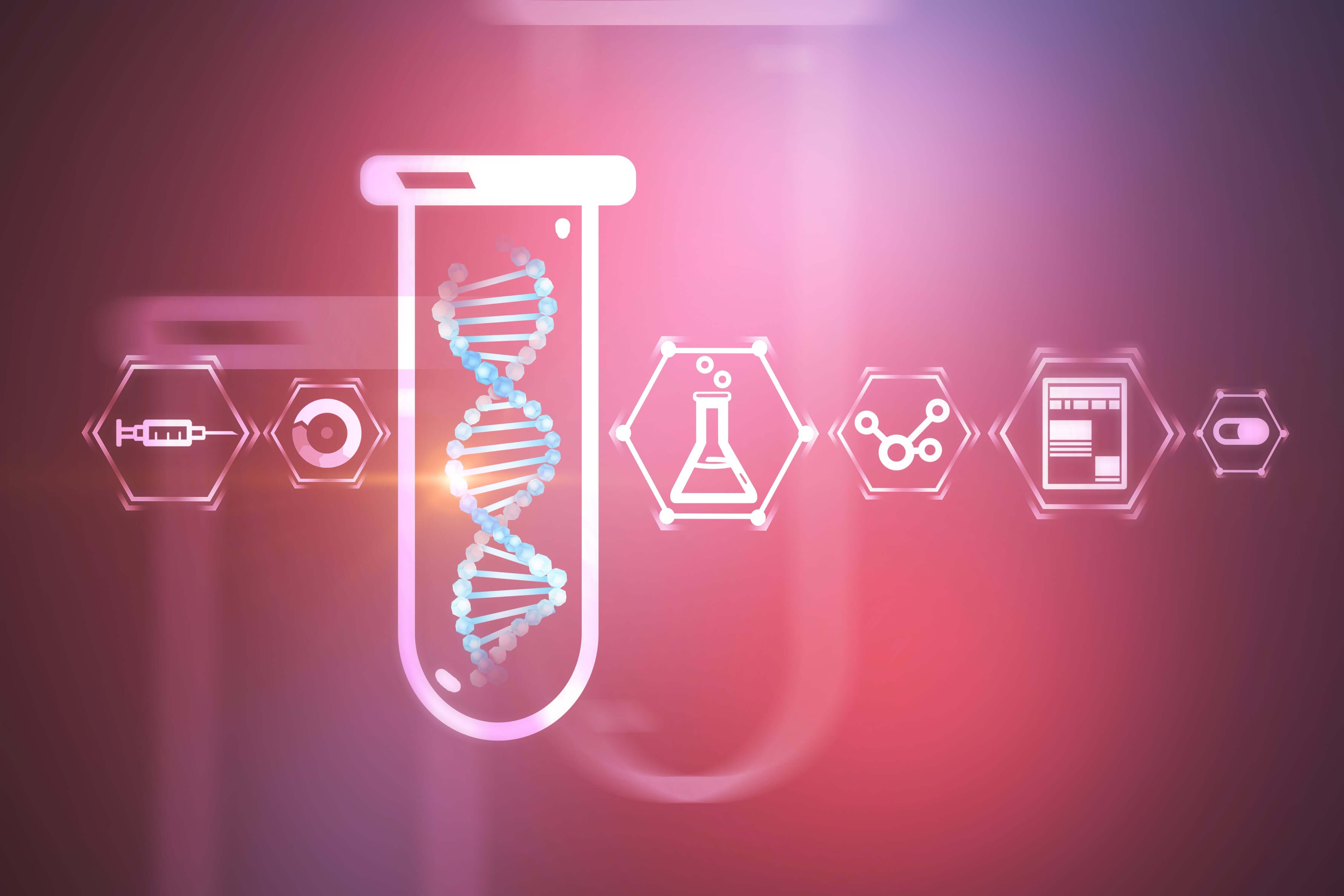 AI in the Healthcare Apps
The growing popularity of smartphones and AI technologies among patients and professionals is driving the proliferation of virtual assistants. In addition, robotic surgery has been the most promising segment in the AI healthcare market as of 2020. This is mainly because surgical robot manufacturers are entering numerous strategic partnerships with data science and analytics companies and artificial intelligence technology providers.
The leading players in the AI ​​market:
IBM Corporation
NVIDIA Corporation
Nuance Communications, Inc.
Microsoft
Intel Corporation
DeepMind Technologies Limited
Healthcare Mobile Apps Development: Types, Examples, And Features
Future of AI/Deep Learning in Healthcare: Perspectives
According to The World Health Organization forecasts, the number of medical workers is steadily decreasing every year, and by 2030 there will be a shortage of almost 10 million professionals. AI, machine learning systems, and NLP can transform the way care is provided, meeting the need for better, more cost-effective care and helping to fill some of this gap in staffing. This is especially true as the population ages and health needs become more complex.
As the next step in telemedicine, Telesurgery aims to help reduce the damage caused by staff shortages. Telehealth, or virtual meeting, has become more widely used during the pandemic. This service has been used by those living in remote areas for several decades, but regularly by telephone rather than video conferencing.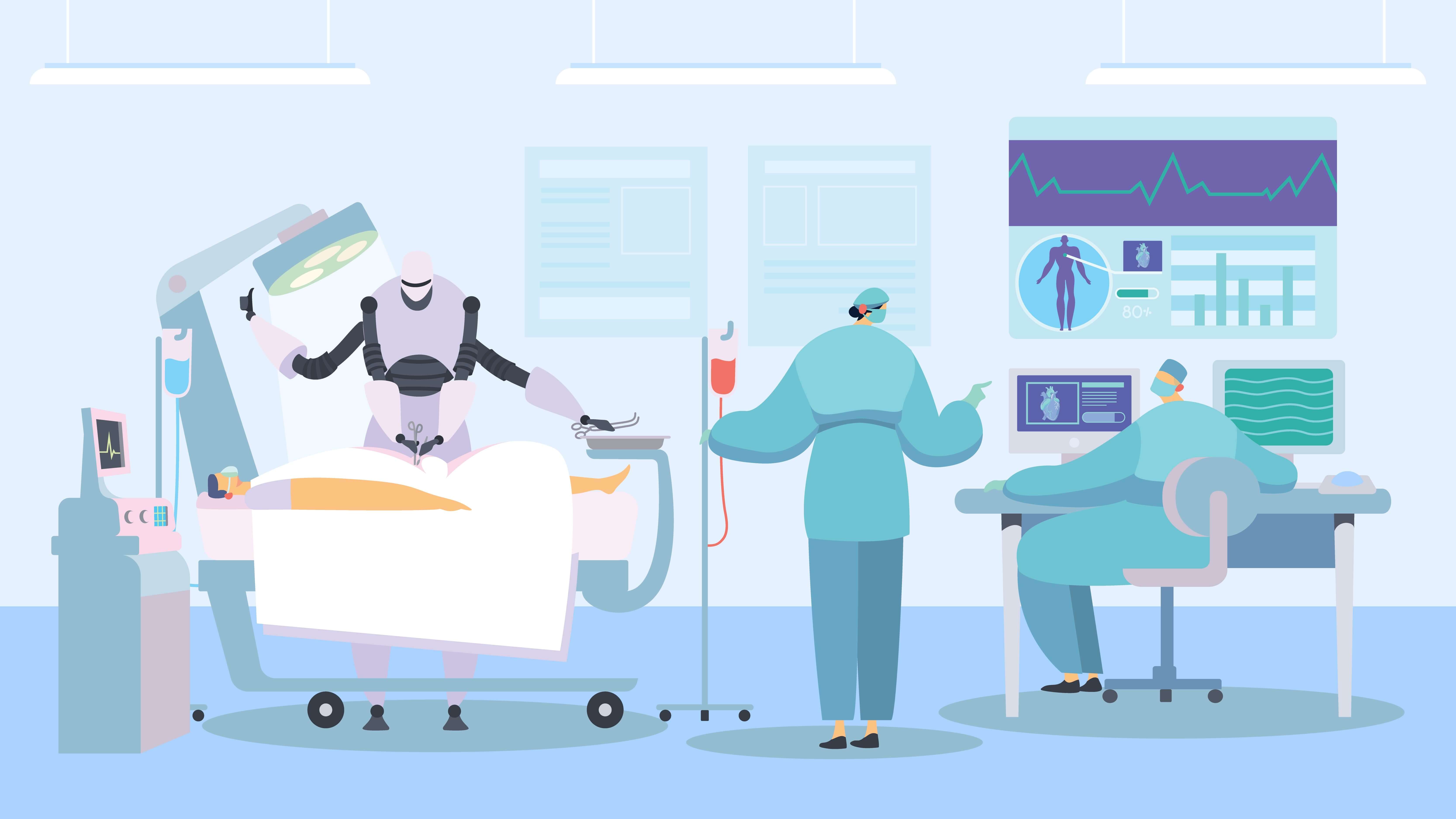 With the pandemic and the need for social distancing, telemedicine has become an integral part of healthcare services. Therefore, it has improved significantly as a result of the demand throughout the pandemic. Telesurgery is a field that is being researched and can be used in the provision of emergency care.
The current use of robotics in surgery allows physicians to perform minimally invasive surgeries and limits the impact of the procedure, improving outcomes. Expansion of surgery automation will continue to include AR and VR for increased productivity.
Telesurgery is the next step being researched and provides access to a surgeon who does not specialize in the patient's area of ​​residence. This saves the patient from traveling and can also be used when the patient requires immediate assistance. Problems may include delay and the need for a surgical team to support the procedure if a problem arises.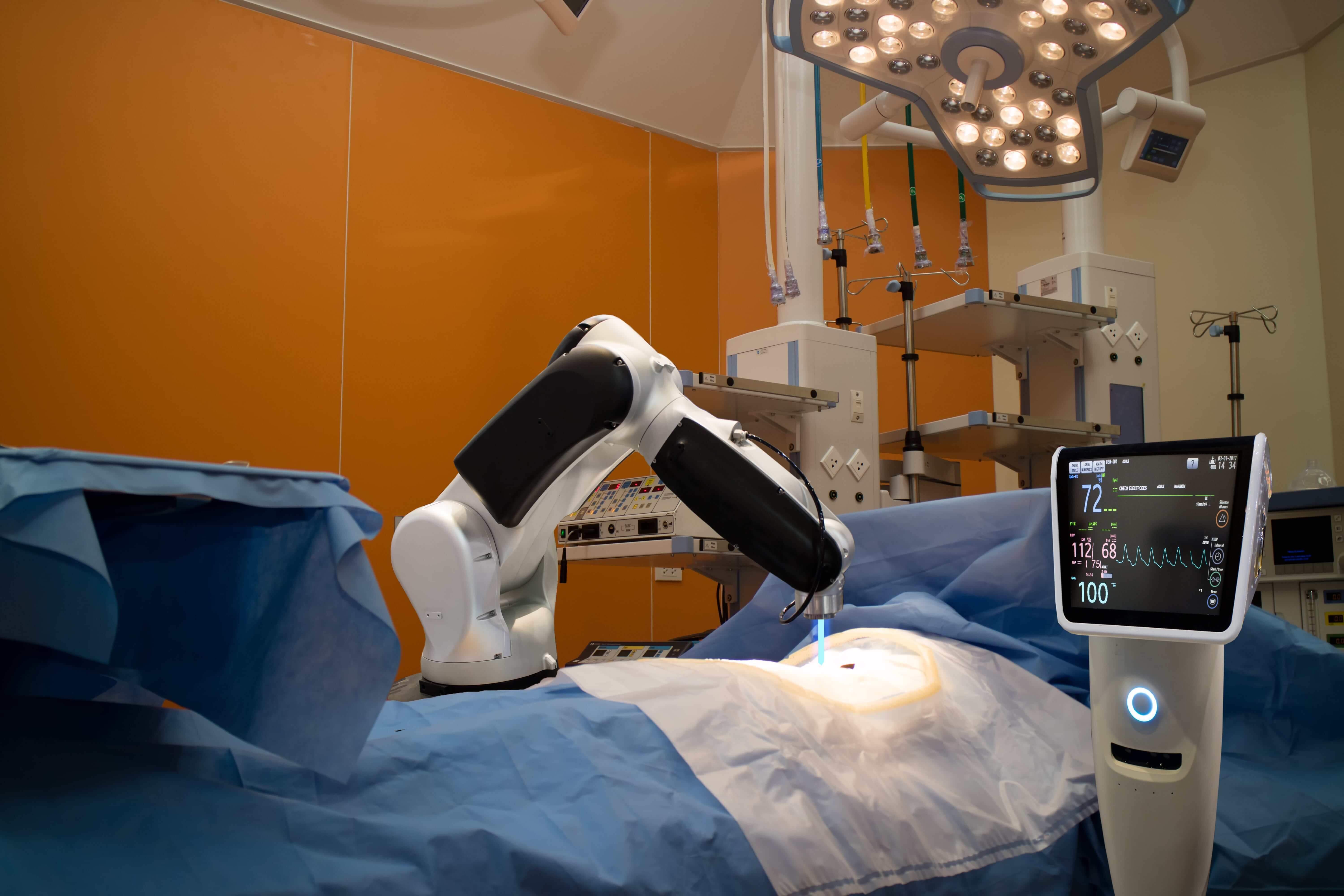 AI and automation are uniquely positioned to understand these needs and the complex interdependencies between various factors affecting public health. In addition, the extraordinary shift from symptom-based medicine, to molecular and cellular medicine, is generating ever-growing data amounts.
The pace of change in AI within healthcare has accelerated significantly over the past few years thanks to advances in algorithms, processing power, and the increasing breadth and depth of data that can be used. In response, countries, health systems, investors and innovators are now focusing their attention on the topic.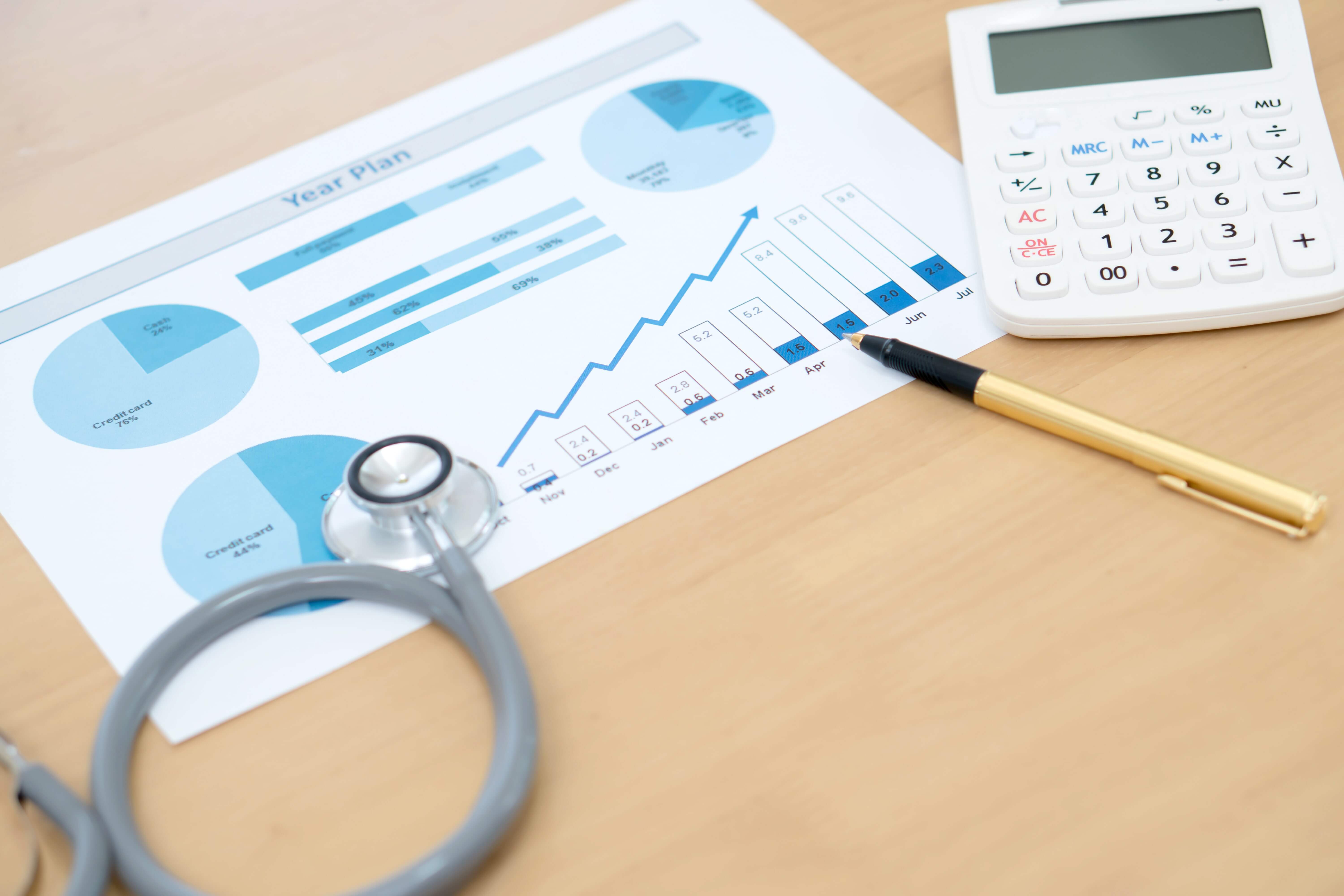 Global venture capital funding for AI, ML, and deep learning in healthcare has reached $ 8.5 billion for 50 companies as clinical trials of AI healthcare applications increase.
And although AI will not be able to replace medical personnel (especially doctors) entirely, however, with the gradual introduction of technologies, the work of doctors will change only in a positive direction:
More time for patients – less for paperwork (time optimization from 20 to 80%)
Acceleration and improvement of diagnostics (especially in such fields as radiology, ophthalmology, pathology)
Assistance in prioritizing the complexity of a patient's condition (e.g., determining the likelihood of a heart attack, septic shock, respiratory failure)
Improving the soft skills of clinicians by changing the format of communication with patients (people with chronic diseases can be served from home thanks to telemedicine)
Increased educational level (while less severely ill patients can be treated remotely, the hospital will mainly admit patients with more complex cases, which requires more advanced skills from doctors)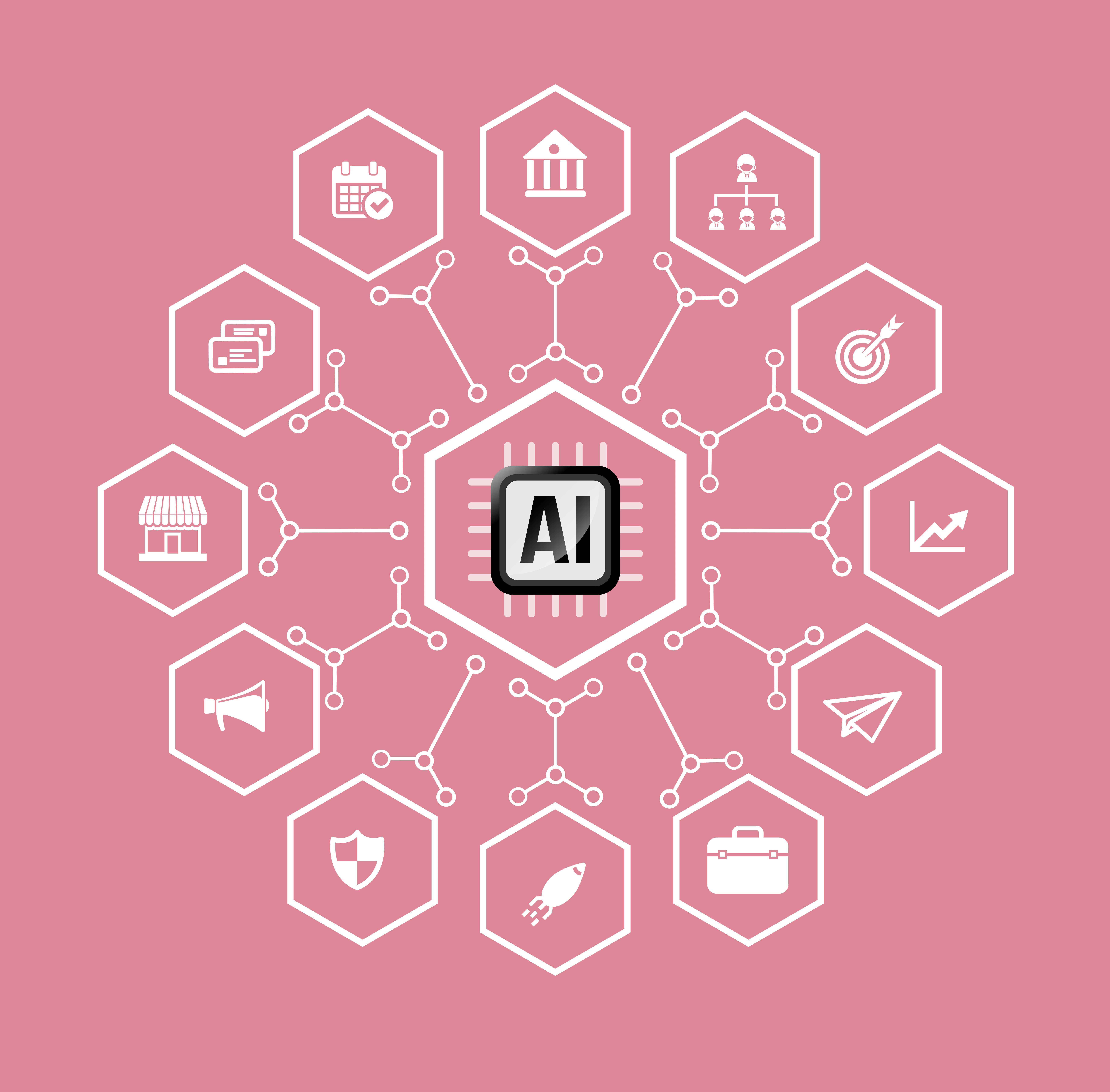 AI bias in Healthcare: Disadvantages and Challenges
AI does not always become the optimal solution and salvation from all problems. This happens for several reasons:
Insufficient development of technologies (moreover, several companies can solve the problem at once, but in the end, none of them will make a high-quality product that can be immediately thrown onto the market). The solution could be the unification of diverse teams that could consider all the necessary nuances.
Changes in the medical education system around the world (the more technological solutions that can be offered to doctors, the more technically savvy they will have to be, and even top medical universities have not yet reorganized these new realities. Changes in patient behavior caused by AI also implies a change in the relationship between patients and practitioners, with the latter needing more attention to counseling and interpersonal skills).
Databases (healthcare is one of the minor digitized sectors of the economy. Healthcare providers and AI companies need to implement robust data management, ensure interoperability and standards for data formats, improve security, and clarify consent to exchange health data).
Regulation and risk management (defining the regulatory framework for AI in healthcare is significant for solving possible problem situations in which it is difficult to determine the degree of responsibility of all parties to the conflict).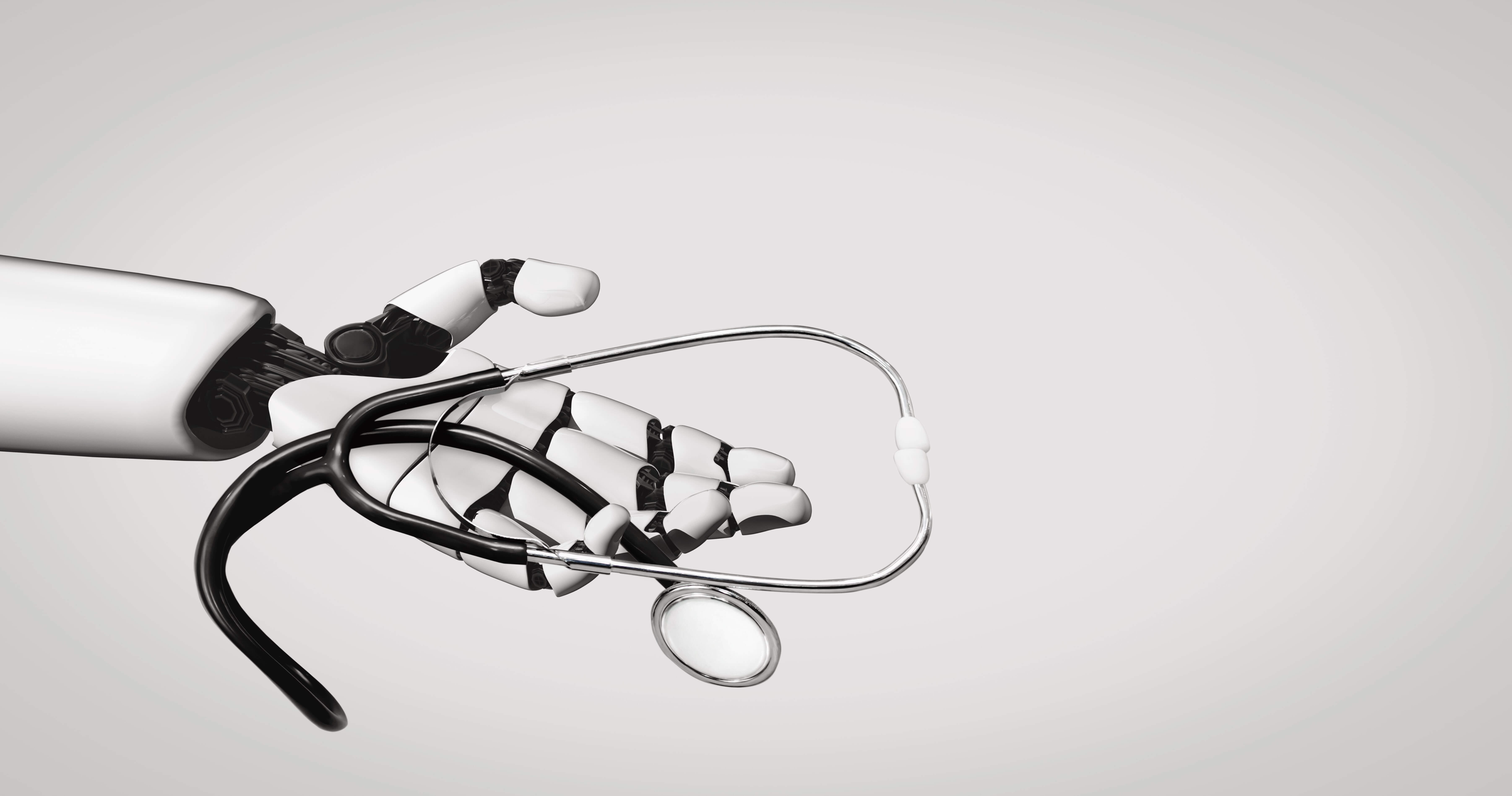 Summary
AI in medicine still has many different stages to go through; the improvement process is only gaining momentum. But positive results are already visible. There are still fears that the excessive interference of technology will make the medical field less "human," but only people who have not delved into the issue can speak this way. The more technologies are used in medical diagnosis, prevention, and treatment, the more time an actual doctor has directly for the patient.
Many medical and health apps help people self-diagnose their health, which ultimately allows doctors to focus on treatment. The development of such applications is carried out by companies with high expertise, including The APP Solutions. We are a highly skilled app development company who can bring your ideas to life, and we look forward to meeting you. If you have an interesting idea but are still contemplating how to implement it, contact us, we can help.
Credits to Depositphotos