Mobile is no longer winning... It has already won! Thus developing products catered to the mobile experience is a must.
Despite notorious fact that the legal industry is slow to adopt new technologies, 2013 was a year of the law firm app gold rush. There was a 62% increase in American Lawyer 200 and Global 100 firms using apps between 2012 and 2013.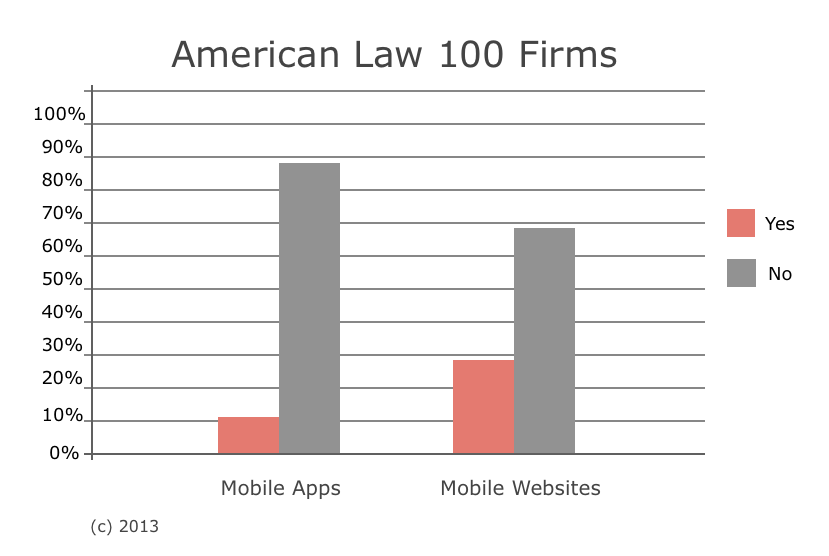 Optimizing law firm website for mobile use became the old fashion, as 87% of consumers spend most of their time on a mobile app rather than a mobile browser, recent research says.
See also: How to create your own app?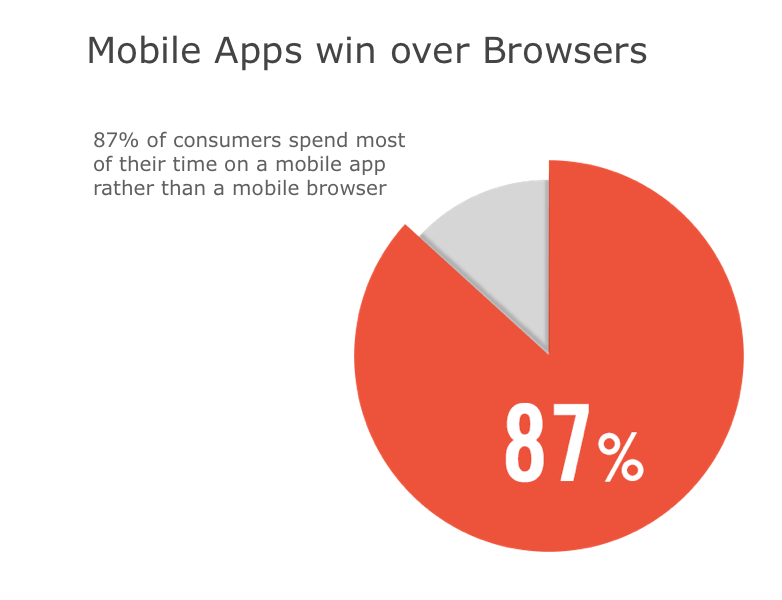 Moreover, most consumers go to the Internet while decision-making before any major purchase, whether they are buying a new car or hiring a lawyer.
Thinking why every attorney firm should have a lawyer mobile app, have a look at some facts below.
According to the "Attorney Selection Research Study", more than three-fourths (76 percent) of adult Internet users in the United States seeking an attorney turned to online resources.
31 percent of consumers are looking up lawyers using their mobile phones and tablets. By the time you read this, that number will undoubtedly be higher.
The survey findings confirm the law firm will have the pretty good odds of being hired if it has a mobile app to connect with clients on a personal level.
The reason is clear as a whistle. If you can solve legal problems for people without forcing them to come into your office, then when they actually are in sore need of legal assistance they'll trust you.
This article was written to make the mobile app development for law firms more comprehensible and uncover its opportunities and perspectives.
How to make app for lawyers
Law firm apps can vary in their purpose and functionality. Certainly, the cost to develop an app for lawyers depends on features embraced by the app.
Having your own legal app is one of the most powerful ways to:
Promote your firm on the market
Build more valuable relationships with customers
Encourage customers' loyalty
Protect and support your customers at any time
Save time and money
Generate referrals
Retain customers and reach out to new clients
Before deciding to build a mobile app for attorneys you should define its purpose and objective.
Some more statistics on the subject show a vast range of purposes to which the lawyer mobile app can be dedicated.
Thus in 2014 BigLaw firms have collectively produced a total of 68 apps.
Of the 68 apps, 4%were focused on recruitment, 12% were produced for events (internal or external), 22% provided general firm information and client communications, and 62% presented legal resources and tips of various types. 71% of these apps are offered on the iPhone and 29% on Android.
Read also: Android vs iOS Development
You might think that to develop a mobile app for law firms is only about customer care. Well, that's not exactly true. Potential users of lawyer mobile app are not limited to clients and can include the media and publishers, different members of the legal community as well. The app also can be used for internal objectives, giving the attorneys convenient tools to support their practice.
Accordingly, we can divide legal apps into two main categories:
apps that provide services for clients
apps that provide services for attorneys
Attorney oriented legal apps
Surveys prove, 91 percent of attorneys use apps for professional purpose.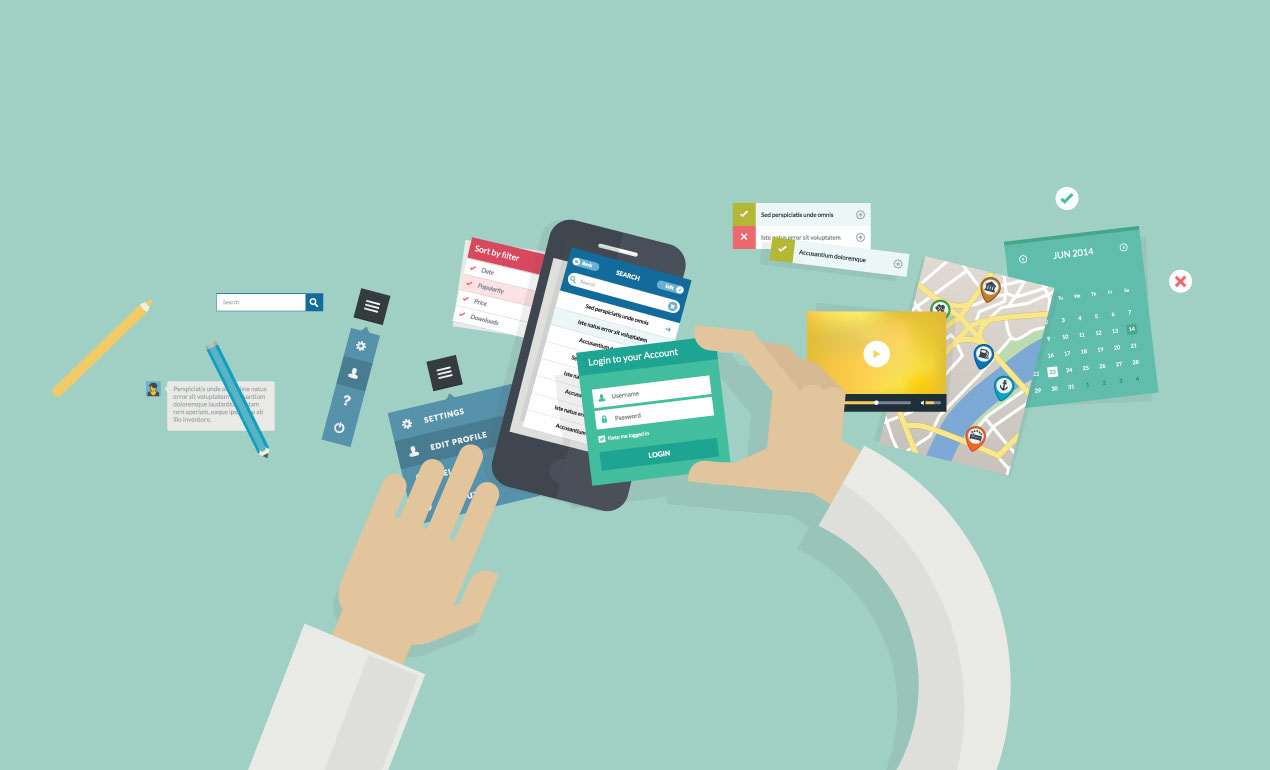 There are lots of various apps with core functions to facilitate lawyers' daily routine.
These functions may enable the following capabilities:
Professional networking with colleagues, including chats and recruiting
Taking notes and recording of a meeting
Organizer: calendar, meetings set up, flights and hotels booking
Transforming voice to text
Storing and sharing documents
Managing lists, calendars, and documents
Combine these features in the app in a proper way and you'll get an outstanding idea for startup or solution that could increase your company's productivity.
Read also: How To Build a Mobile App With Geolocation
Apps in this category can be used to support partners providing them with mobile access to information on all the firm's services. And as an additional feature, apps can allow signing the contracts electronically.
One more opportunity is using the app as a document library. This allows employees to work on contracts or other legal documents while on the go, and to submit them electronically in their own time. In this case, you need to take a special care about back-end part of the app to provide a file storage. You can go another way and use cloud technologies.
Also, there is a wide variety of products that provide lawyers with the list of laws, so they can leave their heavy volumes at home and have everything needed right on their devices.
New York Laws is a nice example of such kind of an app. It provides complete offline access and enables useful features:
Custom notes, highlighting text
Customized bookmarks
Emailing any article
Quick search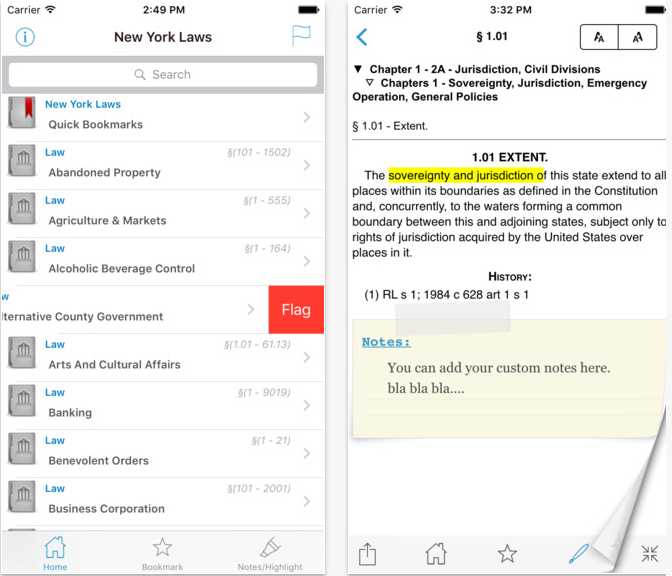 Customer oriented legal apps
At first, law firms' apps were just an app versions of law brochures and didn't offer much functionality and feedback. Later the recognition that apps could have the potential for serving serious client needs has grown.
Thus law firms began to compete to succeed in this.
Now everyone understands that providing clients with the best service in the field is the way to boost your credibility and promote customers' loyalty.
Reсent studies have discovered that for some people it is easier to schedule an appointment in writing than to pick up the phone. So, the capability to schedule a legal consultation in one click is a must, if you are aiming at a powerful solution to engage clients.
Also, apps can allow lawyers to make communication with customers more efficiently. Lawyers can provide customers with legal documents directly on their mobile devices. They can send "push notifications" to advise on legislation changes, deliver the latest updates, and ensure that they always have access to relevant legal information.
Here are some basic features, that legal apps for customers can possess to encourage their advocacy:
Synchronization of mobile app with firm's website
Built-in social media platforms to spread the word to your customers
Push notifications to keep customers informed about their case
Built-in live chat
Sending files securely via Drop Box
Video case studies, interactive diagrams, and supporting documents
Educational tips in the form of FAQs, email courses
To provide an excellent service and seamless user experience you can dedicate your app to a specific issue. Some law firms are focusing on crisis management. Through the apps, they help clients respond to the arrival of government agents or a subpoena. For example, DLA Piper Global Law firm offers Rapid Response. This app provides legal crisis assistance at the touch of a button.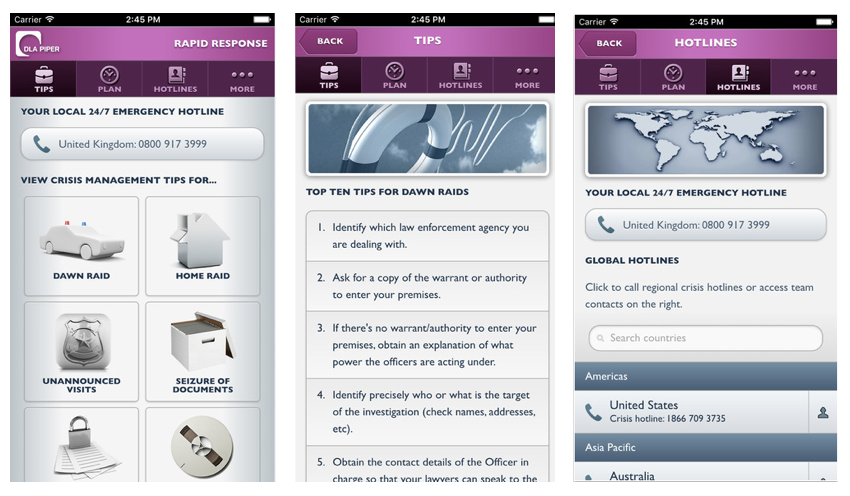 It includes such features:
- Hotlines
Local emergency hotline available 24/7, giving you immediate access to crisis management lawyers and communications specialists.
- Tips
Top tips to assist in a crisis situation whilst you await legal advice.
- Plan
Information to help you understand how prepared your company is for potential crises.
Fox Rothschild, a nationwide commercial legal firm created Data Breach 411 app, which helps companies understand privacy rules and regulations, so they can better know their rights, obligations, and potential liability.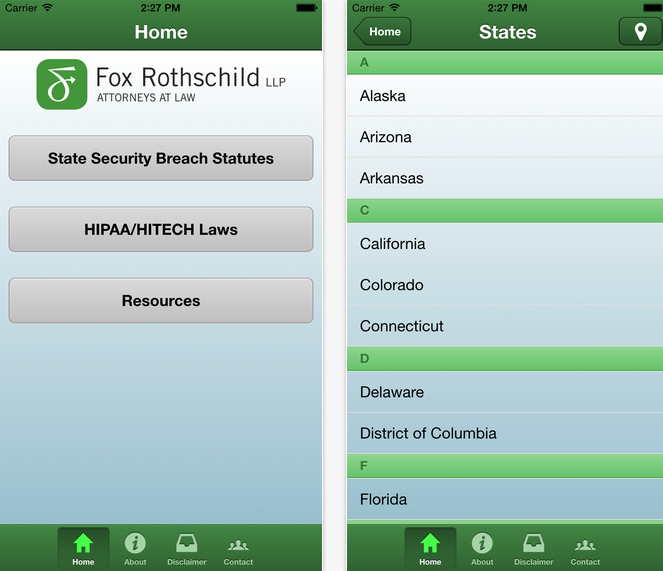 Also, you can find law apps dedicated to a very narrow issue. For instance New Jersey Divorce App. It provides users with helpful resources and easy access to information for every stage of the divorce process.
Literally, customers can put the law firm in their pocket.
Essential screens of the legal app
There are essential screens that should be included in your app, whether you give corporate legal consultations, provide legal help for auto accidents, brain injuries, foreclosures, or something else.
1. The About Us screen
On this screen you should clearly describe all the services you offer and explain your experience in each field. Help your potential clients understand if you can help them in their time of need.
Don't be a faceless law firm. Your mobile app gives your firm a chance to connect with clients on a personal level. Include pictures to let people know that your lawyers are friendly and approachable.
2. Immediate contact screen
Many clients want to get you on the phone immediately. Being a lawyer, you may know that everyone wants to solve his legal problems as soon as possible. So, don't force your clients to search your emergency number. Make it visible and quick to access.
3. Free tips screen
Create blog or free resource center. Provide clients with useful tips that answer FAQs. This helps build your social credibility and keep your firm in the back of client's minds.
4. Schedule an appointment screen
It may be a simple app's screen that includes a quick area to describe the case and a date on which the customer wants to meet with you. This feature is sufficient to increase your client retention rate.
Other screens of your app depend on the features and services you offer.
Conclusion
Today the multifunctionality and limitless versatility of smartphones can be described with subtle metaphor - they are as the Swiss Army Knife.
Business has recognized that support of client needs is no more the extra value. It has evolved to a core competency for the law firm of the future.
The law firm app may be a portfolio of handy tools that helps catch new clients on "the hook" and keep the existing clients coming back.